Wondering about the fun states to go to in the USA? Check out our USA states travel guide below.
A total of 50 states, one federal district (the District of Columbia), and a number of territories and islands in the Pacific and Caribbean make up the United States. Explore all 50 states in the USA with our guide.
Only Alaska and Hawaii, located on opposite sides of the Pacific Ocean, are not part of the contiguous United States. There are at least five distinct regions (Northeast, Southeast, Midwest, Southwest, and the West) in the United States that may be identified, despite the fact that the methods used by different government agencies to classify and divide the country's territory vary.
Instead of using this traditional method of classifying the US mainland into 5 distinct regions, we chose to employ a seven-region system, which allows us to showcase the various regions better.
New England Region
Nearly 72,000 square miles (72,00 square kilometers) make up New England. New England is one of the oldest regions of the United States. One of the most culturally significant regions in the United States, it is home to some of the country's most prestigious cultural and educational institutions, including a few Ivy League universities.
This region is perfect for people who love nature since it has long, empty beaches, mountains, cliffs, pine trees that stretch to the ocean, and, of course, lobsters.
Maine is where 90 percent of the fresh lobsters that people in the United States eat every year come from. This is for you if you like mountains and cool weather but can't quite give up the ocean and beaches.
US states in New England Region
Connecticut
Connecticut is famous for its entertainment, such as the casinos, Foxwoods Resort Casino, and Mohegan Sun. Because of its strategic location on Native American reserves, it's not only enjoyable to visit, but it's also significant. Mashantucket Pequot Tribal Nation and Mohegan Tribe are the respective owners and operators of the two casinos.
The casinos' superb fine dining and lavish hotels, as well as its museums, attractions, and shopping, are all popular among tourists. Apart from the two most well-known, others are located throughout the state. There is never a boring moment in Connecticut since there's always something new to try!
Visiting Connecticut? Check out the best things to do in Connecticut
Maine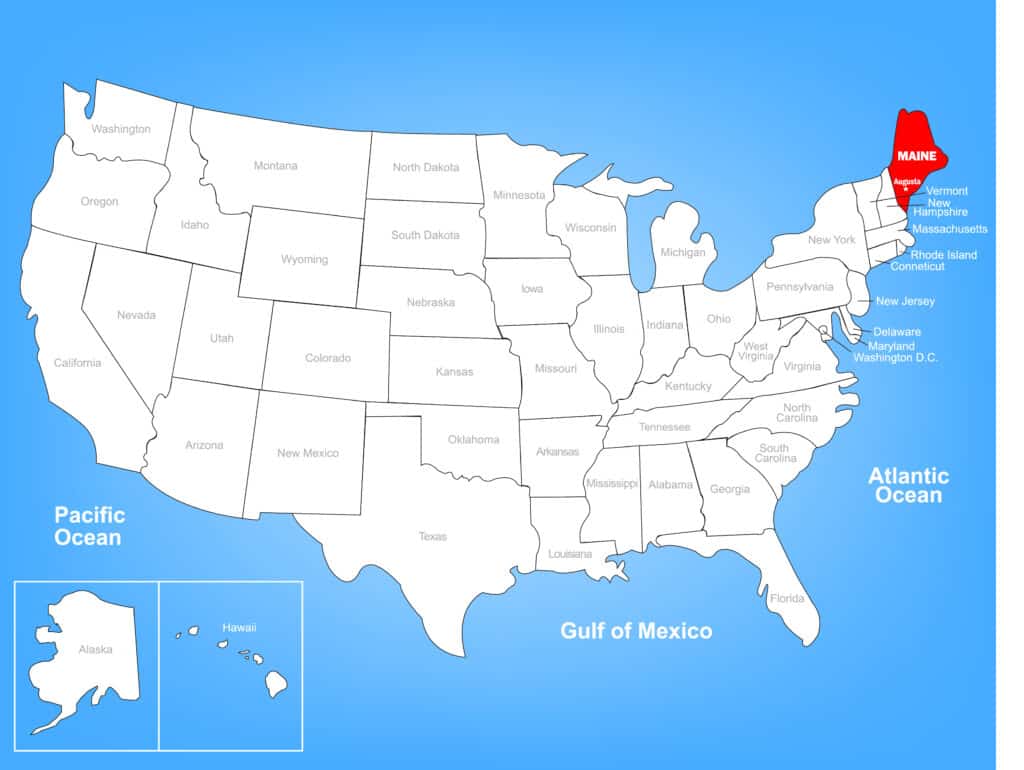 Maine is famous for the quality and freshness of its lobsters. Maine, in fact, is the best place in the United States to get lobster. Maine Lobster and Spiny Lobster are two of the state's best-known lobster varieties. Both types of lobsters may be caught in a diverse range of environments, each of which gives a distinctive flavor to the meat of the lobster.
The sweet and soft Maine Lobster, also known as the American Lobster, has a greater flavor than the firm New England lobster because of Maine's temperate environment. The majority of its catch is gathered in the fall and summer, making it a year-round staple. Nonetheless, there are numerous lobster shacks in Maine, and tourists come from all over the world to sample this deliciousness!
Visiting Maine? Check out the best things to do in Maine
Massachusetts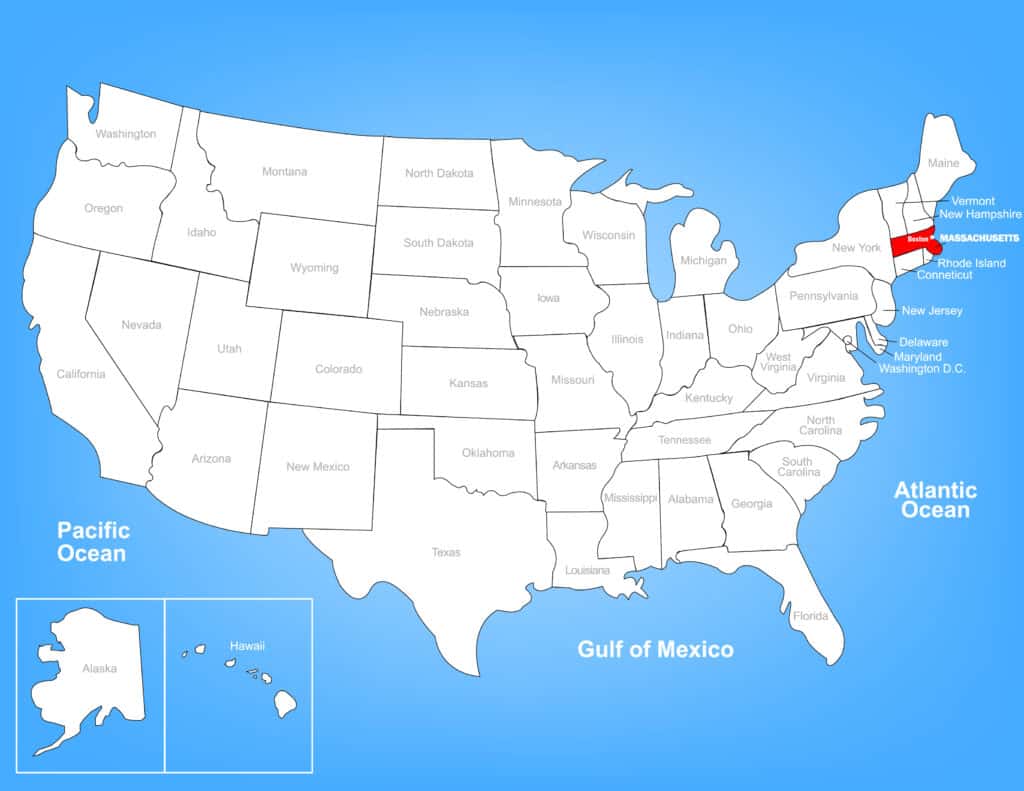 Massachusetts is famous for its many outstanding colleges and universities. Harvard University was the country's first institution of higher education, founded in 1636. Additionally, the Massachusetts Institute of Technology (MIT), the premier engineering school in the United States, is located in Cambridge.
Aside from Harvard and the Massachusetts Institute of Technology, other renowned private universities in Massachusetts are found in its largest city, Boston.
Furthermore, Massachusetts is home to many colleges and institutions, from huge research universities to small liberal arts colleges. Massachusetts is indeed one of the top states in the country for seeing and doing both academic and recreational pursuits.
Visiting Massachusetts? Check out the best things to do in Massachusetts
New Hampshire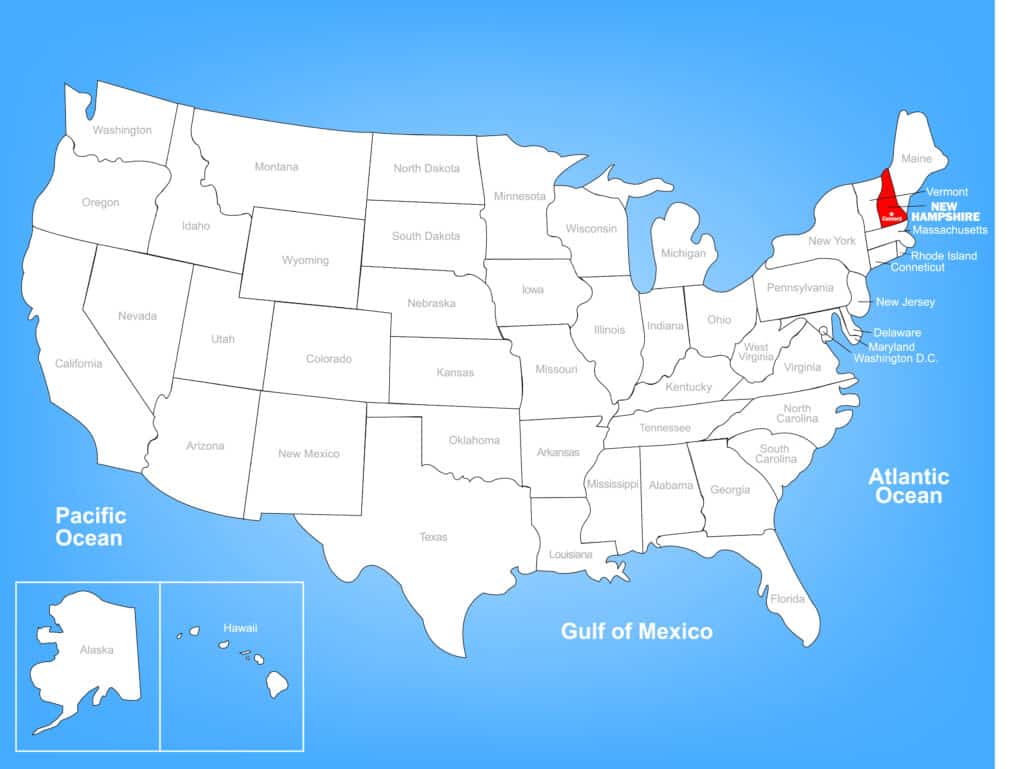 New Hampshire is famous for its gorgeous, blazing fall foliage. The prettiest New Hampshire fall colors always flow from north to south, even if every year is unique. A vacation to New Hampshire in the fall is a must! You'll feel like you've stepped into a landscape painting in the White Mountains and the Lake Regions!
Beautiful scenery abounds, but leaf-peeping is the most enjoyable activity. New Hampshire's waterways and small, charming New England towns take a new color as the state's fall hues blend into the background from the middle of September to the middle of October. New Hampshire's spectacular scenery will leave you breathless!
Visiting New Hampshire? Check out the best things to do in New Hampshire
Rhode Island
Rhode Island is famous for its delicious tasting coffee milk. There is a delightful drink called coffee milk known only to Rhode Islanders. Cold milk and coffee syrup are poured just like chocolate milk, making the beverage a hit with the crowds. It is commonly offered in school cafeterias throughout New England.
Additionally, visitors to Rhode Island's Green Airport can buy coffee milk, which is a popular souvenir for locals. Grab a glass when you visit Rhode Island and enjoy the delicious Rhode Island flavor! Drink coffee milk, and you'll understand why the state of Rhode Island designated it as its official beverage.
Visiting Rhode Island? Check out the best things to do in Rhode Island
Vermont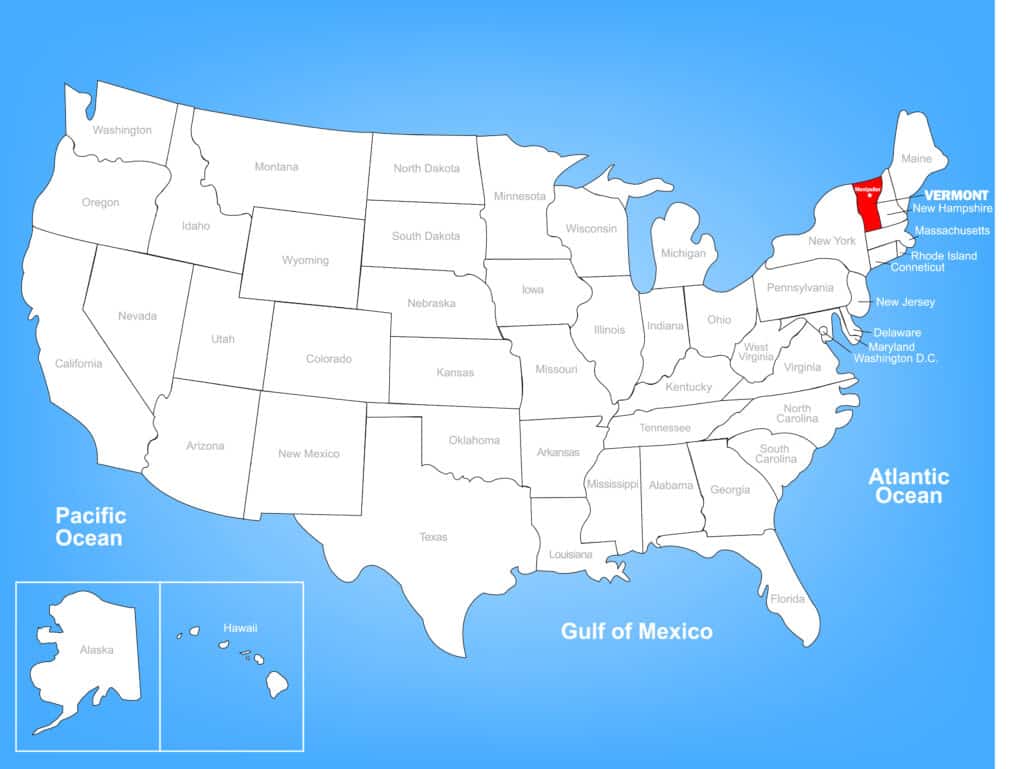 Vermont is famous for its production of tasty maple syrups. More than half of the country's maple syrup is produced just in Vermont. As a natural sweetener in beverages like cocktails and coffee, Vermont maple syrup may be used in a wide range of culinary applications. When it comes to food, it may be used in everything from pastries to pickled vegetables.
In addition, visitors to Vermont can participate in maple syrup-tasting trips. Maple syrup fans from across the world can come to St. Albans to join in the Vermont Maple Syrup Festival. Vermont has much more to offer than only maple syrup, so take a trip throughout the state to see it all!
Visiting Vermont? Check out the best things to do in Vermont
Mid-Atlantic Region
This region of the United States has some of the country's most sophisticated infrastructure, as well as a high concentration of industry and a burgeoning economy. New York, New Jersey, Pennsylvania, Delaware, and Maryland make up the six states that make up the Mid-Atlantic region of the United States.
This region may be the most densely populated and well-connected by public transportation in the United States.
So, if you want to focus on big-city travel, you might just be able to take trains, buses, or planes between the major hubs of New York City, Philadelphia, and Washington, DC. Travelers
Those who like history and the feel of urban living with a touch of Mother Nature will love this region.
If it's your first time visiting the US, you might want to start with cities like New York City and Washington, DC, where you can learn about American culture and history without having to rent a car, drive around for hours, and do a lot of research.
Delaware
Delaware is famous for its Dover International Speedway. Widely known as the Monster Mile, it is located in the Quaint Villages of Delaware. Since 1969, this racetrack has played home to two Monster Energy NASCAR Cup Series. If you're a racing fan, you'll want to check out this unique concrete race track.
Miles the Monster, the Monster Mile's enormous mascot, is as well-known as the track itself. A massive 46-foot tall, 40,000-pound monument stands as a testament to its significance. Perhaps this mascot was developed to honor the amazing racers who have won the Dover Monster Mile throughout the years. If you're looking for an adrenaline rush, Delaware is the place to go.
Visiting Delaware? Check out the best things to do in Delaware.
Maryland
Maryland is famous for its blue crabs. The state is located on the Chesapeake Bay and is renowned across the United States for the quality of its crab cakes and blue crabs. Nearly half of the total blue crab catch in the United States takes place in the seas of Maryland.
Each year, many people go to the state of Maryland to partake in the annual crab feast held in Baltimore and get their fill of the delicious cuisine. In addition to the mouthwatering delicacies found in crab houses located all across the state, visitors to Maryland will also have the opportunity to learn about the state's rich history and tradition.
Visiting Maryland? Check out the best things to do in Maryland.
New Jersey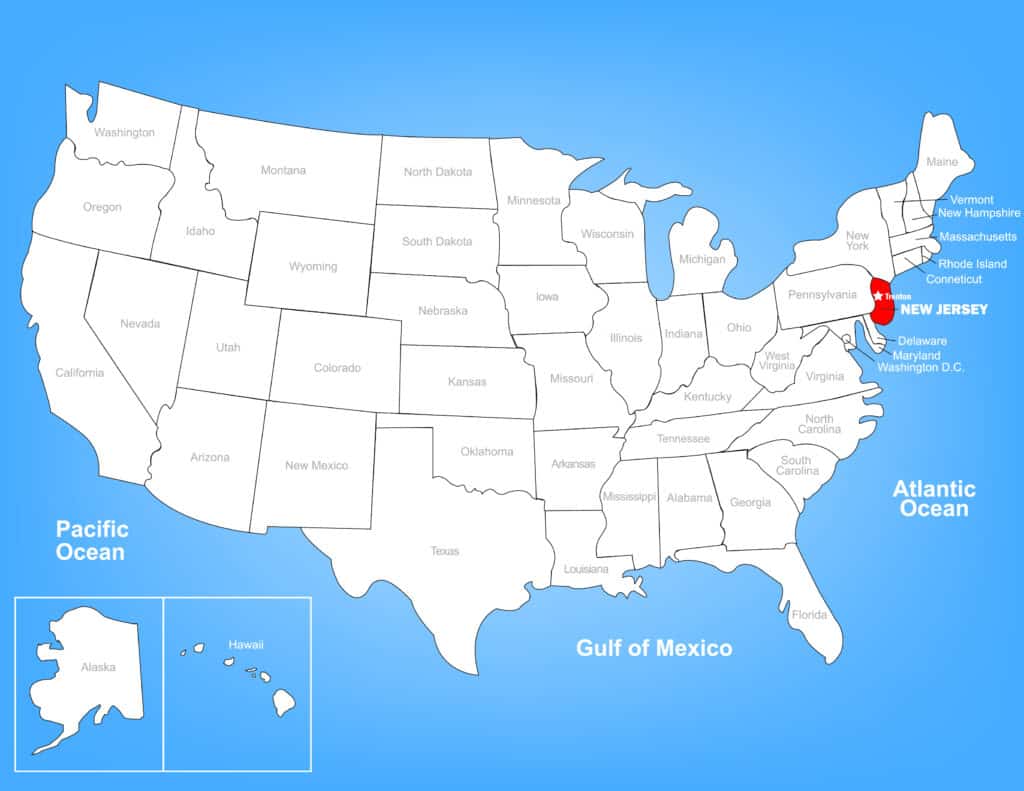 New Jersey is famous for its variety of diners. It has more restaurants than any other state, with more than 500 locations across the state. However, while New Jersey did not develop the diner, it did promote it. Even the buildings that house certain diners have a classic, antique appearance up to this day.
Moreover, diners were created in response to a community's need to consume inexpensive and tasty food every day. Whatever you want to eat for breakfast, lunch, or dinner, you could find a diner in the state. If you're thinking about going to New Jersey, be ready to eat a lot!
Visiting New Jersey? Check out the best things to do in New Jersey
New York
New York State is famous for its Statue of Liberty. As a symbol of freedom, the statue has become one of the most famous landmarks in the world. Besides the Statue of Liberty, New York State has a lot more to offer visitors. From the business and financial world, like The Wall Street, entertainment in Manhattan, Central Park, Broadway, museums, skyscrapers, and the list goes on.
Though New York State is not just about bright lights and busy streets, there are also different natural landscapes around the state. In the Adirondack Mountains, the United States' most alluring beauty, you will be blown away by the vast expanse of the landscape. If you like to appreciate nature and have fun in the nightlife, New York State is the best place to be in.
Visiting New York? Check out the best things to do in New York.
Pennsylvania
Pennsylvania is famous for its agricultural and manufacturing products. As one of the nation's leading industrial hubs for coal, steel, and railways prior to World War II, the state has a long and storied past. The Liberty Bell, one of America's most iconic historical artifacts, can also be found in Pennsylvania.
To see this icon of American freedom, visitors flock from all over the world to Philadelphia. There are 2,300 food processing businesses in the state, making it known as the Snack Food Capital of the World. A trip through Pennsylvania will offer you a glimpse of everything from the past to the present.
Visiting Pennsylvania? Check out the best things to do in Pennsylvania.
Southeast Region
The South-Eastern region is famous for its warm reception and distinctive culture, both of which are rooted in long-standing customs.
This region has cultivated a unique set of traditions over the years in terms of food, sports, music, and religion, which has helped to distinguish it from other parts of the country.
To explore more about the plantation economy, the civil war, the Confederate States of America, segregation, and the subsequent battle for civil rights, you have to explore the South East.
Alabama
Alabama is famous for its college football sport. When you travel to Alabama, you'll be greeted with the football-fan frenzy that encompasses the entire city. There are several legendary and well-recognized college football teams, such as Alabama's Crimson Tide. At both Alabama and Auburn universities, football is by far their most popular spectator sport.
Furthermore, Alabama is known as the Cotton State since they produce a lot of cotton, which has earned them this title. Also, Alabama played a significant part in the American Civil War. Alabama is a beautiful place to observe football, history, and entertainment in action!
Visiting Alabama? Check out the best things to do in Alabama.
Arkansas
Arkansas is famous for former President Bill Clinton. He was born in Hempstead County, Arkansas, and was appointed as the 40th and 42nd governor of Arkansas and then became the 42nd President of the United States. By going to the Clinton House Museum, people can learn further about his life, work, and family.
Aside from President Clinton, other famous personalities who lived in Arkansas are Johnny Cash and Ernest Hemingway. Moreover, there are 52 Arkansas state parks, seven National Park Service locations, and three national forests to choose from in the state. If you plan to have a fantastic getaway, Arkansas' scenery, landmarks, entertainment, and leisure activities will keep you busy!
Visiting Arkansas? Check out the best things to do in Arkansas.
Florida
Florida is famous for its many incredible and fun theme parks. You can find the most exciting adrenaline-pumping activities to do in Florida. Furthermore, there are many popular theme parks and attractions in Orlando, including Walt Disney World and Universal Studios Orlando.
In Florida, children and adults alike can enjoy a whole day of imagination in their theme parks. Wear a Mickey ears cap that seems appropriate for everyone, even a few years older or younger! Theme parks are open year-round in Florida, no matter what day or hour you visit. Many interesting activities may be done outside in the warm weather in Florida!
Visiting Florida? Check out the best things to do in Florida.
Georgia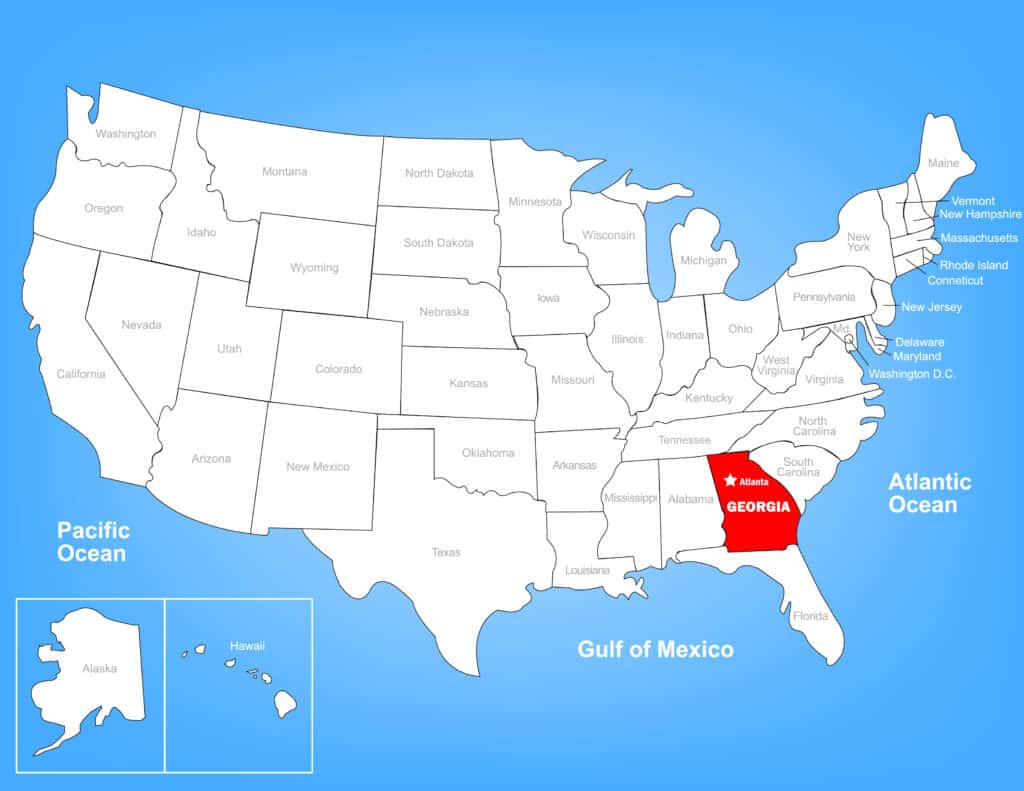 Georgia is famous for its deep-flavored peaches. Dubbed The Peach State, it gives the impression that you can only find the best-tasting peaches here in Georgia. This southern state is most renowned for its peaches, which have made it a popular tourist destination. The peaches have long been prized for their superior flavor, texture, and overall quality.
Georgia's official state fruit is the peach, which is featured in the US Mint's Georgia quarter. The state's weather is excellent for farming, hence why peaches are so popular there. Overall, the Georgian countryside is a stunning sight to see for visitors of all ages.
Visiting Georgia? Check out the best things to do in Georgia.
Kentucky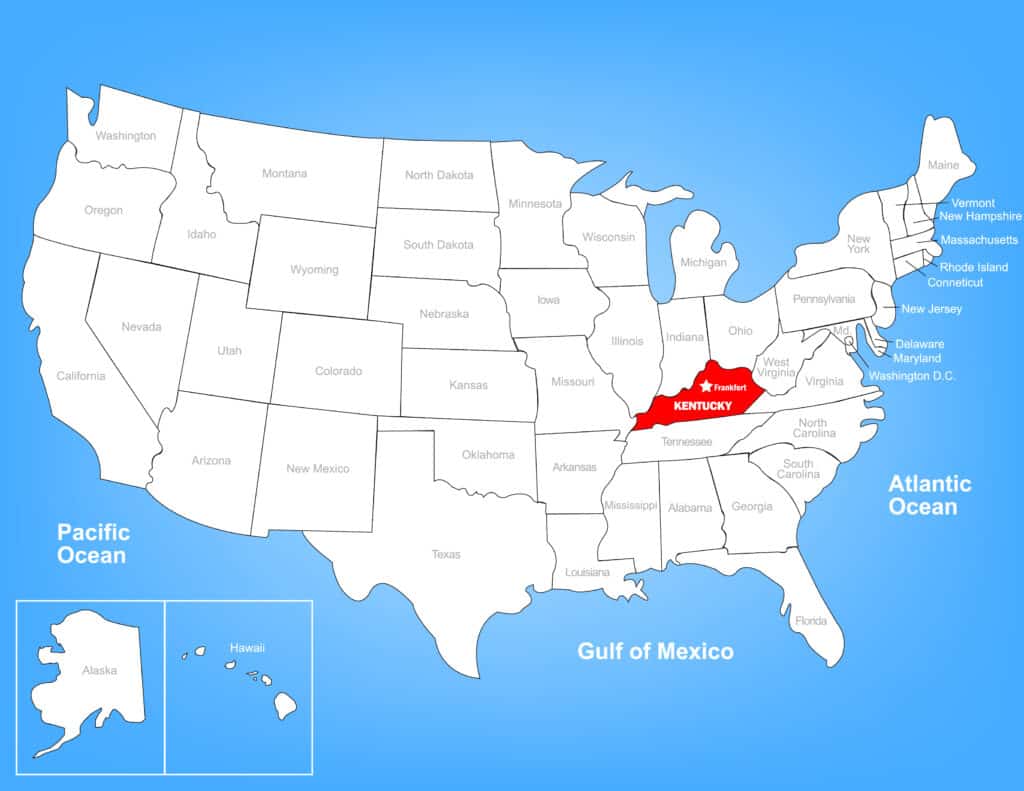 Kentucky is famous for its Derbys. Louisville, Kentucky, hosts the race each year, making it the longest-running sports event in the history of the US. Mint juleps are a must-have during the Kentucky Derby.
In addition to the Kentucky Derby, which is held in May near Louisville, the state's largest city, Louisville is also recognized as the birthplace of the Louisville Slugger bat. Another great place to spend a weekend is in a cozy Appalachian cabin or another of Kentucky's well-known vacation spots. Its rich cultural and geographical past will certainly attract the tourists' attention. Bourbon, country music, and horse racing, you got it all here in Kentucky!
Visiting Kentucky? Check out the best things to do in Kentucky
Mississippi
Mississippi is famous for its magnificent river, The Mississippi River. It is one of the longest rivers in the world and is the second-longest in the United States.
The river once had a role in the fur trade and merchants' business in the early days of American history.
To experience the river's beauty, visitors can ride cruises through it. It will be a great way also to observe Mississippi's landscapes. From the lush Appalachian highlands to the wide Delta views to the coastal roadways dotted with live oak trees, it is truly a paradise. Mississippi also offers a lot of recreational activities waiting for tourists to experience!
Visiting Mississippi? Check out the best things to do in Mississippi.
North Carolina
North Carolina is famous because of the Wright Brothers. Though the state offers beautiful scenery, and recreational activities of such, no one can forget about the Wright Brothers. North Carolina is known to be the place where the "First in Flight" happened.
After the Wright Brothers' famous flight to Kitty Hawk, North Carolina, everything changed for the state. If you'd want to see a moment in history, there is also a Wright Brothers National Memorial at Kill Devin Hills. Whether you are going to Tar Heel State for a vacation or a short getaway, the state will surprise you with many things to do and see there!
Visiting North Carolina? Check out the best things to do in North Carolina.
South Carolina
South Carolina is famous for its gorgeous and pristine beaches. Tourists go from all over the country to visit Myrtle Beach and Hilton Head Island, both located in South Carolina. Enjoy the state's beaches and extensive coastline lengths because of the wonderful weather.
Choosing a beach in the state for a vacation might be difficult when there are hundreds of miles of coastline to choose from! Not only does South Carolina have some of the most breathtaking and untouched coastlines anywhere, but it also has an interesting history and a variety of tourist attractions. Take a dip on its beaches or take a trip to its fun attraction; South Carolina could be your best vacation spot!
Visiting South Carolina? Check out the best things to do in South Carolina.
Tennessee
Tennessee is famous for its excellent genres of music. It is known for its rock 'n' roll and blues heritage and country roots. In the city of Nashville, also known as the Music City, you can find the Country Music Hall of Fame & Awards and the Country Music Association Awards.
Many country music superstars, like Johnny Cash and Dolly Parton, have lived and worked in the state. In addition to Tennesses' wonders, the Great Smoky Mountains, which span the Tennessee and North Carolina border, offer some of the most stunning views. Discover Tennessee's hidden gems of panoramic views, interesting history, iconic sites, and family-friendly activities.
Visiting Tennessee? Check out the best things to do in Tennessee.
Virginia
Virginia is famous for being the first English settlement. Around 1607, the first permanent inhabitants landed in Jamestown, and Captain John Smith established it. Tobacco was first planted by Jamestown pioneer John Rolfe only a short time afterward. As a result of this, Virginia became a tobacco-producing state.
Furthermore, Virginia is home to some of the most Civil War sites, and it was the location of both the American Revolution and the Civil War's conclusion in the state. Aside from its rich history, there are many more reasons to visit. The state's natural wonders, historic sites, and entertainment are all worth a trip!
Visiting Virginia? Check out the best things to do in Virginia.
West Virginia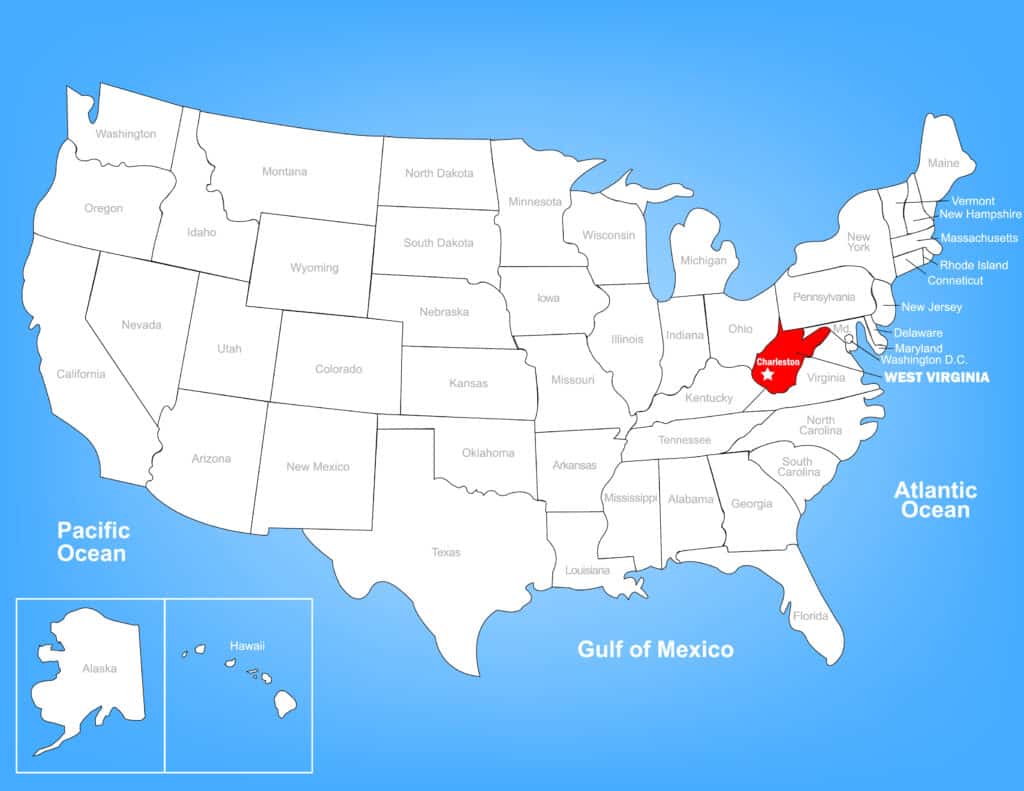 West Virginia is famous for its picturesque byways. As a state full of wonderful landscapes, the roads are surrounded by trees and red-orange fallen leaves. Visitors usually take road trips through The Midland Trail National Scenic Byway, Staunton-Parkersburg Turnpike, Appalachian National Scenic Trail, and many other roads.
Moreover, there are countless places that tourists can also visit in West Virginia. From beautiful nature trails to breathtaking caverns, art museums, theaters, and everything in between, there is something for everyone. West Virginia is the perfect destination for any kind of vacation, whether it's a quick weekend trip or a longer vacation with the whole family.
Visiting West Virginia? Check out the best things to do in West Virginia.
Midwest Region
Many know the Midwest region for its big prairies, buffalo roaming the land, small-town vibes, and laid-back way of life.
If you like lakeside villages, especially for spending a few days in the summer, you will love the Great Lakes Region, especially along the lakeshores of Michigan and Wisconsin.
Here, there are many towns and lakeside resorts with historic districts, art galleries, and shops.
Alternatively, if you want to spend more time in the Frontier Land, head southwest toward the Dakotas and Missouri, where many small towns still have the culture and traditions of the frontier.
Fans of frontier history and the Wild West will love the Midwest region.
Small towns, cowboy life, ranches and cattle farms, the plains, as well as lakeside towns are known for their art galleries, and food and wine are all found in this region. Everyone will have something fun to do while experiencing the Midwest region
Illinois
Illinois is famous because of Abraham Lincoln. Known as the Land of Lincoln, Illinois was the birthplace of the 16th U.S. president. Visit the Abraham Lincoln Museum and Library in the state to discover plenty about Lincoln's involvement in guiding the United States through the Civil War, abolishing slavery, and preserving the Union.
Moreover, a tour around Chicago can take you you'll find some of the state's best retail options, jazz music, restaurants, landmarks, museums, and cultural venues. With endless fun possibilities, Illinois is also a summer hotspot. After touring the state, you might want to taste their delicious classic deep-dish pizza!
Visiting Illinois? Check out the best things to do in Illinois
Indiana
Indiana is famous for its awesome Indy 500. The Indianapolis 500-Mile Race, the world's oldest significant automotive race, is held every year at the Indianapolis Motor Speedway in Speedway, Indiana. On top of that, it's been a popular hotspot for visitors and residents for centuries.
Moreover, numerous historical and cultural sites, including monuments, museums, and performance venues, exist all over the city of Indianapolis. In addition, travelers may enjoy various outdoor activities, including camping, hiking trails, and magnificent views. If you're coming to Indiana for any reason, you'll be greatly impressed by the variety of things to explore!
Visiting Indiana? Check out the best things to do in Indiana.
Iowa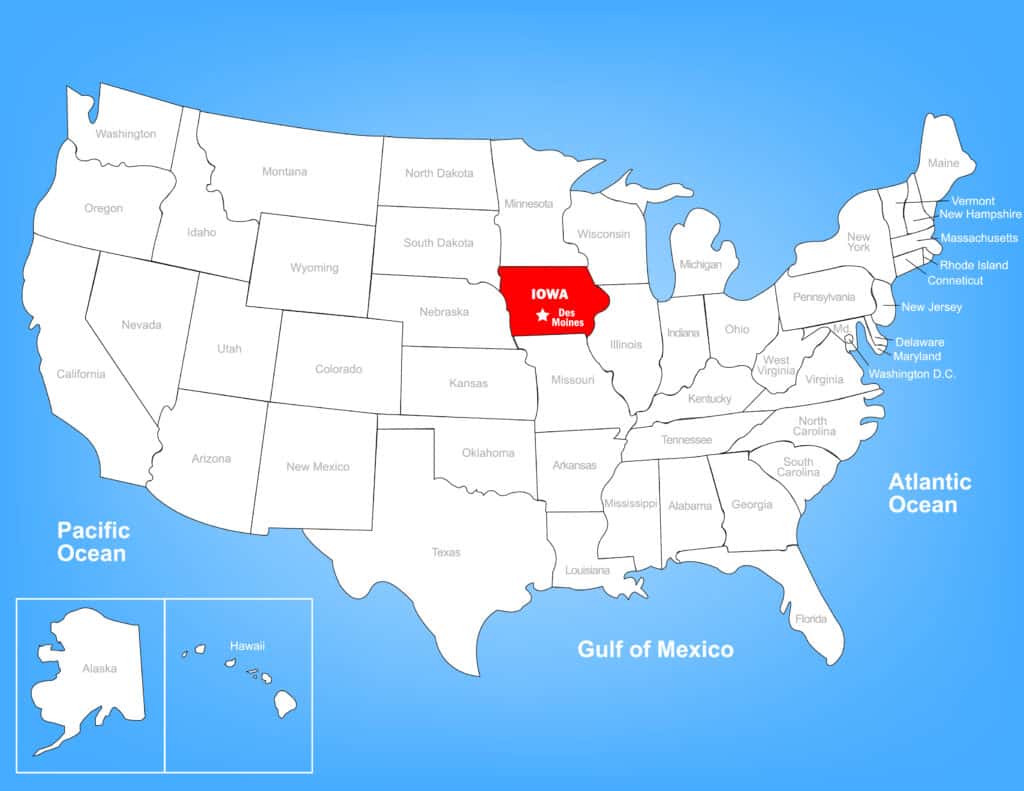 Iowa is famous for its lush prairies and farmlands. The soil and weather are perfect for crops such as corn, hogs, and soybeans. Surprisingly, there are 87,500 farms all throughout the state. Furthermore, the state is filled with deserted barns and other structures that once housed agricultural animals.
It's perfect to have a road trip through Iowa's breathtaking grasslands and prairies. With a mix of rural, suburban, and urban communities due to its proximity to a thriving metropolis. Iowa features something for everyone, whether you're longing for a feel of big city life or a chance to fuse with the countryside.
Visiting Iowa? Check out the best things to do in Iowa.
Kansas
Kansas is famous because of the Wizard of Oz. For decades, the Wizard of Oz has served as a significant piece for Kansas. Kansas was the home of Dorothy, a character from the book. The Wizard of Oz was based on real-life sceneries in Kansas, and as a result, it's a significant aspect of the state's history.
Moreover, you'll be amazed when you see the vast expanses of sunflower fields, gardens, and picturesque farms that comprise Kansas. Though most of the state is rural, there is no "run out of things to do" in its cities. When you're in the "Sunflower State," there's a lot of entertainment to experience.
Visiting Kansas? Check out the best things to do in Kansas.
Michigan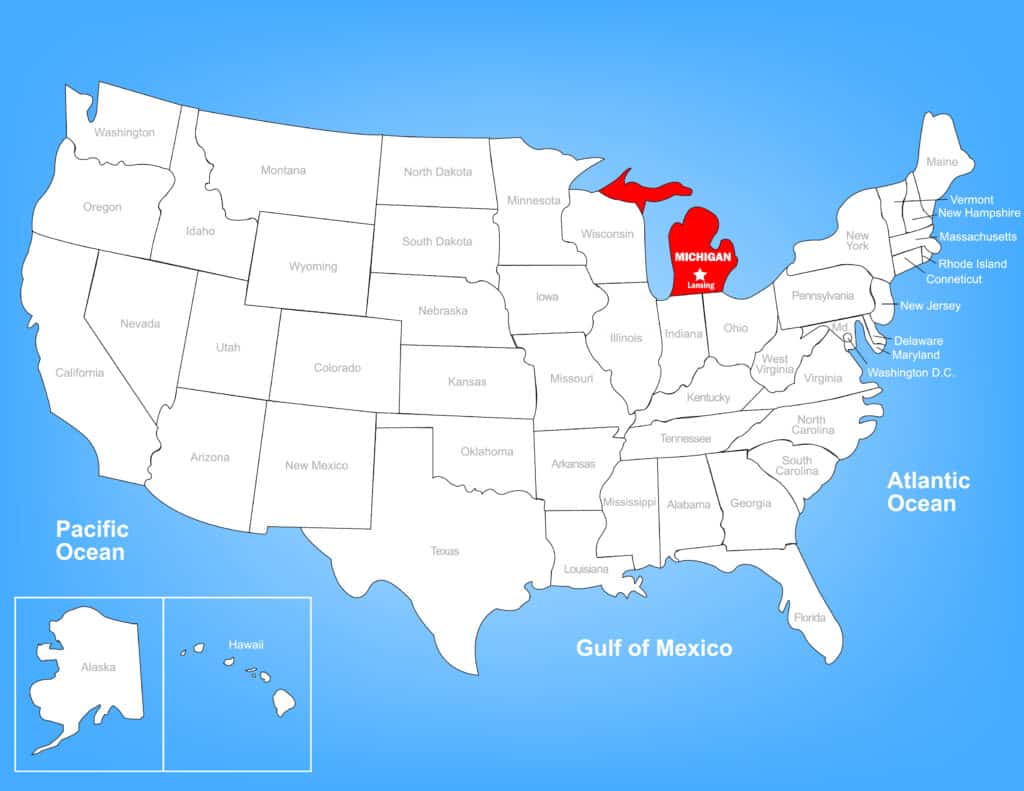 Michigan is famous for its car manufacturing industries. Chevrolet, Ford, Dodge, and General Motors, are just four of the many vehicle manufacturers now based in Michigan. Besides cars that are used for traveling, Michigan will be worth the trip.
It's summertime in Michigan, which means a trip to Mackinac Island and a dip in Lake Michigan. Take a scenic trip across Upper Michigan in the fall to catch sight of the changing colors of autumn. Each location in the state has its own unique views and experiences. If you're looking for a relaxing getaway or an adrenaline rush, Michigan is a great place to go sightseeing.
Visiting Michigan? Check out the best things to do in Michigan.
Minnesota
Minnesota is famous for its The Mall of America. In Bloomington, Minnesota, you'll find the largest mall in the United States. You'll have the option of shopping at more than 500 stores and seeing 10 attractions. In fact, a theme park is even built within the mall.
Furthermore, Minnesota is known for its Lake Superior and beautiful landscapes, and the amazing twin cities of Minneapolis and Saint Paul. Various art and cultural institutions may also be found across the state. To combine the best of the great outdoors with the bright lights of the big metropolis, Minnesota is an ideal location.
Visiting Minnesota? Check out the best things to do in Minnesota.
Missouri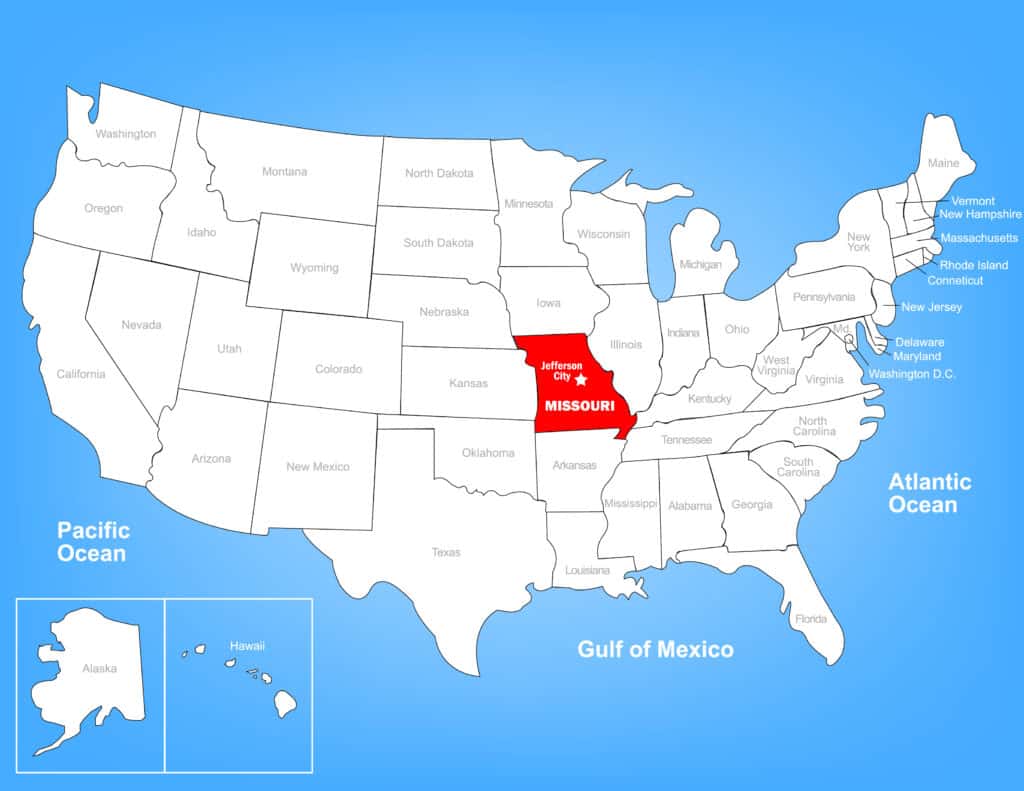 Missouri is famous because of Budweiser. Anheuser-Busch was established in St. Louis, Missouri, where Budweiser was first brewed. Budweiser is amongst the most American beers in the country, and it was brewed at its Missouri brewery. As a Missouri tourist, you must tour the Budweiser Brewery.
In addition, the state's top attractions range from exciting live performances to fun theme parks for the whole family. Visitors may go on a paddleboat trip, explore one of the few free zoos in the country, visit a Civil War battlefield, or even go underwater to see the state's spectacular cave system. There is so much to try in Missouri for everyone to enjoy!
Visiting Missouri? Check out the best things to do in Missouri.
Nebraska
Nebraska is famous for its agricultural sectors. There's no doubt that the state constantly ranks among the top livestock states in the country.
Nebraska is a major exporter of wheat, maize, and cattle.
If you're curious about farm life, the state is one of the best places to explore.
Visits to the state's capital, Lincoln, allow visitors to experience the city's museums, cultural landmarks, and cheerful, energetic vibe. As you travel across Nebraska, you'll see breathtaking views like the world's largest stamp ball, prairies, and chimney rock formations. Indeed, Nebraska is an absolutely wonderful holiday destination because of its rich history, agriculture, and beautiful scenery.
Visiting Nebraska? Check out the best things to do in Nebraska.
North Dakota
North Dakota is famous for its astounding Badlands. Located in the state's center, the Badlands has played a pivotal role in its fascinating history. Badlands attractions captivate travelers from all over the world who want to have a closer look at this intriguing location. By far, one of the most impressive Badlands destinations is Theodore Roosevelt National Park.
One of Roosevelt's Western adventures was a hunt for bison in the Dakota Territory, which gave him a strong passion for the environmental preservation of the Badlands. North Dakota is a great place to go hiking, search for fossils, enjoy a beautiful drive, and watch animals.
Visiting North Dakota? Check out the best things to do in North Dakota.
Ohio
Ohio is famous for its iconic Rock and Roll Hall of Fame. Opened in Cleveland, Ohio, in 1983, and hundreds of thousands of people come here each year. Inductees to the Rock & Roll Hall of Fame are among the world's most famous musicians. Besides the Hall of Fame, the museum has many exhibitions and artifacts that investigate rock music's roots and influences.
Outside of the city, Ohio's lakeshores and Appalachian mountains provide a variety of opportunities for outdoor adventure. The Buckeye State's natural wonders, such as the Lake Erie Bluffs and the Hocking Hills Forest, never cease to astonish visitors.
Visiting Ohio? Check out the best things to do in Ohio.
South Dakota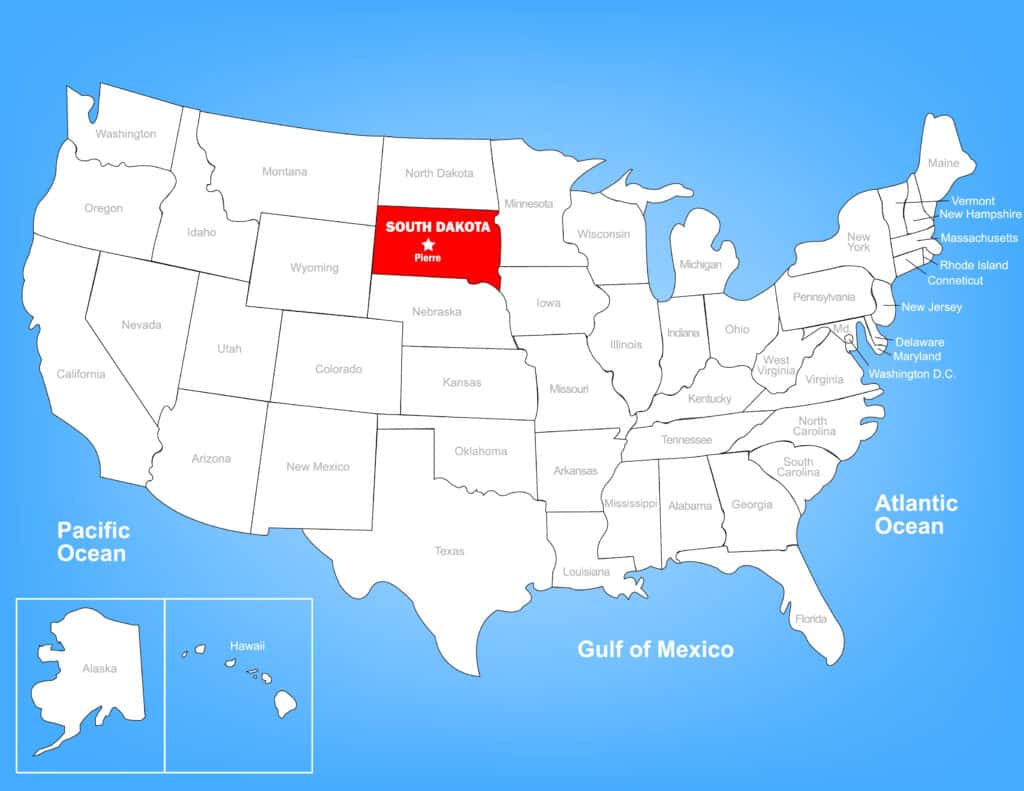 South Dakota is famous for its iconic Mount Rushmore. As one of the country's most famous landmarks, Mount Rushmore is a must-see for tourists. If you look closely, you'll see the likenesses of Thomas Jefferson, George Washington, Theodore Roosevelt, and Abraham Lincoln carved into the mountain's face.
Moreover, the little towns of Deadwood, Wall, Sioux Falls, and Rapid City, as well as many of the natural treasures found in the Black Hills and Badlands, are all worth visiting as well. Learn about the state's fascinating history while exploring its stunning canyons and underground caves. In South Dakota, you'll have the best adventure!
Visiting South Dakota? Check out the best things to do in South Dakota.
Wisconsin
Wisconsin is famous for its dairy products, such as cheese. As America's Dairyland, and with more dairy cows than any other state, Wisconsin is the country's biggest milk producer. In fact, a whopping 2 billion pounds of cheese are produced each year in Wisconsin's dairy sector!
Besides being the home of America's dairy industry, Wisconsin is also regarded as "The Badger State." It was given its name by miners who resided in caves and tunnels excavated into hills, just like badgers do. Furthermore, the state's cultural and creative exhibitions, unique museums, iconic landmarks, and bustling art scenes make Wisconsin a popular tourist hotspot and a great place to vacation.
Visiting Wisconsin? Check out the best things to do in Wisconsin.
The Rocky Mountains Region
In addition to the Mid-West, if you want to learn more about frontier life and the mining industry of the mid-19th century, you have to explore the Rocky Mountains Region. Then
The Rocky Mountains region has a wide variety of scenery and activities to offer tourists.
Check out the Rocky Mountain National Park, which has one of the few remaining Alpine Tundras in the United States, as well as national parks like Yellowstone.
Travelers who like mountains and high peaks with permanent glaciers, geysers, and hot springs; desserts with huge red-rock formations; and other natural features should visit this region.
If you want to learn more about geology and Native American culture, the Rocky Mountains region is the place for you.
Colorado
Colorado is famous for its winter sports, such as skiing and snowboarding. The state of Colorado offers America's best ski resorts which then makes a reputation for being the best ski and snowboard destination. There are over 39 ski and snowboard resorts all throughout Colorado.
A few of Colorado's ski resorts are among the largest in the nation, allowing skiers to experience the best of the best regarding snow-covered slopes. As you make your way down the snowy slopes, you'll find yourself in charming alpine communities. Also, you can make the most of your trip to Colorado by sleeping at a working dude ranch and enjoying a cliff-top view.
Visiting Colorado? Check out the best things to do in Colorado.
Idaho
Idaho is famous for its intense potato harvests. The state is appropriately dubbed "America's Potato State" because it exports over 13 billion pounds of potatoes every year. Moreover, the state also has a number of farm-to-table establishments, craft brewers, and wine and food tours.
Idaho is not just famous for its potatoes; it also has plenty of other hiking and sightseeing trails and other outdoor leisure locations. Whatever your soul craves, Idaho is where you should be camping and spending time at a magnificent refuge for outdoor enthusiasts. This state is full of beautiful spots to explore because of its magnificent scenery and abundant animal life!
Visiting Idaho Check out the best things to do in Idaho.
Montana
Montana is known for its rich deposits of natural minerals such as coal, copper, platinum, gold, sapphire, silver, lead, and many others. Popularly known as the "Treasure State," this is a mining site wherein precious metals and gemstones can be discovered. Furthermore, Montana's wide-open vistas, untouched natural parks, and rich history tied to Lewis and Clark make the state as beautiful as its gemstones.
Montana has a lot more to offer, from the well-known Glacier National Park, a huge attraction, to a wide range of challenging climbs, scenic lakes, and glacier-capped peaks. Montana's broad range of natural wonders and unique sights can provide you with either valuable treasures or precious memories.
Visiting Montana? Check out the best things to do in Montana.
Nevada
Nevada is famous because of Las Vegas City. In terms of entertainment, there is no better place than Las Vegas! Since it has the most exciting nightlife, attractions, restaurants, and of course, the world-famous Las Vegas Strip. The city of Las Vegas is the most populated in Nevada, and it draws up to forty million tourists yearly.
Moreover, Las Vegas' glamor and luxury often hide Nevada's natural beauty. Even though Las Vegas is a must-see city, Nevada has more to offer tourists. Beautiful natural sights, picturesque drives, rural communities, and lots of exceptional recreational activities waiting for you to explore!
Visiting Nevada? Check out the best things to do in Nevada.
Utah
Utah is famous for its breathtaking national parks. Arches National Park, located in Grand County, Utah, is one of Utah's five national parks. Moreover, the state also has 13 national park service units and multiple national monuments for everyone to enjoy.
In contrast, Utah is the best place to go if you are a fan of skiing! Every year, the mountains surrounding Salt Lake City get an average of 500 inches of snow, making the state famed for its skiing. It doesn't matter if you visit Utah in the summer or winter; there are plenty of things to keep you entertained!
Visiting Utah? Check out the best things to do in Utah.
Wyoming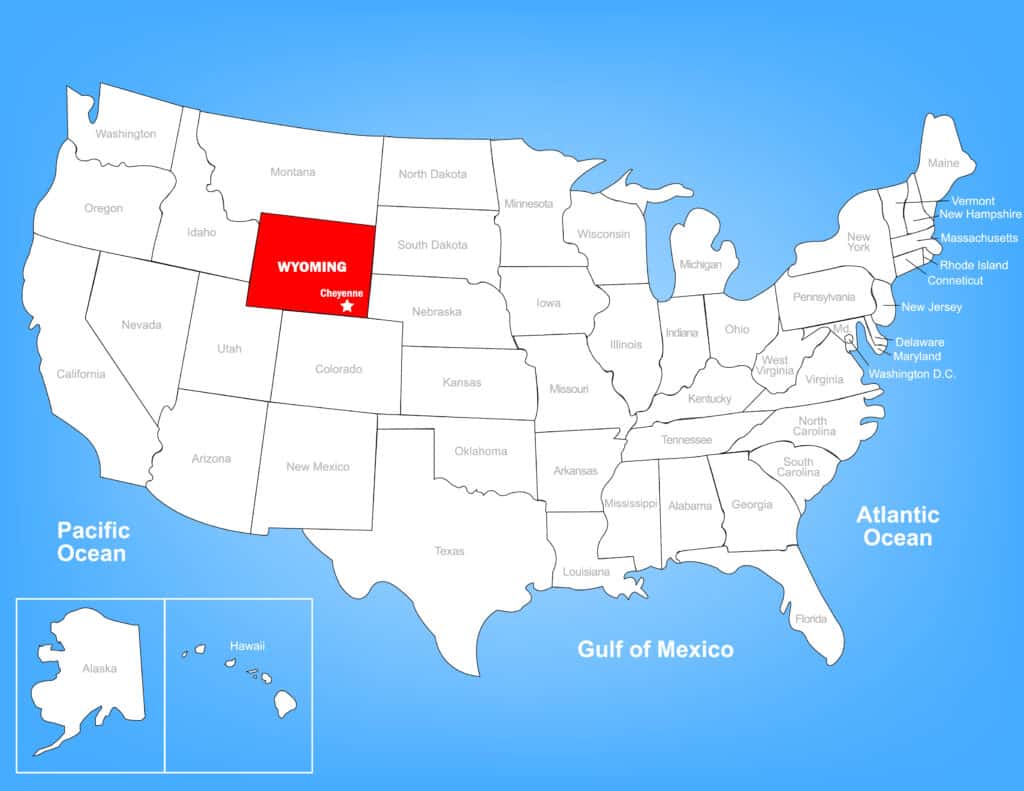 Wyoming is famous for its rugged but beautiful mountains. One of the most mountainous states in the country, Wyoming is home to the Rocky Mountains and the first national park, Yellowstone National Park. Among Yellowstone's geysers, Old Faithful is the most visited.
Moreover, The Wild West arises in this state! Ranching is an essential part of the local culture because of Wyoming's vastness. Visiting a real dude ranch is a must-do activity on any vacation to Wyoming, including horseback riding, river tubing, and more. Wyoming has it all: excitement, gorgeous scenery, and a seemingly endless supply of things to do outdoors.
Visiting Wyoming? Check out the best things to do in Wyoming.
Arizona
Arizona is famous for its breathtaking natural wonder, Grand Canyon. A world geological phenomenon regarded as the Greatest Unconformity may be seen in the Grand Canyon, and it is one of its most notable features of it. Even though everything took place over a long period, it still remains a mystery.
Aside from the Grand Canyon, numerous natural attractions, museums, historic sites, and family-friendly activities have visitors coming back for some more. It isn't just the Grand Canyon that keeps people coming back for more. When it comes to looking for a place to rest, a hiking trail, or a spot to explore several of the hidden treasures, Arizona is the place for you.
Visiting Arizona? Check out the best things to do in Arizona.
New Mexico
New Mexico is famous for the origin of the nuclear bomb.
The Manhattan Project and the atomic bomb's creation are at the epicenter of Los Alamos, New Mexico. Exactly 200 miles from Los Alamos, the Alamogordo Bombing Range was the site of what would be the world's first atomic explosion.
The vistas of New Mexico, meantime, are utterly beautiful. Tourists will be charmed by the state's mountain ranges, deserts, and woodlands. Indeed, New Mexico boasts one of the world's most diverse landscapes and a vast range of exciting outdoor activities to complement it. It will be so much fun for everyone to take a tour around New Mexico!
Visiting New Mexico? Check out the best things to do in New Mexico.
Southwest Region
Many historic Native American settlements may still be found here in the South West region, making it one of the most interesting places in the country to learn about the people and culture that lived here thousands of years ago.
National parks and old towns in the South West are great places to spend a vacation for people who like both nature and culture.
Many people think of the Southwest region as a flat, dry region but the Southwest region offers a wide range of travel experiences for travelers.
Louisiana
Louisiana is famous for its celebration of Mardi Gras. As a French tradition, it's known as "Fat Tuesday" before Ash Wednesday and lasts for over two weeks. Mardi Gras is that one event where people dress up and march through the alleys of New Orleans in costume. Furthermore, it is a time for drinking, eating, dancing, and wearing bright colors, beads, and jewelry.
In essence, only in Louisiana is Mardi Gras a recognized state holiday. In addition, Cajun and Creole cultures in Louisiana result from a mix of African, European, and Native American traditions. With that, it was given the nickname "The Pelican State." Louisiana is one of the top destinations for a getaway because of its vibrant celebrations, historic sites, museums, and more!
Visiting Louisiana? Check out the best things to do in Louisiana.
Oklahoma
Oklahoma is famous for its Native American tribes. Oklahoma, once known as the Indian Territory, is still home to the largest number of American Indian tribes. Moreover, Oklahoma City's Red Earth Festival, the largest powwow in the world, with over 100 indigenous groups, wear complete costumes to showcase their history and customs.
Oklahoma is an extraordinary place to visit because of its intriguing mix of Native American culture, cowboy culture, Old West heritage, and picturesque natural beauty. From its 33 state parks to its numerous fauna to its hilly environment and broad plains, Oklahoma has it all to urge you to explore more of the state!
Visiting Oklahoma? Check out the best things to do in Oklahoma.
Texas
Texas is famous for its yummy barbecue. For the people of Texas, barbecue is more than just food; it's an essential part of their identity and culture. While other states have unique methods of cooking meat, Texas is likely to claim that theirs is the best.
Imagine a fork-tender brisket with dark outer bark and an enticing red smoke ring; that is Texas BBQ! Likewise, Texas is known as The Live Music Capital of the World, with over 200 live music facilities spread across its numerous regions. Overall, Texas offers many vacation destinations, from cities to shorelines, mountains, and deserts.
Visiting Texas? Check out the best things to do in Texas.
Pacific Coastal Region
Surfers, nature lovers, and hikers all go to the Pacific Coast area because it has a unique mix of city life and beautiful ocean views, as well as a lot of mountains and hiking trails that offer views of the entire coast.
If you're like most people, you've fantasized of visiting California at least once in your life.
This is where you'll find the world's longest beaches, surfing competitions, charming seaside towns, arts and cultures, and mountains galore for those seeking for picturesque drives and hiking routes.
If you like road trips and have a few weeks to spare, you might want to drive along the Pacific Coast from north to south or south to north.
But if you have limited time for vacation, you might want to start in the northwestern states of Oregon and Washington, take a flight to San Francisco, and then travel to the central part of California from there.
California
California is famous because of the illustrious Hollywood. As the hotspot of the worldwide entertainment world, Hollywood is indeed a location and a mentality. Throughout Hollywood's golden age and into the modern-day, California has been a center of celebrity activities and a vital part of film and television blockbusters and award-winning productions.
More than that, California is a vibrant, contemporary urban state that has undergone a dramatic revival. Besides the city lights, The Golden State has a lot to offer the adventurous traveler, from sunny beaches to foggy forests. There's a lot more to explore in California, the city of dreams!
Visiting California? Check out the best things to do in California.
Oregon
Oregon is famous for its stunning vistas of natural wonders. Driving around the state is a blast because of all the spectacular views and interesting landmarks to see along the way! Similarly, the state of Oregon is blessed with an ancient lake formed by a volcanic explosion, a lush valley filled with waterfalls, and many magnificent sea stacks that peak out of the ocean.
Portland, the state's largest city, is recognized for its gorgeous hiking trails, craft beer brewers, and quaint coffee shops, among other attractions. A thrilling journey awaits you in Oregon since, around every turn, you'll find fresh and vibrant landscapes and attractions.
Visiting Oregon? Check out the best things to do in Oregon.
Washington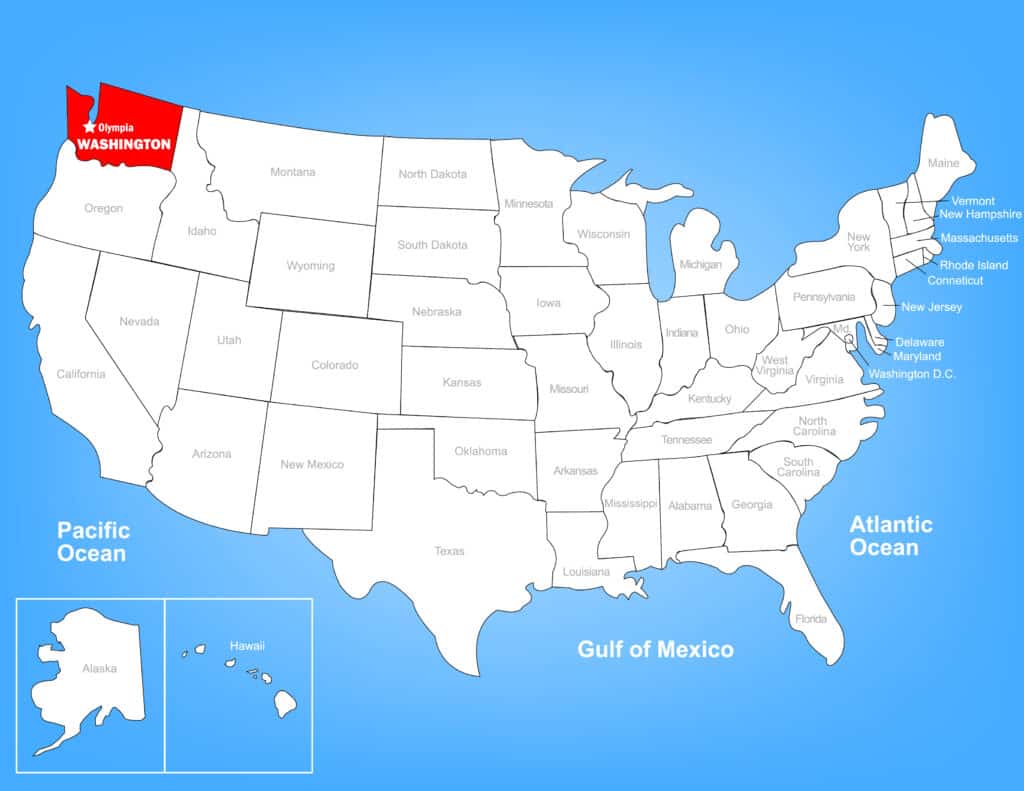 Washington is famous for its coffee, Starbucks. Washington state's largest city, Seattle, is home to the country's first Starbucks establishment. Surely, everyone knows about Starbucks and its excellent coffee. Additionally, coffee lovers could still tour the original Starbucks store, which has maintained much of its original beauty, from the decor to the old seats inside.
From Starbucks to Seattle's Best, Washington is a coffee lover's paradise. As a matter of fact, the city's coffee culture is a major draw for locals and tourists. On the other side, tourists visiting Washington will be able to encounter world-class music and art institutions.
Visiting Washington? Check out the best things to do in Washington
Alaska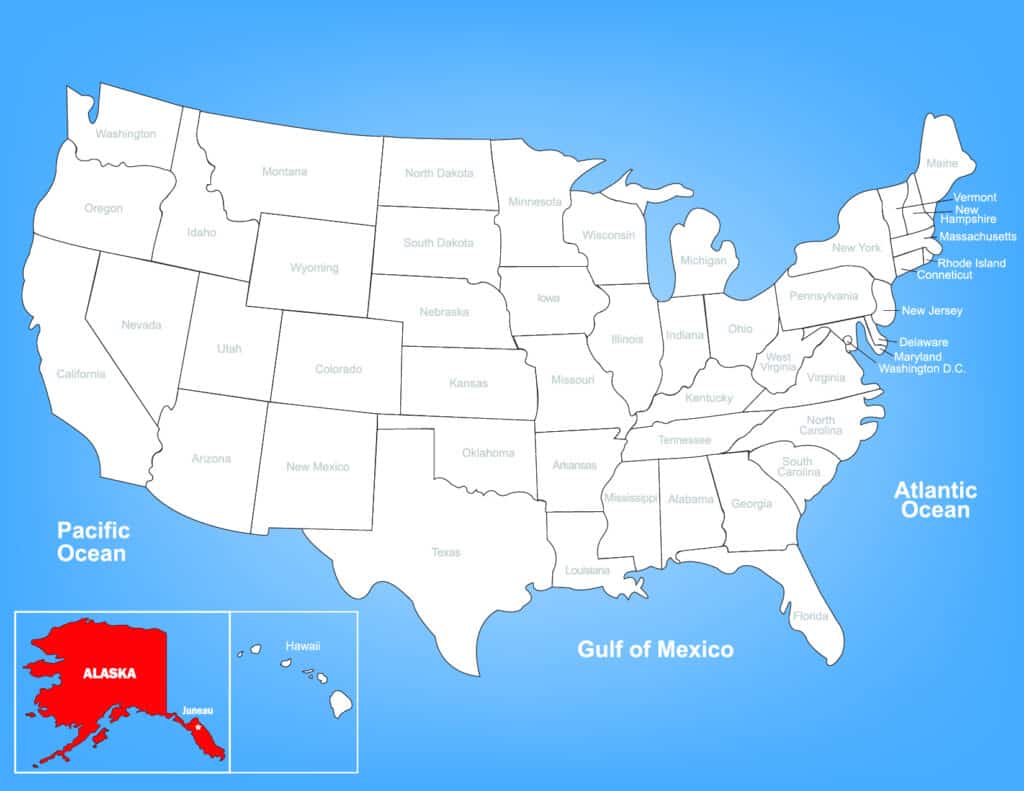 Alaska is famous for its incredibly beautiful Northern Lights.
The Northern Lights, or the aurora borealis, can be seen from Alaska between mid-September and late April, peaking in March. If you can travel farther north, there is a greater possibility that you will be able to witness the stunning aurora borealis for which Alaska is known.
For every snow-covered mountain, you will discover countless glaciers, fjords, geysers, beaches, and tunnels. Likewise, tourists to Alaska will surely have a great time visiting world-class art museums, joining music festivals, and learning about the early societies of The Land of the Midnight Sun.
Visiting Alaska? Check out the best things to do in Alaska.
Hawaii
Hawaii is famous for surfing. Hawaiians are recognized across the world for their love of the sport of surfing, and it's not hard to see why. Since the 4th century, surfing has played a significant role in the history and culture of Hawaii.
Though surfing isn't the only thing to do on the Big Island, there are also other natural wonders to see, including the breathtaking volcanoes of Hawaii Volcanoes National Park. You could perhaps find a unique culture and serenity on each of Hawaii's eight main islands. Hawaii is the perfect place to visit if you enjoy being outside and seeing nature!
Visiting Hawaii? Check out the best things to do in Hawaii.