You won't believe what North Carolina has to offer. Get the most out of your vacation by exploring the best things to do in North Carolina and the best places to visit in North Carolina below. Wondrous Drifter is a Web 3.0 startup in the tourism industry that aims to disrupt the industry as a whole by utilizing Web 3.0 technologies.
When planning a trip to North Carolina, follow the seasons. The Appalachian Trail and Rocky Knob Mountain Bike Park are great places to go hiking or biking in the spring. More than 300 miles of barrier island beaches, picturesque lighthouses, idyllic tiny villages, and national seashores may be found along the coast of North Carolina.
Blue Ridge Parkway's fall foliage attracts visitors from all over the world. City slickers will enjoy exploring North Carolina's Raleigh, Durham, Winston-Salem, and Charlotte.
North Carolina's coastline, which faces the Atlantic Ocean, offers lots of opportunities for visitors to take part in water sports, relax in the sun, or do nothing at all. According to the state's extensive history, historically significant locations from the Revolutionary and Civil War eras can be found.
North Carolina's shifting seasons allow you to warm up by visiting mountains or seaside resorts during the spring. Theme parks cater to people of all ages, with vineyards and wineries available for the more mature crowd.
Even if you don't plan to attend a world-renowned music festival in North Carolina, these top 20 attractions are worth a visit regardless of the season.
So what are you waiting for? Let's get started!
Flying Cloud Farm
Who doesn't love having fresh flowers in their home? Well, everybody does!
If you live near Asheville, North Carolina, you're in luck! A delightful little u-pick flower farm 13 miles southeast of Asheville in Fairview opens for u-pick flowers from July through October. If you want fresh flowers of all kinds, this u-pick farm in North Carolina is a must-see!
Welcome to Flying Cloud Farm, a North Carolina-based vegetable and flower farm run by a family.
The flower fields at Flying Cloud, located on a 20-acre farm that grows and sells fresh fruit and flowers, mature each summer and occasionally open as early as June for u-pick enjoyment.
The farm provides little scissors for cutting as well as flower cups. Typically, a cup costs $10, and a bucket costs $25.
You can't beat the costs or the flowers' freshness. So, what do you have to lose? As the season continues, the farm has a broad range of flowers, including sunflowers!
Address: Flying Cloud Farm, 1860 Charlotte Hwy, Fairview, NC 28730, USA
Sugar Kingdom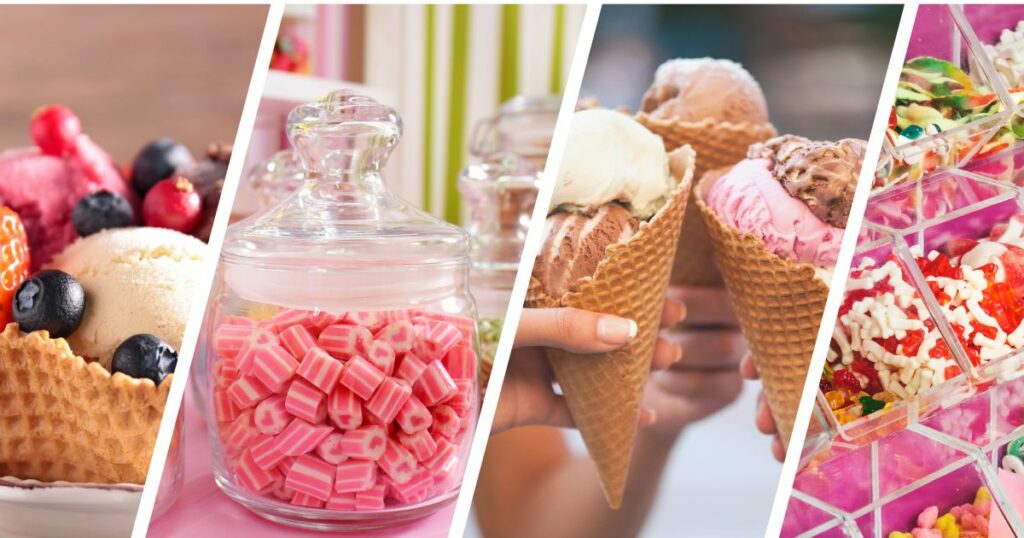 Whoop! Whoop! North Carolina, get ready! You'll be tempted to return to this sugar kingdom sweets store repeatedly.
The Sugar Kingdom, a brand-new candy shop in Sunset Beach, has just opened its doors, and now is the perfect time to indulge in all the sugary sweetness. There are almost 2,500 different varieties of candy in one large North Carolina candy store.
The Sugar Kingdom offers a delectable assortment of candy, ranging from classics to the latest fads.
There's more than enough eye candy, too!
You'll also find more than only pre-packaged candy and bulk candies and other treats.
Hundreds of freshly produced candies like fudge and candy-covered pretzels may be found in the candy case alone. Like there wasn't enough to deal with already.
Ice cream flavors like this peach and key lime double scoop combo cone are available at the shop.
If you're ever in the vicinity of Sunset Beach, make a point to stop by The Village shopping center and stock up on treats!
Address: Sugar Kingdom, 1680 Seaside Rd SW, Sunset Beach, NC 28469, USA
While planning for your trip in North Carolina, do hop over to our best things to do in the NorthWest USA.
USS Battleship North Carolina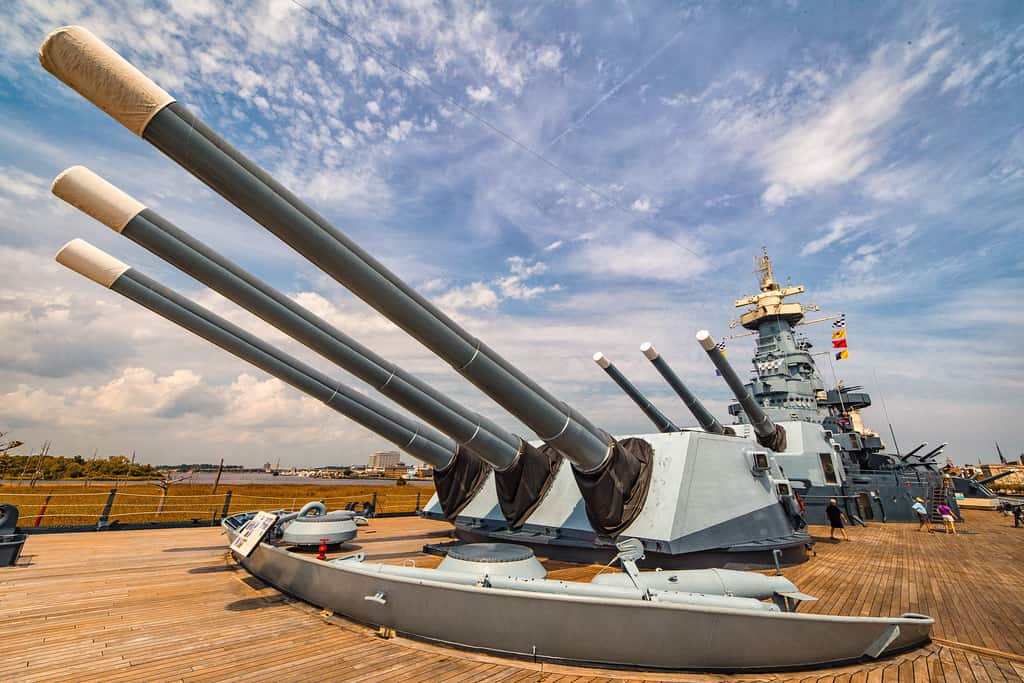 It's not for the faint of heart to spend the night aboard this ghostly North Carolina battleship.
There are several historic and haunted sights in North Carolina. Still, none are nearly as spooky as the USS Battleship North Carolina.
This calm relic, located across the river from downtown Wilmington, is also one of World War II's most decorated ships. During the day, visitors can pay their respects to the veterans and get a glimpse into the past. By night, though, spirits have been known to wander the decks, creating a considerably more supernatural atmosphere.
The USS North Carolina is a testament to the crew members who served their country fighting onboard this renowned warship and is considered America's most impressive floating museum.
The ship was launched in 1941 and took part in practically every naval war offensive in the Pacific. The USS North Carolina was redirected to the Pacific after being assigned to Iceland to face a German battleship.
You'll see why paranormal investigators from all over the world have been drawn to this ship's strange attraction once you visit it.
You'll feel like you've stepped back in time as soon as you board the Battleship North Carolina. It's easy to envision our brave seamen's difficulties and challenges over 80 years ago.
Whether you're a history buff or fascinated by the paranormal, your journey aboard North Carolina's most haunted ship will undoubtedly be unforgettable.
When traveling to the state of North Carolina, be sure to check out what Greensboro and Cherokee in North Carolina have to offer. Check out the best things to do in Greensboro and the best things to do in Cherokee.
Blue Ridge Parkway
"America's Favorite Drive" is an appropriate title for the Blue Ridge Parkway.
It was designed by landscape architect Stanley Abbott, who wanted to create a route that was more about the journey than the destination.
The Great Smoky Mountains National Park in North Carolina and the Shenandoah National Park in Virginia are separated by 469 miles of some of the most stunning scenery in the United States.
Some of the state's nicest views can be found along this route.
The Blue Ridge Mountains begin your adventure through the vast expanse of magnificent grandeur that awaits you at each turn.
There are various hiking trails, pill-offs, campgrounds, picnic areas, and more in NC along the way.
Many museums, visitor centers, and more can be found along the road, so you'll have plenty of options for mileposts to stop at and plenty of time to explore the area.
So don't forget to pass by if you want to be amazed by nature's grace!
Beale Street Barber Shop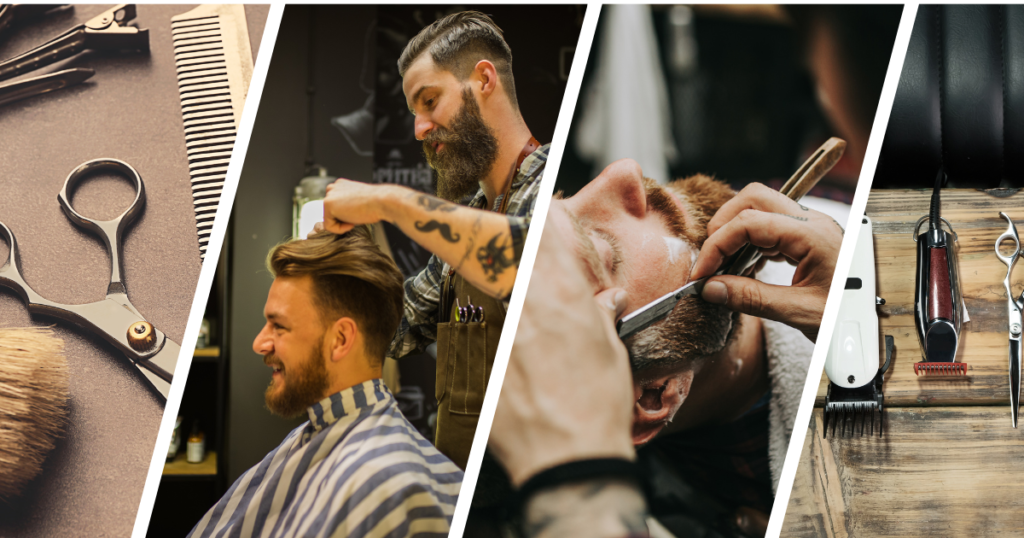 Are you a fan of Elvis Presley? I mean, who isn't? On August 16, 1977, Elvis Presley died when most of us were still in diapers, skateboarding, or just graduating from high school. Others were not lucky enough to be born in that year and never had the opportunity to walk this earth with The King.
You just must visit the Beale Street Barber Shop in Wilmington whenever you're in the region, regardless of your amount of admiration for The King. This isn't your typical barbershop!
The Beale Street Barber Shop debuted in 2012 to tremendous acclaim from Elvis lovers in the area.
The unisex barbershop is unlike anything else on the planet. This is because…
Every square inch of this place is covered in Elvis memorabilia. There are Elvis figurines, Elvis sculptures, an authentic Elvis suit, scores of Elvis portraits painted on (what else?) black velvet (is there any other medium befitting the King?), and so much more.
It's like walking into a museum or an art gallery when you walk into Beale Street Barber Shop.
So whether or not you're an Elvis fan, be sure to visit this amazing barbershop.
On a road trip to North Carolina? One tip to get the best out of the state is to make stop-overs at Fayetteville and Boone. Get travel ideas from these 2 places at the best things to do in Fayetteville and the best things to do in Boone.
Address: Beale Street Barber Shop, 710 S 17th St, Wilmington, NC 28401, USA
Great Smoky Mountains National Park
It's impossible to talk about a trip to North Carolina without including the Great Smoky Mountains National Park!
It is the most biodiverse site in the National Park System and is vital to the historical preservation of southern Appalachian culture.
With an area of 800 square miles and a mild temperature, it is home to approximately 19,000 known species of flora and fauna and an estimated 80,000 to 100,000 undocumented species.
Several historic structures around the Great Smoky Mountains National Park make for exciting and pleasant visits.
Each 90 tells the tale of people's long relationship with the region, which dates back to the Paleo-Indians of prehistoric times.
In the 1800s, Europeans began to settle here, and in the 1900s, loggers and Civilian Conservation Corps enlistees made it their home.
Schools, barns, houses, mills, and churches are among the renovated or maintained structures.
The Great Smoky Mountains National Park offers a wide range of activities.
The park's 384 miles of roads make exploration simple. You can walk, vehicle tour, cycle, or camp in various locations.
There are also various waterfalls to visit and over 1,500 different flower plant varieties.
Great Smoky Mountain National Park is still one of the state's most popular day-trip locations, and you should go!
Brunswick Islands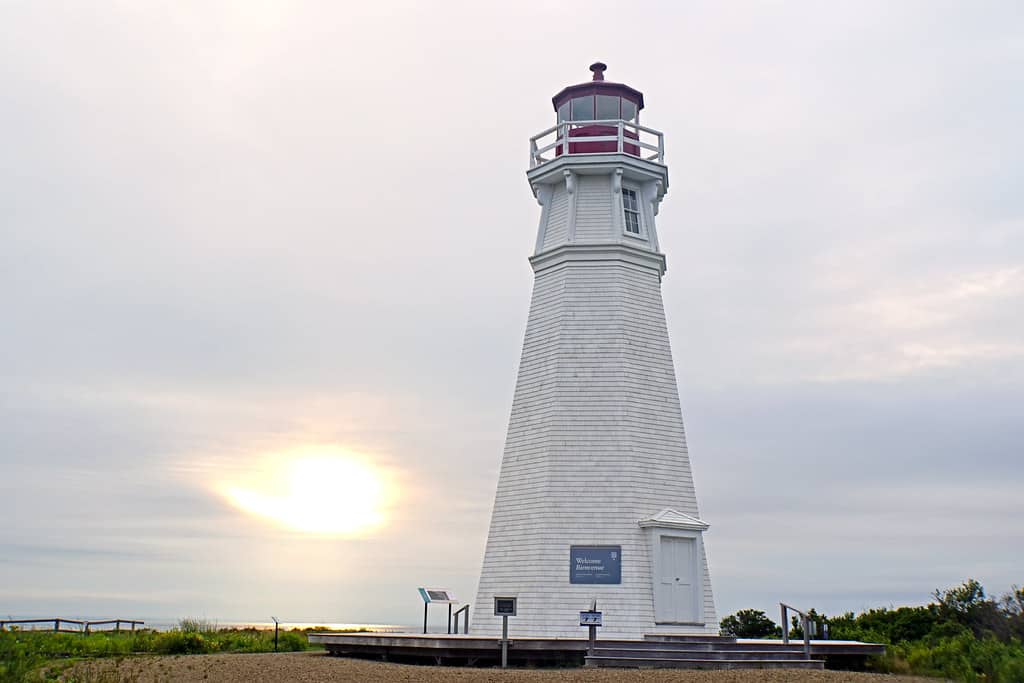 East Coast beach-goers typically presume sunset in the west won't be seen from where they can view sunrise in the east, but it's not. In North Carolina, there are a number of beaches where you may see both. Because the beaches on the Brunswick Islands face south, you may see the sunrise and the sunset from the same spot from late October to early spring.
Because the sun rises in the east, you may suppose that East Coast beaches are the best places to catch a sunrise. You may see the sun rise and set in the same place on several of North Carolina's beaches if you travel at the proper time of year.
Beaches on the Brunswick Islands and in a few other places face south, making them ideal for swimming.
Before starting your day, catch the sunrise and return before dusk for one last spectacular sky. If you want to go all out, spend the day at the beach from sunrise to sunset. You can enjoy the beach in a variety of ways.
As the earth's axis and the rotation slow during these months, this is only possible from the fall through the winter. You can watch the sun rise and set over the ocean.
In spite of the beauty of every beach, sunrise, and sunset, this phenomenon can only be seen at a select few East Coast beaches. This region of beaches is a gift to the state of North Carolina.
Whether it's a sunrise or sunset challenge, these south-facing beaches are a great place to start. If you don't mind spending an extra-long day at the beach, this is a must-see on your itinerary.
When you travel to North Carolina, visit the top tourist attractions in Wilmington and Asheville. Hop over to the best things to do in Wilmington and the best things to do in Asheville in North Carolina.
Andrews Geyser
Yellowstone Park has more than 10,000 hydrothermal features, making it one of the best national parks in the United States to observe natural geysers. A visit to this man-made geyser in North Carolina is almost amazing if you haven't had enough time to make it out to Wyoming this weekend.
Andrews Geyser was originally constructed in 1885 to serve as a stopover point for train passengers.
One of Andrews Geyser's most intriguing features is that it's actually a fountain whose water source is a geyser.
It's two miles away and 500 feet above the fountain's nozzle, which has a diameter of only half an inch and is situated at this altitude.
The geyser shoots water 80 feet into the air when operating at maximum pressure.
Occasionally, the fountain runs out of water in severely dry weather.
Even though Old Fort's historic downtown is only five miles away, it's worth the trip just to see the 30-foot arrowhead adjacent to the old railroad depot.
It's much more exciting to arrive to find a huge spray flying hundreds of feet into the air. So plan ahead and get up close and personal with this incredible sight.
Address: Andrews Geyser, North Carolina 28762, USA
Lake Lure
It's safe to say that North Carolina is one of the most gorgeous states in the United States!
If you're in the area, don't miss Lake Lure, one of the state's most popular tourist attractions.
A man-made lake that spans 720 acres lies in the center of the Blue Ridge Mountains, a breathtaking landscape.
As a filming location for Hollywood blockbusters, the town of Lake Lure has gained considerable notoriety.
Several films have been shot here, including Dirty Dancing, Firestarter, Last of the Mohicans, and Thunder Road.
After the town was established in 1902, the Broad River needed a dam built in 1925.
By 1927, the dammed river had created Lake Lure, and the rest, as they say, is history!
As a result of the attention the village of Lake Lure has received, the spectacular Flowering Bridge was built.
The first Dirty Dancing Festival was held in Lake Lure, Georgia, in 2010 as a tribute to Patrick Swayze, who died of pancreatic cancer at the age of 57 in 2013.
You can also tour the town to see all the locations where Dirty Dancing was filmed.
The state of North Carolina is full of exciting places for you to explore. To get the most out of your North Carolina vacation, check out the best things to do in Raleigh and the best things to do in Charlotte in NC.
Cryptozoology & Paranormal Museum
The Cryptozoology & Paranormal Museum is a must-see if you're looking for other strange things to do in North Carolina.
This museum in Littleton, North Carolina, is an obvious addition to the mystery surrounding Bigfoot and other cryptids of the woods because of the prevalence of frightening, unexplained events in rural areas.
Stephen Barcelo, a local cryptozoologist, runs the Cryptozoology & Paranormal Museum.
He keeps it well-stocked and gathers various items from his own studies and inquiries into the subject matter.
For example, there is a section devoted to known hoaxes like the Feejee mermaid and casts of prints purported to be from Bigfoot. There are also testimonies and photos of UFO sightings.
Additionally, Barcelo conducts ghost tours around Littleton and teaches visitors how to use the museum's sophisticated ghost-hunting equipment.
Littleton's history is also on display at the museum.
There have been a lot of sightings since it was established in 2015.
For one thing, reports to a specialized museum like the Cryptozoology & Paranormal Museum are made more easily, but there's also mystic creatures disturbed by timber harvesting in some areas of the forest!
Address: 328 Mosby Ave, Littleton, NC 27850, United States
Dale's Wheels Through Time
If you're interested in learning more about the history of vintage American motorcycles, this museum is the place to go.
Dale's Wheels Through Time is a work of art for anyone, regardless of whether or not they ride a motorcycle.
When you visit the museum, you'll have a unique opportunity to learn about the historical significance of the motorcycles on show, which numbers more than 300. This involves learning about the military, police, and other eras' motorcycles. You should check the museum's website to see if there are any upcoming events before you plan a trip to this unique museum.
The moment you pull into Dale's Wheels Through Time, you'll know it's exceptional. After leaving the Blue Ridge Parkway in North Carolina, turn left onto US Highway 74 toward Maggie Valley.
Many other remarkable motorcycles are on display inside the museum, including a XA.
All the motorcycles are on display in the museum, and a variety of motorcycle-related items.
If you're lucky, a motorcycle with a unique characteristic will be on display for you to see during your visit.
Whether or not you're a motorbike fan, you'll get a lot out of your trip.
Address: 62 Vintage Ln, Maggie Valley, NC 28751, United States
Kool Park Pool
One of North Carolina's most storied swimming holes, this water park was constructed in 1935.
Founded in 1935, North Carolina's most famous pool is one of the state's largest. Kool Park Pool in Hickory has a fascinating history for a swimming pool that's nearly as long as a football field.
To begin with, the pool was sculpted from solid rock.
Natural stone banks adorn some of the pool's margins. Today, Kool Park Pool is a huge facility.
A 90-foot water slide was installed in the 1960s when the pool was extended. Still, it's one of the most popular attractions in the pool.
Having been open for so long, grandparents now take their grandchildren to swim in the same place they learned to swim as youngsters.
If you haven't been to this historic and amazing pool yet, time to make plans for your visit!
Address: 3170 31st Ave Ct NE, Hickory, NC 28601, United States
Yogi Bear's Jellystone Park Camp Resort
If you were fortunate enough to go camping with your family as a child, you might consider yourself one of the luckiest people in the world. Those are the kinds of memories that stick with you for a long time.
The Disneyland of North Carolina campgrounds may be found in Asheboro, North Carolina. This is the perfect spot to create lasting memories with your loved ones!
Yogi Bear's Jellystone Park Camp Resort is a must-see for families with children of any age.
Pack up the camper and drive to Asheboro (which is also home to the North Carolina Zoo!) for an unforgettable camping adventure.
Over the years, Yogi Bear's Campground has grown to 75 locations across the country, including this one in Asheboro.
Everyone may have fun here because of the park's many attractions. Pools are great for cooling down during the hot summer months because of their large size, including a waterfall and water slide and a deep-end and walk-in entry.
These classic board games are elevated to an entirely new level when played on a massive Chess and Checkerboard.
When it comes to keeping the kids entertained, Yogi Bear's Jellystone Park Camp Resort is a must-visit for families in the state of Georgia.
The Tar Heel State is ripe for exploration, and taking the kids camping is an inexpensive way to do so. It also provides an opportunity to make lasting memories.
Address: Asheboro NC, 964 Crestview Church Rd, Asheboro, NC 27205, USA
Carolinas Aviation Museum
North Carolinians love the sky to a greater degree than residents of most other states. You find yourself daydreaming about flying through the clouds and becoming a part of the magnificent world above since they have so much of it. However, folks like Amelia Earhart dreamed of the sky more than most.
The Carolinas Aviation Museum is a must-see for aviation lovers and history buffs both in the United States.
Many aircraft and relics may be seen here. The museum's goal is to preserve aviation's past educationally and entertainingly.
Carolinas Aviation Museum's attractions include numerous stories of heroism and innovation from the long history of flight, a library with decades of information, and the Miracle on the Hudson showcase, which won an award for depicting the famous safely landed passenger jet of 2009, among many others.
After 26 years of service, the Carolinas Aviation Museum will reopen in 2022 after undergoing a major restoration.
So, if you're planning a vacation to the state after the re-opening, be sure to stop by!
You can't go wrong with 50,000 annual visitors!
Address: 4672 1st Flight Dr, Charlotte, NC 28208, United States
The Raleigh Market
It's hard to think of anything better than a North Carolina goodwill store. What do you call a flea market that's been around for nearly 50 years? The Raleigh Market!
The Raleigh Market, located on Trinity Road in Raleigh near the North Carolina State Fairgrounds, is one of the most exciting flea markets in the state. If you're looking for anything specific or just want to take a look around, the market is a great place to go. Items range from old to brand new.
The Raleigh Market has more than 500 merchants, making it one of the state's largest flea markets. Their eagerness to travel far and wide in search of the finest things (both old and contemporary) makes it one of the busiest.
Even though you never know what you'll find at The Raleigh Market, that's part of the allure.
You may come across a treasure trove of items that you cannot live without!
There is a good chance you will not walk away with any souvenirs. (You won't! )
Wizard's Hollow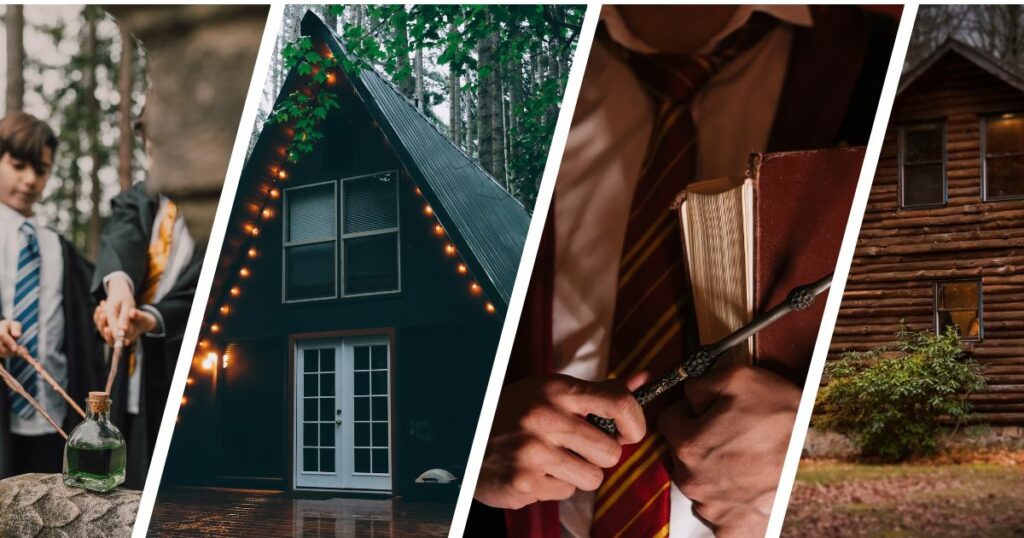 A vacation property outside of Asheville is a must-see for Harry Potter fans. A 600-square-foot luxury treehouse with stunning mountain views has been constructed on a hilltop platform. This hidden gem is a must-see when it comes to Harry Potter!
Wizard's Hollow is located in the Town of Woodfin, about five miles from Asheville.
Immediately after arriving, you'll want to flag your home.
Additionally, you'll appreciate the property's new improvements and how clean the interior is…
Similar to the turret's spiral staircase.
Cooking utensils, pots, and pans are all provided. There is, however, only an electric cooktop, not a stove. The electric grill on the deck can be used to cook meat.
Wizard's Hollow's attention to detail will probably impress. There is even a spa-like vibe to the bathroom in this home!
So what are you waiting for? Plan your visit and step into a world of wonder with this stunning vacation rental.
Address: Woodfin, NC, USA
Reboot Arcade Bar
Arcades were popular hangouts in the 1980s and 1990s, especially after school and on weekends. We'd save our quarters so that we could play our favorite video game to beat the high score at all times. Recapture some of the enchantment of the past. The Reboot Arcade Bar in North Carolina is where to go if you've got some quarters to spare.
In Winston-Salem, Reboot Arcade Bar is a throwback to the 1980s and 1990s that will transport you back in time.
The retro arcade, which bills itself as Winston-first Salem's arcade bar, has an outstanding collection of over 60 classic games. Do you want some Pac-Man?
All of the classics from the past are here. A few of the games that might bring back memories are Super Mario Bros., Frogger, and Donkey Kong.
If you're a pinball fanatic, there are many machines to choose from, including X-Files, Hook, Jurassic Park, and Star Wars.
The game Skeeball is a great way to unwind. Are you certain that you can surpass the current record?
Don't forget to pay a visit to Reboot Arcade Bar and join up for a membership. Become a member for free.
Address: 534 N Liberty St, Winston-Salem, NC 27101, USA
Washington Park
Most North Carolinians are unaware of a dinosaur-themed FREE park in Winston Salem that is great for families with young children and adults. Plan a day trip to Winston Salem and include a stop at Washington Park on your itinerary. You'll be glad you made an effort to visit this hidden treasure in North Carolina.
Winston Salem's Washington Park area is anchored by Washington Park.
Washington Park's dinosaur-themed playground is the best of the bunch. Interacting with the dinosaurs incorporated right into the playground equipment is a hit with the little ones!
Even the parents enjoy themselves, let's face it.
As a dinosaur fanatic, think how much fun your kids will have at this playground if you have a little one in the family that loves to play with dinosaurs.
As a general rule, visitors to Washington Park are advised to avoid the park at night, even though it is open 24 hours.
Visit for a day full of fun!
Fields of the Wood
There's a hidden treasure just 18 miles west of Murphy in North Carolina starting in 1941. It is now a Christian-themed amusement park.
A.J. Tomlinson, a Quaker bible salesman, first referred to the location as Fields of the Wood. He later served as the founding pastor of the Church of God. Tomlinson, who died in 1943, carved the Ten Commandments into the rock on this mountainside.
Still, they remain. Currently, the Church of God of Prophecy is in charge of the site's upkeep and ownership. There is no charge to enter.
While ascending to what may be the world's largest bible, you'll see five-foot-tall letters spelling out the Ten Commandments etched into the side of the mountain.
The 10 commandments are displayed in a 300-foot-wide open area.
The vista is equally moving and invigorating when seen from the summit.
Prayer Mountain may be found right outside the gates of Fields of the Wood.
Those who visit the park can even dip in a baptismal fountain.
The model garden tomb and Golgotha Hill are two of the most moving features in Fields of the Wood.
In Fields of the Wood, visitors are inspired by the large-scale and interactive activities. Two and a half hours is a good amount of time to allow everything to occur.
Fields of the Wood is open year-round from dawn to sunset. Imagine waking up on Ten Commandment Mountain and watching the sunrise.
Address: Fields of the Wood, Shoal Creek, NC 28906, USA
Smokehouse Grill in Williamston
Where in North Carolina is it possible to dine and then visit a Wild West theme park when it comes to dining? That's where you'll find us! Williamston, a little town about 45 minutes east of Rocky Mount, is located just a few miles from the seashore. If you're a fan of the Wild West, this is the place to dine. The Smokehouse Grill and Deadwood both have restaurants, so you'll want to go back time and time again.
There is no better place to eat than Deadwood, an old-fashioned Wild West theme park, and restaurant.
Firstly, there is a theme park at the back.
After you've finished eating, have a look around. Get aboard the Iron Horse Express, a park-circumnavigating train.
At first glance, the village where the park is located appears deserted.
It's the Rib-Eye that steals the show on the menu.
The Smokehouse Grill in Williamston, South Dakota, is where to go if you're looking for more than simply a restaurant.
Still unsure to make North Carolina your next destination? Check out reasons to visit North Carolina at least once in your lifetime here.
Address: 2302 Eds Grocery Rd, Williamston, NC 27892, USA