Making travel plans to Alabama? Get the most out of your vacation by exploring the best things to do in Alabama and the best places to visit in Alabama below. Wondrous Drifter is a Web 3 travel company that aspires to disrupt the travel industry.
Known as The Cotton State and The Heart of Dixie, the state of Alabama is a stunning place that boasts delectable cuisine as well as spectacular landscape and a rich history.
There is also plenty of football to be found in Alabama, of course! Alabama is typically associated as being a laidback region of the United States that doesn't have much to offer its citizens and visitors alike. However, this is far from the truth. When you travel to Alabama, you will have the opportunity to participate in a variety of activities.
Regardless of your preferences, there is a variety of things to see and do in this area, so you can quickly broaden your list of potential vacation spots.
This has resulted in the state of Alabama becoming an exceptional vacation destination that appeals to both thrill seekers and those who prefer to relax and take in the beauty. As a result, you should take the time to learn about the state's rich cultural heritage as well as its unique historical background.
When you arrive, how do you know which tourist sites to visit first and which ones to skip?
In order to assist you in planning your trip, we've compiled a list of things to do and places to see in Alabama.
Alligator Alley (Summerdale)
If you're planning a trip to Alabama, be sure to stop at Alligator Alley. You won't be disappointed.

You'd be hard-pressed to travel through Alabama without coming face to face with an alligator at some time.

If you enjoy reptiles, Alligator Alley in Summerdale, Alabama, is a must-see attraction. This alligator farm is a haven for reptile aficionados and those interested in learning more about these fascinating creatures.

Over 450 alligators of all sizes and ages will be sunbathing, nesting, courting, and relaxing during the event!

Alligator Alley opened its doors in 2004 as a farm for the many-toothed reptiles and is now known as Alligator Alley in Birmingham, Alabama.

Whether you're an alligator enthusiast or simply curious, this alligator farm has plenty to offer everyone who visits.

This alligator farm is full of excitement, fun, and offers a plethora of things to do for visitors of all ages.

Activities such as feeding and cuddling gators (yep, cuddling!) are available to visitors at Alligator Alley.

Rescued alligators have been relocated to this facility from a variety of harsh circumstances and are now able to live out their lives in peace.

If you don't want to get up close and personal with the attractions, there are plenty of photo opportunities.
The relocation of additional animals to different portions of the grounds, including bullfrogs, owls, ospreys, and turkeys, has been completed.
Following the trip, you will have the opportunity to visit the gator station, where you will have the opportunity to hold a baby alligator.
In addition, while you're here, pay a visit to the Spear Hunting Museum, which is a one-of-a-kind experience that may be the only one of its kind in the world.
Come attend the alligator feedings, which are held three times a day; you never know, you might be able to assist with the feedings.
Address: 19950 Co Rd 71, Summerdale, AL 36580, United States
When visiting Alabama for your trip, remember to check out the best things to do in Birmingham, best things to do in Mobile, best things to do in Huntsville, best things in to in Gulf Shores and tje best things to do in Montogomery.Experience Alabama like no others!
Ave Maria Grotto (Cullman)
You may locate one of America's greatest masterpieces in the South Eastern United States. When it comes to religious and aesthetic importance, the Ave Maria Grotto at Benedictine Abbey ranks as one of the most magnificent works of art.
Built by Brother Joseph Zoettl, a Brother of the Order who lived at St. Bernard Abbey, the Ave Maria Grotto is a place of pilgrimage. He was born in Bavaria but immigrated to the United States in 1892.
With 125 tiny replicas of some of the world's most revered temples and sacred locations, this 4-acre park is known as "Jerusalem in Miniature" because of its idyllic setting.
More than 125 tiny replicas of world-famous landmarks may be found here. The grotto's four acres will whisk you away from Alabama and put you in the middle of the streets of exotic locales all over the world.
Brother Joseph started working on the Grotto during his stay here, which was essentially a project he completed for hobby.
The right solution came to Brother Joseph's prayer as he pondered the best materials to utilize for his miniatures. Because of a railway derailment, the shipper had to throw away the marble that had been sent from a nearby quarry. It was afterwards donated to Saint Bernard's and used to create the grotto's foundation.
Brother Joseph received materials from all across the globe as time went on to utilize in the Grotto's various reproductions.
The Grotto, which he built out of repurposed materials, quickly became a beloved part of the area.
In addition to a gift store and food options, the Monastery also features a retreat center, guest rooms, and other amenities. There is a $5-7 per person admission fee.
Alabama Wildlife Center (Pelham)
The Alabama Wildlife Center was established in 1977, making it the state's oldest and largest wildlife rehabilitation and education center.
Anne Miller's Alabama Wildlife Center is a mountainside sanctuary that provides life-saving rehabilitation and educational programs to this day.
The wildlife center primarily serves as a rehabilitation center for local wild birds, as well as a wildlife hotline and a classroom for local schoolchildren interested in learning more about wildlife.
It is estimated that the wildlife center has helped more than 50,000 animals, and it will continue to provide medical and rehabilitative care for animals that it is able to.
Some of the current "patients" of the wildlife center are on exhibit.
However, this facility is not a zoo, and its primary focus is on the well-being of the birds.
Every year, this sanctuary cares for over a hundred different species of wild birds.
Treetop Nature Trail visitors can watch the birds that are permanently confined at the wildlife center since they cannot survive in the wild.
The boardwalk is accessible to the disabled, and there are aviaries along the way.
This may be an ideal location for bird viewing outside the center, depending on the time of day and weather.
Address: 100 Terrace Dr, Pelham, AL 35124, United States
Alabama Theater (Birmingham)
The Alabama Theater, which opened in 1927 in Birmingham, Alabama, has long been regarded as one of the best movie theaters in the Southeast United States.
At one time, the theater hosted theaters for the performing arts, vaudeville, and first-run movies. It can hold up to 2500 people at a time. Mickey Mouse Club's events were also held there in the 1930s. It is also one of the earliest air-conditioned theater buildings in that era.
The Mighty Wurlitzer organ was used to play silent films in the theater's early days.
The Alabama Theater is the only district theater remaining in existence today, despite the fact that there were many more in the past.
The huge theater Mighty Wurlitzer organ, which is still in existence, is a popular draw for theatergoers. It was incorporated into the theater because, at the time it was constructed, silent pictures required musical accompaniment. The theater would have been demolished if it weren't for this organ.
The Alabama Theater is now a non-profit organization, although it continues to host regular performances. Many live performances and films are shown in the new Alabama Theatre for the Performing Arts. Over the course of a year, the Theatre attracts more than 150,000 people from the Birmingham region.
During a comprehensive renovation of the Theatre in 1998, from the front door to the back door, It was done by New York-based EverGreene Studios. The theater's gold leaf paint was either restored or cleaned in just eight months, transforming it from a decrepit monument to its former glory.

Address: 1817 3rd Ave N, Birmingham, AL 35203, United States
Exploring the United States? Check out the best things to do in USA. Have fun traveling to all 50 states.
Auburn (City of Auburn)
With a population of roughly 60,000, Auburn, Alabama, is a friendly college town nestled in the foothills of east central Alabama. On Interstate 85, less than 60 miles northeast of Montgomery, Alabama; 30 miles northwest of Columbus, Georgia; and 100 miles southwest of Atlanta. It takes less than four hours to go to Alabama's Gulf Shores. You won't find a better site to represent Alabama institutions than Auburn University
Auburn is also the home of the renowned football team, the Auburn Tigers, and school spirit can be seen across the city.
There are a lot of great places to visit in Auburn. One of them is the famous Toomer's Corner.
In addition to marking the intersection of the city and the university, Toomer's Corner is a favorite gathering point for the local and university populations alike. Despite the fact that the corner itself is nondescript, it is well-known as the city's center of activity. It is also well-known for the vibrant student scene.
If you're looking for a terrific environment to raise a family, Auburn is the place to be. Forbes has continuously listed Auburn as one of the best places to raise a family, work and retire.
Auburn is also one of the best small cities for business and career opportunities. Throughout the years, Auburn City Schools has been named among the best public school systems in both the state and the country.
Bellingrath Gardens and Home (Theodore)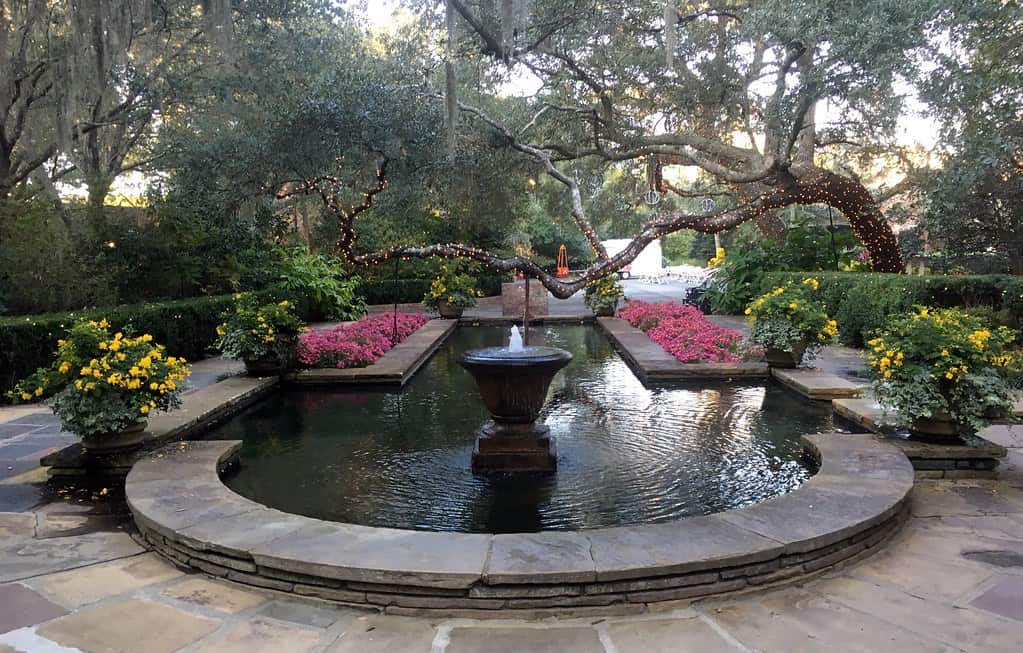 The Bellingrath Gardens and Home is one of the most popular tourist destinations in the state thanks to its many enjoyable elements.
George B. Rogers, a well-known Mobile architect, created the 10,500-square-foot Home in 1935. The building's exterior is created from salvaged bricks from Alva Smith Vanderbilt Belmont's 1852 birthplace in Mobile, Alabama, a prominent American socialite and early advocate for women's suffrage. "English Renaissance" was coined by Rogers to describe the garden.
The garden is dedicated to the cultivation of flowers that bloom every year, ensuring that the landscape is always vibrant. Every day of the year is a beautiful day at Bellingrath Gardens and Home.
A conservatory, the bridal garden, and the big lawn are just some of the major attractions here.
A self-guided tour is an excellent way to enjoy all that the area has to offer.
Birmingham Civil Rights Institute (Jefferson)
Anyone interested in American history should make a trip to the Birmingham Civil Rights Institute a priority on their travel itinerary.
In the 1950s and 1960s, civil rights activists were very active in Alabama. As a result, Birmingham, Alabama, is one of the greatest venues to learn about this important movement.
25,000 people came through the doors of the Birmingham Civil Rights Institute's inaugural week in 1992.
History of civil rights, the acts of those who fought for it, and the fight for equal treatment continues to this day are all covered.
It is the institute's aim that its message, which is conveyed through the displays, would arouse a glimmer of optimism for the future.
With its affiliation to the Smithsonian Institution, the Birmingham Civil Rights Institute serves as a cultural and educational study center dedicated to understanding Birmingham's role in the development of civil rights.
Self-guided tours allow visitors to explore the Birmingham Civil Rights Institute on their own time.
Birmingham Zoo (Birmingham)
The Birmingham Zoo's 122-acre property features roughly 550 animals of 180 types including endangered species from six continents.
Visitors from all over the Southeast come to witness animals such as red pandas and lion and giraffe and orangutan and rhinoceros.
All exhibits here highlights the Zoo's incredible animal care, conservation efforts, and Species Survival Plans.
One of the latest exhibits, "Trails of Africa," is a world-class community asset because of its botanical and cultural immersion theme.
It is a location where visitors of all ages can get up close and personal with Africa's wildlife while learning about the condition of the continent's most endangered species and being motivated to contribute to global conservation efforts.
It demonstrates the Zoo's status as a national leader in the care and protection of endangered elephants.
The Kangaroo Kountry, Predator Building, Flamingo Lagoon, Primate Building, and Alligator Swamp are just a few of the many exciting features of the Birmingham Zoo.
Keep an eye out for seasonal camel rides and the Sea Lions Splash Show if you're seeking for additional activities.
The Schaeffer Eye Center Lorikeet Aviary, where you may feed and interact with birds, is another great option.
Birmingham Museum of Art
The Birmingham Museum of Art, in the center of Birmingham, Alabama, is one of the country's best regional museums, with more than 27,000 works of art spanning time periods from antiquity to the present.
Collections from Asia, Europe, the Americas (including the United States), Africa, Pre-Columbian cultures, Native American cultures, and other continents are all displayed in the exhibition.
The museum's noteworthy Wedgwood ceramics collection, as well as the Samuel Kress collection of European art and Remington masterpieces, were among the attractions that are greatly enjoyed by the visitors.
Due to a public-private partnership, the museum has always been available to open to the public at no cost.
A wide range of activities, both for children and adults, are offered or hosted at the location, such as lectures and concerts, as well as spoken-word and dance performances, as well as film screenings, seminars, and studio visits.
Address: 2000 Reverend Abraham Woods Jr Boulevard, Birmingham, AL 35203, United States
Barber Vintage Motorsports Museum
Barber, who raced Porsches in the 1960s, has a record of 63 victories to his name.
It was his passion for speed that inspired him to create the museum we see today.
The 740-acre Barber Vintage Motorsports Museum in Birmingham is home to the Barber Vintage Motorsports Museum.
It attracts over a quarter million visitors each year.
You may find some of the world's best-preserved antique cars and bikes there.
More than 1,450 bikes from 20 nations, spanning a century of manufacture, are currently housed in the Barber Vintage Motorsports Museum.
More than 97 Harleys are presently housed in the collection, but that figure is expected to rise quickly.
Over 900 bikes are on show at any given moment in the museum. More than 1,600 items are in the collection.
During special events and by purchasing a Premium Museum Tour that includes the Restoration Level, visitors may see the museum's enormous collection of motorcycles in storage.
Bryant Denny Stadium (Tuscaloosa)
Bryant-Denny Stadium, one of the University of Alabama's most well-known facilities, is also a popular tourist destination.
With a seating capacity of 100,077, Bryant-Denny Stadium is one of the nation's largest college football venues.
To get to this point, a lot of hard work and expansions were necessary.
The $65.6 million expansion was completed in time for the 2010 season to begin.
A new upper deck with 8,500 seats, 34 premium seats, 1,700 club seats, a 1,500 seat stadium club, and two new corner video boards has been constructed on the stadium's south side.
Thanks to the technology, fans are able to order food from concession stands in their seats and pick up their orders when they're ready.
This is a gamer-changer as fans will be enjoying the games fully without having to queue up in long lines for drinks.
Address: 920 Paul W Bryant Dr, Tuscaloosa, AL 35401, United States
Cheaha State Park
Alabama's first state park, Cheaha Resort State Park opened in 1933. It is widely thought to be one of the country's most unique attractions.
There are many historic downtowns within 30 minutes of the park that offer a wide range of cultural and recreational activities.
It's one of the best places to go for a wide range of recreational activities, like hiking, camping, and water sports.
Many well-known trails in Chinnabee, such as the Pinhoti and Odum Scout trails, offer beautiful views even if you don't plan to go on a trek.
Address: Clay, Cleburne, Alabama, United States
Cathedral Caverns State Park (Woodville)
This Alabama state park is in the northern part of Marshall County, southeast of Woodville.
It has a cavern that looks like something out of a movie.
Jacob Gurley opened Cathedral Caverns to the public in the 1950s.
It was called Bat Cave when first opened to the public.
It was renamed because it looked like a cathedral.
A natural column called Goliath is one of the most impressive things to see at Cathedral Caverns. It might be the world's tallest natural column.
Three inches wide, 243 feet across, and 45 feet high, this stalagmite is the largest in the world.
There are still about 2700 feet of the cave that aren't open to the public.
In recent years, a "wild cave tour" has been set up to help people see beyond the concrete paths.
In addition to cave tours, Cathedral Caverns State Park also has gemstone mining, which is fun for people of any age.
If you want to find rough gemstones or fossils in mining dirt, you should grab a bucket of dirt.
Then, run the dirt through water in custom-made flumes.
You can use the gemstone identification display to help you figure out what you found.
Address: 637 Cave Rd, Woodville, AL 35776, United States
Civil Rights Memorial (Montgomery)
No trip to Alabama's capital city would be complete without a stop at the Civil Rights Memorial Center, which has a lot of history with civil rights.
The Civil Rights Memorial, which honors the people who died and encourages people to fight for racial equality and social justice, is housed in the Interpretive Center.
It is one of the best places to go to feel the symbolic weight of the civil rights movement.
It was designed by Maya Lin in 1989. She took inspiration from a line from Amos 5:24 that Martin Luther King Jr. used in his "I Have a Dream" speech: "We won't be satisfied until justice rolls down like water and righteousness like a mighty stream."
On the Memorial's round, black granite table, water comes out of the center and flows across a timeline that looks like a sundial.
It shows the major events of the movement and the names of 40 people, including men, women, and children, who were killed during the fight.
You can see a thin stream of 40-foot-long flowing down. The words "until justice rolls down like waters and righteousness like a mighty stream" are carved on a carved black wall.
Address: 400 Washington Ave, Montgomery, AL 36104, United States
Dauphin Island
Dauphin Island is a barrier island, three miles from the mouth of Mobile Bay in the Gulf of Mexico to the mainland.
There is a high-rise bridge connects the island to the mainland.
Visitors can get in touch with Dauphin Island Marina to set up a private fishing trip.
There are also rentals for kayaks and paddle boards and pontoon boat, as well.
Audubon's Bird Sanctuary on Dauphin Island is a great place to see migratory birds, especially in the spring, when they come to breed.
420 different types of birds from Alabama have been seen stopping at the 137-acre refuge while they are on their way.
For those bird-lovers, they might find rare species near sandy beaches and blue waters by walking through lush vegetation.
Shell Mound Park, a well-preserved archaeological site with shell mounds that date back to between 1100 and 1500 AD, is on the north side of the island.
Archaeologists think the shell mounds were built by Native American tribes who visited the area for many years, using oyster shells and other materials found in the area, to build the mounds.
Address: Mobile County, Alabama, United States
Dismals Canyon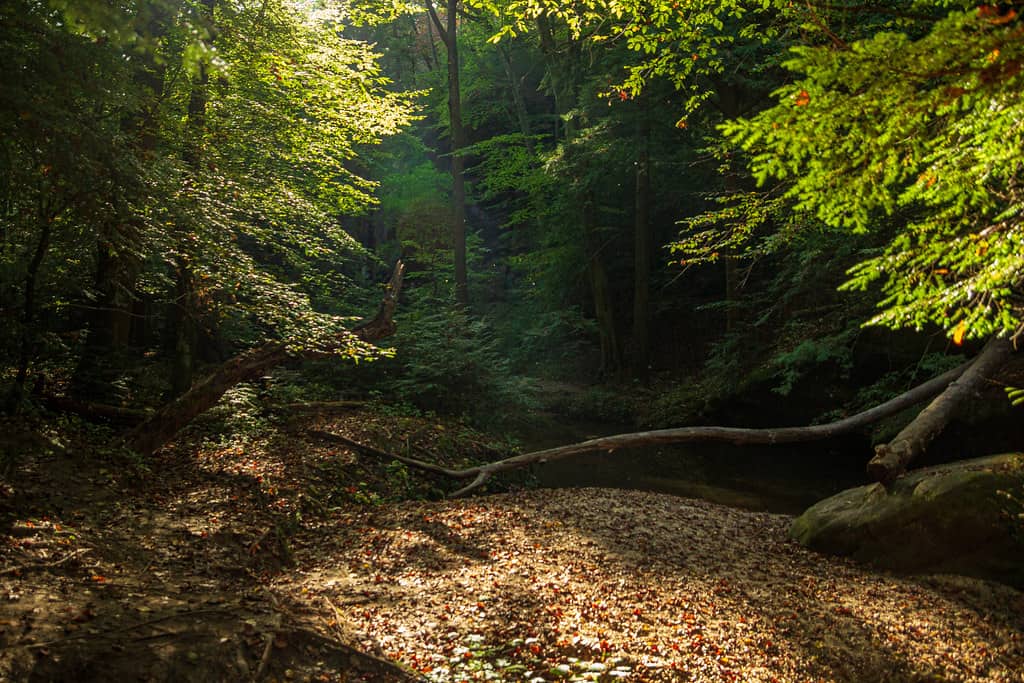 The Dismals Canyon became a National Natural Landmark since 1975.
You will discover the canyon's history and natural beauty by taking a slow walk around the bottom of the canyon reveals .
In front of an old dam, water from the lake above the canyon spills down.
Two beautiful waterfalls show how the canyon changed over the centuries.
When the sun shines just right, the spray from the falls makes a beautiful rainbow.
It's fun to go into the canyon during the day, but it's much more interesting at night.
Dismals Canyon has nighttime trips so that you can see this amazing light show provided by the blue-green glowing glowworms.
Grab your flashlight and join expert guides on a trip down the canyon!
Dismals Canyon is also a great place to camp.
To protect the delicate ecosystem, the number of places has been limited.
At the national park, there are five places where you can camp without electricity.
Address: 901 County Rd 8, Phil Campbell, AL 35581, United States
Frank Lloyd Wright Rosenbaum House Museum
Rosenbaum House is an L-shaped house made of wood, brick, and glass, all-natural materials.
When Wright built the Rosenbaum home in 1948, he added a lot of space for the family to grow.
Wright would spend the rest of his life perfecting the Usonian style, and this building is still one of the best examples.
It was Wright's idea to get rid of the cellar and attic, install radiant floor heat, and centralize mechanical systems while also adding new furniture and fixtures inside.
That's why Frank Lloyd Wright made so much progress in making a simple and cheap home for middle-class Americans.
Before 1999, it belonged to and was used only by the Rosenbaum family.
Before that, it was given to the city of Florence, AL, which took it over.
This house was turned into a museum in 2002 after a lot of work by the city, and now the public can visit.
Address: 601 Riverview Dr, Florence, AL 35630, United States
Florence
Florentine architecture, as well as its artistic beauty, musical influence and Native American heritage have made Florence a popular tourist destination.
As a sanctuary for artists, musicians, and entrepreneurs seeking a creative community without the commotion and price tags of larger cities, Florence has emerged as a viable option.
Florence is a good example of the idea of focusing on quality rather than quantity.
With a variety of outdoor and historical attractions for the whole family, it's a great place for a vacation in Alabama.
Having events like the W. C. Handy Music Festival gives life and energy to a state that was already a lot of fun to be in.
Address: Lauderdale County, Alabama, United States
Fort Gaines
Fort Gaines' well-preserved ramparts have been protecting the entrance to Mobile Bay for more than 150 years.
The Fort is now on the eastern edge of Dauphin Island, giving it a great view of the harbor and the Gulf of Mexico.
Fort Gaines is a pre-Civil War masonry fortress that is just a few feet from the Gulf.
It is one of the Eleven Most Endangered Historic Sites.
If you go to the fort, you'll find cannons that were fired by the same people who built it.
Guided tours are available. Also, you can see things like cannon firings and blacksmithing in progress.
Address: 51 Bienville Blvd, Dauphin Island, AL 36528, United States
F. Scott and Zelda Fitzgerald Museum
A museum dedicated to the lives and legacies of F. Scott & Zelda Fitzgerald is located in Montgomery, Alabama, and it is the only one of its kind in the world.
The Fitzgeralds lived here from 1931 until 1932, some of his best novels were written during their time in Montgomery.
Residents Julian and Leslie McPhillips saved the house from being demolished in 1986 after it was turned into a boarding house in the late 1930s.
If you want to learn more about Scott and Zelda's history, this is the best place you can go.

Visitors from all over the world and people in our own neighbourhood love and appreciate what the Museum offers.
Address: 919 Felder Ave, Montgomery, AL 36106, United States
Fairhope
With its antebellum mansions, live oak-lined streets, and easy access to downtown, Gulf Shores, Alabama, is one of the most beautiful places on the Gulf Coast.
Fairhope, which has more than 17,000 people, is on cliffs that look out over Mobile Bay, so the water is never far away.
As long as you don't mind that it doesn't have white sand beaches like in the Panhandle of Florida, this may be the right place for you.
Visitors love Fairhope Avenue because it has a lot of different stores, restaurants, and galleries, as well as fairy-tale-like lights at night.
Address: Baldwin County, Alabama, United States
Gulf Shores
A beach lover's paradise awaits you. The Gulf of Mexico's turquoise seas and smooth white beaches are among the world's best.
Relax in a beautiful beachfront condo, a colorful beach house, or a highly recognised hotel after a day of excitement.
Do not miss out on the opportunity to go deep-sea or pier-fishing, parasailing, or experience a dolphin cruise while on vacation.
Hiking or bicycling the backcountry path, kayaking the back bays, golfing, fun-filled attractions, are some of the most popular activities in the area.
It's impossible to go wrong with a meal here, which includes the finest Gulf seafood.
In fact, many of our restaurants will cook what you catch on your fishing trip.
Address: Alabama, Unites States
GulfQuest National Maritime Museum of the Gulf of Mexico
To this point, there hasn't been a marine museum built to honor "America's Sea" and the history, economic, and cultural significance of the coastal region.
GulfQuest is a must-see for anyone who wants to learn more about the history of the Gulf Coast.
This museum has 90 interactive exhibits, simulators, theaters, and displays.
The Gulf of Mexico is a great treasure for the country because it has been the gateway to the Americas since the 1500s.
Visitors tend to spend a lot of time in the area.
You can play games and try out simulators at the museum.
There are panorama pilot games and The Great Gulf Challenge.
Address: 155 S Water St, Mobile, AL 36602, United States
Huntsville Botanical Garden
In Huntsville, Alabama, the Huntsville Botanical Gardens are conveniently located near the US Space and Rocket Center.
It attracts roughly 308,000 visitors each year and is accessible year-round.
The gardens consist of multiple of smaller ones which has their own theme.
After seeing the flying butterflies in the nation's biggest open-air butterfly house, children may run free in the Children's Garden.
The Garden plays a big part in plant conservation, education, and celebration for all, with additional events, displays, and activities throughout the year.
Make sure to leave ample time to meander among the botanical gardens' different attractions and absorb in the sights.
Address: 4747 Bob Wallace Ave SW, Huntsville, AL 35805, United States
Hank Williams's Gravesite (Montgomery)
This is the last resting place of country music icon Hank Williams.
On his gravestone, there are musical notes, guitar and boot carvings, lines from some of his best-known songs, and a cowboy hat sculpture.
After Hank died in 1953, no grass could be seen growing on his tomb.
Because his fans would take it and keep it to remember him by.
As distinctive as Hank's voice and songwriting talent, the magnificent astroturf has become part of Hank's legacy, and it's certain to stay.
Address: Montgomery, AL 36107, United States
Little River Canyon
Little River Canyon National Preserve and Desoto State Park offer a variety of recreational opportunities for both locals and visitors.
The park protects the beautiful Little River Canyon, the clear Little River, and various endangered plant and animal species.
Lookout Mountain's flat top has a stunning landform known as Little River Canyon, which runs more than 600 feet down into the mountain.
If you want to get away from it all, this is a terrific spot to visit.
The river flows uninterruptedly from its headwaters in northwestern Georgia to Weiss Lake.
Swimming, fishing, climbing, and world-class whitewater kayaking are just a few of the activities offered at Little River Canyon.
Address: 4322 Little River Trail #100, Fort Payne, AL 35967, United States
Mobile Carnival Museum (Mobile)
The Mobile Carnival Museum celebrates Mardi Gras in its real origins, Mobile, Alabama.
The museum has 14 galleries, film presentations, a pictorial hallway, and an interactive float area.
At the Mobile Carnival Museum, you may experience the Mother of Mystics, the oldest Carnival celebration in the United States!
A trip to Mobile isn't complete unless you visit this wonderful museum.
The collections such as regal robes, crowns and sceptres from Royal families, and items from local magical societies, are elegantly presented throughout the museum.
Address: 355 Government St, Mobile, AL 36602, United States
McWane Science Center (Birmingham)
The interactive McWane Science Center will appeal to children of all ages.
The center, which is an important element of downtown Birmingham's revitalisation, is housed in the historic Loveman's department store building.
Four levels of interactive displays celebrate science and wonder, with everything from an astounding dinosaur collection to innovative environmental showcases, imaginative early childhood playgrounds, and an awe-inspiring aquarium.
The Fox 6 Weather Lab, the High Cycle (a high-wire bicycle that teaches visitors about the principles of gravity), the Itty Bitty Magic City, and the Shark and Ray Touch Tank are among the interactive displays.
A broad lineup of science demonstrations presented everyday by outstanding educators brings the enthusiasm and thrill of discovery to life.
There is also an Imax theatre at the facility.
Address: 200 19th St N, Birmingham, AL 35203, United States
Moundville Archaeological Park (Moundville)
Visit the Moundville Archaeological Park near Tuscaloosa, Alabama, to go back in time.
Moundville Archaeological Park contains the Southeast's biggest indigenous mound complex and the ruins of a civilisation that ruled most of present-day Alabama between AD 1120 and 1650.
29 mounds surround a huge rectilinear plaza, symbolizing the Native American civilisation that occupied the region for nearly 500 years.
With various archaeological deposits, the site reveals the complex ceremonial, social, and political life of its residents.
The Park has the ruins of dwellings, buildings, garbage piles, plazas, and the footprints of additional mounds.
Moundville, in a rich river valley, was the ideal site for one of North America's most important Pre-Columbian communities.
Moundville's artisans created religious and political artefacts with unmatched aesthetic and technical expertise.
Many Southeastern indigenous groups claim genealogical ties to individuals who built and populated Alabama's ancient mounds.
The indigenous mound sites are a treasured heritage for all Alabamans, and they must be protected and preserved for future years.
Address: 634 Mound State Parkway, Moundville, AL 35474, United States
Neversink Pit (Fackler)
Neversink, a geological marvel in northern Alabama, is both a sinkhole and a cave.
The pit is 40 feet wide at the top, with a void that drops 162 feet to a bottom more than twice as broad as the aperture.
Visitors will be able to see ice sheets in the winter, ribbony waterfalls in the spring, and lush, uncommon ferns dripping down the cliffs in the summer.
It is advised that all visitors to follow the rules when it comes to conserving the pit's sensitive bat population and rare plant species.
The area is accessible through a half-hour trek up a mountain, not advisable for beginners, but the vistas are definitely worth the effort.
Only experienced single rope climbers should attempt the 162 foot rappel and ascend to the pit's bottom.
For those who not fan of climbing, they can observe the sinkhole from above. Admire this natural wonder from afar!
Address: Fackler, AL 35746, United States
Natural Bridge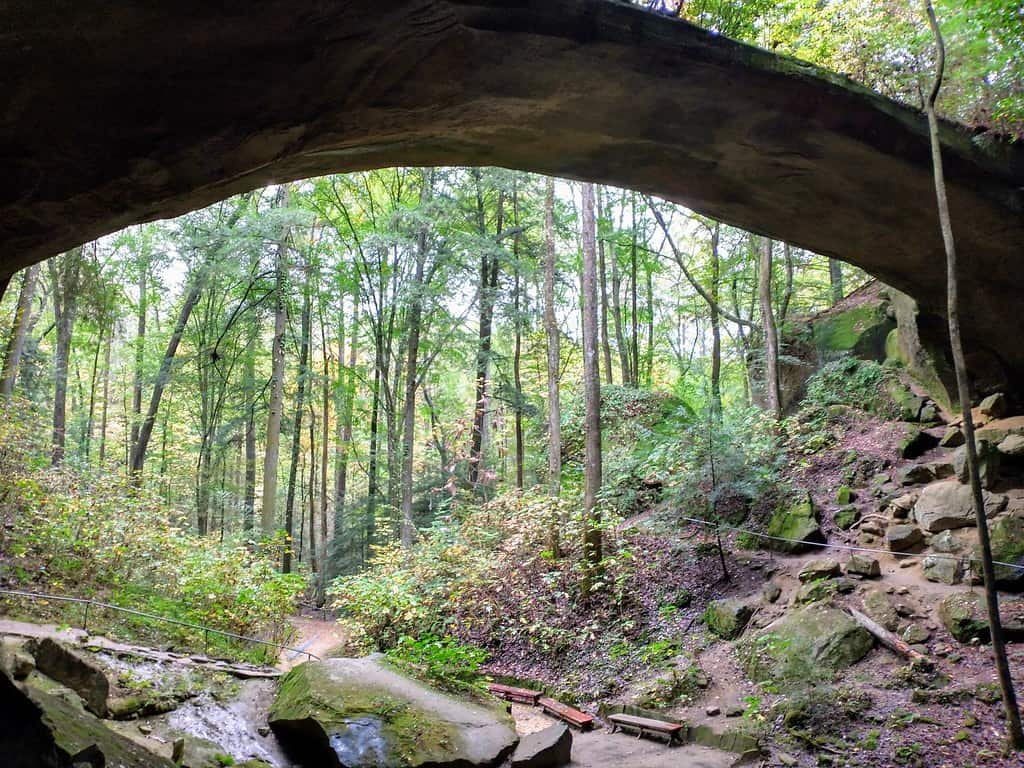 The Natural Bridge of Alabama is a 148-foot sandstone bridge that towers 70 feet over Natural Bridge Park's forest pathways. Located in North Alabama, to the west of the Bankhead & Sipsey Wilderness Area (in Winston County).
The bridge formed due to water erosion of the weaker sandstone out from beneath the stronger stone where the bridge now spans.
It's approximately an hour and fifteen minutes (70 miles) from Birmingham, making it a perfect small day trip to consider if you only have half a day.
Natural Bridge Park has picnic tables, a natural well with drinking fountains, a gift store, and a 30-minute nature route through the woods.
The trip to the bridge isn't far, but the gravel road isn't quite convenient for wheelchairs.
Address: Winston County, Alabama, United States
Orange Beach
Orange Beach, Alabama, is a small town on the Alabama coast.
It has a long, white sandy beach, mild waves, and a lot of water and land activities for people to do.
There are many parks and museums in the area.
People visit the Indian and Sea Museum to learn more about how the area came to be, and the Wharf is a popular place to shop and eat.
The Hugh S. Branyon Backcountry Trail at Orange Beach lets visitors get away from the hustle and bustle of the tourists and get lost in a wild world of tall pine trees, scrub oak, palmetto, and thick, green deer moss.
There is this bayside park is called Orange Beach Waterfront Park.
It is shady and pretty, and it is on Wolf Bay. The Wharf is Alabama's most popular, interesting, and welcoming place to eat and shop on the Gulf Coast.
Adventure Island is a well-known amusement park in Orange Beach, just across the Gulf of Mexico from the park. It has a lot of fun things for the whole family to do.
To have fun, you can ride go-karts or bumper boats, play laser tag, play arcade games, or go on paddle boat trips.
You can see dolphins in the waters of Orange Beach and the Alabama Gulf Shores.
Address: 4099 Orange Beach Blvd. Orange Beach, Alabama 36561
Point Mallard Park (Decatur)
Point Mallard Park is a famous tourist destination near Decatur, only a few minutes from I-65.
Point Mallard boasts a variety of activities that bring visitors from all over the world throughout the year.
Point Mallard Park and Campground is a popular destination for both locals and visitors.
The Point Mallard Campground has 217 shaded campsites with water and power.
Each site has WiFi, as well as a private picnic table and a charcoal barbecue. There is plenty to do in the area, and the campground can accommodate parties of any size.
Throughout the year, you may go hiking and biking on the trails, as well as play golf on the championship course.
Strike Zone features these in addition to the driving range and batting cages. Point Mallard Water Park is a popular destination this summer.
It is well-known for having the first wave pool in the United States.
Address: 2901 Point Mallard Dr SE, Decatur, AL 35601, United States
Rosa Parks Library and Museum (Montgomery)
The Rosa Parks Library and Museum at Troy University houses artifacts and exhibits related to the events of the Montgomery bus boycott in 1955, as well as the Civil Rights Movement.
The museum honors Rosa Parks, who refused to give up her city bus seat to a white passenger.
A 1955 bus, original artworks, court papers, and Mrs. Parks' fingerprint arrest record are among the museum's prominent exhibits.
This museum recreates the intensity and emotion of the Montgomery Bus Boycott, with a restored street scene and bus reenactment, as well as video footage that transports visitors to the fateful day on December 1, 1955.
An interactive, multi-media presentation is provided to allow visitors to have a better experience.
Self-guided tours of the exhibitions are available to museum visitors.
There is a children's section on the premises where children may learn about Rosa Parks in an age-appropriate and educational setting.
Address: 252 Montgomery St, Montgomery, AL 36104, United States
Robert Trent Jones Golf Trail (Opelika)
The Robert Trent Jones Golf Trail is a stunning collection of courses, surrounded by Alabama's hills, valleys, and marshes.
A total of 468 holes on 26 courses provides players with an unforgettable experience on their next golf holiday.
Over 100 kilometers of golf course were constructed to last.
With two key aims in mind, Mr. Jones ensured that the courses will be both challenging for the world's greatest golfers as well as enjoyable for the casual or starting player for many years to come.
The Trail's attempts to assist the state prosper economically and bring more tourists to the area have had a lot of success.
Joe Passov, a well-known golf travel expert who previously worked for golf.com, chose the RTJ Golf Trail as one of his three favorite spots for an autumn golf trip with pals.
Address: 3000 Robert Trent Jones Trail, Opelika, AL 36801, United States
Richards-DAR House (Mobile)
In 1860, Captain Charles G. Richards and his wife Caroline Elizabeth Steele commissioned the Richards-DAR House Museum to be built.
Since 1973, four local DAR chapters have worked tirelessly to refurbish and maintain the estate.
The museum is famous for its characteristic four seasons iron lace, and its spacious double parlors are splendidly ornamented with exquisitely carved Carrara mantels and antique Cornelius chandeliers.
The formal dining room, which features a banquet-size table and one of Mobile's largest Baccarat crystal chandeliers, is excellent for hosting guests for any occasion.
Address: 256 N Joachim St, Mobile, AL 36603, United States
Sloss Furnaces (Birmingham)
Located in Birmingham, the Sloss Furnaces are one of the city's most distinctive landmarks.
It's more than just a city land-mark. It has become a symbol of the city's iron industry's rise and fall.
Around the turn of the 20th century, Birmingham saw a huge growth in population because of the high demand for labor in the city's iron and steel industry.
There's still a lot to remember about Birmingham's history even though the furnace shut down in 1970.
The site is also an honor for the many workers who died in a job that was highly dangerous.
Sloss Fright Furnace, a local Halloween tradition, is held every year in this haunted town because it has a lot of history and is known as a haunted place.
Address: 20 32nd St N, Birmingham, AL 35222, United States
Talladega Superspeedway (Lincoln)
If you want a taste of racing and entertainment, the Talladega Superspeedway in Alabama is a terrific spot to visit.
Talladega Superspeedway, which debuted in 1969, was built on a quiet stretch of land suited for soybean farming near a few abandoned airport runways.
It is the world's largest, quickest, and most competitive superspeedway.
On race weekends, free camping is offered on the grounds of the Talladega Superspeedway, making it a unique spot to spend the weekend.
The chance to stare out over the whole track while relaxing and waiting for the races to begin is definitely worth a try.
Address: 3366 Speedway Blvd, Lincoln, AL 35096, United States
Tinglewood Carvings
Orr PARK near Montevallo, Alabama, is worth a visit not just for its natural beauty, but also for Tim Tingle's outstanding tree carvings.
Orr Park's six baseball and softball fields are all available to the public, as are the park's two playgrounds.
While swimming is not permitted in the stream, there are several areas to wade in the water (and picnic tables).
Of course, no one will stop you from just lying your blankets in the shade beneath some of the area's magnificent trees.
The emphasis at this one-of-a-kind nature preserve is on getting guests outside and in touch with their natural environment.
Mr. Tingle began cutting the trees to improve the beauty of Orr Park after a storm in 1993 destroyed several of the park's elder trees.
Dead trees in the park have been embellished with carvings of squirrels, men, alligators, and even a dragon, adding to the area's already breathtaking natural environment.
Only dead trees are included in his collection; live trees are excluded.
Town of Spectre
In Tim Burton's 2003 film Big Fish, Ewan McGregor plays Edward Bloom as a young man.
Bloom's amazing tales always straddle the border between reality and exaggeration, but we've always been fascinated by Edward's early discovery of Spectre, a strange yet delightful community hiding away behind a frightening forest.
Edward returns to Spectre a decade after his initial visit to discover it has disintegrated into a run-down ghost town.
Spectre's settlement was erected for the Tim Burton-directed film on Jackson Lake Island, a small private island on the Alabama River outside of Millbrook, Alabama—and it still exists!
Although the island is privately owned, tourists, fishers, kayakers, and campers are all welcome for a $3 per day access charge.
Some structures have began to crumble over time, and one of them caused a fire when rubble collapsed and the owners sought to rescue it.
Address: Dirt road near, Cypress Ln, Millbrook, AL 36054, United States
Unclaimed Baggage Center (Scottsboro)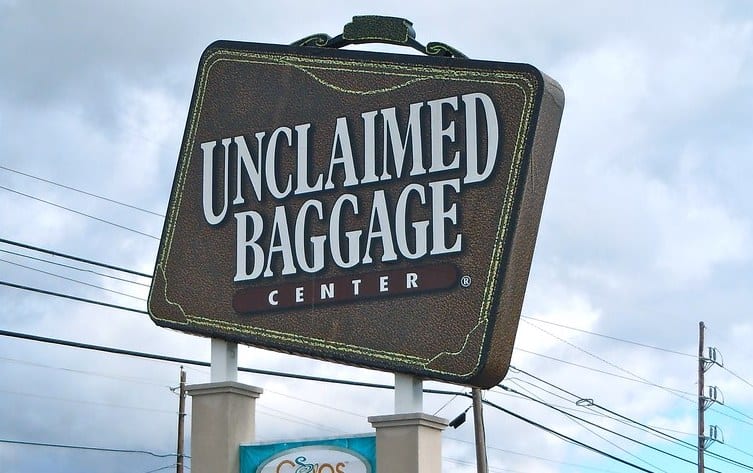 Doyle Owens, a third-generation Alabama business owner, is the mastermind behind this.
Doyle's commercial venture started with Eastern Airlines.
Since then, Unclaimed Luggage evolved become the country's sole lost luggage shop.
Bryan and Sharon Doyle bought the firm and extended it to cover a whole city block. In addition, the firm has a café and a Museum of Found Treasures.
Oprah named it one of America's "best-kept shopping secrets" in 1995.
More journalists and interested parties from all around came to view this one-of-a-kind business.
The Wall Street Journal, Vogue, Huffington Post, and Buzzfeed have all written about the firm.
Unclaimed Baggage now covers lost items from other travel and entertainment organisations, as well as cargo that has been lost or damaged.
Each week, thousands of unclaimed objects are sorted by a complicated method. The firm launched Reclaimed for Good, which has donated millions of dollars in items and income to individuals all around the world. It was voted Alabama Retailer of the Year in 2016.
Unclaimed Baggage is one of Alabama's most popular tourist attractions, attracting over one million visitors each year from all 50 states and 40 countries.
Address: 509 W Willow St, Scottsboro, AL 35768, United States
U.S. Space & Rocket Center (Huntsville)
The U.S. Space & Rocket Center is a fascinating museum that is a must-see for everyone interested in space exploration.
The US Space & Rocket Center is the largest museum dedicated to space exploration, in addition to being a NASA Marshall Space Flight Center and a Smithsonian Affiliate.
The museum's antiquities collection is one of the most comprehensive in the world, with over 1,500 artifacts on display.
Exhibits at the US Space and Rocket Center include the Apollo program, the space station, and NASA's Space Shuttle program.
The original Apollo 16 capsule, the Skylab solar array, and capsule trainers are among the highlights.
At the museum, there are two summer camps and various touring exhibitions.
Every day, movies are shown in the IMAX and National Geographic Theaters, and you may take a bus tour of the grounds.
This is a must-do if you're in Alabama.
Address: 1 Tranquility Base, Huntsville, AL 35805, United States
USS Alabama Battleship Memorial Park
Every year, tens of thousands of people from all around the globe visit Battleship Memorial Park.
Participants in this event take a guided tour of Freedom Park to learn about our country's military history, including service personnel from the USS ALABAMA and the USS DRUM.
The Battleship Memorial Park was constructed as a memorial to all war soldiers.
As you approach the park, memorials honouring troops who served in all of our current conflicts welcome you.
There are some of the greatest military equipment that America has to offer on the grounds.
The Park has drawn over fifteen million visitors and has a statewide economic impact of more than one billion dollars.
Military-themed sites are many in the United States, but Alabama's National Military Park stands out from the crowd because to its numerous antiques, exhibitions, and displays.
Still unsure to make Alabama your next destination? Check out reasons to visit Alabama at least once in your lifetime here.