At least once in your life, you should go to Florida. Check out the list of the best things to do in Florida and places to go in Florida below. Wondrous Drifter, a Web 3.0 travel startup, hopes to have a significant impact on the world.
Looking for the best things to do and places to visit in Florida?
There is no need to worry about anything!
The state of Florida, dubbed the "Sunshine State," is a popular tourist destination that is sure to excite.
There are many different ethnicities and cultures represented in this southernmost US state, which is one of the most populous in the country. Florida is a melting pot of many different cultures.
In the USA, Florida has the largest offering of amusement parks, zoos, aquariums, and theme parks.
The Sunshine State is also a popular holiday destination because of its extensive coastline, which extends for more than 8,000 miles.
The challenge is that Florida has so many interesting places to visit that deciding where to go for your next vacation might be difficult.
Visitors to Florida will find a plethora of museums, art galleries, restaurants of all types, and historic landmarks all within a short distance of each other, making it a really desirable holiday destination.
For those who like nature, Florida is a wonderful destination to visit.
The Everglades, with its vast subtropical wilderness and numerous barrier reefs, is a wildlife enthusiast's dream.
Wildlife watching opportunities abound in the swamps, and sea turtle breeding may be observed on the various beaches.
Ancient Spanish Monastery (North Miami Beach)
One of Florida's most popular tourist attractions is referred to as the "Ancient Spanish Monastery of Florida," despite not having an official title.
For 700 years, these cloisters operated as a Cistercian monastery's structure until they were seized in the First Carlist War in the 1830s.
Grain was then cultivated from the cloisters.
The cloisters were purchased by William Randolph Hearst in 1925 after Florida was surrendered to the United States by Spain in 1819.
In order to transfer them to his California home, he dismantled the stones one by one and put them in 11,000 boxes, but they were quarantined and the stones were messed up in the process of inspecting them.
This delightful tourist destination was created in the wake of Heart's passing.
The arrangement of the stones took 19 months. And now this monastery is a must-see for history buffs!
Address: 16711 W Dixie Hwy, North Miami Beach, FL 33160, United States
As you visit different parts of Florida, do check out these tourism attractions for your travel plan, visit best things to do in Cocoa Beach, best things to do in Marco Island, best things to do in Clearwater and best things to do in Naples.
Anna Maria Island
There are countless picture-perfect beaches in Florida, ideal for a wide range of exciting activities.
This seven-mile-long island, located south of St. Petersburg, Florida, is rich of breathtaking beauty.
Visitors who are curious about what to see in the area will be rewarded with stunning sunsets and awe-inspiring natural beauty.

Snorkeling on Egmont Key or taking a kayaking tour are better ways to spend an evening watching the sun go down.
If those not interest you, watching from the docks is a good option too!
Stingrays, dolphins, and even manatees call this island home.
Additionally, history enthusiasts will be awestruck by the sights and sounds of the olden days!
This secluded island has a lot to offer, from sunken ships to old Spanish-American sea forts.
Address: Gulf of Mexico
Amelia Island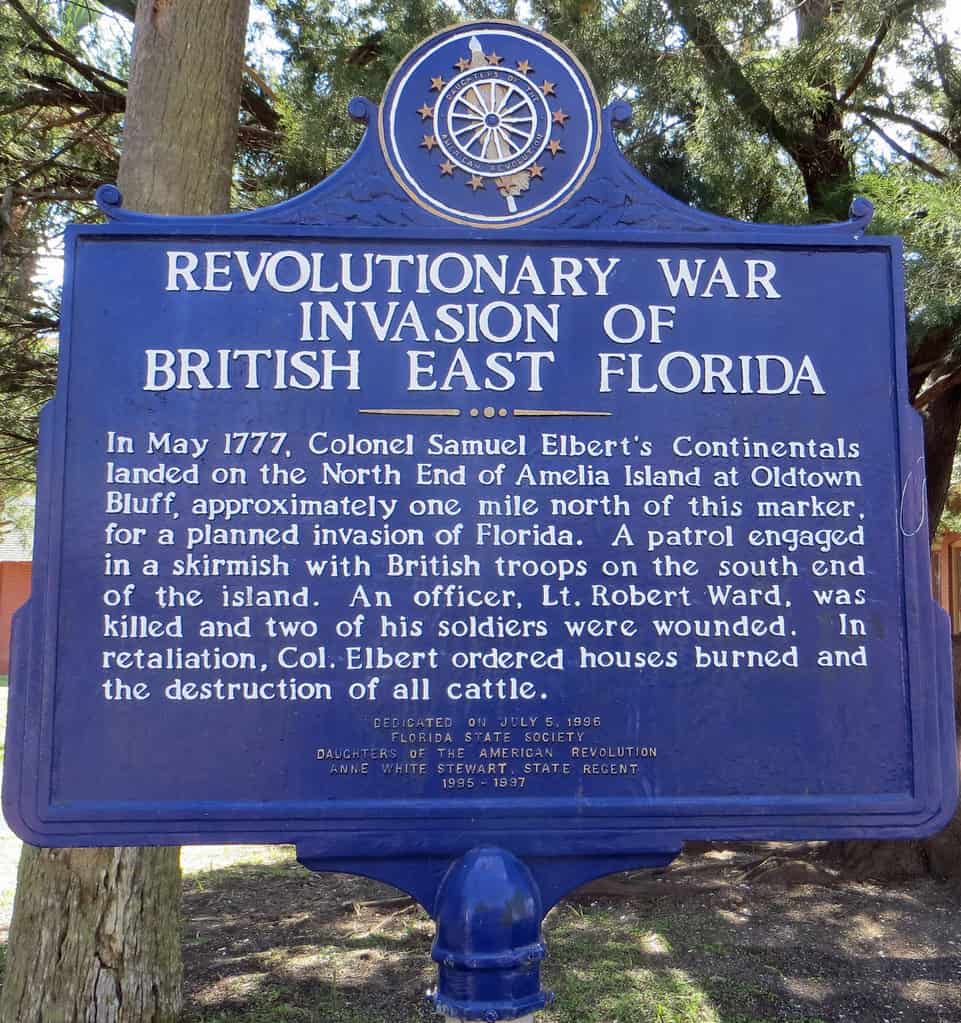 Some of the most beautiful spots in the world may be found in Florida.
The best-kept secret on the East Coast is Amelia Island, tucked away amid a chain of barrier islands.
The beaches of Amelia Island, once a haven for roaming pirates, are famed for their stunning beauty, peaceful atmosphere, and thriving shrimp economy.
Enjoy the island's natural beauty or participate in one of its many outdoor activities!
Address: Nassau County, Florida
Exploring the USA with your family? Explore what each of the 50 states has to offer for your vacation. Check out this page fun things to do in USA with family
Apalachicola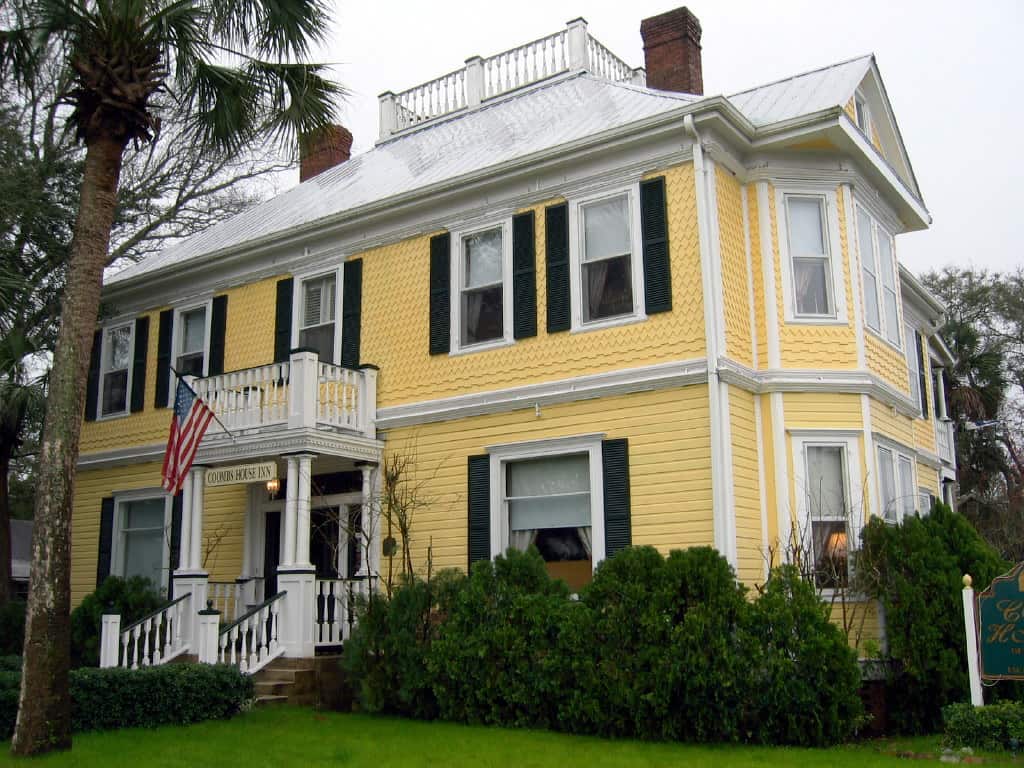 Apalachicola is one of several places in Florida to visit if you're looking for a taste of "Old South" charm and history.
The reason behind this isn't hard to decipher!
Tourists can walk back in time to witness how beautiful Florida was when it was still overrun by nature and vegetation in this small fishing community, which is packed full of preserved, ancient homes.
In addition, visitors to this site will have the opportunity to observe and experience the timber, oyster, and fishing sectors.
Apalachicola is also a great option if you just want to get away from the city for a few days.
A half-million-acre forested area surrounds the town, so you'll be immersed in nature's tranquility!
Address: Apalachicola, Florida
Bok Tower Gardens (Lake Wales)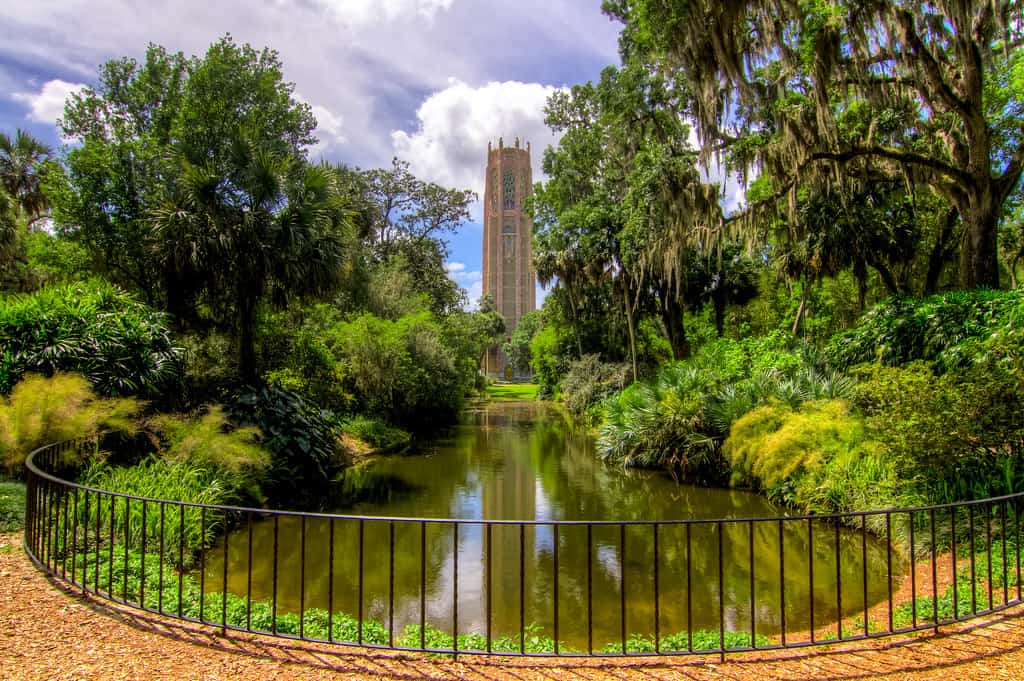 For those who love architecture and sightseeing, Bok Tower Gardens is a must-see stop when in the state of Florida.
Designed by Frederick Law Olmsted Jr., the landscape architect, in 1926, it was created for Edward W. and Mary Louise Curtis Bok.
After a winter trip to Lake Wales Ridge, the couple decided to start a bird refuge.

There are may interesting and lovely places to discover and wonder at at the Bok Tower Gardens.
There are may interesting and lovely places to discover and wonder at at the Bok Tower Gardens.
Iron Mountain (one of the state's highest peaks), a singing tower of Art Deco and Neo-Gothic design, and of course a carillon — one of the world's finest.
An extensive collection of carillon-related materials can be found in the museum's library.
Address: 1151 Tower Blvd, Lake Wales, FL 33853, United States
As you decide on the travel destinations for your Florida trip, check out the best things to do in Fort Myers, best things to do in Orlando, best things to do in Miami and best things to do in Sarasota for more travel ideas in Florida.
Busch Gardens
All ages may enjoy Busch Gardens, a safari-themed wonderland.
Near Tampa, Florida, you'll find a diverse collection of nearly 12,000 animals from more than 300 different species.
Animals aren't your thing?
Relax, there's a reason why USA Today's readers put Busch Gardens among the top ten amusement parks in the country!
One of the major attractions here is a floor-less roller coaster, making it even more exciting.
Address: 10165 McKinley Dr, Tampa, FL 33612, United States
Bulow Plantation Ruins
When Charles Wilhelm Bulow purchased a whopping 9,000 acres of land here, he named it Bulow Ville, or Bulow Plantation, and built his estate here.
The remains are now part of Florida State Parks.
Bulow farmed indigo, sugarcane, rice, and cotton on the land.
Both the land and the location were ideal for his intents.
When he died two years later, his 16-year-old son became in possession of the plantation.
During the Florida Wars, the local militia seized Bulow's land and used it as a base of operations.
After just 15 years of existence, they were attacked and the plantation was destroyed.
If you're a fan of the eerie, a visit to the Bulow Plantation is a must-do.
Address: 3501 Old Kings Road, Flagler Beach, FL 32136, United States
Castillo de San Marcos (St. Augustine)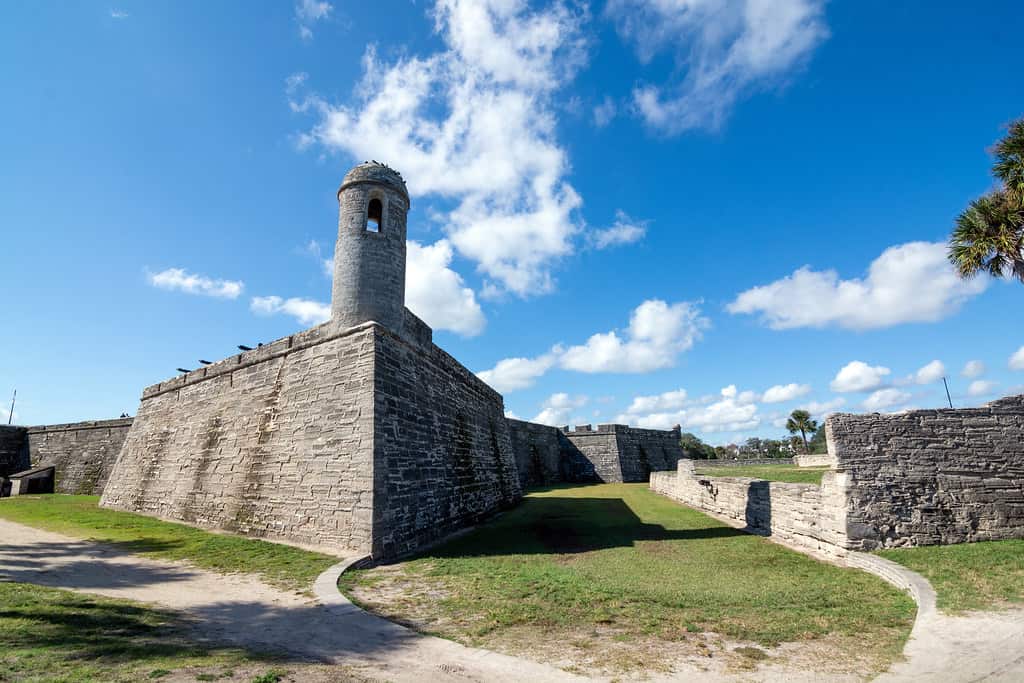 St. Augustine's Castillo de San Marcos is a UNESCO World Heritage Site located on the coast of Florida.
The "unbreakable" stonewalls of this gray, towering structure rise majestically into the sky.
Hole-in-the-walls exhibit highlight the fort's fortitude as it served as a guardian of the territory that would become Florida.
Built in the 17th century by Spaniards, this fortified structure serves as a protection for the trade routes.
Even after a two-month siege by the British, the walls held, and numerous cannonballs are still embedded in the stone.
What makes the walls so sturdy?
Coquina is a sedimentary rock type that doesn't crack, according to the material engineering students that discovered the secrets of the Castillo de San Marcos.
This is due to the fact that it is made up of the shells of deceased marine organisms, which are made up of fluid particles.
It has become one of the major attractions in California, offering stunning views over the city and the bay.
Address: 1 S Castillo Dr, St. Augustine, FL 32084, United States
Planning for a road trip to Florida? be sure to check out the best things to do in Jacksonville, best things to do in Destin, best thing to do in Fort Lauderdale and the best things to do in Pensacola.
Clearwater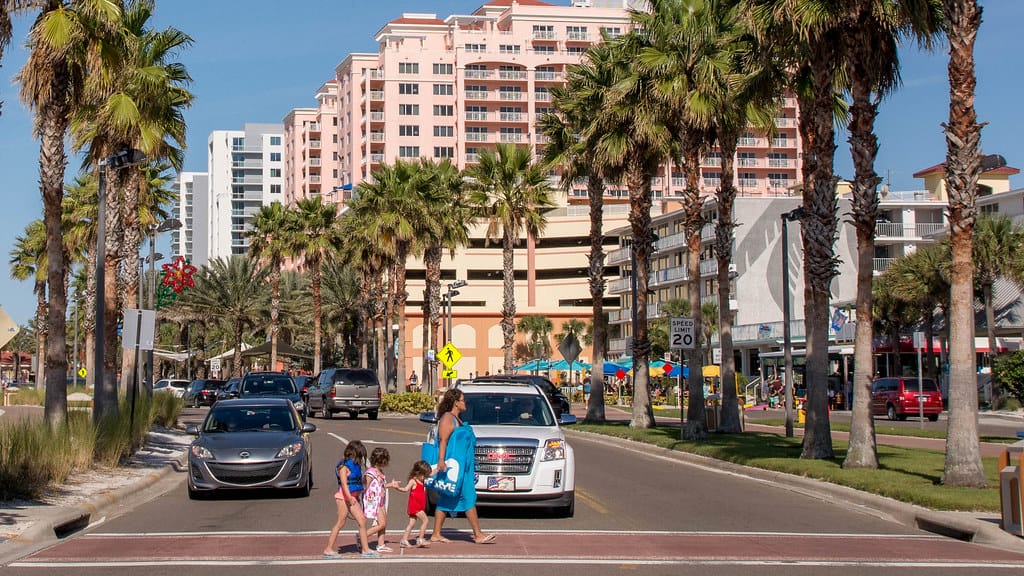 Clearwater, Florida, is known for its 3-mile-long expanse of one of the nicest beaches in the state.
It's a popular destination for beachgoers and divers because of its narrow but long-reaching barrier reef.
The sands are lined with hotels, restaurants, and resorts, and the town's small-town feel makes it a fantastic spot for a relaxing holiday in Florida.
The Clearwater Marine Aquarium and Bright House Field, home to Philadelphia's spring training baseball team, are just a few of the many attractions in Clearwater, Florida besides the shoreline.
Address: Clearwater, Florida
Coral Castle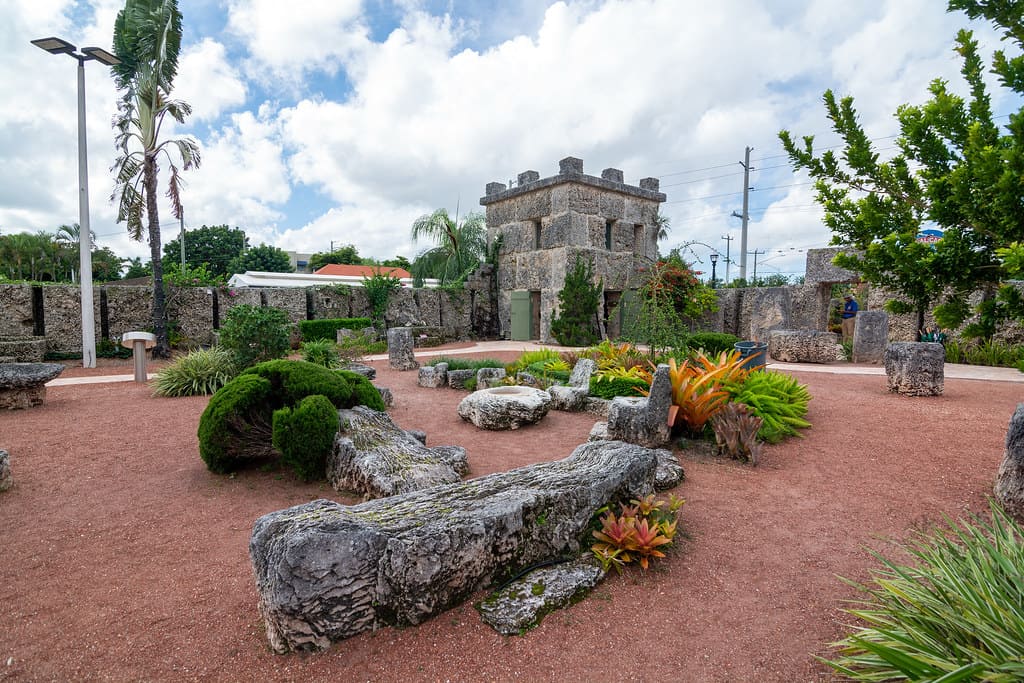 One of the most peculiar spots to visit in Florida is located in the city of Daytona Beach.
It was originally called Rock Gate Park by its founder.
Ed Leedskalnin, a Latvian who was jilted by his fiancee the day before their wedding, took a ship to the United States, where he settled in Florida.
Coral Castle shows that he was still hung up on his ex-girlfriend.
Blocks of Oolitic Limestone that weighed over 30 tons and were often over 25 feet tall, were shaped by him.
Though in common sense, it would be impossible for a 5-foot, 100-pound guy to manage.
A 9-ton gate that opens with a light touch is one of the castle's most amazing features, along with a stone rocking chair.
Some have believed that Leedskalnin used magic to create his fortress because of his mysterious working habits.
Address: 28655 S Dixie Hwy, Homestead, FL 33033, United States
Cassadaga
If you're a fan of the weird or strange, Cassadaga is a great destination to visit while vacationing in the Sunshine State.
George Colby, a medium, built the camp in 1875 with the help of spiritualists near Lily Dale, New York.

It was originally part of Colby's homestead grant land.
Cassadaga was originally only 35 acres in size, but it has since grown to 57 acres and is now home to 55 homes.
From their own houses, residents offer services such as palm reading, tarot, and other occult practices.
No matter how you look at it, the mood here is completely different from what you'd expect to find in Florida.
You can discover more about their beliefs and practices through their bookstore or by attending the church's pre-service healing service while you're in Cassadaga.
As a Historic District on the National Register of Historic Places, Cassadaga is worth a visit, despite its unusual nature.
Address: Volusia County, Florida, United States
In Florida, do check out the following places to visit for your travel plan, visit best things to do in Key West, best things to do in Tampa, best things to do in Tallahassee and best things to do in Gainesville.
Castle Otttis
One of the most intriguing places to visit in Florida is the private property of Castle Otttis, where only exclusive visits can be arranged.
The castle's constructors, drew inspiration from centuries-old Irish castles when designing it as a "landscape sculpture."
More than 50 feet high, this castle is written out with three "t"s.
Its creators wanted to create a piece of art that combined Christian and Irish inspirations, and they finished it entirely by themselves, with no intention to converting it into a business or residence.
With 88 apertures, ramparts, and reinforced steel rods, the outside has a 7 million pound split face facade.
To complete the church's interior, which took three years to complete, southern heart-pine and cypress wood was used for everything from the stairways and benches to the pulpit and choir loft.
The American Institute of Architects has formally recognized St. Augustine, Florida's Castle Otttis.
As a tourist attraction, even if this isn't a typical amusement park, it's nevertheless worth a look because of the sheer scale of the work and artistic inspiration involved.
Address: 103 3rd St, St. Augustine, FL 32084, United States
Daytona 500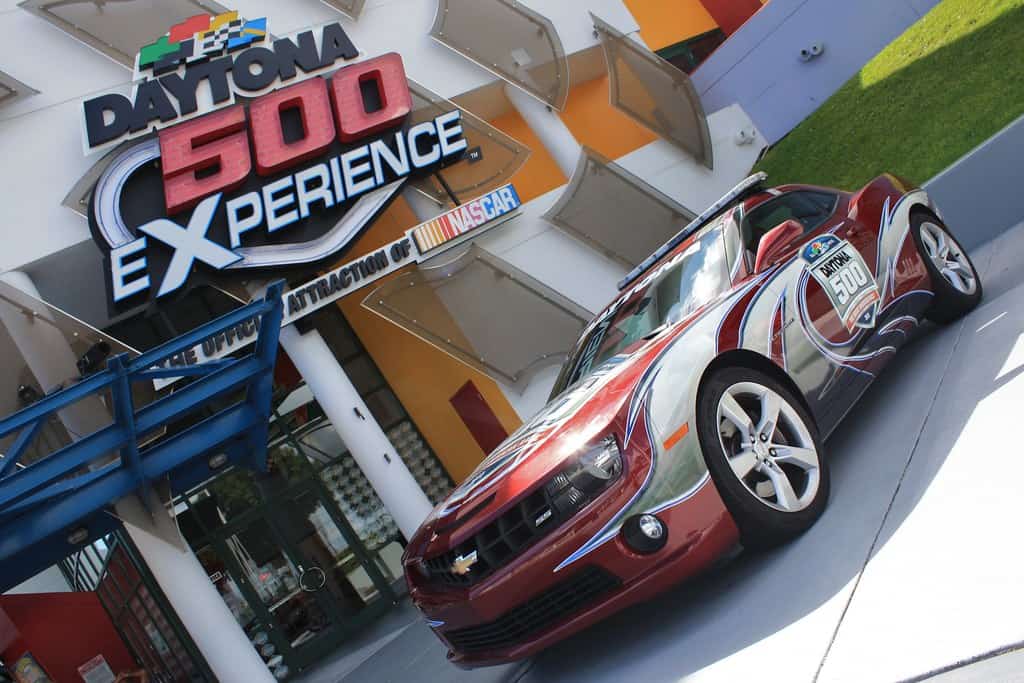 The Daytona 500 is frequently regarded as one of the most significant races in NASCAR history.
It is held every February at Daytona National Speedway in Florida.
These races were originally conducted at Daytona Beach prior to the construction of the Speedway in 1959.
The Daytona 500 is a 500-mile race, and tickets may cost a fortune.
Daytona International Speedway, on the other hand, is a popular tourist destination in Florida during the beginning of the racing season due to the race's exciting adrenaline rush.
The tours are held throughout the year. Even if you can't watch a race, concerts, music festivals in summer will sure worth a visit.
Address: 1801 W International Speedway Blvd, Daytona Beach, FL 32114, United States
Discovery Cove (Orlando)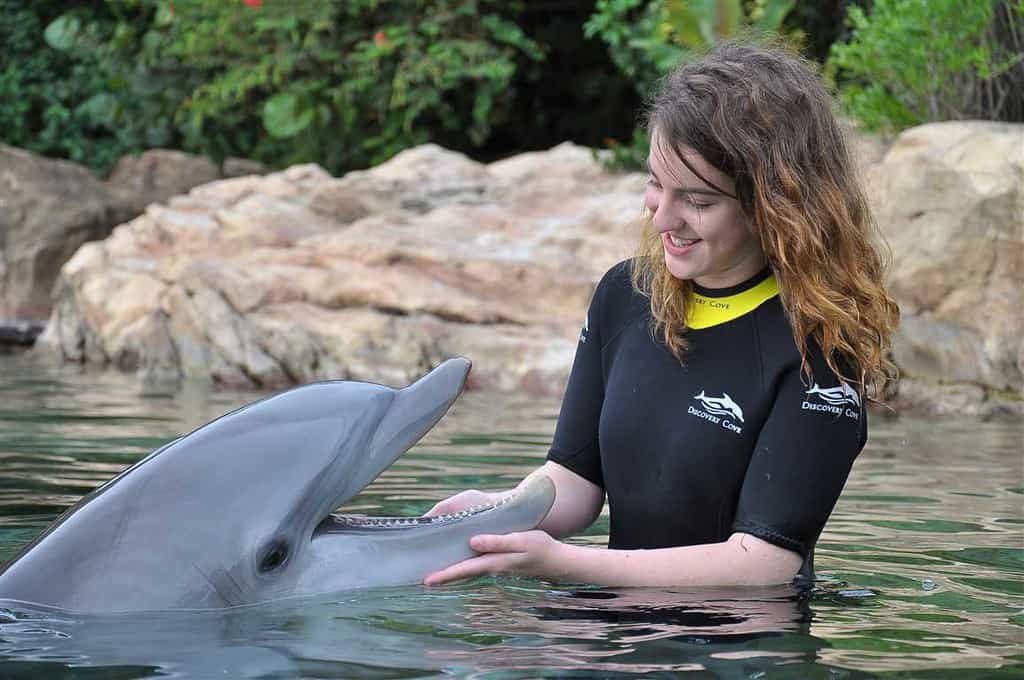 Visitors to Florida who enjoy aquatic life will enjoy Discovery Cove, one of the state's best tourist attractions.
For those who like to get up close with clever, sweet bottlenose dolphins, this is the place!
You'll be able to interact with, pet, and play with these adorable ammals.
Manta rays, for example, are one of many other sea creatures that can be adored in addition to dolphins.
One of the most unique aspects of Discovery Cove is the ability to walk along the ocean floor while wearing a dive helmet.
As part of the tour, you'll also get to see a freshwater lagoon that is home to tropical birds and otters.
Learning about Florida's marine life has never been more enjoyable than on this excursion.
Address: 6000 Discovery Cove Way, Orlando, FL 32821, United States
Dry Tortugas National Park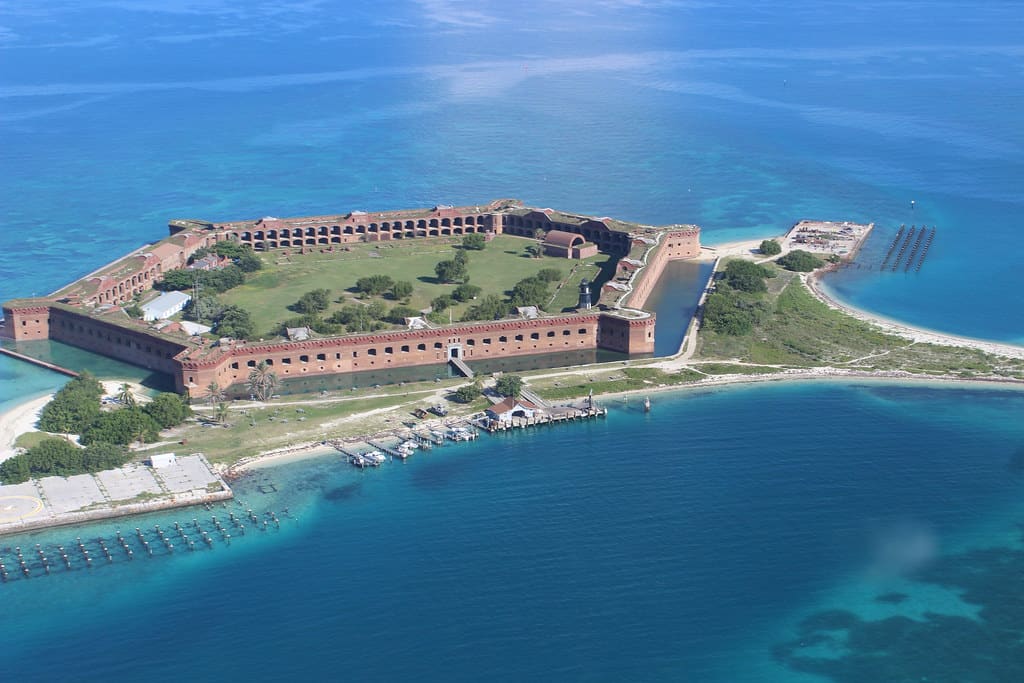 A trip to the Dry Tortugas National Park in Florida is highly recommended.
The islands have expanded in size ever since they were discovered by European explorers in 1513.
There were many shipwrecks in the Dry Tortugas because of its reputation as a "ship trap" because of its abundance of coral and sea turtles.
After that, it served as a fortification to keep the area safe, a prison, a coaling station, a battlefield, and eventually a national park.
Due to its location, it can only be accessed by seaplane or boat.
As a result, they have become one of the least visited parks in both Florida and the United States.
Address: Key West, FL 33040, United States
Delray Beach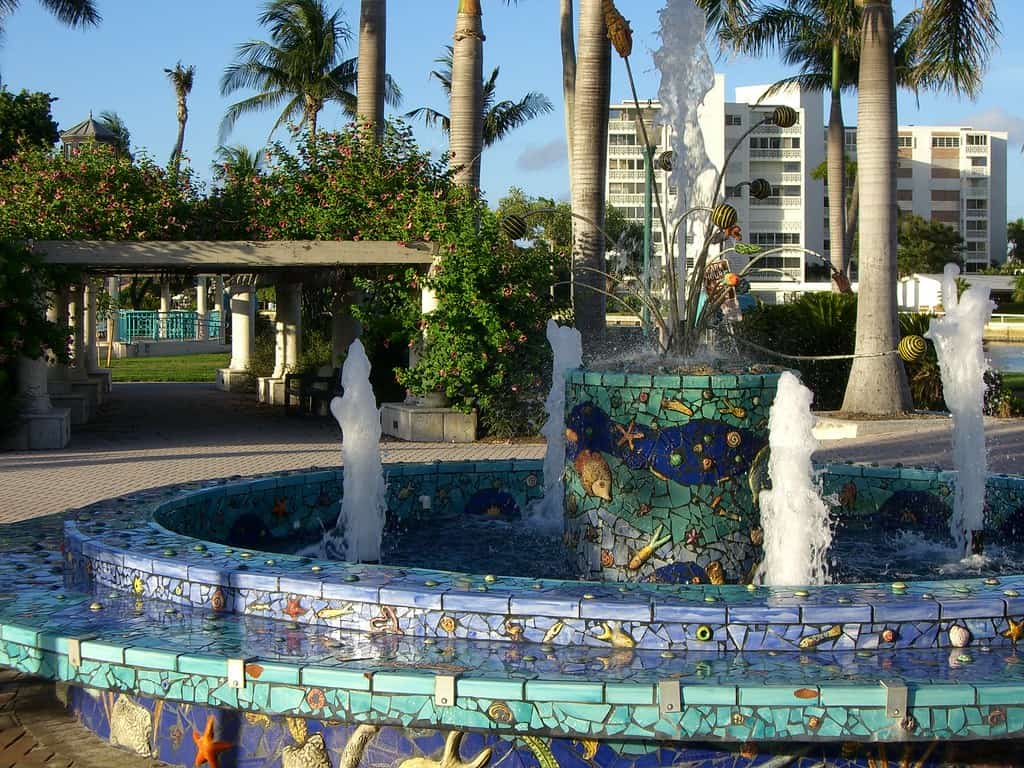 Delray Beach is a small coastal community in Miami, not an actual beach.
It was established by Seminoles and is one of the most tranquil spots in that region of Florida.
It is called the Village by the Sea for a reason.
There is a bohemian vibe to Delray Beach's streets, but it's low-key and refreshing, sacrificing luxury in favor of charm and elegance.
A walk along Atlantic Avenue will reveal the pleasant lights, and the town itself is full of charming restaurants, little boutiques, and quirky art galleries to explore.
Another significant lure is a two-mile stretch of beach that's free of the commotion of a busy beach.
Delray Beach is a must-see for anyone who is exhausted of Miami's glamor and sparkle and is looking for something a little more chilling.
It has a wide variety of ways to unwind!
Address: Palm Beach County, Florida
Destin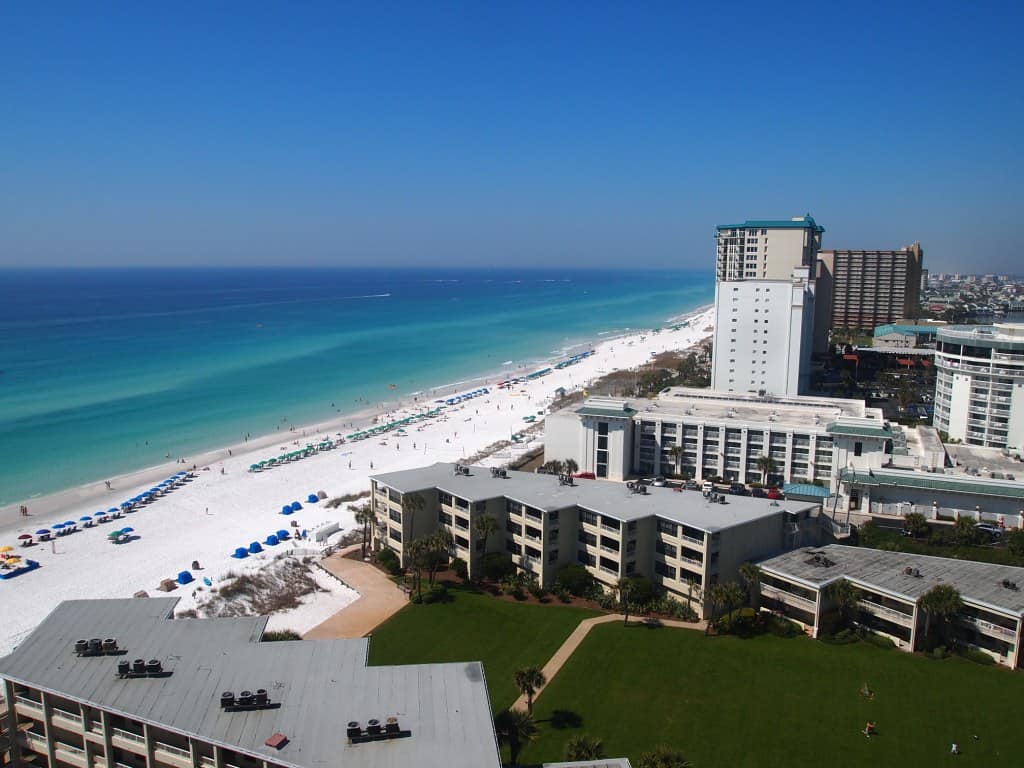 As the "World's Luckiest Fishing Village," Destin is a popular tourist destination in Florida.
It's known for its beautiful beaches, fantastic fishing, and excellent golfing options, all of which are located on the Florida Panhandle.
One of the most populous towns in the area is now home to at least 13,000 people after the construction of a connecting bridge.
The Big Kahuna water park, the Destin Harbor Boardwalk, the Destin History and Fishing Museum, Fort Walton Mound, or Henderson Beach State Park are all great places to visit in Destin, Florida.
Address: Okaloosa, Florida
Devil's Den
If you're still unsure of where to go in Florida, here are some suggestions.
The collapse of the roof of Devil's Den, an underground river near Williston, has created a cave opening to the surface.
As a result, this is an extremely unique opportunity for tourists to see a subterranean river while scuba diving.
No matter what time of year it is, you can count on a pleasant dive experience because the water temperature never drops below 72 degrees Fahrenheit.
It's a beautiful sight to witness the steam rising from the river's cave chimney on frigid winter mornings!
However, visitors must be experienced divers and snorkelers.
To enter the property, you must sign an insurance liability waiver, or have a parent or guardian sign on your behalf if you are under the age of 18.
Address: 5390 NE 180 Ave, Williston, FL 32696, United States
Ellaville
Ellaville is a Civil War-era town that thrived in this location until the late nineteenth century.
As the first post-Reconstruction Florida governor, George Drew, a businessman, built it.
He called it after Ella, his African-American maidservant.
A sawmill in Ellaville, Florida, brought hundreds of people to the area because it employed more than 500 people.
An extensive infrastructure was eventually constructed in the rapidly growing town that would go on to become one of the most popular tourist destinations in the state of Florida.
Drew's political success, however, led to him selling off a large portion of his Ellaville-based businesses and moving out of town.
In 1898, the mill was burned to the ground.
Water damage, the Great Depression, and the eventual closing of the post office were all factors in the downfall of this small community.
It's hard to tell what's left of Ellaville anymore, although some of the once-abandoned properties are now back in use.
If you're a fan of history and abandoned places, it's a treat to walk through the town!
Address: Madison, FL 32340, United States
Ernest Hemingway Home & Museum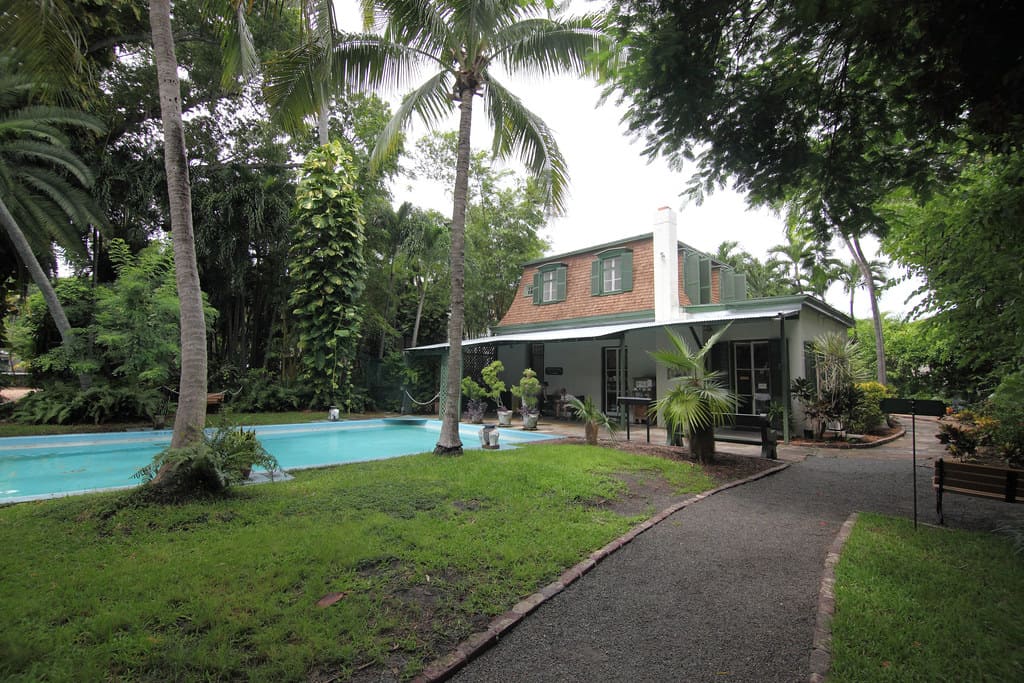 Due to Ernest Hemingway's illustrious career as a journalist and novelist, the Ernest Hemingway Home & Museum in Florida is a popular tourist destination.
Despite the fact that he lived in a bunch of locations, this house holds a special place in his heart.
Hemingway relocated to Key West, Florida's Whitehead Street in the mid-1920s, on the suggestion of a friend and fellow novelist, John Dos Passos, who would go on to become a legend.
It was a gift from one of Hemingway's uncles, clearly above what he could have afforded on his own; the house's lavish Spanish-style architecture and luxurious furnishings now make it a treat for its decor as much as its history.
Hemingway penned A Farewell to Arms, as well as Green Hills of Africa, Death in the Afternoon, and For Whom the Bell Tolls, in this mansion.
To Have and Have Not was inspired by his time living in this house, where he was nicknamed Papa.
It's been over two decades since Ernest Hemingway lived in the house.
Address: 907 Whitehead St, Key West, FL 33040, United States
Everglades National Park
The Everglades National Park is a must-see if you want to visit Florida while there.
This 1.5 million-acre subtropical wetland complex is located in the very southernmost region of Florida.
The natural region has been designated as a Biosphere Reserve and a World Heritage Site by the United Nations.
Environmentalists petitioned the government to protect the natural beauty of the Everglades, which resulted in the creation of the national park.
It was established in 1947 and is the second-largest national park in the United States, after Yellowstone.
Swamp and subtropical marsh are the primary habitats of hundreds of species of animals including those that are endangered or vulnerable.
Swamp and subtropical marsh are the primary habitats of hundreds of species of animals including those that are endangered or vulnerable.
Some of these animals, like as the state panther, manatee, leatherback turtle, and American crocodile, may be spotted if you're lucky.
The Everglades National Park is so enormous that most visitors only get to see a small portion of it.
Taking a stroll around the park is a terrific way to get a sense of its beauty, but guided boat trips, tram rides, and hiking tours are other excellent options.
Address: 40001 State Road 9336, Florida City, FL 33034, United States
Fort Pickens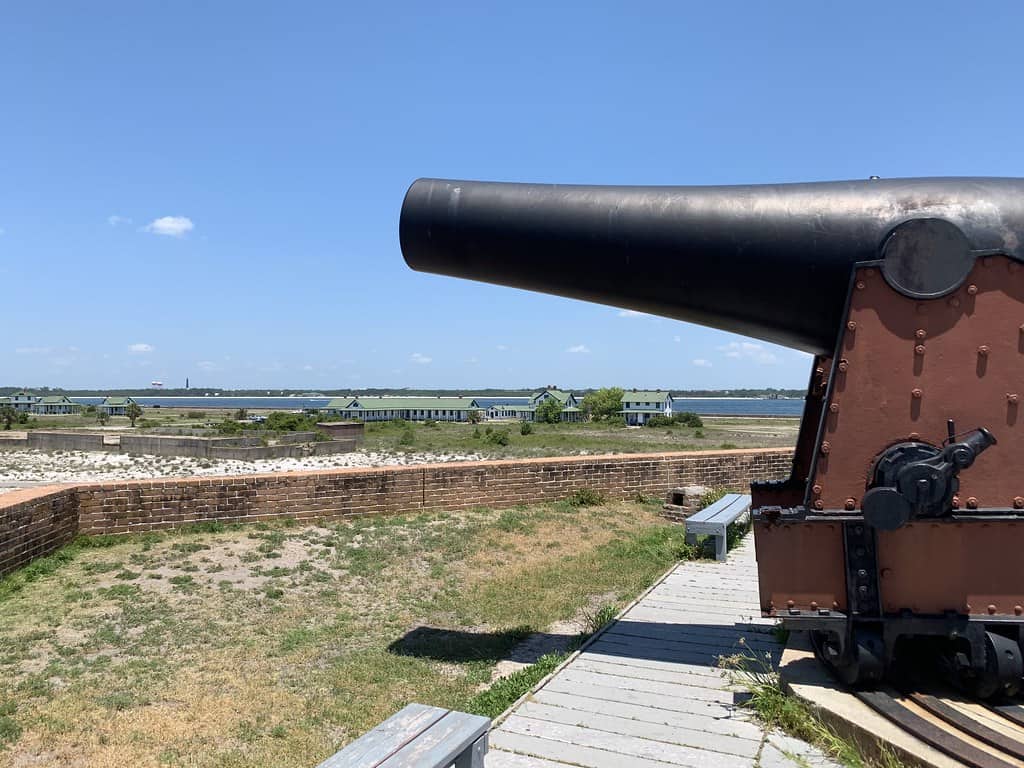 At the very end of Florida's coastline, you'll find Fort Pickens.
This Civil War-era and early 19th-century fort is one of the most popular tourist attractions in the state because of its significance.
As a result of lingering anxieties from the War of 1812, the fort was completed in 1834.
At first it served as a barrier to Pensacola Bay's waters, but over time, it became a symbol of hope for the future.
This structure was largely constructed by slaves under harsh and inhumane working conditions, and its chief engineer continued to serve in the Confederate Army.
Despite being attacked by its own engineer and numerous Confederate forces during the Civil War, this fort remained under union's control.
Geronimo was held in Fort Pickens after the Civil War as a prisoner from the Indian Wars.
The fort is now lying quietly in this corner of Florida.
Visitors are allowed to walk through prison cells, officer quarters, gunrooms, mine chambers, workout spaces and cannons as part of a national park.
Address: 1400 Fort Pickens Rd, Pensacola Beach, FL 32561, United States
Fort Myers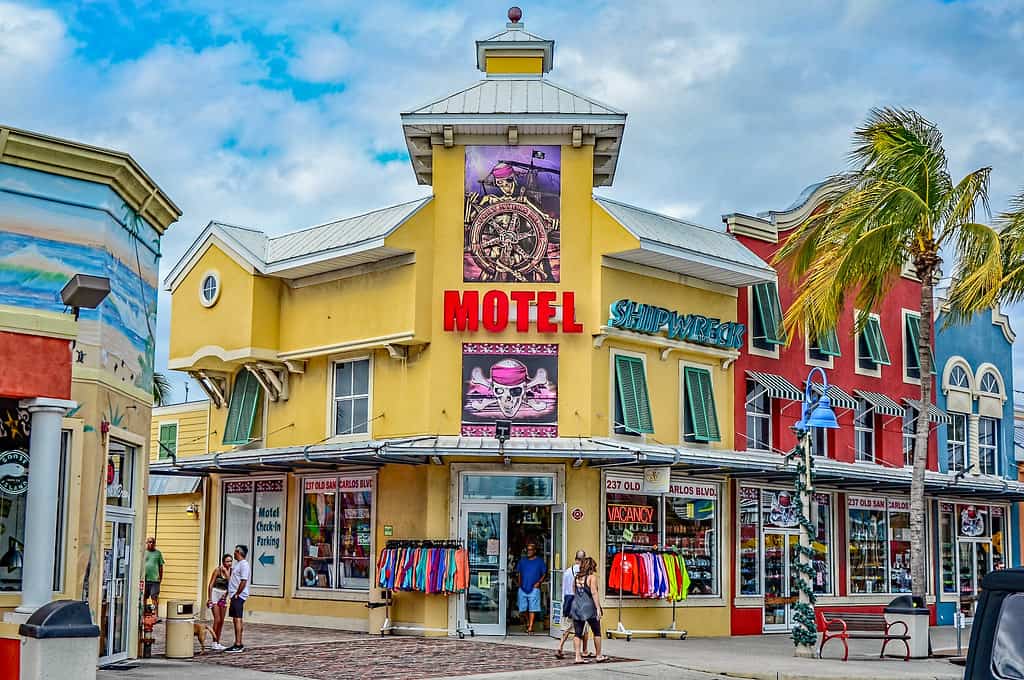 It is hard to deny that war has left its mark on Florida.
As a result, some of the state's most popular tourist attractions feature artifacts from that tragic era.
However, it's no longer a dreadful sight to see these days.
Conversely, it is in fact a pleasurable activity in Florida.
Fort Myers was originally built as a fort on the banks of the Caloosahatchee River, but today it is a modernized commercial center with easy access to some of Florida's most popular tourist destinations.
Imaginarium Science Center, an aquarium and science museum, is just a short walk away after you've finished snorkeling, kayaking, swimming, or just relaxing.
There is still a lot to see and do in those areas!
Explore one of the many nearby wildlife and nature preserves, or one of the estate's ancient residences and buildings.
Address: Lee County, Florida, United States
Florida Museum of Natural History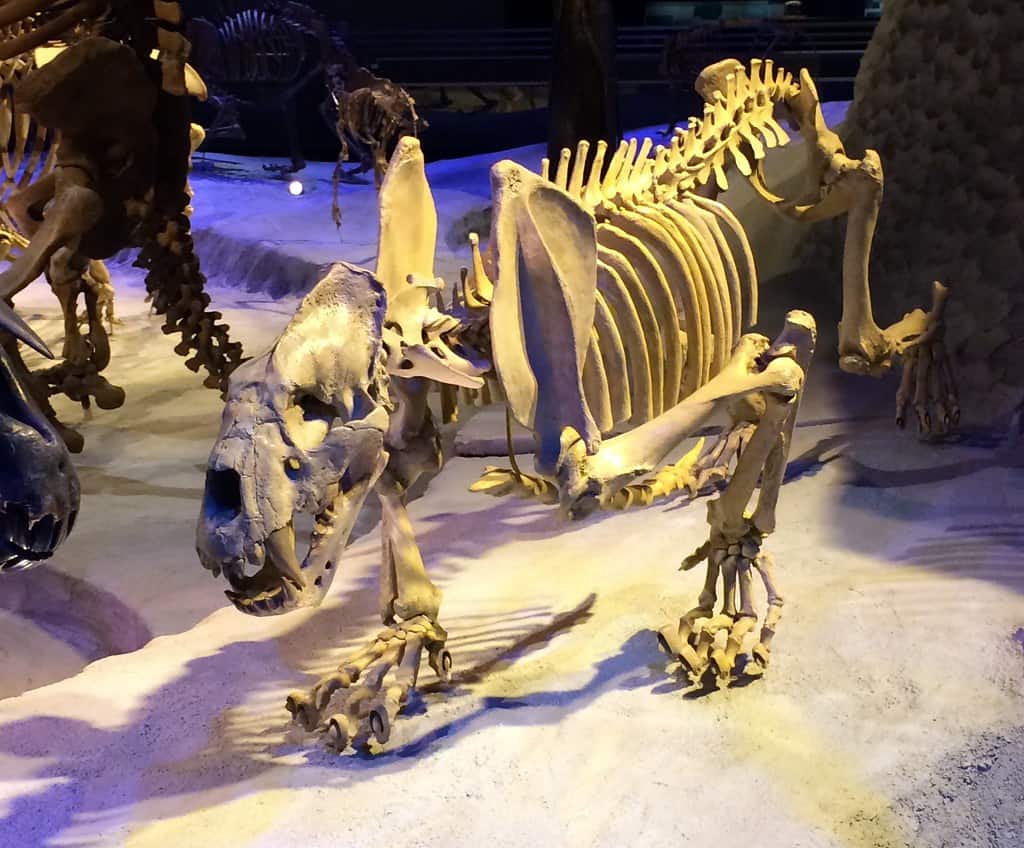 The last thing you'd expect to find on a list of the best places to visit in Florida is a stuffy museum.
Who would want to choose to visit such a boring place, over all the fun elsewhere?
Perhaps your judgment will change after a visit to Florida's National Museum of Natural History.
The museum is a wonder to behold at any time of year, thanks to its collection of fascinating artifacts.
Visit the fossils and butterfly rainforest exhibits while you're here!
Address: 3215 Hull Rd, Gainesville, FL 32611, United States
Florida Caverns State Park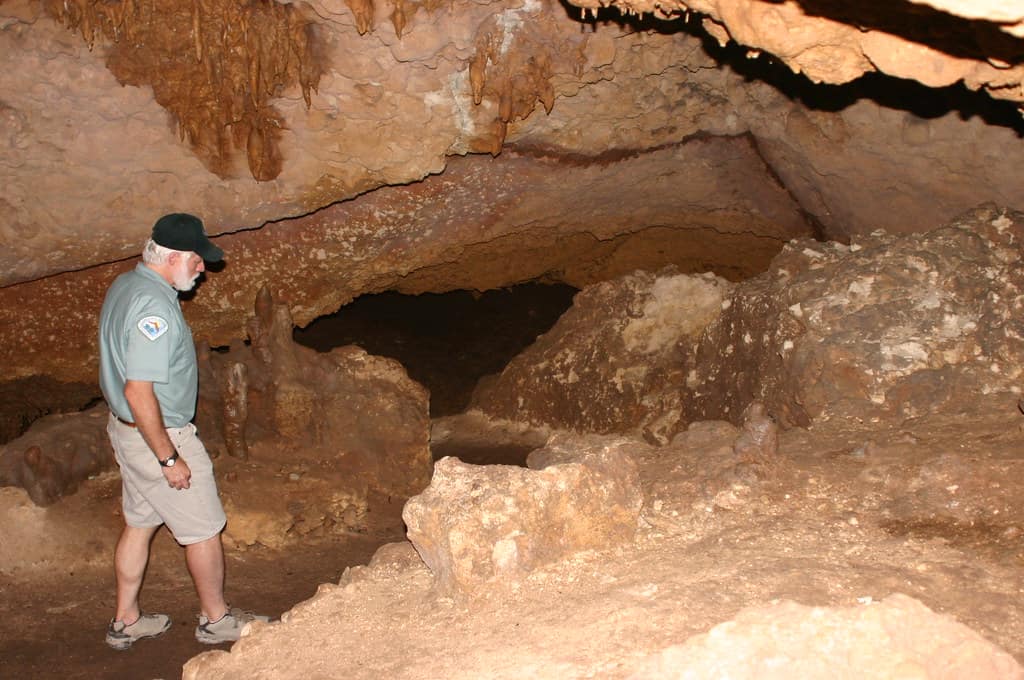 If you enjoy nature and geology, the Florida Caverns State Park is an excellent place to explore.
If you've ever wish to experience a limestone cave network in Marianna, you've come to the right place!
Flutes, stalagmites, stalactites, and other rock formations abound in these subterranean tunnels.
Even though they were formed 38 million years ago, the caverns still have an ethereal beauty to their design that makes them feel like works of art.
The caverns, in reality, were all formed underwater.
With the decrease in water levels, the sand, coral, and other sediments solidified into limestone.
Visitors to this state park will be able to find things like shark teeth, fish vertebrae, and even one or two fossils in the walls, such as a nautilus or two.
After a day of exploring, try your hand at golfing on the park's nine-hole course!
Address: 3345 Caverns Rd, Marianna, FL 32446, United States
Gatorland (Orlando)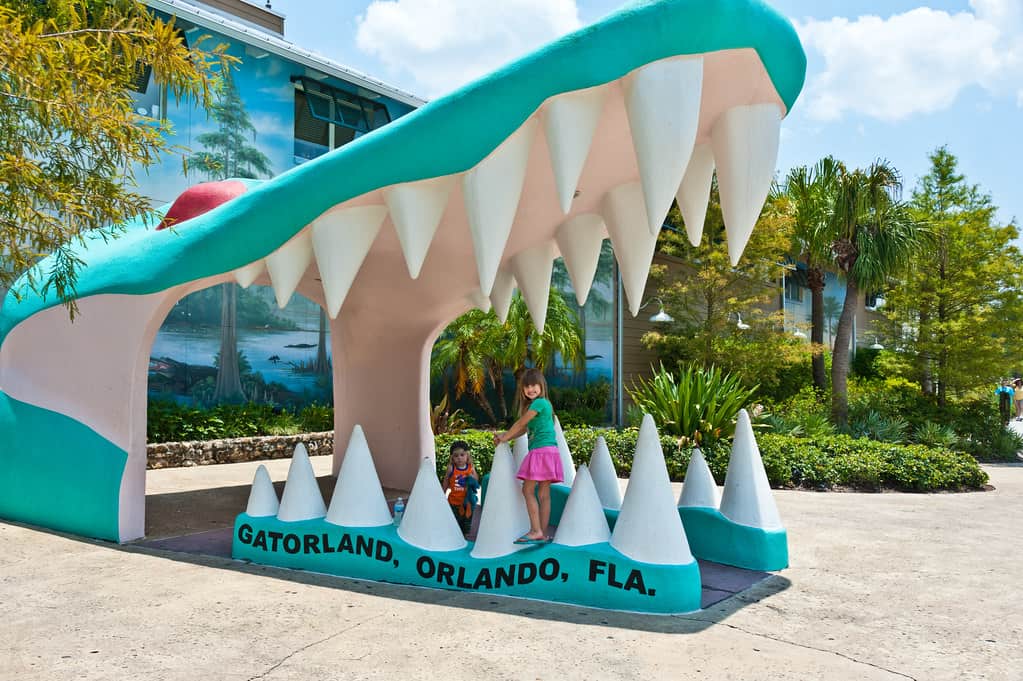 Visiting Gatorland, a reptile park in Florida, is one of the most exciting things to do in the state.
There are few places in Florida that offer the kind of old-fashioned fun.
You'll find at this old-fashioned amusement park, live shows with opportunities for audience involvement, informative tours, at a reasonable admission fee.
As soon as you're done seeing Orlando's Gatorland, daring tourists can try to visit the abandoned Gatorland in South Bay.
It's intriguing to go around and reminisce in the spooky, abandoned structure that yet stands as a memory of what once was.
Address: 14501 S Orange Blossom Trail, Orlando, FL 32837, United States
International Drive
The International Drive in Florida is an exception to the rule when it comes to exciting things to do in the Sunshine State.
The 11-mile-long I-Drive, sometimes known as the I-Drive, is a popular tourist destination.
Basically, you can stroll around the theme park!
Visitors can enjoy a wide range of activities in this place.
The city has a wide variety of activities, including mini-golf, live music performances, restaurants, and retail stores.
If you're looking for thrills, you'll find everything from go-karts to museums to escape rooms in the area.
Waxwork museums and Ripley's Believe It or Not! exhibits are well worth a visit for visitors of all ages.
All in all, the I-Drive in Florida is a great place to visit with family and friends!
Address: International Dr, Orlando, FL, United States
John and Mable Ringling Museum of Art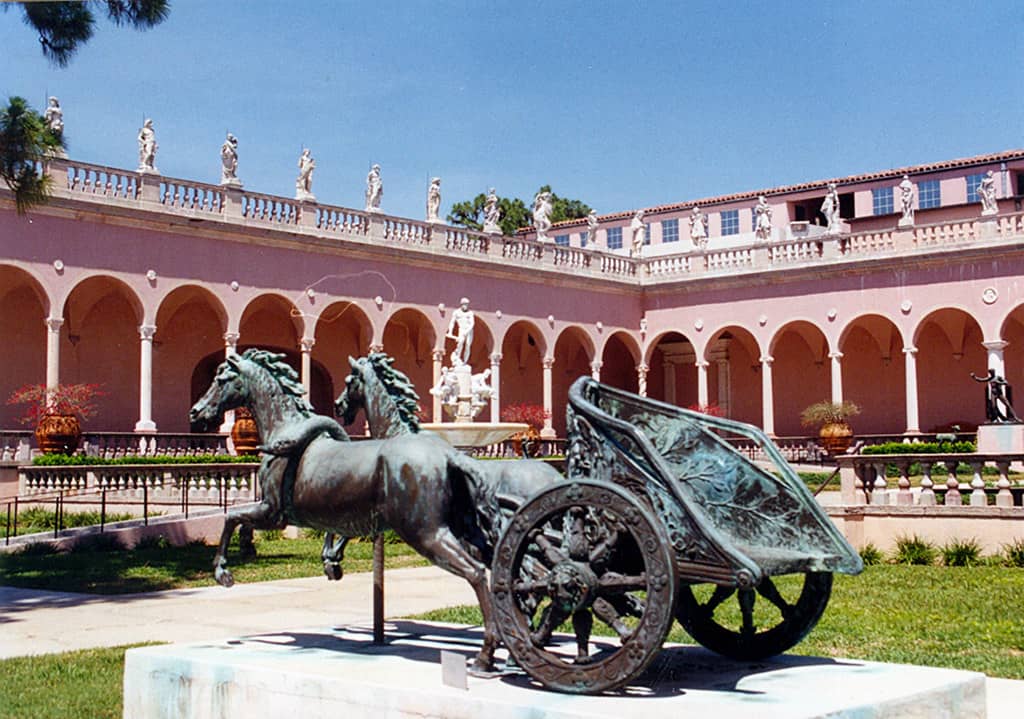 The John and Mable Ringling Museum of Art has a fascinating history and a fascinating tale to tell.
The circus mogul and entrepreneur John Ringling and his wife Mabel invested a large portion of their income in building this sprawling estate to display their extensive art collection.
The lovely Venetian-styled building in Sarasota, Florida, was left to the state of Florida when the owners died.
The John and Mable Ringling Museum of Art was neglected for a lengthy period of time.
Until the year 2000, the state finally granted Florida State University management rights over the museum.
As part of a fundraising effort, they built a Visitors Center and converted the Ringlings' estate into a spectacular museum that showcased not just the Ringlings' extensive art collection, but also the life of the circus magnate himself.
The grounds were additionally enhanced by a magnificent rose garden.
This beautifully renovated building houses a wide range of art, from Cypriot to Old Masters.
The world's largest circus miniature can be seen at the museum dedicated to the art of the circus.
Address: 5401 Bay Shore Rd, Sarasota, FL 34243, United States
Kennedy Space Center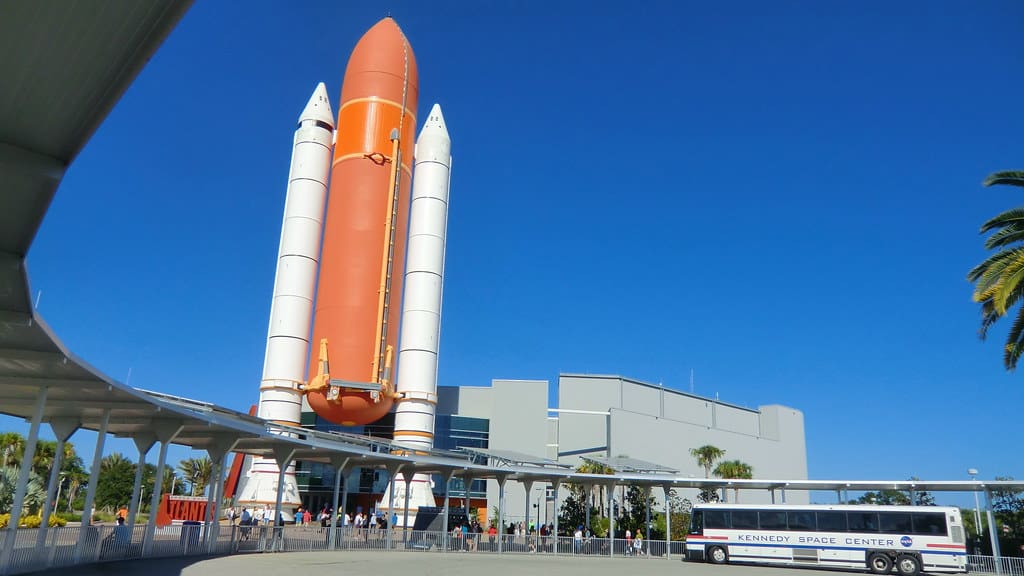 The Kennedy Space Center in Florida, is a NASA jewel and a top choice for space nerds in the Sunshine State looking for fun and instructive activities.
The space center houses a wide variety of space-related gear and artifacts, from rocket launchers to historic relics.
More than 140,000 acres, Kennedy Space Center serves as a launch pad for some of America's greatest space shuttle missions.
Two IMAX screens present a wide range of entertaining and educational films about space exploration and exploration in general.
You can take a bus tour of the spaceport's center grounds if you'd want to learn more about the facility.
There are a variety of tours to choose from, all of which are organized chronologically to give you a full picture of NASA's past, present, and future.
Address: Space Commerce Way, Merritt Island, FL 32899, United States
Key West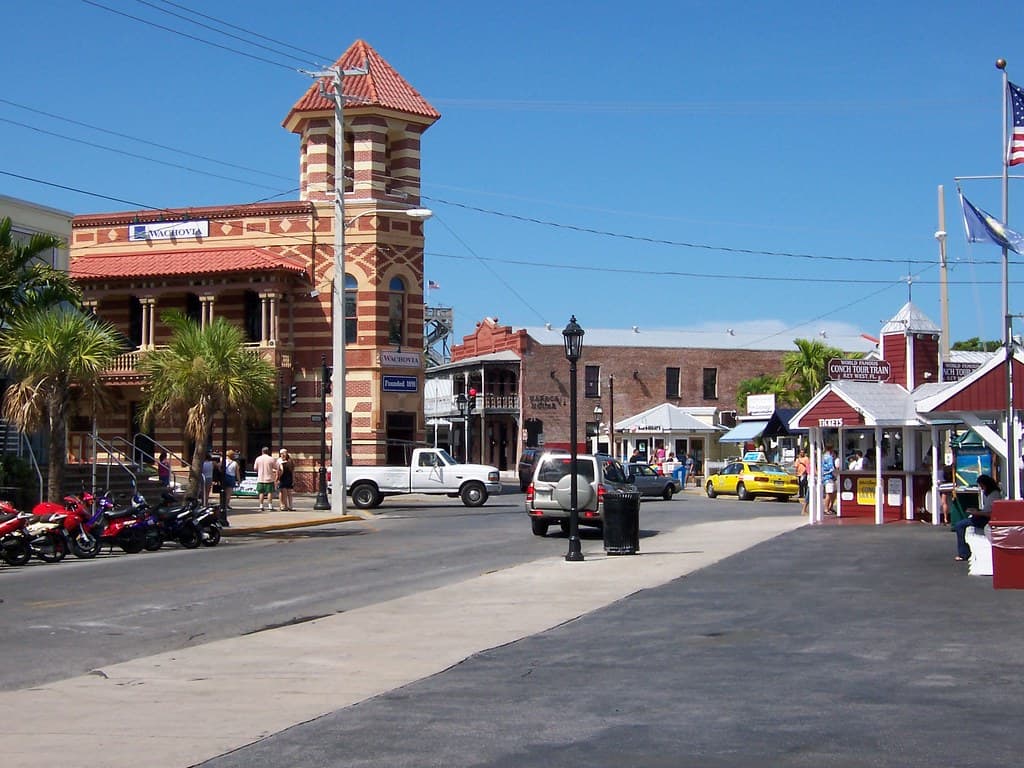 Key West is a must-see destination for anybody traveling to Florida.
It's the only inhabited island in the United States that is located on the west coast.
There are so many things to do and see in Key West because it is part of the Florida Keys.
Because of its proximity to Cuba, the area's streets are dotted with bars, restaurants, and shops that all give you a flavor of Cuban culture.
Check out Duval Street, Mallory Square, the Key West Butterfly and Nature Conservatory, and the Key West lighthouse while you're in town.
Address: Florida Keys, Florida
Key West Butterfly and Nature Conservatory
The Key West Butterfly and Nature Conservatory is a beautiful and exciting place for butterfly enthusiasts to visit.
Hundreds of butterflies and moths are drawn to the natural environment of lovely flowers.
Flamingos and other exotic birds from outside of Florida can also be seen!
Learn about metamorphosis and the life cycles of moths and butterflies, as well as how they eat, reproduce, and move, in the conservatory's learning center.
There's also the Wings of Imagination art exhibition, where you may see bright technicolor renderings of butterfly-themed artwork.
So, the next time you're in Key West, Florida, make a point of stopping by!
Address: 1316 Duval St, Key West, FL 33040, United States
Legoland
Is your family planning a vacation to Florida?
One of the best things to do in Florida with kids is without a doubt a visit to Legoland.
As the brand's second-largest theme park, it covers more than 145 acres of land and features more than 50 rides that are all Lego-themed!
There are so many different things to do at Legoland that it's a real treat.
There are water parks, tours, rides, locations to build Lego creations, shows, life-sized Lego mascots, and everything else you'd need to make any Lego lover squeal with glee.
Botanical gardens and hotels are also available. More than a few of the latter's Lego-themed chambers were inspired by various historical periods.
Address: 1 Legoland Way, Winter Haven, FL 33884, United States
Miami Beach
Miami Beach, one of Florida's most popular beaches, is a must-see for most visitors to the Sunshine State.
One of the best places in the world for tourists and cultural seekers alike.
The beach is a great place for kids and families to hang out, and it's surrounded by affordable restaurants and a slew of other facilities, including museums, theaters, and art galleries.
Take a dip in the ocean, fish from a pier, or participate in a variety of water-based activities!
In a nutshell, it's the true spirit of Florida.
Check out one of Florida's most popular attractions without having to deal with hordes of people.
If you're looking for a more diverse crowd, head to South Beach or South Pointe Park in the south of the city.
Address: Miami, Florida
Manatee Springs State Park
In the northwestern part of the state of Florida, Manatee Springs is one of the state's most picturesque spots.
An 18th-century naturalist named it after a manatee carcass he found washed up on the Suwannee River.
Manatee Springs is now a state park and continues to live up to its name in a much more pleasant way than it did in its sad origins.
A constant 72 degrees Fahrenheit keeps the springs warm enough for manatees to swim up into the park during the winter.
Alligators, speckled perch, and large-mouth bass are other common guests at this time of year.
Kayaking in the park allows you to see these animals up close, and they may even swim up to you and ask for a pat!
There's a good chance you'll see baby manatees swimming around in the warm waters!
Address: 11650 NW 115 St, Chiefland, FL 32626, United States
Mount Dora
In spite of its diminutive size and charming ambience, Mount Dora is nonetheless overflowing with exciting things to see and do.
In the heart of Orlando, the town has a distinct old-Florida feel, from its clapboard houses to its antique handicraft stores.
If you're a fun-seeker, you'll adore this small town.
The streets are lined with art, wine, spices, and trinkets, and the shops are brimming with intriguing antiquities.
It's also just a short drive away from some of the best natural swimming spots in the state of Florida!
Address: Mount Dora, Florida
Morikami Museum and Japanese Gardens
The Morikami Museum and Japanese Gardens, currently one of the top Florida attractions, didn't always have such a clear past.
It was founded in 1906 by George Morikami, a 19-year-old Japanese immigrant who was one among a growing number of farmers in South Florida who were expecting to grow pineapples.
After Morikami's death, the city of Delray Beach became a sister city to Miyazu in his honor, and his farmland became a serene Japanese oasis.
There is no doubt that a trip to the gardens will be a relaxing experience for everybody who comes!
Address: 4000 Morikami Park Rd, Delray Beach, FL 33446, United States
Have an aviation enthusiast in your life who you'd like to delight with something educational?
The Naval Aviation Museum might be a good fit for you.
It is one of the best sites to learn about naval aviation's past and present.
To learn about the 150 different aircraft on display, including helicopters and biplanes, visitors may take a look inside the engines and avionics of each one.
Visitors of all ages can take a spin as naval pilots in a flight simulator that is housed at the museum.
For those with a passion for movies as well as aviation, the museum features a wide-screen theater where a variety of films are shown.
Otherwise, there's a lot of military aviation history to be found in the exhibitions!
Address: 1750 Radford Blvd, Pensacola, FL 32508, United States
Neptune Memorial Reef
A "lost city" 40 feet under the water that is a mix of mystery, pleasure and adventure, as well as a solemn eclipse.
Originally, it was referred to as the Atlantis Memorial Reef, an artificial reef for marine life and an underwater cemetery.
From its sponsor, the Neptune Society, which provides cremation services, comes its current name.
The Neptune Memorial Reef, which lies just a few miles from Miami's Key Biscayne, opened its doors in 2007.
Kim Brandell, a local artist, designed the 16-acre facility, which is intended to serve as a hospital for coral and other marine life.
There are numerous memorials throughout the park that divers can visit and swim through.
Cremated remains are cast into memorials of concrete in the Neptune Memorial Reef.
The concrete is given a regal air with the addition of steel and bronze accents.
Bert Kilbride, the world's oldest scuba diver, is buried in this cemetery.
It's a one-of-a-kind experience in the state of Florida.
Address: 3.25 miles offshore, Key Biscayne, FL 33149, United States
Naples
Looking to have a good time along the Florida coastline?
Then Naples is a must-visit location for you!
Naples is one of Florida's most popular tourist attractions for a good reason: its stunning white sand beaches spread for miles.
What if you're not a fan of the sand?
You can count on the 1888 Naples Pier.
This renowned, bustling pier is a go-to place for fishermen and wildlife watchers.
If you can't see very much but still want to see the animals in Naples, you might want to go to the Naples Zoo.
Visitors to the Caribbean Gardens can see animals gathering on the man-made islands that are scattered across the water in the park.
This is ideal for anyone who enjoys nature and would like to see the local animals that have made this area their home.
In addition, this area is rich in history and culture.
Address: Collier County, Florida, United States
Panama City Beach
If you're looking for a dynamic seaside town that showcases the best of Florida's coast, Panama City Beach is the place to go.
It's packed with beaches, entertainment, and activities for people of all ages.
At Panama City Beach, you'll never run out of things to do.
This area has a wide variety of attractions for visitors to enjoy: Shipwreck Island Waterpark, Gulf World Marine Park, Lake Powell, Camp Helen State Park, and Russell-Fields Pier.
Whether you're looking for a nature sanctuary or a nightlife hotspot, this town has it all!
Address: 7940 Front Beach Rd, Panama City Beach, FL 32407, United States
Pirate & Treasure Museum
If you've ever fantasized about a pirate-themed trip, we'd love to hear from you!
The St. Augustine's Pirate and Treasure Museum in Florida makes it ideal for this purpose.
One of the world's largest collections of authentic pirate artifacts, this museum was founded by Pat Croce.
In addition to Blackbeard's blunderbuss and part of his ship's gold, this museum has a number of other fascinating items on display.
The museum also features displays about the lives of prominent buccaneers and the jewels and weapons they acquired while raiding the Florida coast.
There is a treasure hunt throughout the museum that will keep your youngsters occupied throughout the entire building – but if you'd rather, you can try to find the treasure yourself!
Address: 12 S Castillo Dr, St. Augustine, FL 32084, United States
Sanibel Island
On a beach in Florida, there's nothing better than just relaxing and taking in the scenery.
There are times when all you need is a simple activity to get you through the day.
To satisfy your desire to do nothing, Sanibel Island is more than capable!
Not a fan of sunbathing on the sand?
Do not worry, there are still many things to do in the meantime.
Swim, boat, and snorkel in the island's crystal-clear water, or scour the shorelines for seashells that wash ashore in the tidepools.
In addition, a large mangrove forest covers half of Sanibel Island and is home to 245 different bird species, as well as a wide range of mammals, reptiles, and sea creatures specific to Florida's land and oceans!
Address: Lee County, Florida, United States
Salvador Dali Museum (St. Petersburg)
Salvador Dali's work proves that antique art isn't just for adults.
The Salvador Dali Museum in St. Petersburg, Florida, has the second-largest collection of Dali art in the world and is right on the water.
There are skylights in bubble-like shapes and waxed mustache decor, as well as melting clocks, spindly sculptures, and geometric windows. There are also wrap-around wall lights throughout the structure.
Originally, a majority of the collections of the Dali Museum were owned by Reynolds and Eleanor Morse lived in Cleveland.
The collection was moved to Florida by the University of South Florida in 1982, to the current location, even though it was first used mostly as a storehouse.
As of 2011, it has grown into a full-fledged museum that includes more than 2,000 unique and fascinating items!
In addition to the bizarre paintings, there are seven masterworks on show, including Christopher Columbus' Discovery of America and Salvador Dali's The Hallucinogenic Toreador.
In addition, there are movies, pictures, and other collections from other big names in the art world.
The Salvador Dali Museum in Florida is open seven days a week and often has special events, so you can go whenever you want.
Address: 1 Dali Blvd, St. Petersburg, FL 33701, United States
Siesta Key
The reality TV series that made Siesta Key famous on MTV portrayed an inaccurate picture; in truth, Siesta Key is one of Florida's top tourist destinations!
For a display focusing on privilege and riches, the island's 8 miles of white sands and azure waters were plainly chosen because of their beauty and grandeur.
Siesta Key Village, a quieter area of the island, is a major draw for tourists, making it one of Florida's most popular tourist destinations.
Here, you'll be transported back in time to a movie set from the '50s!
Small cafes, seafood restaurants, and ice cream parlors all contribute to a rustic and picturesque feel.
Despite its diminutive size, the island makes up for it with flavor!
Address: Sarasota County, Florida
Southernmost Point Buoy
Where in the United States are you trying to find its southernmost point?
What a gigantic concrete structure claims to be!
Despite the fact, Hawaii is positioned south of the equator.
However, it is still one of the most important Florida attractions because it acts as a marker for the southernmost point of the continental United States.
There are a lot of themed hotels, inns, shops, bars, and souvenir shops around the monument in Key West, Florida, thanks to the influx of tourists.
This means that even if it is just a monument, the area around it is bustling with activity!
Early in the morning is the best time to visit because there will be fewer people around.
Get some Cuban coffee and head down to view this incredible sight!!
Address: Whitehead St &, South St, Key West, FL 33040, United States
Seaside
Consider this location in Florida on your bucket list for fans of The Truman Show if you haven't already done so.
Seaside, Florida, is a tranquil seaside community sandwiched between the popular beach resorts of Destin and Panama City, Florida.
After a long day of driving through Florida's more crowded areas, visitors to this small village will find it a refreshing break.
You'll see pretty pastel-colored houses with white picket fences here, as well as a stunning sample of the many beautiful beaches in this part of the state.
An annual concert in Seaside brings in some of the top musicians in the country.
In the meantime, there are still lots of local stores and restaurants, as well as a beautiful farmer's market, for anyone who missed the occasion.
Address: Seaside, Florida
St. Petersburg
St. Petersburg, Florida, is without a doubt one of the nicest places to visit while in the state.
This contemporary city is surrounded by gorgeous beaches on all sides because of its location on a peninsula.
There is no better site to go kayaking than St. Petersburg, nicknamed "Sunshine City" for its year-round sunshine.
However, if the crowds on the beaches are driving you crazy, there are plenty of alternatives.
Fishing charters can also be found in St. Petersburg, which is a popular tourist destination.
Make your way to the adjacent Locale Market for fresh seafood and other delicacies from local fisherman!
In addition, the city hosts a variety of cultural, musical, and food-related events throughout the year.
To make up for missing any of these events, the city's restaurants and bars offer a bustling nightlife worth exploring.
Address: Pinellas County, Florida, United States
Seacrest Wolf Preserve
If you're a fan of wolves, this may be one of the sites you'll have to see when vacationing in Florida.
The Seacrest Wolf Preserve was founded in 1999 by a husband and wife team and is the only one of its kind in Florida.
Timber wolves and arctic wolves, who were originally reared in captivity and cannot be released to the wild, are the primary residents of the preserve.
As part of the public outreach to teach the public about healthy wild wolf populations in a fun and engaging way, they are cared for among other animals in Florida.
In other words, if you're searching for a fun family outing, the Seacrest Wolf Preserve is the place to go!
Address: 3449 Bonnett Pond Rd, Chipley, FL 32428, United States
Sunken Gardens
Only one guy, a local plumber named George Turner, Sr., is credited for the Florida Sunken Gardens' current existence.
In 1903, on the outskirts of St. Petersburg, Florida, he bought the land that would become this garden.
An eight-acre lake sat on the property, and Turner, as a gardener, intended to use the rich soil at the lake's 15-foot depth for his own gardening purposes.
After draining the lake with the help of his plumber skills, he set about developing a garden that would quickly become one of the most popular spots in the state.
Turner grew oranges and vegetables on the fertile soil.
As time passed, he added a variety of tropical plants, useful paths, and even birds.
All of this was made possible thanks to the fruits and vegetables he had been selling to the community.
Turning the Sanitary Public Market building next door into the World's Largest Gift Shop, among other things, was likely a lucrative opportunity for the Turner family.
Because of the decline in public interest, the gardens were designated a historic site by the city of St. Petersburg, and that's how they ended up here today!
Visit the Cactus Garden, Butterfly Courtyard, and Flamingo Flock while you're there.
If you're looking for a true taste of Florida's natural beauty, this is the place for you!
Address: 1825 4th St N, St. Petersburg, FL 33704, United States
Stetson Mansion
The Stetson Mansion is one of Florida's most extravagant attractions.
It's frequently referred to as the state's most opulent, largest, and most historic pre-World War II home.
One of the best things to do in Florida is take a tour of the estate and learn about its fascinating past.
You'll hear about John B. Stetson, the hat billionaire who lived here, and how Thomas Edison installed the very first sort of electricity here for Stetson!!
Address: 1031 Camphor Ln, DeLand, FL 32720, United States
Spook Hill
Want to see something different while you're in Florida?
Lake Wales' Spook Hill boasts an eerily fitting moniker, thanks to the numerous urban tales that surround it.
Known as a "gravity hill" or "magnetic hill," Spook Hill appears to be climbing uphill whenever a vehicle in neutral is parked here.
According to some folklore, the hill is haunted and is responsible for the hill's anti-gravity properties.
Let us know what you think by trying it out for yourself.
Address: N. Wales Dr., Lake Wales, FL 33853, United States
The Kampong
The Kampong, a world-famous holiday destination, is actually one of five gardens that make up a vast national botanical garden, but this garden is the only one in Florida, with the others located in Hawaii.
Kampong is a tropical garden that thrives in Miami's monsoon climate, making it an ideal place to experiment with tropical plants.
Coconut Grove's Kampong is one of the best sites in Florida to soak up the beauty of a tropical landscape.
Dr. David Fairchild owned the property at one time, but it has since been converted into a botanical garden.
A Javanese phrase, derived from the English word "compound," that signifies an enclosed settlement was used by Fairchild to name the grounds.
Kampong is an excellent destination for those who want to see thick greenery and skillfully cultivated varieties for all kinds of tropical flora, such as carambola, avocados, bananas, mangos, and more.
Experience a world that simultaneously feels integral to and completely separate from Florida, all at once, how amazing is that!
Address: 4013 Douglas Rd, Miami, FL 33133, United States
Universal Studios
It's almost criminal to bring about Florida's tourist attractions without including Universal Studios!
Universal Studios, like Walt Disney World, is a must-see for pop culture fans.
Come to Florida and relive all of your favorite moments from the world of show business!
Purchasing a multi-day ticket in advance and mapping out your journey in advance will help you save money.
You may also want to consider purchasing the Universal Express Pass, which allows you to skip the line at Universal Studios.
If you're a regular, you may be eligible for a season pass, which grants you access to even more perks.
Address: Universal Orlando Resort, 6000 Universal Boulevard, 32819, Orlando, Florida, U.S.
Venetian Pool
Because it is the largest freshwater swimming pool in the United States, the Venetian Pool is one of Florida's most popular tourist attractions.
It's a fascinating water feature in Florida's Coral Gables that tourists can enjoy for both amusement and relaxation.
Designed to resemble a Venetian grotto, the pool, which is now listed on the National Register of Historic Places, was constructed in 1924 in an abandoned coral rock quarry.
Caves formed by nature add to the overall appeal.
For many visitors, the Venetian Pool's most recognizable feature is its wonderfully clear blue freshwater.
What's the deal, you could ask? Filtration in a natural setting.
Originally, water had to be drained everyday from the pool.
Filtration systems clean and replenish the pool every day, however the traditional method of replacing water is still employed throughout the spring and summer months.
The pool is frequently used for events such as concerts because it is often empty.
Address: 2701 De Soto Blvd, Coral Gables, FL 33134, United States
Vizcaya Museum and Gardens
In the past, the Vizcaya Museum and Gardens were owned by socialite, industrial magnate, and naturalist James Deering, who was known for his efforts to preserve wildlife.
It was originally intended to preserve the area's native forest and mangrove marshes, which encompassed 180 acres of land.
Located in Coconut Grove on Biscayne Bay, it is a tranquil retreat for nature enthusiasts.
When it was finished, the main structure was occupied by Deering as a winter residence between 1914 and 1916.
While the rest of the house was being built, Deering passed away at sea seven years later.
As a result, his two nieces, who had inherited the land, each opted to sell off a portion of it in order to raise money for the upkeep of the remainder.
Twenty years later, the site was donated to Mercy Hospital in Miami and the Catholic Archdiocese of St. Augustine.
Miami-Dade County bought 50 acres around the main building, and subsequent restoration work resulted in the estate being designated as a National Historic Landmark.
As a tourist destination and venue for ceremonies, it's a blend of fun and scenic with Italian Renaissance gardens, native woodland, and ancient outbuildings.
Address: 3251 S Miami Ave, Miami, FL 33129, United States
Warm Mineral Springs
To find the Warm Mineral Springs, head to Florida's North Port, where you'll find the sinkhole created by a 30,000-year-old cave collapse.
Over 20 million gallons of warm, mineralized water are pumped everyday from a vent 200 feet below the surface.
The geothermal water can be cooled to 85 degrees, making it ideal for those looking for a relaxing soak.
In the 1950s, William Royal, an archeologist, discovered the artifacts and bones of seven people, as well as a 10,000-year-old log.
People rushes here with the desire to bathe in the "healing" mineral waters.
Please do respect the archeologial cruciality while enjoying the facilities here.
Address: 12200 San Servando Ave, North Port, FL 34287, United States
Walt Disney World (Orlando)
It's hard to think of a better bucket list destination in Florida than Walt Disney World, which is a playground for everyone's inner child.
It's so popular that it's regarded as a must-do activity while vacationing in Florida.
At Walt Disney World, located in Orlando, Florida, you'll be able to experience all the enchantment, wonder, and charm of Disney firsthand.
Rides of various kinds, Disney-themed snacks, souvenir shopping, and more await visitors at the amusement park.
Enjoy the opportunity to pose for photos with some of the most brilliant character performers around.
To avoid some of the extremely long lineups, consider purchasing a Fastpass if you're visiting this weekend.
Address: World Drive, Orlando, FL 32830, United States
WonderWorks
One of the most popular tourist attractions in Florida for families with children is WonderWorks.
It's a one-of-a-kind theme park that can only be found in Florida.
You can find it easiy because it looks like a building that has been dismantled and placed upside-down.
This educational theme park is a fun and engaging experience for children.
Themed exhibits allow kids to run through the site and learn about science and the world around them while having a blast, combining science shows with hands-on exhibits and physical challenge zones.
Because it's on the world-famous International Drive, a visit to the museum is a no-brainer if you're already in town for the attractions and theme parks.
Is there anything else holding you back from making Florida your next vacation destination? Click here for all the reasons to visit Florida at least once in your lifetime here.
Address: 9067 International Dr, Orlando, FL 32819, United States