At least once in your life, you should go to Nebraska. Get the most out of your vacation by exploring the best things to do in Nebraska and the best places to visit in Nebraska below. Wondrous Drifter is a Web 3 travel company that aspires to disrupt the travel industry.
What's keeping you from making a trip to Nebraska?
The state is filled with natural wonders!
Located in the Midwest, Nebraska is recognized for its natural beauty, farming, and agricultural output, making it an ideal location for a vacation.
You may find breathtaking cliffs and peaks in the west, wide plains in the east, and sand dunes.
Rodeo has its origins in Nebraska, as do historical sites from the state's pioneer past and routes that took homesteaders to the Wild West.
Indeed, the state is rich in history, with several possibilities to learn more about it.
They all have historical sites to explore and solid cultural scenes to enjoy.
A trip to this place is like stepping back in time and experiencing a piece of Western history for yourself.
Furthermore, people who spend some time exploring Nebraska's landscape will find unique views, such as Chimney Rock and the stunning Sandhills.
Are you up for more adventures?
The Niobrara National Scenic River offers a wealth of natural beauty for you to explore.
A visit to Lincoln, the state's capital, is well worth your time. Have pleasure exploring the city's museums, cultural sites, and vibrant and exciting atmosphere.
Experience and cherish what Nebraska has to offer.
Here's a handy guide to Nebraska's most beautiful spots and activities.
Agate Fossil Beds National Monument (Harrison)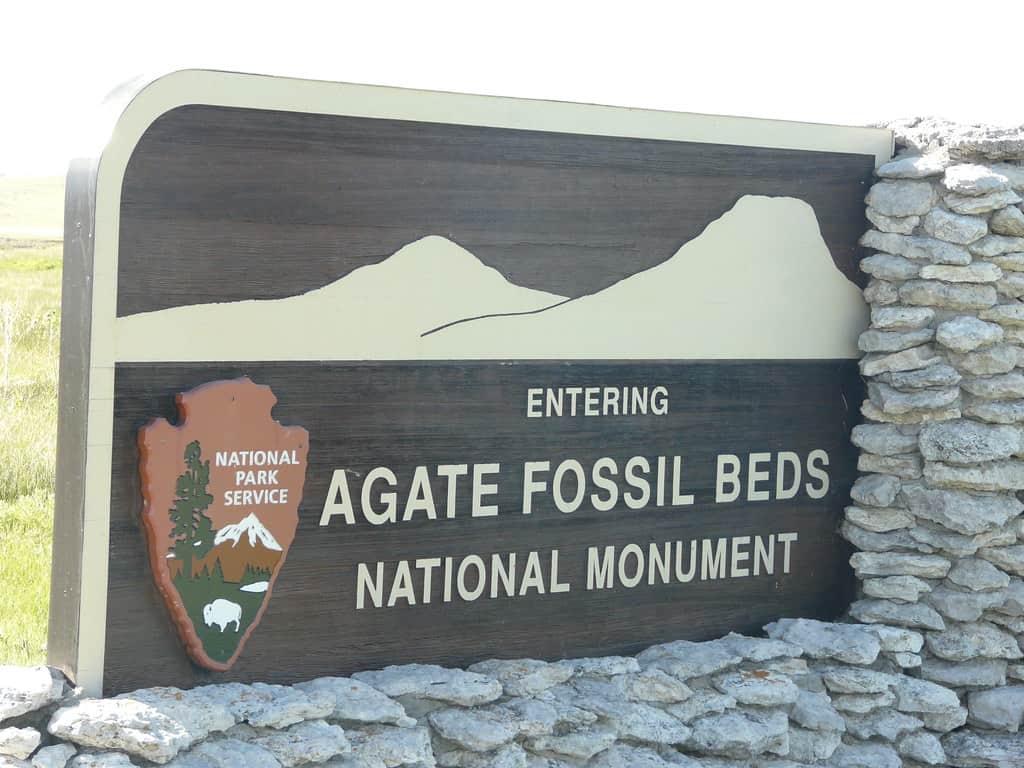 Exploring this area is appealing to both paleontologists and thrill-seekers alike.
Located in Northwest Nebraska, Agate Fossil Beds National Monument is a world-renowned fossil site that exhibits Miocene-aged rocks with an extensive fossil record.
Wetlands and rock formations in the Agate Fossil Beds National Monument region provide important knowledge about how animals lived in the Miocene Epoch.
The Niobrara River valley and the fossils discovered on Carnegie Hill and University Hill are the principal attractions of the monument.
The Agate area's relationship to the land's environment, weather, and mammals has constantly shifted throughout history.
In addition, you may learn about the area's more recent past.
The items from Captain James H. Cook's era can be found in the museum exhibit of the monument.
Cook was the one who struck up a friendship with the Native Americans who were passing through the region, acquiring an incredible collection of presents, and owned a neighboring ranch.
Visit Agate Fossil Beds National Monument and its surrounding region if you're seeking a destination rich in history and, uh, fossils?
Address: 301 River Rd, Harrison, NE 69346, United States
While Nebraska is at the top of your travel bucket list, do check out other tourism attractions in the country, check out the best things to do in North East Coast USA.
Branched Oak Lake; Lancaster County
You'll be astounded by the sheer size of this lake.
The largest of the Salt Valley Lakes, Branched Oak, has 5,595 acres and 1,800 acres of water within a 25-mile radius of Waverly.
One may find Branched Oak State Recreational Area in Branched Oak Lake.
You can participate in a wide range of outdoor activities in the area.
Boating, fishing, and camping are the most popular activities at this location, although hiking and horseback riding are also available.
There are two swimming beaches on the lake for your enjoyment. Nine boat ramps and 49 docks may be found in the recreation area.
On the other hand, some camping options are available, including contemporary and primitive options as well as horse camping.
The lake is a popular destination for powerboats and other big watercraft because of its vast area.
Enjoy yourself more as you explore this lake!
Visit if you're up for a bit of adventure or perhaps more!
Address: Branched Oak LakeWest Oak, NE 68428, USA
Chimney Rock (Bayard)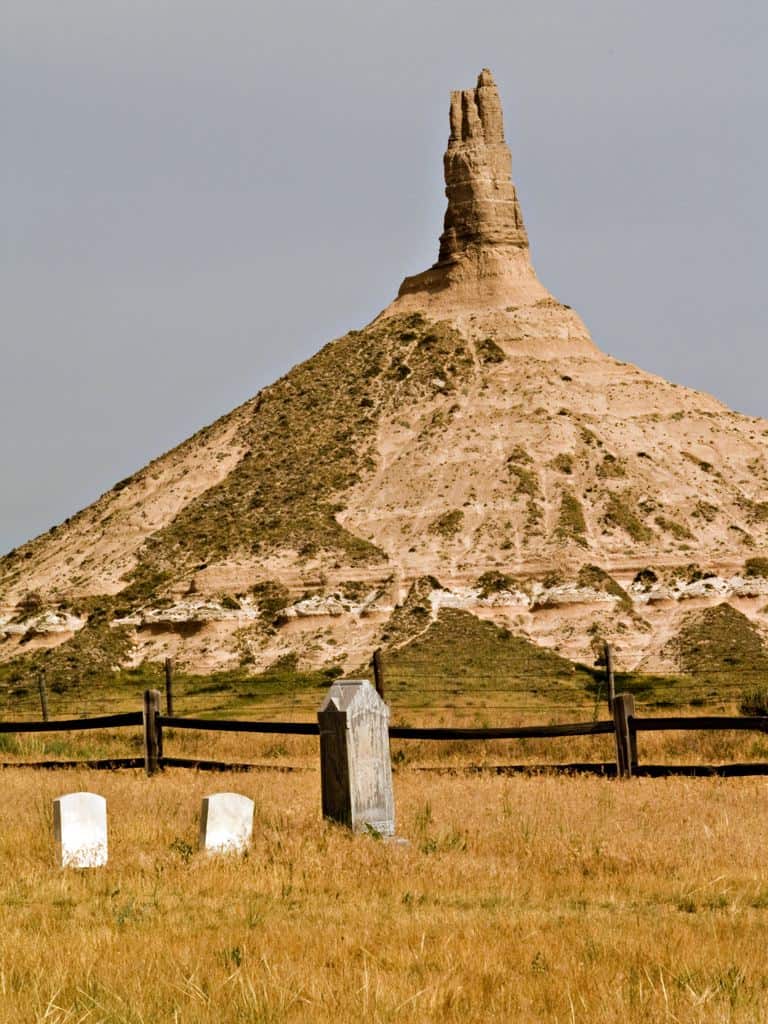 "Elk penis" and "towering to the skies" are other names for this tourist attraction.
No matter how you see it, Chimney Rock is a stunning natural rock structure in western Nebraska that you must visit!
First referred to as Chimney Rock in 1827, the Rock's existence is believed to have been established long before the arrival of Native Americans in the region.
Listed as a National Historic Site in 1956, Chimney Rock has been protected by the National Park Service.
There are reports that the Rock's peak is 4,228 feet above sea level.
At the base of this geological feature, it is thought that a tiny village with the same name formerly stood from 1913 until 1922.
Travelers on the Oregon, California and Mormon Trails used Chimney Rock as a marker in the mid-19th century.
It continues to do so today on Nebraska Highway 92 and US Route 26.
Additionally, you may visit the Ethel and Christopher J. Abbot Visitor Center to see exhibitions and movies on pioneers and journeys to the West.
If you're looking for souvenirs, stop by the gift shop.
In search of one of Nebraska's most well-known tourist attractions? Look no farther than Chimney Rock.
Address: 9822 County Rd 75, Bayard, NE 69334, United States
As you plan for your vacation in Nebraska, be sure to check out the top tourist attractions in Lincoln and Bellevue by visiting the best things to do in Lincoln and the best things to do in Bellevue in Nebraska.
Durham Museum (Omaha)
Be awestruck by Durham Museum's incredible collection of artifacts and stories of the past.
You'll learn more about the western United States if you spend the day at Durham Museum!
Omaha's Durham Museum, housed in Omaha's Union Station, is a must-see for anybody interested in local history.
Among the museum's many permanent displays are rebuilt 1940s shops and railroad coaches and various relics illustrating the history of the area.
Also on display is the Byron Reed collection, which has some of the most valuable coins and documents in the world.
Durham's relationship with the Smithsonian, National Archives, Library of Congress, and Chicago's Field Museum means that you'll see one of the most significant displays in the museum: the outstanding traveling exhibits.
There are a lot of fascinating historical facts, aren't there?
Because there's much to see at the museum, you must do so.
While you're there, make sure to have phosphate or malt at the real soda fountain.
Visiting the museum will leave you with both a joyful heart and a fat brain.
Address: 801 S 10th St, Omaha, NE 68108, United States
Embassy Suites (Lincoln)
This hotel is the finest option if you want to stay in the center of Lincoln's downtown area.
It's also ideal for families and couples who want to take advantage of the surrounding area while still knowing what to expect from their hotel stay.
The Embassy Suites Downtown Lincoln is the city's most prominent hotel, offering a luxurious all-suite experience.
Additionally, the Embassy Suites provides its guests with complimentary breakfast and an evening reception with beverages and nibbles.
This is your hotel if you want easy access to the city's top attractions!
The Lied Center for Performing Arts and Historic Haymarket is three blocks from the hotel.
But if you'd like to stay inside the hotel, there's a spa, an indoor pool, and a fitness center you can enjoy.
At the Embassy Bar and Grill on-site restaurant, guests may enjoy wonderful, relaxed meals.
Definitely, the Embassy Suites provide everything you need for a comfortable stay.
Book your stay at Embassy Suites immediately while you're in the city!
Address: 1040 P St, Lincoln, NE 68508, United States
Traveling to Nebraska? Check out Wondrousdrifter's travel guides to Grand Island and North Platte in Nebraska – read the best things to do in Grand Island and the best things to do in North Platte.
Fort Robinson State Park (Harrison)

For history nerds, Nebraska is a must-see destination!
Fort Robinson State Park is the location of the Cheyenne Outbreak of 1879 and the final resting place of Sioux chief Crazy Horse.
As a result of the purchase of the neighboring James Arthur Ranch, Fort Robinson State Park was increased from its original 1956 size to its present 1972 size.
The greatest thing to do here is to stroll through the park's rich history.
You'll be able to see intriguing relics left behind when the facility was operational.
Lt. Levi H. Robinson, who was slain by Native Americans while on a wood duty in 1874, is honored at the park's military camp.
Currently, there are a lot of activities available at Fort Robinson State Park.
In fact, their officer housing can be rented.
One of the old warehouses has been converted into a wonderful museum of military fort components.
Despite its dark history, this site has been preserved.
Take a tour at Fort Robinson State Park if you're interested in this kind of history!
Address: Soldier Creek Rd & US Hwy 20, Crawford, NE 69339, United States
Glenn Cunningham Lake; Douglas County

Regardless of how many lakes you've seen in Nebraska, you should still visit this one!
Glenn Cunningham Lake is a 390-acre reservoir in Douglas County, Omaha, Nebraska, United States.
Glenn C. Cunningham, a former mayor, and congressman, is honored with the lake's name.
Sailing and kayaking have long been popular on Glenn Cunningham Lake, which opened to the public in 1977.
It is bordered by parks and has been recognized as a wildlife area for that reason.
Additionally, the lake is ideal for water sports such as fishing, boating, and any other activity you can think of.
There are hiking trails, horseback riding, and cycling routes for your leisure in the lake's surroundings.
If you are thinking of camping with your friends or family, the park offers camping areas and a boat launch at the south end of the lake.
A day at this lake is a good idea!
If you're feeling unmotivated and looking for a place to feel alive again, Glenn Cunningham Lake is for you!
Address: Omaha, Nebraska, United States
When you travel to Nebraska, do not forget to check out Omaha. Hop over to the best things to do in Omaha for Omaha travel ideas.
Harold Warp's Pioneer Village (Minden)

Harold Warp's Pioneer Village is a great site to learn about the history of the United States without visiting a lot of museums!

Harold's Warp Pioneer Village is a recreation of a village that spans more than 20 acres.

It was founded by Harold Warp, a small-time businessman who became a multimillionaire and sought to represent the usual American ideal of rags to riches.

Warp, a tough businessman from Minden, Nebraska, fought his way from being poor to becoming a billionaire.

To commemorate the chances that America provided him, he chose to devote his life's earnings toward the construction of a replica village in his hometown.
An exact duplicate of Warp's sod house, a wide collection of cars, and unique relics like Lincoln's sugar dish are all part of the Pioneer Village collection of 28 structures.

Also, all of the structures are arranged in chronological sequence to show the progression of America's history and achievements over time.

There's really something for everyone here, from ancient children's games and consoles to old corporate offices and businesses to hundreds of vehicles, trains, bicycles, snowmobiles, trucks, and airplanes.

Moreover, it's possible to spend more days discovering all that the Village offers, or you may simply wander about for three hours.

The Pioneer Village Campground is just across the street from various shops and eateries.

In terms of attractions, there is nothing more you could wish for!

Address: Minden, NE 68959, United States
Joslyn Art Museum (Omaha)
A gift for the people of Omaha.
The Joslyn Art Museum is a unique institution in the world of art museums.
The Joslyn Memorial Museum, Nebraska's biggest art museum, opened its doors to the public in 1931.
As a loving memorial to her late husband George, Sarah Joslyn commissioned its construction to benefit the people of Omaha.
Isn't it the most heartfelt thing you can do for the one you love?
She dedicated her life to constructing a memorial that would honor her late husband's passion for music and art while also benefiting the widest potential audience of people.
A music theater surrounded by art galleries was built by her after the death of her husband.
Known for its striking architecture and impressive European and American art collection, the museum is a must-see for art lovers.
In addition, there's an impressive collection of Western-themed art and a beautiful sculpture garden.
You'll be captivated not just by the building's design but also by the exhibitions within, which provide a glimpse into the city's history.
Make time to visit Joslyn Art Museum if you're in Omaha and spend the day enjoying art and love!
Address: 2200 Dodge St, Omaha, NE 68102, United States
Kearney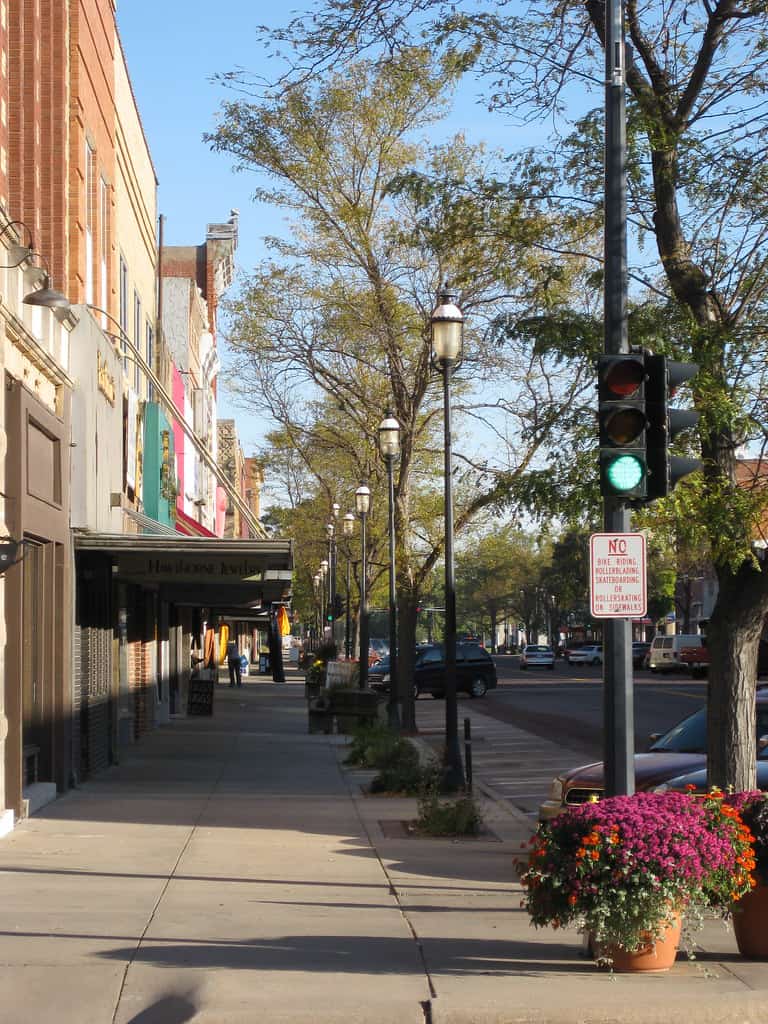 Located in Buffalo County lies Kearney, a city that is often overlooked.
Suppose you're seeking a city lifestyle but aren't interested in Omaha or Lincoln. In that case, Kearney should be on your list of places to visit.
There is no better spot in Nebraska than Kearney to see the annual spring migration of sandhill cranes.
While the population of this 31,000-person city is small, there are many reasons to visit throughout the year.
Whether you're searching for an art gallery or a history museum, there are several in Kearney.
As an additional perk of visiting Kearney, there are numerous outdoor destinations and activities to enjoy.
You can go for a walk, ride a bike, paddleboard, kayak, or swim!
In Kearney, you'll find a decent number of restaurants and eateries, like the Chicken Coop Sports Bar & Grill and the Fanatics Sports Bar.
Kearney has a strong sense of community that any family would be happy to be a part of, thanks to its low crime rate, decent educational options, and varied population.
Everything in Kearney is top-notch: the culinary scene, the performing arts—the town has it all!
You'll never run out of exciting things to do when you visit Kearney!
Address: Kearney Nebraska, USA
Lauritzen Gardens (Omaha)
It is one of the region's most attractive and educational cultural institutions.
Lauritzen Gardens is a peaceful haven in the middle of a bustling city.
Lauritzen Gardens was renamed after a generous donation from the Lauritzen family, a family that has played an important role in Omaha's history and growth.
This grand botanical landscape is made up of over a dozen distinct gardens and greenhouses.
The 100-acre botanical garden also has a rose garden, model railroad garden, children's garden, and Victorian garden.
Some of the visitor's favorites are the wildflower and formal English garden sections of the garden.
With this, the garden seeks to present visitors with unforgettable educational and beautiful experiences.
There is an educational and event center on-site for garden festivals, adult and children's education workshops, business gatherings, and the three seasonal flower displays.
Moreover, the center has a library, community room, classrooms, and a big hall that could be rented for events.
Other than the beautiful views of the garden, neighboring Kenefick Park has a remarkable display of two massive Union Pacific Railroad locomotives, one of which is the fabled Big Boy.
While the garden is lovely in and of itself, the memories you'll have of it once you've been there are even better!
Address: 100 Bancroft St, Omaha, NE 68108, United States
Morris Press Cookbook Store (Kearney)

Everybody enjoys food, but not everyone knows how to make it at home.
Whether you're a newbie or an experienced cook, Morris Press Cookbook Store has a cookbook to meet your needs.
You never know what you'll find in this store; you could even find a 1980s family recipe or two!
Morris Press Cookbook Store is widely known to be the best publisher of cookbooks in the United States.
When Fred Carlson bought a tiny printing shop in Kearney in 1933, it was the beginning of the company's history.
Morris aspired to grow his printing business after purchasing Fred's in 1972. He did it by buying a second printing firm.
Morris Press and Office Supplies, Inc. was established in 1975.
In the 1980s, when sales slowed, Morris Press turned to create customized cookbooks for individuals, families, and local institutions.
Cookbooks for low-fat, Cajun flavors, casseroles, Southwest and Italian dishes, desserts, and vegetarian cuisines are just a few options available.
In fact, Morris Press Cookbooks has printed millions of cookbooks for organizations, schools, corporations, churches, and families throughout the United States.
Morris Press Cookbooks in Kearney is the best store to locate a dish you want to make for your family or maybe, for your enemy.
Address: 3212 US-30, Kearney, NE 68847, United States
National Museum of Roller Skating (Lincoln)

Imagine a time when roller skates were so popular that they were regularly worn while dancing. Interested in finding out what kind of roller skates people wore back in the day?

The world's most extensive collection of roller skates can be seen at the National Museum of Roller Skating in Lincoln, Nebraska.

The National Museum of Roller Skating was founded in 1980 and serves as a place for the public to learn and appreciate the sport of roller skating.

The museum's collection of roller skating items dates back to the early 19th century, allowing visitors to see how the sport has evolved.

Similarly, the museum intends to educate skating fans from across the world about the sport's history and development as something more than a hobby.

The National Museum of Roller Skating is home to the world's most extensive collection of vintage roller skates and trophies, patents, costumes, movies, artwork, and pictures, among other things.

Over 1,500 books and periodicals have been written about roller skating as a hobby or sport.

In addition to the family collection of James L. Plimpton, father of contemporary roller skating, the museum also houses Antonio Pirello's jetpack skates and photographs of Scott Baio on roller skates.

This museum is an excellent place to spend the day for those who enjoy roller skating or are simply inquisitive.

Address: 4730 South St, Lincoln, NE 68506, United States
Old Lincoln Highway in Omaha (Omaha)

A roadway that has a significant historical value.
An old part of the coast-to-coast roadway has been brick-paved and is now known as Old Lincoln Highway in Omaha.
In 1913, it was created to stretch from New York City to San Francisco, making it the nation's first cross-country roadway.
Among the 13 states served by the roadway, Nebraska's portion runs between Omaha and Elkhorn.
However, with the construction of the Abraham Lincoln Memorial Bridge in 1929, the roadway was redirected along U.S. Route 30 via Blair (a city in Nebraska).
Upon completion of the rerouting, Blair authorities removed the highway markings from Omaha and dumped them into their town.
As a result, the two towns have been feuding ever since, yet this century-old section of an old roadway has remained mostly untouched.
The significance of this three-mile span may fade. Still, it is the longest remaining part of America's first coast-to-coast roadway that is still brick-paved today.
In 1984, the Old Lincoln Highway was added to the National Register of Historic Places as a result of its historical significance.
Keep in mind that this is not merely a road. Old Lincoln Highway is one of the main attractions to see in Omaha!
Address: Old Lincoln Hwy Omaha, NE 68022, USA
Panorama Point (Pine Bluffs)

It is not a hill, it is not a mountain – it's just a slight slope on the High Plains!
Near Pine Bluffs, Nebraska, Panorama Point is the state's highest natural point at 5,429 feet above sea level.
You can see the Three-State Marker (Nebraska, Wyoming, and Colorado) if you look further.
Originally, numerous bison were wandering the region freely, but today they are contained by gates.
On a clear day, the Front Range of the Rocky Mountains can be seen in the distance to the southwest from the Point.
If you see a bison, don't freak out! Just pay the minimal admission charge and go on your way. It's best not to go too close to them.
In addition, several windmills in this region use the powerful winds that blow across it.
Your tour around Nebraska won't be complete if you don't visit the state's highest point!
Address: Pine Bluffs, NE 82082, United States
Red Cloud

If you've always wanted to escape from a toxic relationship for a peaceful weekend in a tiny town, Red Cloud is the place for you.
Brick-paved streets, old buildings, and natural beauty surround the area around this little town.
Red Cloud provides a window into the rich history of the United States while also looking to the future with optimism.
With a population of little over 1,000, Red Cloud is a charming rural town previously home to one of America's finest Pulitzer prize-winning novelists, Willa Cather.
Many of Willa Cather's works featured life on the plains, highlighting the region's distinctive challenges.
Red Cloud founded the Willa Cather Foundation in her honor because of her renown, and visitors may take a tour of seven significant structures.
Furthermore, the Willa Cather Memorial Prairie is a stunning open landscape that served as a major inspiration for many of Willa Cather's works.
Explore the rural lifestyle while also engaging yourself in the arts, history, culture, and leisure activities on this off-the-beaten-path journey.
As the country's largest living tribute to an author, Red Cloud is a must-visit destination.
You can do everything you want in this little town, practically whatever you want. So, pack your bags and travel to Red Cloud for a relaxing getaway!
Address: Red Cloud Nebraska 68970, USA
Sioux Army Depot (Sidney)

Do you want to see an intriguing attraction while visiting Sidney?
It is a distinctive remnant of the town's past scattered about the city.

The Sioux Army Depot has a long history in Cheyenne County.

The Army Depot was transferred from the Ordnance Department to the U.S. Army Materiel Command after being run by that department for some time.

Weaponry ranging from small guns to 10,000-pound explosives may be received, stored, and distributed from the depot.

Automobile components and restorative materials were also supplied by this depot for use by the United States Armed Forces soldiers.

801 munitions storage igloos, 225 living quarters, 392 support structures, 203 miles of road, 22 general warehouses, and 51 miles of rail tracks composed the Sioux Army Depot spread across 19,771 acres.

"Igloos" were deactivated in June 1967 and currently serve as storage buildings and garages for farmers.

You may do so from the county road if you want to see the igloos. However, a private industrial park has been established in a different part of the property.

The Fort Sidney Museum also has several other relics, photographs, and scrapbooks.

Consider paying a visit to Sioux Army Depot if you find yourself in the city of Sidney.
Address: 302 Lingholm St, Sidney, NE 69162, United States
The Villagers (Taylor)

While people come and go, only art stays.
You'll see the "villagers" who formerly resided there all across town.
Marah Sandoz and a local Taylor development team came up with the concept of producing lifelike plywood cutouts of genuine individuals that resemble the town's residents from 1890 to 1920 when Taylor was at its pinnacle.
It's strange to consider, but where are the town's true residents?
Don't spend your time looking for those who left; instead, enjoy this one-of-a-kind attraction that will never leave!
Sandoz has established 13 enterprises during the last decade, including inns, hotels, historical buildings, parks, and plumbing services.
The Sandoz's goal is to catch the cutouts in their everyday activities, such as children playing, a couple of young hitches, policemen, and shoppers.
In addition, Sandoz aims to make 180 cutouts, which is about the number of people that live in the town.
Several people have stopped over to see how the project is coming along.
There is no better place to spend a day searching for "villagers" than Taylor, Nebraska!
Address: Taylor, Nebraska, USA
Valentine
Like many people celebrate Valentine's Day, the town of Valentine, Nebraska, is one town to celebrate life's joys!
However, Valentine is more than simply a romantic destination; it is also home to some historical and natural treasures that are worth a visit.
The town is located in the Sandhills, the largest dunes area in the world, with a seemingly unending sea of natural prairie grass around it.
Valentine is an absolute must-stop destination; this small terrible town is home to a variety of thrilling outdoor activities.
Moreover, Valentine's street signs and sidewalks are decorated with Valentine's Day hearts.
In fact, you can take a picture at the city's famous Valentine: Heart City sign.
The Peppermill and Valentine Lounge, where the 8-ounce Mulligan sirloin steak is matured seven to ten weeks for full taste, is probably the most well-known eatery in town.
On the other hand, it is best to choose Joseph Grilled Prime Rib if your sweetheart has a big appetite.
Spend a long weekend in Nebraska's Heart City whether you love history, wildlife, or are simply looking for a romantic getaway!
Do you need any more convincing that Nebraska is worth a visit? Hop over to reasons to visit Nebraska at least once in your lifetime here
Address: Valentine Nebraska 69201, USA