Illinois is an amazing travel destination. Look at our recommended travel activities and attractions in Illinois to get the most out of your time there. Check out the list of the best things to do in Illinois and places to go in Illinois below. As a Web 3.0 travel startup, Wondrous Drifter aspires to make a huge impact on the world.
It's no wonder that Illinois, often known as the "Prairie State" and "Land of Lincoln," is such an exciting vacation spot.
From the glistening city of Chicago to the rolling farmlands of Poplar Grove, there are a plethora of sites to view and adventures to be had in every direction.
If you're a fan of the outdoors, you'll enjoy hiking, climbing, camping, and kayaking in nearby mountains and rivers.
Museums dedicated to Abraham Lincoln, Native American culture, and the Civil War era may interest history enthusiasts.
Summer is the best time to visit Illinois, but its many cultural attractions and excellent shopping make it a fantastic vacation year-round.
The compulsive shoppers will miss the malls, and the cultural vultures will cherish the art galleries, vineyards, dance halls, and botanical gardens.
Lollapalooza, the world's most famous music festival, is held in Illinois every year.
If you're planning a trip to the area around this time, you'll be able to join in on the fun with both locals and tourists!
Is it now time for you to start thinking about your upcoming vacation?
Have you got your notebook with you right now?
Let's talk about Illinois' best and most memorable attractions and experiences.
Leaning Tower of Niles
Strange roadside attractions are a common sight in Illinois, especially if you've lived here for a long time. Several of them are so obvious that it's hard to miss them. Many other fascinating sights await us besides the oddities seen along the roadside.
Here is the place to go if you're looking for something a little out of the ordinary. But did you know that Illinois is home to the only North American leaning tower?
In 1934, Illinois erected its leaning tower to mark the 600th anniversary of Italy's Leaning Tower of Pisa.
The Leaning Tower of Niles can be seen in the village of Niles, Cook County, Illinois.
More than a landmark, it's a fun roadside attraction worth checking out. Take a picnic, snap a few pictures, and take in the beauty of this tower!
The Leaning Tower of Niles can give you a taste of Italy even if you never get the chance to visit.
Plan a trip and get your camera ready for a slew of self-portrait opportunities!
Address: 6300 W Touhy Ave, Niles, IL 60714, United States
The Chocolate Sanctuary

Have you ever dreamed of eating chocolate for the rest of your life and not gaining one ounce? You are never alone.
Chocolate is the perfect end-of-meal indulgence, but what if it's the main course?
You know what chocolate tastes like when it comes to cakes, but have you ever tried a chocolate-based coating on chicken?
For those who adore chocolate, The Chocolate Sanctuary, a casual restaurant, lounge, and boutique, is the place to go for a taste of the sweet stuff.
The cacao bean is the star ingredient in both the restaurant's sweet and savory menus.
For the most part, the menu features dishes that contain the restaurant's name-brand ingredient: chocolate. But there are also delectable dishes that exclude or minimize the use of chocolate altogether.
Craft chocolates and other sweets prepared by independent chocolatiers and local chocolate manufacturers will also be available for purchase at the site.
However, please don't feel bad about it!
Everyone deserves a little self-care now and again. So visit the Chocolate Sanctuary now!
Address: 5101 Washington St, Gurnee, IL 60031, United States
When you explore the best places to visit in Illinois, do remember to check out the best places to visit with our travel guides, check out the best things to Aurora and the best things to do in Naperville in Illinois.
Starved Rock State Park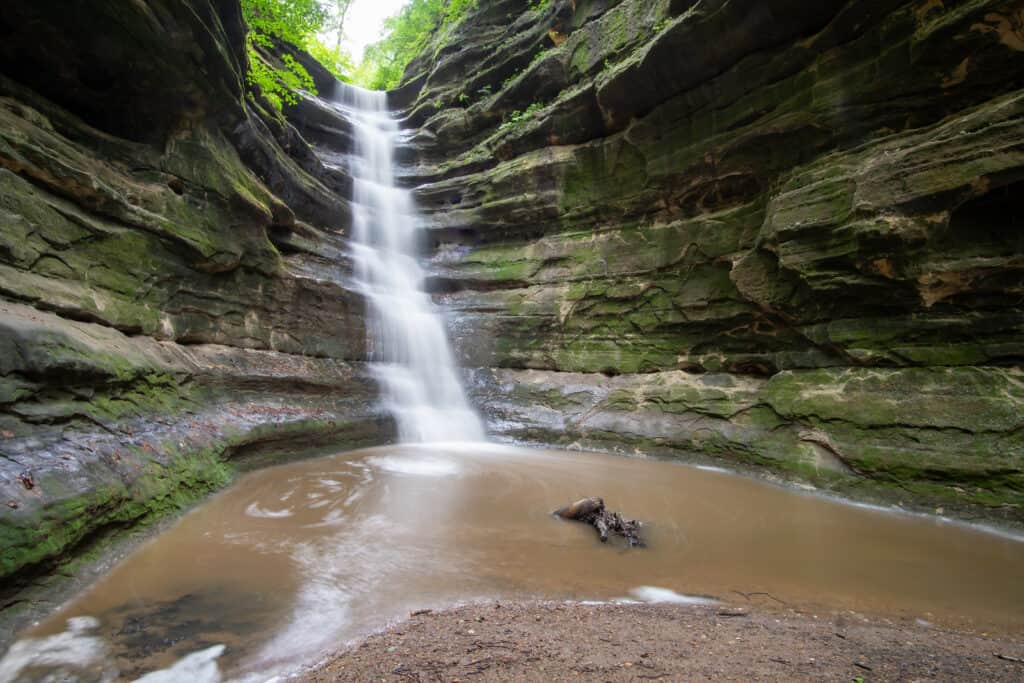 Illinois is a land filled with a variety of natural attractions such as lakes and wetlands and breathtaking views from scenic vista points and unique rock structures.
One state park, though, distinguishes out from the rest. The exotic scenery of forests, canyons, and waterfalls at Illinois' Starved Rock State Park earned it the title of the greatest state park.
If you haven't been to this fantastic park yet, now is the time to do so.
Over the years, it has been recognized as one of Illinois' most attractive state parks, with 2,630 acres. Much to see and do awaits those who venture out on the 13 miles of trails.
There are 18 sandstone canyons in the park, all produced by glacial meltwater a long time ago. Several stunning waterfalls are found in various canyons, including LaSalle Canyon, depicted below.
This park isn't simply a gorgeous face; it has a lot to offer. In addition, there are numerous recreational options to choose from.
You don't even have to be a fan of nature to benefit from this awesome place. After a few hours in the park, you'll be one.
Calumet Fisheries
For a seafood restaurant in Chicago that looks nothing like the others, you'll be tempted to dine there by its enticing aromas and its delicious fare that will leave you drooling from the first mouthful.
For locals, this seafood restaurant is a must-stop. Don't miss out on this mouthwatering opportunity.
South Chicago's Calumet Fisheries is a seafood smoker with a rich history. It has received numerous accolades and has been on multiple national television programs.
Seafood smoked in the restaurant's wood-smoking oven is the restaurant's most famous feature. Calumet Fisheries is deeply committed to preserving this disappearing art form.
It's a grab-and-go seafood restaurant, so you'll be able to enjoy your lunch on the riverside patio.
Calumet Fisheries is the place to go in Illinois if you want to eat till you're bursting at the seams.
Address: 3259 E 95th St, Chicago, IL 60617, United States
Looking for fun and excitement on your vacation? Start your adventure by exploring the US with crazy things to do in USA
Aurora Farmer's Market
All of your fresh produce is now available to you directly from the farmers who grew it. At Illinois' oldest farmers market, you can find an incredible variety of fruits, vegetables, and flowers. This amazing location is not one to be missed.
Starting in 2002 with six merchants, the Aurora market has grown to include about 40. Farmers' products, hot food vendors, and local art are all available for guests to purchase and take home as souvenirs.
Flowers, gourmet cheese, and spices are among the other items available to visitors. You may even be able to complete the majority of your shopping list here.
Just looking at these vegetables makes you want to eat them right away. You may get enthused about eating locally and eating healthily by doing this.
We highly recommend making a stop at the oldest farmers' market in the state of Illinois!
Address: 65 Water St, Aurora, IL 60505, United States
Going for a road trip in Illinois? Be sure to check out the best things to do in Joliet and the best things to do in Springfield, Illinois. Get the most out of your vacation by using our travel tips!
Harrah's
Harrah's is the perfect place to experience a taste of Sin City while on vacation.
For those looking to get out of the winter blues, think of it as a small Las Vegas.
The 21-story hotel offers comfortable, clean, and reasonably priced lodgings with a view of the surrounding mountains at sunrise and sunset.
Harrah's in Cherokee is the place to go if you're a fan of casino action. However, if you feel like taking a break from the excitement, there are other activities offered right here at the resort.
Alternatively, you might attend a live performance! Is there anyone who doesn't enjoy a good concert?
Do you feel down and out because it's winter? Perhaps all you need to do is take a road trip to Cherokee and stay at this hotel!
Address: 151 North Joliet Street, Joliet, IL 60432
Wolff's Flea Market

Calling all collectors, enthusiasts, small business owners, and bargain seekers! Wolff's Flea Market will be open every Sunday from the middle of April until the end of October, so put on your walking shoes and get ready for some adventure!
The hunt for that one-of-a-kind item you've always wanted will be a blast with over 700 sellers and thousands of items.
When the market is open, it draws tens of thousands of visitors, so get there early if you want the best selection of the vendors' unique, one-of-a-kind things.
Everything from clothing, jewelry, furniture, and decor to antiques and collectibles can be found at a flea market – from brand new items to overstock or discontinued products.
On-site dining options will be offered as well. Enjoy local favorites including hot dogs, tacos, pizza, croissants, and more from your favorite vendors.
What do you hope to find at Wolff's Flea Market?
Address: 6920 Mannheim Rd, Rosemont, IL 60018, United States
When in Illinois, you have to visit Chicago! Check out the top tourist attractions in Chicago by using our travel guide, visit the best things to do in Chicago guide.
Anderson Japanese Garden
Skyscrapers and cornfields may come to mind when thinking of the state of Illinois. On the other hand, the form itself contains some truly spectacular and magnificent locations. Anderson Japanese Gardens in Rockford, Illinois, is one you may not have heard about.
It is one of North America's most extensive and most genuine Japanese gardens. Expect to be relaxed and amazed at the same time when you visit.
Even if you don't know the difference between sushi and sakura, you can still appreciate the elegance and delicacy of its landscapes.
Make your way around the garden's ponds, streams and flowers by walking across the bridges.
In this garden, there are numerous waterfalls, ponds, and streams.
When it comes to social and cultural discovery, you'll be able to find lots of opportunities in Japan.
You can immerse yourself in a very different world from your own, from tea rituals to performances by poets and artists.
Attractions like the Anderson Japanese Gardens are a big draw in Illinois.
It's so well-known in Japan that the government formally recognized its efforts to foster international understanding.
Have a good time and learn something new!
Address: 318 Spring Creek Rd, Rockford, IL 61107, United States
Grand View Drive
Some days, we just want to jump in our automobiles and drive somewhere new. With the abundance of gorgeous backroads and byways in Illinois, we can all satiate our inner adventurer. You can take a scenic drive along the Ohio River Scenic Byway, or you can take a walk along the banks of the river.
A road trip through the Great Rivers Scenic Byway is the finest way to experience some of the state's most stunning scenery.. Grandview Drive, a gorgeous back road near Peoria, Illinois, is a great option if you're short on time but still want to take in some breathtaking scenery.
There are breathtaking views of the river and Peoria Lake from Grandview Drive's bluffs, as well as the grand old homes that line the road.
In the event you were unaware of its existence, you'll want to get in your car as quickly as possible! After driving up Grandview Drive once, you'll understand why Franklin D. Roosevelt referred to it as "the world's most beautiful road."
Chestnut Mountain Resort
Surely it would be best to have a break from your daily routine. Isn't it time for a vacation in the middle of nowhere? Discover what Chestnut Mountain Resort has to offer year-round if that sounds like an excellent concept.
Chestnut Mountain Resort sits high above the Mississippi River and offers a wide range of recreational activities and several ways to rest and relax.
A renowned winter destination, Chestnut Mountain Resort also provides a wide range of year-round activities. The Soaring Eagle Zipline, the Mississippi Explorer, a trek, or a bike ride along the river will test your mettle.
This resort's alpine mountain coaster is a must-see attraction for adrenaline seekers during the summer.
Or…
There are 100 slopeside rooms available if you intend to stay the night. You can count on stunning views from every accommodation, no matter where you stay. Relaxing amenities like an indoor pool, a sauna, and a jacuzzi are also available for your use.
Regardless of the weather, it's one of the best sites to visit in Illinois, so put it on your list of must-sees.
Address: 8700 W Chestnut Mountain Rd, Galena, IL 61036, United States
Morton Arboretum
The Prairie State is a feast for the eyes, with everything from its parks and lakes to its rivers and countryside to its botanical gardens illuminating the state's natural beauty.
A trip to The Morton Arboretum in Illinois is a must for anybody searching for serenity and breathtaking landscape.
Garden and wildflowers are in full bloom in spring and summer.
There are places where you may view Virginia bluebells in color amid the trees from mid-April to late May, and it's a fantastic sight.
Visitors to Morton Arboretum can take their time and completely immerse themselves in nature.
Plan a trip soon if you haven't already done so.
Fabyan Forest
Do you enjoy spending time in nature while simultaneously learning about the history of a specific location? Natural beauty and historical significance combine to make Fabyan Forest Preserve a popular destination for visitors. This 235-acre park features paths, a bridge, fishing, a museum, a windmill, and a Japanese tea garden for visitors' enjoyment.
Fabyan Forest Preserve near Geneva, on the banks of the Fox River, is a great place to enjoy nature, recreation, and history.
Along with the historical landmarks, there are other paths and gardens to explore. Get some exercise and take in the sights and sounds of nature by taking a stroll!
Fabyan Forest Preserve is the ideal location for those who enjoy fishing; whether you want to fish from your boat or bring a kayak to explore the Fox River, a boat launch is nearby!
The Fabyan Windmill in Illinois is a popular tourist destination for anyone interested in history, culture, and artificial structures.
SeatGeek Stadium
Everybody is familiar with Wrigley Field in Chicago, but what if you like soccer?
What if you also want to attend concerts, rugby matches, cycling races, and odd lacrosse games?
SeatGeek Stadium, a medium-sized arena in Bridgeview, Illinois, has played host to numerous events.
Sporting events, rock bands, country singers, and more have taken place there, and soccer tournaments.
Seats for the general public are available around the field, as are VIP suites for those who like to holiday in style.
It's possible to enjoy fine dining and drinks while admiring the action below.
Though SeatGeek Stadium isn't one of Chicago's most well-known attractions, it's still worthwhile to see.
It fills a void for soccer enthusiasts in northern Illinois and can be a fun, popcorn-filled outing.
Address: 7000 South Harlem Avenue
Strickler Planetarium

Get a new perspective on the Solar System!
On a state-of-the-art digital projector, you'll be able to see the history of the universe from its fiery origin through the construction of our own solar system. Throughout the year, there are a variety of performances scheduled.
The Strickler Planetarium is one of just eight planetariums in the entire state of Illinois, but it has the advantage of being located in a small, attractive town that is a charming tourist destination in its own right.
For those who prefer a more lighthearted approach, there are unique shows such as "The Ooky Spooky Light Show" and "Attack of the Space Pirates."
A lot of them use the dome shape to show 3D representations of celestial objects that really bring them to life.
Enjoy Bourbonnais's red brick buildings and white picket fences when you're done seeing the planetarium.
Bourbonnais has a Ferris wheel, so you can tick "ride into the clouds" off your list of things to do in Illinois if you missed Chicago's, Navy Pier.
Address: 1 University Ave, Bourbonnais, IL 60914, United States
Water Works Indoor Water Park

Water Works Indoor Water Park is one of just a few indoor water parks in Illinois, making it ideal for those who don't want to be bothered by cold or wet weather.
It's a must-visit destination for any traveler. If you're looking for a fun vacation for kids of all ages, now is the best time to visit this resort.
Nevertheless, this spot still delivers even when it's too cold to be outside. Its indoor waterpark may be one of the best in the world.
When you visit this excellent location, go on a deep-sea expedition. There are slides, nets, stairwells, and fixtures, making it a popular attraction at any time of year. In this aquatic center, you'll be happy regardless of your age.
Traditional playground games are given an aquatic twist with water-based play equipment.
What about monkey bars over a swimming pool?
To find family-friendly activities that are safe for all ages, make the short trip to Water Works Indoor Water Park your first port of call.
Address: 505 N Springinsguth Rd, Schaumburg, IL 60194, United States
Woodfield Mall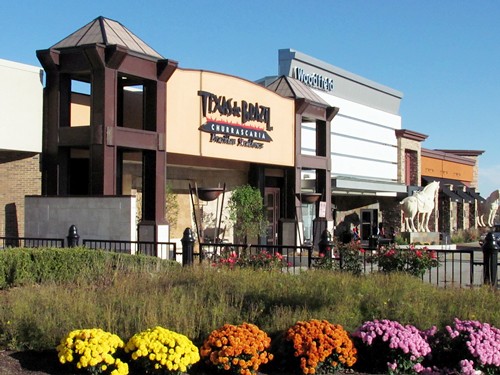 Everybody is thinking about what they want to do this year. Going on a vacation is a big part of this for many of us. There are several attractions in Illinois that allow you to have a holiday without traveling outside of the state. The Woodfield Mall is one of these places.
The Woodfield Mall in Illinois attracts more than 27 million visitors each year.
As the largest mall in the state, you might spend all day there and still haven't seen everything it has to offer!
It's usually a good idea to check the plan to see what's going on.
Is there anything you'd like to do while you're in Illinois?
The Woodfield Mall has something for everyone, so look no further if you're planning a trip to Lincoln this weekend or next summer.
Address: 5 Woodfield Mall, Schaumburg, IL 60173, United States
Onan's Gold Pyramid House
Some of the most common reasons why individuals choose to have a custom house built include their desire to include unique features not seen in standard tract homes, such as a movie theater, extra-large kitchen, and other aesthetically pleasing elements. Jim Onan, on the other hand, went all-in on the Egyptian-inspired architectural flourishes. Wadsworth, Illinois does have a gold pyramid.
In 1977, Onan and his wife built their dream house in the suburbs of Istanbul. While visiting Egypt, Onan had an epiphany: "Why not bring Egypt to Illinois?" The 17,000-square-foot, six-story building with a moat surrounding it drew a lot of attention, as you might expect. So now you can truly have a look around the house.
To test a theory, Onan built this pyramid: does the structure of a pyramid create energy shifts?
Snow will serve as a gentle reminder that, no, you are not in Egypt, no matter how much you might be pulled in by the authenticity of the image.
A visit to this house will provide you with much more insight into the concept and history of the building.
Address: Wadsworth, Illinois
Willis Tower
Consider climbing the Willis Tower as an exciting way to see the sites in Illinois.
The Chicago Skydeck is one of the city's most awe-inspiring and popular tourist attractions. A glass floor more than a thousand feet above earth allows you to see Chicago as you've never seen it before.
Whether you've lived here your entire life or just come to visit, this is one of those attractions you should see at least once in your life.
Even at night, the views from the Skydeck are stunning.
Have you ever worked up the confidence to walk out onto the Skydeck? Plan your visit now!
Address: 233 S. Wacker Drive Chicago, Illinois 60606 United States
Millennium Park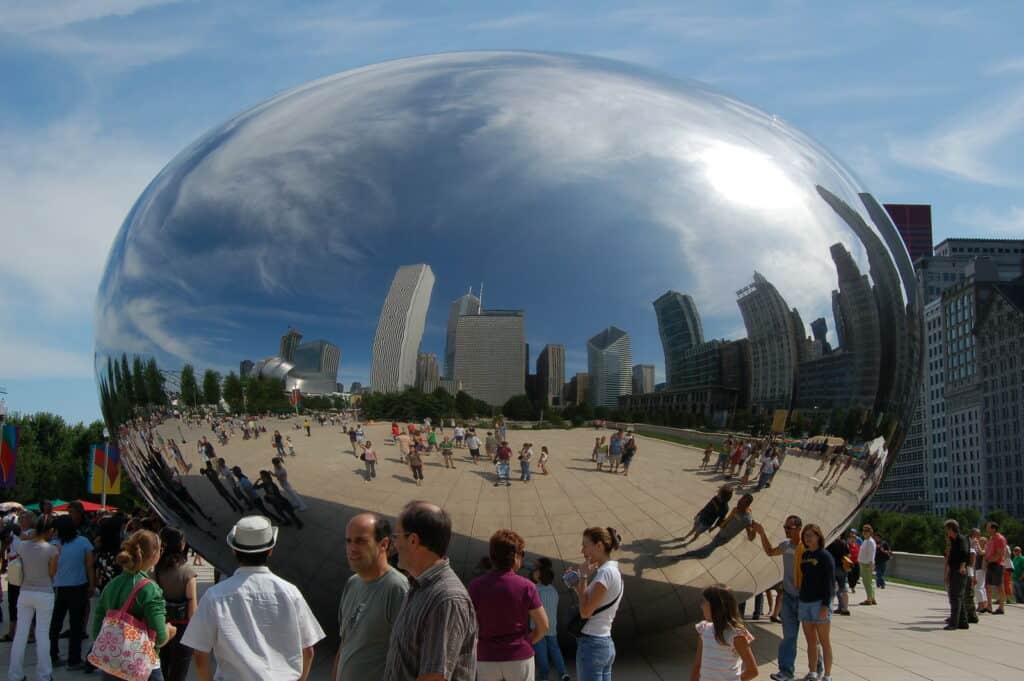 You should go to Millennium Park in Illinois. It is one of the best places to see in the state.
You've seen it in many movies and TV shows even if you haven't been there before.
The public has a strong sense of the giant silver bean.
There are other things to do, of course.
In the Crown Fountain, you can take your shoes off and play in the water; you can headbang to an outdoor concert at the Jay Pritzker Pavilion, and you can take a moment to be still in the beautiful and colorful Lurie Garden.
You can even rollerblade and climb rocks in the Maggie Daley Park that is close by.
It doesn't matter what time of year you're going on vacation. It doesn't matter.
If it's summer, go on a bike. If it's winter, you should go figure skate. This is a place that never stops.
For anyone who's going to be in Illinois, this is a must-see. It's especially important for people with many places on their bucket lists.
Address: 201 E Randolph St, Chicago, IL 60602, United States
It would be fun to have a Ferris Bueller-style day, but instead of just Chicago, you could go to all the places in Illinois. You could make this day happen in just one place!
Its skyline is on many postcards, and there are many things to do there, from eating and shopping to visiting glass gardens and going on amusement park rides.
What is the Navy Pier?
In length, it's a boardwalk that runs along the shore of Lake Michigan. It has a lot of interesting things to see and do, so it's a great place to go.
You can play games, go on cruises, ride a carousel, see a show about art, play a funhouse maze, and more at this amusement park.
Also, the pier is open all year long, so whether you go to Chicago this weekend or three years from now, you can always expect it to be there.
Make sure you don't miss out on the most famous boardwalk in the United States.
Visit Navy Pier while you're in Illinois and enjoy all of the great things to do there!
Need more reasons to visit Illinois? Hop over to reasons to visit Illinois at least once in your lifetime here
Address: 600 E Grand Ave, Chicago, IL 60611, United States