Are you contemplating a vacation to Bentonville, Arkansas? Get the most out of your vacation by exploring the best things to do in Bentonville, Arkansas, and the best places to visit in Bentonville, Arkansas, below. We at Wondrous Drifter, a Web 3.0 travel startup, have big plans to shake things up in the travel business.
21c Museum Hotel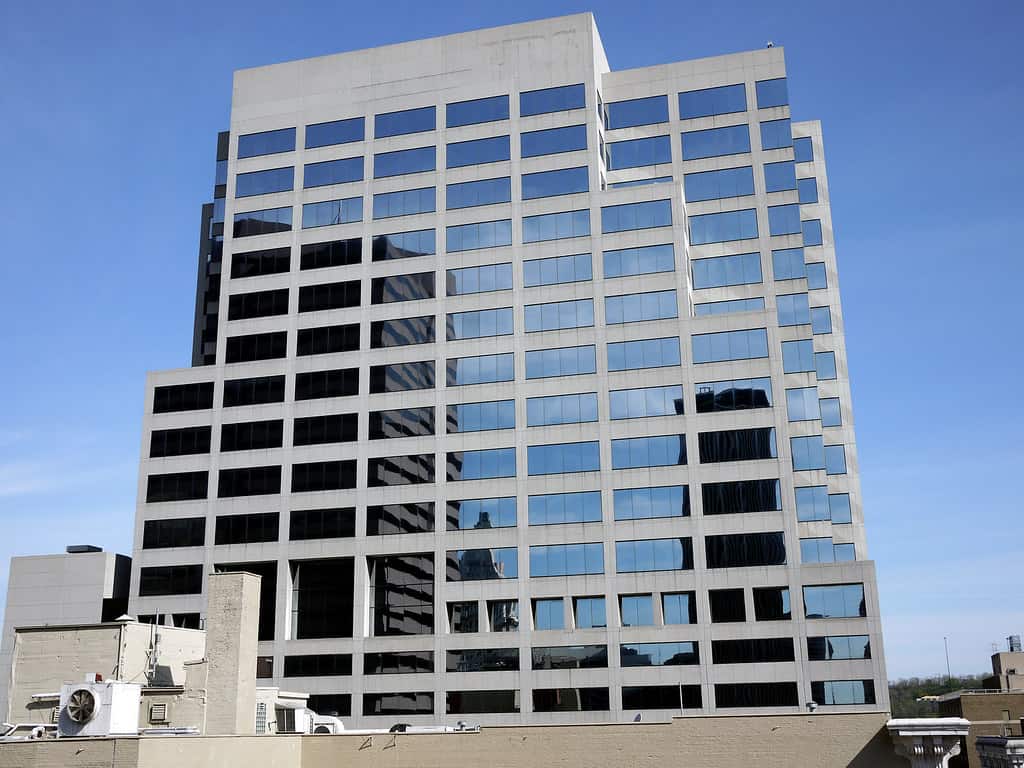 An award-winning hotel experience with contemporary art museum awaits you.
At the Museum Hotel 21c Bentonville, there are opportunities to discover art around every corner.
The museum opened in 2013 as a 104-room boutique hotel that has over 12,000 square meters of art museum connected in all areas of the hotel.
Two eye-catching pieces welcome visitors: "Making Change," a Fleetwood Cadillac limousine covered in thousands of coins, and "Orange Tree," a large-scale sculpture.
Mindblowing art galleries and contemporary art are placed in each suite; comfortable beds, high ceilings, custom-designed furniture, large windows, flat-screen TVs, and a bath are some available amenities.
A restaurant that proudly showcases Arkansas's distinct culinary identity through refined country cuisine and local ingredients.
Some of the museum's highlights include a Cadillac limousine covered in coins and a giant sculpture of a tree sprouting basketball hoops instead of leaves.
Enjoy a unique hotel museum space with dynamic and live art events.
Address: 200 NE A St, Bentonville, AR 72712
Bachman-Wilson House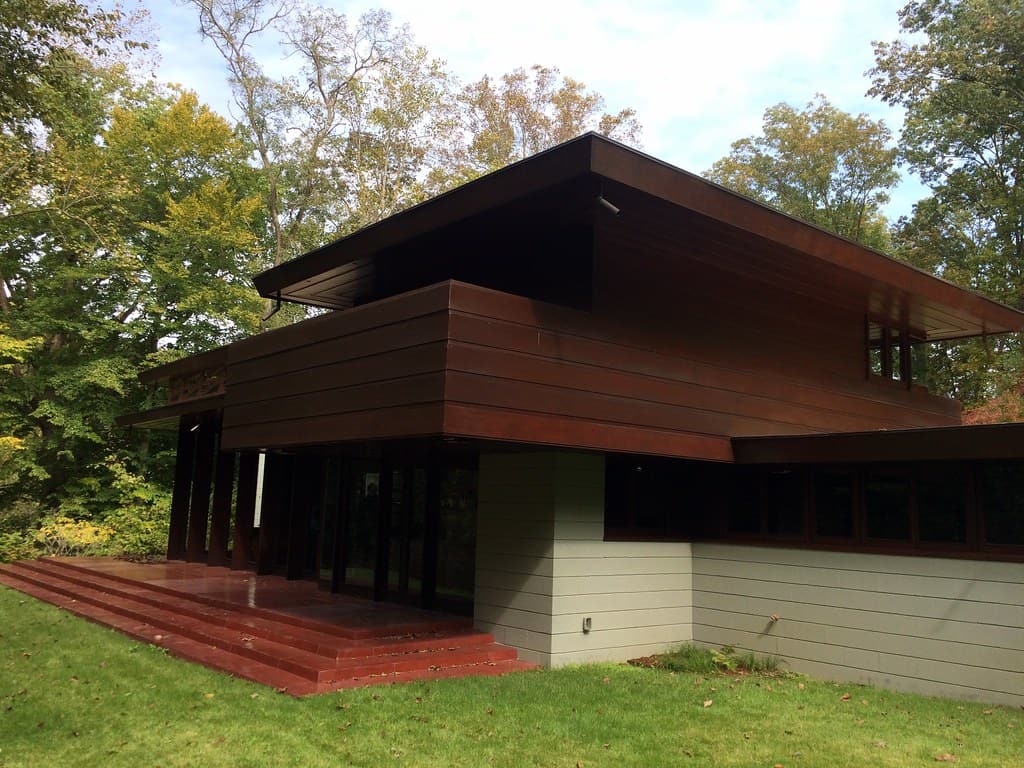 If you're visiting Arkansas, stop by the impressive Bachman-Wilson House, designed in the mid-twentieth century.
The Frank Lloyd Wright Bachman–Wilson House, built-in 1956, is an incredible piece of mid-century residential architecture constructed in Wright's distinctive Usonian style.
It was built 1200 miles away on the Millstone River in New Jersey in 1956.
In the late 1980s, the building was restored by architects Lawrence and Sharon Tarantino due to the house's original location being threatened by flooding.
The house has a beautiful interior due to Frank Lloyd's outstanding ability in architecture to blend in with the surrounding nature distinguishes his work.
It was purchased and relocated to Arkansas by the Crystal Bridges Museum of American Art in 2013.
Today, you can tour the ornate interior while admiring the home's location next to Crystal Springs.
It is now located on the museum grounds, next to the lovely Crystal Spring, and most of the interior is open to the public.
Check out the spot and bring your friends with you!
Address: 600 Museum Way, at Crystal Bridges Museum of American Art, Bentonville, AR 72712
Blu Fish House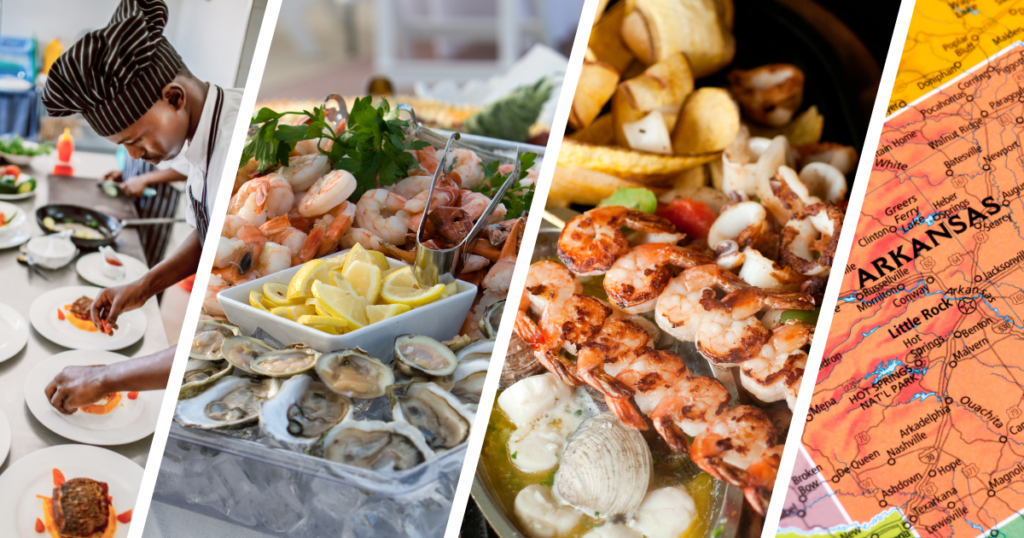 If you're craving some seafood, Blu Fish House offers a variety of dishes that would surely satisfy your cravings.
Blu Fish House & Raw Bar in Bentonville is a sushi bar, fish market, and restaurant all rolled into one.
They serve a wide range of fresh seafood dishes but are best known for their selfishness.
They serve a variety of entrees that include Wild Gulf Shrimp, such as BBQ Shrimp & Grits, Seafood Risotto, and the best-selling Baja Shrimp Tacos.
The marketplace serves individual customers as well as area restaurants as wholesale and retail fish facilities.
Because of the region's growth and increased traffic at the Northwest Arkansas Regional Airport, fresh fish can now be flown into the marketplace.
Blu's second-year anniversary will be celebrated on Cinco de Mayo with live music, giveaways, and a free oyster shooter for everyone who comes in.
Other than their usual, a wide selection of imported and domestic beers like sake and wines are being offered.
Satisfy your soul and enjoy the beauty of the attraction.
Address:502 SW 12th St, Bentonville, AR 72712-6224
Arranging a trip to Arkansas? Discover our travel guides to Little Rock and Eureka Springs. Check out the best things to do in Little Rock, Arkansas, and the best things to do in Eureka Springs, Arkansas.
Bike Rack Brewing Co.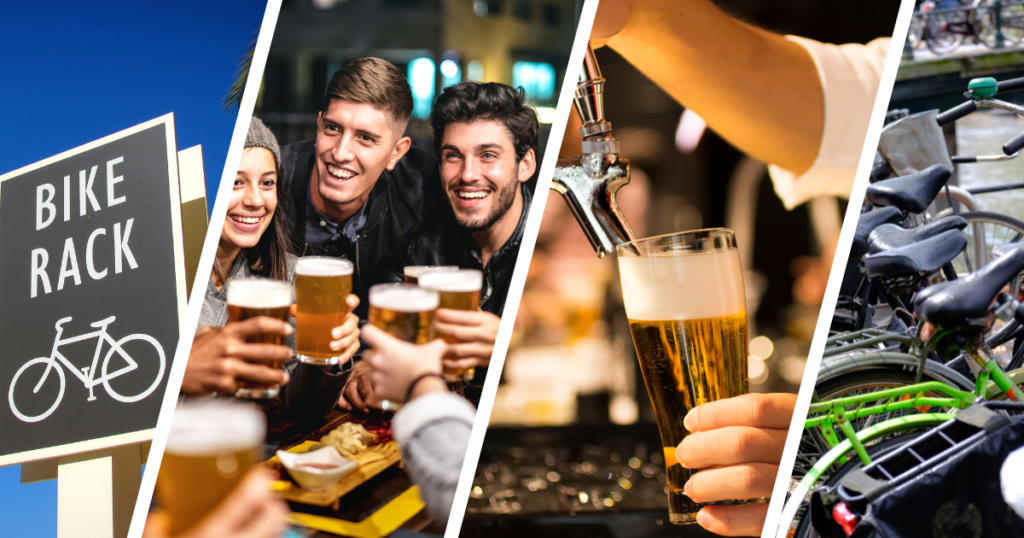 Bentonville's oldest brewery takes pride in producing high-quality craft beers inspired by the local way of life.
The company opened in May 2017 and is all about food, supporting the local community, and cycling.
They are the oldest brewery in Bentonville that makes ales using high-quality ingredients.
Their goal is to provide a unique and enjoyable craft beer experience to the locals and visitors.
Their beers are unique in taste but have an approachable flavor for someone who would like to try out new things.
A rotating selection of signature beers is always on tap, and the brewery also offers handcrafted beers in small, seasonal batches that are only available for a limited time.
They also perform live music on weekends with their trivia night and happy hour.
The company is also planning to expand its business to 6,600 square-foot breweries with a 1,300 square-foot taproom to accompany a larger group of visitors.
Drink high-quality local beers and have the time of your life at Bike Rack Brewing Co.
Address: 410 SW A St #6, Bentonville, AR 72712
Bizzy B's Bakery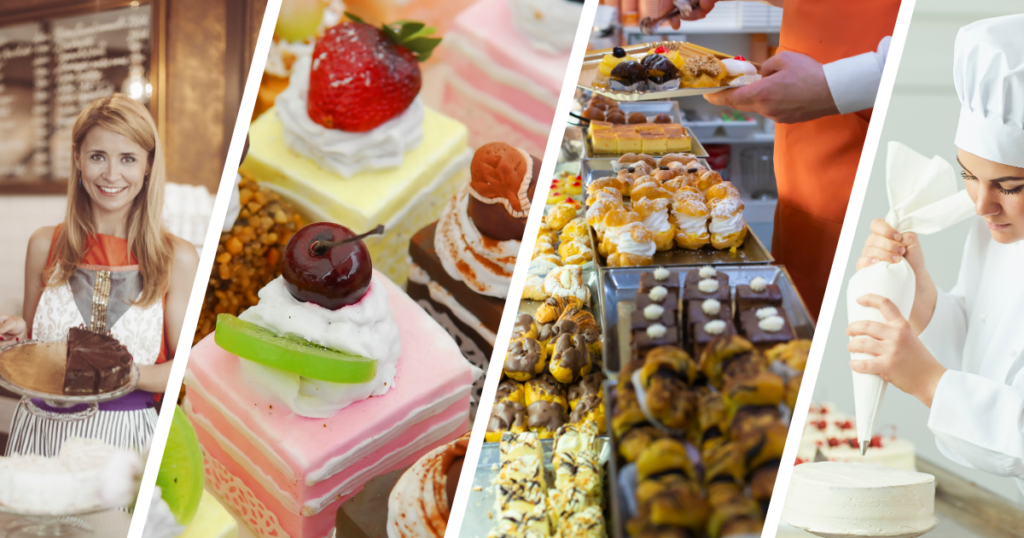 Bored of typical cake? Bizzy B's Bakery is one of a kind bakery in Arkansas that offers custom cakes for any occasion, European recipes, and fresh pastries.
The bakery's interior is bright blue walls and a decadent selection of cupcakes, pies, and European-style pastries; this is the ideal place for a mid-day snack break.
On-site authentic German pastry chef; fresh pastries, gourmet coffees, specialty and custom cupcakes, and cakes.
The chefs and cake decorators are genuinely enthusiastic about their work, and there's always a unique new creation or two on display.
The bakery is also pleased to offer beautiful custom cakes and pastries for any occasion.
Catering and delivery are available for gatherings of any size, and the owner and staff take customer satisfaction very seriously.
They offer complimentary cake tastings for their customers.
Visit Bizzy B and meet with them to know more about their flavors, design, and amount.
Address: 1501 SE Walton Blvd, Bentonville, AR 72712
Explore Arkansas this holiday! View our noteworthy trip ideas for Fort Smith and Fayetteville. Visit the best things to do in Fort Smith, Arkansas, and the best things to do in Fayetteville, Arkansas.
Compton Gardens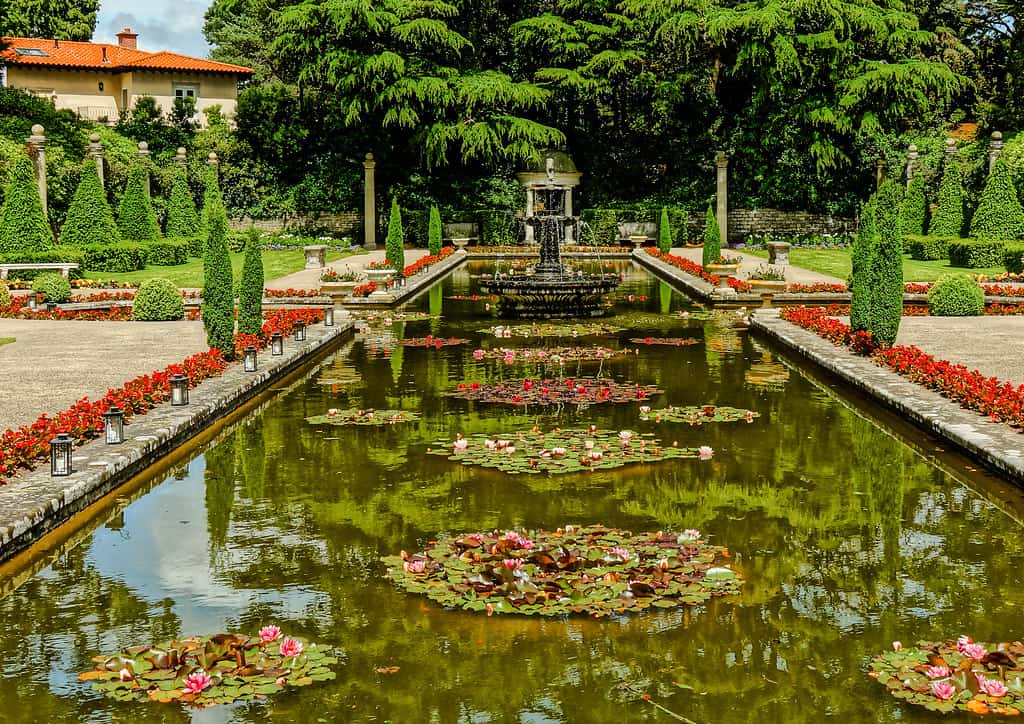 Named after the Savior of the Buffalo River, Compton Gardens is the heart of Bentonville.
The tranquil sanctuary provides plenty of space to relax, explore, and spread out. It's a great place to read under the trees or have a picnic with friends and family.
Compton Gardens and Arboretum is a haven of greenery and relaxation with over 6 acres of land dedicated to Ozark horticulture and Dr. Neil Compton's efforts to conserve the Buffalo River.
The Compton Gardens, on the other hand, is a celebration of Ozark horticulture.
The conservation and promotion of local flora are aided by its on-site arboretum.
The park is filled with lush greenery, vibrant woodlands, and native plants.
Visitors can explore the garden by walking or cycling.
Learn more about native plants and take a glimpse of the Champion Trees at their own pace.
Walk right into an oasis of Downtown Bentonville's heart and share your experience with your friends.
Address: 312 N. Main Street, Bentonville, Arkansan 72712
Crystal Bridges Museum of American Art
The absolute go-to destination to see America's finest art collection.
The Crystal Bridges Museum of American Art, founded by Walmart heiress Alice Walton, is set on a beautiful 120-acre property with two creek-fed ponds and peaceful walking trails.
The museum's permanent collection includes sculptures and paintings from the colonial era to the contemporary period.
The trails and grounds are open every day of the year between sunset and sunrise, but the museum is closed on certain holidays.
It's a great place to get away from the elements for a few hours. With a diverse selection of art on display, there will be something for everyone.
The museum also has several outdoor trails, which are a great place to stretch your legs and get some fresh air after an hour or two inside.
Please visit this breathtaking museum and its lovely surrounding grounds, including many beautiful landscaped trails and awe-inspiring sculptures.
600 Museum Way, Bentonville, AR 72712
Downtown Murals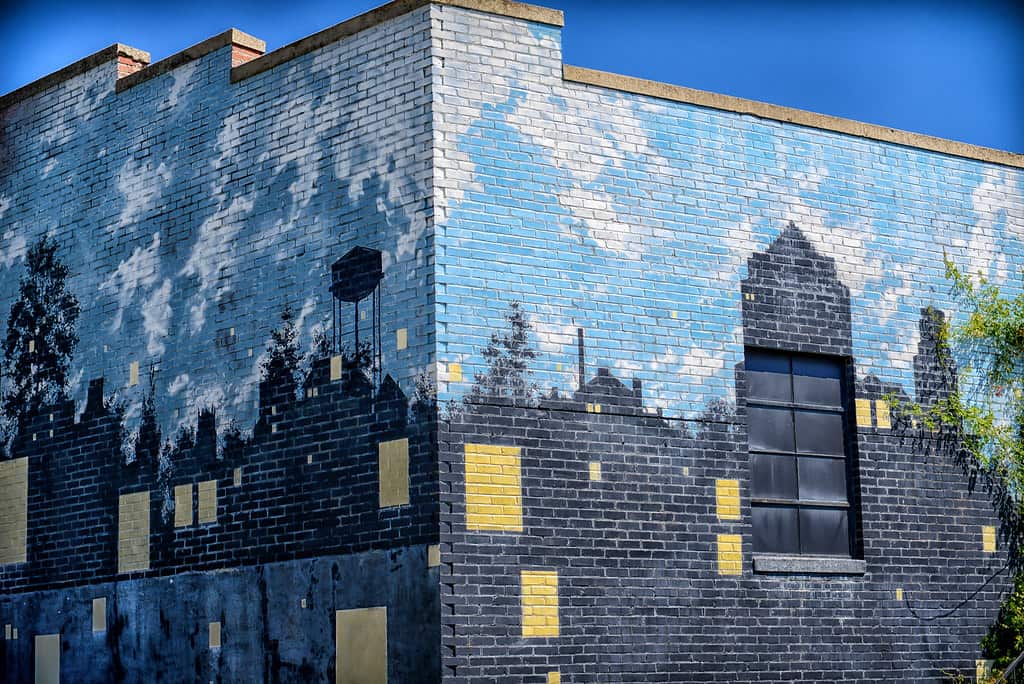 The Downtown Murals is one of the top attractions in Arkansas.
This is a fascinating 900-square-foot mural that runs along a ramp leading to the second level of the parking deck.
The mural includes the famous American Bison. The Bison's eyes resemble car headlights, representing both the past and the future.
Several of the murals can be found in Little Rock's South Main neighborhood on South Main Street, also known as "SoMa" in the neighborhood.
A bright and inviting mural can be found on the wall of Rock Town Distillery near the entrance to the SoMa neighborhood.
Many of the dozens of murals and large-scale public art pieces in Bentonville can be found on 8th and A Streets.
Whether you're looking for it or not, there's something enthralling about stumbling across a large public art installation.
The experience adds a sense of awe and unpredictability to what would otherwise be a routine walk around town.
As you walk around Bentonville, hopping between cafes, boutique shops, museums, and antique stores, you'll most likely come across several enthralling murals that light up the cityscape.
Check out their provocative murals and information on their website.
Address: 101 S. Spring Street / Little Rock, AR 72201
Hobbs State Park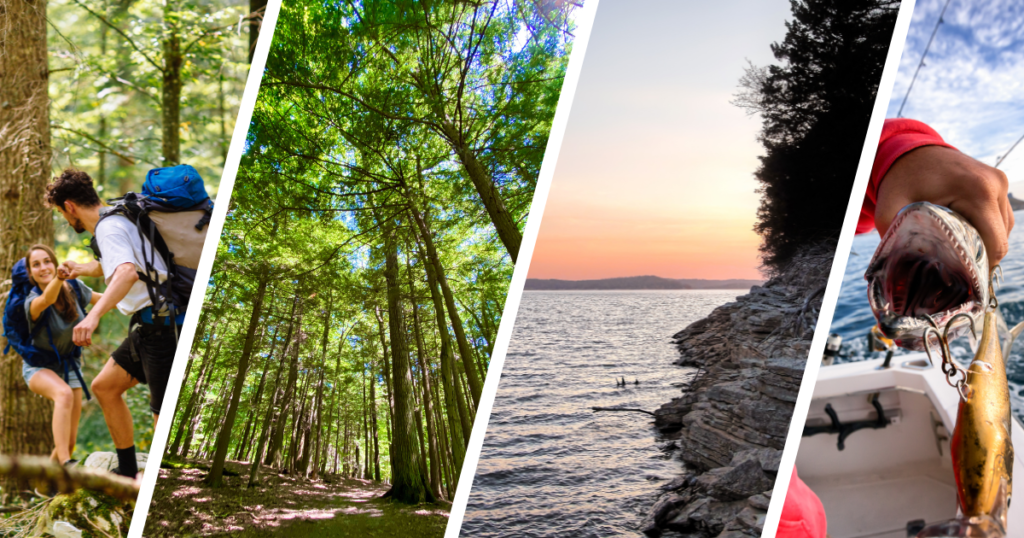 Hiking, fishing, or boating, name it all! The largest state park with fun recreational activities has it all.
Hobbs State Park is Arkansas' largest state park, encompassing 12,055 acres on the shores of Beaver Lake.
It is a conservation area that has beautiful scenery and a diverse ecosystem.
About twenty-two of the park's 60 miles of border runs along the shores of Beaver Lake.
Hikers, horseback riders, and mountain bikers can enjoy nearly 33 miles of multi-use trails, including the 8.5-mile Pigeon Roost Trail, with five campsites ideal for a quick overnight trip.
The park also has a 100-yard public shooting range, and regulated hunting is permitted seasonally.
Visitors may also have a picnic in the area while enjoying state-of-the-art activities such as classroom space, a small retail boutique, and interactive exhibits.
What's better news is they provide free Wi-Fi to the visitors so they can post their at-the-moment selfies.
Visit the Hobbs State Park and have the best trail in your life.
Address: 20201 E Highway 12, Rogers, AR 72756-7530
Lawrence Plaza Ice Rink and Splash Park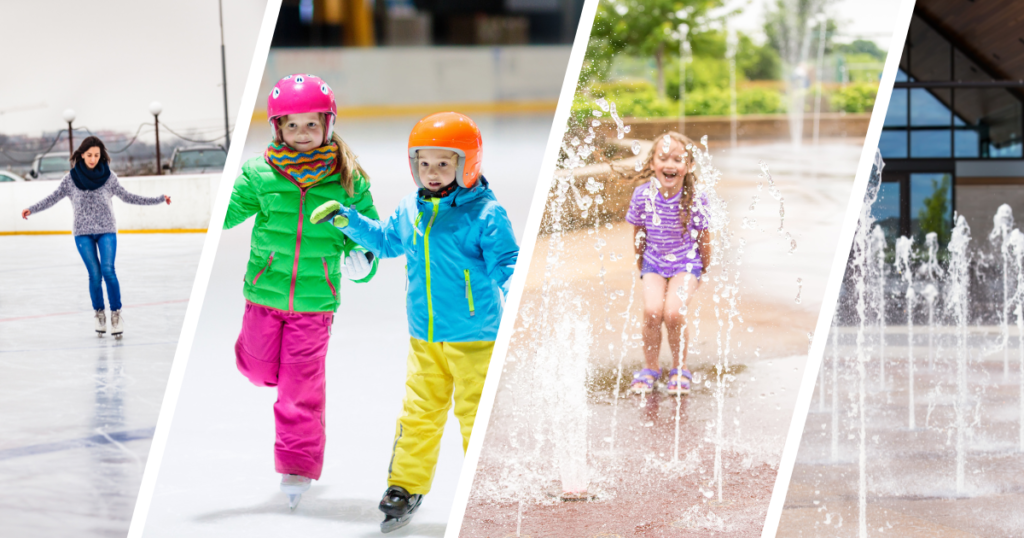 The Lawrence Plaza Ice Rink and Splash Park are one of the best things to do in Arkansas.
Have the greatest time of your life by visiting Bentonville during a scorching summer heatwave or when the streets are covered in snow.
Lawrence Plaza Splash Park has total square feet of 7,000. This innovative facility employs a multi-use function to manage an outdoor facility all year.
The ice rink and splash park are perfect for families and children who are going on a trip.
Both frolickings in splashing water and ice skating are excellent forms of activities.
The place is frequently crowded with families, so the ideal season to visit the place is during non-peak days such as weekdays.
During the summer months, from May to September, the facility provides patrons with a splash pad as the fountains operate on the splash pad.
From November to January, they activate the cooler, and the pad of cement is transformed into the city's only existing outdoor skating rink.
Looking for a place to visit, even during summer or winter? Visit Lawrence Plaza Ice Rink and Splash Park and gather unforgettable memories.
Address: 214 NE A St, Bentonville, AR 72712, United States
Museum of Native American History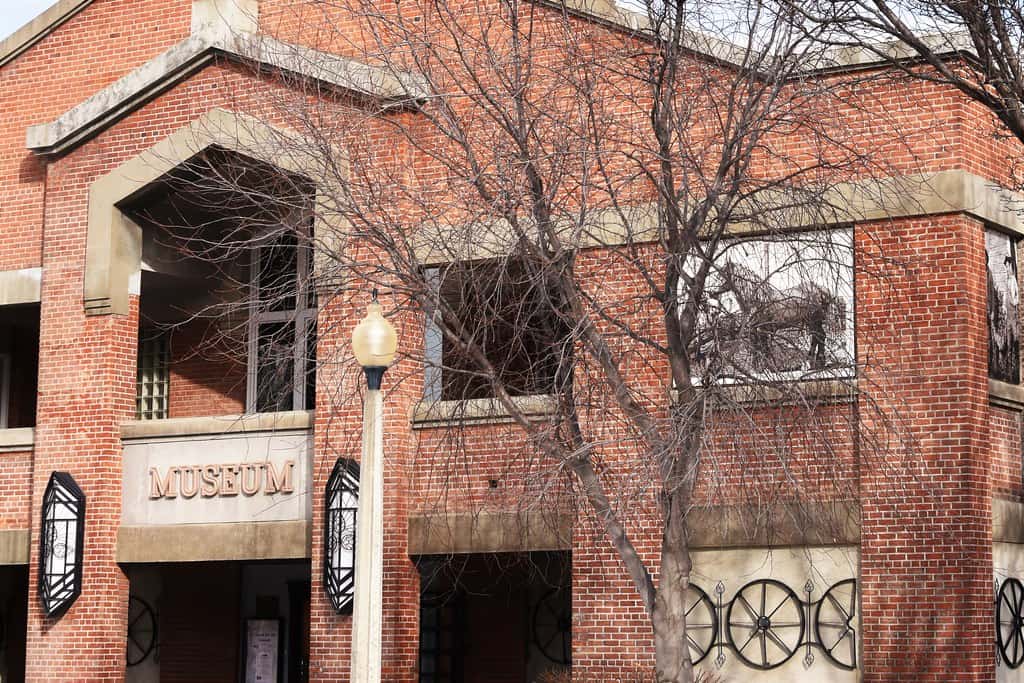 Explore the fascinating journey of Native American history over 14,000 years ago.
The Museum of Native American History houses an incredible collection of North and South America artifacts.
It is a fascinating place to learn about the indigenous history of northwest Arkansas.
The exhibits are organized chronologically, beginning with the Paleo period and ending with the late-nineteenth-century European influence.
The numerous exhibits and artifacts will entice you from the start.
A complete mammoth skeleton, the Sweetwater Biface, and a small arrowhead scavenger hunt for children, which is thought to be the thinnest flint artifact ever discovered, are among the highlights.
For thousands of years, the region was home to the Quapaw, Caddo, Cherokee, and Osage Native American tribes before Bentonville, Arkansas, was ever uttered.
Audio wands for self-guided tours are available.
Do you need a trip that will give you a glimpse of Native American culture? Stop by the Museum of Native American History.
202 SW O St, Bentonville, AR 72712
Onyx Coffee Lab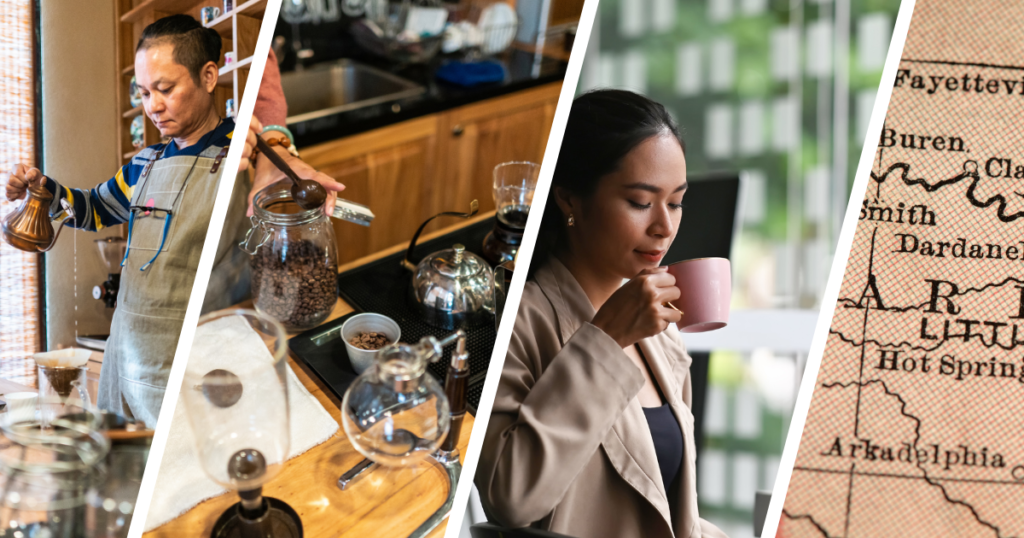 A coffee shop with a touch of contemporary art can only be found in Arkansas.
Who would've expected that a former cheese factory would look this good?
Wheeler Kearns Architects designed the Momentary as a companion community facility to the spectacular Crystal Bridges Museum of American Art.
Onyx Coffee Lab, a Northwest Arkansas coffee juggernaut, has opened its newest cafe at the recently christened contemporary art and performance venue.
Located in the heart of downtown Bentonville is a futuristic and stunning coffeehouse that serves specialty espresso drinks, finger foods, and tap beers.
A sleek bar sits in the center of the cafe, allowing customers to observe the preparation of their drinks.
One-of-a-kind farm-to-cup coffee to satisfy coffee connoisseurs is one of the unique things that the owners are proud of.
Retail products such as special coffee chocolate, bags of coffee beans, and Guatemala coffee blossom are for sale.
Feed your inner soul and grab a cup of coffee at Onyx Coffee Lab.
72710, 100 NW 2nd St #106, Bentonville, AR 72712
Orchards Park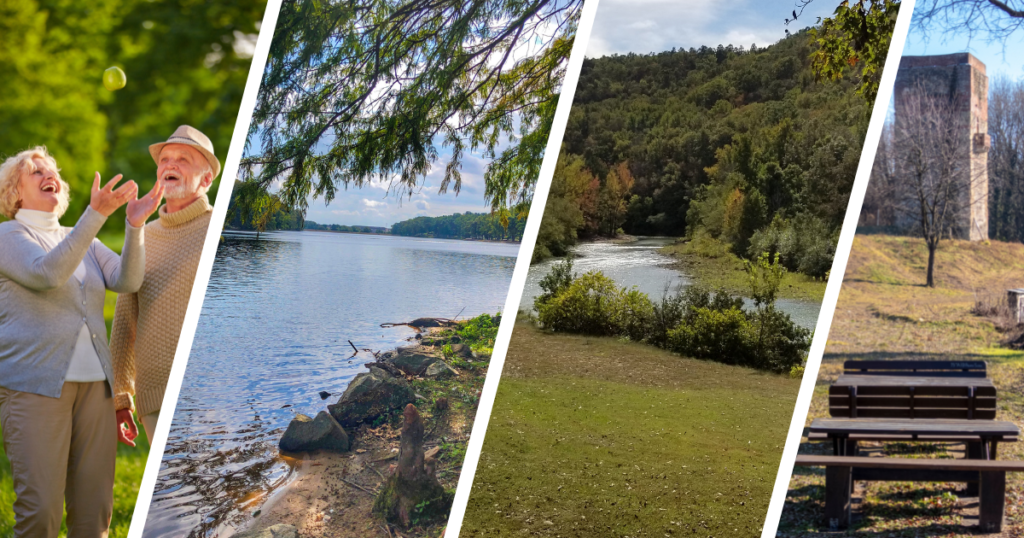 A hidden gem in the middle of Arkansas to unwind and chill out.
This 33-acre park includes open lawn areas for pick-up games, active play areas, forested picnicking, and walking trails. The East Vancouver Rotary Club has also sponsored a rose garden in the park.
Bentonville's history as a major apple producer is derived from its strong agricultural history.
Like most parks, Orchard Park in downtown Bentonville is situated near several other area landmarks and is free to use.
Orchards Park was intended to be a premier passive park with a pavilion, and beautifully landscaped areas, walking paths, an amphitheater, and a water feature.
There's a large pond frequently populated by Canada geese, a small waterfall, and plenty of places to sit back and relax or catch some sunlight.
The best way to spend an hour or two of your vacation time is by visiting local artists' art exhibits.
Plan your trip to Arkansas' admirable recreational area.
Address: 1100 NE John Deshields Blvd, Bentonville, AR 72712, United States
Peel Museum & Botanical Garden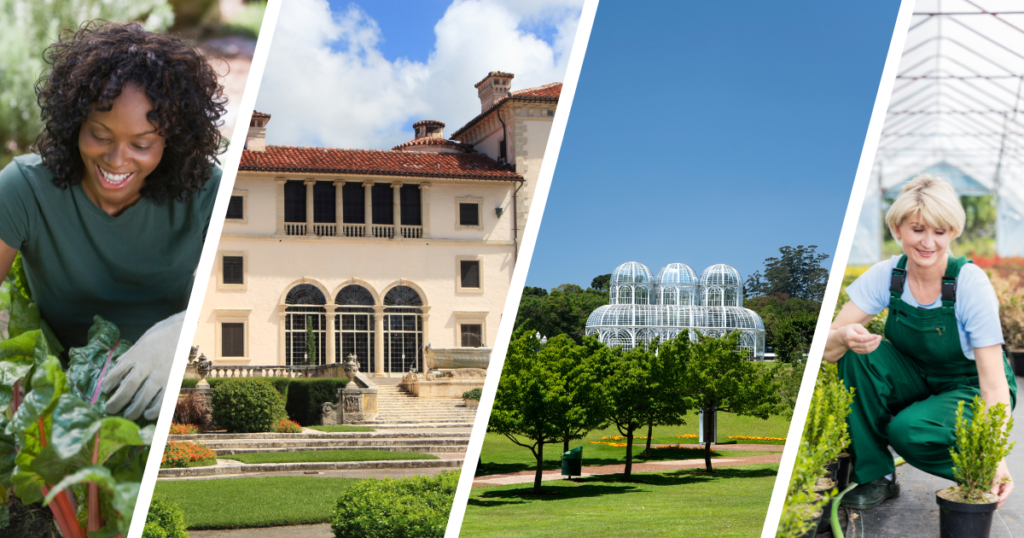 The Peel Museum & Botanical Garden is one of the best places to visit in Arkansas.
Create lasting memories in a 150-year-old historic mansion.
Colonel Samuel West Peel's home, the Peel Mansion, was built in 1875. Peel was a prominent Confederate soldier who later served in the state House of Representatives.
The Italianate villa has been well-preserved over the years, with the surrounding botanical gardens being an extraordinary attraction.
The Peel Mansion Museum & Botanical Gardens can accommodate 100-120 seated guests or 150-175 cocktail guests, with an outdoor capacity of up to 250.
The place is available for rent either for anniversaries, graduation, wedding, rehearsal dinner, elopement, bridal showers, or business retreats.
The place has North Terrace, and the lawn (directly off the Conservatory) is a lovely outdoor event space with a retractable sun awning, viewing the gardens, and outdoor speakers.
Visitors may also look at the Carriage House, an elegant space for couples, family, and friends, and it can be decorated to match the style and tone of your celebration.
Turn your once upon a dream to life and appreciate the picturesque landscape.
Address: 400 S. Walton Blvd. Bentonville, AR
Scott Family Amazeum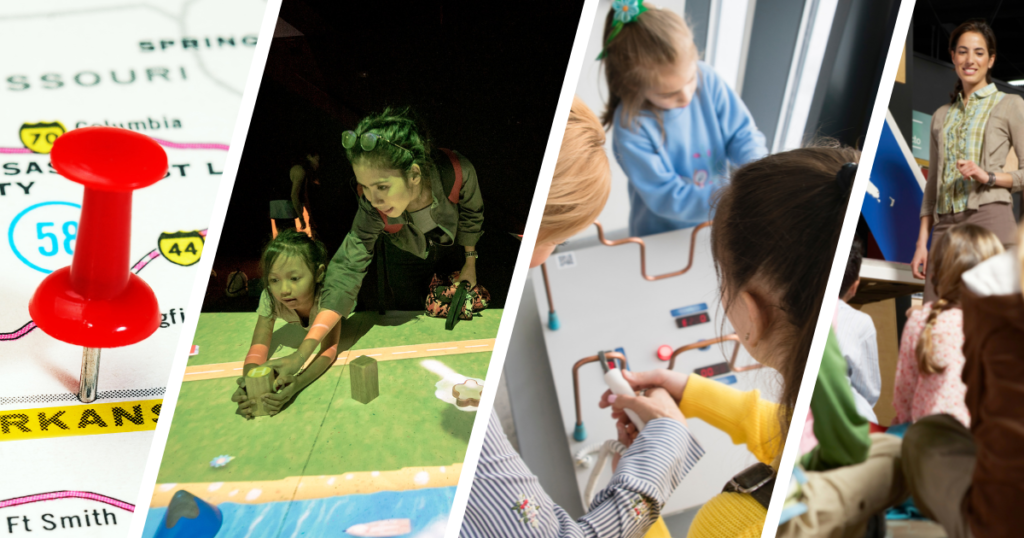 The best interactive museum to discover and explore science-related topics in town.
The Amazeum has approximately 50,000 square feet of indoor learning spaces and exhibits that bring learning to life and encourage family participation.
They opened in July 2015 and have roughly 1 acre of outdoor property with an interactive playscape.
The Amazeum fosters creativity, curiosity, and community through educational collaboration, worship, camps, programs, and exhibits as an arts and sciences museum.
A climbable tree canopy, a tinkering hub, nearly one acre of outdoor space, an indoor cave, and daily pop-up activities are among the experiences available.
Exhibits cater to people of all ages and interests, with highlights including an art studio, a tinkering hub, and a science lab where kids can experiment with Hershey's candy.
Over 1 million visitors have learned, played, and stimulated their curiosity through practical experiences in Science, Technology, Engineering, Art, and Math (STEAM).
You wouldn't get bored with its activities so plan your trip to Scott Family Amazeum.
Address: 1009 Museum Way, Bentonville, AR 72712
Slaughter Pen Hollow Trail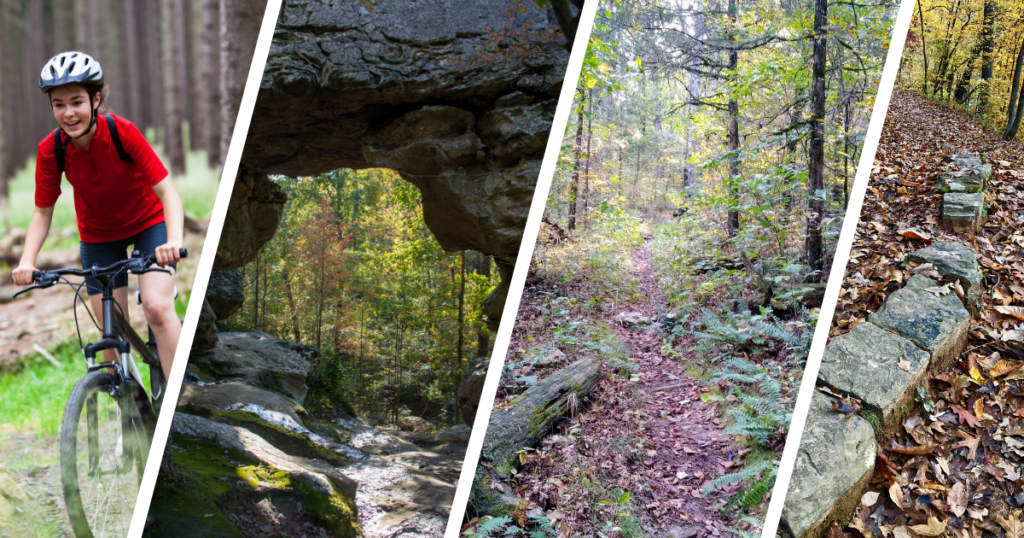 Longing for a unique mountain biking experience? Slaughter Pen Hollow Trail is an ideal place for cyclists.
Take a look at this 9.2-kilometer loop trail near Bentonville, Arkansas.
It takes 2 hours and 16 minutes to complete this moderately tricky route.
Although this is a popular trail for hiking, biking, and birding, you can still find solitude during quieter times of the day.
The trail is open all year and is a beautiful place to visit. Dogs are permitted but must be kept on a leash.
A large-scale artwork has a one-of-a-kind shot of the building's architecture that backs up to the majestic Crystal Bridges Museum of American Art.
Armadillo's Last Stand is entirely singletrack and suitable for riders of all skill levels.
The ground is primarily hard-packed, with some gravel thrown in.
The Slaughter Pen system features trails ranging in difficulty from beginner (on the All-American and Seed Tick Shuffle trails) to expert (on the Scott Allen Alley and Medusa trails) and connector trails that connect the system's various hubs.
Roll up your bicycle and stroll through the world-class art museum in Arkansas City.
Address: 203 NE 3rd St, Bentonville, AR 72712, United States
The Momentary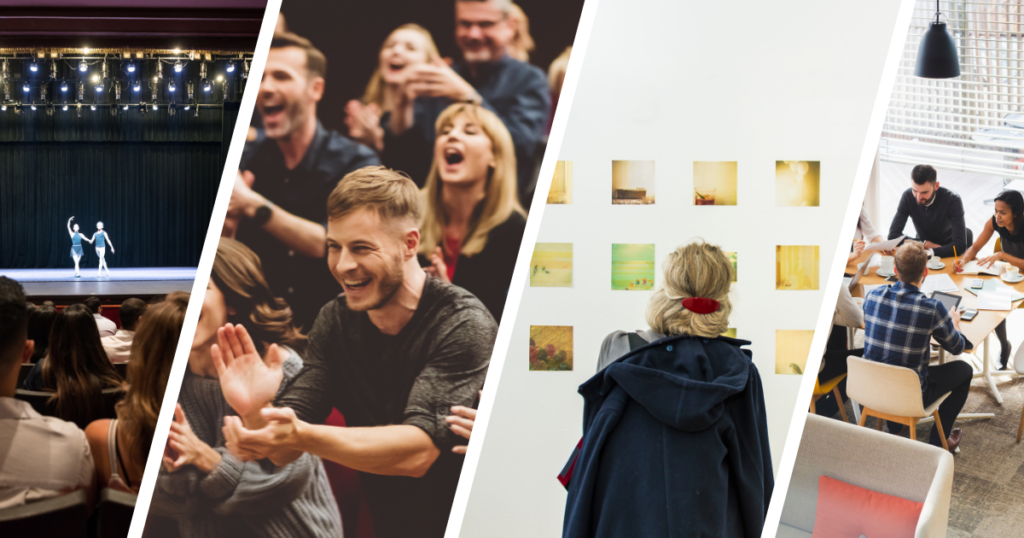 Combining contemporary visual, culinary, and performing arts into one is the best way to unwind.
What used to be a cheese factory is now one of Arkansas' most famous contemporary art hubs!
The Momentary was built from the ruins of a 70-year-old decommissioned cheese plant.
Surely, once you visit this place, it will redefine what anyone expects from an art museum with its laid-back atmosphere and welcoming vibe.
The momentary has a multidisciplinary art program.
It features traditional exhibition spaces with innovative studio spaces for artists in residence, theater productions, film screenings, and performance spaces for musical performances.
Also, the place is a satellite space for the Crystal Bridges Museum of American Art, which is a part contemporary art museum and part performing arts space.
The Momentary is an expanding creative hub where displays and art are held, the community can gather, and music and theater are performed.
Instead of large front doors, the entrance to the place is their backyard to encourage openness to discover art.
Are you feeling a little aesthetic? Visit The Momentary and appreciate art exhibits.
Address: 600 Museum Way, Bentonville, Arkansas 72712
The Preacher's Son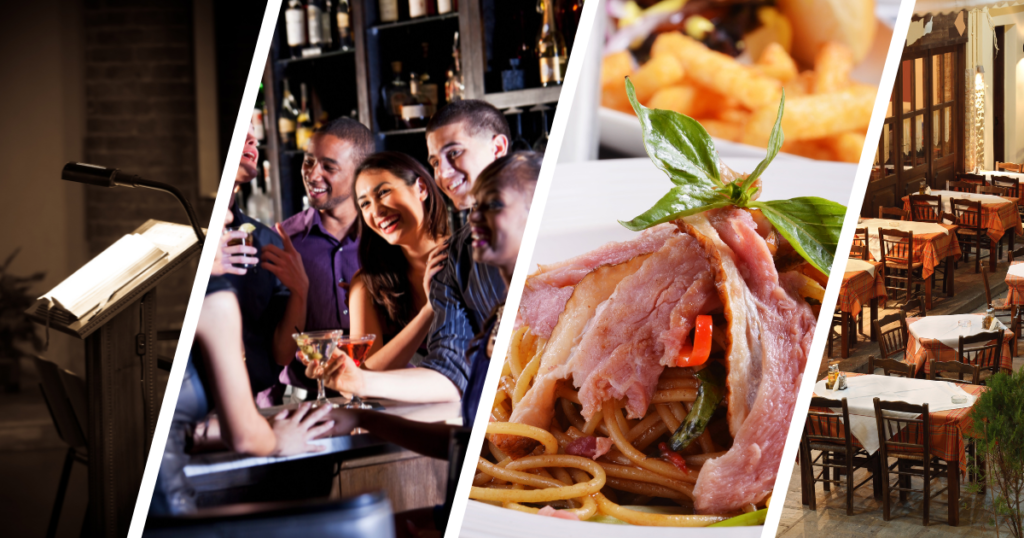 Arkansas' most exclusive restaurant is famous for its made-to-order and locally sourced products.
The Preacher's Son is also located inside a beautifully restored Gothic Revival church in Bentonville Square.
A place to enjoy a quiet romantic evening in town where most locals go.
The Preacher's Son opened in 2017.
It serves delectable dishes such as pistachio, heirloom tomatoes with house-made ricotta, and smoked duck pasta with arugula, pecorino, and dark cherries.
If you're in for a drink, the Undercroft Bar downstairs serves drinks as complex as those in a Manhattan establishment.
The bar will transport you back a decade or two with its classic watering hole.
Since their ingredients are sustainably sourced from Northwest Arkansas ranchers and farmers, they use gluten-free ingredients.
Their dishes also change every season due to the use of seasonal ingredients, so don't forget to check out their website to see what's currently available.
Address: 201 NW A St, Bentonville, AR 72712, United States
The Walmart Museum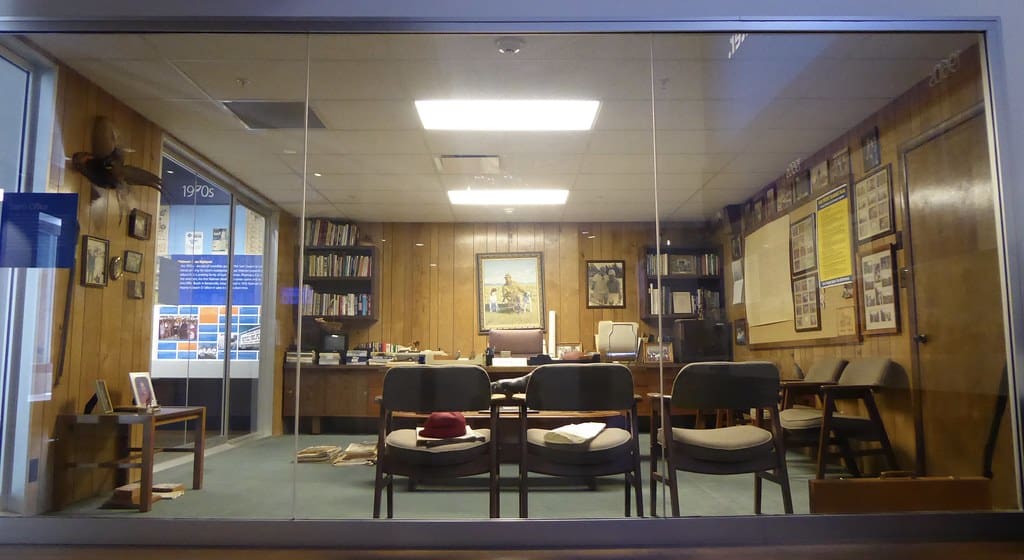 If you're an avid fan of low prices shopping, The Walmart Museum is a must-see place for all shopping enthusiasts.
Walmart has a long history in Bentonville, dating back to 1950 when Sam Walton established one of his very first businesses in the historic town square.
Little did Walton know, he created something big that would help society for years to come.
Walmart Museum is a definite must-see in Bentonville.
The extraordinary installation tells the tale of how the company went from nothingness to retail success.
Highlights of the museum include the original creator's office, interactive exhibits with period music, and children's discovery drawers.
If you want to make the most out of your trip, you'll need to look online to see if the museum is open.
So go ahead and treat yourself to ice cream with a 1950s retro setting perfect for your Instagram feed!
Address: 105 N Main St, Bentonville, AR 72712
Wishing Spring Gallery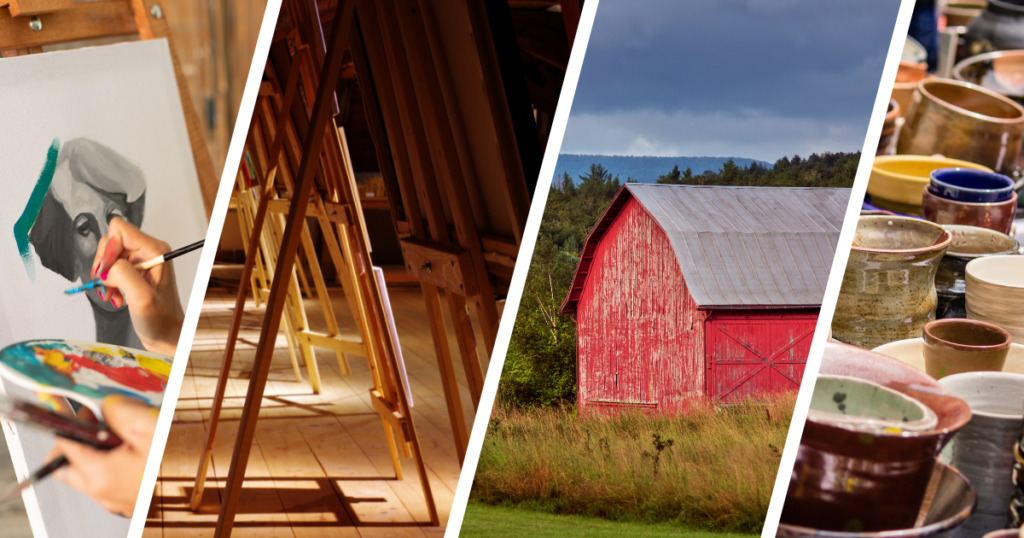 An outstanding collection of fine art and fine crafts by more than 50 artisans, only made in America.
The gallery opened in 1984 and has been operating for over 10 years.
The gallery was a former dairy barn building developed into a resort community by Cooper Community and established the gallery.
Looks can be deceiving due to the gallery's exterior; three floors of an old dairy barn that surrounds a busy highway.
However, modern works of art and crafts are displayed inside the gallery.
Art enthusiasts would be thrilled with the Wishing Spring Gallery, where artists can display and sell their works of art and crafts.
A one-of-a-kind collection of prints, photography, paintings, wood crafts, and pottery by artists from all over the United States.
Some examples of the artists' mediums are watercolor, acrylic, oil, and resin.
Several handmade photo postcards and cards, outdoor decorations, home decor, pottery, and fabric art are available in the Wishin Spring Gallery.
Book your trip and discover more about the gallery's history and beauty.
Address: 8862 W McNelly Rd, Bentonville, AR 72712, United States
Volunteer At Animal Shelters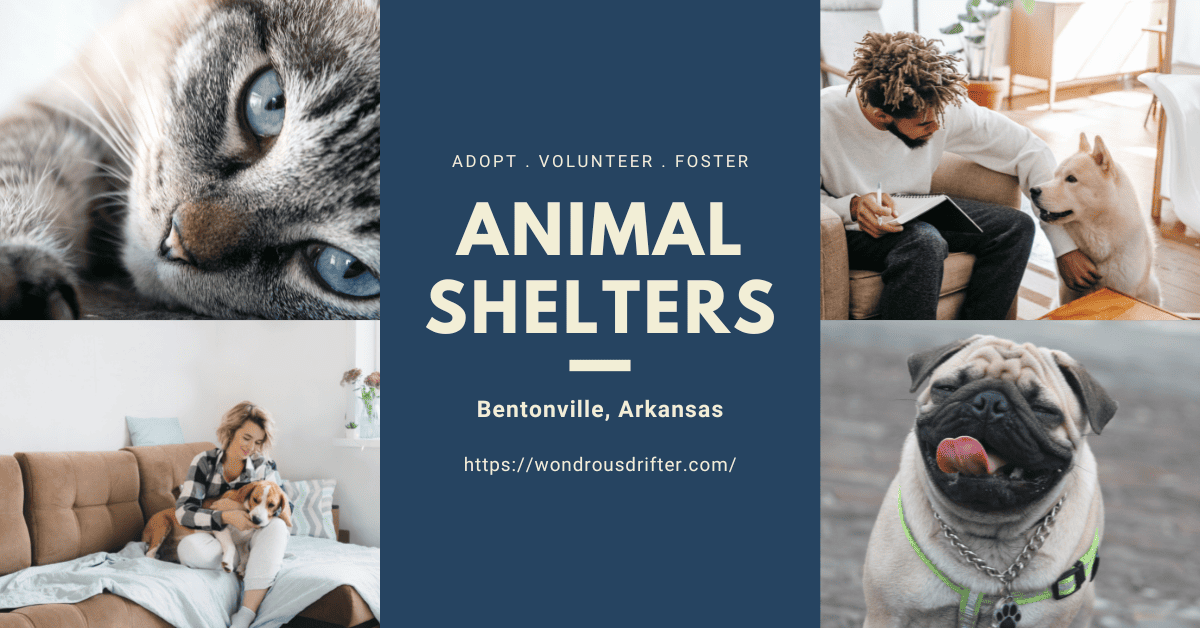 Volunteering at an animal shelter is one of the best things you can do. More than 62 million dogs and more than 64 million cats are kept as pets in the United States. Millions of other homeless and abandoned pets are not as lucky as these. Animal shelters take care of them and ensure they are healthy and in good hands.
Volunteering to aid animals allows individuals to have a positive and animal-friendly effect on their communities. It will enable them to see firsthand the great impact they can have on their community and animals in need.
When you think about helping animals, adoption or donations will probably come to mind. But there's a more direct way of offering your assistance. Simply head over to an animal shelter nearby and volunteer your services! There are many ways you can help, from more labor-intensive activities like cleaning and grooming to advocacy, public relations, and even photography.
Check out the list of animal shelters in Bentonville, Arkansas, where you can volunteer. Help needy animals!
Traveling and having fun in the USA? You have to check out this page – the best states to visit in USA for the most fun and unusual travel ideas.
You haven't decided to go to Bentonville, Arkansas, yet, have you? Check out reasons to visit Bentonville, Arkansas, at least once in your lifetime here.