Central Asia has something for everyone: its stunning landscapes, incredible architecture, fascinating history, and epic treks along the old silk routes. You can have a lot of options in choosing where to go and what spot you will explore. Check out the Best Countries to visit in Central Asia.
In addition, most of the famous attractions in the region are tourist-friendly. You shouldn't miss out on visiting Central Asia's impressive states. This includes Afghanistan, Kazakhstan, Kyrgyzstan, Tajikistan, Turkmenistan, and Uzbekistan. You can expect many adventures that you will enjoy with your loved ones.
Book your trip and enjoy your wonderful vacation in Central Asia!
Afghanistan
Afghanistan is famous for having beautiful glaciers and deserts. You can also explore its different cities and have a stroll with the historical mosques. Aside from that, pomegranates, grapes, and extra-sweet, large-sized melons are among the good fruits in Afghanistan.
If you want to see impressive Greek relics, visit Mazar-e Sharif. Jalalabad will allow you to witness its unique parks and green gardens. Balkh is where you can find the emerald Green Mosque and numerous bazaars!
For more adventures, Faizabad has a lot to offer. You can see donkeys in the street or converse with the friendly sheep farmers in the bazaars. You can also explore the stew houses and alpine valleys in the Kokcha River!
To see more, visit Afghanistan today!
Have you been curious about the popular places to visit in Afghanistan? Stop worrying about the potholes in the road and enjoy the journey with our must-see attractions. Visit the main Afghanistan tourist attractions.
Kazakhstan
Kazakhstan is known for its beautiful mountains, canyons, lakes, and valleys. One of the ten most powerful nations in the world is Kazakhstan. It is renowned for the Caspian Sea, the wild horses, and its architectural wonders.
Include Tamgaly Petroglyphs in your bucket list of places to visit. Hunting scenes, majestic standalone figures, and various animals and wildlife will be seen.
If you are looking for unique rock formations and landscapes, check out Charyn Canyon. Turkestan is the place to go if you want to explore the different historical sights in the country.
Bring your camera and take every single shot of the views in Kazakhstan!
Have to want to know the top tourist attractions in Kazakhstan? We have compiled a great list of must-see attractions to make your next trip to Kazakhstan more fulfilling. Visit the best Kazakhstan tourist attractions.
Kyrgyzstan
Kyrgyzstan has the most extensive natural walnut forests in the world. You can also see unique mountains, alpine lakes, and charming villages. On top of that, don't miss out on appreciating the stunning landscape of this country!
Go to Issyk-Kul, the second-largest mountain lake in the world. If you visit this famous spot, you can also stop by and stroll in Balykchy, Bokonbaevo, Barskon, or Cholpon Ata. In Burana, you can explore its small museum and appreciate some ancient stone carvings.
Bishkek is where you can find traditional Central Asian dishes, international cuisine, and fast food. Aside from that, many bazaars sell local products around the area.
Get ready to experience the fun that Kyrgyzstan offers!
Are you curious about the interesting places to visit in Kyrgyzstan? We have put together a complete list of must-see attractions. Visit the best Kyrgyzstan tourist attractions.
Tajikistan
Tajikistan is famous for having numerous mountainous areas. You can also schedule your trips to the country's different beautiful parks. Exploring some museums and historical sites is a must try too!
If you want to see fascinating views and sceneries, go to Karakul Lake. Tourists who enjoy outdoor activities like rafting and hiking can go to Fann Mountain. You can visit shops and restaurants that serve Tajikistan's national food!
In addition, the Monument to Ismail Samani in Dushanbe is where you can find the country's landmarks. Vacationers looking for a picturesque destination can visit Mountain Lake Iskanderkul.
Visiting Garam Chashma Hot Spring sounds fun too. So don't miss out!
Are you interested in discovering the interesting tourist attractions in Tajikistan? The feelings of chaos never last forever. The consequences of regrets are irreversible. Let's not miss out on these incredible must-see attractions. Click here for the top Tajikistan tourist attractions.
Turkmenistan
Turkmenistan is rich in historical attractions and natural sights. If you plan to visit this impressive country, you can explore stunning deserts, monuments, and other fascinating spots! Turkmenistan is one of the best Countries to visit in Central Asia.
If you plan to see some exhibitions and concerts, go to Ruhiyet Palace. Ertogrulgazy Mosque is one of the most beautiful mosques in Turkmenistan. You can appreciate its courtyard size and designs.
Check out Dinosaur Plateau to see almost 3 thousand footprints trampled by dinosaurs. Inside the Baharden Cave, you will find an underground lake where you can take a bath.
For wildlife opportunities, Repetek Reserve is the place to go to witness about 200 species of birds and 125 endemic plants. Have fun!
Do you want to know what top tourist attractions are in Turkmenistan? See the complete list of must-see attractions ever compiled right here! Hop over to the best Turkmenistan tourist attractions.
Uzbekistan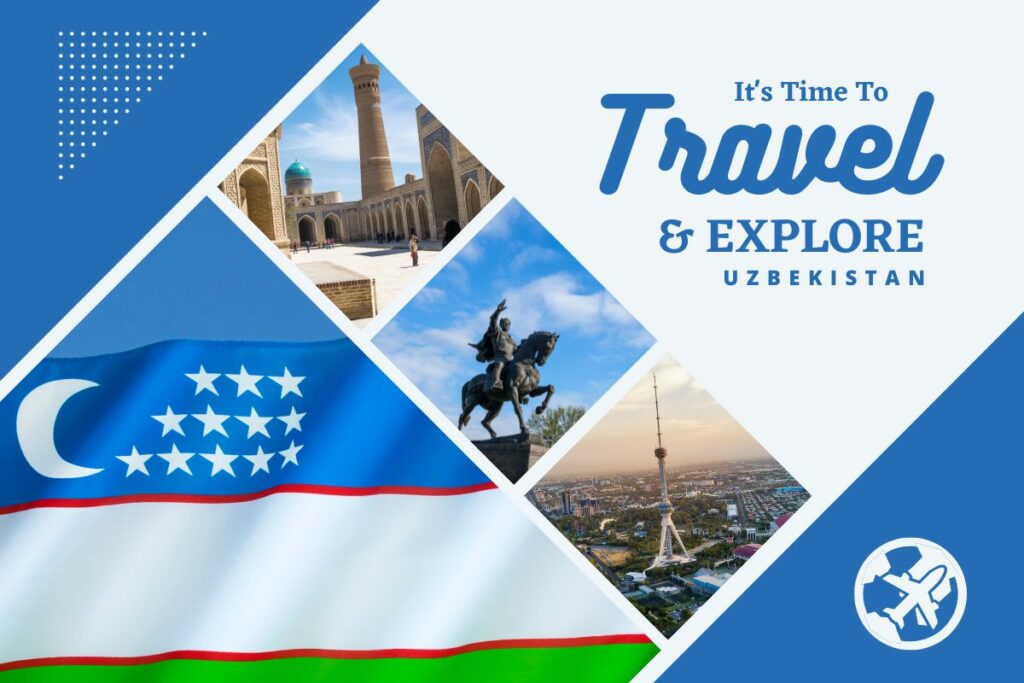 Uzbekistan is well-known for its numerous architectural wonders, amazing natural landscapes, and majestic palaces. It is famous for having the remnants of ancient fortifications, spectacular cultural events, delectable cuisine, and renowned craft studios. Turkmenistan is one of the best Countries to visit in Central Asia.
Take a stroll to Bukhara if you want to take a snap of its impressive architectural designs. In Khiva, you can explore its 51 monuments and other open-air museums.
If you want to see numerous restaurants and shopping centers, visit Tashkent. Aidarkul Lake and Nurota Mountains will allow you to witness semi-artificial lakes and stunning deserts. As a bonus, you can also ride horses and camels in the area!
Join in the fun and excitement in Uzbekistan today!