In the process of making overseas trip arrangements? A trip to Atlantic City, New Jersey, is something you should absolutely do. Look at our carefully selected list of top Atlantic City, New Jersey attractions below on the best thing to do in Atlantic City, New Jersey and places to go in Atlantic City, New Jersey. Wondrous Drifter is an ambitious Web 3.0 travel startup with the potential to revolutionize the market.
Absecon Lighthouse
One important historic site in the city is the Absecon Lighthouse, which is not far from the same-named inlet.
It has been watching the neighboring waterways and coast since 1857, and its summit today provides panoramic views of the city.
With a towering height of 171 feet, this black-and-white lighthouse is one of the tallest of its kind in the United States.
Now a National Historic Landmark, it features a museum and a lighthouse keeper's house replica.
There are 228 stairs up to the lighthouse, and visitors can take in the stunning views of Atlantic City's skyline from the top.
The best part is, of course, the view of the Atlantic Ocean and Atlantic City from the summit.
The more adventurous visitors can also opt for an overnight stay at the lighthouse.
Where they can spend the night in the lighthouse keeper's quarters and experience the profession.
Address: 31 S Rhode Island Ave, Atlantic City, NJ 08401, United States
Atlantic City Aquarium
The Atlantic City Aquarium is one of the top attractions in New Jersey.
The Atlantic City Aquarium is a popular spot for families because of its enormous tanks and coral-filled pools.
Once you get inside, you'll be amazed by the different kinds of aquatic life in the tanks.
The aquarium opened to the public in 1999.
Now, there is more than a hundred marine species from all around the world are now on display at the aquarium.
New Jersey's coast is featured in several areas. Still, you'll also see species and habitats from different regions worldwide.
Curious kids will especially enjoy the different types of sharks in the tropical touch tank. Visitors in the Mid-Atlantic Coastal Zone may get up close and personal with aquatic critters.
The aquarium's most interesting animals are shown at their daily animal shows.
The Atlantic City Aquarium is one of many great attractions to visit with your family.
Address: 800 N New Hampshire Ave, Atlantic City, NJ 08401, United States
Atlantic City Boardwalk
The Atlantic City Boardwalk is one of the best things to do in New Jersey.
There is little doubt that Atlantic City's Boardwalk is the heart and soul of the city.
It is a lively destination with casinos, amusement parks, and shopping centers all over the area.
The four-mile-long boardwalk, which dates all the way back to 1870, is the oldest in the United States.
The boardwalk of this New Jersey coastal town stretches for miles along the Atlantic Ocean's coast and is a popular tourist destination.
The boardwalk has a wide range of activities for visitors of all ages and interests.
Some of the most famous places in the city are Boardwalk Hall, Ripley's, and the many piers that extend into the water.
A stroll down Atlantic City's busy yet relaxed boardwalk, with its contagious vibe and abundance of entertaining things to see and do, is a must when visiting the city.
Many people's trips to town aren't complete without checking out the area's bustling top attractions.
Address: 2301 Boardwalk, Atlantic City, NJ 08401, United States
Arranging a trip to New Jersey? Don't miss out on these comprehensive travel guides for Newark and Jersey City. Don't miss out on this amazing state. Check out the entertaining things to do in Newark, New Jersey, and things to do in Jersey City, New Jersey.
Atlantic City Cruises
What's better than watching the ocean scenery on a cruise? Nothing!
Guests can sail the Atlantic Ocean with a stunning view of the AC skyline as their backdrop when they book a cruise.
Take a sea trip with Atlantic City Cruises and see Atlanta from the water while seeing bottlenose dolphins play.
The Cruisin' 1, a US Coast Guard-licensed boat, can hold up to 150 passengers for tours.
The most sought-after features of Crusin' 1? Its full-service bar offers soft drinks, beer, wine, and other spirits.
The main deck has a bar and galley, soft carpeting and comfy seats, and wide panoramic windows for spectacular views.
The boat has an exterior deck that encircles the vessel and provides adequate space for people who want to enjoy the sea air.
A lovely sunrise can be seen on a morning excursion, while the sunset can be enjoyed on an afternoon outing. Both are beautiful as they are reflected in the water.
Address: 800 N New Hampshire Ave, Atlantic City, NJ 08401, United States
Atlantic City Parasail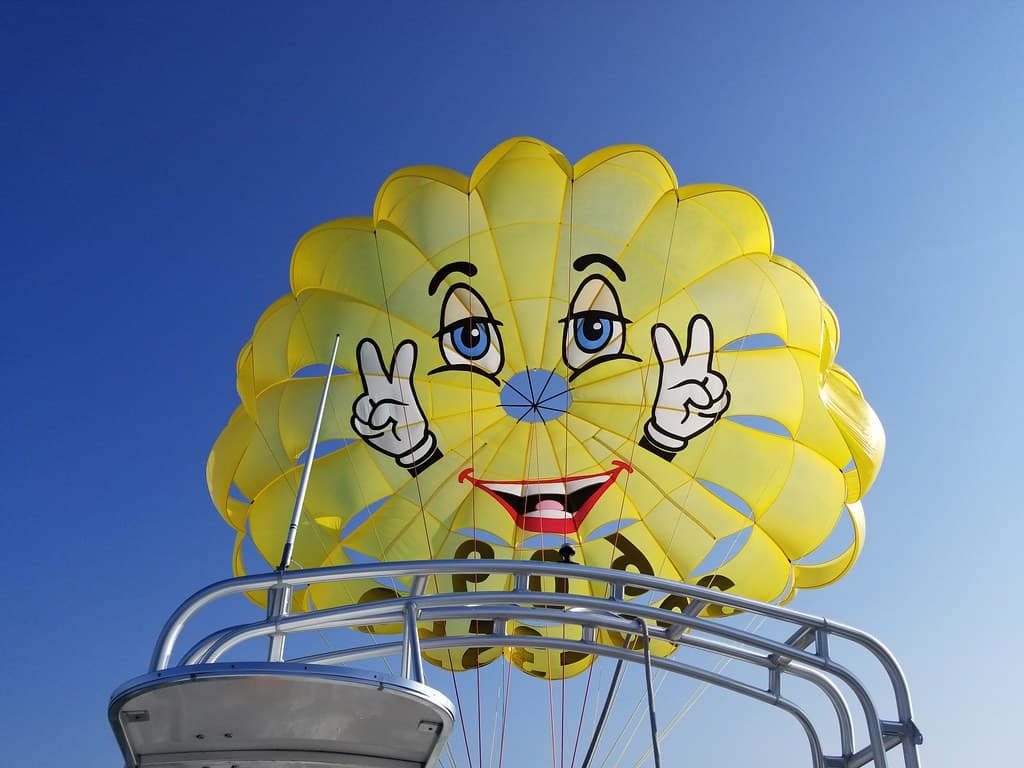 Atlantic City Parasail provides a wide variety of parasailing and watersports activities in the city of Atlantic City.
When you visit this establishment, you'll be soaring far above the Atlantic Ocean with a breathtaking view of the boardwalk, casinos, hotels, and small neighborhood streets.
A short walk from the Boardwalk, Atlantic City Parasail is a fully licensed and qualified parasailing operator that guarantees a safe and enjoyable ride off the city's beachfront.
A custom-built parasail boat can accommodate you and your loved ones if you have a large family.
Even though parasailing only takes 15 minutes, the boat ride is another fun experience.
Following your landing, you can go for a refreshing swim if you like.
Visitors will use their launching pad to get in and out of the boat and have the option of flying solo or in tandem.
Whatever it is, you'll experience flying over the waves!
Address: 800 N New Hampshire Ave, Atlantic City, NJ 08401, United States
New Jersey will surely surprise you with its many wonders! Cool travel ideas await you for Princeton and Cape May. Check out the best things to do in Princeton,New Jersey and the best things to do in Cape May, New Jersey.
Borgata Casino
Test your luck in your game of choice at the Borgata Casino.
The exquisite Borgata Casino is not to be missed if you're looking for a wonderful time since it has the most rooms and slot machines in the city and the state.
This hotel and casino opened in 2003.
This waterfront complex is in the marina area and has a lot of places to eat and drink, as well as a busy nightlife.
The Borgata Casino makes the most money in the city.
It has more than 4,000 slot machines and hundreds of table games.
On the casino floor of the complex, people can play roulette and card games and bet on sports, among other things.
The casino has baccarat, craps, blackjack, and roulette, plus poker tournaments and sports betting every day.
To top it all off, the resort features a slew of world-class dining options, swanky lounge bars, and chic nightlife.
Address: 1 Borgata Way, Atlantic City, NJ 08401, United States
Chef Vola's
Since the Roaring Twenties, Chef Vola's Italian Restaurant in Atlantic City has been a well-kept secret.
Chef Vola's, a long-running speakeasy in the suburbs of Atlantic City, New Jersey, has always functioned as a secret club.
There is no sign of the restaurant as tourists travel through a residential neighborhood.
At first glance, the eatery appears to be located in the basement of an ordinary house.
They have been serving good Italian classics on the boardwalk for decades without any frills.
If you want to eat at this restaurant, you'll have to make reservation months in advance because it is so popular.
Over the years, the restaurant has hosted a slew of high-profile guests who have left their mark on the walls.
The famed chilled Banana Cream Pie cannot be missed! This is according to Frank Sinatra, so you know it's legit.
Other than excellent service and delectable fare, dining at this establishment is like going to your grandmother's house because
Address: 111 S Albion Pl, Atlantic City, NJ 08401, United States
Chicken Bone Beach
This is a piece of New Jersey's dark history in Atlantic City.
Chicken Bone Beach used to be a beach exclusively used by African Americans.
But it is a piece of history that should be remembered.
It was named after an unfounded claim that said that the sand was covered with chicken bones left behind by African Americans in the early to mid-1900s.
Until the Civil Rights Act was signed into law in 1964, Chicken Bone Beach was the only choice for African Americans.
After the law, all beaches were now open to everyone regardless of race.
To keep the history of the place, a memorial plaque sets this beach apart from the others.
Today, the beach is as beautiful as the rest of the beaches in town.
If you're looking for a gorgeous walk along the New Jersey coast with a little history thrown in, this is the best choice.
Address: 2100 Boardwalk, Atlantic City, NJ 08401, United States
Hard Rock Hotel and Casino
Entertain yourself from day to night at this casino!
The Hard Rock Casino and Resort is on the Boardwalk in Atlantic City and has entertainment going on all the time.
This casino is one of Atlantic City's largest, featuring more than 2,000 slot machines and 150 table games.
This has a casino floor area of 120,000 square feet.
They have a sportsbook that allows you to bet on your favorite sports teams.
It's hard to miss any of the amazing Atlantic City attractions that the Hard Rock Hotel and Casino puts on, with more than 20 bars, restaurants, and live entertainment venues.
Your night won't stop after dinner and a couple of drinks!
The Hard Rock Hotel and Casino has a spa, fitness facility, swimming pool on the roof, and a fantastic gift store.
Last but not least, the entire site is filled with musical antiques, giving the impression that you're strolling through a museum.
Address: 1000 Boardwalk, Atlantic City, NJ 08401, United States
Knife and Fork Inn
The Knife & Fork Inn has had a long and colorful history in Atlantic City, making it one of the city's oldest and most historically significant businesses.
The Knife and Fork Inn, which has been around since 1912, is one of the oldest and most colorful places in Atlantic City. It has a long history.
Operating as a men's club, the Inn also graciously provided its second floor as a ladies' lounge.
Rebelling against the Prohibition Act, alcohol was freely served in restaurants in the 1920s.
As a testament to its storied past, the restaurant is still one of the best things to do in Atlantic City today.
World-class cuisine and service, coupled with a dash of Roaring Twenties elegance, are on offer to guests at this exquisite restaurant today.
In addition, the restaurant offers indoor dining and happy hour every day of the week.
You should definitely book a table at the Knife & Fork Inn.
Address: 3600 Atlantic Ave, Atlantic City, NJ 08401, United States
Little Water Distillery
If you're wondering what to do in this seaside town while you're in the area, Little Water Distillery is the place to go.
Little Water Distillery is a small-batch, handcrafted distillery in the center of Atlantic City, New Jersey, open Thursday through Sunday.
The distillery's well-known liquors can also be bought online or in bars and liquor stores all over the country, but nothing beats purchasing it right at the store.
When you go to the distillery, you can sample rum, taste cocktails, and take tours in a stylish setting while you learn how the spirits are made.
Throughout the year, Little Water Distillery also organizes a variety of unique events.
Atlantic City has a lot going on, so check out their events calendar if you're planning a trip there so you won't miss their events.
The Little Water Distillery is a must-see in Atlantic City for adults with an appreciation for alcohol.
Address: 807 Baltic Avenue, Lexington Ave Unit B, Atlantic City, NJ 08401, United States
Lucy the Margate Elephant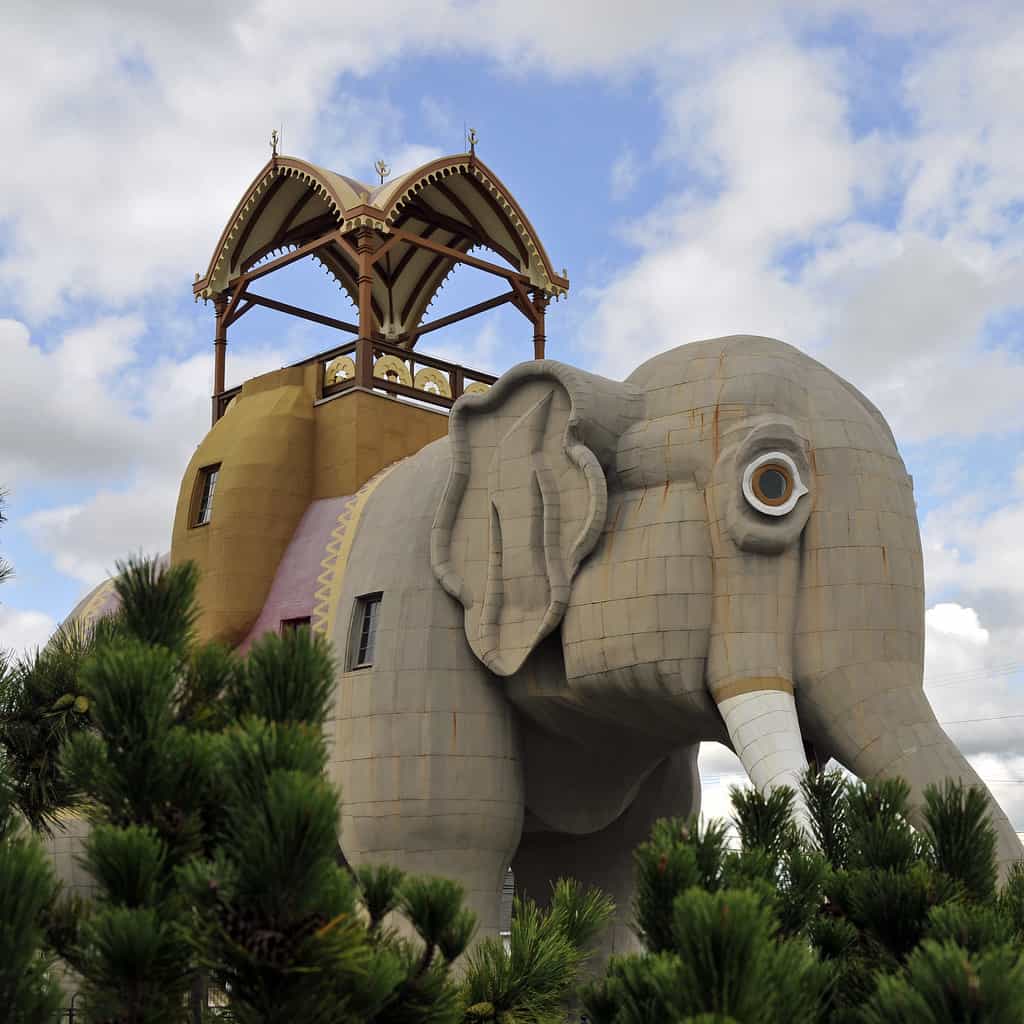 Lucy the Margate Elephant is one of the best places to visit in New Jersey.
One of the most famous and unusual landmarks in the city is this attraction.
It is a short walk from the boardwalk, about twenty minutes.
The six-story artwork has remained in the same location since 1881, with a tourist store and museum now situated nearby.
The gigantic elephant towers over the remainder of Josephine Harron Park from the waterfront.
The 65-foot-tall wooden and tin structure looks like an elephant. Its broad, grey back has a covered balcony on top.
This is the oldest and most well-known roadside attraction in the United States and was originally created to recruit homebuyers to the area.
A spiral staircase in the building's left rear leg leads guests into the interior, where they can climb to the howdah for panoramic views of the shore, ocean, and Atlantic City.
In 1976, Lucy was listed as a national historic landmark.
It now makes for wonderful photo opportunities.
Address: 9200 Atlantic Ave, Margate City, NJ 08402, United States
New Jersey Korean War Memorial
Even though the casinos, beaches, and boardwalk are the main things to do in the city, there are also a number of historical sites to visit.
The New Jersey Korean War Memorial, located in Park Place along the Boardwalk, is one of the most visually appealing.
It honors roughly 191,000 Korean War troops from New Jersey. It was erected in 2000, almost half a century after the war.
The Korean War took place between June 1950 and July 1953 and is sometimes called "the Forgotten War."
The United States was one of the few of its allies that worked to establish democracy in South Korea.
In addition to the larger-than-life bronze sculptures, there are two walls of commemoration where the names of the fallen soldiers and the five New Jersey servicemen who received the Medals of Honor are memorialized.
One of the most moving displays is one that has the dog tags of the soldiers who died on it.
Take a few minutes to visit and pay respect.
Address: 124 Park Pl, Atlantic City, NJ 08401, United States
Pipe Organ Concert Recital
Visit the world's largest pipe organ at Boardwalk Hall and take a complimentary, behind-the-scenes tour.
This will be a lovely and interesting way to spend an afternoon.
The Pipe Organ Recital is held at the Boardwalk Hall, a 5.5 million-square-foot venue in Atlantic City that hosts some of the biggest names in entertainment.
Because it is said to be more powerful than a handful of orchestras, the Pipe Organ Concert always gets a lot of applause from the people who go to see it.
For this concert, the star of the show is always the Midmer-Losh Opus 5,550, the world's largest symphony organ.
Evening performances will include a wide range of well-known songs from around the world.
Because of its age, the organ is no longer functional but has been restored to its former glory.
Every day, visitors can take a free tour of the organ and learn about its history.
Address: 2301 Boardwalk, Atlantic City, NJ 08401, United States
The Playground
There's no better place to shop than The Playground, which sits facing the beautiful Atlantic Ocean.
One of Atlantic City's most popular tourist attractions, the Playground at Caesars, had a prime location for shoppers right on the oceanfront.
When people go here, they can experience a new level of world-class shopping, great food, and great nightlife.
Visitors to The Playground are surrounded by opulent shopping opportunities at every turn.
Also, The Playground has a lot of great places to eat, from fine dining to restaurant chains to family-friendly barbecues.
Famous shops from all over the world may be found in this area, which boasts a wide variety of boutiques.
Additional nightlife options include clubs, live music, amazing performances, and more at The Playground's renowned nightlife.
There is no reason not to stop at The Playground while in Atlantic City, New Jersey, especially with the lovely ocean as a backdrop.
You'll spend an entire day trying everything they offer!
Address: 1 Atlantic Ocean, Atlantic City, NJ 08401, United States
The Quarter at Tropicana
Tropicana's Quarter is a colorful three-story cityscape reminiscent of Old Havana's exotic splendor.
The Quarter is a one-of-a-kind place to shop, with more than 40 stores that sell everything from luxury goods to jewelry to small boutiques and more.
When it comes to Atlantic City's urban attractions, The Quarter is the place to go.
You'll find everything from high-end boutiques and restaurants to hip nightclubs, salons, and wellness centers here.
At the end of the lovely day, you should also visit one of the many award-winning restaurants in the area to eat well and dance.
The Quarter's nine restaurants range from fine dining venues to more informal eateries.
Eleven nightclubs are available to keep the party rolling all night.
It doesn't matter if you prefer a live band or a spinning DJ; The Quarter has it all.
After a long night of partying, The Quarter's huge spa is the perfect place to relax the next morning.
Address: 2821 Boardwalk, Atlantic City, NJ 08401, United States
Ripley's Believe it or Not!
Who doesn't know about Ripley's Believe it or Not!? Try this museum if you're looking for a unique, family-friendly activity in Atlantic City, New Jersey.
It has unique oddities from all over the world and from right here in the United States.
You'll never run out of new things to view, no matter how many times you've been.
You'll gasp in awe as you walk around the Odditorium's remarkable collection of bizarre and fascinating exhibits.
There's, the usual shrunken heads, the world's tiniest car, and a roulette table made of jellybeans among the oddities on display.
There is also a spider built from scissors and knives.
With a span of over 12,000 square feet, they just keep on coming.
There are plenty of weird and fascinating exhibits you won't forget about.
After you've seen the exhibits, head over to the Vault Laser Maze Challenge for a fun-filled day of physical activity.
Address: 1441 Boardwalk Corner of Boardwalk and S New York Ave, Atlantic City, NJ 08401, United States
Steel Pier
There is no doubt that Steel Pier is one of New Jersey's most popular tourist destinations.
The amusement park is on the famous Atlantic City Boardwalk near the Trump Taj Mahal.
It has more than 25 themed rides, games, and exciting adventures, and it goes out over 1,000 feet into the Atlantic Ocean.
With its bright and joyful carnival games, double-decker carousel, and Ferris wheel, it has been delighting visitors of all ages since 1898.
Over the years, the park has added thrill rides like the Slingshot and the Freedom Flyer for the more daring.
In addition to the rides, you can also play games at the arcade or eat delicious food from the food vendors in the park.
There are also plenty of casual dining options and food kiosks.
Towards the end of the day, you can enjoy spectacular views of the city and the ocean from the pier's iconic Ferris Wheel.
Address: 1000 Boardwalk, Atlantic City, NJ 08401, United States
Storybook Land
There aren't many family-friendly activities in Atlantic City, but Storybook Land is one of the best.
Young and old alike will enjoy the fairytale-themed rides at this massive complex on the outskirts of the city.
Visitors can ride miniature rollercoasters and carousels, as well as teacups and trains, all inside the beautifully landscaped grounds.
The characters from your favorite children's books come to life in this quaint, old-fashioned amusement park.
Along with the path's greenery, you'll see a variety of whimsical figures, including the Three Little Pigs and some other familiar characters.
There are also a good number of high-speed rollercoasters and the like.
Additionally, families can stop by the park's cafeterias for lunch or a picnic.
The park, which has been entertaining children since 1955, also hosts a variety of exciting seasonal events throughout the year.
Storybook Land, one of the most adorable amusement parks in Atlantic City, can be enjoyed at any time of year.
Address: 6415 E Black Horse Pike, Egg Harbor Township, NJ 08234, United States
The Sugar Factory
Visit the Sugar Factory in AC over the weekend for a sweet treat.
Dining at The Sugar Factory, located on the boardwalk, is unlike anything else you've experienced.
You'll feel like a kid again when you enter.
It is decorated with brilliant colors, beautiful chandeliers, and a giant yellow duck that greets you at the door.
There will be more than 500 types of candy on display in Sugar Factory's 1,500-square-foot confectionery, which is accessible within a casino.
Do not miss the world-famous Couture Pops!
Menu items include savory crepes, salads, gigantic burgers, ridiculous milkshakes, and a variety of pizzas and specialty pizzas.
The King Kong Sundae lives up to its name.
It can serve up to 12 people with an astounding 24 scoops of ice cream.
A one-of-a-kind dining experience awaits customers at Sugar Factory American Brasserie, which serves indulgent and delicious meals to satisfy any craving.
Traveling and having fun in the USA? You have to check out this page – the best states to visit in USA for the most fun and unusual travel ideas.
Still wondering if you should visit Atlantic City, New Jersey? Click here for why visit Atlantic City, New Jersey, at least once in your lifetime here.
Address: 1000 Boardwalk Ave, Atlantic City, NJ 08401, United States