Preparing to visit Princeton, New Jersey? You are on the right page! Look at our carefully selected list of top Princeton, New Jersey attractions below on the best thing to do in Princeton, New Jersey and places to go in Princeton, New Jersey. Wondrous Drifter is a Web 3.0 travel startup with ambitious goals to change the world.
Art @Bainbridge

A trip to Art at Bainbridge is well worth your time, particularly if you enjoy being fascinated!
Those interested in Princeton's past are likely familiar with the Bainbridge House, located at 158 Nassau Street and one of the few buildings from the 18th century that still stands in downtown Princeton.
The building that is now home to [email protected] is not only one of the oldest structures in Princeton but also one of the most well-preserved examples of mid-Georgian design in the surrounding area.
At the moment, most of the art at Bainbridge is old photographs, mostly of Princeton from the past.
The Princeton University Art Museum and Princeton University worked together to save and fix up the building. In 2019, the building reopened to the public after being saved and fixed up.
In addition to its elegance and minimal ornamentation, Bainbridge House has a historical past.
A wonderful glimpse into the past and a house that has been meticulously cared for throughout the years.
Address: 158 Nassau St, Princeton, NJ 08542, United States
Delaware and Raritan Canal State Park

This state park is a great option if you'd like to get some fresh air rather than spend the day inside.
As a National Historic Landmark in 1973, the D & R Canal and other historic houses along its banks were designated as a New Jersey State Park the following year.
New Jersey's Central Park is one of the state's most popular outdoor areas for paddling and other water-based activities.
It acts as a vital passageway for animals, linking open land and wooded areas.
There are more than 160 different species of birds seen in the park, and about 90 of them are found to be nesting there.
Aside from that, the canal serves as a water supply for over a million people in the surrounding area.
Picnic spots that are specifically allocated for cooking and eating in comfort are among the conveniences that can be found here.
There are also rental places nearby, which are great if you don't want to bring large items with you.
Join your friends on a memorable outdoor trip at the Delaware and Raritan Canal State Park.
Address: 145 Mapleton Road Princeton, NJ 08540 USA
Drumthwacket
The Drumthwacket is one of the top attractions in New Jersey.
If you're in need of fun things to do in Princeton, make your way to Drumthwacket.
The official residence of New Jersey's governors, this stunning Greek Revival palace welcomes you for a visit.
Drumthwacket has been home to three different families for more than a hundred years. Each of these families has made important contributions to the state of New Jersey and the country as a whole.
The magnificent Drumthwacket home was built in a style that combines elements of the Greek Renaissance and Colonial Gothic.
This impressive building is one of the most well-known places for tourists to visit in Princeton. It is full of history and inspires awe.
While you are touring the estate, you will get the opportunity to view its remarkable collection of historic furniture pieces, some of which date back to the 18th century.
The organization's primary objective is to maintain the Drumthwacket estate in order to foster a stronger feeling of community spirit in New Jersey.
A reservation is required, so do check out the website before you go.
Address: 354 Stockton St, Princeton, NJ 08540, USA
Making travel arrangements to visit New Jersey? Cool travel ideas await you for Newark and Jersey City. Check also the captivating things to do in Newark, New Jersey, and the best things to do in Jersey City, New Jersey!
Lake Carnegie
Spend as little money as possible in Princeton by taking advantage of the many free activities available.
If you're in the mood for a breathtaking view, go to this stunning lake.
Everyone has been able to take pleasure in the lake ever since it was built in 1906.
Its shallowness made it prone to blockage, which in turn led to floods; as a result, the university had to dig the lake three times during the first 65 years of its existence.
In previous years, the Olympic rowing qualifications were held on Lake Carnegie, a component of Lake Carnegie, and have also been utilized for the competition.
The length of the lake is around three miles, and it is not uncommon to see modest sailboats navigating it.
In addition, bald eagles have been spotted here regularly in recent years.
At Lake Carnegie, you and your friends can enjoy nature's beauty while participating in many fun and exciting activities.
Address: Carnegie Lake, New Jersey 08540, USA
Marquand Park

If you're looking for inexpensive adventures to do with your friends, Marquand Park is the place to go!
When Richard Stockton Field acquired the Woodlawn estate in 1842, he included Marquand Park as part, making it a great example of an early 19th-century designed garden.
Marquand Park is a 17-acre sanctuary of old trees and forest in the middle of Princeton. It offers a wide range of ways to relax and have fun.
Certain trees in the parks are the biggest examples of their species anywhere in the state of New Jersey.
A play area in Princeton that features a sand area encircled by enormous rocks can be found. This playground is popular among families in Princeton who have small children.
You may have a fun time in the midst of the beautiful scenery while sitting, reading a book sitting on a bench, or taking a walk along the paved pathways that wind between the breathtaking woods.
Indulge in some precious time with your friends and family as you spend a great day in this nicely groomed park.
Address: Princeton, NJ 08540, USA
Preparing to visit New Jersey? You are on the right page! Get here the latest travel information and tips for Cape May and Atlantic City. Don't miss out on this amazing state. Check out the entertaining things to do in Cape May, New Jersey, and things to do in Atlantic City, New Jersey.
McCarter Theatre Center

The McCarter Theatre Center is one of the best things to do in New Jersey.
If you're visiting Princeton with kids, don't miss a fantastic play at this magnificent theater.
McCarter also offers educational opportunities and works with the local community through collaborative projects and putting on and putting together exciting performances.
The McCarter Theatre Center in Princeton, New Jersey, has been honored with a Tony Award and is widely regarded as the most prestigious local theater in the United States.
It is also the only institution in the United States that is a major musical theater producer and a professional production theater.
The McCarter Theatre is a hub for intellectual and artistic activity in the community.
It helps people talk to each other and work together on projects.
This is widely regarded as one of the most prestigious local theaters in the United States. It offers facilities that are accessible to people with disabilities, in addition to more than two hundred amazing shows every year.
Suppose you have children of the right age and reside in the neighborhood. In that case, you may enroll them in engaging and entertaining programs that take place over the summer.
Address: 91 University Pl, Princeton, NJ 08540, USA
Morven Museum and Garden

The Morven Museum and Garden is one of the best places to visit in New Jersey.
If you're looking for a quiet spot in Princeton, the Morven Museum and Garden is a top pick.
Morven is a National Historic Landmark in the middle of Princeton, New Jersey. It has 5 acres of natural beauty that haven't been changed.
Exhibitions and educational activities are regularly held at Morven, which was once owned by New Jersey's first governor, Richard Stockton, and now serves as a museum representing the Garden State's rich cultural past.
Their goal is to tell the real stories of Morven's past to preserve and honor its history.
A variety of excellent and contemporary art, in addition to an area on the upper floor that is used as a rotating exhibit space and hosts the launching of new exhibitions every month.
Currently, Morven plays host to a wide variety of interesting activities year-round.
These include hands-on courses and seasonal celebrations, including the Festival of Trees, which takes place all across the gallery.
Take a few minutes out of your trip to see this wonderful tourist destination.
Address: 55 Stockton St, Princeton, NJ 08540, USA
Nassau Hall
Do not pass up the opportunity to see Nassau Hall if you are interested in history and are looking to see some of the most popular tourist destinations in the neighborhood.
The building that is now known as Nassau Hall was initially constructed in 1756 to house what became known as the College of New Jersey.
When guests approach the building through the main entrance, they will find themselves in the Memorial Atrium, which was built in 1920 to pay tribute to the graduates of the institution who passed away while serving in the armed forces of their country during times of war.
The announcement of the peace accord with Great Britain was brought to Nassau Hall when it was delivered.
There have been two major fires in Nassau Hall's history, in 1802 and 1855.
The 19th-century architecture of Nassau Hall and its heritage make it a worthwhile stop on any local tourist trip.
At any time of the year, this location is a stunning sight.
Address: Princeton University, Princeton, NJ 08542, USA
Palmer Square
Have fun indulging in some ice cream while taking in all the wonderful views that Palmer Square has to offer.
The historical Nassau Inn serves as the focal point of Palmer Square, which is located at the center of downtown Princeton.
The three buildings from the late 1800s and early 1900s are a big part of what makes the square so attractive.
The shops in Palmer Square provide the greatest assortment of clothing, souvenirs, and furniture.
Here at Palmer Square, you'll be able to find some of the most sought-after goods in town.
Whether you're on foot or shopping online, you'll be able to find what you're looking for!
Take a bite out of some of the city's best restaurants, cafés, and boutiques, all within a few blocks of one another.
During the summer, people often wait in line for ice cream, especially if the weather is nice.
Palmer Square is a terrific place to spend time with friends and family.
Address: 40 Nassau Street Princeton, NJ 08542 USA
Princeton Battlefield State Park
You and your traveling companions can enjoy the park's clean air and beautiful scenery.
During the American Revolutionary War, on January 3, 1777, the largest battle with the most deaths took place on the Princeton Battlefield.
Over 681 acres are included in the scope of protection provided by the Princeton Battlefield State Park.
During the War for Independence between the United States of America and the United Kingdom, the Americans and the British battled at this location.
The property is furnished with artifacts from the time period and features displays on the American Revolution.
The graves of 21 British and 15 American troops who were slain in the conflict are marked by a Greek facade and a marble terrace, respectively.
Get together with your loved ones and explore this historical monument and beautiful park for an unforgettable experience.
You may also enjoy other types of recreation, such as skating in the winter, going on hikes through forests with a range of tree types, viewing birds, and more.
Address: 500 Mercer Rd, Princeton, NJ 08540, USA
Princeton Battle Monument

The Princeton Battle Monument will provide a dramatic backdrop for your family portraits as you fill your memory cards.
Both Frederick MacMonnies and Thomas Hastings contributed to the design of the monument, which stands at the height of 50 feet.
The final construction of the monument took place in 1922. Finally, after 80 years of preparation, the landmark was illuminated at night for the first time in 2007.
This monument was built to remember the Battle of Princeton, which took place on January 3, 1777.
This huge building, which looks like the Arc de Triomphe in Paris, is in the middle of a beautiful, well-kept garden.
To view a popular tourist destination in a short amount of time, this is the ideal place to go.
You can figure out the code on the monument and walk through an area with cherry blossoms, lush trees, and other beautiful sights.
If you're planning to visit Princeton, don't miss the chance to see this spectacular war memorial.
Address: 55 Stockton St, Princeton, NJ 08540, USA
Princeton Country Club

Join your friends at Princeton Country Club for a memorable round of golf!
The public is welcome to play golf at the Princeton Country Club, which features an 18-hole golf course and is available daily.
The Princeton Country Club in Princeton, New Jersey, is a golf course with a variety of amenities for golfers, including a driving range.
The length of the course is 5,845 yards, and it has a par of 70.
At Princeton Country Club, your comfort comes first. That's why the clubhouse has separate locker rooms and bathrooms for men and women.
It has a beautiful setting with glistening water and tall trees that change with the weather, as well as a gorgeous pavilion, grilling spots, and clean facilities.
If you like to focus on your putting, there are additional practice greens where you may putt.
Gather your friends for a picnic in the woods after a good game and enjoy your food while soaking in the scenery.
It also offers golf-related services, like golf lessons and the sale of golf gear right on the premises.
Address: 1 Wheeler Way, Princeton, NJ 08540, USA
Princeton Garden Theater

If you're searching for a night out in Princeton, go no further than this stunning theater. You'll be in for a treat.
On September 20, 1920, the first performance ever held at the Garden Theater was a screening of the film Civilian Clothes, which starred Thomas Meighan.
The Princeton Garden Theater is open to the public as a charitable organization that is exempt from paying taxes.
Every penny from ticket sales, subscriptions, and donations goes back into the theater.
Their affiliation with Princeton University is strong, yet they are not a part of Princeton University itself.
The theater is also committed to putting on high-quality shows and getting involved in the community in a big way.
This theater features first-run movies with great creative merit.
A primary goal of the theater is to engage the Princeton community and local companies by hosting special events, films, birthday parties, and ceremonies.
Princeton Grand Theater is the perfect place for an evening out with your friends or family members after a long day of excitement.
Address: 160 Nassau St, Princeton, NJ 08542, USA
Princeton University
Some trips to Princeton will not be perfect until you and your traveling companions take some time to see this remarkable university.
Princeton University, which received its charter in 1746, is one of the oldest institutions in the United States.
The university's property has a total area of 600 acres and a residential environment.
There are a lot of programs, services, and clubs at Princeton University. They are all inside the doors of its historic, ivy-covered grounds.
Some of Princeton's old buildings, such as the Lewis Library, designed by Frank Gehry, are known for their beautiful landscaping and design.
Famous personalities, including Michelle Obama, Jimmy Stewart, David Duchovny, and many more, received their education at Princeton University. This is recognized as one of the leading research universities worldwide.
The primary campus of Princeton University covers an area of 500 acres. It is home to over 180 structures, among which are 10 libraries.
Students are inspired to reach their full potential when they are allowed to pursue their education at Princeton. This university is set in a natural and architecturally stunning environment.
Address: 110 Morrison Hall. Princeton, NJ 08544 USA
Princeton University Art Museum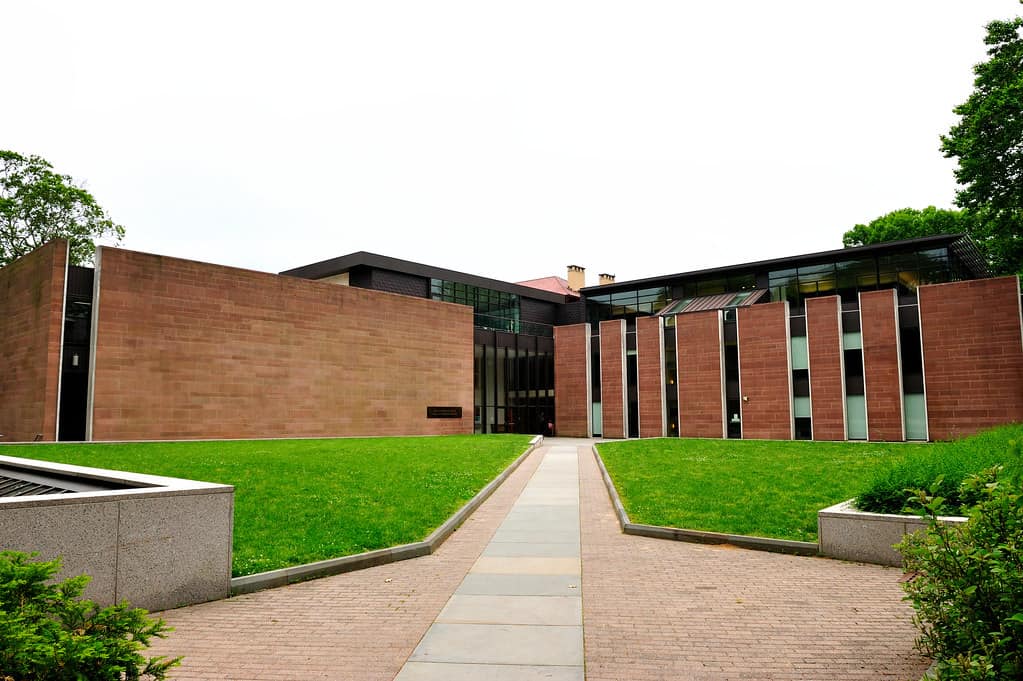 Do you enjoy admiring magnificent works of art? Here you are at the ideal location.
As one of the most extensive museums in the world housed within an accredited university, the Princeton University Art Museum works toward its mission of making art forms an integral part of the Princeton University learning experience for researchers and tourists of all types.
The museum aims to improve the quality of life for everyone in the community by cultivating skills such as problem-solving, literacy, and compassion.
There are hundreds of works of art from many eras, styles, and nations to choose from in the museum's extensive collection.
Also, this place has fun activities for people of all ages, making the visit more enjoyable.
Among the works on display are a wide variety of media, such as antique paintings and photos, as well as contemporary works of art in a variety of mediums.
To get the most out of your trip, enroll in art workshops where you may improve your sketching and painting abilities.
For those times when it's rainy or freezing outside, look no further than this list of great indoor activities!
Address: Elm Dr, Princeton, NJ 08544, USA
Princeton University Chapel
Take a few moments to admire the Princeton University Chapel's stunning architecture.
The building's outside design is influenced by historic English cathedrals.
The Chapel is where individuals from all across the university community may be found gathering together.
In 1920, a terrible fire destroyed the Marquand Chapel. As a direct response to this tragedy, the University Chapel was built.
Now that the Chapel's exquisite elegance and charm have been restored, it has become a popular wedding and memorial destination for alums, teachers, and many other University supporters.
When the College moved to its current location in Princeton in 1756, the Chapel was first built in the space that would later become the Faculty Room in Nassau Hall.
Residents of Princeton, as well as those from outside the city, can use the service, and everyone is made to feel particularly welcome.
Visiting this university chapel is a mind-blowing and mind-expanding experience.
Address: Princeton, NJ 08544, USA
Princeton Public Library
This library's high level of quality is a gift from above.
The Princeton Public Library has become one of the most popular libraries in New Jersey since it opened in 1909.
It is home to a staggering assortment of more than 200,000 different volumes.
Because it's a community-owned asset supported by the community and run by a professional and devoted team, the library is a top-notch source of information for the whole community.
In addition to their remarkable collections and research tools, they are always improving their level of knowledge and providing workshops, talks, and other special events to go along with them.
Consultation and assistance from other libraries are important for the Princeton Public Library to be able to put new ideas into action that will best serve the public.
It provides you with thousands of volumes to pick from, spanning a wide variety of subjects, enticing public art; periodic displays; and special events so that you may have a more delightful stay.
The Princeton Public Library is a great place to spend quiet time alone, reading from the many books available.
Address: 65 Witherspoon St, Princeton, NJ 08542, USA
Terhune Orchards & Winery

Look no further than Princeton, New Jersey, for romantic activities for lovers you and your significant other will remember for years to come.
In addition to a farm shop, a vineyard, Pick Your Own, and animals, Terhune Orchards also offers a variety of locally sourced treats, including cider doughnuts and flavorful cider, as well as Jersey-grown food.
On the other hand, it's a popular tourist site that brings lots of tourists each year to Princeton, New Jersey. There is a wide range of activities such as berry picking, squash picking, musical performances, wine sampling, and more.
The farm is known as one of the best in central New Jersey, so both people who live in Princeton and people who are just passing through the city often go there.
The grocery store is known for its high-quality goods and friendly, down-to-earth service. It has a large selection of fresh, locally grown goods.
The grapevine at Terhune Orchards is known for producing award-winning beverages using grapes produced on the property.
Using its different features make it the perfect place to spend a romantic day with your partner.
Address: 330 Cold Soil Road, Princeton, NJ 08540, USA
The Peacock Inn Restaurant

As soon as you walk inside the Peacock Inn Restaurant, your senses will be captivated.
When Albert Einstein first arrived in Princeton, he slept at The Peacock Inn for ten days until his new home was being constructed. This is a nice fact to know about the restaurant.
As early as the 17th century, the Peacock Inn was constructed at the junction of Main Street and Railroad Avenue, which is currently known both as Nassau Street and University Place.
A feast of locally grown vegetables and well-selected dishes at the Peacock Inn's Perch restaurant.
They're always motivated by the region's industrious farmers and the various opportunities presented by each season.
The dining area, which is oozing with class and refinement, is adorned with museum-quality artwork, exquisite murals, and old dishes from the 1930s.
The Peacock Inn Restaurant in Princeton is a delightful place to enjoy afternoon tea, even though there are many others to choose from.
Address: 20 Bayard Ln, Princeton, NJ 08540, USA
Yankee Doodle Tap Room

Are you on the hunt for some of the best downtown attractions to see? There is no need to look any further!
The well-known Yankee Doodle Tap Room does have a long history as Princeton's go-to location for gastropub meals.
In addition to its American grill cuisine, the establishment is known for its extensive beer and wine selections and its status as a gathering spot for locals and tourists alike.
Create new memories with your pals while catching up over a delectable dinner that you all share and wash down with a glass of wine or a beer.
The restaurant's terrace is a great option for those who prefer to dine al fresco.
Additionally, six huge HDTVs continuously display athletic events throughout the year.
There is usually something going on, from tastings of local beers to performances by local musicians.
You can get the most up-to-date information on upcoming events by checking out their website.
Traveling and having fun in the USA? You have to check out this page – the best states to visit in USA for the most fun and unusual travel ideas.
Address: 10 Palmer Square E, Princeton, NJ 08542, USA