For your next holiday, make it a point to visit Jefferson City, Missouri. For the best things to do in Jefferson City, Missouri and the coolest places to visit in Jefferson City, Missouri. Scroll down for our top travel recommendations in Jefferson City, Missouri. As a Web 3.0 travel startup, Wondrous Drifter aspires to make a huge impact on the world.
Binder Park
The 644-acre Binder Park is the city's largest green space.
The Department of Conservation bought 11 private properties between 1965 and 1966 to make a 155-acre fishing lake.
As a result of efforts by the Department of Conservation, Binder Park and the beautiful lake are now accessible for fishing to people with disabilities.
In addition to many picnic areas, the park offers many walking, hiking, and biking trails.
Their playground and a covered picnic pavilion both overlook the stunning Binder Lake.
The terrace can be rented as a shelter for parties of up to 75 people.
At Binder Park, there are 18 full-hookup RV sites with laundry and a bathroom.
The park's northwest part has an 18-hole disc golf course for golfing beginners and enthusiasts.
There are also sand volleyball courts, a radio-controlled flying field, and softball fields at Scott and Byrd, in case you get bored.
Address: 5840 Rainbow Dr, Jefferson City, MO 65109
Capital Arts Gallery
The beautiful Capital Arts Gallery shows the work of artists from Jefferson City and the rest of Missouri.
Capital Arts is a Jefferson City, Missouri-based non-profit community art gallery. Its goal is to encourage, promote, and support the arts in the region.
Adults and children can participate in the beautiful yet educational events at the gallery.
Every time you visit, you'll see thousands of works of art created by dozens of local artists.
At the gallery, you can even purchase pieces of art.
There are a variety of exhibitions and displays that change every few weeks.
They hold nine exhibitions annually, giving local artists a place to showcase and sell their work.
There are also a number of events and festivals held by the gallery each year to raise awareness of art in the community, including the Capital Chalk Art Festival.
This is the place to appreciate the amazing local art scene.
Address: 1203 Missouri Blvd, Jefferson City, MO 65109, United States
Carnahan Memorial Garden
The Governor's Mansion's neighboring Carnahan Memorial Garden is a stunning sight.
Beautiful flowers, lakes, trees, and scenic walks in the garden make the Capitol Complex look even more beautiful.
Work on the rock wall began early in the project's development; along with the original lighting, a beautiful staircase leads up to the top of the pergola.
After Governor Carnahan's death, the garden was renamed in his honor.
The view from any angle is simply breathtaking.
The Missouri Office of Administration can be contacted if you'd like to reserve the venue for special events or weddings.
The gardens are so strictly managed and kept that there should be no event that lasts more than six hours. The lawn must not be damaged in any way during the event.
The meticulousness is reflected in the stunning garden blooms and lush grass.
It is a prime spot for picture-taking, plus admission is free!
Address: 101 Jefferson St, Jefferson City, MO 65101, United States
Discover Missouri on your next vacation! Use our travel guides to see and do more on Springfield and Branson! Look over for more wonderful things to do in Springfield, Missouri, and the best things to do in Branson, Missouri.
Central Dairy
Since 1934, Central Dairy has been selling Jefferson City's best ice cream!
Even though it is old, the historic ice cream shop has a wide range of flavors to suit customers' tastes today.
Even during the Great Depression, Central Dairy remained one of the most renowned dairies in the area.
The ice creams are inexpensive, but they have the best flavors. Ice creams free of gluten and eggs can be found here as well.
Unique tastes like salted caramel toffee crunch, tiger tracks, and burgundy cherry are available at this renowned parlor.
At Central Dairy, there are 50 flavors of ice cream to choose from, including 27 classics like black walnut, chocolate chip cookie dough, and strawberry; and 14 premiums like Muddy River and Bear Claw.
They also make sherbets, frozen yogurts, and low-fat ice cream.
Stop by and grab a cone or two of this cold sweet treat!
Address: 610 Madison St, Jefferson City, MO 65101, United States
Cole County Historical Museum
The Cole County Historical Museum is one of the top attractions in Missouri.
The Cole County Historical Museum is a great place to learn more about the history of Cole County and how it came to be.
This is a terrific spot to bring the entire family. There are a variety of things to see and do here that will allow you to learn a lot about Cole County and the people that live here.
There are so many different rooms and exhibits to explore at the Cole County Historical Museum that you'll feel like you've stepped back in time.
The Cole County Historical Society manages it.
The Cole County Historical Society has been interested in preserving records, documents, and artifacts since the time Jefferson became the state capital.
The museum keeps important collections and artifacts so that the community can learn about and share the history of the city.
It's now closed because of COVID, but it's expected to reopen very soon.
Address: 109 Madison St, Jefferson City, MO 65101, United States
Considering a trip to Missouri? If you're looking for unique travel ideas, see our guides for St. Louis and Jefferson City! Look over for more wonderful things to do in St. Louis, Missouri, and the best things to do in Jefferson City, Missouri.
Colonel Alvin R Lubker Memorial Safety and Education Center
Fans of the blue-clad, crime-fighting people are encouraged to see this!
A lot of history can be found here! It includes stories from both the good guys and the bad guys.
At the Colonel Alvin R. Lubker Memorial Safety & Education Center, the Missouri Highway Patrol is the focus of the displays.
You'll be able to see how the instruments of the trade have evolved.
Since 1982, the facility has been open to the public.
Among the many topics covered are statistics on road safety, law enforcement activity, drug use, and much more.
Old police cars, firearms, uniforms, and other gear from the department's early days are still on display.
From 1931 until the present, you can see the methods of law enforcement that have been employed. The museum's most popular exhibit is "Otto—The Talking Car."
Don't miss the several artifacts from the crimes of the infamous couple, Bonnie and Clyde, that are on display here!
Address: 1510 E Elm St, Jefferson City, MO 65102, United States
Jefferson Landing State Historic Site
The historic section of Jefferson City's Jefferson Landing is a must-see.
The Missouri Department of Natural Resources takes care of many state-owned landmarks, such as the Christopher Maus House, the Lohman's Landing Building, the Lohman Building, and the Union Hotel.
The whole district is also listed on the National Register of Historic Places as well.
All of the structures in this area have shaped the city into what it is now, and this district is no exception.
Historic structures and sites, as well as a number of notable museums and stores, are among the many things you'll see in the area.
The setting is a stunning example of late-nineteenth-century architecture.
Visit the Jefferson Landing State Historic Site to get a sense of life in 19th-century Missouri. Like you traveled back in time!
Visit this historical site if you don't want to spend a dime to keep yourself occupied.
It's completely free, kid-friendly, and extremely user-friendly.
Address: 100 Jefferson St, Jefferson City, MO 65101, United States
Katy Trail State Park
The Katy Trail State Park is one of the best things to do in Missouri.
Take a break from the city and see what Katy Trail State Park offers.
Natural beauty abounds in Katy Trail State Park, making it a top destination for outdoor activity.
The park locates on the former route of the Missouri, Kansas, and Texas Railroad.
You can go on a hike, a horseback ride, or a bike trip to discover all that nature offers.
At 240 miles long, the Katy Trail is the longest rail trail in the United States for recreational use.
Many paths go along the Missouri River, providing some of the most breathtaking views you'll find anywhere.
The Katy Trail State Park, which has 26 trailheads and various train terminals along the way, is a great place to spend a few hours in nature.
This is an excellent way to appreciate the local fauna and flora without breaking a sweat (depending on your chosen trail).
Address: Katy Trail, Missouri, USA
Lewis and Clark Monument
The Lewis and Clark Monument is one of best places to visit in Missouri.
Visit one of Jefferson's most historic sites!
From Capitol Avenue and Jefferson Street, in front of the Jefferson Landing Historic Site, one can view the Lewis and Clark Monument.
This location is designated as a national historic site.
Because of its location's ideal vantage point overlooking Jefferson Landing Historic Site and the Missouri River, guests will have an easy time traveling to and from other points of interest.
Meriwether Lewis, William Clark, and other important aspects of their lives are honored at the plaza.
This sculpture commemorates the day in 1804 when the Corps of Discovery first set up camp in the area that would become the state capital.
In 1936, for the 150th anniversary of the Corps of Discovery, a small observation platform and two stone markers were put up in the park to commemorate it.
On the markers, Lewis and Clark's interactions with the Oto and Missouri Indians are depicted through photos and descriptions.
Address: 19962 Monument Rd, Council Bluffs, IA 51503, United States
Madison's Café
The famous and recognized Madison's Café in Jefferson City opened in 1982.
It serves mainly American, Italian, and some other types of cuisine.
After major renovations, Madison's first opened its doors in April of 1982 at 216 Madison Street. When the owner bought the building next door and fixed it up in the spring of 1983, it added 7,200 square feet to Madison's Café.
Two private banquet rooms may accommodate up to 120 guests in each of the two banquet halls, which are located on the second floor.
This lovely restaurant serves juicy steaks, tasty appetizers, hearty soups, fresh salads, delicious seafood, tempting sandwiches, mouthwatering pasta, and sweet treats.
Drinking fine wines and inventive cocktails to complement your meal is a must.
The restaurant is so well-known that it has more than a handful of awards and recognitions under its belt.
It is even recognized as a Historic Landmark in Jefferson for being an iconic spot in the city.
Missing this restaurant will be a sin!
Address: 216 Madison St, Jefferson City, MO 65101, United States
Missouri Farm Bureau log home
The Missouri Farm Bureau's log cabin is one of the most important historical sites in the state.
It is located near Missouri Blvd., towards the rear of the Missouri Farm Bureau Center.
The mid-1800s saw the construction of the Wallendorf Home, a two-story dogtrot log structure.
The rooms give an authentic 1800s feel, with some of their interiors dating back from that century.
Because of its historical status, which was officially recognized by the Department of the Interior in 2008, the house continues to be a source of inspiration and a time machine for those who come to see it.
Plus, you get to learn more about the state's agricultural history by viewing artifacts, displays, and educational videos during the tour.
Using historical antiques, displays, and short videos, the one-of-a-kind log home tells the narrative of agriculture in early Missouri through the ages.
Both admission and a tour are free of charge!
Address: Farm Bureau Dr, Jefferson City, MO 65109, United States
Missouri Governor's Mansion
The Missouri Governor's Mansion, located just a few blocks from the Missouri State Capitol, is one of the few executive mansions in the United States that is available to the public.
The official residence of Missouri governors is a colossal red-brick building that looks like it came straight out of the early 1900s.
As a result, it has been included in the National Register of Historic Places, an official government registry.
The views from the estate, which sits on 10 acres overlooking the Missouri River and State Capitol, are quite breathtaking.
The mansion has pink granite columns, a wide walnut staircase, a mansard roof, and many other details.
Volunteers who know a lot about the house and are passionate about it give free tours to the public.
Few government residences are open to the general public. So, don't miss your chance and reserve a tour to learn about corporate hierarchy.
Address: 100 Madison St, Jefferson City, MO 65101, United States
Missouri State Capitol
Located in the heart of Jefferson City, the Missouri State Capitol serves as the legislative and executive parts of the state's government.
When the structure was finished in 1917, it became an example of the city's great architecture.
The beautiful artwork in this structure was created by world-renowned artists, including Sir Frank Brangwyn and Thomas Hart Benton.
Three-point perspective paintings are very common in the Capitol.
The historic bronze statue of Ceres, the Roman goddess of agriculture that sits on top of the Missouri State Capitol, is a fitting tribute to the state's long history of relying on agriculture.
It has also been included in the National Register of Historic Places because of its architectural merits.
The building's architectural features are stunning on their own and make for wonderful family portraits.
A free guided tour is even available every day of the week!
Don't miss your chance to tour this beautiful neoclassical building!
Address: 201 W Capitol Ave, Jefferson City, MO 65101, United States
Missouri State Museum
The Missouri State Museum, which opened in 1919, is housed on the State Capitol's first floor.
It displays the state's history from the pre-Indian removal era to the present day.
This museum has more than 30,000 relics and a large collection of WWI flags that appeal to every history buff.
One of the museum's most popular exhibitions is its collection of more than 120 Civil War battle flags. During the Civil War, Missouri troops seized a large number of flags.
Since then, it has become a focal point and one of the most interesting displays in the museum.
Visitors can learn about the state's history and culture through various relics, exhibitions, displays, and other interactive events at the museum, which is a showpiece.
Go to the Missouri State Museum to gain a better understanding of Missouri's unique past and present.
You can even take a tour of the State Capitol right after visiting this museum, or vice versa.
Address: 201 W Capitol Ave, Jefferson City, MO 65101, United States
Missouri State Penitentiary
The Missouri State Penitentiary, a former jail now open to the public, is located on the banks of the beautiful Missouri River.
When it was first built in 1836, it was used as a maximum-security prison until 2004, when it was shut down for good.
You can examine the cells of Sonny Liston and James Earl Ray, learn about the prison's terrible history, and see its horrifying gas chamber, where 40 people were prosecuted cruelly.
Because of its horrific history, the institution was dubbed the "bloodiest 47 acres in America" by Time Magazine.
You may learn about the prison's rich history, the infamous riots of 1954, exciting escape attempts, and more by taking a guided tour of the facility.
They even have a ghost tour for tourists to the penitentiary, known for its paranormal activity.
The prison is now a popular tourist destination for those interested in macabre attractions with a real dark history.
Address: 115 Lafayette St, Jefferson City, MO 65101, United States
Oak Hills Golf Center
If you are a golf expert, try your skills on this challenging terrain!
The Oak Hills Golf Center offers guests the opportunity to play golf throughout the year, provided the course is open and the weather cooperates.
During the hours that the course is accessible to the public, you will have access to the driving range and the practice area.
This course is in fantastic form, and the surrounding countryside is very lush and verdant.
They did some little remodeling work on it to bring out its natural charm.
The holes are quite difficult to play, so they are not beginner-friendly.
Prepare to compete across 5,581 yards of challenging greens with your finest round of golf.
Oak Hills is open as long as there is no frost on the greens. Players are welcome to use their course.
Take your chance at beating the hilly terrain!
Address: 932 Ellis Blvd, Jefferson City, MO 65101, USA
Rock Bridge Memorial State Park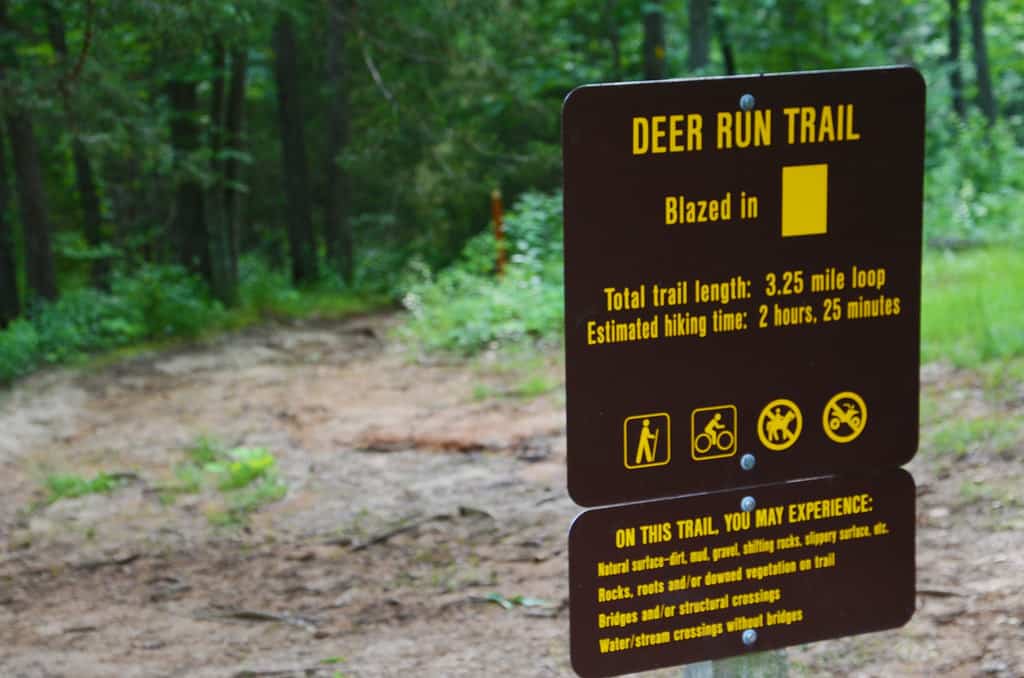 Rock Bridge Memorial State Park is one of Missouri's most beautiful state parks, and it's not far from Jefferson City.
The Gans Creek Wild Area, a major hiking destination in the state, is located within the park and features some of the most popular trails in the state.
There are many hiking routes, biking lanes, and horse trails to choose from if you'd want to go horseback riding while vacationing in the area.
Rock Bridge Memorial State Park does allow camping if you have the necessary gear.
You will be amazed at the huge cave system.
Visitors to the Devil's Icebox can also view an underground stream and a rock bridge.
The Devil's Icebox sinkholes let you see an underground stream and breathe in the cool, fresh air.
Printing out a map before arriving at the state park is a good idea to familiarize yourself with the area.
You and your friends can explore freely without the fear of getting lost.
Address: 5901 South Highway 163, Columbia, MO 65203, United States
Runge Nature Center
For everyone who wants to see the natural splendor of Jeff City, the Runge Conservation Nature Center is a must-see.
The Runge Conservation Natural Centre is 3000 square feet and has an aquarium, indoor exhibits, places to watch birds, and nature trails.
Live reptiles and amphibians, as well as a 3,580-gallon aquarium filled with a variety of fish, may all be found in this natural setting.
There is also a fantastic library here, where visitors can learn about all types of natural ecosystems through various themed exhibitions.
In addition, the hiking routes are fantastic.
The trails offer stunning views of the surrounding foliage and vegetation.
You can feed the birds and participate in bird watching at the bird refuge, located near the park's paths.
The 60-foot fire tower offers excellent city views from its perch atop.
You will find a nice gift shop in Jefferson City where you may purchase mementos of your time in the capital city.
Address: 330 Commerce Dr, Jefferson City, MO 65109, USA
Serenity Valley Winery
Stressed lately? Think about a glass of good wine, and everything else will fall into place.
Customers can enjoy a glass of SVW wine while taking in the natural beauty of Missouri.
Serenity Valley Winery is home to a number of award-winning wines.
All of their wines are made on-site at Serenity using juices imported from across the globe.
Wines made by their vintner, who has 30 years of experience, range from sweet to dry and are full of robust taste.
This stunning winery is on the banks of the Missouri River and is home to a wide variety of tasty, high-quality wines.
Serenity Valley Winery is great for groups to get together and have fun.
Get together with a group of friends to customize your bottles of wine!
They even offer their cheese and other goodies to pair with your bottle of choice!
Just don't get a little too drunk.
Address: 1888 Co Rte 342, Fulton, MO 65251, United States
Stark Caverns
Do not miss this wondrous geological formation on your way out of Jefferson!
As you descend beneath the earth, you'll walk through underground rock formations and Native American relics, and more await you.
There is evidence that Native Americans were the earliest inhabitants of the cave.
One theory holds that an ancient fire pit can be found in the deepest part of the cave that has any visible natural light.
The cave contains pottery, tools, and other relics.
Upon digging a post hole at the cave's entrance in 1967, people even unearthed found human remains.
During the Civil War, Confederate Guerrillas used the cave as a meeting spot and a supply store.
A dance floor and moonshine distillery made the cave popular during the early 1900 prohibition era when alcoholic beverages were prohibited.
The cave has a very colorful history!
Throughout the year, the temperature is a pleasant 57 degrees, and there are wheelchair-accessible paths so everyone can enjoy the natural beauty.
Visit the geode cracking and the gift shop while you're there.
Traveling and having fun in the USA? You have to check out this page – the best states to visit in USA for the most fun and unusual travel ideas.
Do you need any more convincing that Jefferson City, Missouri is worth a visit? Check out reasons to visit Jefferson City, Missouri, at least once in your lifetime here.
Address: 125 Cave Dr, Eldon, MO 65026, United States