Where should you go for the holidays? Try Lincoln, Nebraska. Make the most of your vacation time in Lincoln, Nebraska, we have compiled a list of our favorite things to do in Lincoln, Nebraska. Explore the top attractions and activities in the best places to go in Lincoln, Nebraska, by scrolling down! Wondrous Drifter is a Web 3.0 travel startup with ambitious goals to change the world.
Antelope Park
Visit Antelope Park and get to experience the quiet local side of Lincoln.
This lovely expanse of grass can be found on the city's south side and is ideal for visitors looking to get a feel for life in Lincoln as a native.
For the little ones, there are plenty of green spaces and playgrounds, while for the adults, there are trails through the woods, a basketball court, and even a fountain now and then.
In the north, Lewis Ball Fields are the most well-known feature.
Many youth NFL Flag Football games and summertime team sports like softball and kickball are played on the multi-sports field.
You might spot a future NFL player there!
Picnics are extremely popular in this area because of the abundance of well-maintained picnic areas that dot the grasslands and the lovely spring flower blossoms.
Some people say that ghostly figures have been seen by people walking in Antelope Park if you dare visit at night.
Address: 3283 Normal Boulevard Lincoln, Nebraska, 68510
Boiler Brewing Company
The Boiler Brewing Company is located in the historic Grand Manse building in the heart of downtown Lincoln.
They want to make high-quality beers that match the stature and the history of their building.
The boiler chamber of the Grand Manse building in downtown Lincoln, Nebraska, is now home to the Boiler Brewing Company.
The Grand Manse, completed in 1904, served as Lincoln's Federal Courthouse and Post Office before being repurposed to house the brewery.
It's no secret that Boiler Brewing Company brewmaster Tim Thomssen likes robust and stunning flavors, and it reflects in his brews.
Tim spent almost five years as a home brewer before starting Boiler Brewing Company.
Over the years, Tim accumulated a long list of awards and accomplishments for his craft.
There are 38 craft beers on tap at the Tap Room, so it will take a few trips to choose your favorite. Or a few pints!
Address: 129 N 10th St #8, Lincoln, NE 68508, United States
Governor's Mansion
The Governor's Mansion, a lavish Georgian Colonial built-in 1957, is a must-see in Lincoln.
The governor's former mansion, constructed in 1890, was demolished in favor of this new structure.
Red-brick columns rise over lush pines, and manicured gardens surround them, making it a stunning sight.
After you've entered, explore the refurbished mansion, which has more than 30 rooms.
Though, only five of those are actual sleeping quarters.
In truth, this has been a popular tourist attraction in Lincoln, Nebraska, since tours began in the 1950s.
There are a lot of exciting things to learn about the house's history here, as well as a beautiful dining room and a variety of interesting antique furniture, including a room full of dolls.
As an added bonus, it's only a few minutes walk from the State Capitol!
Don't miss the free guided tours of the building on Thursdays, where you may learn about its history and notable events that have taken place there.
Address: 1425 H St, Lincoln, NE 68508, United States
Get a glimpse of the marvels of Nebraska. You have to travel to Bellevue and Grand Island. For the best travel experience, check out the awesome things to do in Bellevue, Nebraska and the best things to do in Grand Island,Nebraska.
The Green Gateau
The culinary team at The Green Gateau has become known as one of the most innovative and refined in the city.
They serve a welcome mix of fine American dining, world cuisine, and elegant French cuisine.
As one of Lincoln's oldest and most prestigious restaurants, The Green Gateau has been in business for over two decades.
Using elements of European design and contemporary American cuisine to create a relaxed yet polished setting, they've created a delectable dining experience.
On the brunch and dinner menus, you'll find specialties like Salmon and Risotto or The French Connection, some of their well-loved staples on their dinner menu.
The food at this restaurant has evolved through time and is still trendy, but it's still classic and fresh in its use of vibrant colors and robust flavors.
Eric Lemke, owner, and chef keeps a close eye on his visitors. If his visitors don't want something he serves, nothing else matters.
Address: 330 S 10th St, Lincoln, NE 68508, United States
Historic Haymarket District
The Historic Haymarket District is one of the best things to do in Nebraska.
It's an obvious choice! Haymarket is the best spot to interact with locals in Lincoln, Nebraska.
You can try out local specialties at the market, find more restaurants and bars right around the corner, and use their public transportation options to see the rest of the city and the world.
Get out on the streets of Lincoln and begin your journey in the Haymarket District.
Rows of refurbished buildings now hold restaurants, stylish cafes, and welcoming bars in the former warehouse neighborhood.
Walking around one of the city's oldest neighborhoods while sipping coffee makes for a wonderful start to the day.
The Haymarket District is known for having a party atmosphere all the time because it is close to the University of Nebraska in Lincoln.
Many of the city's cultural events and festivals take place here, as does a beautiful farmers' market.
Young people fill the pubs every night, making for exciting nightlife.
Be part of the crowd and join in on the fun!
Address: 335 N 8th St B, Lincoln, NE 68508, United States
Have the intention to visit Nebraska? Come over and check out our best travel guides for North Platte and Omaha. Look out for fun-filled things to do in North Platte, Nebraska, and interesting things to do in Omaha, Nebraska.
International Quilt Museum
The International Quilt Museum is one of the top attractions in Nebraska.
Are you a fan of all things creative? Lincoln has an amazing collection of quilts from all over the world.
Ardis and Robert James donated approximately 950 quilts to the University of Nebraska–Lincoln in 1997, and the museum now holds the world's most extensive quilt collection. The museum was founded in 1997.
The new green building, built by Robert A.M. Stern Architects, houses the state-of-the-art facility.
The museum will take you on a four-century trip through the art of quilting. Different styles have evolved over time, and you'll learn about them here.
As a result, guests are sometimes left in a trance by the stunning designs of these establishments. There are approximately 6,000 quilts in all, with some dating as far back as the 17th century and coming from over 50 different countries.
They're all uniquely beautiful as well as impressive.
The International Quilt Museum is home to the world's largest publically held quilts.
Address: 1523 N 33rd St, Holdrege St, Lincoln, NE 68503, United States
Lincoln Children's Museum
For a few hours of fun with the kids in Lincoln, Nebraska, go to the Lincoln Children's Museum.
It's the perfect place to take the kids if you're in town with them.
An interactive, immersive, and educational venue, the Lincoln Children's Museum is where children may learn about the world around them through play.
In addition to a gift shop, a toy store, and a cafe serving food and beverages on the museum's third floor, there are more than 40 interactive exhibits to be explored.
There are many good things about this interactive hive of educational pleasure and entertainment.
There are almost 23,000 square feet of hands-on exhibits, creative programming, and many other places that are meant to get kids thinking.
Also, a slew of interactive exhibits to keep kids (about 10 years old and under) interested are present here. You may relax and watch from afar!
Address: 1420 P St, Lincoln, NE 68508, United States
Lincoln Children's Zoo
The Lincoln Children's Zoo is another go-to for families.
There are more than 400 creatures at Lincoln Children's Zoo, some of which are listed as endangered.
When Arnott Folsom first came up with the idea in 1959, he envisioned a place where children and adults might interact with nature. The Lincoln Children's Zoo was established with community leaders' support.
Their zoo's hands-on exhibits get kids interested and teach them how to interact with wildlife and the natural world.
Many of these magnificent creatures are accessible up close and personal to children.
The model train will be a hit with the whole family as they ride through the zoo and drive along the zoo grounds.
You can stop to feed the giraffes, ride a horse, or check out the Animal Encounter Stage as you make your way through the park.
Alligators, owls, and a boa constrictor may all be seen up close here.
Address: 1222 S 27th St, Lincoln, NE 68502, United States
Memorial Stadium
Even though it has been a few years since the Nebraska Cornhuskers were considered one of the top teams in college football, seeing them play is still an incredible experience.
In Lincoln, Nebraska, on the campus of the University of Nebraska–Lincoln, is where you'll find Memorial Stadium, home to the Cornhuskers, also known by the stadium's nickname, "The Sea of Red."
The vast stadium, one of the largest in all sports, can house just around 90 thousand yelling fans (usually in red).
It is not an easy process to acquire tickets to attend one of the games.
Therefore, if you cannot go or are there outside of the season, you should go see the Hall of Fame Avenue at the stadium.
You will get the opportunity to view the original columns that were installed in 1892, as well as the trophy case and statue honoring the legendary Bob Devaney.
Address: One Memorial Stadium Drive, Lincoln, NE 68588, United States
Mueller Planetarium
The Mueller Planetarium is one of the best places to visit in Nebraska.
The Mueller Planetarium, now housed in Morrill Hall at the University of Nebraska State Museum, officially opened its doors in 1958.
A significant donation from Ralph Mueller, who named the facility after him, helped open Nebraska's first-ever planetarium when the Space Race was just getting started.
In 1977, it was the first to introduce laser light shows to the state of Nebraska.
It has a 360-degree, 30-foot-high full-dome theater with a fisheye lens projector made just for it.
When full-dome technology was introduced here in 2007, it was the first of its kind in the state.
Like 3D, full-dome allows viewers to feel as if they're participating in the presentation themselves.
The planetarium has 3D displays and exhibitions about different parts of nature, as well as tours of the night sky, discussed by experts.
The University's natural science themes are reflected in the programs, ranging from a trip back in time to a journey to the sun's center.
Address: Morrill Hall, 645 N 14th St, Lincoln, NE 68588, United States
Museum of American Speed
The Museum of American Speed, founded in 1922, is your one-stop shop for all things speedy.
The museum exhibits everything from classic race cars to cutting-edge motors that have altered our perceptions of how fast cars can go.
The museum was started by "Speedy" Bill Smith, who began Speedway Motors, and his wife Joyce Smith in a 135,000-square-foot building in the middle of Lincoln in 1992.
Since then, it has become a well-known place to store all kinds of vehicles that have been collected over the last 60 years.
Three important collections supplement the site's regular exhibits.
In addition, Automobilia contains an impressive collection of automobile memorabilia.
Engines and automobiles make up the second segment, which examines how they have evolved.
Third, there is the Toys and Models section, sure to bring out the geek in all of us.
While self-guided tours are offered every day of the week, they also offer two-hour guided tours.
Address: 599 Oakcreek Dr, Lincoln, NE 68528, United States
National Museum of Roller-Skating
The National Museum of Roller-Skating is the only museum of its kind in the world. Its mission is to help people better appreciate and understand the sport of roller-skating, including its past, present, and future.
This roller-skating museum is in the heart of Lincoln's southern suburbs and is the largest in the United States and the world!
In addition to a wide variety of skates, the museum houses a collection of artifacts from the early 1800s and the most up-to-date versions.
Skates of all kinds and sizes can be found here, including skates that are so one-of-a-kind that they cannot be classified or described.
People, this is the place to be if you're looking for a museum of something you never thought of.
The museum's gift shop has some of the most popular skate magazines in the country, as well as unique t-shirts, patches, and more!
Address: 4730 South St, Lincoln, NE 68506, United States
Nebraska History Museum
One of the finest ways to learn about any city or town on the globe is to look back in time and learn about its history. This applies to Lincoln as well.
In 1867, Lincoln was established as a railroad town, and the city as we know it today was born.
If you're on a day trip, historical attractions can be found in the neighboring city of Omaha, which can be easily accessed from Lincoln.
The museum has many educational programs, workshops, and classes for children and adults.
It also shows over 12,000 years of history through different exhibitions and displays of cultural artifacts and artifacts.
It's one of the best things to do in Lincoln, Nebraska since the Nebraska History Museum is an excellent place to start if you're not fond of the outdoors.
Find out what life was like in Nebraska before it became a state, plus other fascinating morsels of knowledge.
Address: 131 Centennial Mall N, Lincoln, NE 68508, United States
Nebraska State Capitol
The first Nebraska State Capitol was built in 1868. It was made of limestone from the area.
Soon after, it started to fall apart. The second one, which was finished in 1888, only lasted a few decades because it was poorly built.
Ten years later, in 1932, the stunning Art Deco skyscraper that sits there now was completed and fully operational.
The three-story, 437-foot tower houses the principal executive and judicial offices of the state of Nebraska and can be seen from a distance of up to 20 miles away.
It was designed by a New York-based architect, Bertram Goodhue.
Despite the building's age, it is nevertheless regarded as one of Lincoln's most significant architectural achievements.
Follow the sculptures on the building's outside façade for a trip through 3,000 years of democratic history.
Inside, you'll see ornately gilded columns and mind-blowing murals.
Remember to climb the 14th-floor tower for a 360-degree panorama of Lincoln from every angle!
Address: 1445 K St, Lincoln, NE 68508, United States
Nebraska State Museum
The University of Nebraska State Museum is a must-see because it has the world's largest articulated mammoth fossil!
Known as Elephant Hall, the University of Nebraska State Museum is a natural history museum that focuses on Nebraska's biodiversity, paleontology, and culture.
The famous mammoth was discovered because chickens pecked their way to its surface.
Because of its size, you cannot help but be in awe of Archie, the mammoth.
Other than that, the exhibits are all about the state of Nebraska.
Visitors can learn about the fossilized remains of dinosaurs and extinct mammoths that have been found in the Cornhusker State.
You'll hear stories of the first settlers of the plains and the way Native Americans lived on the prairie.
After you've seen enough of the big animals, you can look around the rest of the museum to learn about Nebraska's geology, the Native American community, and pioneer life.
Address: Morrill Hall, 645 N 14th St, Lincoln, NE 68588, United States
Pioneers Park Nature Center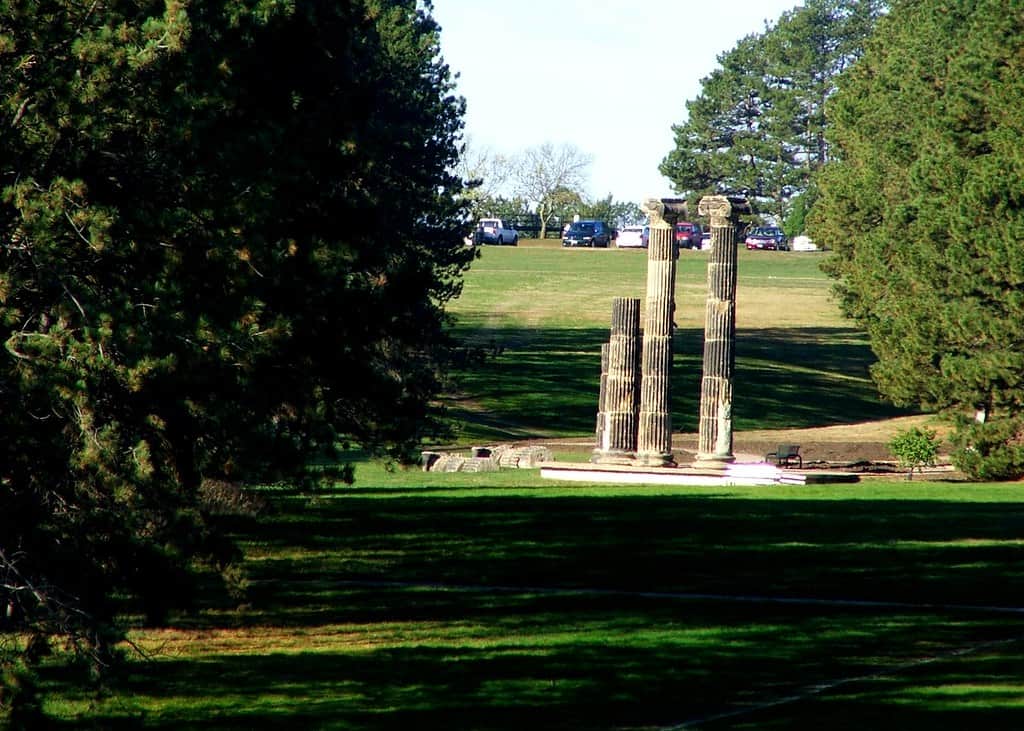 Pioneers Park is a must-see if you're on a tight budget and looking for a beautiful location in Lincoln, Nebraska.
Since 1963, 668 acres of this park in Lincoln have been kept as a nature preserve.
The Pioneers Park Nature Center, which opened in 1963, has been at the forefront of pioneering environmental education and wildlife conservation.
Tallgrass prairies and endless woods lead to healthy wetlands nourished by meandering streams.
It's an all-natural spot that you won't get tired of.
If you're up for a good hike with a scenic view, you can find wide-open spaces, lush birch-and-ash trees in the forests, bubbling rivers, creeks, and miles of well-maintained hiking trails.
Regarding animals, Pioneers Park Nature Center has its own white-tailed deer, elk, and a herd of rare American bison.
You can even spot them grazing on prairie grasses, along with wild turkeys and other birds!
Address: 3201 South Coddington, Lincoln, NE 68522, United States
Saint Mary Catholic Church
If you climbed the tower of the State Capitol, you might have spotted this already.
Saint Mary Catholic Church is a striking structure that can be found directly across the street from the State Capitol Building.
The first structure serving as the church was constructed in the year 1888. However, a fire almost wholly gutted it in 1900.
The building as it stands now is an exact replication of the one in the early days.
Any person who enjoys architecture will surely fall under its enchantment, whether due to the limestone arches, towering spires, or bell towers.
The inside was predominantly white, with a touch of pink behind the altar; it was not as extravagant and fancy as many other Catholic churches. It is simple and serene.
The stunning stained glass windows are what set this humble chapel apart. Each panel depicts an event in Mary's life that was significant in some way.
You can even attend their Sunday service if you prefer.
Address: 1420 K St, Lincoln, NE 68508, United States
Sheldon Museum of Art
The Sheldon Art Gallery in Lincoln, Nebraska, is a great place to visit if you prefer your locations to be more art-based than historical.
The museum, which opened in 1963, is housed in a funky modernist building worth stopping by to admire – and take photos of for your Instagram feed, of course.
The Sheldon Museum of Art is a 19th and 20th-century art museum on the University of Nebraska–Lincoln campus.
The Sheldon Museum of Art is named after Frances Sheldon of Lincoln, who helped fund the museum.
It was once known as the University of Nebraska Art Galleries and then as the Sheldon Memorial Art Gallery.
Over 12,000 pieces of art, mostly by North American artists, are on display.
They range from contemporary art to pop art and geometric abstractionism.
Then, be amazed by the sculpture garden, which is open daily from 10–5.
The best part is it's free!
Address: University of Nebraska-Lincoln, 12th and R St, Lincoln, NE 68588, United States
Sunken Gardens
The Sunken Gardens was a garbage pit during the Great Depression.
To this day, the area has been transformed into the charming gardens it should have been.
Sunken Gardens have been famous for romantic strolls with a date since the late 1930s.
The Sunken Garden is even ranked among the top 300 gardens in the country.
The curators rearrange the flowers here every year in a different theme, bringing a lot of originality to the beds and vibrant displays of botany.
Inside, you're transported to an urban oasis brimming with local blooms and international plants worldwide.
The walks in the garden show off the creativity of the garden, with each plant, arranged in a way that creates a natural kaleidoscope of color.
The walkways eventually lead to ornate domed pavilions where you can relax with your family (or your partner).
Address: 2600 D St, Lincoln, NE 68502, United States
The Starlite Lounge
In Lincoln with your significant other? Take them out here at Starlite Lounge!
With its shiny woodwork and powder-blue furniture, the Starlite Lounge will take you back to the time of the Rat Pack.
You'll feel like you're in the presence of Frank Sinatra because of its nostalgic throwback vibe.
As one of the city's most intimate pleasures in Lincoln, Nebraska, for couples is having a wonderful evening (and a few drinks) at The Starlite Lounge.
They have a good variety of house martinis, specialty cocktails, and classics.
During your trip through time, you can sit back and relax on our plush couches or vintage swivel chairs while the well-dressed wait staff brings you the best drinks.
What's better than ending the night with a good drink and company? Talk with your loved one in this cozy lounge while you drink your poison.
This will be a night to remember!
Traveling and having fun in the USA? You have to check out this page – the best states to visit in USA for the most fun and unusual travel ideas.
Do you need any more convincing that Lincoln, Nebraska is worth a visit? Hop over to why visit Lincoln, Nebraska, at least once in your lifetime here.
Address: 247 N 8th St, Lincoln, NE 68508, United States