Making travel arrangements to visit Scottsdale, Arizona? Explore the top activities to do and sights to see in Scottsdale, Arizona, to make the most of your time there. Get the most out of your vacation by exploring the best things to do in Scottsdale, Arizona, and the best places to visit in Scottsdale, Arizona, below. Wondrous Drifter is a Web 3 travel company that aspires to disrupt the travel industry.
Butterfly Wonderland

You can't say you went to Scottsdale, Arizona if you didn't visit the Butterfly Wonderland.
Through hands-on activities and an expansive butterfly conservatory filled with hundreds of colorful butterflies, Butterfly Wonderland transports visitors to the Amazon Rainforest.
Live exhibits offer a sensory connection to nature that is educational, entertaining, and a haven from the outside world.
Butterfly Wonderland's crowning achievement is a glass atrium that serves as a tropical rainforest habitat for thousands of butterflies worldwide!
Some of them may even land on your arm or head while soaring around freely.
Take in an enthralling 3D movie about the Monarch butterfly's migration or watch as its larvae transform into beautiful butterflies in the conservatory.
Get up close with exotic reptiles from rainforests worldwide, and even try some edible insects!
Families can shop for souvenirs at the family-friendly gift shop. At the same time, a cafe serves light beverages and snacks all day long.
Address: 9500 E. Via de Ventura, Scottsdale, Arizona
Chocolate Tour of Scottsdale

The Chocolate Tour of Scottsdale is one of the best things to do in Arizona.
Craving for chocolates? Scottsdale's Chocolate Tour is an experience not to be missed!
You and your loved ones will have a sweet time on this Chocolate Tour!
This tour will take you to the downtown area if you'd like to see the city's chocolate attractions.
Visits to six bakeries and chocolatiers in Scottsdale will provide you with the opportunity to sample some of the most delicious delicacies you've ever had!
As you stroll through Scottsdale's Old Town, you can indulge in a variety of chocolate treats, from truffles to cupcakes and more.
You will also be given a doggie bag to take your chocolate treasures home with you if you cannot consume them all in one sitting.
During the Chocolate tour, you will not just be indulging in specialties but also having a glimpse of what they do!
You'll discover more about how these delectable goodies are made when you talk to the people who own and operate the businesses.
Address: 7051 E 5th Ave J, Scottsdale, AZ 85251, United States
CrackerJax Family Fun and Sports Park

The CrackerJax Family Fun and Sports Park are one of the top attractions in Arizona.
When looking for exciting things to do in Arizona, you can't go wrong with the CrackerJax Family Fun and Sports Park!
There are no motorized carnival rides or scary roller coaster rides to terrify tourists because the park is so modest compared to a normal amusement park.
Instead, it concentrates on activities that take place outside.
Everyone can participate at the Bungy Dome, Go-Kart Tracks, Mini Golf Courses, and Batting Cages.
Moreover, the Jax Trax Go-Kart track is a child-friendly version of the regular track.
You can fit two youngsters and an adult in a bumper boat.
If you and your kids are into miniature golf, a separate course is prepared just for you.
Evenings and weekends are busier, so expect to wait a little longer.
Admission to CrackerJax Family Fun and Sports Park is free. However, each ride costs money!
Address: 16001 N Scottsdale Rd, Scottsdale, AZ 85254, United States
Contemplating traveling to Arizona? Discover our travel guides to Phoenix and Flagstaff. Don't miss out on this amazing state, check out the entertaining things to do in Phoenix, Arizona, and things to do in Flagstaff, Arizona.
Desert Splash Adventures

A trip in a seaplane sounds like the perfect way to spend a day!
Seaplane flights over Roosevelt Lake and Lake Powell are available through Desert Splash Adventures.
When flying into Scottsdale Airport, you can relax in an executive lounge before your flight, which takes you through Arizona's most spectacular and stunning scenery, culminating in thrilling water landing at Roosevelt Lake or Lake Powell.
A Cessna Caravan Amphibious Seaplane managed by Island Air Express, Desert Splash Adventures offers an exclusive and special desert journey for discerning visitors.
You and your family will be able to take in the natural beauty of this great state as you fly over it in your Cessna Caravan. There will also be a light lunch available.
They also offer various other activities, from fine dining brunches on a secluded island to canyoneering in the Sonoran wilderness.
Desert Splash Adventures offers the only Amphibious Seaplane experience in Arizona, and you can join the trip from Scottsdale.
Make sure not to miss out on the experience that Desert Splash Adventures offers!
Address: 15115 N Airport Dr, Scottsdale, AZ 85260, United States
MacDonald's Ranch

Visit the Ranch is a must-visit if you and your family enjoy incredible scenery and horseback riding.
MacDonald's Ranch, Scottsdale's most popular horseback riding stable, is a great place to spend a family outing.
Because of its breathtaking desert horseback rides, the Ranch has been a popular destination for families since it first opened in 1970.
There are now stagecoach rides, hayrides, delicious cowboy cookouts, and delicious steaks and tasty corn on the cob. The pumpkin patch and petting zoo are great for kids, as are the gold panning and pedal cars.
The Ranch's guides employ a team of experts to ensure that all riders, regardless of skill level, will have a safe and enjoyable experience at the Ranch.
The Ranch's horses are friendly and obedient, making them a pleasure to work with.
Get to know some of the area's wildlife, flora, and fauna on a leisurely ride.
Address: 26540 N Scottsdale Rd, Scottsdale, AZ 85255, United States
Having the intention to visit Arizona? Hop over to our travel guides in Tucson. Take time to notice these cool things to do in Tucson, Arizona.
McCormick-Stillman Railroad Park
Immerse yourself in the railroad history of Scottsdale in McCormick-Stillman Railroad Park!
As a railroad museum, McCormick-Stillman Railroad Park features exhibits on railroad history.
At Scottsdale and Indian Bend Roads intersection, the park houses a 10,000 square foot Model Railroad Building, a 15-inch (381 mm) gauge railroad, four model train clubs, and a locomotive from Magma, Arizona Railroad.
Many model trains and exciting exhibits can be found in the area, making it one of the most popular destinations for train and rail enthusiasts.
You can also visit the McCormick-Stillman Railroad Park's immersive railroad museum, which houses a collection of fascinating railroad artifacts from the past.
The Roald Amundsen Pullman Car and the renowned Merci Train are featured here!
Additionally, you can ride the Paradise and Pacific Railroad, take a spin on an old carousel, or simply relax in the large park, which features picnic areas, a playground, and even live music on occasion.
Address: 7301 E Indian Bend Rd, Scottsdale, AZ 85250, United States
McDowell Sonoran Preserve
Are you an adventurous person? Explore and conquer all the trails available in the McDowell Sonoran Desert!
For those who have never visited before, McDowell Sonoran Preserve serves as the starting point for exploring the Sonoran Desert, home to unique environments.
The McDowell Sonoran Preserve, which spans over 30,000 acres and runs along the city's eastern outskirts, has over 100 miles of trails and six trailheads to discover and appreciate.
In addition to hiking, mountain biking, wildlife, and birdwatching, visitors to the Preserve can participate in rock climbing and off-roading tours.
The Gateway Loop, one of the trails, is a rocky path that requires poles and sturdy footwear to explore.
As a more accessible alternative, the Browns Ranch Trail affords better views of the desert landscape.
The Bajada Nature Trail is an excellent option for children, as it includes various games and activities for them to join in.
Address: 18333 N Thompson Peak Pkwy, Scottsdale, AZ 85260, United States
Octane Raceway

Buckle up, get behind the wheel, and race! Octane Raceway has a third-mile track with indoor and outdoor sections in Scottsdale, Arizona.
It has European electric race karts capable of 45 mph top speeds and zero emissions.
It's the only one of its kind in North America, making it a popular tourist attraction.
Fastest Lap scoring determines the winner of each race, so anyone can enter and race without prior experience.
First-time kart racers can watch a safety video before getting behind the wheel to ensure their safety.
Catering to exclusive and special events, Octane Raceway has features like private function rooms, a Trackside Bar & Grill, and several other leisure facilities that can be used for private parties such as corporate and team building events or birthday parties.
Booking in advance is recommended if you wish to secure your spot and participate in the race. Even though the races are held day and night, there is always a waiting list.
Address: 9119 E Indian Bend Rd, Scottsdale, Arizona
OdySea Aquarium
The OdySea Aquarium in Scottsdale is where to learn everything you wish to know about the ocean and its fascinating inhabitants!
OdySea Aquarium provides a fun experience for visitors of all ages, using a mix of aquatic interactions and theme park-style attractions.
As an added bonus, the aquarium is situated in the middle of a desert.
Riding the escalator down beneath the Deep Ocean Gallery while hundreds of fish swirl all over you will be one of the features of your visit.
Among the aquarium's attractions are the enormous globe-like enclosures that hang from the ceiling and feature a dazzling display of aquatic life.
You can even put on a submerged helmet at the Sea Trek exhibit and stroll beneath the water.
The Tide Touch Pool allows you to get up close with some of the creatures that live in tide pools, such as sea stars, sea snails, sea cucumbers, and hermit crabs, without leaving the water.
Penguin Point is an excellent place for kids to meet penguins and play in the touch pools.
Address: 9500 East Vía de Ventura Suite A-100, Scottsdale, AZ 85256, United States
Old Town Scottsdale
The Old Town Scottsdale is one of Arizona's best places to visit.
You'll experience what it's like to travel back in Old Town Scottsdale!
Old Town Scottsdale, also called the Fifth Avenue Shops, is a great place to experience the city's rich history and culture.
There are numerous award-winning restaurants, fine art museums, tourist shops, jewelry stores, and other unique shops in the area within walking distance.
Attractions like the Little Red Schoolhouse, Cavalliere's Blacksmith Shop, and the Rusty Spur Saloon will put you back in time.
Some nice cafes can be found nearby if you just want to sit back and relax for a while.
Various seasonal events include the farmer's market, craft beer and wine tastings, and contemporary art displays.
It's one of the city's top 10 attractions for visitors, with a vibrant atmosphere and a rich cultural heritage.
Take a stroll through Scottsdale's historic Old Town to get a true sense of the city.
Address: Main Street, Scottsdale, AZ 85251, United States
Penske Racing Museum

Penske Racing Museum is a must-see if you're a racing fan!
The Penske Racing Museum is home to an incredible collection of race cars, trophies, and other racing-related memorabilia. All documented the history of one of the sports' most storied families.
More than 500 major race victories, including 18 Indianapolis 500-mile titles, are among Penske Racing's many achievements over 50 years in motorsport.
Two floors and 9,000 square feet of space are spread over two Penske Automotive Group dealerships.
Depending on your level of familiarity with the racing world, there are many fascinating things to experience.
The museum has a variety of Penske Racing vehicles on display, including a replica of Roger Penske's 1963 Pontiac Catalina, which he drove to victory in the Riverside 250.
Several Indianapolis 500-mile winners, including Danny Sullivan's 1985 March Ford that took first place in the race, can also be seen here.
Address: 7125 E Chauncey Ln, Phoenix, AZ 85054, United States
Pinnacle Peak Park
Pack up your snacks and energy drinks! Pinnacle Peak will surely satisfy your cravings for adventure!
Scottsdale's Pinnacle Peak is a famous trekking destination with its strewn-about boulders and cone shape.
From the summit of Pinnacle Peak, a reasonable 1.75-mile one-way trail with an elevation gain of 1,300 feet, you can enjoy stunning views of northern Scottsdale, including the beautiful green golf courses of Troon North Golf Club.
This is a stunning location for a short and leisurely hike. If you go to the trail's end, the total distance is about 3.5 miles.
The views of Scottsdale, Arizona, are spectacular. Even if you only make it about a third of the way to the top, there's no need to push yourself to the limit just to see them.
The trailhead's visitor center, restrooms, picnic areas, ramadas, and even exhibits give visitors a reason to stay a little longer.
You'll see informational plaques about the Sonoran Desert's wildlife and plants as you stroll through the park.
Address: 26802 N 102nd Way, Scottsdale, AZ 85262, United States
Scottsdale Center for the Performing Arts
Visit the Center for Performing Arts to see why 20,000 visitors of all ages come here every year!
A wide variety of theater, music, dance, comedy, and film from around the world can be found at the Scottsdale Center for the Performing Arts.
The Center for the Performing Arts in Phoenix, Arizona, is widely regarded as one of the country's most renowned venues for the performing arts.
The 1975 Bennie Gonzales-designed structure serves as the hub for a wide range of annual events, from live shows and education programs to major festivals and community festivities. It adopts an adobe style from its architectural inspiration
Scottsdale Arts Festival takes place here every year, and it's home to the award-winning Spirit of Camelback glass sculpture by Kana Tanaka.
With its central location in Scottsdale's artistic district, the center is just a short walk from Scottsdale's Old Town and its thriving gallery district.
With its convenient location, you wouldn't get hungry as it's surrounded by several restaurants!
Address: 7380 E 2nd St, Scottsdale, AZ 85251, United States
Scottsdale Fashion Square

It's time to put on your comfy shoes! Fashion Square is a bustling hub of activity.
The most prestigious brands in the industry have stores here! This elegant shopping mall, which includes Nordstrom, Neiman Marcus, Gucci, and Louis Vuitton, has approximately 2 million square feet of luxurious retail space.
At the shopping center, you'll also find friendly and helpful employees. You may be able to find some bargains at some of the anchor stores, such as Macy's, despite the high-end shops.
In the heart of downtown, the immense, upscale Fashion Square is consistently ranked as one of the country's best malls.
There are over 240 specialty shops and restaurants to choose from and a large movie theater, making it one of the best places in town to do all three: shop, eat and have fun.
Over the years, multiple developments and renovations have taken place at the largest shopping center in Arizona, which opened in 1961.
There are numerous cafes and restaurants to choose from and the Art Walk, where you can take a stroll and admire the beautiful murals and sculptures.
Address: 7014 E Camelback Rd, Scottsdale, AZ 85251, United States
Scottsdale Historical Museum
Check out the Scottsdale Historical Museum to learn more about the city's history!
Since it was founded in the Little Red Schoolhouse, a historic structure from 1909, the Scottsdale Historical Museum has amassed an incredible collection of artifacts and photographs to tell Scottsdale's story.
In addition to learning about this city's history and culture, you'll also get a sense of what life was like in the surrounding Southwest region a century ago.
The museum's permanent exhibits include The One-Room Schoolhouse, as well as the Winfield Scott Exhibit and other exhibits related to the region's history.
It depicts what a one-room school for eight grade levels might have looked like in the 1800s and 1900s.
The Scottsdale Historical Museum is open to the public from Wednesday to Sunday. Tours for large groups and special guests can be scheduled in advance.
For added enjoyment, admire fascinating historical photographs and artifacts as they rotate in their place.
Address: 7333 East Scottsdale Mall, Scottsdale, Arizona
Scottsdale Museum of Contemporary Ar

t
Watch and admire the different and unique performance arts in the Scottsdale Museum of Contemporary Art!
A wide variety of theater, music, dance, comedy, and film from around the world can be found at the Scottsdale Center for the Performing Arts.
Arizona architect Bennie Gonzales built the adobe-inspired structure in 1975. This structure hosts hundreds of events each year, from live performances to educational programs to large-scale festivals and community celebrations. It is the perfect setting for all of these kinds of events.
The Scottsdale Arts Festival, which has won numerous awards, is held at the center and a radiant glass sculpture by Kana Tanaka called Spirit of Camelback.
A wide range of educational opportunities is available for visitors of all ages, including tours, presentations, lectures, and classes.
In addition to visual arts, literature, music, and other genres are frequently discussed at these seminars.
Visit the Museum of Contemporary Art, and you will discover something new to see, as nine to twelve exhibits rotate each year.
Address: 7374 East Second Street, Scottsdale, Arizona
Southwest Wildlife Conservation Center

Visit wounded and abandoned animals native to Arizona that are cared for at the Southwest Wildlife Conservation Center before being released back into the wild!
The center also educates visitors on the value of nature and wildlife and their place in the global environment.
Jaguars, coyotes, black bears, bobcats, mountain lions, porcupines, and other animals can be found at the center.
Most of the sanctuary's residents are local to Scottsdale. However, few come from further away.
Tours of the facility are available for visitors to learn more about the exciting animals.
Several in-house education initiatives include Walk with Wildlife, Sunrise Nature Tours, and Discovery Days. There are also community outreach initiatives like PAWS. The center also offers a variety of off-site educational opportunities.
Among Arizona's many exciting and educational events, there are many opportunities to learn about the state's unique wildlife.
Address: 27026 N. 156th Street, Scottsdale, Arizona
Taliesin West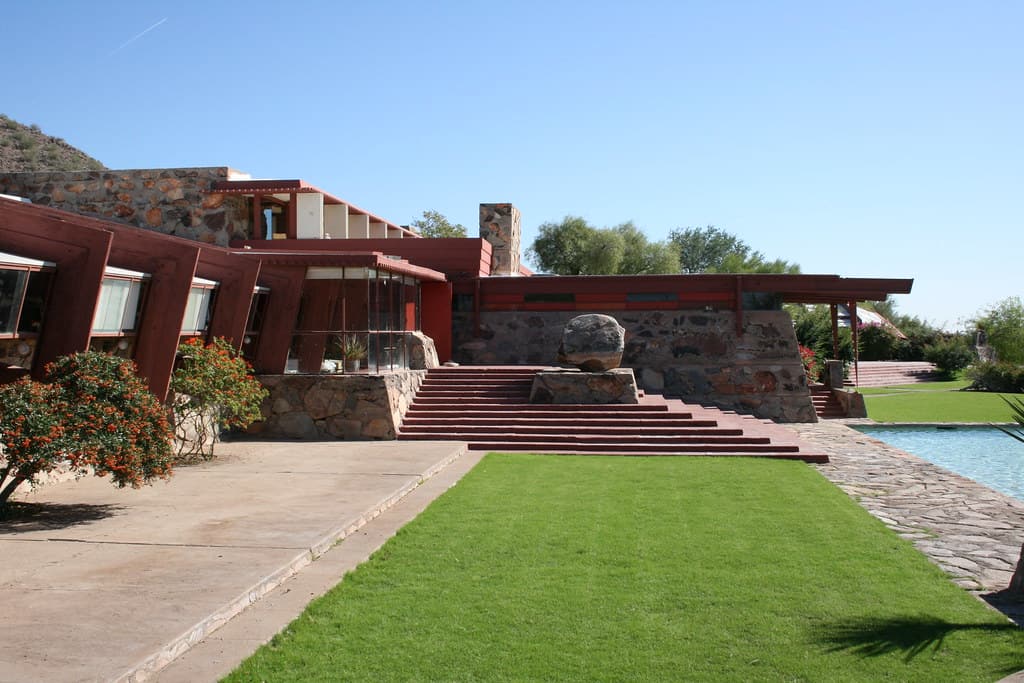 This place is a fantastic attraction for architecture buffs, fans of Frank Lloyd Wright, or anyone looking for a fun family outing!
In the hills of Arizona's McDowell Mountains, Taliesin West is a National Historic Landmark. It is surrounded by the Sonoran Desert of Scottsdale on all sides.
An architectural laboratory and world-famous house belonging to Frank Lloyd Wright can be found here.
A National Historic Landmark since 1937, it was designed and built by famed architect Frank Lloyd Wright.
It's made entirely from the sand and stone found in the surrounding Sonoran Desert at the foothills of the McDowell Mountains.
If you don't want to spend 90 minutes with well-versed guides in the house, you can explore it independently for that time.
An Insights Tour allows you to see Wright's living quarters and the handcrafted furniture that he designed.
With hosts who knew Wright, afternoon tea is served in the Garden Room.
In addition, the gift shop has a wide variety of artistic gifts for all ages. Definitely worth a stop!
Address: 12621 N Frank Lloyd Wright Blvd, Scottsdale, AZ 85259, United States
The Scottsdale Xeriscape Garden at Chaparral Park
Be amazed by different species of flowers and a well-engineered underwater reservoir in Scottsdale Xeriscape Garden!
Following the National Wildlife Federation's standards, the Scottsdale Xeriscape Garden is a designated wildlife habitat.
It's one of the city's most extraordinary attractions in Chaparral Park.
There are more than 200 species of flora, with far more than 7,000 plants grown. These are all fed and maintained by an underwater reservoir, which can be found in this 5.5-acre expanse.
The Xeriscape Garden was created as a safe haven for threatened and endangered species of plants found in and around the city.
The garden provides visitors with educational materials on sustainable landscaping and plant species as a tourist attraction. They also offer materials for water conservation, desert landscape care, and the preservation of local fauna.
The interactive plant guide or the clearly marked signs throughout the grounds are all you need to get around the property.
There are plenty of shady spots where children can play around for those who need a break from the desert sun.
Address: SE corner of Hayden & McDonald Road, Scottsdale, Arizona
Western Spirit: Scottsdale's Museum of the West

Interested in the natural history of Western America? Then visit Western Spirit: Scottsdale's Museum of the West!
Western Spirit: Scottsdale's Museum of the West in Arizona honors and presents the region's rich history, peoples, and landscapes.
The museum's purpose was to look back in time and learn from past achievements. This is to better understand the challenges of the modern world.
This remarkable museum in Scottsdale's Old Town contains all 19 western states, from Texas to the Dakotas.
It is 35,000 square feet of fascinating facts, paintings, and relics for everyone.
There's also an audiovisual theater where the museum shows work by artists from Arizona and other western states. This is part of its regular immersive and informative exhibitions schedule.
At the museum, you'll find the work of 77 artists and helpful staff who are happy to respond to questions you may have.
Sculpture Courtyard is an excellent place to sit back and enjoy the desert scenery while admiring rotating sculptures.
Traveling and having fun in the USA? You have to check out this page – the best states to visit in USA for the most fun and unusual travel ideas.
Still wondering if you should visit Scottsdale, Arizona? Visit why visit Scottsdale, Arizona, at least once in your lifetime here.
Address: 3830 N Marshall Way, Scottsdale, AZ 85251, United States