Why go to Tennessee?
You must visit Tennessee at least once in your lifetime because the Smoky Mountains and the Mississippi River call this region home, as do tens of thousands of intriguing caverns and breathtaking waterfalls. Even the most jaded of city-dwelling youngsters will be inspired and impressed by the state's gorgeous expanses of nature. Travelers will enjoy the state's various towns, world-class restaurants, and the famed Appalachian Mountains.
What is Tennessee famous for?
Tennessee is famous for country music, whiskey, and Graceland. It has earned the title "Energy Capital of the World" due to its dedication to energy exploration. When country music was born, Bristol was where it all began. National parks in the United States are crowded with tourists. Still, none are as popular as the Great Smoky Mountains National Park.
Fun Facts about Tennessee
An earthquake in Tennessee formed a lake there.

For one day, Kingston served as the capital of the state.

American astronauts have observed and recognized the Copper Basin as distinct from its surroundings.

In the Yuchi Indian language, "Tana-see" translates to "The Gathering Place."

There are some strange speed restrictions in Tennessee. In Collierville, Google Maps shows a 19-mph speed restriction, although Trenton has many signs that indicate a 31-mph limit.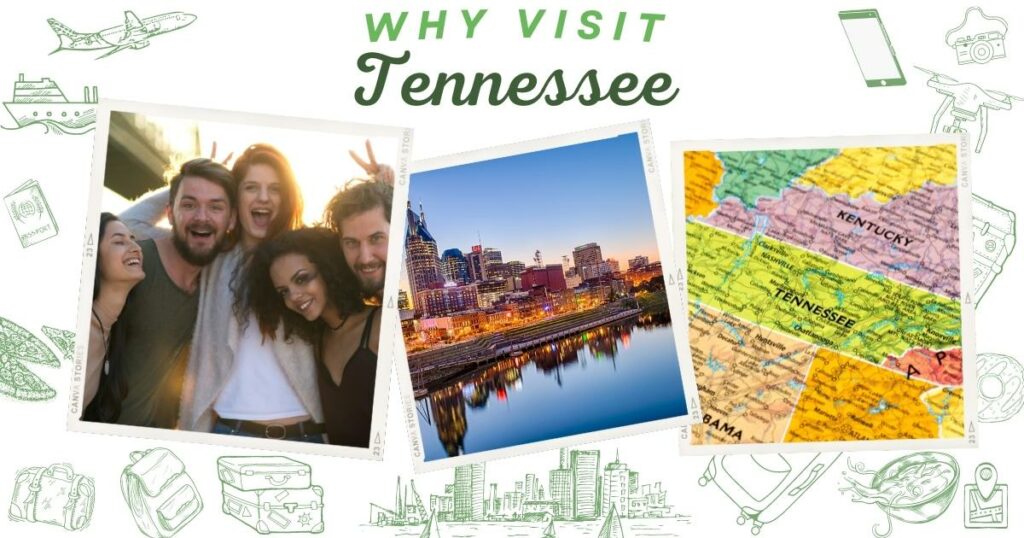 How big is Tennessee?
Tennessee is about 109,247 square km or 42180 square miles in size.
When is the best time to visit Tennessee?
The best time to visit Tennessee is from June to August or September to November. Summer, from June through August, is the best season to visit Tennessee for festivals and outdoor activities. However, the summers in Tennessee can be quite humid and hot, so the ideal time for some is between September and November, when the weather is calmer. Months with mild days and chilly nights and a moderate humidity level. There's nothing better than taking in the beauty of spring blooms and the changing colors of the leaves in the autumn.
How many days do you need to see Tennessee?
One week is enough time to tour all of Tennessee. Because of its central location, this state is also a popular tourist destination. Music and civil rights history abound in Tennessee's vibrant cities and diversified landscapes, which are reachable through car drives. A road trip across Tennessee is a great way to see the state; before you know it, you've already seen it. As a tourist in Tennessee, you'll have the opportunity to explore both bustling cities and endless woodlands.
What is the cheapest time to go to Tennessee?
The low season (flights) to visit Tennessee is in August.
Is Tennessee an expensive city to visit?
Tennessee's cheap living costs make small towns and rural locations affordable. A lone journey to Tennessee costs $1,077, a couple $1,626, and a family of four $3,204. Tennessee hotels cost $57 to $260 per night, averaging $88, while vacation homes cost $180 to $620 per night. Average economy travel expenses to Tennessee (from all airports) are $556 to $878 and $1,746 to $2,757. Depending on activities, budget $44 to $89 per day for transportation and dining.
How to save money when visiting Tennessee?
The best ways to save money when visiting Tennessee are:
Eat out for lunch instead of dinner, and treat yourself to a special meal.

For free, you may enjoy live music.

Discounts can be achieved by using coupons.

Drive an eco-friendly vehicle.
What food (and drinks) is Tennessee known for?
Things you need to eat in Tennessee before you die:
Nashville Hot Chicken

Sweet tea

Tennessee Whiskey

Fried pies
Is Tennessee safe to visit?
At 672 crimes per 100,000 people, Tennessee ranks third in the United States. 400 is the national average. Tourists are largely unaffected by the state's criminal activity in public locations and on public transportation as long as they know their surroundings. Travelers need to remember many things to be safe when traveling.
What is the best way to get around in Tennessee?
The best way to get around in Tennessee are:
What are the neighborhoods or areas I should stay in when I visit Tennessee?
The best areas you should stay in when visiting Tennessee are:
Nashville

Music Valley

Franklin

The Gulch
What are the best neighborhoods or areas for food?
The best areas for food and drinks when visiting Tennessee are:
Germantown

12South

Townsend

Knoxville
What are the best neighborhoods or areas for shopping?
The best areas for shopping when visiting Tennessee are:
Tanger Outlets

Opry Mills

Green Hills

East Nashville
What should I do on my first trip to Tennessee?
Suppose you are visiting Tennessee for the first time. In that case, you may be shocked to find that the Great Smoky Mountains, or "Smokies," is the most popular national park in the United States. The Grand Canyon, Yellowstone, and Yosemite may be the most well-known U.S. national parks. Still, chances are you've never been to Tennessee. In addition, there's the music. Learn about the best places to see and hear music, Civil War battlefields, and national treasures. Aside from that, delve into their culture as you try their local cuisine and know their traditions.
Is Tennessee a good place for solo travel?
When traveling solo, you will take a trip to Tennessee to reconnect with yourself, meet nice residents, and do as much as possible in these communities. If you're traveling alone, Tennessee's laid-back vibe, arts and music scene, delicious cuisine, and simple geography make it an excellent choice. As a result, whatever you desire may be found in Tennessee! Because of this, solo travel in this state is a fantastic option.
Is Tennessee a good place to visit for a family with kids?
When visiting Tennessee as a family with kids, you are looking at a family vacation that's "Made in Tennessee." Trails through the woods with bike wheels gliding over them. There is a lot of laughter in Tennessee's beautiful gardens. The exhilaration of soaring into the air on the world's fastest wooden roller coaster is a feeling like no other. Experiences like this create a lasting impression on visitors because of their sheer scale, rich history, and memorable exhibitions.
Is Tennessee a good place for couples?
When visiting Tennessee as a couple, you'll need to wear cowboy boots and head to the heart of Dixie Land for a romantic weekend if you want to make your sweetheart swoon. Because of the daily stress, we frequently forget to spend quality time with our significant other. Tennessee has plenty of romantic getaways for couples, from quaint bed & breakfasts in the Smoky Mountains to rustic luxury resorts.
What are the best annual events in Tennessee?
The best annual events in Tennessee that you cannot miss are
Tin Pan South in March

Tennessee State Fair in September

Riverbend Festival in June

Big Ears Festival in March

Nashville Hot Chicken Festival in July