Why go to Verona, Italy?
You must visit Verona, Italy, at least once in your lifetime because Verona has a long and rich history, with many Roman traces still visible today. Ancient Rome, the Renaissance, and today's Verona are all represented in the city's stunning art and architecture, as are the city's delectable cuisine and comfortable lodgings. Then there's gelato, the frozen Italian delight that's known the world over.
Places to go in Verona, Italy:
What is Verona, Italy, famous for?
Verona, Italy, is famous for its Shakespeare ties since Romeo and Juliet and Two Gentlemen of Verona were both set here. Additionally, the historic Roman amphitheater hosts an internationally renowned open-air opera event.
Fun Facts about Verona, Italy
More than 2,000 years have passed since the founding of Verona.

Before being an Italian-speaking city, it was a French-speaking one first.

Verona, the setting for Romeo and Juliet, has a lot of fog.

As a World Heritage Site, it is protected by UNESCO.

The third biggest Roman amphitheater in Italy is the Verona Arena.

How big is Verona, Italy?
Verona is about 207 square km or 80 square miles in size.
When is the best time to visit Verona, Italy?
The best time to visit Verona, Italy, is the months between July and August. A daily high of 31 degrees Celsius and a daily minimum of 20 degrees Celsius are typical temperatures in July, the year's warmest month.
How many days do you need to see Verona, Italy?
Visit Verona for at least three days for a first-time, leisurely-paced visit. In addition to being a great European city break, you could easily extend your stay for a whole week if you include a few day trips.
What is the cheapest time to go to Verona, Italy?
The low season (flights) to visit Verona, Italy, is in August. The months of May, June, and July are regarded as the high season.
Is Verona, Italy, an expensive city to visit?
The average daily price based on the costs of other tourists to Verona is roughly €134 ($142). Meals cost an average of €43 ($46), while local transportation costs an average of €5.51 ($5.82).
How to save money when visiting Verona, Italy?
The best ways to save money when visiting Verona, Italy are:
Take a stroll

Take the train more. Someone told you that renting a car was the only way to see Italy.

Go to the Farmer's Market and grocery stores.

Avoid the Menu for Tourists
What food (and drinks) is Verona, Italy, known for?
Things you need to eat in Verona, Italy, before you die:
Risotto with Tastasal – This pig risotto is a Verona and Veneto specialty. "Tastasal" means "taste the salt" in Venetian dialect. This method was used to ensure that sausage and salami meat was correctly salted. Several tasty variants are popular in Veronese households.

Amarone risotto – Residents and guests love this risotto made with Valpolicella wine. Vialone Nano rice, Amarone della Valpolicella, and Monte Veronese cheese are local ingredients.

Boiled meat with pearà – This traditional Veronese cuisine is still enjoyed by city residents on frigid winter days, particularly during Christmas. Boiled meat and veggies with bread crumbs "seasoned" with an abundance of pepper are served together. The essential components for this recipe are always the same, although there are various methods to prepare it.

Pastissada de Caval – This meal was once called "braised horse." It dates back to the fifth century after Christ, when Theodoric, King of the Ostrogoths, and Odoacre, King of Italy, fought at Verona. Theodoric won the battle, leaving many horses for the people to eat. It was macerated in red wine, spices, and vegetables to preserve the meat. This recipe has been handed down since then.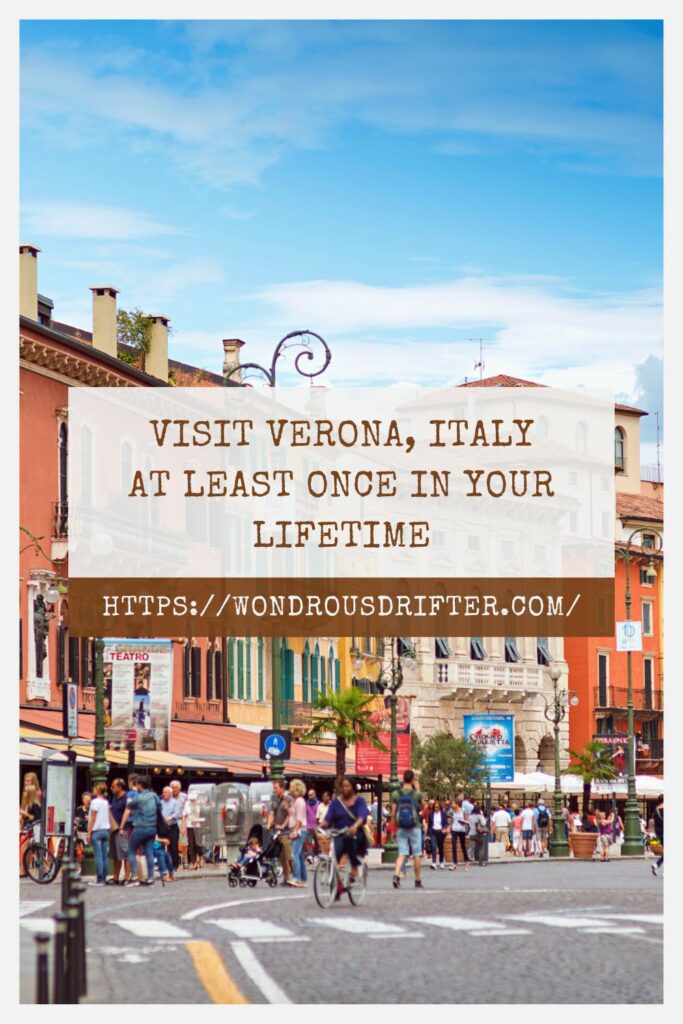 Is Verona, Italy, safe to visit?
Verona is typically secure, particularly in the Centro Storico (town center), where most visitors congregate. Verona is far safer than other popular tourist destinations, like Milan, Rome, and Naples.
What is the best way to get around in Verona, Italy?
The best ways to get around in Verona, Italy are:
What neighbourhoods or areas should I stay in when visiting Verona, Italy?
The best areas you should stay in when visiting Verona, Italy, are:
Historical Centre – where to stay for the first time in Verona

Porta Nuova – is the greatest location for nightlife in Verona

Borgo Trento – where families may stay in Verona

Veronetta – is the most affordable area to stay in Verona
What are the best neighbourhoods or areas for food?
The best areas for food and drinks when visiting Verona, Italy are:
Osteria al Duca

Ristorante Il Desco

Locanda 4 Cuochi

Il Cenacolo
What are the best neighbourhoods or areas for shopping?
The best areas for shopping when visiting Verona, Italy are:
Centro Commerciale Adigeo

Mercato Dell'Antiquariato e Del Collezionismo

Smart Gallery

Dolce&Gabbana Boutique
What should I do on my first trip to Verona, Italy?
If you are visiting Verona, Italy, for the first time, you should visit the church where Romeo and Juliet were married, eat a lot of gelatos, check out the Verona Arena, check out the dazzling Castelvecchio, check out the breathtaking Giardino Giusti, go souvenir shopping, and have a romantic Italian supper for two.
Is Verona, Italy, a good place for solo travel?
When traveling solo, you will get the opportunity to explore places such as the Museum Teatro, the winemakers at Azienda Agricola, outstanding local varietals, and the Teatro Romano. You won't be able to resist its allure after you've experienced its charm and charisma. You will get hopelessly addicted to the aroma of marinara sauce. If you are traveling to Verona, you will find it much less busy. You are at liberty to experience this city on your own terms and in your own way.
Is Verona, Italy, a good place to visit for a family with kids?
When visiting Verona, Italy as a family with kids, Verona is an ideal vacation destination. Since there is no vehicular traffic in the center, getting about is easy and risk-free. Several historical and artistic monuments date back to the Romans and the 19th century. Museums are fun and instructive way to spend time with your kids, with carefully created paths and areas for learning and fun. It's an excellent technique to keep kids occupied while teaching them something new. You'll find various sites that pique youngsters' interest as you stroll around the city's parks, streets, and squares.
Is Verona, Italy, a good place for couples?
As a couple visiting Verona, Italy, visiting Verona with your significant other is well worth the trip. There are few Italian destinations more charming than Venice for a weekend break. This area is characterized by small, cobblestone lanes, humming cafés, mouthwatering cuisine, and many attractive old structures. The Lovers Well in Verona is one of the city's most romantic hidden gems, so don't miss it. A medieval-looking well may be seen only a few feet from Piazza Delle Erbe.
What are the best annual events in Verona, Italy?
The best annual events in Verona, Italy that you cannot miss are
Fieragricola in February

Vinitaly in March

Marmomacc in September

Fieracavalli in November

Art Verona in December