Why go to Bogota, Colombia?
You must visit Bogota, Colombia, at least once in your lifetime because Bogotá is a fantastic city to visit and live in regarding art, fashion, and culture. The number of tourists visiting Colombia from across the world has increased dramatically in the previous five years, making the country a must-see travel destination.
Places to go in Bogota, Columbia:
What is Bogota, Colombia, famous for?
Bogota, Colombia, is famous for its art scene. There are more than 100 art galleries in the city, many of which are free or cheap. Every October, the city of Bogotá hosts the International Art Fair of Bogotá. Contemporary artists show off their work in various formats and mediums in this four-day event.
Fun Facts about Bogota, Colombia
The arts, cuisine, and culture of Bogota are also well-known.

It is in Bogotá, Colombia's "Distrito Capital," where the nation's capital sits

In the Andes, around 2700 meters above sea level, is the Andean city of Bogotá.

Moderate temperatures range from 14 to 20 degrees Celsius during the day.

Bogotá has an estimated population of 12,000,000.

How big is Bogota, Colombia?
Bogota, Colombia, is about 1,775 square km or 685 square miles in size.
When is the best time to visit Bogota, Colombia?
The best time to visit Bogota, Colombia, is in December, January, February, and March. These are the months that see the lowest average rainfall.
How many days do you need to see Bogota, Colombia?
Bogotá, Colombia's capital city, serves as the initial point of contact for many visitors to the country, and it's well worth spending two or three days there. As a stopover on the route to another Colombian destination, you may only have 24 hours to fill.
What is the cheapest time to go to Bogota, Colombia?
The low season (flights) to visit Bogota, Colombia, is in the month of August. January, November, and December are all regarded to be peak season months.
Is Bogota, Colombia, an expensive city to visit?
Solo travelers may expect to pay $1,010 for a seven-day vacation to Bogotá; couples expect to pay $1,814; families with four members expect to pay $3,401. With an average price of $38 per night, hotels in Bogota may cost anything from $16 to $95 per night, while most vacation rentals cost $20 to $240 per night. In Colombia, you don't have to do much to save money. It's not too expensive to visit, and deals are nationwide.
How to save money when visiting Bogota, Colombia?
The best ways to save money when visiting Bogota, Colombia, are:
Eat Corrientazo – Corrientazos, or "cheap lunches," are what the Colombians term traditional meals. They're a must-try while in Bogotá. The usual corrientazo dinner begins with a small cup of fresh fruit juice and an appetizer of fruit or soup.

Take the Public Bus – TransMilenio is the name of Bogotá's public bus system. Buses are the long, red vehicles that ping the city streets in their own lane at high speeds. You may save money and experience the daily routines of Rolos (Bogota residents) by using the TransMilenio, which is a little intimidating for visitors.

Drink Like the Locals – Even on a tight budget, you may still get a taste of Bogotá's nightlife by ordering beers from a modest neighborhood store rather than a posh club. For around $1.50 per can, you can buy beer at little convenience stores in even the wealthier districts like Zona Rosa and Parque 93. Tables and chairs are typical at these establishments, and there is often music playing and a soccer game on TV.

Travel during the shoulder seasons to save money.
What food (and drinks) is Bogota, Colombia, known for?
Things you need to eat in Bogota, Colombia before you die:
Buñuelos – The batter for these delicious golf ball-sized fried doughs is prepared from queso content, a soft white cheese, and cassava flour. They are a favorite breakfast, snack, or Christmas dish. Eating somewhat sweet cheesecakes while still warm is best for the best flavor and texture.

Feijoa – an egg-shaped fruit is also called pineapple guava. It has a rough, waxy, lime-green skin that covers a thick, white, grainy interior with a jelly-like seeded core.

Lechona – stuffed pork is cooked for hours before being served in this delectable traditional meal. It's an all-in-one dinner with crispy crackling on top of delicate and flavorful meat.

Lulo – orange egg-shaped fruit that resembles a kiwi and tomato. Due to its very tart rhubarb's lime flavor, the transparent flesh and green seeds are usually mixed into smoothies (batidos) or a refreshing citrus drink called lulanda.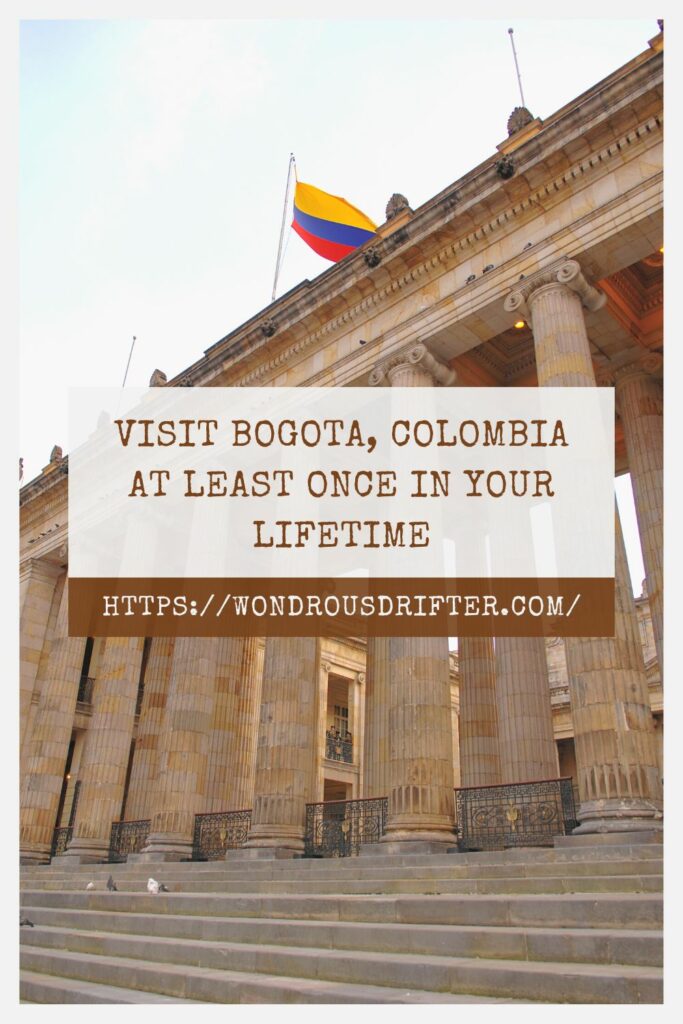 Is Bogota, Colombia, safe to visit?
Compared to other South American cities, Bogota has a violent crime rate lower than that of Indianapolis. Music, cuisine, dancing, and art fill the city's many neighborhoods, which are characterized by their own distinct vibes. It's also one of the most significant spots in the world to get your caffeine fix.
What is the best way to get around in Bogota, Colombia?
The best way to get around in Bogota, Colombia, are:
TransMilenio

Private Cars

Taxis
What are the neighborhoods or areas I should stay in when I visit Bogota, Colombia?
The best areas you should stay in when visiting Bogota, Colombia, are:
The best place to stay in Bogota to see sights is La Candelaria.

The most excellent place to stay in Bogota is Chapinero.

La Zona Rosa is the place to stay in Bogota near the nightlife.

Where to stay in Bogota for business travelers in the Distrito Financiero area.
What are the best neighborhoods or areas for food?
The best areas for food and drinks when visiting Bogota, Colombia, are:
Pastelería Florida – where the classic Bogotáno breakfast is chocolate santafereño: hot chocolate accompanied by cornbread and white cheese, with a moist, chicken-filled tamale for good measure.

Salvo Patria – the cafe owned by Alejandro Gutiérrez, is a popular hangout in the area, and it's the kind of place you want to linger over lunch. The order consists of fried calamari, also known as calamar pota apanado, and one of the menu's specials.

Abasto – This brightly colored restaurant-cum-bodega is right on style and emphasizes locally sourced, sustainable products. Pulpo de pesca artisanal (tender grilled octopus and veggies) is the order.

Mini-mal – A favorite among hip young people. Each meal uses quality ingredients and has an unexpected twist, such as a sushi roll made of salty cheese and sweet plantain. Following is the order: tumaco (plantain balls stuffed with crab and cooked in coconut milk).
What are the best neighborhoods or areas for shopping?
The best areas for shopping when visiting Bogota, Colombia are:
Barrio La Candelaria

Plaza de Mercado de Paloquemao

Mercado de las Pulgas de Usaquen

Centro Comercial Andino
What should I do on my first trip to Bogota, Colombia?
If you are visiting Bogota, Colombia for the first time, you can visit the Museo del Oro (Gold Museum), explore La Candelaria (Bogota's historic centre), Plaza de Bolivar (where Simón Bolvar once stood), and the Parque Metropolitano Simón Bolvar (Bogota's Simón Bolívar Park) on a free walking tour of Bogota.
Is Bogota, Colombia a good place for solo travel?
When traveling solo, several fascinating pre-Colombian items are to be discovered here. Nearby, in the La Candelaria neighborhood, you'll find most Spanish colonial architecture in this part of the city. You'll get a peek of the city's urban sophistication as you stroll through cobblestone streets, brushing up against magnificent 18th-century cathedrals.
Is Bogota, Colombia a good place to visit for a family with kids?
When visiting Bogota, Colombia as a family with kids, there are many kid-friendly attractions and museums in the large cities of Bogotá and Medellin for families searching for an urban experience. Another alternative is to tour the Coffee Country, which includes excursions to haciendas, national parks, and hot springs.
Is Bogota, Colombia a good place for couples?
When visiting Bogota, Colombia, as a couple, Spend a whole day with your partner seeing all the beautiful places in Bogota. You can stay in La Candelaria, a colonial-era neighborhood in the center of the city where there are a lot of good hostels and tourists from all over the world. If you stay in this area, you can also walk to the city's best nightlife and most important museums. Suppose you'd rather sleep in a quieter place and visit this busy area during the day. In that case, you could stay in the upscale neighborhood Zona T, which is in the northern part of the city.
What are the best annual events in Bogota, Colombia?
The best annual events in Bogota, Colombia, that you cannot miss are
Barranquilla Carnival in February

Bogota Carnival in August

The Flowers Festival in August

Blacks and Whites' Carnival in January

The Cali Fair in the month of December