Why go to Kyrgyzstan?
You must visit Kyrgyzstan at least once in your lifetime because it is beautiful, friendly, easy to get to, and, most importantly, still mostly untouched. Few people from the West have been to Central Asia and seen its crown jewel, so there's more for us adventurous backpackers to see. Kyrgyzstan is a great place for hikers. Thousands of mountain trails in the country lead to high peaks, beautiful passes, and lovely alpine lakes. This Central Asian country was perfect for us because we love being outside.
What is Kyrgyzstan famous for?
Kyrgyzstan is famous for having three places on the list of Unesco World Heritage Sites. The Tien Shan mountain range is one of these. Another is the ancient Silk Road, which linked China to Europe and the Middle East through trade.
Fun Facts about Kyrgyzstan
It's easy to go about since it's one of the least congested places globally.

Mountain ranges dominate the terrain.

The second-largest high-altitude lake in the world makes it a famous tourist attraction.

It has a long history that can be traced back to its origins.

This country's train system is the world's tiniest.
How big is Kyrgyzstan?
Kyrgyzstan is about 199,900 square km or 77,182 square miles in size.
When is the best time to visit Kyrgyzstan?
The best time to visit Kyrgyzstan is the months of May and September when it doesn't rain much and is mostly dry. Every year, the hiking trails and mountains of the country are open to the public for the first time in the summer.
How many days do you need to see Kyrgyzstan?
On foot, the capital city of Kyrgyzstan is a great way to see the city. You should spend a week in Bishkek, yet you can get a solid sense of the city in only two days.
What is the cheapest time to go to Kyrgyzstan?
The low season (flights) to visit Kyrgyzstan is in January. The months of October, November, and December are regarded as the high season.
Is Kyrgyzstan an expensive city to visit?
Traveling to Kyrgyzstan in the summer is a particularly cost-effective option. Even if you're not a fan of camping, you won't have to spend a lot of money staying in guesthouses, homestays, and yurts, which can be found practically everywhere.
How to save money when visiting Kyrgyzstan?
The best ways to save money when visiting Kyrgyzstan are:
You may save a lot of money by staying in family-run guesthouses, your own tent, or yurts.

Keeping a tight rein on how much you spend on meals and drinks when traveling is a certain method to save money.

Before you go, check for discounts.

Plan your trip for the off-season
What food (and drinks) is Kyrgyzstan known for?
Things you need to eat in Kyrgyzstan before you die:
Beshbarmak – Kyrgyz national dish, beshbarmak is also popular in Kazakhstan and Xinjiang (where it is called Narin)

Dimlama – a stew made with meat, potatoes, onions, vegetables, and occasionally fruits is known as Dimlama. Laghman is a meal that includes meat, veggies, and noodles that have been ripped apart.

Kymyz – horse milk fermented into kymyz, an alcoholic beverage.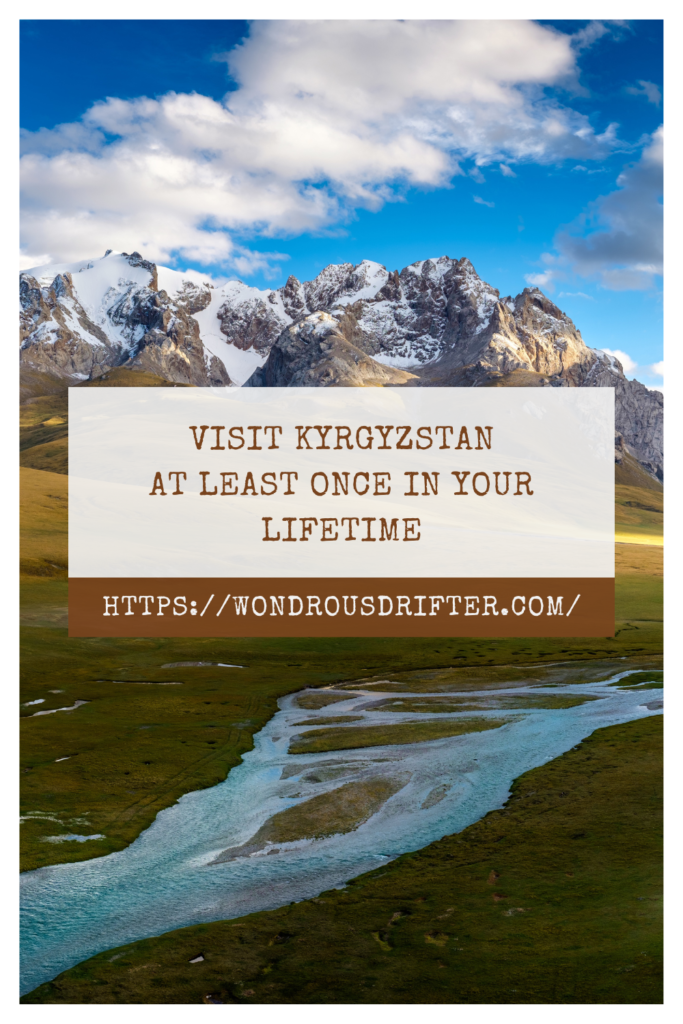 Is Kyrgyzstan safe to visit?
Kyrgyzstan is a safe place to go. Getting travel insurance to cover any unanticipated medical expenses or activities is always a good idea, particularly if you want to go trekking. You may only be covered for trekking up to 2000 meters by certain insurance carriers.
What is the best way to get around in Kyrgyzstan?
The best way to get around in Kyrgyzstan are:
Marshrutka or Private taxi

Buses

Taxis
What neighbourhoods or areas should I stay in when I visit Kyrgyzstan?
The best areas you should stay in when visiting Kyrgyzstan are:
Sheraton Bishkek

Hyatt Regency Bishkek

Kapriz Hotel Resort

Orion Hotel Bishkek
What are the best neighbourhoods or areas for food?
The best areas for food and drinks when visiting Kyrgyzstan are:
The cuisine of Kyrgyzstan is featured at La Maison. Unique French restaurant. French cuisine, wine, and musical tradition.

Baan Baan Thai Cafe is a hidden gem in Bishkek. Products from Thailand stand out in their own special way.

Pizzeria Pizza Dodo. The pizza is a bargain, and it tastes great. If you don't enjoy eating outdoors, order pizza.

Food is provided by Faiza to the Kyrgyz. Kyrgyzstan and the rest of Central Asia strongly affinity for eastern cuisine.
What are the best neighbourhoods or areas for shopping?
The best areas for shopping when visiting Kyrgyzstan are:
Osh Bazaar

Dordoi Bazaar

Bishkek-City

Karakol Cattle Market
What should I do on my first trip to Kyrgyzstan?
If you visit Kyrgyzstan for the first time, the city is full of Soviet buildings and parks. The Ala-Archa hike in the nearby highlands is one option for a day hike. You can choose from many different routes that vary in length and difficulty, from Altyn Arashan to Jeti Oguz and the Jyrgalan Valley. The one-day Jeti Oguz trip is one of the most beautiful trips in the area. The Jyrgalan Valley and Altyn Arashan are great places to hike for a few days. Food is served that is cheap and makes people happy. People in the area like to eat manti, shashlik, and lagman, and you can get them for as little as a few dollars. But if you don't buy basic things from Central Asia, it will cost you more.
Is Kyrgyzstan a good place for solo travel?
Don't worry about being alone when traveling solo or on the Ala Kol trek. Every day, a lot of people do it. In Kyrgyzstan, it's safe to go on your own. You can meet other solo travelers at a hostel in Bishkek or Karakol. The Ala Kul trek is always full of people doing the same thing. You won't get lost. People in Kyrgyzstan eat a lot of meat and drink a lot of tea, which you will notice. Since they have always moved, there aren't as many options for vegetables. Tell your hosts ahead of time if you can't eat meat or gluten. Most of the time, they won't have options for vegetarians or people who can't eat gluten.
Is Kyrgyzstan a good place to visit for a family with kids?
When visiting Kyrgyzstan as a family with kids, you are welcome to go for a stroll in Panfilov Park, which is a municipal memorial park designed in the form of a star. The local families with children often visit the park since it has rides and various other enjoyable things to do there. The people of Kyrgyzstan have a well-deserved reputation for being kind and welcoming. When you travel across Kyrgyzstan with your family, the local families will be overjoyed to meet you. They will treat you with the utmost respect.
Is Kyrgyzstan a good place for couples?
When visiting Kyrgyzstan as a couple, those seeking an off-the-beaten-path honeymoon vacation that enables them to enjoy the amazing natural beauty of Kyrgyzstan might consider arranging a trip to this fascinating locale. You and your significant other should visit Ala Archa National Park and Issyk Kul to be awestruck by the breathtaking scenery. Lake is a big endorheic lake that is renowned for the tranquillity and beauty it gives. It is the second largest lake in the world after the Caspian Sea. The neighbouring Tian Shan peaks are surrounded by spectacular natural beauty you can explore with your partner.
What are the best annual events in Kyrgyzstan?
The best annual events in Kyrgyzstan that you cannot miss are
Navroz Spring Festival in April

Orthodox Easter in April

National Horse Festival in July

Birds of Prey Festival in August

Kyrgyz Kochu Festival in August