Why go to Belarus?
You must visit Belarus at least once in your lifetime because Belarus has become a popular destination for ecotourism due to its natural beauty. The woodlands are home to a large number of national parks. Take a deep breath of the fresh air as the Belarusian marshes are known as the "lungs of Europe." Afterward, walk barefoot on the lush green grass. During your holiday in Belarus, you'll be able to forget about the stresses of work and be inspired for your future success!
What is Belarus famous for?
Belarus is one of Europe's lowest countries in terms of total wealth. Potatoes and tractors are the country's primary exports. Some of the last and largest remnants of Europe's once-vast ancient forests remain in Belarus. Belarus has long been regarded as a center of cutting-edge technological development and scientific research.
Fun Facts about Belarus
The forests cover over 40% of Belarus.

In Belarus, potatoes are the second most crucial food after bread. Over 100 recipes can be made from this modest vegetable by locals.

Belarus is the largest European country that does not have direct access to the ocean. The nearest beach is 200 kilometers away.

In English, Belarus is known as "White Russia."

In Eastern Europe, Belarus, previously known as Belorussia, is a landlocked nation home to an abundance of historic castles, woods, and parks.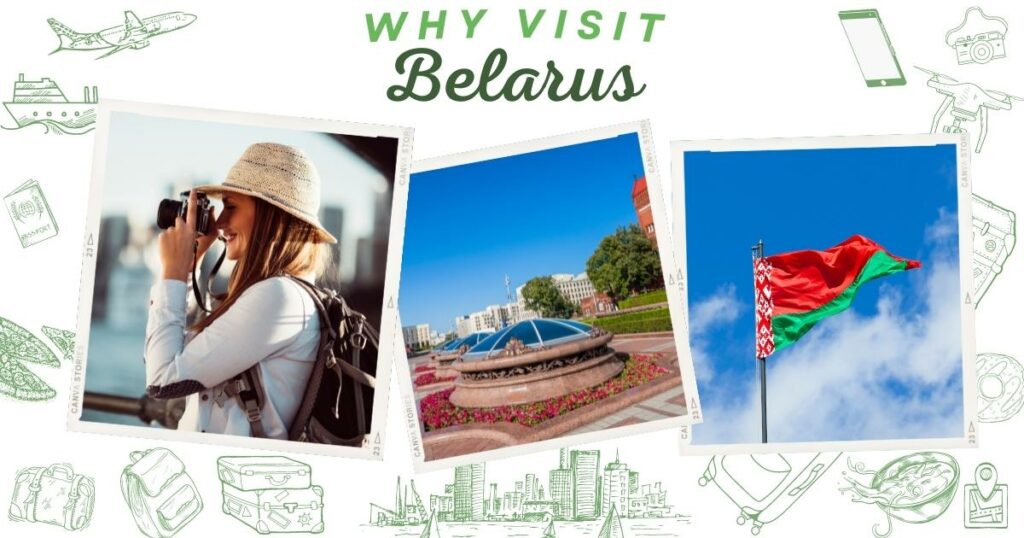 How big is Belarus?
Belarus is about 207,600 square km or 80155 square miles in size.
When is the best time to visit Belarus?
The best time to visit Belarus is from mid-May to mid-September.
How many days do you need to see Belarus?
If you want to see the best of Belarus, you'll need at least seven days. This may not be possible if you are constrained by time or money. You'll need at least five days to see the capital (Minsk) and one other city. 7 days would be great for a trip to Minsk and Brest, the country's second-largest city.
What is the cheapest time to go to Belarus?
The low season (flights) to visit Belarus in November is now the cheapest month to fly to Belarus.
Is Belarus an expensive city to visit?
Belarus is a budget-friendly destination thanks to its low cost of living, transportation, and lodging. Your money will go a long way here because of the low cost of living.
How to save money when visiting Belarus?
The best ways to save money when visiting Belarus are:
The cheapest way to eat is to buy groceries at a big box store. Some of them have prepared food sections where you may buy decent food.

Make use of Minsk's low-cost public transportation options. The country's rail network is extensive and reasonably priced, covering most of the country's land.

Tourist attractions in Belarus are not prohibitively expensive to visit. And if you pick the correct day, they can be completely free.

You may find a wide variety of low-cost lodging options in Belarus. Camping is accessible around the country for individuals who like to go in a tent.
What food (and drinks) is Belarus known for?
Things you need to eat in Belarus before you die:
Draniki-shallow-fried pancakes made with grated or crushed potatoes and potato pancakes are popular breakfast items.

Sorrel Soup-there is a base of beef or chicken broth and a variety of vegetables in the sorrel-potato mixture.

Potato Babka is made with grated potatoes, eggs, onions, and bacon or sausage smoked, boiled, or fried.

Sirniki-it's a quark-based dessert produced by mixing flour, eggs, and sugar with a touch of vanilla flavor.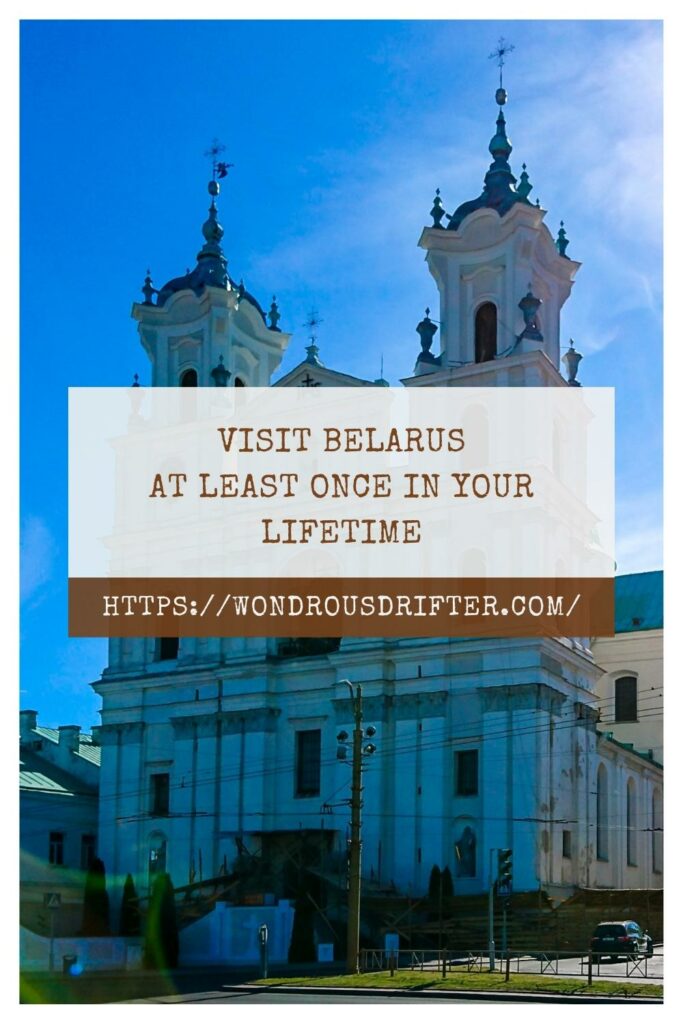 Is Belarus safe to visit?
In general, Belarus is a safe country to visit. However, you should still take all the usual precautions like avoiding pickpockets, busy locations, and sketchy individuals trying to distract you while you're out and about.
What is the best way to get around in Belarus?
The best way to get around in Belarus are:
Trains — Getting about Belarus by train is one of the most outstanding options. Over 2,100 places can be reached using the country's comprehensive transportation system.

Bus — Taking a bus instead of a train will save you time. In part, this is because buses make fewer stops on the road. After all, motorways are shorter than railroads.

Car Rental — An inexpensive way to go around is to rent a car. A multi-day vehicle rental can cost as little as 50 BYN per day. However, drunk driving is widespread, so exercise caution on the roadways.
What are the neighborhoods or areas I should stay in when I visit Belarus?
The best areas you should stay in when visiting Belarus are:
Central Minsk – Tsentralny District

Upper Town – Vierchni Horad

Hipster Neighbourhood – Leninsky District

Trinity Hill District
What are the best neighborhoods or areas for food?
The best areas for food and drinks when visiting Belarus are:
Loft Cafe (Brovky 22, Minsk)

Chic café Malako (Nezavisimosti 37A, Victory Square, city center, Minsk)

Verhniy Gorod (Plaza Svobody 4, city center, Minsk)

Graf Cafe (Nezavisimosti 116, Minsk)
What are the best neighborhoods or areas for shopping?
The best areas for shopping when visiting Belarus are:
Mall GIPPO, Mogilev

Galileo Mall, Minsk

Stolitsa Underground Mall, Minsk

Zamok Mall, Minsk
What should I do on my first trip to Belarus?
If you are visiting Belarus for the first time, you should start in Minsk, the country's capital. Where you can learn about the origins of the nickname "blue-eyed" Belarusians, go to this fascinating but little-known former Soviet republic. There are 11,000 lakes in Blue-Eyed Belarus, as the country is commonly known because of its landlocked location. It's never been a better moment to visit Belarus, a country emerging from the cold.
Is Belarus a good place for solo travel?
When traveling solo, you should know that Belarus is, in fact, safe for solo travelers. Several studies show that traveling alone in Belarus is relatively safe. Everyone I encountered at the airport was incredibly welcoming. No questions asked. You just go to the office and tell them how many days you expect to stay. The medical insurance costs one euro per day. There is no reason to be alarmed because of the police presence, which is really discreet.
Is Belarus a good place to visit for a family with kids?
When visiting Belarus as a family with kids, Belarus is a little-known Eastern European country that's ideal for families with young children. It's safe, green, inexpensive, and not overrun with tourists.
Is Belarus a good place for couples?
When visiting Belarus as a couple, it is a destination where one may spend time with loved ones and enjoy a wide variety of beautiful and exciting attractions in the natural surroundings. Belarus has a lot to offer couples, and they'll have a good time. Monuments, castles, museums, you name it, this nation has everything you can enjoy.
What are the best annual events in Belarus?
The best annual events in Belarus that you cannot miss are
Lipstapad International Film Festival in November

Menstrual Guitar Music Festival of February and March

International Festival of Arts in Vitebsk in July

Defender of the Fatherland Day in February

Chernobyl Disaster Commemorative Day in April