Why go to Mozambique?
You must visit Mozambique at least once in your lifetime because it's hard to find somewhere else in Africa like Mozambique, which has it all: magnificent beaches, uninhabited islands, wildlife refuges, historical landmarks, great scuba diving opportunities, the chance to swim with dolphins, whale sharks, rays, and turtles, to name just a few.
What is Mozambique famous for?
Mozambique is famous for its cultural legacy and is just as important as its animals and stunning beaches. Because it was once part of the dominion of the Portuguese, the island has a rich history. Not long ago, in 1975, it became an independent country. Although Portuguese is the official language, the country's population speaks various dialects.
Fun Facts about Mozambique
The country uses Portuguese as its primary language.

This is the only country whose name contains all five vowels in a single syllable.

The Mozambican flag is distinctive. There is a depiction of an AK-47 gun in its flag. The rifle is meant to represent alertness and protection.

Arab sheikh who ruled over the island's north when the Portuguese landed gave his name to the country.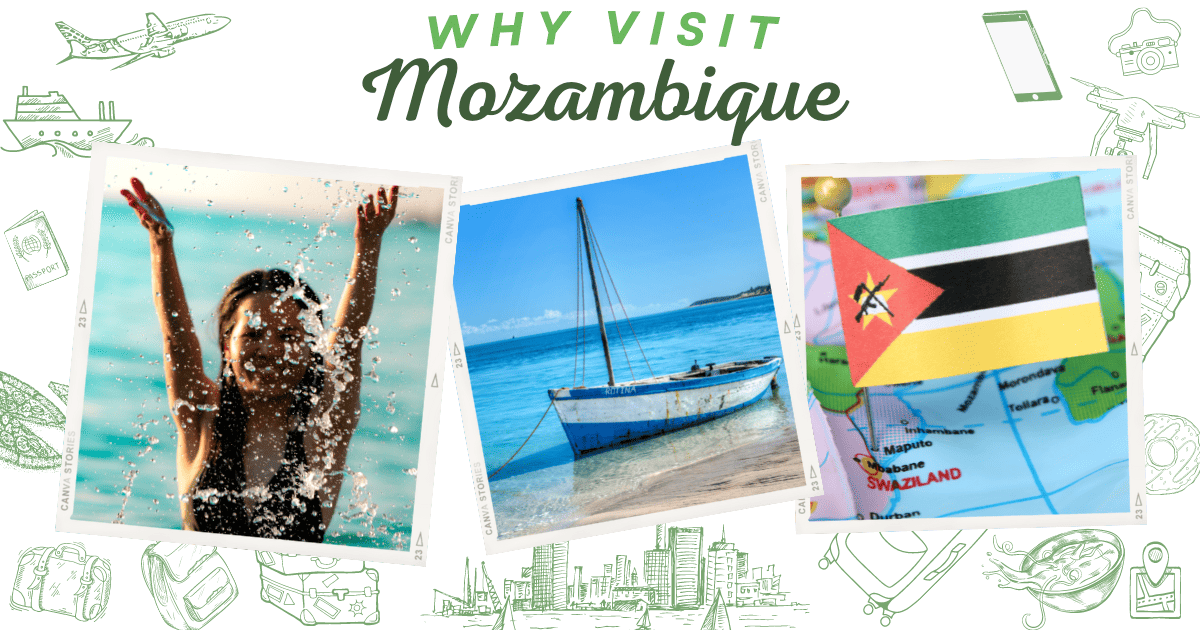 How big is Mozambique?
Mozambique is about 801,590 square km or 30,9495 square miles in size.
When is the best time to visit Mozambique?
The best time to visit Mozambique is the months between September and November, when the weather is calm. Between 27°C and 32°C, whale migration can be spotted, and the game viewing is at its optimum. The weather in Mozambique is classified as subtropical.
How many days do you need to see Mozambique?
You may visit nearly all of the country's major tourist attractions in a month without feeling rushed or overwhelmed. Our first stop was the Maputo/Tofu/Vilanculos/Bazaru Archipelago in the south for two weeks. In the north for a couple weeks: Nampula, the Ilha de Mocambique archipelago, Pemba, and the Quirimbas Islands.
What is the cheapest time to go to Mozambique?
The low season (flights) to visit Mozambique is May to November. In the winter, Mozambique's temperatures are milder, and there is less risk of rain, making it a good time to visit.
Is Mozambique an expensive city to visit?
Mozambique's average daily price for visitors is $86 per day, which is what you paid for your trip. Not the cheapest country on Earth, but it's not the most costly.
How to save money when visiting Mozambique?
The best ways to save money when visiting Mozambique are:
Camping or booking hostels-

Camping is prevalent in Mozambique. It may be done in most tourist destinations, notably in the southern part of the country. Cheap dorms and hostels are also options.

Riding the chapas-

If you're ready to handle the inconvenience of riding the chapas, transportation costs are astronomically low. People in Mozambique refer to minibuses and vans operated by private companies as "chapas."

Servings are big and cheap-

Food in Mozambique is cheap and tasty, so you won't go hungry. The servings are enormous.

Be wise when booking-

Waiting until you arrive in Mozambique to begin booking activities is the best way to save money while visiting the nation. The rates for tours and activities are significantly higher than what you'll pay if you just show there and ask around.
What food (and drinks) is Mozambique known for?
Things you need to eat in Mozambique before you die:
Matapa:

This meal is commonly served in the south with prawns or other fresh seafood in a peanut sauce baked within cassava leaves.

Salada Pera de Abacále:

This meal is well-liked across the nation. Avocado and tomato salads are served alongside main dishes as a side dish.

Lulas:

A battered calamari is fried until golden brown and then stuffed or grilled.

Galinha Zambezia:

Lime sauce, garlic, peri peri, and pepper are some of the seasonings used in this meal of chicken cooked with lime sauce. A favorite in the provinces of Zambezia and Quelimane.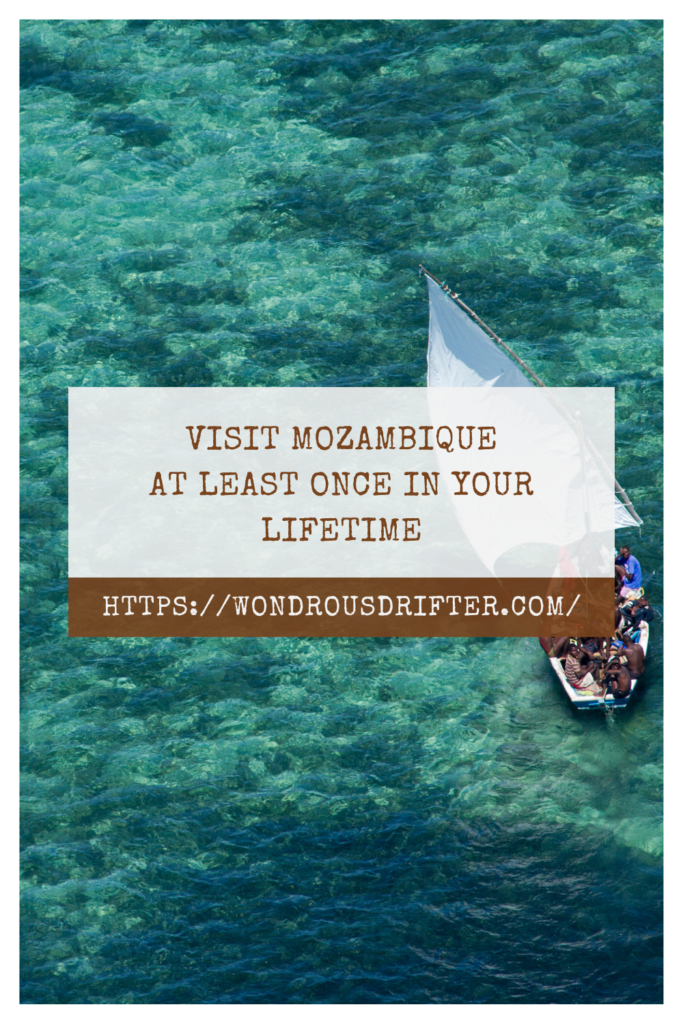 Is Mozambique safe to visit?
The majority of the time, traveling to Mozambique is completely risk-free. As a result of official advice, some tour providers will only take you to places considered safe.
What is the best way to get around in Mozambique?
The best way to get around in Mozambique are:
Taxis are the most common mode of transportation for visitors. However, adventurous souls might take a public minibus tour (chapas). When taking a cab in Africa, negotiate the fare ahead of time and only pay upon arrival.

Via Train- Due to three ports on the Indian Ocean that served as hubs for distinct lines to the interior, Mozambique's railway network has grown over a century.
What neighbourhoods or areas should I stay in when I visit Mozambique?
The best areas you should stay in when visiting Mozambique are:
Mozambique Island – The overall best place to stay

Ponta do Ouro & Ponta Malongane –for families

Vilanculos – for couples

Gorongosa – the best place for a safari

Maputo – budget friendly place
What are the best neighbourhoods or areas for food?
The best areas for food and drinks when visiting Mozambique are:
The Drunken Clam

Coral Beach

Guigus Signature

The Green Turtle
What are the best neighbourhoods or areas for shopping?
The best areas for shopping when visiting Mozambique are:
Artes Maconde

Maputo Shopping Centre

Nucleo de Arte

Mercado Mbanguia
What should I do on my first trip to Mozambique?
If you are visiting Mozambique for the first time, you should try and discover one of Maputo's most recognizable neighborhoods on your first day there. Mozambique has a rich literary and cultural heritage, and Mafalala is a place where several notable figures have been born or have lived in the past. Visit the beach in Maputo, and if you don't feel like going to the beach, take a stroll along the beachfront avenue and take in some of the stunning views across the Indian Ocean. Look at the Maputo Central Railway Station, which Time magazine ranked as the world's third most beautiful train station in 2015. Check out Maputo's Downtown as well. There are many notable landmarks, like Independence Square and, Samora Machel's enormous monument, Maputo's Cathedral. Downton Maputo is a great starting point for seeing this southern African city because of the Iron House (built by Gustav Eiffel) and the Tunduru Gardens it has to offer.
Is Mozambique a good place for solo travel?
When traveling solo, you let nothing stop you from going to Mozambique if you're thinking about doing it alone. If you're traveling alone, this is a comfortable and safe alternative. You decide how serious you want to take it. Those searching for a tranquil stroll on a deserted beach will be greeted by miles and miles of vacant sand.
Is Mozambique a good place to visit for a family with kids?
When visiting Mozambique as a family with kids, Mozambique is an excellent choice for adventurous families looking for a tropical getaway with great beaches and reasonably priced campsites. Discover the intriguing history of Portugal and get to know the warm and kind people of Portugal.
Is Mozambique a good place for couples?
When visiting Mozambique as a couple, the beaches of Mozambique are among the greatest in Africa, making it a great getaway for couples. Safari lovers and explorers alike can enjoy two safari parks in the area.
What are the best annual events in Mozambique?
The best annual events in Mozambique that you cannot miss are
Independence Day Festivities in June

Chopi Music Festival in July – August

Tambo International Art Camp in July

Marrabenta Festival in February

Kinani Contemporary Dance Festival in October