Why go to Ethiopia?
You must visit Ethiopia at least once in your lifetime because Ethiopia has something for everyone, from ancient civilizations to breathtaking scenery. The country's calendar, archaic alphabet, and number system are just some elements that distinguish it from others. Over 80 ethnic groups and languages are represented in Ethiopia, making it a veritable melting pot of cultures.
What is Ethiopia famous for?
Ethiopia is famous for its spices, particularly its Berbere spice combinations. There are certain common spices used in Ethiopian cuisine. Still, some are unique to Ethiopia and can only be found there.
Fun Facts about Ethiopia
Ethiopia was never invaded by foreign powers.

Ethiopia was the first place to discover coffee.

In Ethiopia, the new year is celebrated on September 11th.

Ethiopia is home to the oldest known human fossil skeleton.

Some of the best-tasting homemade wines can be found in Ethiopia.

How big is Ethiopia?
Ethiopia is about 1,104,300 square km or 426,372 square miles in size.
When is the best time to visit Ethiopia?
The best time to visit Ethiopia is the months of September to April.
How many days do you need to see Ethiopia?
To see Ethiopia to the fullest, I recommend at least three weeks, if not four. It's hard to pick a favorite part of Ethiopia because it's so colorful and diversely beautiful.
What is the cheapest time to go to Ethiopia?
The low season (flights) to visit Ethiopia is in January, February, and September.
Is Ethiopia an expensive city to visit?
Traveling to Ethiopia is quite affordable! Regarding budget travel, you may expect to spend anywhere from $5 to $10 daily. In contrast, a mid-range traveler can expect to spend $10 to $20 daily. Accommodation, food, and transportation are all included in this price! You can save money traveling with a group of three or four people, as kids' tickets are lower and hotel rooms can be shared.
How to save money when visiting Ethiopia?
The best ways to save money when visiting Ethiopia are:
Get along with the locals.

Stay at cheap accommodation.

Use public minibusses as a mode of transport.

Plan your flights during the cheapest month.
What food (and drinks) is Ethiopia known for?
Things you need to eat in Ethiopia before you die:
Tibs – is one of Ethiopia's most popular dishes, consisting of sliced beef or lamb fan-fried with butter, garlic, and onion.

Kitfo – is considered a delicacy among Ethiopians because it is made from the leanest meat possible, and its nutritional benefits are widely acknowledged.

Areke – An alcoholic beverage made entirely from grain.

Coffee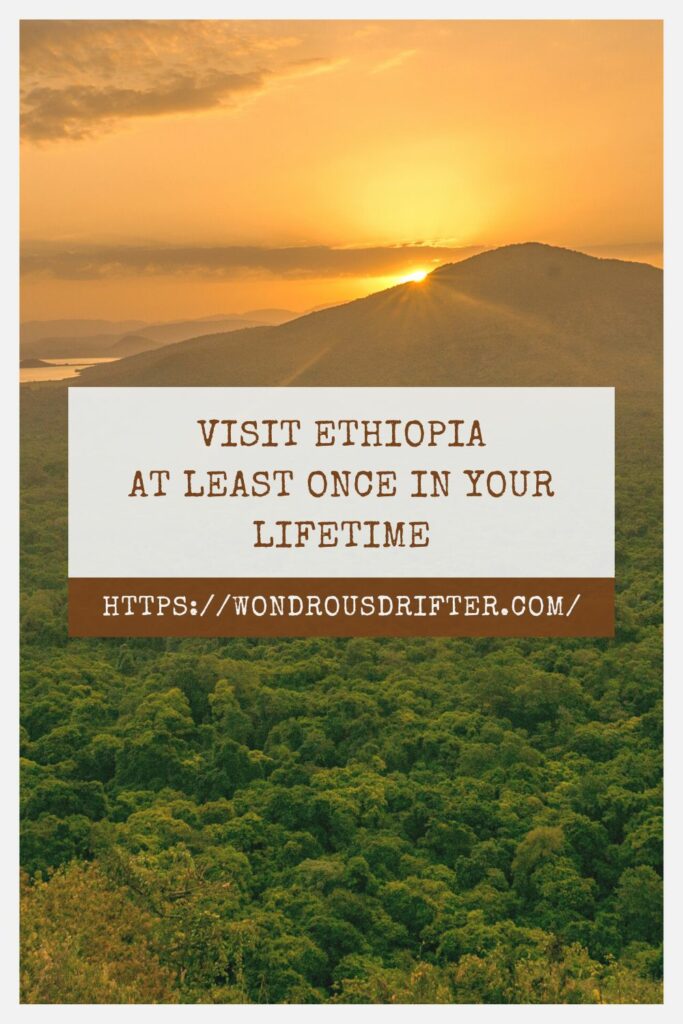 Is Ethiopia safe to visit?
Ethiopia is quite a safe country. Crime rates in Ethiopia are low compared to other African countries. All African countries are at risk, and the most important thing to remember is to keep an eye on your back, not show off your money, and keep your belongings hidden. Try to walk confidently, as if you know where you are, and be prepared to change your plans if something becomes hazardous or risky.
What is the best way to get around in Ethiopia?
The best way to get around in Ethiopia are:
By bus – Buses are Ethiopia's primary mode of intercity public transportation.

By local minibus, taxi, and bajaj – A combination of minibus, taxi, and bajaj is the finest mode of transportation in larger cities.

By Train
What neighbourhoods or areas should I stay in when I visit Ethiopia?
The best areas you should stay in when visiting Ethiopia are:
Sabana Beach Resort.

Bishoftu – is one of Ethiopia's most beautiful cities and another area with a good selection of hotels.

Haile Resort-Hawassa – offers stunning views of the coast, a culturally rich experience, and a welcoming atmosphere,

Bale Mountain Lodge – a boutique wilderness eco-luxury hotel.
What are the best neighbourhoods or areas for food?
The best areas for food and drinks when visiting Ethiopia are:
Addis Ababa Restaurant

Maleda Restaurant

Bishoftu Restaurant

Yod Abyssinia Traditional Food
What are the best neighbourhoods or areas for shopping?
The best areas for shopping when visiting Ethiopia are:
Shola Market

St George Interior Decoration & Art Gallery

Bahir dar Market

Lions Art Gallery
What should I do on my first trip to Ethiopia?
If you are visiting Ethiopia for the first time, spend your first day at Harar. It is one of the most beautiful places in Ethiopia because it has so many important historical sites. It is also called "Africa's Mecca" because it has 368 colorful alleys in just one square kilometer. Its old walled town has over 90 mosques you can visit and explore.
Is Ethiopia a good place for solo travel?
When traveling solo, Ethiopia is an excellent choice. Ethiopia is a great place for someone who has never traveled alone because there are so many amazing places to visit, foods to try, and sights to see. Aside from having a lot to see and do, Ethiopia is a great place for a solo trip because it is so beautiful and easy to get to and get around.
Is Ethiopia a good place to visit for a family with kids?
When visiting Ethiopia as a family with kids, you should visit the best wildlife destination in the country. Simien Mountains National Park has beautiful scenery and an amazing variety of animals. There, you and your children can see something amazing. You will probably see animals like the rare and well-known Ethiopian wolves, Walia, gelada monkeys, and baboons in and around the park.
Is Ethiopia a good place for couples?
When visiting Ethiopia as a couple, you should take your love to new heights. A peaceful hot air balloon ride through the skies of Addis Ababa is an experience you will never forget. You will not only be able to see Addis Ababa from above, but you will also be able to see the beautiful sunrise. As soon as you step back onto solid ground, there will be a short, sweet ceremony to celebrate the safe landing of the balloon. And people will call you a count or countess.
What are the best annual events in Ethiopia?
The best annual events in Ethiopia that you cannot miss are
Genna (Ethiopian Christmas) in January

Fasika (Orthodox Easter) in April

Ethiopian New Year (Enkutatash) in September

Meskel (Finding of the True Cross) in September

Mawlid al-Nabi (Birth of the Prophet) in October