Discover Indianapolis, Indiana, on your next vacation! Check out our curated list of the best things to do in Indianapolis, Indiana, and the best places to visit in Indianapolis, Indiana below. Wondrous Drifter, a Web 3.0 travel startup, hopes to have a significant impact on the world.
Benjamin Harrison Presidential Site
How about a tour of a former American President's house?
The Benjamin Harrison Presidential Site aims to promote a better understanding of the American system by paying homage to President Benjamin Harrison's way of life.
President William Henry Harrison's great-grandson, Benjamin Harrison, served as the 23rd president of the United States from 1893 to 1897.
The house was built from 1874 to 1875 by Benjamin and Caroline Harrison. Except for his time in the Senate and as President of the United States, Benjamin remained in the house until he died in 1901.
These interactive virtual tours and various art collections from his time are just some of the National Historic Landmark memorial and museum highlights.
Creatively, it depicts the Victorian period as Harrison and his family would've seen it.
Special adult guided tours of the museum, group tours, and field trips for children are available.
The museum is also open every day of the year, from Monday to Sunda!
Address: 1230 North Delaware Street, Indianapolis, Indiana
The Canal and White River State Park
The Canal and White River State Park is one of the top attractions in Indiana.
The White River State Park in Indiana is one of the best parks in the state.
Downtown Indianapolis' Canal and White River State Park is a lush green haven where visitors can engage in outdoor activities and unwind in peaceful settings.
There are trails to walk, picnic areas, and quiet spots to enjoy the fresh air and relax on this 250-acre property.
The three-mile-long Canal Walk lets you explore the waterfront on foot or relax and take it all in.
The White River State Park is a beautiful place to relax, and it's also a great starting point for a trip around Indianapolis.
The Canal will take you through the most talked about places in Indianapolis.
Via the city's most famous museums, landmarks and natural wonders can be found all over the Canal and park.
Start your trip here and work through all the city's attractions.
Address: 801 W Washington St, Indianapolis, IN 46204
Crown Hill Cemetery
Do you enjoy a little spook in your scenery?
Indianapolis is well-known for its fascination with the macabre and the supernatural, and it's easy to see why.
As a result, visitors to Crown Hill Cemetery will get a sense of the city's penchant for the unexplainable.
If you live near Indianapolis, you'll definitely want to check out this reputedly haunted location!
The cemetery has more than 215,000 graves.
Notable leaders, authors, actors, writers, criminals, and soldiers are all buried in these cemeteries.
This cemetery is also home to infamous bank robber John Dillinger, the country's first "Public Enemy No. 1."
On the other side, or at the top where a bad reputation is unlikely, is the tomb of Indiana literary hero James Whitcomb Riley.
It is located on a high hill surrounded by flowers and bushes, where it overlooks Crown Hill.
You can book an appointment to get a guided tour!
Address: 700 38th St, Indianapolis, IN 46208
Arranging a trip to Indiana? Cool travel ideas await you for Fort Wayne and Evansville. To get the most out of your vacation in Indiana, hop over to the best things to do in Fort Wayne, Indiana and the best things to do in Evansville, Indiana.
Eagle Creek Park
Are you looking for a place where you can try all sorts of things in one location?
Indianapolis Eagle Creek Park is the city's most significant open green space.
It is primarily a nature reserve, with total land and a water area of about 1,400 acres and 3,900 acres.
People flock to this park on 56th Street because of the variety of scenic views, waterways, and walking paths.
The park's all-natural trails and landscapes make it one of Indianapolis's best family-friendly places to visit.
Play your favorite sports, visit the dog park aptly named the 'Bark Park,' and participate in exciting outdoor activities while you're here!
In addition to a 36-hole golf course, Go Ape Treetop Adventures, the park features a swimming beach, hiking trails, fishing areas, and cross-country ski trails.
The pistol range will be a hit with gun enthusiasts.
At the same time, the Woodland Wildlife Preserve, Ornithology Center, and the park's marsh and bird sanctuary will be a hit with nature lovers.
Address: 7840 W 56th St, Indianapolis, IN 46254
Eiteljorg Museum
The Eiteljorg Museum is one of the best things to do in Indiana.
This spot will have you appreciating Indianapolis and the people more.
The museum is located in the center of Indianapolis. It features a wide variety of Native American and some Western artifacts.
This charming Indiana town is home to many items, from common household items to culturally and historically significant artifacts.
Several exhibitions emphasize a variety of different topics.
They all have one thing in common: they teach visitors something new.
Andy Warhol, the pop culture icon, also has an exhibition here. His fascination with the American West, Indigenous North America, and American culture was a big inspiration.
Additionally, there are workshops and programs that you can join.
The museum is the place to learn about history and the present day, with modern displays and more traditional exhibits here.
The Eiteljorg Museum is one of Indianapolis' best attractions if you're searching for something educational.
Enjoy a day looking through art and learning about history and culture.
Address: 500 W Washington St, Indianapolis, IN 46204
Looking forward to exploring Indiana? Explore our travel guides to South Bend and Carmel. Explore the best things to do in South Bend, Indiana , and the best things to do in Carmel, Indiana!
Goose the Market
Goose The Market is one of Indiana's best places to visit if you like meat.
Hand-made deli meat and fresh vegetables are available as well as take-home platters.
Staff cut to order from cases stocked with farmstead cheeses, cured meats, and other delightful delicacies.
A rotating menu of sandwiches, soups, and gelato is ready to be eaten by hungry patrons.
Take a huge bite of one of their sandwiches with a cool glass of beer, wine, cocktail, or iced tea from Goose the Market.
You cannot miss their gelato and artisanal bread either!
If you'd like to learn the craft, Smoking Goose offers special classes on making their sausages.
They are so well-known that they've been featured in countless publications, including The New York Times, Food & Wine, and Bon Appetit.
This is one of Indianapolis' luxurious and favored establishments, making it the most delightful thing to do for foodies!
Address: 2503 N Delaware St, Indianapolis, IN 46205
Holliday Park
Holliday Park is a popular destination loved by the locals. It covers 94 acres of greenery and tidbits of Indiana's history.
As one of Indianapolis' oldest parks, Holliday Park is a key urban resource along the White River's banks.
Its grounds include a greenhouse, a playground where your kids may have fun while you relax or roam about, and a nature center for people of all ages.
You don't need fancy restaurant reservations if you can barbecue, picnic in the park, or simply lay out a blanket and relax.
You may see the fantastic ruins, originally a New York skyscraper that was dismantled and relocated to Indianapolis. The ruins boast sculptures made by Karl Bitter, "the Races of Man."
Fun fact, the statues are made out of Indiana limestone!
Your weekend at Holliday Park will complement an exciting summer concert if you go at the correct time.
Visiting this historic site is still undoubtedly one of the best locations in Indianapolis today.
Address: 6363 Spring Mill Rd, Indianapolis, IN 46260
Indianapolis Art Center
If you're in the city, it would be rude not to visit Indianapolis and one of the country's biggest community art centers.
They have the goal of encouraging interactive art education. The Indianapolis Art Center offers public art classes, educational programs, public events, and seminars.
The center houses three public art galleries that exhibit local art and is based in the Marilyn K. Glick School of Art.
A theater with a capacity for 224 people, an extensive library of more than 5,000 publications, 11 workshops, an auditorium, and constantly rotating exhibits round out the facility's services.
Furthermore, ArtsPark is a nine-acre outdoor creativity and sculpture park showcasing a range of public art made by local artists.
The Indianapolis Art Center is still a popular tourist attraction and an essential element of the city's cultural identity.
The Art Center is at the heart of central Indiana's thriving creative arts scene in collaboration with several other arts, cultural, and community groups.
You don't even have to be an art fan to enjoy the exhibits.
Address: 820 E 67th St, Indianapolis, IN 46220
Indianapolis Cultural Trail
Looking for a quick way to explore everything there is to see in Indianapolis?
Try the Indianapolis Cultural Trail.
It starts in downtown Indianapolis and runs for 8 miles, taking you through Indiana's most fascinating and noteworthy sights and attractions.
The trail connects downtown to Broad Ripple Village and Carmel and is built on almost 8,000 cubic yards of topsoil.
It features around 80 bike racks as well as nine public art projects.
You'll pass through arts areas and hip neighborhoods on this trail, catching vistas of all kinds of art.
Stop for a rest in a beautiful garden or park, or rent a bicycle to make your sightseeing travels easier.
There are also plenty of charming stores and cafés to visit!
You can also take a cuisine tour along the route, which will show you some of the most excellent dining options in the state.
You get your exercise and you get to sightsee. What more can you ask for?
Address: 132 W Walnut St, Indianapolis, IN 46204
Indiana State Museum
The Indiana State Museum is located within the White River State Park, another popular Indianapolis attraction.
So, if you're already in the area, make sure to drop by.
The Indiana State Museum hosts a yearly exhibit schedule that examines Indiana art, science, and culture. Most of which are made by artists from all over the state.
The structure is as impressive as it looks, made of steel, brick, and glass, and the galleries span three floors, housing over 452,000 artifacts in collections.
It is intended to reflect the state's 92 counties.
Throughout the year, the museum offers a variety of educational programs, community-based projects, and special events.
Some exhibitions are interactive, making them ideal for children, while others are seasonal, rotating on a regular basis.
Plus, the Indiana State Museum includes the state's largest IMAX cinema!
The Farmers Market Café within the Museum serves drinks and light meals to visitors.
Address: 650 W Washington St, Indianapolis, IN 46204
Indianapolis Motor Speedway Museum
There is no better way to admire the century-old Indianapolis 500 culture than visiting a museum dedicated to it.
Indianapolis Motor Speedway Museum takes you back into the good old days with racing cars.
Its racetrack is where the Indy 500 takes place, and the museum is where you can learn more about the fascinating history of racing.
One of the main Indianapolis attractions, the Indianapolis Hall of Fame Museum, is uniquely dedicated to the world of automobiles and motor racing.
You'll see famous drivers, team owners, and notable personalities in the exhibit.
The National Historic Landmark museum houses an impressive collection of race cars and artifacts related to the Indianapolis 500.
Its exhibit also includes motorcycles, dragsters, and cars that have established world land speed marks.
Additionally, a guided tour of Indianapolis Motor Speedway's VIP suite, victory platform, and car storage facility is available.
There are also narrated track tours around the 2.5-mile oval circuit in a special bus, so you'll experience the track without walking it yourself.
Go ahead and experience the unique activities offered in Indianapolis!
Address: 4750 W 16th St, Indianapolis, IN 46222
Indianapolis Museum of Art
Check out Indianapolis's pride and joy, their very own Museum of Art.
The museum's permanent collection includes more than 54,000 works from Europe, the Americas, Africa, and Asia, representing various genres.
The Indianapolis Museum of Art also hosts a range of events throughout the year to encourage a love of the arts through talks, film screenings, performances, and other activities.
Depending on when you decide to visit, some exciting events might be available, or you can attend some fantastic talks.
While you're done with the exhibits, go outside and pay a visit to the National Historic Landmark Lilly House & Gardens, located just outside of the IMA grounds.
Recent travelers highly advised putting the IMA on your agenda, describing it as a fantastic way to spend a day in Indianapolis.
The grounds were very popular, and visitors noted the museum store was worth visiting because the goods vary with the exhibits.
Just make sure you purchase your tickets beforehand.
Address: 4000 Michigan Rd, Indianapolis, IN 46208
Indianapolis Zoo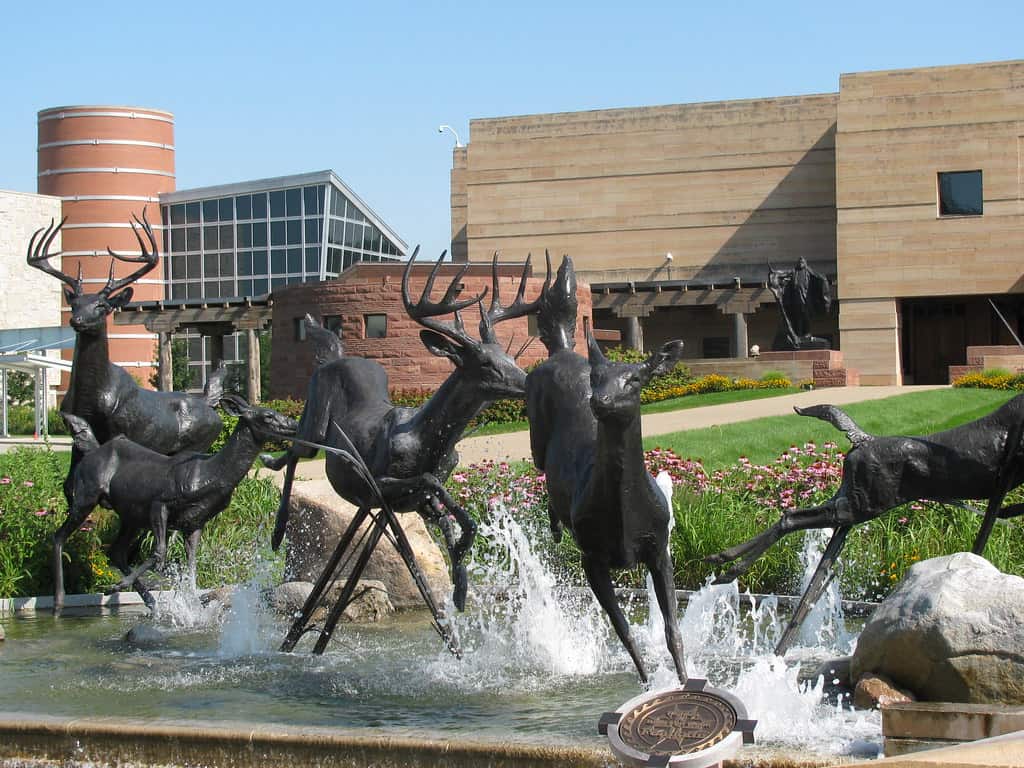 Indianapolis Zoo is a zoological park, an aquarium, and a botanical garden with about 320 species of animals.
The zoo, located in White River Park, is divided into biomes (regions of the earth with comparable weather, flora, and animals).
And it features a range of exhibits, habitats, and displays that showcase the zoo's residents.
The zoo is known for its cutting-edge dolphin pavilion, employing a hybrid dolphin/human interaction approach.
Additionally, the zoo houses the largest number of orangutans in North America. They are taken care of at the International Orangutan Center.
You can go to the Underwater Dolphin Dome, where dolphins may be seen from below the water.
Or go to the Marsh Dolphin Theater with a large pool and a coastal village scenario with daily dolphin shows and a Dolphin In-Water Adventure.
All in all, this awesome zoo is a must-see for families seeking fun things to do in Indianapolis!
Address: 1200 W Washington St, Indianapolis, IN 46222
K1 Speed
Indianapolis is a racing mecca; that is a no-brainer.
In fact, this is one of the reasons why Indiana's K1 Speed is a terrific place to drop by for some exciting activities!
Go-karts are available for all ages.
Their double-leveled racetracks cover 900 feet and are manufactured of superior quality and greater performance.
In addition to one of the country's longest straightaways, the Indianapolis course also has numerous hairpin corners that will test even the most seasoned go-karting drivers.
The fact that they only utilize electric Go-karts and that the entire event takes place indoors means that no exhaust fume is generated.
After that, you visit their lounge and unwind, engage in some gaming, or get a snack from their snack bar.
Authentic racing memorabilia is also on display, and it's fascinating to look at.
As far as indoor karting goes, Speedway Indoor Karting and Fastimes are excellent possibilities.
Grabe your buddy and raise them on one of their tracks.
Address: 9998 E 121st St, Fishers, IN 46037
Lockerbie Square
If you visit this neighborhood, you will feel like you've been transported back in time.
Lockerbie Square, Indianapolis' oldest surviving neighborhood, is home to an eclectic mix of Italianate, Federal, and Queen Anne-style homes.
Lockerbie Square Historic District is one of Indianapolis' most well-known historic areas because its well-preserved style boasts old and notable architecture.
The Lockerbie Square People's Club is responsible for the district's maintenance. They encourage and generate interest in the area's revival.
Twenty-five historic homes built between 1855 and 1930 can be viewed on walking tours of the region, and a few modern ones, such as the North Vermont Street Home.
James Whitcomb Riley Museum Home, the poet's longtime residence, is one of the area's most well-known landmarks, with a collection of magnificent Victorian furnishings and architecture.
It's an excellent spot to immerse yourself into the lives of the people who lived and secured Indianapolis a place in the people's hearts.
Address: 342-332 N Park Ave, Indianapolis, IN 46202
Market Street Catacombs
Interested to see what is underneath Indianapolis' streets?
Prepare yourself to discover an eerie site in Market Street Catacombs.
Its brick and limestone tunnels, constructed over a century ago and are now interconnected, lend a suspenseful dimension to Indiana's past.
Over 20,000 feet in length, they're a stunning sight.
In fact, they're not catacombs at all—they were used to move food through Indianapolis before refrigeration and keep it fresh until it could be stored in coolers.
The catacomb title came from just plain theatrics.
However, note that they aren't open to the public very often.
Having an appointment scheduled tour ahead of time is a good idea since you'll need to talk to people in the know.
Moreover, since you are in town already, don't miss out on the City Market!
You'll be able to taste the wide variety of fresh produce and quality food.
After getting spooked by the 'catacombs,' come out and eat your fill of fresh vegetables at the City Market.
Address: 222 E Market St, Indianapolis, IN 46204
The Meridian
Wanna go to dinner in a quiet ambiance that both locals and tourists love?
In honor of the street where it is located, The Meridian has been serving tourists for nearly a century, making it a well-loved and well-known restaurant.
Alice Carter Park is the perfect backdrop for the restaurant's stunning new American cuisine, served in a stylish, modern setting with spectacular views of the park's calm nature.
Natural beef, fresh seafood, pig, poultry, and pasta are just some of the items on their menu, which includes regional American and worldwide flavors.
Food is prepared from scratch utilizing locally sourced, seasonal, and fresh ingredients and served with a variety of homemade cocktails, craft beers, and whiskeys from around the world.
In addition to our extensive wine list, we also offer a wide assortment of cocktails and beer.
Just make sure to book a reservation for a stress-free evening with your family or someone special.
Address: 5694 North Meridian Street, Indianapolis, Indiana
Monument Circle
The Monument Circle is one of the best places to visit in Indiana.
Visiting the Soldiers and Sailors Monument Circle is a must-do when in Indianapolis.
It is universally considered one of the world's finest war memorials.
Its ideal location makes it one of its most popular tourist attractions.
The 284-and-a-half-foot-tall monument was erected to remember those sailors and soldiers who fought bravely and served their country with honor.
Neoclassical statues depicting the peril and bravery of war surround this gorgeous monument, and at the front is a woman.
She holds a torch, symbolizing the victory that led to the liberation of tens of thousands of enslaved people.
In addition to memorial sites, a civil war museum can be located.
As one of Indianapolis' most popular attractions, Monument Circle is an excellent place to begin your Indiana vacation.
Take a look at the monument's 2,400 dazzling, blinding lights throughout the holiday season!
It's also an excellent way to pay respects to the country's soldiers.
Address: 100 Monument Cir, Indianapolis, IN 46204
Tappers Arcade Bar
Good news for people born in the 90's and older, Indianapolis has an arcade!
Attractions like Tappers Arcade Bar are hard to come by in Indianapolis, but they're worth checking out.
They have more than 60 free-to-play arcade games available to accommodate more than 140 players at once!
With over 1,000 games to geek at, you can play with their Genesis, Super Nintendo, and Nintendo 64.
They've got everything from Dragon's Quest to Pong to Tron to the classic Pinball to Centipede waiting for you!
And unlike the arcades in your childhood, this one is strictly for adults.
They have draft beers and a good collection of cocktails for everyone to enjoy with their games.
The pub also enables patrons to bring in their own food, so you can grab a bite from your preferred restaurant down the street or place an order for delivery.
There are only a few better places to play a good, old-fashioned game in Indiana than this!
Address: 501 Virginia Ave #102, Indianapolis, IN 46203
White Rabbit Cabaret
Interested in supporting the work of your community's artists?
In that case, you'll have a great time at the White Rabbit Cabaret.
It is Indianapolis' most popular venue for small fun acts of all kinds.
The White Rabbit Cabaret is located in the center of Fountain Square. It presents an ever-changing schedule of live performances.
Moreover, catch burlesque artists of various shapes and sizes congregate at Fountain Square, Indiana's modest but lively venue.
You may see anything from the Rocket Doll Revue and the famous Angel Burlesque troupes.
Take your time having fun with them or with your companions!
At the White Rabbit Cabaret, burlesque isn't the only form of entertainment.
In fact, you can watch race-themed shows around May and other presentations.
There are comedy specials, drunken parlor games, and musical performances that can also be found.
Overall, these musical shows should be on your list of things to do in Indianapolis this weekend if you like to have fun at night!
Come early because their seating is on a first-come, first-served basis.
Traveling and having fun in the USA? You have to check out this page – the best states to visit in USA for the most fun and unusual travel ideas.
Do you need any more convincing that Indianapolis, Indiana is worth a visit? Check out reasons to visit Indianapolis, Indiana, at least once in your lifetime here.
Address: 1116 Prospect St, Indianapolis, IN 46203