Why go to Gulfport?
You must visit Gulfport at least once in your lifetime because of its History, art, and culture. Seafood shacks and beaches are all in plenty in the region! Outdoor enthusiasts may enjoy fishing, kayaking, and relaxing on the sugar-sand beaches along the Gulf of Mexico's warm and tranquil waters.
Places to go in Gulfport, Mississippi:
What is Gulfport famous for?
Gulfport is famous for its stellar reputation for having beaches and seas of the purest possible quality. It receives a large number of tourists throughout the whole year.
Fun Facts about Gulfport
Nearly 70,000 people call the city of Gulfport, Mississippi, home, making it the state's second-largest metro area.

Trinity Yachts, located in Gulfport, is widely recognised as one of the world's most accomplished shipyards. They specialise in the construction of bespoke super yachts.

In 1699, the French adventurer Pierre Le Moyne D'Iberville established the first permanent colony along the coast of Mississippi, probably in the vicinity of Ocean Springs.

The Charnley-Norwood House in Ocean Springs is often regarded as the first example of the Modernist style of residential architecture. It was designed by Louis Sullivan and Frank Lloyd Wright.

This 51-acre estate on Biloxi Beach also has a museum, nature path, and cemetery, as well as a memorial and souvenir store.
How big is Gulfport?
Gulfport is about 166 square km or 64 square miles in size.
When is the best time to visit Gulfport?
The best time to visit Gulfport is the month of May.
How many days do you need to see Gulfport?
You may enjoy a two- or three-day vacation.
What is the cheapest time to go to Gulfport?
The low season (flights) to visit Gulfport is in November.
Is Gulfport an expensive city to visit?
It costs $1,566 for a solitary traveler, $2,813 for a couple, and $5,273 for a family of four to take a seven-day vacation in Gulfport. At an average of $83, Gulfport hotels cost between $59 and $269 a night, while most vacation rentals range from $200 to $560 per night. It is recommended to allocate $51 to $86 per person per day for transportation and dining out in the local area, depending on the activities you want to participate in.
How to save money when visiting Gulfport?
The best ways to save money when visiting Gulfport are:
In the face of adversity, the Biloxi Lighthouse shines like a beacon of hope. "It's something you can view and take pictures of for free."

Hancock Bank sponsors a free Friday family night at Lynn Meadows Discovery Center.

The Mississippi Coast Model Railroad Museum is a great place to learn how the displays were put together. This is fantastic. The best part is that it's completely free. Definitely!

Take advantage of the free admission to the Mississippi Aquarium on weekends.
What food (and drinks) is Gulfport known for?
Things you need to eat in Gulfport before you die:
Fried okra

Fried chicken

Sugarshine Rum

Cat Island Cruiser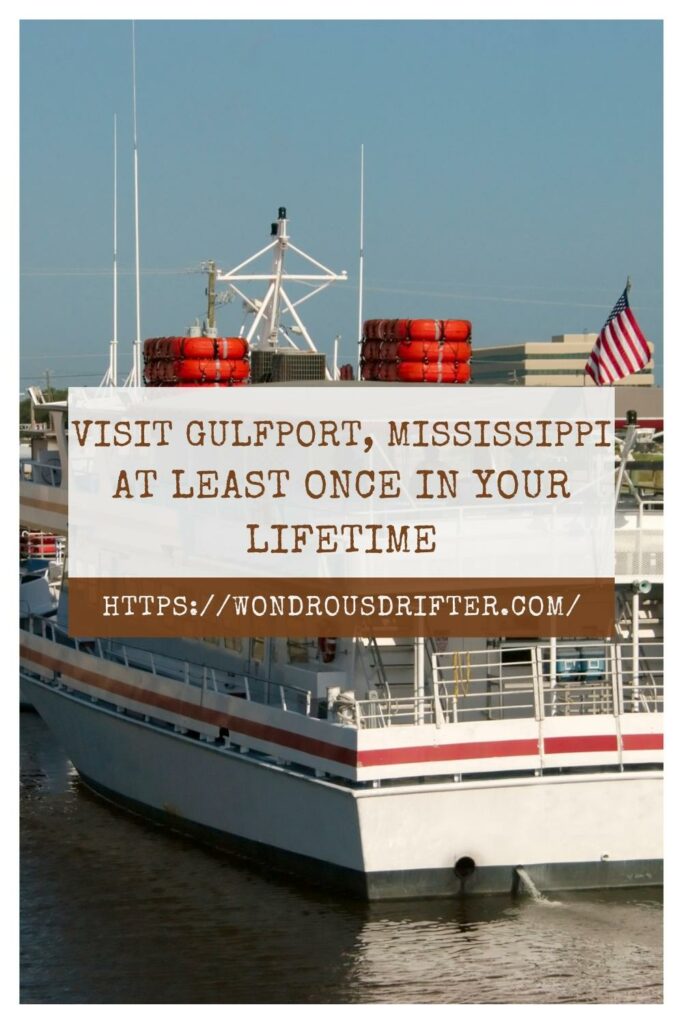 Is Gulfport safe to visit?
The tourist areas of Gulfport are secure, but you should avoid going off the beaten path. This community has a high poverty rate and lower median pay than the national average.
What is the best way to get around in Gulfport?
The best way to get around in Gulfport are:
Gulfport's Get Go

Lyft & Uber

Coast Bike Share
What are the neighbourhoods or areas I should stay in when I visit Gulfport?
The best areas you should stay in when visiting Gulfport are:
West Beach Real Estate

Gulfport Heights Real Estate

Mississippi City Real Estate

Orange Grove Real Estate
What are the best neighbourhoods or areas for food?
The best areas for food and drinks when visiting Gulfport are:
Half Shell Oyster House of Gulfport

The Rack House Steak & Spirits

The Chimneys

Beach Blvd Steamer
What are the best neighbourhoods or areas for shopping?
The best areas for shopping when visiting Gulfport are:
Gulfport Premium Outlets

Treasure Hunt

Disney Outlet

Gulfport Arts Center
What should I do on my first trip to Gulfport?
If you are visiting Gulfport for the first time, you may enjoy a mini-adventure on Ship Island, 12 miles off the coast of Gulfport, which features rugged trails, an old fort, and Mississippi's finest beaches. Take the Ship Island boat to get away from the city for a day of peace and quiet. Enjoy a romantic dinner cruise on the North Star as the sun sets over the water. Take to the water on a jet ski or paddle-board rental, or try your hand at fishing or boating.
Is Gulfport a good place for solo travel?
When traveling solo, you may feel the temperature at Jones Park might exceed 90 degrees Fahrenheit while traveling alone in the summer. Relax on the beach or cool off in the water at the zero-depth splash pad. If you're looking for something a little further inland, head to Gulf Islands Waterpark to ride the Gulf Coast's first water roller coaster. Sit on the tube slides or splash around the water playground if your tummy is rumbling.
Is Gulfport a good place to visit for a family with kids?
When visiting Gulfport as a family with kids, you should take them to Lynn Meadows Discovery Center and let them enjoy their life. More than 15,000 square feet of kid-sized displays will let your children's imaginations run wild. At the same time, they learn about history, vocations, and science. Do you have the courage to take on this challenge? If you'd rather be outside, come to the Tree House Village atop 100-year-old live oaks for fun in the sun. In the Institute for Marine Mammal Studies' Discovery Room pools, you may get up close and personal with a bottlenose dolphin. Bring home a souvenir from your trip to the Busted Wrench Garage Museum, where you can see vintage automobiles up close and personal.
Is Gulfport a good place for couples?
When visiting Gulfport as a couple, you will have a wide variety of exciting activities you and your sweetheart may enjoy doing together in Gulfport, Mississippi. When you and your significant other can go on an exciting new experience together in the great outdoors, there's no reason to settle for just having dinner and watching a movie. Enjoy the ocean by going on a sunset cocktail cruise or kayaking.
What are the best annual events in Gulfport?
The best annual events in Gulfport that you cannot miss are
Carter's Champions Pink Boat Parade in July

2nd Annual Gulf Coast Music And Food Truck Festival in July

Annual Diamondhead Arts & Crafts Fair in September

Girls Night Out the Show at The Cannery (Biloxi, MS) in October

Highlands and Islands Celtic Festival in November