Gothenburg, Sweden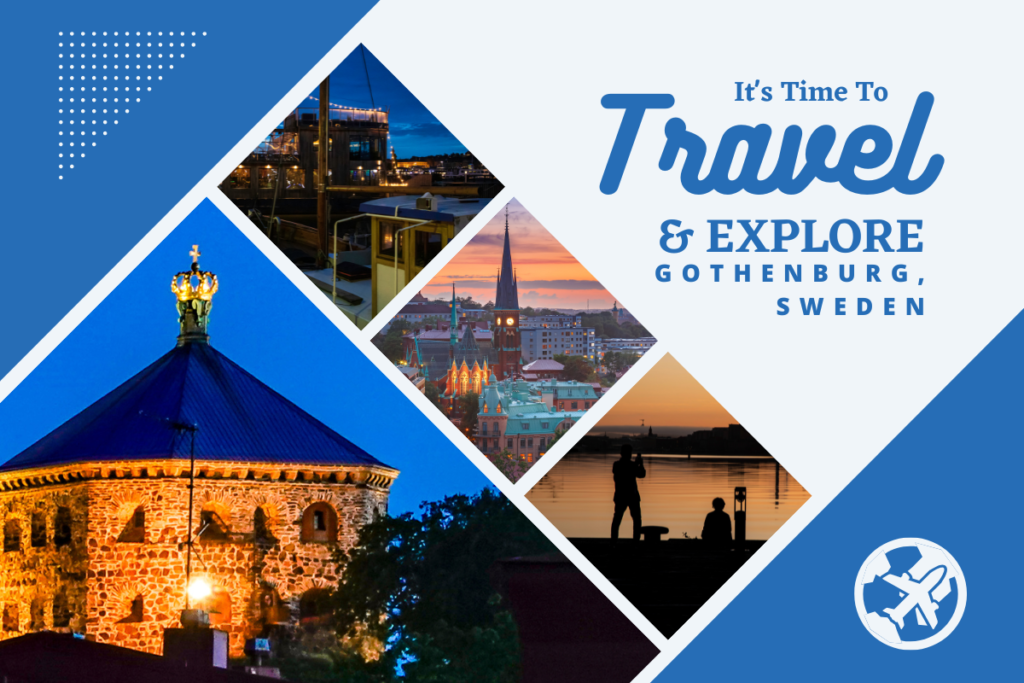 The city of Gothenburg, Sweden, is the perfect place to visit in June because of its cozy beaches and tons of islands you can hop on and visit before the official summer season comes.
Usually, the weather is warm and humid enough for tourists, with an average temperature of around 20–8 degrees Celsius, making it perfect for witnessing the 338-acre park of oak and birch trees.
Styrso island is a car-free zone, so get ready for a long hike or take the ferry from Gothenburg to get to your dream destination. This will let you have a peaceful vacation and be entirely at one with nature.
Don't forget about the lively nightlife of Gothenburg Island, so make memories and get blasted with their famous bars along the island.
Are you curious about the top places to visit in Sweden? Good news! We have got you covered with our list of must-see attractions. Click here for the most popular Sweden tourist attractions.
Riga, Latvia
If you are looking for a unique and prime vacation spot in Europe, the city of Riga, Latvia, is the perfect place for you because of its lovely weather and big celebrations in June.
This month will surely be mostly sunny and warm, with an average temperature of 21–10 degrees Celsius. This weather makes it perfect for witnessing the delightful scenery of the city.
The city of Latvia is blessed with unique beaches that distinguish them from each other, so don't forget to visit each of them.
To maximize your adventurous vacation, celebrate the Riga City Festival with the locals to enjoy their music and never-ending stalls of food trucks along the roads of Latvia.
Riga is also known for its naturally preserved, rich culture and traditions. Visiting one of their cultural heritage sites, museums, or parks must have a full-packaged vacation in June.
Are you curious about the interesting places to visit in Latvia? Stop stressing over the bumps in the road and start appreciating the ride with our list of must-see attractions. Visit the best Latvia tourist attractions.
Salsburg, Austria
If you are looking for a movie-like and picturesque view of a destination during the summer season of June, the city of Salzburg in Austria is the perfect place for you.
The usual temperature runs around 24–13 degrees Celsius. The weather will be cozy and sultry enough to do outdoor activities in the city.
If you want a vintage-vibe picture of the city, head to the center of Salsburg to witness the romantic baroque buildings and pilgrimage sites of Salsburg, including the Maria Plain Church.
Don't forget to experience the ever-beautiful Hohenwerfen Castle, because the Bavarian Alps are also a tourist destination many people visit when visiting the city of Salzburg.
Cornwall, England
If you are looking for a picture-perfect summer holiday destination, the city of Cornwall in England is the perfect place described.
Expect sunny and humid weather in this city during June because it is the summer season in Europe. With an average temperature of 17–12 degrees Celsius, this is perfect for having a peaceful and pleasant exploration along the seaside of Cornwall.
This daily weather is ideal for hiking the southwest coast path or buying fresh goods at the Heartlands Market, where they produce local products and crafts of Cornish culture.
Lake Bled, Slovenia
If you are looking for a destination with jam-packed activities and picturesque scenery of nature, the city of Lake Bled, Slovenia, is an excellent choice to book your flight and hotels immediately.
The usual temperature hovers around 26–12 degrees Celsius, which is most likely to be sultry but windy enough to camp along the lake.
What's perfect about Lake Bled during June is its vibrant and colorful views of trees and mountains since the season is transitioning from spring to summer.
After hiking the 6-kilometer trail around the lake, you will be able to find a beautiful island with the white church of Assumption at the center of the lake trail.
Wondering what the top tourist attractions in Slovenia are? Stop wondering and start traveling. Let the adventure fill your soul with our list of must-see attractions. Visit the main Slovenia tourist attractions.
San Sebastian, Spain
You should definitely visit the city of San Sebastian in Spain during June to experience the once-in-a-lifetime best foods of Europe and the most significant festivals of Spain.
This city may expect hot and sultry weather because the average temperature hovers around 21–15 degrees Celsius.
Don't miss some of their biggest celebrations, such as the St. John's feast, to get a taste of Spain's rich culture and memorable moments along the pathways of San Sebastian.
If you are into beach vibes in the city, visit La Concha Bay to take pictures of its turquoise waves and breathtaking coastal white sand.
Corsica Island, Mediterranean Sea
If you are looking for a jam-packed water adventure while enjoying the beauty of white sand beaches with oceanic blue waters, the island of Corsica is the perfect place.
Get ready to be tanned on this summer getaway because the weather will most likely be humid and sunny enough with an average temperature of 24–19 degrees Celsius.
You can do a lot of outdoor activities here, like hiking the ancient tops of the hill villages, swimming on the beautiful beaches around the island, and camping for a night out with your friends or loved ones.
If you are adventurous enough, Corsica is known for having a 5-activity challenge on the beach. You must go mountain biking, canoeing, kayaking, snorkeling, and mountain climbing to the Lecci village at the top of the Alta Rocca mountains.
Basel, Switzerland
If you are an art lover looking for a place to appreciate stunning artwork, then Basel, Switzerland, is the perfect place for you.
The usual temperature of 25–13 degrees Celsius is perfect enough to take a stroll or walk around the city and let you express your appreciation for art from the roads up to the buildings in Basel.
Basel is considered the home of art, so they have the world's largest international art event that exhibits more than 3,000 artworks by prominent and average artists. Here, you will see different artwork, ranging from sculptures, paintings, art installations, and live performances.
You can ride their famous Rhine Ferries to explore the city's charming beauty and experience all of Basel's stunning artworks.
London, England
The city of London, England, is an ideal destination for everyone. It is one of the most famous tourist attractions in the whole world because of its natural and ancient beauty, filled with rich history and culture.
The usual temperature is about 20–11 degrees Celsius, perfect for indoor and outdoor activities because it will most likely be sunny and cozy.
As many people may know, there are hundreds of museums you can visit and enjoy in this city. But what's perfect about it is that most of them are free to visit for the general public, which will help you save money for this trip without ruining the fun.
Who would forget about Big Ben, right? This is one of the city's most prominent tourist destinations, so take a nice picture with it and make your experience memorable in London.
Lake Como, Italy
If you are someone who loves night adventures and enjoys the skies during the night in June, then Lake Como in Italy is the perfect place for you.
With an average temperature of 12–7 degrees Celsius during the day and colder night temperatures, this is perfect for a night out in the summer.
As the evening comes, thousands of sky lanterns and fireworks are lit in the whole city as part of Como's oldest festival, the Sagra di Giovanni Festival. This commemorates the battle of the island in the year 1169.
Hiking boots are essential in this place, so make sure you have one. You will walk on many trails to get to your dream destinations in Italy, such as the Greenway del Lago and Monte Generoso.
Wondering what attracts tourists in Italy? Seeing something for yourself beats hearing a description a thousand times; let our must-see attraction guide help you with this. Click here for the most popular Italy tourist attractions.
Reykjavik, Iceland
If you want to witness a once-in-a-blue-moon phenomenon while enjoying your vacation, visiting Reykjavik, Iceland, is the right thing to do during June.
The usual temperature hovers around 18–12 degrees Celsius, which makes it perfect for having outdoor adventures.
What's perfect for waiting for in this place is the northern lights that only happen to appear in our skies very occasionally. Still, as the old saying goes, patience is a virtue.
Aside from that, the summer solstice also occurs in this dream destination during June. In this phenomenon, the sun is still bright even at night. So you might really want to try to visit this city for your vacation.
If you want to witness the traces of volcanic eruptions aging from more than 5,000 years ago, you should visit the Raufarhуlshellir lava caves near Reykjavik, which is one of the most extended lava tubes in Iceland.
Wondering what the top tourist attractions in Iceland are? Stop researching; start enjoying the must-see attractions. Visit the most popular Iceland tourist attractions.
Berlin, Germany
If you want a vibrant and lively vacation in June, the city of Berlin, Germany, is the perfect place for you!
The lovely weather will make you want to stay longer in this city and do outdoor activities during the day while clubbing and bar-hopping at night.
Surely, there's something for everyone to enjoy, from the peaceful walks along their famous galleries and museums to the loudest and biggest parties in the clubs and beaches of Berlin.
The Fete de la Musique is one of the most significant music festivals people enjoy here. Make sure to mingle and lend some ears to some of the most famous international and local artists.
Galway, Ireland
If you want a fully booked celebration of different big festivals in June, the city of Galway, Ireland, is the perfect place to be.
The weather is sultry yet windy enough for people to enjoy walking around the city and joining some of the biggest parades in Ireland. With an average temperature of 17–10 degrees Celsius, this won't make you miss the fun of Galway.
Galway is like a city that never sleeps because you will never run out of activities to do and stunning places to see around Galway.
To get to the crystal clear and white sand beaches of Galway and Kilmurvey Beach, you can hike the mountains or rent a bike for more accessible travel around the city.
Edinburgh, Scotland
If you are already fed up with the hot and sunny weather and want somewhere cold to spend this summer season in June, then the city of Edinburgh, Scotland, is the perfect place to be.
The usual temperature is around 15–5 degrees Celsius, which is perfect for having a cup of hot chocolate while having an overview of the city from the city's biggest buildings.
Scotland is known for its ancient and medieval castles over a thousand years old, and this is one of its major tourist attractions.
If you are up for a challenge in the cool weather, you should try eating some of the best ice creams in Europe at Mary's Milky Bar.
Tirana, Albania
If you want to experience the ultimate summer adventure in June, the city of Tirana, Albania, is the perfect destination for you.
The weather will be hot and cozy enough for the tourists to enjoy, with an average of 28–16 degrees Celsius.
Albania is considered an underrated gem in Europe. Still, you can take this as an advantage to avoid big crowds and savor your peaceful dream vacation.
Because of its natural beauty, there are tons of wildlife adventures waiting to be discovered and experienced by tourists.
Mount Datji is an exceptional spot for beginners and professionals, so prepare your hiking boots and swimsuits. After hiking, the ending spot of this trail is a stunning view of Lake Bovilla.
Are you interested in discovering the top tourist attractions in Albania? With this incredible compilation of must-see attractions, we hope to make your upcoming visit to (place) more therapeutic than ever. Click here for the top Albania tourist attractions.