See the wonders of Billings, Montana. Look at our recommended travel activities and attractions in Billings, Montana to get the most out of your time there. Check out the list of the best things to do in Billings, Montana and places to go in Billings, Montana, below. As a Web 3.0 travel startup, Wondrous Drifter has big plans to shake things up in the field.
Alberta Bair Theater
Why not watch something amazing to pass the time while it's raining or cold outside and while you're inside?
The Alberta Bair Theater in Billings is a terrific venue to see a show featuring performers from all across the region.
For more than 80 years, our downtown Billings theater has been a part of the cultural landscape, engaging generations with awe-inspiring performances.
This art deco-style cinema was built by the 20th Century Fox Corporation.
Ray Charles and Judy Collins, two of the area's most well-known entertainers, arrived to play at the theater.
The 1,390-seat Alberta Bair Theater is currently the region's largest and best-equipped performing arts venue.
In fact, it is always full of national and regional performers.
Furthermore, the region has a strong heritage of musical theater, and the Montana Renaissance Festival is hosted throughout the summer.
Furthermore, there are several possibilities for locals and visitors to learn about music and the arts.
Address: 2801 3rd Ave N, P.O. Box 1556, Billings, MT 59103
Bighorn Canyon Recreation Area
Bighorn Canyon will revive your love of the outdoors in the same way that the Rimrocks did.
Billings' proximity to some of Montana's most scenic areas is a key lure.
Bighorn Canyon National Recreation Area, which features one of Wyoming's most spectacular panoramas, is roughly two hours away by automobile.
The massive canyon rocks form a stunning background as Bighorn Lake straddles the Montana and Wyoming state lines.
Bighorn Canyon Recreational Area is the place to go for a remarkable experience in Montana's wild and wide surroundings.
Visitors of all ages will have a pleasurable and instructive experience since they can see a range of natural wonders.
Visitors come from all over the world to Bighorn Canyon in search of their unique experiences.
Boating, hiking, and photography are popular recreational activities in the region.
Bring your camera with you so you may capture every moment of your time in these breathtaking locations.
DanWalt Gardens

DanWalt Gardens is one of the Billings' best-kept secrets, so make sure to add it to your list of things to do.
It is located on the city's southeast side, and visitors may enjoy the magnificent gardens there.
Most people are familiar with DanWalt Gardens, a famous venue for stunning Billings weddings.
The grounds are stunning all year. Beautiful irises bloom in the spring, while hardy hibiscus, roses, succulents, and blooming shrubs and trees bloom the rest of the year.
There are also thousands of vividly colored annuals and flower-filled hanging baskets on the grounds.
People frequently visit DanWalt Gardens when they need time away from everything to relax.
Anyone with a camera is welcome to visit the gardens.
Still, professional photographers who need to carry their own equipment must arrange it beforehand.
DanWalt Gardens is the most romantic ambiance in Billings for couples seeking the most romantic activities to do.
Address: 720 Washington St, Billings, MT 59101
Making travel plans to Montana? View our noteworthy trip ideas for Helena and Bozeman. Take time to notice these cool things to do in Helena, Montana, and the fun things to do in Bozeman, Montana.
Dehler Park
This stadium in Billings, MT, is used for many different things, like baseball games, concerts, and plays. You could attend one of the many baseball games held at this place as part of your trip.
In Billings, Montana, many baseball fans go to Dehler Park.
The Pioneer League Billings Mustangs and Montana State University Billings Yellowjackets play in the same arena.
When it was built in 2008, 6,000 people who bought tickets and liked to stand during games could fit in the stadium. On top of that, it has a terrace in the outfield that lets people see the whole field.
Cobb Field was torn down in the 1930s to make room for Dehler Park, which still has some old bench seats from the stadium.
The stadium is often used for plays and concerts.
In 2010, well-known singers like John Mellencamp and Bob Dylan performed there.
You can see what events are coming up on the park's website.
In case you get hungry while watching the game, concession stands sell food and drinks like doughnuts, burgers, corn dogs, and a variety of non-alcoholic drinks.
Address: 2611 9th Ave N, Billings, MT 59101
Downtown Billings
The Downtown Billings is one of the best things to do in Montana.
Want to know where to eat or shop? Get to the Downtown Billings!
With sidewalk patio dinners and unique shopping options, downtown Billings is becoming a cultural hub for the Greater Yellowstone area.
Downtown has places to learn and have fun, like the Yellowstone Art Museum and the Western Heritage Center, as well as the historic and recently remodeled Alberta Bair Theater.
Other places downtown has live music, comedy, and book readings.
During the summer, the Alive After 5 street fair takes place every Thursday from 5 to 8 p.m. and features live music.
Downtown Billings is also home to a number of other well-known events.
Downtown has a lively St. Patrick's Day parade, and in the fall, there is an annual HarvestFest that includes the end of the summer Farmer's Market.
The heart of downtown and the most exciting things to do at night is around Montana Avenue in the historic district.
Address: Billings, Montana
Preparing to visit Montana? You are on the right page! Use our travel guides to see and do more on Great Falls and Missoula! Explore the best things to do in Great Falls, Montana, and the best things to do in Missoula, Montana!
Lake Elmo State Park

The Lake Elmo State Park is one of the top attractions in Montana.
Minnesota's 123-acre Lake Elmo State Park is the most popular in the whole state, with an annual attendance of more than 153,000 visitors.
The 123-acre Lake Elmo State Park is a stunning setting for family outings and can accommodate a wide range of activities.
There are several miles of hiking trails and nature trails for visitors to enjoy, making birdwatching a popular pastime for those interested in ornithology.
During the hot summer months, visitors to the 64-acre reservoir may enjoy boating, canoeing, swimming, sailing, or windsurfing in addition to lounging on the beach.
It's possible to go fishing and do other fun activities on the canals or at Roger's Pier on the south shore.
Activities like ice fishing and ice skating on the lake may be enjoyed by tourists throughout the winter months.
Facilities include a 200-square-foot dog park, a picnic area, a boat launch, a social event shelter, a playground, restrooms, and showers.
Visit Lake Elmo's beaches with your pet and your swimwear and have a nice time!
Address: 2300 Lake Elmo Drive, Billings, MT 59105
Moss Mansion

Make a note of it and add it to your to-do list. It was the site of Billings' early history and progress!
The Moss Residence in Billings is a grand red-stone mansion built in 1903 for industrialist Preston B. Moss. He resided there until 1984 with his wife and six children.
It is now a symbol of Billings' early history and progress, with many of the original furniture and decorations preserved.
The blueprints for the home were created by well-known New York architect Henry Janeway Hardenbergh.
The stunning three-story mansion, complete with 28 rooms and a glass solarium, is a sight to behold.
Gold-threaded walls, high-quality wood paneling, several marble fireplaces, hand-painted ceilings and walls, artwork, Persian rugs, and Moss family antiques all contribute to the exquisite design.
Self-guided tours, tours of the historic neighborhood, Scooby-Doo mysteries for kids, interactive Clue games for adults, Murder Mystery dinners, and more!
Address: 914 Division St, Billings, MT 59101
Montana Audubon Conservation Education Center

On our 54-acre site along the Yellowstone River in Billings, Montana, the Montana Audubon Center hosts a variety of educational and conservation-focused activities.
The Montana Audubon Conservation Education Center was established in 1976 as a non-profit organization with the purpose of conserving the state's wildlife.
With this goal in mind, the center seeks to educate the general public on the necessity of maintaining Montana's natural resources and wildlife for the benefit of future generations.
Several of the state's native bird species are represented in this project.
Visitors of all ages will participate in a variety of educational activities aimed to help them comprehend how the numerous bird species flourish in their protected natural habitat.
Guests of the Conservation Education Center have an unforgettable educational experience.
On the other hand, there's a chance to interact with Montana's abundant animals and gorgeous landscape.
All ages are invited to partake in activities such as birding and canoeing on the region's lakes, as well as winter wildlife tracking and nature hikes. Family-friendly amusements
Address: P.O. Box 595, Helena, MT 59624
Pictograph Cave State Park

Some of the first professional archeological research in Montana was done in Pictograph Cave, where over 30,000 items were found.
This one-of-a-kind state park is a five-mile drive southeast of Billings through a beautiful area.
It is one of the best state parks in Montana. It covers 23 acres and has three caverns full of interesting artifacts.
As they walk around the park's loop, people can't help but wonder about the lives of people who lived in Montana more than 2,000 years ago and made drawings or pictographs in caves.
In the park's Pictograph, Middle, and Ghost caves, a group of hunters lived or camped.
They left about 30,000 objects and animal bones in all three caves and over 100 paintings on the walls of the Pictograph cave.
Around the caverns is a park that is great for hiking and has a beautiful place to have a picnic.
Make sure to bring binoculars to the 23-acre park so you can see the animals, old things, and pictographs better.
Address: 3401 Coburn Rd, Billings, MT 59101
Pioneer Park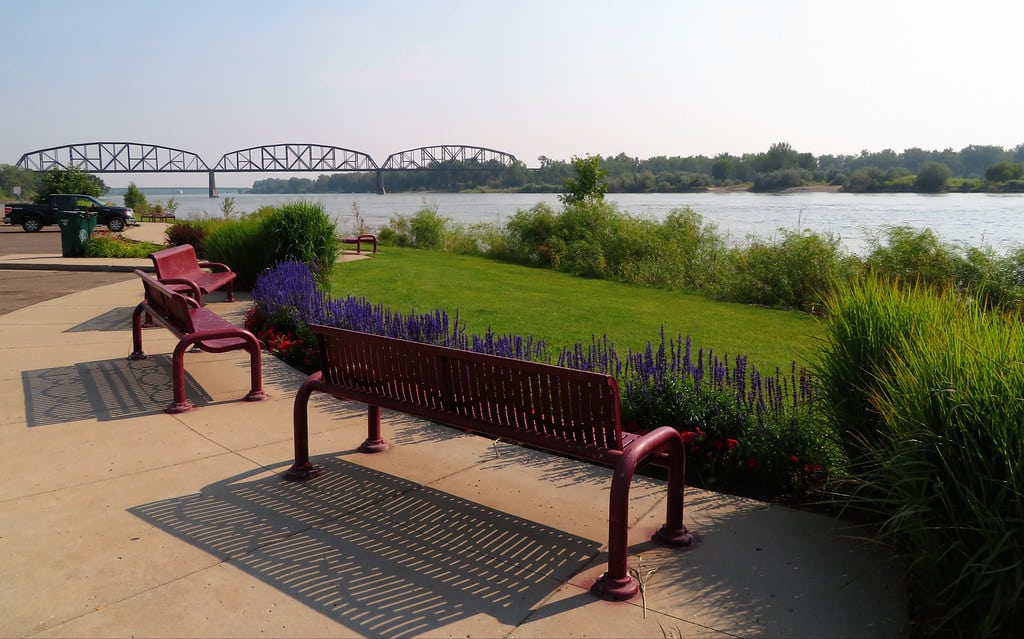 Pioneer Park will always be the finest option for tourists and visitors seeking the most amazing free activities in Billings.
The City of Billings purchased 32.5 acres of undeveloped land in the country that was mostly free of trees in 1920. They correctly predicted that a community would form around the location.
They began by clearing sagebrush and planting trees. A year later, the parks board hired Dorothy Gray, then 25, to create a master plan for the park, which was given its current name in 1922 in honor of the Montana pioneers who founded it.
Furthermore, the 32-acre Pioneer park was established in 1999 as a common space.
It aimed to foster community spirit and communication among inhabitants.
The playground, sports fields, walking trails, and pool all add to the park's lively atmosphere.
During the long summer days, you may enjoy the amazing amenities provided by this urban oasis while playing under the sun with your children.
Address: 301 Parkhill Dr, Billings, MT 59101
Reef Indoor Water Park

Looking for family-friendly activities in Billings? Kids may play and splash for hours at this indoor water park.
There's no better place to cool down on a hot summer day than Montana's largest indoor water park, which is located in Great Falls.
For the entire family, Reef Indoor Water Park includes activities and slides that cater to all ages, from infants to grandparents.
An interactive playhouse with a 250-gallon bucket, a three-story tube slide, and the Tropical Twister body slide, as well as an enormous wave pool with more than three feet of waves, are just some of the attractions at the park.
Guests may unwind in the hot tub for up to 20 people or keep busy with water hoop games in the activity pool.
In addition to locker rooms, there are areas to watch, toilets, and a first aid center. In addition, you may reserve a terrace and private party rooms.
One of the nicest things to do in Billings, MT, is to take a dip in one of the state's largest indoor water parks.
Riverfront Park
Riverfront Park is the largest river park in Billings, Montana, offering travelers a quiet respite from the city's noise.
Large grassy areas, breathtaking panoramas, and an abundance of nature trails will attract outdoor enthusiasts to Riverfront Park.
Riverfront Park, situated on the banks of the Yellowstone River, provides a tranquil escape from the neighboring metropolitan area.
With reservable picnic shelters, hiking trails, and enough parking, Riverfront Park is excellent for family gatherings and quick lunch breaks in nature.
Moreover, Lake Josephine is the focal point of the park, with horseshoe pits and sand volleyball courts lining its coast.
Due to the park's proximity to the river, boating and fishing are particularly popular activities there.
You and your family may also enjoy beach volleyball courts and picnic spots with barbecue grills.
Nature lovers seeking thrilling activities in Billings, Montana, will appreciate exploring Riverfront Park's natural beauty, the wildlife in the bushes, and the fish in the lakes.
Address: 7277-7337 State Secondary Hwy 416, Billings, MT 59101
Rimrock Mall

Rimrock Mall has been a Billings neighborhood landmark for more than four decades, providing a unique retail experience and a social gathering place.
It is located in Billings and is the state's principal cultural and business center.
In addition, the largest regional mall in a financially solid area
There are several shopping, food, and beverage options on the more than 600,000 square feet of retail space accessible.
Everyone in the family will enjoy themselves here since there is something for everyone.
Dillard's, JCPenney, H&M, Francesca', Maurice's, and Buckle are just a handful of the many stores.
Visitors may refuel in the food court or one of the several eateries on-site.
Furthermore, the mall holds a range of activities throughout the year, such as Santa's Workshop, an Easter Egg Hunt, and fashion shows.
Rimrock Mall in Billings, Montana, offers shopping and dining in the Food Court, as well as 60+ distinct retailers.
Address: 300 S 24th St. W, Billings, MT 59102
The Rimrocks

The Rimrocks is one of the best places to visit in Montana.
The Rimrocks, a natural sandstone feature that has been present for a million years, is one of the most popular locations to visit in Billings.
Where downtown Billings is currently was the shore of the Western Interior Seaway 80 million years ago.
This waterway connected the Arctic to the Gulf of Mexico.
The Rimrock is a sandstone outcrop seen over the metropolitan skyline.
It formed over millions of years when sand and silt accumulated on the shore and was forced into the rock.
Meanwhile, there are several trailheads and parking lots that lead to various metropolitan sites, making exploration simple.
After a hard day at work, people enjoy unwinding in Zimmerman Park, which is located on the city's northwest outskirts.
Hikers can discover additional Rimrock trail alternatives in Words Park and Phipps Park, on the other hand.
Note that visitors should be aware that rattlesnakes share the trail with them at all Rimrock locations.
If you're looking for something a little more exciting, visit Zimmerman Park, Swords Park, or Four Dances Natural Area.
Address: Billings, Montana
Western Heritage Center

Montana's ancestors' and early migrants' stories will help you better comprehend the state.
At the Western Heritage Center, legends and the history of the Yellowstone River Valley and the Northern High Plains are preserved.
Parmly Billings Memorial Library, built in 1901, is home to the Western Heritage Center, a regional museum dedicated to the history of western Montana.
On this site, more than 16,000 artifacts and 1,000 photographs document the development of the Yellowstone River Valley over its long history.
To top it all off, the museum's present home is the original 1901 Billings Library.
A wide variety of displays are available, including anything from indigenous artifacts to animal and scientific investigations.
It also hosts several community events, including a High Noon Lecture Series and historical walking tours.
The institute also produces regional history publications, films, and teaching aids.
If you're interested in learning about Montana's past, don't miss this exhibit!
Address: 2822 Montana Ave, Billings, MT 59101
Yellowstone Art Museum
The Yellowstone Art Museum has the most modern and contemporary works of art in any Montana museum.
The Yellowstone Art Museum has a large collection of art, but the modern pieces from the northern Plains and the northern Rocky Mountains are the ones that stand out.
In 1964, the historic Yellowstone County Jail became the home of the Yellowstone Art Center.
After only a few years of being open, the museum has become a major regional and national destination for art lovers.
Because of money from the Montana Cultural Trust and gifts from individuals, the museum's permanent collection now has more than 7,500 objects.
The Montana Collection, which has almost 2,000 pieces of art, is the museum's best work.
Moreover, the self-guided tour is just one of the many things people can do at YAM.
All in all, the museum has a lot of educational things for both kids and grown-ups to do.
Everything that isn't on display is kept in a vault, which anyone can look at at any time.
Address: 401 N 27th St, Billings, MT 59101
Yellowstone Cellars & Winery

Do you want to find things to do in Billings at night after a long day of driving? Come to this winery and buy one or two bottles.
Yellowstone Cellars & Winery is a small winery that makes high-quality red and white wines from grapes grown in small vineyards in Washington's Yakima Valley and picked by hand.
During harvest time, fresh grapes still on the stem are taken from the vineyard to the winery in Billings, which they are crushed less than 30 hours later.
The rest of the process is also done at the Billings plant. This includes pressing, fermentation, aging, and bottling.
In just a few years, Yellowstone Cellars became one of the best wineries in Billings.
It has a wine cellar, a tasting room, and a space for events.
Overall, this winery is a cool place to hear music, and it hosts events like Open Mic Night and Friday Wine Down every week.
After a long day of seeing Billings, Montana, you can relax at Yellowstone cellars & vineyard with a bottle of wine.
Address: 1335 Holiday Cir, Billings, MT 59101
Yellowstone County Museum

See relics from a previous era at the Yellowstone County Museum.
For more than 60 years, the Yellowstone County Museum has been operating.
Native American tribes, cattlemen, and early settlers are included in this book.
Montana's Yellowstone Valley and the Northern Plains' varied cultural history and natural heritage.
It is all preserved at the Yellowstone County Museum.
Various educational programs and exhibitions are used to accomplish this goal.
Additionally, at this museum, you can learn more about the Plains' prehistory and view relics from an Indian tribe and daily life before the 1950s.
Displays include Lewis and Clark's Fur Trading Post Exhibit.
It has a variety of commercial commodities, as well as artifacts from the time of the fur traders and animals they encountered along the road.
To top it all off, admission to this museum is completely free!
Visit the gift shop while you're here if you want to pick up a few souvenirs.
Address: 1950 Terminal Circle, Billings, MT 59105
Yellowstone National Park
Ready to experience an exciting outdoor adventure?
Yellowstone National Park in Montana is a classic must-see for outdoor travelers because of how beautiful it is.
This park is famous all over the world, and it is only about four hours away from Billings.
Even if you don't want to see mountains or canyons, you can still have a great day at America's first national park.
Also, Yellowstone was made a national park because it has so many hydrothermal features like geysers, hot springs, and fumaroles.
Start exploring Yellowstone's two million acres by walking the most popular hiking trails in the park.
Fly fishing and cross-country skiing are two other popular wintertime activities.
The Beartooth Highway goes from Billings to Yellowstone National Park. It is a National Scenic Byway.
This way, people can get into the park through the northeast entrance.
From Red Lodge, a small mountain town, the byway goes 68 miles to Yellowstone National Park.
In addition, there are the best hiking trails, beautiful geyser basins, and clean hot springs in this area.
The Grand Prismatic Spring and Old Faithful are two places that everyone should see.
Address: United States
ZooMontana
ZooMontana in Billings, one of the state's only three zoos, is one of the greatest places in the area to observe animals and plants.
It is a zoo and aquarium that has received accreditation from the Association of Zoos and Aquariums (AZA).
This is unlike your typical zoo because it only contains animals that are local to the area and can adapt to their environment.
Its collection includes gray wolves, great-horned owls, and grizzly bears.
Many of the animals at ZooMontana are no longer suited for the wild and are given a second chance at life.
Montana's natural impediments, such as ravines and boulders, improve the zoo's animal habitat experience.
ZooMontana is a popular location for families due to its low admission charge.
Moreover, families may also enjoy ZooMontana's unique events, such as birthday parties and seasonal festivities like Boo at the Zoo in October.
All of these creatures have been saved, so don't pass up the opportunity to meet them!
Traveling and having fun in the USA? You have to check out this page – the best states to visit in USA for the most fun and unusual travel ideas.
Is there anything else holding you back from making Billings Montana your next vacation destination? Click here for all the reasons to visit Billings, Montana, at least once in your lifetime here.
Address: 2100 S Shiloh Rd, Billings, MT 59106