Considering a trip to Minneapolis, Minnesota? Look at our carefully selected list of top Minneapolis, Minnesota attractions below on the best thing to do in Minneapolis, Minnesota and places to go in Minneapolis, Minnesota. As a Web 3.0 travel startup, Wondrous Drifter aspires to make a huge impact on the world.
American Swedish Institute
Are you interested in visiting a historic location with a lot of character?
If so, the American Swedish Institution is a place more than just a Sweden heritage.
The American Swedish Insitute or ASI, is known as a museum, cultural education center, museum, historic mansion, and cafe.
This iconic landmark has been offering guests a visit and tour around the area that was once Swedish heritage.
This institute has two places to visit, the historic Turnblad and the modern Cultural Center.
The Turnblad Mansion was built from 1904 to 1908 and is known for its 33 stylish and decorative rooms.
This iconic building used to be owned by the biggest Swedish Newspaper in America named Swan Turnblad.
Years after, Swan and his family donated this house to the American Swedish Institute that it is today.
The American Swedish Institute is now a place where guests can go on exhibits, grab a bite or drink, and look around at the historical displays this place has to offer.
This institute offers more than meets the eye, so it is one to check out.
Address: 2600 Park Ave, Minneapolis, MN 55407, United States
City Hall
Because of its history and architecture, City Hall is more than just a location for politics in Minneapolis.
It is also known as the Municipal Building, located east of Minneapolis' Crystal Court and Nicollet mall.
They built this building from the late 1800s to the easy 1900s.
Among its iconic spots to look around, the building has a colossal statue called the "Fater of Water" in the 4th street rotunda made by Larking Goldsmith Mead. He carved it using a single block of Carrara marble, making it a unique figure display.
The City Hall was built using red granite and based its design using Richardsonian Romanesque style that now covers a block of 300 feet square.
If you look up the building, the city hall even has a clock that shows a record of when they built the city hall.
Visitors can explore the building through tours and self-guided brochures provided for anyone to explore the building.
The City Hall is a beautiful place in and of itself, even if you're not interested in politics.
Address: Minneapolis, MN 55415, United States
First Avenue and 7th Street entry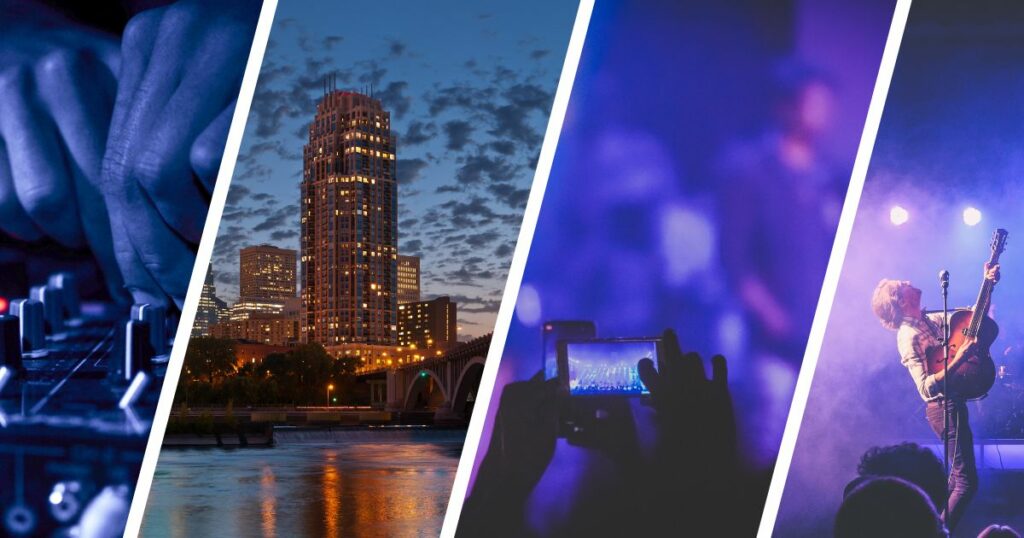 Are you looking for a place to party during any trip?
Then head to First Avenue and 7th Street Entry in Minneapolis for some music and enjoyment.
This place is known as a music club with nothing less than celebrity status.
The First Avenue and 7th St entry have an essential role in Minneapolis' Twin Cities to provide a unique and vibrant musical experience.
The club is famous for having some of the most famous bands and musicians starting their careers in the music club.
It has been the stepping some for some celebrities and bands to become famous such as Depeche Mode, Soul Asylum, Tina Turner, U2, and Metallica.
To anyone planning to visit this music club, First Avenue opens every week at night, presenting and hosting local acts and benefits shows for residents, tourists, and other groups of people.
If ever you are interested in music, First Avenue even provides lectures and workshops to accommodate students from local schools wanting to play music.
The First Avenue and 7th St entrance is a must-go if you want a distinctive musical experience.
Address: 01 First Avenue North, Minneapolis, MN 55403, United States
Contemplating traveling to Minnesota? Check out our travel guides on Duluth and Saint Paul. Take a glimpse at the fun things to do in Duluth, Minnesota and the best things to do in Saint Paul, Minnesota.
Guthrie Theater
Do you love watching live-action and the feeling of drama right before your eyes?
The Guthrie Theater in Minneapolis is the place to visit for a theatrical experience unlike any other.
This theater was started in 1963 when it did a production of the show Hamlet, directed by its founder, Sir Tyrone Guthrie.
Presently, this theater has three different stages with productions that are contemporary or classics. The theater, until now, has aimed to maintain true to its commitment to showcasing productions regarding Shakespeare's plays.
After more than 40 years since its first start, the Guthrie Theater soon moved into a new building in 2006 near the Mississippi River.
If any visitor is curious about Guthrie Theater's past performances, the new building has large images in the exteriors with all the past performances.
It also provides touring around the theater as part of the visit every morning on Friday and Saturday.
The Guthrie Theater is a one-of-a-kind place to have a thrilling theater experience.
Address: 818 South 2nd Street, Minneapolis, MN 55415, United States
Lake Harriet Park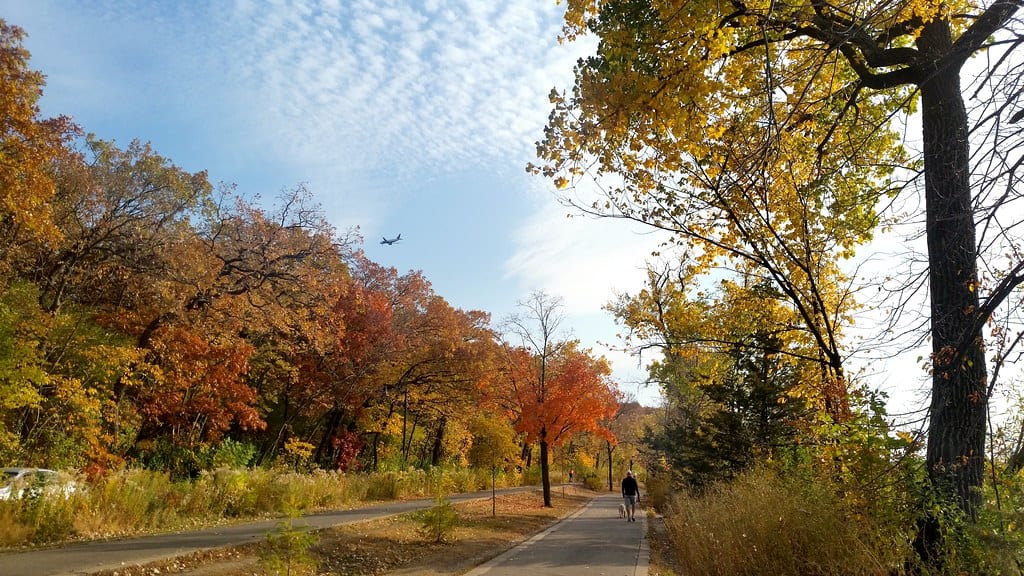 Are you seeking a great place to spend a trip outside with anyone?
The Lake Harriet Bandshell is a unique stunning park near the lakeside.
It is part of the Chain of Lakes Regional Park and is known for its lakeside activities.
This lake is known for having numerous activities conducted for visitors in this park involving its bandstand shell. Lake Harriet Park is famous for hosting special events like live music every year.
If visitors go further around the park, they can enjoy the park's North and SoutEast beaches to do activities such as kayaks, boat rentals, paddleboards, and canoes.
While in the park, visitors can play in the playgrounds, go on a bike path, and do the fishing pier.
The park had other amenities such as a tot lot, picnic areas, a garden, a decorative foundation, and a walking path.
It is worthwhile to visit this outdoor park once in a while.
Address: 4135 W Lake Harriet Parkway, Minneapolis, MN 55409, United States
Planning to visit Minnesota is easier with our travel guides! Hop over to the best travel guides for St. Cloud and Rochester. Discover the enjoyable things to do in St. Cloud, Minnesota, and the best things to do in Rochester, Minnesota.
Midtown Global Market
Do you prefer shopping at any market?
In that case, you have no choice but to visit the Midtown Global market, which has many different things available.
The Midtown Global Market is a public marketplace with different assortments for local vendors and many eateries to eat in an international theme.
This marketplace is a medium-sized facility offering prepared and fresh goods, selling unique gifts, and many restaurants.
It started in the early 2000s when the City of Minneapolis was thinking of what to do with a vacant Sears building on Lake Street.
Eventually, the vacant Sears building became the Midtown Global Maret and took shape,
Today, this marketplace is not a cultural and economic center that is vibrant and a community gathering place with over 45 businesses and 22 different cultures.
The Midtown Global Market is now known for providing a global experience with various tastes, goods, crafts, and art every week.
The Midtown Global Market is the place to visit if you want a global shopping experience.
Address: 920 E Lake St, Minneapolis, MN 55407, United States
Mill City Farmers Market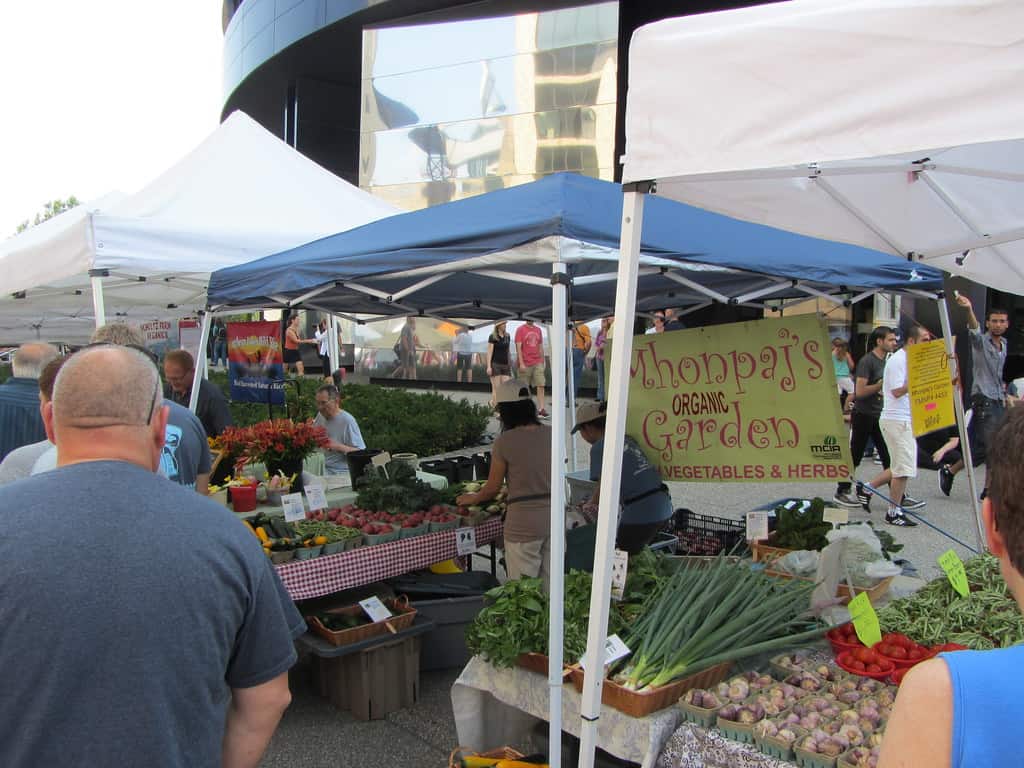 Are you into produce that is fresh and of good quality?
If you are, the Mill City Farmers Market is the market with some of the finest products that you can find in Minneapolis.
Mill City Farmers Market is in Chicago Mall near the historic train shed of Mill City Museum.
It is a market with fresh products featuring products brought from artisans and organic, sustainable, and local farmers.
The site is situated centrally close to other famous attractions in Minneapolis.
This farmers market opens every Saturday to Sunday all through summer. However, during the winter, they open every second month on Saturday for visitors wanting to visit and buy from them.
Besides having fresh produce, this market offers a variety of other things such as ceramics, jewelry, clothing, seasonal local food, freshly made juice, and handmade crafts and arts.
There is also food tasting, cooking demonstrations, and live entertainment for visitors to enjoy.
The Mill City Farmers Market is a great place to find some of the freshest and most locally sourced products to buy.
Address: 704 S 2nd St, Minneapolis, MN 55401, United States
Mill City Museum
Among the ruins to visit, see the Mill City Museum, which shows the subsequent history and remains of where this city began.
Mill City Museum is on the banks near the historic Mississippi Riverfront.
It used to be Washburn "A" Mill, one of the largest flour mills in the world.
They built the mill in 1880 as the largest of its kind. However, it was destroyed in 1991 by a devastating fire, leaving the place in ruins.
Today, they turn it into a museum built on its remains with an eight-story glass façade to showcase a contrasting modern and historic look of the building for any visitor to see.
Visitors can go on exhibits to recount what transpired since it was well-known flour milling for producing flour in Minneapolis from 1880 to 1930.
This mill complex is part of the National Register of Historic Places for the 1870s. It now offers exhibitions, events, and award-winning programs about this iconic spot.
The Mill City Museum is fascinating as a city landmark.
Address: 704 S 2nd St, Minneapolis, MN 55401, United States
Minneapolis Chain of Lakes Regional Park
The Minneapolis Chain of Lakes Regional Park is one of the top attractions in Minnesota.
It is worth mentioning that Minneapolis' lakes are highlights of the city.
In that case, you better see the Chain of Lakes connected to several beautiful lakes.
The Chain of Lakes is in the southwest of the center of Minneapolis, near the Minneapolis metropolitan area.
It has five different shorelines that lead to the park's green space and pedestrian trails for anyone to go around.
It stretches over 13 miles with paved paths to anything outdoors on the shoreline, bike, hike, and do some running.
The Chain of Lakes has popular attractions that involve going to the public beaches and lakeside walking paths.
If ever you go there during the summer, the Chain of Lakes is fun when enjoying the kayaks, kayaks, or renting a boat to enjoy the tranquility of being in the Chain of Lakes.
Though if you go during the winter, tourists or nearby residents can go to some of the best cross-country ski trails that this area offers in the city.
Go to the Chain of Lakes to enjoy the great outdoors.
Address: Lake of the Isles, Minneapolis, MN, United States
Minneapolis Institute of Art
The Minneapolis Institute of Art is one of the best things to do in Minnesota.
The Minneapolis Institute of Art is an art museum for the public and is free of charge to see some of the best art this city has to offer.
This art museum is government-funded as an 8-acre facility around the neighborhood of Whitter.
The museum used to be called Morrison Park but soon changed its name to the Minneapolis Institute of Art (MIA).
It has various collections featuring over 80,000 objects from 5,000 years of global history.
The MIS has been keeping some of the country's wide-ranging art collections, Asian sculpture and art, and remarkable collections and exhibits from countries like Marica, Africa, and Oceania.
This museum also features traveling collections as it inspires wonder by showcasing art. It collects from other museums, including the Minnesota Artist Exhibition Program, which shows the work of Minnesota's local artists.
Anyone with even a passing interest in art should make a trip to the Minneapolis Institute of Art.
Address: 2400 Third Avenue South, Minneapolis, MN 55404, United States
Minneapolis Sculpture Garden
If you are looking for a destination that offers something unexpected, one of the most well-known options is the Minneapolis Sculpture Garden.
The Minneapolis Sculpture Garden is a beautiful urban green space, over 19 acres.
This garden has displayed sculptures made by the Walker Art Center.
Among its iconic showpiece is the Spoonbridge and Cherry, made by Claes Oldenburg.
In 2017 the Minneapolis Sculpture Garden was used by the Walker Art Center. As soon as it took place, the garden became among America's most extensive urban sculpture gardens.
Besides just the sculptures, this famous tourist attraction has other things for visitors, such as the Alene Grossman Memorial Harbor, the Flower Gaden with its seasonal displays, and the Pavilion & Regis Promenade.
This garden is also a sprawling landscape filled with formal hedges, avenues, and an area to see the skyscrapers around downtown Minneapolis.
Its beautiful sculptures and lush verdant area make this garden well worth visiting.
Address: 725 Vineland Pl, Minneapolis, MN 55403, United States
Minneapolis Skyway System
If you are going on a trip to Minneapolis, there is a chance that you may pass by trekking through the Skyway System as you go around.
This skyway system is unique as it is connected to an 80-city block with various pathways of over 9.5 miles for any visitors to walk around.
In terms of second-level enclosed bridges, it is the biggest of its kind in the world. This skyway is an iconic attraction as it is a bridge part of the daily commute.
If you pass by the skyway, it will you any visitors to various places to go, like hotels, offices, retail stores, sports arenas, art exhibits, bars, restaurants, and a lot more places. This skyway has over 140 eateries nearby by going through the skyway, which gives anyone an endless number of options where to eat.
The Skyway System in Minneapolis is a great way to discover places to visit.
Address: Minneapolis, MN 55402, United States
Minnehaha Park
If you're seeking a spot to wander among a lovely natural environment, take a stroll around Minnehaha Park.
This park attracts more than 800,000 a year for anyone who plans to visit, see and explore this 167-ace park.
Minnehaha Park is famous for its greenery, lovely limestone bluff, and waterfall.
It extends from the banks of Mississippi and in the southeast of Minnehaha.
Among the places to see in this place, visitors should go to the park's Minnehaha Falls, which is 53-foot tall. There are also two statues of characters who were chiefs in Longfellow's Song of Hiawatha, the statues of Minnehaha and Hiawatha.
To anyone planning to visit, the park has amenities for anyone to enjoy, such as going to bike paths, walking paths, a decorative fountain, a Disc Golf course, and a wading pool for anyone to enjoy along with their family and friends.
Visit Minnehaha Park as it is a lovely spot to walk among nature.
Address: 4801 S Minnehaha Drive, Minneapolis, MN 55417, United States
Minnesota Zoo
Are you into seeing animals when going on any trip?
If you are, The Minnesota Zoo is the place for you to see some iconic animals the state has to offer.
The Minnesota Zoo started in 1978 Minnesota with a leading role in organizing animals in their respective living environment rather than organizing them per species.
The zoo has different animals, such as AMure tigers, gray wolves, cougars, Bactrian camels, Malayan tapirs, and other distinct and unique animals.
It has engaging exhibits divided into six themed areas. Some include three lovely walking trails stretched over one to two miles.
Some of its exciting exhibits include the "Russia's Grizzly Coast," which is something new that features animals from the Far East of Russia, indoors or outdoors.
If you want a pure indoor exhibition, visitors can visit the "Medtronic Minnesota Trail," which presents native Minnesota animals on an indoor walking trail.
This zoom is the spot to go if you are looking for somewhere to spend time with your family or friends.
Address: 13000 Zoo Boulevard, Apple Valley, MN 55124, United States
Paradise Charter Cruises
Are you interested in taking a cruise to view Mississippi's beautiful coastline?
The Paradise Charter Cruise is among the attractions in Minneapolis that you have to visit and try.
This old water cruiser offers various river cruises, from riding private charters and public and special event cruises to the rivers or lakes in Mississippi.
It began by boarding an aging cruiser, and from there, visitors get to take a water tour around Lake Minnetonka or the Mississippi River.
Riding this cruiser for any visitor will give them the experience of North America's most extensive river system.
If you are curious about what iconic attractions visitors can see nearby, they can see iconic spots, such as the beautiful Anthony Falls, the Stone Arch Bridge, and the 35W Bridge.
Their cruises have a full-service bar with light meals and snacks available to buy during per tour if anyone needs to grab a bite or drink.
The Paradise Charter Cruise is worth it to explore Mississippi by cruiser.
Address: 2150 W River Pkwy, Minneapolis, MN 55454, United States
Sea Life Minnesota Aquarium
The Sea Life Minnesota Aquarium is one of the best places to visit in Minnesota.
Are you into aquatic wildlife?
If this is the case, plan on spending at least one full day at the Sea Life Minnesota Aquarium, which is jam-packed with sea life.
It is in Minnesota's Mall of America and is home to more than 10,000 aquatic wildlife like sharks, seahorses, jellyfish, manta rays, sea turtles, and other creatures.
Their aquarium has a Pacific Northwest rockpool that weighs over 1,500 gallons. It is a good place for visitors to see unusual creatures, such as touching sea anemones and cucumbers.
Not to mention its underwater tunnel, which is over 300 feet long and beautiful if anyone wants to see sharks in a marvelous view.
For a touch-up experience, check out the Stingray Adventure, which has a shallow pool for anyone to touch the stingray's back. It also comes with having a kaleidoscopic display in the Jellyfish Discovery, where visitors can learn intriguing facts about these unique creatures.
Anyone interested in aquatic creatures should make a trip here.
Address: 120 E Broadway, Bloomington, MN 55425, United States
Stone Arch Bridge
Out of all the bridges you go to in Minneapolis, the Stone Arch Bridge is one iconic historical site you cannot miss.
The Stone Arch Bridge is known as an iconic part of Minnesota history near downtown Minneapolis at the intersection of Portland Avenue and West River Road.
In 1883, the one who built this was a railroad baron named James J. Hill. The Stone Arch Bridge has been a railroad bridge since 1965 to accommodate moving goods and people across the river.
Even today, the Stone Arch Bridge is renowned as a symbol of the railroad age. Stone Arch Bridge is even on the National Register of Historic Places.
Besides being a historic bridge, the Stone Arch Bridge is vital for connecting to the St. Anthony Falls Heritage Trail, with bike lanes and a pedestrian walkway for people to enjoy going around yearly.
If you are looking for what else to do, St. Anthony Main, across the Mississippi, is another option. This neighborhood features a movie theater and restaurants, and eateries.
The Stone Arch Bridge is worth visiting as a historical landmark with places to visit.
Address: 100 Portland Ave, Minneapolis, MN 55401, United States
Target Field Tours
If you like watching baseball, take a tour and explore Target Field, the home of the Minnesota Twins.
Target Field Tours is a 90-minute guided tour that is unforgettable.
This guided tour will take you around parts of the ballpark that regular visitors do not often see.
Depending on when you are available, the Target Field Tours will show you different spaces inside the ballpark, like the clubhouse, the dugout, and the press box.
If you can go, sit down, and have a bird's eye view of the games in Target Field, visitors can head up to the suite level. There is a chance to visit various clubs, like the Champions Club, the Metropolitan Club, and the Legends Club.
You can also go up to the Budweiser Roof Deck before going down to the playing field.
This tour will provide visitors with an overview of the history of baseball memorabilia, stories from past and present locations, and other special features at Target Field.
The Target Filed Tour is worth the tour to anyone interested in baseball.
Address: 1 Twins Way, Minneapolis, MN 55403, United States
Walker Art Center
Take a visit to Walker Art Center to see and explore some unique media, visual, and performing arts of our time.
Located in the heart of Minneapolis, The Walker Art Center is a contemporary art center considered world-class.
It is one of Minneapolis' top attractions and the nation's 'Big Five' Modern art museum.
In 1927, it first began as a public art gallery.
But soon, the art center covered over 17 acres after its recent renovation of increasing the size.
Today, The Walker Art Center covers a broad range of disciplines in visual arts, performing arts, architecture and design, new media initiatives and education, video/film, and participating in community programs.
The art center is famous for its many contemporary and modern art collections of photographs, sculptures, and paintings from European and American artists.
One of the biggest draws at the Walker Art Center is the Minneapolis Sculpture Garden for its renowned Spoonbridge and Cherry.
The museum also hosts festivals and special events in its open green space.
This place is a must art center to instill an appreciation for and enthusiasm for art.
Address: 725 Vineland Place, Minneapolis, MN 55403, United States
Weisman Art Museum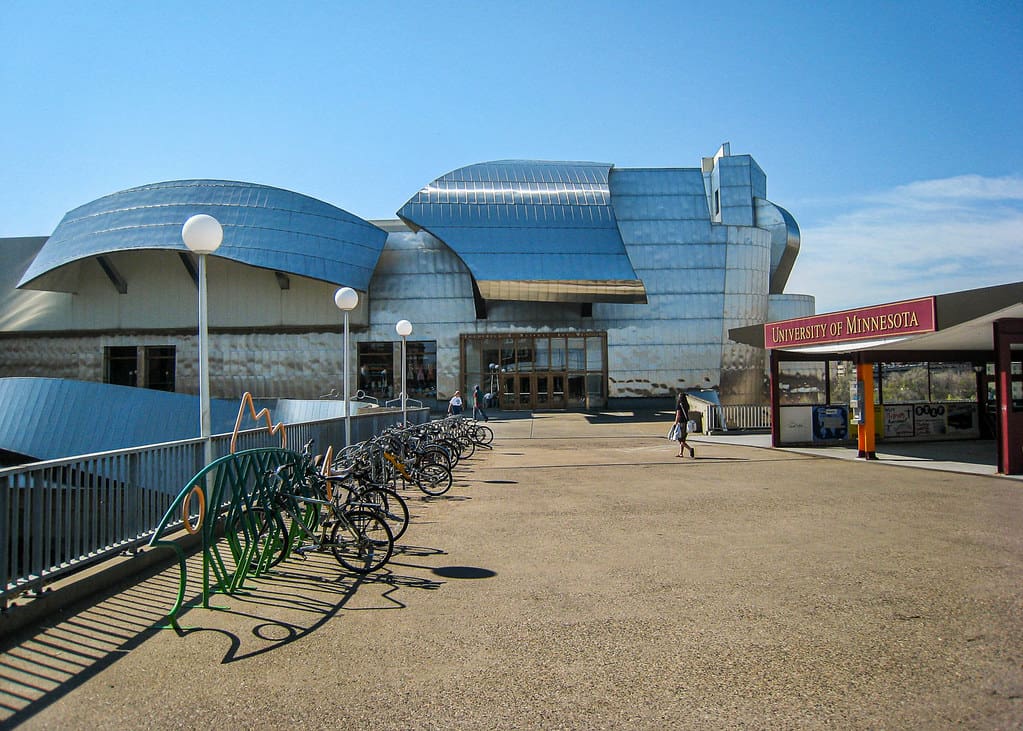 Check out the Weisman Art Museum, not just for its collection of artwork but also for the exquisite architectural design of its building.
The Weisman Art Museum is known as a modern art museum found on the campus of the University of Minnesota.
This museum, designed by renowned architect Frank Gehry, is known for showcasing some of the most prominent art collections in the United States.
It has served as a teaching museum for over 80 years for the university.
The museum has many impressive collections featuring works by Americans in the early twentieth century, like Georgia O'Keeffe and Marsden Hartley.
It has other diverse collections like the museum's contemporary art, unique Korean furniture displays, and Native American Mimbres ceramics and pottery.
For any visitor planning to visit the Weisman Art Museum, the museum has free admission and is open every day except Mondays and special holidays.
This museum has a lot that will pique your interest both inside and out.
Address: 818 South 2nd Street, Minneapolis, MN 55415, United States
Volunteer At Animal Shelters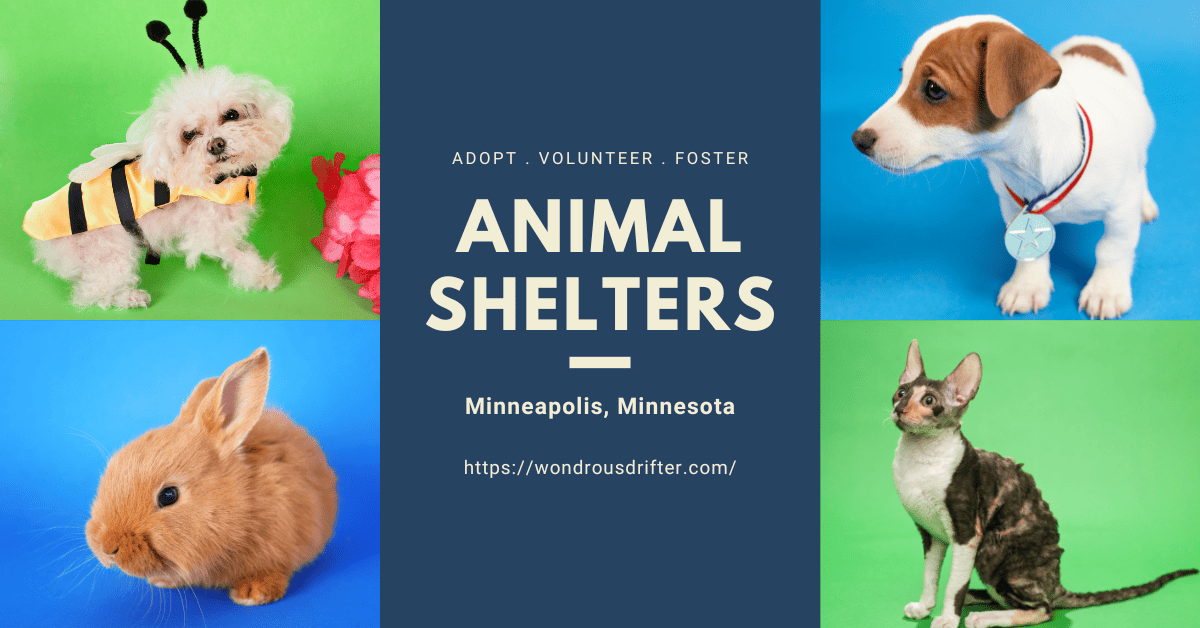 Animal shelters need your help! Most of the pet overpopulation in animal shelters is caused by people not taking care of their pets and letting them breed without control. About two litters of puppies can be born to a female dog every year. Most litters have between six and ten puppies. If allowed to keep breeding, one female dog and her offspring could make around 67,000 puppies over 6 years. Even more shocking are the facts about cats. One female cat can have up to three litters a year, with an average of four to six kittens per litter. Over 7 years, one cat and her offspring could have 420,000 kittens.
Animal shelters are often overcrowded and understaffed. Even the best shelters and rescues have difficulty giving each animal the individual love and attention it would need to thrive. By spending time with the animals, you are not only giving them love, but you are also socializing them. Animals who are socialized are more likely to be adopted than those who appear shy or fearful during a meet and greet.
The holidays are an amazing time of year to stop and think of those less fortunate than us. Animals are often forgotten, but assisting can greatly impact your community. When you get into the giving spirit this year, consider including local animal welfare organizations on your list! Happy howl-idays!
Check out the list of animal shelters in Minneapolis, Minnesota, where you can volunteer. Help needy animals!
Traveling and having fun in the USA? You have to check out this page – the best states to visit in USA for the most fun and unusual travel ideas.
Still unsure about making Minneapolis, Minnesota, your next destination? Visit reasons to visit Minneapolis, Minnesota, at least once in your lifetime here.