Why go to Connecticut?
You must visit Connecticut at least once in your lifetime because it is a convenient day trip or weekend escape from most major northeastern cities. It offers the right blend of New England charm and landscape, Ivy League college town character, and enough activity to fulfill any foodie or history buff's desires. Whether traveling with children or adults, you'll find plenty to keep everyone entertained, including picturesque beachfront and rural drives, vintage shops, world-class museums, historic landmarks, and pleasant walks.
What is Connecticut famous for?
Connecticut is famous for the most famous institution in the city, Yale University. Despite being the third-smallest state and sometimes being overshadowed by New York, Connecticut has much to offer. Fall foliage and the fact that ESPN is based in Connecticut are just a few of Connecticut's many accolades.
Fun Facts about Connecticut
The first color television, hamburger, phone book, Polaroid camera, nuclear-powered submarine, and helicopter were all invented in Connecticut.

Car speed restriction rules were first implemented in the United States in Connecticut in 1901. The maximum speed limit for motorists was set at 12 mph.

As a part of their beliefs, if it doesn't bounce, it isn't a pickle in the state of Connecticut.

Connecticut is the birthplace of the dictionary.

At a place called Louis' Lunch, hamburgers were invented.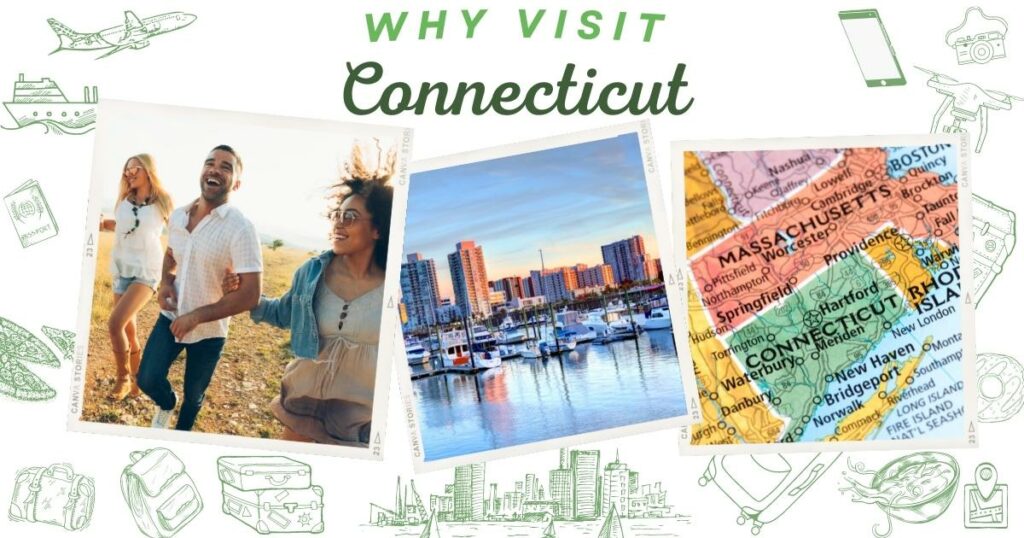 How big is Connecticut?
Connecticut is about 14,357 square km or 5543 square miles in size.
When is the best time to visit Connecticut?
The best time to visit Connecticut is in May. Some days in July and August may be uncomfortable because of the humidity and high temperatures. The winter months should also be avoided when temperatures can fall to dangerously low levels. The ideal time to visit Connecticut is from May to June or September to October, depending on the season.
How many days do you need to see Connecticut?
You may roam around Connecticut and see the best of it in 5 days. In 5 days, you may start from Fort Lauderdale, drive to Norwalk, and then to New London, where you can spend 3 nights, then drive to Hartford to spend a night, and then go back to Fort Lauderdale to call it a day.
What is the cheapest time to go to Connecticut?
The low season (flights) to visit Connecticut is from August to late September.
Is Connecticut an expensive city to visit?
This state's prices are 6.1% higher than worldwide. The most expensive is Bridgeport-Stamford-Norwalk. A lone journey to Connecticut costs $1,271, a couple $1,928, and a family of four $3,676. Connecticut hotels cost $68 to $309 per night, averaging $102, while vacation homes cost $170 to $620 per night.
How to save money when visiting Connecticut?
The best ways to save money when visiting Connecticut are:
Stay at an Airbnb

Eat at a local restaurant

Rent a fuel-efficient car

Pay using a debit card or cash
What food (and drinks) is Connecticut known for?
Things you need to eat in Connecticut before you die:
Steamed cheeseburger

Lobster roll

Moscow mule

"In the money" cocktail
Is Connecticut safe to visit?
It is relatively safe to visit Connecticut. Several Connecticut cities have received top safety ratings, making it one of the safest states in the US. If you're looking for a secure place to live in the United States, look no further than Connecticut. If you aren't doing anything risky or out of the norm, visiting Connecticut should feel comfortable.
What is the best way to get around in Connecticut?
The best way to get around in Connecticut are:
What are the neighborhoods or areas I should stay in when I visit Connecticut?
The best areas you should stay in when visiting Connecticut are:
Town of Goshen

Downtown Essex

City of Bristol

Town of Westport
What are the best neighborhoods or areas for food?
The best areas for food and drinks when visiting Connecticut are:
West Hartford

South Norwalk

Middletown

Westport
What are the best neighborhoods or areas for shopping?
The best areas for shopping when visiting Connecticut are:
Greenwich

Litchfield

Clinton

West Hartford
What should I do on my first trip to Connecticut?
If you are visiting Connecticut for the first time, you may spend a relaxing day by the Long Island Sound at one of Connecticut's top beaches; go window shopping in Greenwich; see a glass house in New Canaan; or be inspired by the artwork on show at the Yale University Art Gallery. It has everything and more to satisfy even the most discerning traveler. Unlike many other states in the union, Connecticut has direct access to the ocean. As a result of its location on the Atlantic coast, Connecticut's weather might be unpredictable. Still, when it shines, it is breathtaking. When you travel to Connecticut, you have to check out the best things to do in Connecticut here.
Is Connecticut a good place for solo travel?
When traveling solo, you are at the right place to go. Connecticut has several solo-traveler-friendly destinations. Every summer, every attraction, restaurant, hotel, and cultural institution welcomes solo female travelers (and men, too, for that matter). Visit one of Connecticut's spas for a mindfulness break, manicure, or massage. It's a wonderful way to focus on oneself and stop caring for others.
Is Connecticut a good place to visit for a family with kids?
When visiting Connecticut as a family with kids, you'll like the attractions at Lake Compounce, the artwork at Hartford's Wadsworth Atheneum, and the animals at Bridgeport's Connecticut Beardsley Zoo. The cherry on top? Many family-friendly and scientifically focused museums around the state are sure to keep kids amused for days on end. Every season has plenty to offer, both indoors and out. Numerous resorts, motels, and bed & breakfasts cater to families with children.
Is Connecticut a good place for couples?
When visiting Connecticut as a couple, you are in for a romantic getaway. Connecticut is a great place to visit if you're seeking weekend vacation options on the East Coast. This is the ideal location for couples seeking a luxurious retreat with plenty of personal space. Fairfield County has a wide variety of inns, bed & breakfast establishments, and many hotels in the city centers of Hartford, New Haven, and others. Plan a massage or other spa treatment for you and your partner.
What are the best annual events in Connecticut?
The best annual events in Connecticut that you cannot miss are
Sea Music Festival in June

Connecticut Garlic & Harvest Festival in October

Sailfest in July

Brooklyn Fair in August

Oyster Festival in September