Pigeon Forge is an amazing travel destination in Tennessee. Here is our hand-picked list of the top activities and attractions in Pigeon Forge, Tennessee so that you can make the most of your time there. Scroll down for the best things to do in Pigeon Forge, Tennessee, and the best places to visit in Pigeon Forge, Tennessee.
Country Tonite Theater
Tourists visiting Pigeon Forge who want a taste of country music and dance should schedule a show at the Country Tonight Theatre.
The play features entertaining actors in vibrant costumes singing and dancing, comedy acts, and more in the family-friendly theater. It has seating for more than 1500 people.
Wondering what to expect in this unique theater? The program has a faith, family, and freedom theme!
They also feature traditional and contemporary country music, entertaining dancing, and dynamic light effects.
Once you visit the place, you will appreciate the performances for being captivating and fascinating!
You will also be astounded by the actors' talent and how much fun they were having.
Everyone, including children, can relate to the humor and the songs you already know and love. It may also be good news for you; kids under 12 are admitted free of charge!
The entire family will enjoy Country Tonite because it is the only performance featuring young artists in the Pigeon Forge and Gatlinburg area.
You don't even have to be a country music lover to adore Country Tonite, which is one of the best things about this concert in Pigeon Forge!
It's the "feel-good" program you'll remember long after your vacation!
Address: 129 Showplace Boulevard, Pigeon Forge, TN 37863, United States
Crave Golf Club
Visiting a unique golf club after a tiring day in Pigeon Forge is an excellent option.
This Pigeon Forge course with a Candyland motif adds a sweet twist to mini golf. If you are curious about it, it's the most famous Crave Golf Club!
Your path will take you past places like Bubblegum Garden and Ice Cream Canyon.
You will be adorned with touches like enormous gummy bears and cupcake pillars that bring the course to life.
You can also swing by the candy shop or milkshake bar for a treat whenever you need a break.
With Rooftop Mini Golf, Crave Golf Club offers one of Pigeon Forge's most challenging mini golf courses.
Just head to the Indoor Mini-Golf at Crave Golf Club if you're eager to play a round of miniature golf but concerned that bad weather could interfere with your plans.
You can also try Mini-Bowling. You can bowl like a rockstar on small lanes with spectacular lighting effects!
Additionally, Crave has two brand new Escape Rooms, a huge sweer store, Mini-Bowling, and an Ice Cream Parlor! Fascinating!
Spend your ideal afternoon here and enjoy many activities for families
It also offers excellent exercise for children of all ages!
There are also wheelchair-accessible activities available in the area. So don't miss out!
Address: 2925 Parkway, Pigeon Forge, TN 37863, United States
Dollywood
If you wish to visit an impressive park in Pigeon Forge, go to the most famous Dollywood.
Tennessee's main ticketed attraction, the 150-acre (61-hectare) Dollywood amusement park, receives about 2.5 million visitors yearly.
Each ride, show, and activity is accessible with a 1, 2, or 3-day ticket, depending on your preference.
In addition, you can also purchase a TimeSaver pass to maximize your time in the park. Using that, you can easily access a few rides and shows all day long!
Families, theme park enthusiasts, and fans of Dolly Parton must visit Dollywood. Get a mobile ticket in advance to avoid the line (and stress) at the box office.
Some rides prohibit wearing flip-flops, so dress comfortably and be prepared to walk. You must also like to bring sunscreen, sunglasses, and a hat, and don't forget to drink plenty of water.
Most of the park, as well as numerous rides and attractions, are wheelchair accessible.
Plan your trip for a weekday in the spring or fall for the ideal combination of pleasant weather and short lineups for attractions.
If you're coming over the weekend, during spring break, or in summer, make sure to arrive early in the morning. Have fun!
Address: 2700 Dollywood Parks Blvd, Pigeon Forge, TN 37863, United States
Dolly Parton's Stampede
The entertainment at Dolly Parton's Stampede in Pigeon Forge, Tennessee, is ready to start when you get there!
Once you are already in the place, prepare to clap your hands, tap your toes, and stomp your feet!
Everyone will love congregating in the 35,000 square foot arena of the "Color Me America" singer's supper show in Pigeon Forge. You can enjoy the show with families, friends, or special someone.
Enjoy a physical feast while feasting your eyes on an exhilarating whirlwind of vibrant costumes and amazing horses galloping across the dirt. It's very tasty and fresh!
In this amazing place, you will find many delicious cuisines. These include whole rotisserie chicken, succulent pork tenderloin, hot buttered corn on the cob, and the Stampede's famous creamy vegetable soup.
The array of home-style food will satisfy your appetite. Finish everything off with a rich specialty dessert!
You'll need to purchase tickets first to participate in all the deliciously amazing action. To guarantee your seats, buy your tickets online ahead of time.
The Dolly Parton's Stampede experience is a must before leaving Pigeon Forge. Enjoy your vacation and bring home memories with your loved ones!
Address: 3849 Parkway, Pigeon Forge, TN 37863, United States
Dollywood's Splash Country
There aren't many better places in the Smoky Mountains to cool off on a hot, sunny afternoon than Dollywood's Splash Country.
Dollywood's Splash Country has something for everyone, whether you're a thrill-seeker, adrenaline junkie, or a tourist a little more inclined toward the slow-paced, foot-soaking style of waterpark activities.
In contrast, many family-friendly attractions are appropriate for older and young children, as well as rides that the whole group may enjoy together as well as solo or tandem experiences.
Many of the slides and rides at Dollywood's Splash Country use the terrain's natural features. It also adds to the thrill of racing down Smoky Mountain hillsides against a lush backdrop.
Wondering what rides you can enjoy? Dollywood's Splash Country offers every little fun you need!
Whatever your age, TailSpin Racer is sure to bring out your inner competitor, whether you're racing against friends, family, or strangers.
Another adventure that is perfect for family rides is the Raging River Rapids. Just a tiny taste of whitewater rafting in the Great Smoky Mountains!
Checking out Mountain Waves is a must-try. At Mountain Waves, the 25,000-square-foot, family-friendly wave pool at Dollywood's Splash Country, a tranquil cool-off is the aim.
Get ready to experience the immersive fun at Dollywood's Splash Country!
Address: 2700 Dollywood Parks Blvd, Pigeon Forge, TN 37863, United States
Forbidden Caverns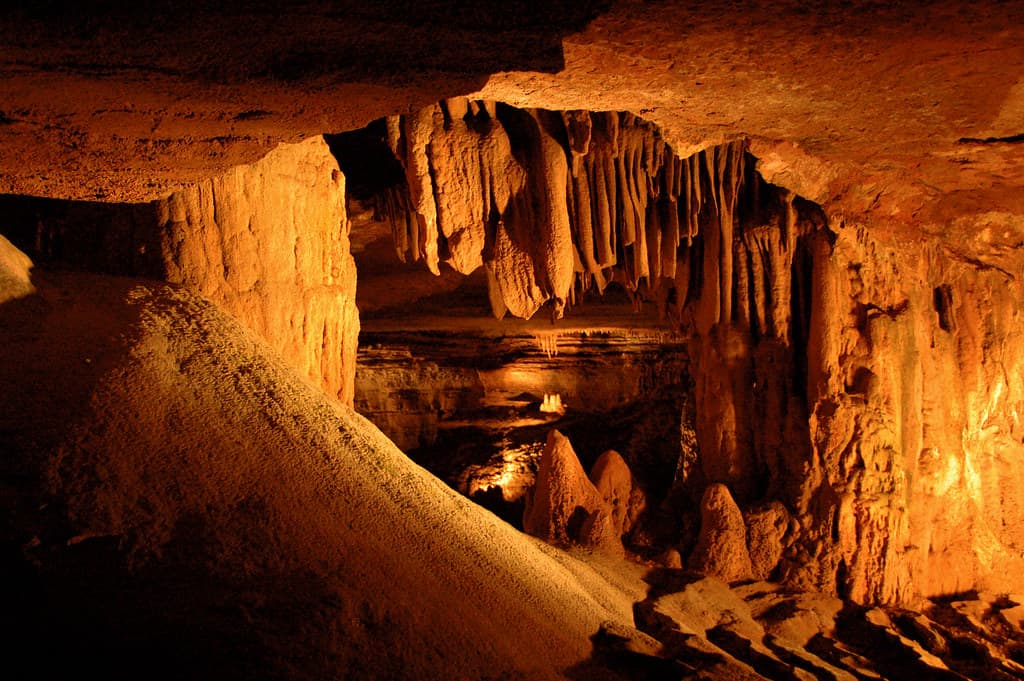 Looking for a one-of-a-kind attraction that isn't available anyplace else? You should visit the Forbidden Caverns!
It is a cave beneath the Great Smoky Mountains, where you will be astounded by the size and beauty of the natural caverns.
You will be given a fun tour of the tunnels when you go to Forbidden Caverns. The polite guides will lead you through the tunnels and answer your questions while describing the caverns' history and science.
As you explore the caves, you'll come across glistening rock formations illuminated with vibrant lights to draw attention to the beauty of nature.
The caves are crossed by a crystal-clear stream, which is so pure you can see every rock in the water!
In addition, grottos, flowstone, and cave onyx are a few of the sights you'll see. Stalactites and stalagmites will also be visible.
If you notice bats flying around the cave, don't be shocked! Since bats prefer damp, gloomy environments, Forbidden Caverns are a great area for them to live.
All ages will enjoy Forbidden Caverns as a superb attraction. You can also buy some souvenirs as a reminder of this great journey.
Address: 455 Blowing Cave Rd, Sevierville, TN 37876, United States
Hatfield and McCoy Dinner Show
Enjoy an unlimited buffet served family style while watching the funny Hatfield and McCoy Dinner Show.
This wildly popular dinner show in Pigeon Forge presents a joyful comedic revue of the longest-running war in history. You will enjoy fake fighting, singing, dancing, amazing stunts, and side-splitting comedy.
Bluegrass music, mind-blowing stunts, and hilarious comedy are all featured. Fantastic!
The good thing about this fantastic place is it's an "eat all you can" spot so that you can come hungry. Take note that before the play begins, meals are served. Once the show starts, table service ends.
Creamy vegetable soup and warm homemade bread are served to start the dinner. Fried chicken, pulled pork barbecue, mashed potatoes, creamy coleslaw, corn on the cob, and a unique dessert are done to finish the meal.
Requests for vegetarian, dairy-free, and gluten-free meals will be granted.
Additionally, you can expect that the serving personnel was exceptionally kind and diligent in their duties.
Don't forget to bring cash because the ticket price does not cover tips, souvenir photos, beer, or moonshine cocktails.
Everyone was incredibly talented, and the event was entertaining. You won't be disappointed. Have fun!
Address: 119 Music Rd, Pigeon Forge, TN 37863, United States
Hollywood Wax Museum
When was the last time you shared the spotlight with Hollywood royalty or walked the red carpet with an A-List celebrity?
Visit the most famous Hollywood Wax Museum to pose with your favorite characters while wearing hilarious costumes and decorations for the finest vacation photos!
You'll learn more about the celebrities along the way, including their pets and pet peeves. Sounds great!
Your trip to the wax museum in Pigeon Forge will be unforgettable fun. Whether you're mingling with celebrities at a lavish cocktail party, playing golf with a movie mogul, or dancing with pop divas!
King Kong, perched on a tower along the Parkway, is impossible to miss. You may even snap a photo with him when you enter!
Castle of Chaos is another thing you shouldn't miss out. You must sit down and shoot your laser cannon to score the most points in this 5D adventure.
Enjoy the thrill of being frightened? Outbreak Dread the Undead is fantastic!
You will be sent into the lab where the epidemic began to contain it as a member of the task team.
The Hollywood Wax Museum is one of the most well-liked attractions in Pigeon Forge. Book your visit today!
Address: 106 Showplace Blvd Unit A, Pigeon Forge, TN 37863, United States
Lightning Rod
Do you feel brave enough to ride the Lightning Rod coaster at Dollywood? Explore now!
The Lightning Rod coaster quickly overtakes other legendary rides at theme parks worldwide to rank among the best coasters. Visit now so you can see for yourself!
Tourists experience an unforgettable thrill on this record-breaking coaster in Pigeon Forge.
Test seats are offered for vacationers at the front-of-the-line queue if you have questions regarding the limits. You need to test out these seats before standing in line.
Sit in the front car for the best ride and the most airtime, if at all possible. It will give you the best excitement you are looking for!
Before the drop, riders attain a speed of about 40 mph, and by the end of the fall, they can reach a top speed of 73 mph. Exciting!
Assuring you, this roller coaster will live in your memory because of the extreme speed and the crazy drops.
Lightning Rod is conveniently situated in Dollywood's Jukebox Junction neighborhood. Just keep an ear out for the roller coaster's roar as it climbs hills and makes tight twists around slopes.
Of course, you can also keep an ear out for passengers' shrills at high pitches!
Address: 2700 Dollywood Parks Blvd, Pigeon Forge, TN 37863, United States
Outdoor Gravity Park
You must try zorbing at Outdoor Gravity Park in Pigeon Forge if you're searching for something unique to do the next time you're in the Smoky Mountains!
Imagine yourself having an unforgettable adventure while sliding down a hill in a huge plastic ball.
People of all ages will have a lifetime experience at this site because it is unique!
You can only experience this kind of enjoyment there in all of America. You can choose from a total of 3 different experiences while you're there.
The entire year, Outdoor Gravity Park is accessible. Any time of year, you can enjoy wet zorbing in a unique H2OGO for a damp and exciting experience.
Meanwhile, the attraction provides DRYGO. It is the same enjoyable experience without the water if you don't feel like getting wet.
Zorbing at this Pigeon Forge attraction is fantastic because you may enjoy the experience with friends or family. It can accommodate up to three riders at once!
You can decide whether to ride alone or share a good time rolling down the hill while having fun with the people you love.
The ideal chance to escape from cellphones and computer screens and spend some time outside is offered by Outdoor Gravity Park. So don't miss out!
Address: 203 Sugar Hollow Rd, Pigeon Forge, TN 37863, United States
The Great Smoky Mountain Wheel
The 200-foot-tall Ferris wheel or the most famous, The Great Smoky Mountain Wheel, cannot be missed if you pass through that area.
The focal point of The Island in Pigeon Forge, an eating and shopping complex with plenty of wonderful entertainment, is this amusing Ferris wheel!
You won't want to miss riding on one of the tallest attractions in the Southeast while staying at Timber Tops Cabin Rentals!
The Great Smoky Mountain Wheel's breathtaking vistas of Pigeon Forge and the Smoky Mountains are one of the best reasons to ride it!
Through the completely transparent gondolas, which hold up to 8 passengers, you can see for miles in all directions.
Even at night, you can ride the Great Smoky Mountain Wheel to get a birds-eye perspective of The Island's other attractions, including the Island Show Fountain!
In addition, the ideal dating idea is to ride the Great Smoky Mountain Wheel! Just picture cuddling up while the wheel spins against the backdrop of a stunning sunset!
The reasonable ticket fees on this Pigeon Forge Ferris wheel are another reason to ride it.
Bring your camera, whether a DSLR or a smartphone, to get some amazing images of the mountains!
Join the fun at The Great Smoky Mountain today!
Address: 131 The Island Dr, Pigeon Forge, TN 37863, United States
The Island in Pigeon Forge
There are more than 40 shops, a huge selection of rides, dining options, and other amenities at The Island in Pigeon Forge!
You get to pick your excitement when you play the escape game at The Island in Pigeon Forge! Each round lasts for 60 minutes, and your group gets to choose the escape room's theme.
The Alcatraz East Crime Museum at The Island in Pigeon Forge is a must-visit location if you enjoy everything related to historical crime.
The museum also features kid-friendly displays, such as a laser maze for heists, a modern police shooting range, and more! The entire family will appreciate the interesting and instructive attractions of this museum.
If you are looking for other fun, there's more! Jigsaw puzzles, 3D and 4D puzzles, kids puzzles, and more brainteasers are available at Puzzled Etc.
In addition, you may also climb, swing, and suspend on the three-story Island Ropes Course. Two zip lines and a simulated free fall where you must aim to land on a huge bullseye are also included in the course.
After a long day, unwind and relax with a drink at Dude's Daiquiris! 24 craft beers from across the world are available, or you can sip on a delectable cocktail.
There are so many fun things on The Island of Pigeon Forge. Enjoy!
Address: 131 The Island Dr, Pigeon Forge, TN 37863, United States
The Old Mill Square
The Old Mill Square is one of the top attractions in Pigeon Forge. Everyone can admire this old grist mill and the square that surrounds it.
It was constructed in the early 1800s and supplied the community with electricity until 1935.
The Old Mill Square attracts vacationers who check out the enormous water wheel, shop, and eat delectable Southern fare.
Wondering what other things you can do here? A tour is undoubtedly the most important thing to do when visiting The Old Mill.
You will be shown how to use the Little Pigeon River's energy to turn the stones, and you'll even hear legends about the mill's past!
Also, schedule a meal at The Old Mill Restaurant while you're there.
Homemade meatloaf is always a good choice. The best cuts of beef are used in this dish, which also includes an Old Mill herb and spice blend that is freshly ground every day.
Get an ice cream cone from The Old Mill Creamery for a delicious treat after your dinner! Sugar cones, shakes, sundaes, and other goodies are available.
The Old Mill General Store is a must-visit if you want to find the ideal souvenir!
The Old Mill's freshly ground grains, flours, and famous pancake and specialty mixes are available at The Old Mill General Store.
The Old Mill in Pigeon Forge offers a variety of great activities. Enjoy your stay!
Address: Old Mill St, Pigeon Forge, TN 37863, United States
Titanic Museum
Don't miss out on going to the Titanic Museum in Pigeon Forge if you're searching for something entertaining to do with the whole family!
A genuine Titanic passenger or crew member's boarding card will be handed to you as you enter this fantastic exhibit.
You can picture what it was like for this person on board the Titanic as you walk around the exhibit.
The Titanic provides a distinctive setting for all kinds of events. Even better, your kids may celebrate their birthdays here and get free museum entrance, a birthday button, and more!
On the great staircase, you can pop the question to your sweetheart in a memorable way. Additionally, there are other wedding and vow renewal packages that can truly make your big day unforgettable!
Throughout this self-guided tour, you can take in several interactive exhibits.
Additionally, you can learn how to send an SOS signal, shovel coal in the boiler room, touch an iceberg and feel 28-degree water!
As you see the main staircase from the Titanic, you can imagine what life was like there.
Don't forget to dip your hand into the 28-degree water to experience how chilly it was on a tragic night!
For a memory of your visit to the Titanic Museum in Pigeon Forge, stop by the gift store! Explore the shop to get fresh souvenirs to bring home or presents for loved ones.
This well-liked museum in Pigeon Forge is open all year round!
Address: 2134 Parkway, Pigeon Forge, TN 37863, United States
WonderWorks Pigeon Forge
When you travel to Pigeon Forge, you must visit WonderWorks if you haven't already.
Families and groups can spend quality time here. This indoor theme park for the mind will fascinate tourists of all ages.
You'll first notice the Wonder Zones when you enter the upside-down house. They are jam-packed with hands-on exhibitions where both children and adults will enjoy learning and doing.
You can put your physical strength to the test in the Physical Challenge zone. The Wonder Wall uses tiny pins to recreate your body.
View an authentic astronaut space suit at the Space Discovery area. Sit inside a Mercury capsule model to get an idea of how tiny it is.
The Ropes Course is another fun thing you must try. You can navigate this physical obstacle by climbing, hopping, and walking across bridges.
Play laser tag with your companions to see who can score the most points! Try to score points by aiming your laser at the spots on the vests while hiding behind various features.
In addition, playing games in the arcade with your friends will be enjoyable! Play some air hockey and skeeball to see how you do.
WonderWorks offers educational entertainment for vacationers of all ages. Make sure to spend an afternoon discovering everything this attraction offers when you travel to Pigeon Forge with your family.
Address: 100 Music Rd, Pigeon Forge, TN 37863, United States
Volunteer At Animal Shelters
Volunteer at a local animal shelter. Many animal shelters are run by groups that are non-profit in nature, so they depend on donations, gifts, and adoption fees to keep going. Any help you can give, whether it's food, newspapers, or even your time, would be very much appreciated.
Volunteering helps to promote awareness and contribute to the solution to pet overpopulation, neglect, and abuse.
The holidays are a perfect time of year to think about people who are less fortunate than us. Animals are usually neglected, but assisting when possible can have a significant impact on the community. Consider including local animal welfare organizations on your list of charitable organizations this year! Merry howl-idays!
Check out the list of animal shelters in Pigeon Forge, Tennessee, where you can help animals in need. Lend a helping hand today!