Why go to Hershey?
You must visit Hershey at least once because it is the Sweetest Place On Earth. It has many activities, food options, shopping, a famous spa, and live concerts and events for everyone to enjoy!
Places to go in Hershey, Pennsylvania:
What is Hershey famous for?
Hershey is famous for its "sweetest spot on earth," the birthplace of the famed Hershey's Chocolate.
Fun Facts about Hershey
After two unsuccessful efforts to create his own candy firm, Hershey founded the Lancaster Caramel Company in 1894, known for its Crystal Cream Caramel.

It was in 1900 when Milton Hershey sold Lancaster Caramel Co. for $1 million, which is now worth $31 million.

In 1893, Milton Hershey was in Chicago for the World's Columbian Exposition when he saw the art of chocolate production firsthand. He couldn't get enough, so he went out and bought the necessary equipment to start his own business.

Each day, 80 million Hershey's Kisses are made.

M&M's and Hershey's Kisses are the top-selling candies in the United States, with Reese's Peanut Butter Cups coming in third.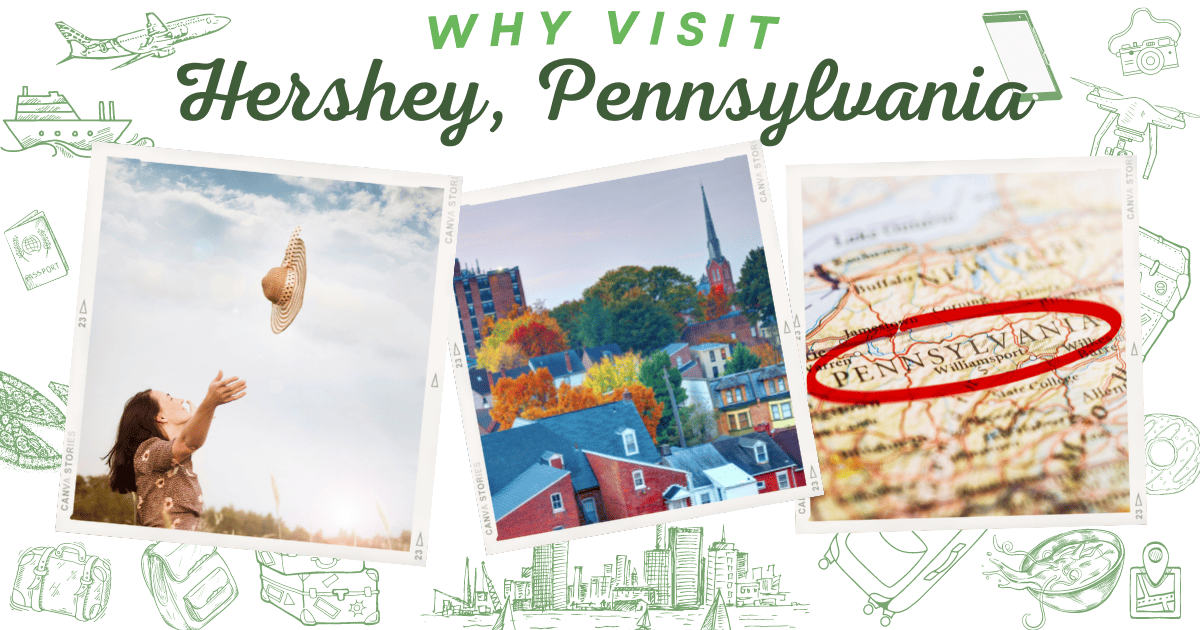 How big is Hershey?
The city is about 37 square km or 14 square miles in size.
When is the best time to visit Hershey?
The best time to visit Hershey, Pennsylvania, is the months of March to November.
How many days do you need to see Hershey?
Traveling to Hershey may be done in a day or two, depending on your interests and time constraints.
What is the cheapest time to go to Hershey?
The low season (flights) to visit Hershey is in the months of mid to late September, January, April, and August.
Is Hershey an expensive city to visit?
The average daily cost of a vacation in Hershey is $170, depending on the cost of other visitors to the city. On average, visitors have spent $49 on meals and $39 on local transportation for a single day. In addition, a couple's hotel room in Hershey costs an average of $182.
How to save money when visiting Hershey?
The best ways to save money when visiting Hershey are:
Save money right now with Everyone Pays Kids Price! Pre-purchase tickets and add-ons online or through the Hersheypark App to save money.

Purchasing a parking voucher in advance allows you to save time on the day of your visit. Then, show your parking voucher to the attendant at the parking lot and get ready for some fun!

Take full use of the free shuttle service.

Take advantage of the free Wi-Fi at HERSHEYPARK.
What food (and drinks) is Hershey known for?
Things you need to eat in Hershey before you die:
Founder's Way Funnel Cake

Avocado Ranch

BBLz

Frozen blended coffee
Is Hershey safe to visit?
As a result, you'll discover Hershey is a wonderfully secure and welcoming place to call home. All year-round residents are nice and highly accommodating to guests. Most of the crimes in the area are minor offenses, like parking tickets.
What is the best way to get around in Hershey?
The best way to get around in Hershey are:
Rental cars

Uber

Bicycle rentals
What are the neighborhoods or areas I should stay in when I visit Hershey?
The best areas you should stay in when visiting Hershey are:
Travelodge Hershey

Rodeway Inn & Suites Hershey

Scottish Inns & Suites Hershey

The Suites at Hershey
What are the best neighborhoods or areas for food?
The best areas for food and drinks when visiting Hershey are:
The Chocolate Avenue Grill

Piazza Sorrento

Fenicci's of Hershey

Troegs Brewing Company
What are the best neighborhoods or areas for shopping?
The best areas for shopping when visiting Hershey are:
Tanger Outlets Hershey

Hershey's Chocolate World

Crossroads Antique Mall

Signatures at The Hotel Hershey
What should I do on my first trip to Hershey?
If you visit Hershey for the first time, you will see it possesses chocolate like no other. Hershey's Kisses street lights adorn the town's main thoroughfare, which is a wonderful place to visit for the first time. If you're lucky, you might catch the delightful fragrance of chocolate from the factory drifting across town. At the same time, you enjoy the enchanting trolley tour or amusement park, botanical garden, and zoo.
Is Hershey a good place for solo travel?
When traveling solo, you will think of Hershey, Pennsylvania, and tend to think of chocolate. However, you can have a grown-up weekend in the town where chocolate was developed. An antique automobile museum and many wineries were among the places you could visit on your own.
Is Hershey a good place to visit for a family with kids?
When visiting Hershey as a family with kids, you will be amazed that The Sweetest Place On Earth has a lot to offer families with young children. The possibilities for a fun-filled family day out are endless. There are amusement parks to visit, zoos to visit; shows to watch; candy bars to make; butterflies to view; and museums to discover.
Is Hershey a good place for couples?
When visiting Hershey as a couple, you may experience the lavender and chamomile-scented couple's massage room at The Spa At The Hotel Hershey, or perhaps a chocolate sugar scrub and Hershey's Dark Chocolate Body Wrap at MeltSpa would be more your style. Treatments for you and your special someone are available at both spas. You may take them straight to Hershey's Chocolate World and then to the Hershey Theater for a romantic dinner.
What are the best annual events in Hershey?
The best annual events in Hershey that you cannot miss are
Free Shakespeare in the Park: The Winter's Tale in June

31st Annual Boscov Berks Jazz Festival in April

Big Time Rush: Forever Tour in July

Def Leppard & Motley Crue in July

Thomas Rhett in June