Get a glimpse of the marvels of Tulsa, Oklahoma. For the best travel experience in Tulsa, Oklahoma, check out our curated list of things to do in Tulsa, Oklahoma, and the best places to visit in Tulsa, Oklahoma, below. Wondrous Drifter, a Web 3.0 travel startup, hopes to have a significant impact on the world.
Ahha Tulsa
Experience a modern and one-of-a-kind art museum in Ahha!
Ahha was first established in 1961 in Tulsa, Oklahoma, under the name Arts and Humanities Council of Tulsa, with the mission of introducing innovative art practices to the surrounding area.
Those wishing to engage themselves in arts and explore modern exhibitions may visit Ahha, an immersive arts center.
Kaleidoscopes of color, lights, and music are all part of Ahha's displays.
In Ahha's displays, you'll be able to explore a new universe every time you visit.
You can utilize switches in "Together" to manipulate the sound and motion in the simulation.
Walking through "Woo" is like walking inside a euphoric dream.
"Through the Wormhole" allows you to travel into a singularity by passing over a black hole.
For the fullest experience, it is recommended that you sign up for a tour.
There are many more displays available to investigate and interact with. Be sure to visit the museum in Tulsa!
Address: 101 E Archer Street, Tulsa, OK 74103
Blue Dome District
Looking for a historical yet romantic attraction in Tulsa?
You should go to the Blue Dome District!
The Blue Dome District, formerly a petrol station established in the 1920s, is now a popular nighttime attraction with several notable art and music events happening in the area.
The Blue Dome District in Tulsa, Oklahoma, is a great choice for lovers looking for enjoyable places to visit in the city.
Dating in the Blue Dome District is as easy as strolling around the many art museums and restaurants.
Boomtown Tees & Souvenirs, Max Retropub, Dilly Diner, and the Dust Bowl are just a few places to visit in Tulsa if you're looking for something a little different to do in the morning.
Visit the Vintage Wine Bar if you're looking for a good bottle of wine.
You might also visit Roof Sixty-Six Bar, a roof terrace with breathtaking sunset views.
Address: 202 S Elgin Ave, Tulsa, OK 74120
Boston Avenue Methodist Church
Attend a service or just admire the architectural design of the Boston Avenue Methodist Church!
Tulsa was the first city that the pioneers of the Methodist Episcopal Church in Oklahoma visited after they arrived in the state in 1893.
The small group first worshiped in a brush arbor they had constructed for themselves and then moved into a smaller frame structure.
The increase in the number of members necessitated moving to a location with more room.
In the early 19th century, Tulsa's oil economy was at its pinnacle, so the congregation's volunteers were eager to take on the task of supporting what is today a National Historic Landmark.
The Boston Avenue Methodist Church in Tulsa, Oklahoma, is among the United State's most recognizable displays of architectural style.
In addition to an elevator and the over 200-foot tower, the art deco masterpiece has arched gateways, terra-cotta sculptures, sheltered terraces, round domes, tinted glass panels, and a memorial.
Architecture enthusiasts wouldn't want to miss out on this church in Tulsa!
Address: 1301 S Boston Ave, Tulsa, OK 74119, USA
Up for an adventure? Oklahoma has a lot to offer! Check out our curated travel guides to Broken Bow and Oklahoma City! Have a fun time on your vacation! Look out for more terrific things to do in Broken Bow, Oklahoma, and the best things to do in Oklahoma City, Oklahoma.
Discovery Lab
If you're looking for a fun and educational place for the kids, the Discovery Lab is the place to go!
The Discovery Lab in Tulsa, Oklahoma, provides a unique family adventure.
You may spend hours with your family having fun and learning something new.
Many informative and exciting attractions can be found at the museum, including a maze of hidden passageways, an instructional program, and a research facility where visitors can become involved and engaged.
For youngsters less than 4 years old, The Little Lab makes education an enjoyable experience.
At the Discovery Lab, students may participate in after-school courses and periodic programs to study more about technology and chemical and computer science concepts.
The Bean Sprouts Café is a great place to get a quick bite to eat while you're on the go.
If you're visiting Tulsa with your family, stop by the Discovery Lab!
Address: 3123 South Riverside Drive, Tulsa, OK 74105, US
Gilcrease Museum
The Gilcrease Museum is one of the top attractions in Oklahoma.
See arts from different parts of America in the Gilcrease Museum!
The museum was named after Thomas Gilcrease, an art collector, and oilman.
The Gilcrease Museum is home to the biggest display of Western American art and antiquities from South and Central America.
It is among the most popular tourist destinations in Tulsa. It can be found along North Gilcrease Museum Road, which is situated north of the city's central business district.
The museum is on nearly 500 acres, and 23 of those acres have been turned into flower beds with different themes.
Courses, conferences, workshops, and seminars are part of the museum's ongoing effort to create learning opportunities.
With its extensive collection spanning centuries, the museum's displays show the shifting views of locals on the national character in light of the unstable and complex history of the United States.
In addition to the regular open excursions of the museum's archive, the institution also provides specialized group visits.
Be sure to stop by the Gilcrease Museum if you're visiting Tulsa on vacation!
Address: 1400 N Gilcrease Museum Rd, Tulsa, OK 74127, USA
Discover Oklahoma on your next vacation! View our noteworthy trip ideas for Stillwater and Lawton. Take time to notice these cool things to do in Stillwater, Oklahoma, and the fun things to do in Lawton, Oklahoma.
Greenwood Cultural Center
Immerse in African-American history and culture at the Greenwood Cultural Center!
Once known as the Black Wall Street, the area began as a freedmen's settlement. It grew into North America's wealthiest African-American community.
Everything changed when the Greenwood District was destroyed, its citizens were killed, and its stores were robbed.
Greenwood was able to recover and reconstruct itself despite not receiving assistance from the government.
In 1995, the Greenwood Cultural Center was inaugurated as a sign of optimism for the welfare of their neighborhood.
Delivering cultural and informative activities, fostering cross-cultural relationships, and supporting cultural activities are some ways the Greenwood Cultural Center works to protect and showcase the African-American legacy of the town.
The perseverance of the people of Greenwood, as well as their culture, are shown in a manner that is accurate in the displays at the historical center.
There are pieces of art and photography on display inside, in addition to free lectures and seminars that are presented in collaboration with the Tulsa Performing Arts Center.
If you are in Tulsa this weekend, give this center a visit for a meaningful vacation!
Address: 322 N Greenwood AvenueTulsa, OK 74120, USA
Jazz Hall of Fame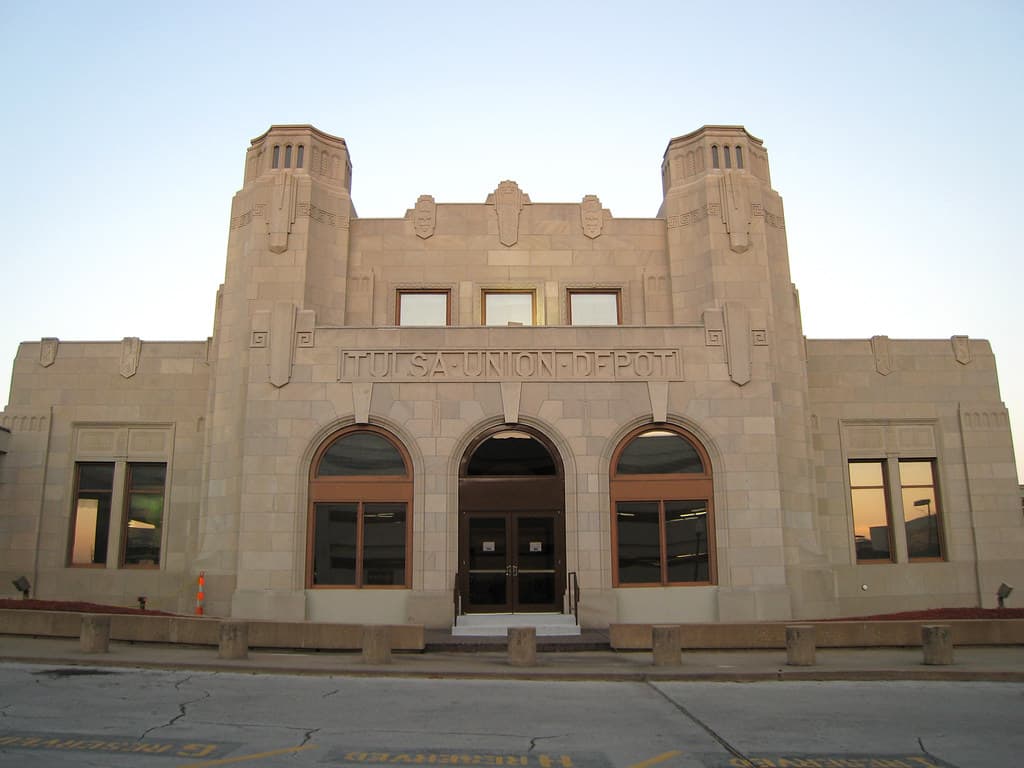 Jazz lovers visiting Tulsa shouldn't miss the Oklahoma Jazz Hall of Fame!
The Art Deco edifice that once functioned as the primary train terminal for all trains entering and exiting Tulsa now houses this attraction in the city center.
The Oklahoma Jazz Hall of Fame started utilizing the venue in 2007 after substantial repairs to feature individual gospel, jazz, and blues performers as well as Oklahoma-based music bands.
There is currently a museum dedicated to Oklahoma artists in the facility, which is now known as the Jazz Depot.
Additionally, it serves as a location for artistic programs, concerts, and other types of activities.
Even if you are not a big fan of jazz music, you will still definitely be entertained by their performance!
A Performing Arts Academy for children is only one of the many educational options available.
Jazz and music lovers should stop by this center if they're going to be in Tulsa!
Address: 5 S Boston Ave, Tulsa, OK 74103, USA
Oklahoma Aquarium
The Oklahoma Aquarium is one of the best things to do in Oklahoma.
Get up close and personal with various aquatic animals in the Oklahoma Aquarium!
In the Oklahoma Aquarium's Shark Adventure, guests may see a world-record bull shark display.
An aquarium that spans more than 70,000 square feet and is situated in a neighborhood of Tulsa is well-known for housing the biggest display of bull sharks in the whole of America.
In the arid region of Oklahoma, you wouldn't think to see such a wide variety of aquatic creatures.
Apart from indigenous animals, the aquarium also houses eels, reef sharks, piranhas, loggerhead sea turtles, tropical fish, and a variety of other creatures.
Become a part of an Oklahoma aquatic environment and learn about the many animals that live in a variety of settings.
Furthermore, the aquarium offers backstage activities where you can get close to these friendly animals.
Don't miss this exciting attraction in Tulsa, Oklahoma!
Be sure to stop by the Oklahoma Aquarium if you're in Tulsa this weekend!
Address: 300 Aquarium Dr, Jenks, OK 74037, USA
Philbrook Museum of Art
Art buffs can appreciate the displays as well as the architectural design of the Philbrook Museum of Art!
The Philbrook Museum of Art is situated in a magnificent Edward Buehler Delk-designed estate just south of Tulsa's center.
Waite Phillips, a rich oilman, commissioned the construction of this Italian-Classic palace on 25 acres of land.
The city of Tulsa acquired the 72-room estate in 1938, and the exhibition debuted in 1939.
Andrew Wyeth and Picasso are among the renowned painters represented in the museum's remarkable collection.
Tours of exhibitions and features of the archive are available every day at the museum, provided by knowledgeable tour guides.
Among the elegant activities to do in Tulsa, Oklahoma, is to take a leisurely walk around the city's stunning gardens.
This is one of the top destinations to visit in Tulsa!
The Philbrook Museum of Art is a must-visit for art buffs visiting Tulsa, Oklahoma!
Address: 2727 S Rockford Rd, Tulsa, OK 74114, USA
River Parks
Be one with nature in River Parks!
River Parks is, without a doubt, one of the most well-liked green spaces for leisure activities outside that Tulsa has to offer.
It doesn't matter whether you're looking for a place to relax or a place to get your heart pumping. River Parks has it all.
Miles of walking, jogging, and cycling paths link to other local and regional routes.
You may see foxes, deer, beavers, possums, and raccoons as you go around the parking area.
In the winter, you have a good chance of seeing a Bald Eagle, which makes for great bird viewing.
Paddling, fishing, and rowing kayaks are just some of the water sports that can be enjoyed at Zink Dam.
The River Parks is one of the top destinations in Tulsa, Oklahoma.
If Tulsa is your destination for your vacation, stop by the River Parks for an enjoyable family day!
Address: 2121 S. Columbia Avenue, Tulsa, OK 74114, US
Route 66 Historical Village
The Route 66 Historical Village is one of the best places to visit in Oklahoma.
Travel back in the 19th century at the Route 66 Historical Village!
Along Route 66, which is among the primary routes in the US Road Network, there is a newly erected outdoor exhibit known as Route 66 Village. This exhibit is impossible to miss.
For those interested in history, the Route 66 Historical Village in Tulsa is a must-visit destination.
The Tulsa Oil Boom Open-Air Museum is a remarkable collaborative initiative that features well-maintained and renovated buildings from the revolution period of Tulsa.
Discover an actual 19th-century gas station, steam engines, an oil crane, a caboose, and automobiles on the premises.
An events center, commercial kitchen, conference room, and museum are all housed at the same depot as the train.
There will be many relics from Tulsa's heyday, which was largely responsible for the city's wealthy economy.
If you are a history buff visiting Tulsa, you wouldn't want to miss out on this village!
Address: 3770 Southwest Boulevard, Tulsa, OK 74107
Safari Joe's H2O
Beat the heat during your stay in Tulsa at Safari Joe's H2O!
Unlike other water parks, Safari Joe's H2O offers a unique experience for the family looking to cool down throughout the summer months.
The park mixes the excitement of traditional water park attractions with an informative Reptile World, where visitors can get up close and personal with a wide range of recovered amphibians and other creatures.
You may expect thrilling tub activities, a relaxing trip down the lazy river, and hours of enjoyment in the Wave Pool at the water park.
The park is filled with slides and rides of all degrees of intensity and difficulty, catering to visitors of all ages.
In addition to Basketball and Volleyball, there is a Tiny Turtle Lagoon and an Adventure Playground for the younger guests.
You won't need to worry about being thirsty or hungry, thanks to the many concessions and kiosks available.
Make the most out of your visit to Tulsa by going to this waterpark!
Address: 4707 E. 21st Street, Tulsa, OK 74114
The Cave House
Eating at a place with a significant historical background has a special feeling about it.
One of Tulsa's most popular tourist attractions, the Cave House, dates back to the early 1900s and draws a steady stream of interested tourists.
The mansion is said to have been erected in the 1920s as the Cave Garden Restaurant.
Alfresco eating areas in the garden are available for lunch and dinner meals.
However, its actual function is exposed towards nightfall.
A large fireplace serves as the starting point for a secret passageway that goes to a chamber that is concealed within the hill.
Due to the fact that this occurred during the Prohibition period in the United States, the Cave House evolved into a well-known underground speakeasy.
If you'd like, you may arrange a private tour with one of their knowledgeable guides.
Your visit to Tulsa, Oklahoma, isn't complete if you didn't stop by the Cave House!
Address: 1623 W. Charles Page Blvd, Tulsa, OK 74127, US
The Golden Driller
Curious about how Tulsa came to be?
Find your answers at the Golden Driller!
Tulsa's early twentieth-century economy was heavily reliant on oil and petroleum.
This venue has served as a host site for several county festivals and exhibitions since its peak.
The Golden Driller was built specifically for these occasions as a showpiece element.
Tulsa, Oklahoma, found the world's biggest oil reserve in 1905, about 15 miles from the city's center.
As a result, the city saw massive economic growth, which can still be seen today in its affluent districts, trade fairs, and magnificent Art Deco structures.
The Golden Driller serves as a symbol of the city's prosperity and pride.
The Golden Driller, which stands 75 feet tall and weighs over 43,000 pounds, symbolizes a twentieth-century oil laborer.
Visiting the Golden Driller will require no more than half an hour, but you should still take a moment to snap some photographs there since it is Tulsa's most recognizable landmark.
If you time your visit during a planned event, there may be performances, exhibitions, and other stuff to discover!
Address: Tulsa Expo Center, 4145 E 21st St, Tulsa, OK 74114, USA
Tulsa Air and Space Museum and Planetarium
Immerse yourself with aviation history in the Tulsa Air & Space Museum!
Both the Tulsa Zoo and the Tulsa Air & Space Museum may be visited on the same day for a fun family outing.
TASM's large display hall is crammed with historic airplanes, many of which may be investigated directly by curious guests who can step inside the cabin and touch every button.
Additionally, the Ray Booker Flight Lab simulator is open to visitors of all ages, as well as various hands-on scientific displays and lessons on how to create your personal aviation simulation.
Planetarium guests may see full-dome movies or live star shows after examining all of the aircraft in the museum.
When you visit the Tulsa Air and Space Museum, the volunteers there will offer you walking tours and help you in any way they can while you investigate the displays and participate in interactive activities.
Stop by the Tulsa Air & Space Museum if you're in Tulsa this weekend!
Address: 3624 N. 74th East Avenue, Tulsa, OK 74115
Tulsa Botanic Garden
Take in the beauty and peacefulness of nature in the Tulsa Botanic Garden!
The Tulsa Botanic Garden is a serene haven on the edge of a 7-acre lake that's a delight to stroll through.
As of 2012, the garden has grown to a total of 60 acres, including a variety of thematic zones and activities.
Visitors may enjoy the lovely Children's Discovery Garden, the Lakeside Promenade, and the A R and Marylouise Tandy Floral Terraces, which weave along the circumference of the water.
The Cross Timbers Trail, a 1.5-mile stroll, provides access to more than 100 acres of untouched environmental scenery.
Visit the Tulsa Botanic Garden, and you'll be amazed at how good it makes you feel to be surrounded by so many different views, scents, and noises.
This is among the most serene places to visit in Tulsa, Oklahoma.
The Tulsa Botanic Garden is worth checking out when you visit Tulsa this weekend.
Address: 3900 Tulsa Botanic Dr, Tulsa, OK 74127, USA
Tulsa Performing Arts Center
Searching for romantic places to go in Tulsa?
Why not try the Tulsa Performing Art Center?!
The Tulsa Performing Art Center was constructed in the 1970s, and its first performance included the Tulsa Philharmonic and the famed jazz vocalist Ella Fitzgerald.
There are several excellent entertainment venues in Tulsa, but the Tulsa Performing Arts Center is the largest and most active.
The enormous building has a studio, four distinct theaters, and a spacious reception area.
In the years that have passed, the facility has helped hundreds of locals and tourists alike by hosting anything from Broadway musicals to concerts and movie festivals.
If you'd like to help the center raise money for conservation and creative endeavors at the same time, you may purchase tickets to one of their next productions.
It doesn't matter which time you choose to visit Tulsa; the Tulsa Performing Arts Center has a wide variety of great productions.
If you're in Tulsa, visit the Tulsa Performing Arts Center for a fun night!
Address: 110 E 2nd St, Tulsa, OK 74103, USA
Tulsa Zoo
Zoo visits are among the greatest activities for families to enjoy in Tulsa with their kids.
There are nearly 90 acres of land at Tulsa Zoo, which is among the biggest municipal parks in the United States.
Conserving animals is an important part of what they do at the zoo.
Additionally, it has a strong emphasis on teaching and provides a range of lectures and demos at various exhibitions daily.
As part of its Children's Zoo, there is a touching area for kids where they can get up close and personal with some of the more exotic creatures that can be found in the region.
Species from Asia, Africa, the Tropical American Rainforest, Oceans & Islands, and a host of other exotic locales are on display.
All year round, visitors may visit the zoo at any time.
You'll get to touch some adorable animals and learn about some of the most intriguing creatures on the planet.
Address: 6421 East 36th Street N, Tulsa, Oklahoma, US
Turkey Mountain Urban Wilderness Area
There is no other place to go in Tulsa but the Turkey Mountain Urban Wilderness Area if you're an adventure seeker!
The proximity of the Turkey Mountain Urban Wilderness Area to the people who live in and visit Tulsa is unquestionably a blessing for both groups.
An urban leisure facility unlike any other may be found in the River Parks, which includes the wilderness zone.
It's difficult to imagine that you're just a couple of kilometers from Tulsa's center when you first visit this 300-acre forest.
Outdoor enthusiasts and adventure seekers flock to the woods, where they may hike or bike kilometers of meandering pathways.
Proper shoes, a smartphone with Gps navigation, and water are necessary for travelers to this forest region, which is preserved as a real nature preserve.
The Turkey Mountain Urban Wilderness Area is the go-to place for outdoor enthusiasts visiting Tulsa!
If you're going to be in Tulsa this weekend, stop by the Turkey Mountain Urban Wilderness Area for a thrilling vacation!
Address: 6850 S. Elwood Avenue, Tulsa, 74132, US
Woody Guthrie Center
Want to know how a musician changed the world of music and society?
Get to know Woody Guthrie in Woody Guthrie Center!
For more information on Woody Guthrie, the famed songwriter and singer from Oklahoma, stop by the Woody Guthrie Center, a facility in the city's Brady Arts District devoted to his legacy.
There is a wealth of personal material available to visitors at this museum, which provides a window into the soul and mind of Guthrie.
There are artworks, pictures, lyrics, journals, instruments, and other historical relics from Woody Guthrie on display in this immersive museum.
Traditional music and biographical movie screenings are also held at the institution.
The Woody Guthrie Archives is a uniquely noteworthy portion of the museum since it houses the greatest library of material relating to Guthrie that exists anywhere in the world.
Artists and other people continue to find inspiration in Guthrie's resistance to Nazism and advocacy for civil rights.
If you are fond of music and history, visit this center in Tulsa!
Traveling and having fun in the USA? You have to check out this page – the best states to visit in USA for the most fun and unusual travel ideas.
Still wondering if you should visit Tulsa, Oklahoma? Click here for all the reasons to visit Tulsa, Oklahoma, at least once in your lifetime here.
Address: 102 E Mathew B. Brady St, Tulsa, OK 74103, USA