Why go to Tulsa?
You must visit Tulsa at least once in your lifetime because this city offers a variety of metropolitan neighborhoods, fine eating, an unrivaled appreciation for the arts, and a significant body of art deco architecture that you will surely enjoy!
Places to go in Tulsa, Oklahoma:
What is Tulsa famous for?
Tulsa is famous for being the World's Oil Capital in the 1900s. Although Houston now has the title, oil has played a significant role in the development of Tulsa over the years. The discovery of an oil resource in Tulsa in the early 1900s sparked a fuss. Easterners have fled to the area in search of an opportunity to profit from the oil boom. Tulsa's riches and prosperity grew over this period.
Fun Facts about Tulsa
Tulsa was a popular destination in the early 1900s. Many wealthy African-Americans had relocated from the South and were thriving in this area. Approximately ten percent of the nation's African-American population lived in Oklahoma at the time.

Growth and expansion in the American West were essential events in American history. The Gilcrease Museum in Tulsa, Oklahoma, is a great place to learn about this history. The fact that they teach such a broad range of courses may explain why they have the world's most extensive collection of Western art and antiquities.

According to Guinness World Records, The Golden Driller is America's sixth tallest monument. Tulsa's fairgrounds, just north of the Expo Center.

When Clinton Riggs was a police officer in Tulsa, Oklahoma, in the 1950s, he noted that many car accidents plagued the city's junctions. When Officer Riggs noticed a need in Tulsa, he set out to fill it. As a solution, he fashioned the "Yield" road sign. Tulsa's downtown saw the premiere of the Yield sign on Columbia Avenue and First Street, and it was an instant hit.

In 1901, oil was discovered in Tulsa. The city underwent a rapid and profound transformation. In a matter of hours, Tulsa was transformed into an oil boomtown.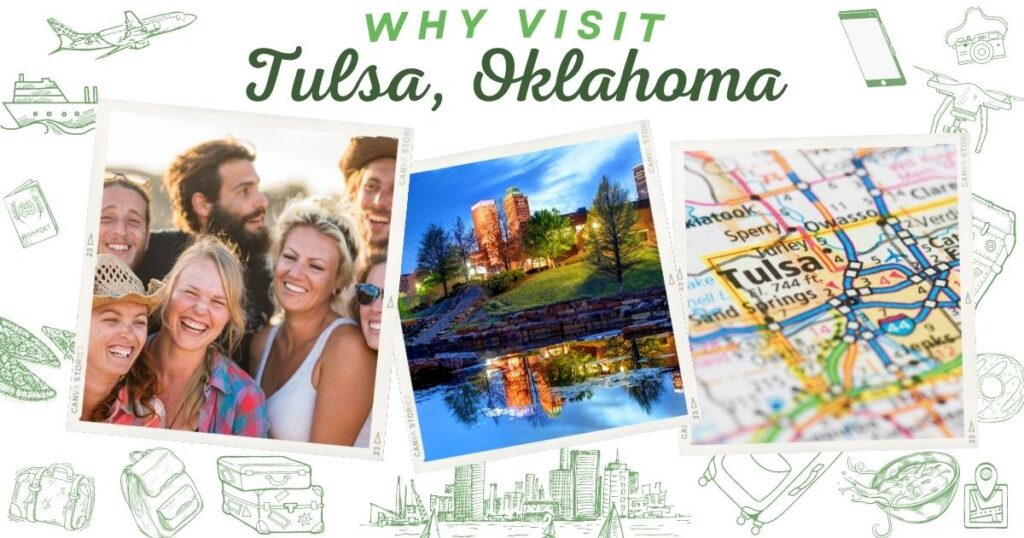 How big is Tulsa?
Tulsa is about 522 square km or 201 square miles in size.
When is the best time to visit Tulsa?
The best time to visit Tulsa, Oklahoma, is the month of October.
How many days do you need to see Tulsa?
You can fully explore the city of Tulsa within two days.
What is the cheapest time to go to Tulsa?
The low season (flights) to visit Tulsa is in September.
Is Tulsa an expensive city to visit?
Tulsa vacations typically cost $1,410 for a single traveler, $2,532 for a couple, and $4,747 for a family of four to experience for seven days. Tulsa hotels cost between $58 and $266 a night, with an average price of $105. The cost of transportation and dining out might range from $49 to $87 per person daily, depending on the activities you plan to participate in.
How to save money when visiting Tulsa?
The best ways to save money when visiting Tulsa are:
Visit during the off-season.

Ask for discounts.

Support local businesses.
What food (and drinks) is Tulsa known for?
Things you need to eat in Tulsa before you die:
Chicken-fried Steak by Tally's Good Food Café

Old-fashioned Hamburgers by Hank's Hamburgers

Fried-onion Burgers by Weber's

Homemade Root Beer
Is Tulsa safe to visit?
Despite its higher crime rate than the national average, Tulsa is a safe city for a mid-sized metropolis. While the city is generally safe to walk around during the day, there are few spots where you should exercise caution at night.
What is the best way to get around in Tulsa?
The best way to get around in Tulsa are:
On foot

By rideshares

Downtown Trolleys
What are the neighborhoods or areas I should stay in when I visit Tulsa?
The best areas you should stay in when visiting Tulsa are:
Downtown Tulsa

East Tulsa

Cherry Street

Downtown Tulsa
What are the best neighborhoods or areas for food?
The best areas for food and drinks when visiting Tulsa are:
Ike's Chili

Tally's Good Food Café

Palace Café

Hank's Hamburgers
What are the best neighborhoods or areas for shopping?
The best areas for shopping when visiting Tulsa are:
Woodland Hills Mall

Hardesty Arts Center

Utica Square

Tulsa Farmers' Market
What should I do on my first trip to Tulsa?
If you are visiting Tulsa for the first time, the city is steeped in Native American culture and the oil industry's past, and it also exudes a welcoming Midwestern nostalgia. With its proximity to Route 66 and the Arkansas River, Tulsa is an excellent place for a night out on the town, whether it's bowling at the historic Dust Bowl Lanes or checking out one of the city's many public parks.
Is Tulsa a good place for solo travel?
When traveling solo, you should consider Tulsa on your next trip. Tulsa is a walking city perfect for a solo traveler, with quaint cafés and diners serving breakfast for as little as $1.99 each morning. The Philtower Building and the BOK office tower, influenced by the design of the former World Trade Center Towers in New York City, can be seen across the downtown area.
Is Tulsa a good place to visit for a family with kids?
When visiting Tulsa as a family with kids, you will discover that Tulsa has many fun activities to do with children. Whether you want to view the city's Art Deco architecture, learn something new, or have fun in the great outdoors, this is the place for you.
Is Tulsa a good place for couples?
When visiting Tulsa as a couple, this city is a terrific destination for couples who want a romantic break because of its abundance of activities and attractions, as well as restaurants, markets, and coffee shops. If you're looking for romantic activities in Tulsa, look no further. You can visit the Gathering Place and explore this lovely green space. A fantastic playground, gardens, paths, and boat rentals are part of the park's 100-acre footprint.
What are the best annual events in Tulsa?
The best annual events in Tulsa that you cannot miss are
Tulsa International Mayfest in May

Tokyo in Tulsa in July.

Scotfest in September.

Tulsa Oktoberfest in October.

Harvest Beer Festival in October.