Arranging a trip to Lake George, New York? Get the most out of your vacation by exploring the best things to do in Lake George, New York, and the best places to visit in Lake George, New York, below. Wondrous Drifter is a cutting-edge, Web 3.0 travel startup that aspires to change the world.
Adirondack Extreme Adventure Course
A thrilling journey awaits thrill-seekers in the Adirondacks thanks to the Adirondack Extreme Adventure Course.
This course is in the middle of the Great Adirondack Forest.
You'll find some exciting things there are zipline parks and treetop obstacle courses.
In addition to the standard courses, you can upgrade to more grueling challenges.
Visitors usually opt for the 3+ hour Treetop & Zipline Adventure Combo to get the best of both worlds.
Some of the appeals of this aerial adventure course come from the beautiful views it offers, even when you're hanging by a rope.
Ziplining through the treetops and across the trickling brooks is an experience you'll never forget.
A treetop tour, river tubing, and a kids' course are just a few exciting options.
Whether you're in town for a few hours or a day, your entire family is guaranteed to have a great time in the forest's green surroundings.
Address: 35 Westwood Forest Lane, Bolton Landing, NY 12814, United States
Adirondack Pub and Brewery
The Adirondack Pub and Brewery has been serving beer to locals and visitors since it opened its doors with a log cabin-style facility.
John Carr, the brewery's owner, and brewer, got the idea for the business from the unique tastes and smells of ales and lagers from Europe.
When John got back to the U.S., he couldn't find anything that even came close to tasting like the great brews he'd tried while traveling, so he decided to make his own.
Since his friends and family had been clamoring for his beers for a decade, John decided to build his own brewery in Lake George Village.
His only requirement as he set out to produce an original, all-natural, delicious beer was that it be drinkable on a hot day on Lake George.
Visitors can now sample seasonal IPAs, ales, and pilsners using locally sourced ingredients.
For lunch and dinner, the brewpub serves a variety of delectable sandwiches, burgers, ribs, and more.
It's a spot to visit for all beer lovers!
Address: 33 Canada St, Lake George, NY 12845, United States
New York offers a lot to its visitors! Check out our curated travel guides to Long Island and Rochester! Superb things to do in Long Island,New York and fun things to do in Rochester,New York are also a must-experience!
Adirondack Winery
The Adirondack Winery Tasting Room is a must-stop on any Lake George vacation itinerary.
In April of 2008, a husband and wife team started the Adirondack Winery, which has grown significantly since then.
The winery has two tasting rooms, which require reservations, where guests can try more than 30 hand-crafted wines.
You are encouraged to come and sample a wide variety of their locally crafted wines here.
Each of the wines has been crafted by a local winemaker and is reminiscent of Lake George.
They are well-known for their fruit-infused selections, which cater to a wide range of tastes.
There are also white wines that taste like apple pie and peach, the raspberry-flavored Lakeside Bubble and several other tasty wines infused with fruit.
You get to see the winemaking process, sample a smaller portion of the tasting, and purchase artisanal bottled wines at this location.
Address: 285 Canada St, Lake George, NY 12845, United States
Buck Mountain
At the top of Buck Mountain, you'll be able to see the Adirondack peaks and the greenery of the neighboring islands and villages below.
With a distance of three miles one way, this trail was deemed "a perfect start to the Adirondacks" by Barbara McMartin, who authored the book 50 Hikes in the Adirondacks.
It takes about 4 hours to make this trip, which is generally regarded as average.
Walking, snowshoeing, and jogging the trails will almost certainly connect you with other hikers and trail runners who frequent the area.
For the experts, you can try the Lake George 12ster.
It is a set of hiking challenges in which people must climb 12 peaks.
Sleeping Beauty Mountain is a good option if you want something more manageable, though the round-trip distance can reach up to seven miles.
The best part is bringing your pets on a leash along the trail!
Address: 1750 Pilot Knob Rd, Kattskill Bay, NY 12844, United States
Fort Ticonderoga
If you want to teach your children about history while still having a good time, take them to Fort Ticonderoga.
It is just by Lake George's northern point.
During the Revolutionary War, the fort, which was between Lake George and Lake Champlain, was very crucial.
Visitors to living history displays learn more than just how shoes were produced in the 1700s from the shoemaker.
You can watch him while he's creating shoes for the people.
The troops and everyone else who works at the fort wear these shoes.
Everything from artwork to uniforms and weapons may be found as part of the exhibit.
This fort is as real and as authentic as it gets!
Kids are encouraged to get their hands dirty with various fun activities.
Children will be very interested in the musket display, where soldiers show how to safely and effectively load and fire their guns.
You and your family can have fun while learning about the area's history.
Address: 102 Fort Ti Rd, Ticonderoga, NY 12883, United States
Having the intention to visit New York? Hop over to the best travel guides for Brooklyn, Buffalo, and New York City. Take time to notice these cool things to do in Brooklyn, New York, things to do in Buffalo, New York, and the fun things to do in New York City, New York.
Fort William Henry Museum
Take a tour of this museum's displays, then watch soldiers fire muskets and cannons!
Fort William Henry was built on Lake George sometime in the 18th century and is now a renowned tourist destination.
The goal of the fort was to safeguard the lake and British interests from the French, who were approaching from the north.
Visiting the fort, which is still standing today, is a great way to relive Lake George's colonial history.
The guides, costumed in period attire, explain military tactics and weapons and the crucial role played by the fort's women in keeping the fort's occupants alive.
Children may be allowed to "join" the king's army while you learn about the fort's history.
As soon as the kids join the army, they'll be given a musket, a uniform, and a certificate of enlistment.
And at the end of their "duty," they are given a penny as compensation.
You can even catch a live re-enactment of the Battle of Lake George if you come from May to October.
Address: 48 Canada St, Lake George, NY 12845, United States
House of Frankenstein Wax Museum
The House of Frankenstein Wax Museum is one of the top attractions in New York.
The House of Frankenstein Wax Museum is a must-see if you're looking for a good spook in Lake George.
The haunted house is an immersive experience with wax and mechanical figures that look like real people.
There are around 50 exhibits in the self-guided museum tour, including a greeting from Frankenstein's monster.
Even though it looks quirky, the scares are real, and this attraction might not be for little kids.
You'll discover everything from Freddy and Jason to the ghosts and ghouls of history inside.
In addition to Jack the Ripper and Burke and Hare, you can also spot Dr. Jekyll and Mr. Hyde.
Visitors to Lake George have been terrified since the House of Frankenstein opened its doors in the 1970s.
Every April, this local house reopens for another bout of frights and screams.
You might want to avoid this local attraction if you're easily scared. It has a lot of jump scares.
Address: 213 Canada St, Lake George, NY 12845, United States
Hyde Collection Art Museum and Historic House
There is no other place in Lake George besides this little art gallery.
The Hyde is one of the best small art museums in the Northeast. It has a great collection of art from around the world and the United States.
Artworks by artists such as Gottlieb, Rauschenberg, and Kelly can also be found in the museum's Contemporary Art collection.
Almost all of the museum's collection was amassed by the couple, Louis and Charlotte Hyde, over fifty years of dedicated collecting.
The museum is just like the rest of the Glens Falls Art District, which is full of artists, historians, and performers.
In addition to the great art on display and the active community in the Adirondacks, the museum hosts several special events.
The Hyde hosts a wide variety of exhibitions of international and national artists.
Your eyes will not get tired of looking at these pieces.
Address: 161 Warren St, Glens Falls, NY 12801, United States
The Inn at Erlowest
Internationally inspired food created with local ingredients is served at the Inn at Erlowest.
This inn has won awards and has a wide range of weekly menus and a long list of great wines from all over the world.
Erlowest, which is surrounded by the Adirondack Mountains, brings to mind the days when city people could escape to the mountains to get away from their busy lives.
This Queen Anne-style stone castle has been turned from private property into a magnificent inn and farm-to-table restaurant with meticulous attention to detail.
Tourists from across the country come to see it in all its glory.
Guests will feel like they've stepped back in time thanks to the inn's many-faceted rooms' colonial charm.
Not only does the hotel have beautiful views of the lake, but it also has a sauna, a fitness room, and much more.
Guests can take advantage of Hackercraft Cruises and free kayaking.
For an unforgettable dining experience, try Erlowest's fine-dining restaurant.
Address: 3178 Lake Shore Dr, Lake George, NY 12845, United States
Lake George
The Lake George is one of the best things to do in New York.
A trip to the Lake George region would be incomplete without visiting Lake George itself.
It's one of Adirondack Park's top locations and spans a whopping 32 miles.
The town's heart is centered on this beautiful lake in upstate New York. No one is surprised why so many of the area's attractions revolve around the lake.
People who like water sports can do everything from whitewater rafting to boat rides to jet skiing on the lake.
Or you can just lounge. This is an excellent option for those who like something a little less strenuous when they're at the lake.
Additionally, Lake George is home to some of the best restaurants, marinas, boat launches, and more.
Indeed, Lake George, New York, is one of the best places to unwind and take in the local culture.
If you've ever wanted to get away from it all and relax on a beach, Lake George is the place for you.
Address: Lake George, NY, United States
Lake George Steamboat Co.
Exploring Lake George can only be done by boat, and the Lake George Steamboat offers a wide range of exciting itineraries.
Three stunning steamboats in the Lake George Steamboat Cruise fleet are Lac du Saint Sacrement, Mohican, and Minne Ha Ha.
Steamboat excursions in the Adirondacks are a great way to see the natural beauty of the region while also learning about the history and workmanship of the ships that pull them.
Depending on what you choose, each cruise ship and excursion is a different length and has different ways to have fun.
There is a two-and-a-half-hour lake trip that includes a 14-mile journey across Lake George's most picturesque stretch, The Narrows, on one of the three options.
A six-hour cruise of the entire lake is also available if you want to stay for a long time.
The cost of food and beverages is reasonable and well worth it.
Grab a drink, then relax, and take it easy!
Address: 57 Beach Rd, Lake George, NY 12845, United States
L.G. Expedition Park
At Lake George Expedition Park, the whole family may have a lot of fun and enjoyment throughout the summer months.
The Adirondacks amusement park has 25 rides, including a safari ride and "Rex the Diving Horse," in the Adirondacks.
You can find dinosaurs in Dino Roar Valley and magical creatures in the Magic Forest at Six Flags Magic Mountain.
A trip to the Jurassic Era awaits in Dino Roar Valley, where visitors can learn about the lives of prehistoric dinosaurs, gasp at their enormous size, dig for fossils, and see a Dino Nest.
This is a must-see for little dinosaur fans.
Even more fun for the kids, they can visit the Magic Woodland and take a train journey through the forest before participating in a range of exciting rides and activities.
There is a picnic and some delectable snacks and drinks that can be picked up at the concessions in between trips.
Make sure to take a lot of pictures while the kids have fun!
Address: 1912 US-9, Lake George, NY 12845
Million Dollar Beach
Million Dollar Beach is the best area to relax in Lake George during summer.
Lake George Beach State Park includes the beach near the Lake George Battleground State Campground in the lake's southern basin.
Clean and well-maintained, this wide swath of sand is Lake George's most popular and busiest beach, with showers, restrooms, and changing rooms available.
Lifeguards, picnic tables, and a boat launch and inspection area are all waiting to be used by the visitors.
It's a terrific area to spend a day relaxing by the lake and soaking up some sun!
Million Dollar Beach is a popular destination for tourists, whether they bring their meals or eat at one of the neighboring restaurants.
Public grills are also available at the picnic spots located throughout the park.
Grab your towels, load up on sunscreen, and enjoy the scenery and sun!
Address: 139 Beach Rd, Lake George, NY, United States
Natural Stone Bridge and Caves
For nature lovers, do not miss this beautiful location.
It's about a half-hour away from Lake George Village.
The Natural Stone Bridge and Caves has the biggest entrance to a marble cave in the eastern U.S.
The magnificent Stone Bridge contains the largest marble cave in the U.S.
This is, without a doubt, the most magnificent location on Lake George.
The bridge and caves are open year-round; tourists can go on self-guided tours during summer.
A historic sawmill, waterfalls, and surface caves await you on the route.
In the lit tunnels and grottos, which are all hidden by the cave, you can see both calm and wild water.
There are kid-friendly activities to complement the trek, including rock climbing, gemstone mining, and dinosaur excavations.
This is a place where you may quickly lose an entire day.
When visiting Lake George, New York, this should be at the top of your agenda!
Address: 535 Stone Bridge Rd, Pottersville, NY 12860, United States
Prospect Mountain
Don't forget to hike to Prospect Mountain, the favorite hiking spot in Lake George!
Even if you can't make it to the top of Prospect Mountain, you can still get a taste of the breathtaking views.
During the late 19th century, wealthy tourists were shuttled to the mountaintop via cable car so they could take in the scenery.
The Adirondack Mountains and Lake George can all be seen from this 5.5-mile picturesque route.
It is a seasonal highway open from May through Veterans Day in November.
A winding road ascends Prospect Mountain's 2,030-foot top.
From the summit, drivers can see over 100 miles in all directions.
It's even possible to see across the border into Canada on a clear day!
You can even spot the remnants of the Prospect Mountain Cable Incline Railway from the summit of the mountain.
Make sure you visit the city when it's open so you can experience Lake George to its fullest.
Address: Prospect Mountain Hwy, Lake George, NY, USA
Revolution Rail Co.
The Revolution Railroad Co. is a must-see if you're searching for something different to do in Lake George.
Regarding experiencing nature and the views, rail biking is a novel and exciting way to get out and about. It's a great outdoor sport for people of all ages and is completely safe!
Robert Harte and Michael Dupee, who both have experience in education and business sustainability, started it in 2016.
They co-founded and built the company from the ground up, launching Revolution Rail Company in July of 2017 and only a handful of railbikes a year later.
The North Bridge run is six miles long, the South River run is seven and a half miles long, and the Hadley run is six miles long, providing spectacular railbike rides across the city.
In addition to the 90-foot bridge and beaver lodge, there are several other attractions to be seen on the various tours.
You will view the Hudson and the Sacandaga Rivers while pedaling away on the railroad bikes.
Address: 3 Railroad Pl, North Creek, NY 12853, United States
The Sagamore Resort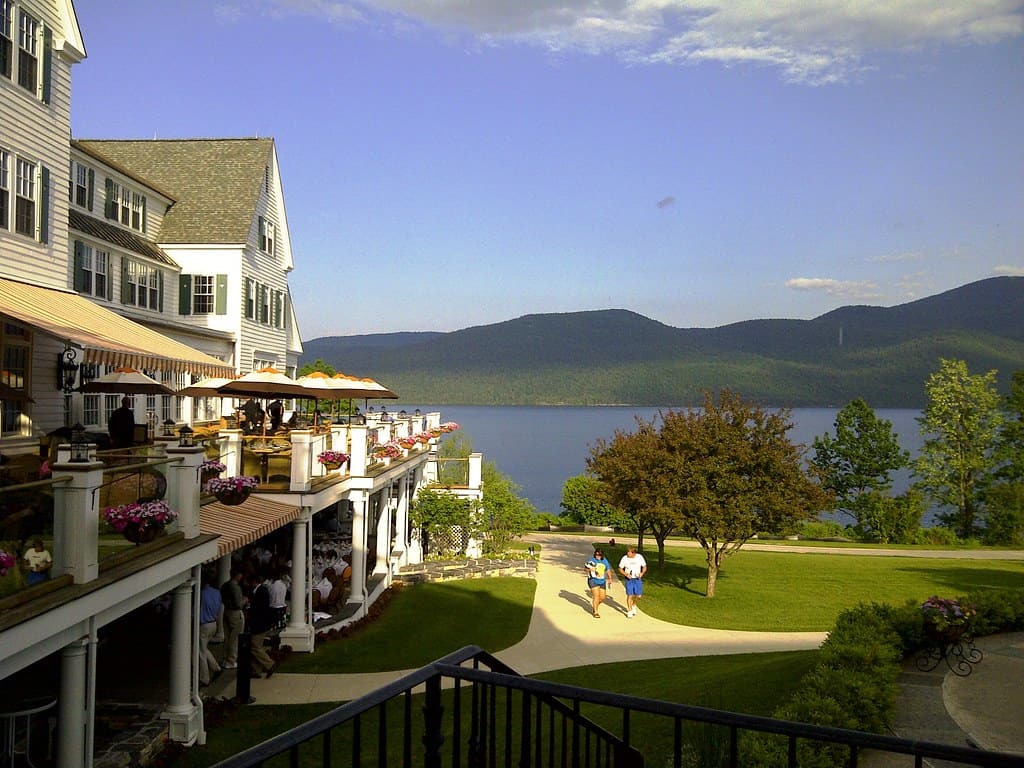 This resort on Lake George, New York, is known as one of the best resorts in the Northeast and is a must-see on any trip to the area.
No matter how much money you have for travel, a trip to The Sagamore will not be a waste.
The hotel was built in the late 1800s and was one of the locations in the movie Dirty Dancing.
The sparkling lake vistas attracted wealthy families, celebrities, and politicians alike.
On the property, there are more than a dozen places to eat and an 18-hole golf course.
The historic hotel offers lakefront lodges, 12-level suites, and beautifully decorated condominiums as options for guests.
The restaurants and spas, on the other hand, are top-notch for tourists passing through.
You don't need to stay the night to fully appreciate the Sagamore.
You can drop by for a light lunch or dinner or dine in one of their award-winning eateries.
Address: 110 Sagamore Rd, Bolton Landing, NY 12814, United States
Shelving Rock Falls
The Shelving Rock Falls is one of the best places to visit in New York.
Discover the hype behind Shelving Rock Falls.
It's a 50-foot Adirondack water cascade that leaps and slides its way down a tier-stacked granite face.
Getting to the falls isn't a big challenge. You can go there with a group of friends or your family.
You can get there by car, but you can also get there by boat, which is about a 15-minute walk from Log Bay after the ride.
By land or by water, the route offers stunning views and a unique experience for all visitors.
Shelving Rock Mountain is an excellent option if you'd like to take in the scenery while working up a sweat.
Shelving Rock Falls is a beautiful place to see and take pictures of too!
As you near the falls' base, you'll notice beaver dams and a lovely pool.
Hikers should pack their swimsuits if they want to cool off in Lake George later.
The hike includes geocaches to make things even more fun,
Address: Fort Ann, NY 12827, United States
Six Flags Great Escape and Hurricane Harbor
Six Flags is not the most unique destination, but it is fun!
Visitors of all ages can enjoy the park's thrilling and family-friendly activities.
The park has a wide variety of rides, including thrill coasters, family rides, water rides, and kiddie rides.
Six Flags The Great Escape and Hurricane Harbor are must-sees if you're in the area with your family.
Live shows, boardwalk games, a children's playground, a sky ride, and several other attractions round out the park's offerings.
As if that wasn't enough, there are a slew of souvenir stores throughout the park where you can buy t-shirts, toy cars, and more!
If you get hungry from all the screaming and fun, they have food as well.
There are also several excellent eating establishments, themed snack stalls, and a saloon located within the park.
You can't go wrong with Six Flags when it comes to fun for the whole family.
Address: 1172 US-9, Queensbury, NY 12804, United States
Warren County Bikeway
The Warren County Bikeway is a scenic 9-mile bike route that stretches from Glenn Falls to Lake George, New York.
It is simple to reach the bikeway from the two nearby public parking areas.
The kiosks on the bikeway are one of its best features, along with the fact that it has detailed maps, so you won't have to worry about being lost.
The kiosks are also an excellent place to rest; they are surrounded by beautiful scenery.
Trail-side eateries, taverns, and shops are along the bikeway for refreshments and a quick meal.
You'll also see stately mansions and the nearby country club.
Make sure to keep an eye out for the fauna and flora on land and in the water as you make your way through the countryside.
The bikeway is shared with the Snowmobile Club through winter as an authorized snowmobile trail.
Traveling and having fun in the USA? You have to check out this page – the best states to visit in USA for the most fun and unusual travel ideas.
Address: Lake George, NY, United States