Where should you go for the holidays? Try Kalamazoo, Michigan. Get the most out of your vacation by exploring the best things to do in Kalamazoo, Michigan, and the best places to visit in Kalamazoo, Michigan below. Wondrous Drifter is an ambitious Web 3.0 travel startup with the potential to revolutionize the market.
Airway Fun Center
At the Airway Fun Center in Kalamazoo, there is a never-ending list of fun things to do.
Look no further if you're looking for a night out with your pals or the family in Kalamazoo!
The Airway Fun Center is jam-packed with games, entertainment, and activities, from their massive laser tag stadium to their incredible mini-golf course.
In addition, they have a private bowling suite, ICE Bar, and a VIP Taproom, all of which have 24 different craft beer options.
You are looking for some incredible meals, right? You can count on the Airway Fun Center to have your back!
If you are throwing a birthday party for yourself or for one of your children, they offer more than enough games and attractions to keep all of your guests happy.
Play bowling in the lounge, watch the game on one of the many high-definition TVs, and, most importantly, relax and take it easy.
For a fun-filled day out with the whole family, go no further than the Airway Fun Center!
Address: 5626 Portage Rd, Portage, MI 49002, United States
Air Zoo Aerospace and Science Museum
The Air Zoo Aerospace and Science Museum is one of the top attractions in Michigan.
The Air Zoo and Aerospace and Science Museum are among the activities in Kalamazoo that you won't want to skip if you visit the city.
Visiting the Air Zoo is like nothing you've ever experienced before. You won't find it anywhere else!
The "Air Zoo," as locals refer to it, is an educational institution that will amaze visitors of any age.
It is often listed as one of the best places for science fans to visit in Michigan.
They aspire to be the largest airplane museum in the world because they are a museum committed to maintaining the history of flight for future generations.
You'll see everything from aircraft engines and antiques to historical footage of man's earliest flights into space at the museum.
You'll see everything from aircraft engines and antiques to historical footage of man's earliest flights into space at the museum.
A cinema theater is also available, showing films continuously throughout the day.
This place is a must-see for aviation fans because it has an amazing collection of old planes.
Address: 6151 Portage Rd, Portage, MI 49002, United States
Asylum Lake Preserve
Asylum Lake Preserve, a path just outside the municipal limits, is the best place to watch beautiful scenic views.
Visiting the Asylum Lake Preserve is an unforgettable experience.
The site is used as a study location by the faculty and students of Western Michigan University and by students and faculty from other public universities.
There will be plenty of opportunities for photographers, so make sure you have your gear ready.
Everyone should be ready to take pictures when they see the landscape's big sky and sparkling waterways.
Another thing to remember regarding the location is that it is not completely done.
This tourist area is currently under construction, so there are no restrooms or other services you'd expect from a fully-developed location.
A leisurely walk takes approximately 56 minutes to finish the trail. The trail is typically regarded as a simple one.
To tell you the truth, one thing that draws people to the Asylum Lake Preserve is its old-fashioned atmosphere.
Those seeking peace and quiet in Kalamazoo will likely find it here.
Address: 3836 S Drake Rd, Kalamazoo, MI 49008, United States
Michigan offers a lot to its visitors! View our noteworthy trip ideas for Grand Rapids and Ann Arbor. Do and see more exciting things to do in Grand Rapids, Michigan, and the best things to do in Ann Arbor, Michigan!
Bell's Brewery
Bell's Brewery is a location that offers a wide variety of beers to choose from, in addition to its tasty bar cuisine.
In September 1985, Bell's Brewery, Inc. made its first sale of beer. The company was established by Larry Bell.
In addition to providing full-service dining and a café, Bell's Brewery features more than 40 rotating tap beers.
For those who prefer to support their local shops, it is an easy way to enjoy a cold one while doing something nice.
You may relax in the café with a handcrafted beverage, savor one of the restaurant's mouthwatering dishes, or get some gifts in the general store.
Bell's Eccentric Café is a country place that has live music and other forms of entertainment, as well as delicious food and tasty local beers made by Bell's.
Have a deliciously filling supper by grilling some bread and serving it with a selection of gourmet cheeses, or satisfy your craving for a spicy snack by munching on chips and salsa.
At Bell's Brewery, you never know what kind of interesting things will take place!
Address: 355 E Kalamazoo Ave, Kalamazoo, MI 49007, United States
Confections with Convictions
If you're a sucker for sugary treats, head straight to Confections with Convictions!
The shop sells various decadent chocolates, all of which are manufactured by young people who strongly desire to better their personal situation in some way.
Since 2010, Confections with Convictions has been providing the residents of the Kalamazoo area with homemade truffles that are handcrafted locally.
Because he was a juvenile counselor before he became a chocolatier, the shop's creator saw a lot of youngsters in difficult situations.
To ensure that he wouldn't have to abandon them alone, he planned to provide them with fair and honest work in a new industry.
The founder wanted to find a better way to help the kids become successful members of society.
Confections with Convictions is high-quality chocolate made from as many local ingredients from local farmers as possible to support the Kalamazoo economy.
As a successful business in Kalamazoo, Confections with Convictions serves most of the best sweets in the state.
As a guest, you may participate in unique activities such as tastings, workshops, and excursions organized by the team.
Indulge your sweet tooth, and help a good cause. Confections with Convictions will let you do both at the same time.
Address: 116 W Crosstown Pkwy #101, Kalamazoo, MI 49001, United States
Discover Michigan on your next vacation! Be sure to check out the latest travel guides for Traverse City and Detroit. See through the fascinating things to do in Traverse City, Michigan, and the best things to do in Detroit, Michigan!
Henderson Castle
Indulge yourself in an unforgettable vacation by staying at the ancient Henderson Castle.
You don't have to spend much on a European trip to see an old castle.
There is actually one in the state of Michigan, and its past is rather interesting!
In 1895, a wealthy married couple who led an elite lifestyle established Henderson Castle as their home and began raising their family there.
They were particularly fond of having parties and dinners and rumors that they even hosted meetings for various illicit organizations.
Whether you're a local or just passing through, Henderson Castle is the ideal location to commemorate important life events. It's also a great place for an intimate vacation.
The castle has everything you'd expect to find on such a beautiful piece of land, like lawns, dance halls, wineries, and more.
Guests may relax in the hotel's hot tubs and dine in the hotel's fine-dining restaurant.
The enormous Queen-Anne-style palace has an air of antiquity and a charm that is as old-fashioned as it is up-to-date.
Henderson Castle is undoubtedly one of the city's most popular tourist destinations.
Address: 100 Monroe St, Kalamazoo, MI 49006, United States
Homer Stryker Field
Playing at Homer Stryker Field doesn't matter your motivation, so long as you enjoy yourself.
When you ask about things to do in the area, almost everyone will tell you to go to Homer Stryker Field. It is because this is a popular tourist destination and the home of several state teams.
It was built over a century ago and is still in use today as the administrative center for all of the competitors in the regional competition.
This field is cherished by everybody.
Elegance comes from its existing look and cozy, close-knit vibe.
A unique atmosphere in Michigan may also be yours when you choose the Kalamazoo Growlers to organize your upcoming special event.
The place can only comfortably accommodate a maximum of 4,000 people at once.
There's a chance you will enjoy the traditional American baseball experience.
In the Kalamazoo area, you might look for something different to do and see.
The event will be unforgettable because of the different options, the food, and the friendly and helpful staff.
Address: 251 Mills St, Kalamazoo, MI 49048, United States
Kalamazoo Farmers Market
Put on comfortable shoes for strolling and make your way to the farmer's market if you're searching for the most enjoyable activities in Michigan that won't break the bank.
Among the 120+ vendors at the Kalamazoo Farmers Market are farmers, food producers, and craftsmen.
This market aims to link customers and market enterprises honestly and promote the local economy by fostering a vibrant market culture.
Sellers come from all over Michigan to offer their products at this annual event, which takes place from May through November.
The market has plants, crafts, handmade items, and programs and festivals.
Visiting the local farmer's market is a terrific opportunity to meet new people, take in the views, and better understand the community.
It's one of the Kalamazoo free activities you can choose from, as there's no cost involved.
Address: 1204 Bank Street, Kalamazoo, MI 49001, United States
Kalamazoo Nature Center
A walk around Kalamazoo Nature Center is a great opportunity to disconnect from the stresses of daily life.
The Kalamazoo Nature Center is widely recognized to be among the most picturesque locations across the entirety of the United States of America, as most people agree with this statement.
The goal of the Kalamazoo Nature Center, a non-profit organization, is to build interactions and experiences that encourage people to explore, appreciate, respect, and care for nature.
Walking and hiking routes wind their way through the area's many ecosystems, which include ponds, grassland, woods, and waterways.
The pathways are even signposted to indicate their degree of difficulty, ensuring that hikers of varying experience levels will never find themselves lost on the wrong track.
Try to see all the sides of the center at least once! However, a stretch of the marshes on the other side contains towering hardwood trees that give the area a more rustic feel.
Have a good day! Don't forget to bring your camera, and snap some great pictures!
Address: 7000 N. Westnedge Avenue, Kalamazoo, MI 49009, United States
Kalamazoo Mall
The Kalamazoo Mall is one of the best places to visit in Michigan.
Visit the Kalamazoo Mall the next time you are in town, and you will have a good time and gain some valuable knowledge!
The Kalamazoo Mall has been around for a very long time, so naturally, it has a lot of history.
In addition to being one of the earliest outdoor malls in the state of Michigan, it was also the first pedestrian mall in the country.
More than 50,000 consumers participated in the opening ceremonies of Kalamazoo Mall, the first major outdoor pedestrian town mall in the United States, on August 19, 1959.
The Kalamazoo Mall is a sprawling shopping, dining, and entertainment complex spanning several city blocks.
In addition to the high-end shops, there are also kiosks and street sales for those who like to shop on a tight budget.
Turning a round is all you need to do to discover new things.
The mall's location in the center of downtown Kalamazoo makes it an ideal starting point for exploring the city's many tourist spots.
If you've been to any other public malls, you've probably noticed that their layout is based on the Kalamazoo Mall's plan.
Address: N Kalamazoo Mall, Kalamazoo, MI 49007, United States
Kalamazoo Public Library
Bookworms, this is for you! You'll fit right in at this location!
The Kalamazoo Public Library is a great place to get that specific book you've been eyeing.
Founded in 1860, the Kalamazoo Public Library today has five sites and a variety of outreach programs to assist the city's 124,000 residents. The library first opened to the public in 1872.
Starting with the fact that visitors are truly engaged.
Activities such as talks, seminars, readings, and more may be found here.
This is not a library where crooked-faced elderly women will constantly ask you to be quiet with their raised eyebrows.
This is the location of the annual "Booktoberfest" celebration, which takes place in the autumn.
There are also places to read, rooms for learning about history, and computer labs with the latest technology for people to enjoy.
Digital media labs that perform everything from transmitting podcasts to restoring vinyl recordings are just some of the Hub's most popular offerings.
The Kalamazoo Public Library isn't just a place for librarians; it's open to everyone.
It's a terrific venue to have a good time, and since it's completely free, Kalamazoo residents can take advantage of it.
Address: 315 S Rose St, Kalamazoo, MI 49007, United States
Kalamazoo River Valley Trail
The Kalamazoo River Valley Trail is a great way to get a taste of the city's top features.
The Kalamazoo River Valley Trail, which spans more than 22 miles and is easy to navigate even if you are unfamiliar with the area, is one of the best ways to discover what the region has to offer.
The path is built with asphalt,10 feet in width, and is open to the public without charge.
This will give you a taste of both the city and the countryside at the same time, taking you through downtown Kalamazoo before heading out into the nearby hills, rivers, and lakes.
The large, flat track is suitable for both walkers and runners, making it accessible to everybody.
Whether you prefer a leisurely stroll by the river or a brisk trip through the woods, there is something for everyone.
Whatever your interests, the KRV Trail has something to offer everyone.
For a family outing, a trip into the woods, or an opportunity to get in some exercise, it's a terrific area to visit.
Address: Kalamazoo County Park, Kalamazoo, MI 49007, United States
Kalamazoo Valley Museum
The Kalamazoo Valley Museum is one of the best things to do in Michigan.
Enjoying a wonderful day at no cost is an unforgettable experience.
The Kalamazoo Valley Museum isn't like other museums, where everything is hidden away behind glass; instead, it features a hands-on approach that invites visitors to explore new things and get creative.
With almost 57,000 items in its permanent collection, the museum tells the story of the people and places they serve.
There are a number of interactive displays around the museum, including a section called "Science in Motion," in which visitors may experiment with a variety of different simulators, like body scanners and earthquake generators.
Additionally, there are audio stations, huge globes, and roads where you can create and race your own small automobiles.
A planetarium and a 2,300-year-old Egyptian mummy are two further highlights of the museum's collection.
Plenty of entertainment options are available, regardless of whether you're interested in ancient treasures or future possibilities.
The Kalamazoo Valley Museum is not only one of the most well-known destinations in the city of Kalamazoo, but it also does not demand any admission fees from visitors.
It's hard to beat free entertainment at the Kalamazoo Valley Museum!
Address: 230 N Rose St, Kalamazoo, MI 49007, United States
Lawson Ice Arena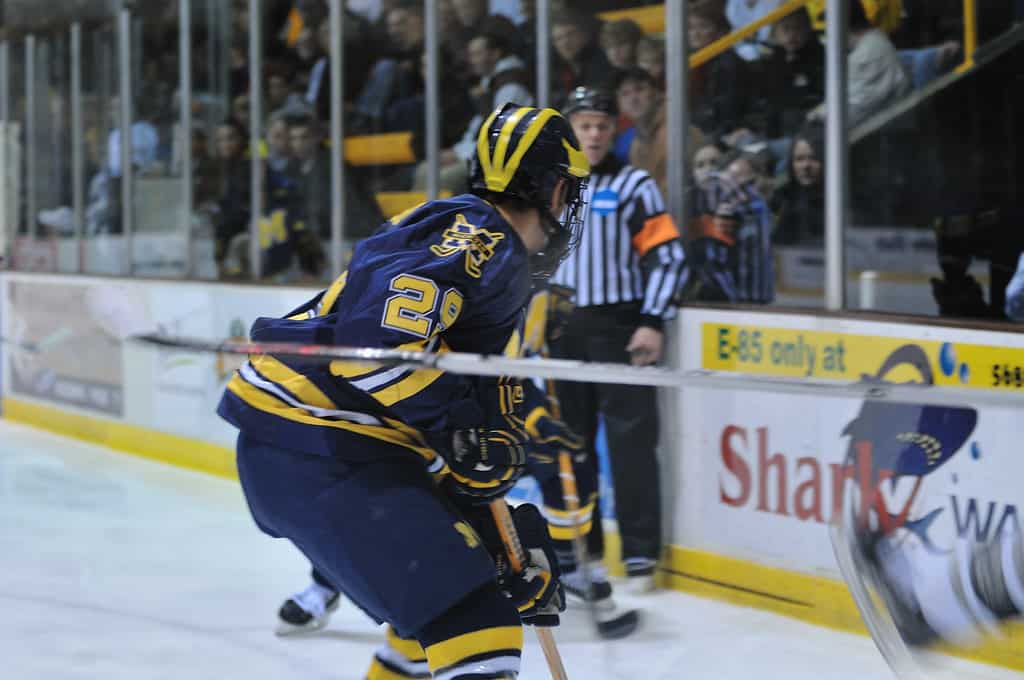 Lawson Ice Arena is a must-see during your visit to Michigan during the cooler months, so don't forget to include it on your agenda!
It is among the sights in Kalamazoo that can be found on the premises of Western Michigan University.
Many of the national championships in ice hockey and skating call the Lawson Ice Arena their primary training facility.
Western Michigan University Broncos hockey is one of the best teams in the country, so you can expect a high-quality show.
If you tour Michigan at the right time, you might be lucky enough to see a memorable event at the venue.
Events like ice skating competitions and musicals are common, but there are sometimes some surprises, like a boxing match.
At any given time, Lawson can hold up to 4,000 people, and on average, 193,550 people visit it every year.
Before you depart Kalamazoo, be sure to explore the year-round rink at Lawson Ice Arena, which is one of the city's most popular attractions.
Address: Recreation Drive, Kalamazoo, MI 49008, United States
Leila Arboretum
Get some exercise and clean up some garbage while strolling through Leila Arboretum.
At Leila Arboretum, there is always something enjoyable to do for both young visitors and those who are still childlike at heart.
As one of Michigan's largest collections of florals, plants, bushes, and cactus, the Leila Arboretum is a must-see.
A "horticulturist's dream come true" is characterized by its keepers, and it definitely lives up to that description.
In addition to their beauty, the scenic views are also abundant.
It is a great place to go for walks and picnics beneath the cover of trees.
Whatever your interest in birds and wildlife, you'll have plenty of chances to observe them in their native habitats while you're in the area.
The Children's Garden is tucked away on the 72-acre grounds of the arboretum. It gives kids a unique chance to explore nature through their senses.
You may even hire a bike and ride it through the park on one of the numerous routes that are spread out over the area.
Among Kalamazoo's natural attractions, there's none better than the Leila Arboretum.
Address: 928 W Michigan Ave, Battle Creek, MI 49037, United States
Markin Glen County Park
To get a taste of the wilderness while you're still in Kalamazoo, visit Markin Glen County Park.
Visiting Markin Glen County Park is a terrific way to spend time with your loved ones.
The land that is now known as Markin Glen County Park was once the private property of Morris Markin, the man who established the Checker Motors firm in Kalamazoo.
In contrast to other parks, where the water is primarily used for viewing wildlife or taking photographs, the swimming area at Markin Glen County Park allows visitors to take a refreshing dip whenever they like.
You may also get a good workout before diving in at the nearby campsites, walking paths, and sports facilities.
Hikers are treated to a breathtaking panorama of Kalamazoo's city center as they go to the peak of one of the city's highest peaks.
Fishing enthusiasts will appreciate the lake's abundance of fish.
Green fields and beautiful streams abound throughout the park, making it a great place to spend a day having fun.
This is the location to come to if you want to have a nice time while wandering around different areas.
Address: 5300 N Westnedge Ave, Kalamazoo, MI 49004, United States
Plainwell Kayak Company
Kayaking down the Kalamazoo River is considered a fun activity to try when exploring Kalamazoo.
Lovers visiting Kalamazoo might consider taking a canoe trip as one of the city's most romantic activities.
When two people go canoeing together, they can snuggle up in a small canoe for two and see beautiful water views.
How about a little enchantment to get your day started, right? Canoe out early in the morning to catch a glimpse of the rising sun.
Do you wish to observe the moon's light spreading over the water's surface?
To ensure your safety, Michigan prohibits canoeing in the evening in some areas. However, you can remain out until dark with your loved ones and enjoy a romantic evening.
Whatever your mood, Plainwell Kayak is the perfect place to find it.
Individuals who wish to bring their own kayaks can make arrangements for transportation through the company; however, reservations are necessary…
When it comes down to it, there are a lot of different ways to show love gestures while you're paddling with your loved ones in a canoe.
Address: 211 N Main St, Plainwell, MI 49080, USA
Principle Food and Drink
Consider taking a seat at Principle Food and Drink if you want to try some of the state's finest food.
With the thought that West Michigan is in need of an establishment that puts together all the best food from the local agricultural community, an innovative handmade cocktail menu, and an inviting and comfortable setting, Principle Food & Drink was born.
Upon entering, you're immediately struck with the sense that you're here to unwind and meet up with a buddy you haven't seen all year.
Everything from romantic evenings to business lunches can be had here in a stylish, up-to-the-minute setting, along with locally sourced, fresh cuisine that even Gordon Ramsey would be jealous of.
Because of how the restaurant is decorated, it will seem to you as though you are unwinding in the basement of your own home.
Dishes on the menu, such as duck wings covered in a sauce made of crushed peanuts and garlic, may be appreciated by everyone with taste senses.
Address: 230 S Kalamazoo Mall, Kalamazoo, MI 49007, United States
Ramona Park
If you are into the latter type, a trip to Ramona Park can be worth your while.
After arriving at Ramona Park, there are certain individuals who do not wish to go.
There is something for everyone in Ramona Park, from those who enjoy fishing to those who spend their days lounging on the beach.
A short drive from Kalamazoo to Portage, Michigan, will reward you and your children with a memorable experience.
Finding a beach in Michigan that allows swimming and sunbathing is a special treat, so Ramona Park offers such a beach makes it all the more special.
In addition to having a completely supervised beach equipped with lifeguards, Ramona Park is also home to a playground that is easy to reach and has a colorful surface that is padded.
There are also ball fields, tennis courts, volleyball courts, and a number of other types of courts.
Ramona is also an excellent spot for a business summer picnic because it has a huge gathering space for more than 150 people gatherings.
Visiting Ramona Park in the Kalamazoo region will provide you with a wealth of alternatives for things to do!
Address: Kalamazoo, Michigan USA
VerHage Fruit Farms and Cider Mill
Visiting Verhage's during the warm months is something you'll look forward to doing every year.
A visit to the VerHage Fruit Farms and Cider Mill near Kalamazoo is a must for anybody who likes hayrides, apple candies, and sugar-coated handmade doughnuts.
When you take a tour, you will get the opportunity to view the harvests, farms, and machines that are really utilized on a daily basis by the owners of the property.
When you've finished learning about rural living, there is a range of family-friendly activities to choose from.
Horseback rides, ziplining, tractor driving lessons, and cider-making demos are among the activities that may be enjoyed at the farm.
You will also get the opportunity to choose your own apples and indulge in freshly baked goods such as pies and pastries while you are there.
Located just outside Kalamazoo, VerHage Fruit Farms and Cider Mill is a great place for people. Everyone should be able to enjoy themselves here.
It will be a fantastic opportunity to create memorable moments.
If you want to create lasting memories, you'll need to see the farm from every angle.
Traveling and having fun in the USA? You have to check out this page – the best states to visit in USA for the most fun and unusual travel ideas.
Need more reasons to visit Kalamazoo, Michigan? Visit why visit Kalamazoo, Michigan, at least once in your lifetime here.
Address: 8619 W Ml Ave, Kalamazoo, MI 49009, United States