Why go to Monterey?
You must visit Monterey at least once in your lifetime because there's no shortage of things to do in this beautiful coastal town. The Monterey Bay Aquarium is a must-see for anybody interested in marine life and conservation. Cannery Row has several beautiful waterfront hotels, great places to shop, and a wide range of places to eat.
Places to go in Monterey, California:
What is Monterey famous for?
Monterey is famous for its abundance of marine life and world-famous fresh seafood.
Fun Facts about Monterey
At least 349 vineyards, 65 tasting rooms, and 82 bonded wineries can be found in Monterey County. Thanks to the vast diversity of seasons, over 30 grape varieties can be grown. Chardonnay and Pinot Noir grapes are grown extensively in Monterey County.

The Monterey area has featured more than 180 films and television series. Big Little Lies and scenes from shows like Basic Instinct and Treasure Island were in attendance.

After John Steinback's novel, the neighborhood was renamed Cannery Row.

Pacific Grove's Monarch Butterfly Sanctuary is one of the country's busiest wintering grounds for monarch butterflies. On their way to Pacific Grove in Monterey County, the monarch butterflies make a 2,000-mile journey.

As the state's oldest public structure, the Monterey Custom House dates back to 1827, when it was first constructed. In 1846, Commodore John Drake Sloat of the U.S. Navy raised the American flag to claim California for the United States.
How big is Monterey?
Monterey, California, is about 32 square km or 12 square miles in size.
When is the best time to visit Monterey?
The best time to visit Monterey, California, is the months of April and May.
How many days do you need to see Monterey?
Take a 4 to 7 days vacation to Monterey and the surrounding area.
What is the cheapest time to go to Monterey?
The low season (flights) to visit Monterey is in the month of November. ‍
Is Monterey an expensive city to visit?
Based on the costs of other tourists, you could expect to spend about $136 per day when planning your trip to Monterey. On average, visitors have spent $45 on meals and $26 on local transportation for a single day. The average hotel rate in Monterey is $145 per night for a couple. So look for your budget and be wise on spending as you visit.
How to save money when visiting Monterey?
The best ways to save money when visiting Monterey are:
The Monterey Trolley of MST is available for free rides around Monterey in the summer and on weekends. ‍

The Monterey Visitors Center at Lake El Estero offers free information and coupons to anybody visiting the area. ‍

Rent a bike instead of a car to explore

Get ready to test your disc golf skills: time to play! This 27-hole disc golf course at Ryan Ranch is free and open to the public. ‍
What food (and drinks) is Monterey known for?
Things you need to eat in Monterey before you die:
Fresh seafood

Clam chowder.

Blackberry Bourbon Smash

Rio Rye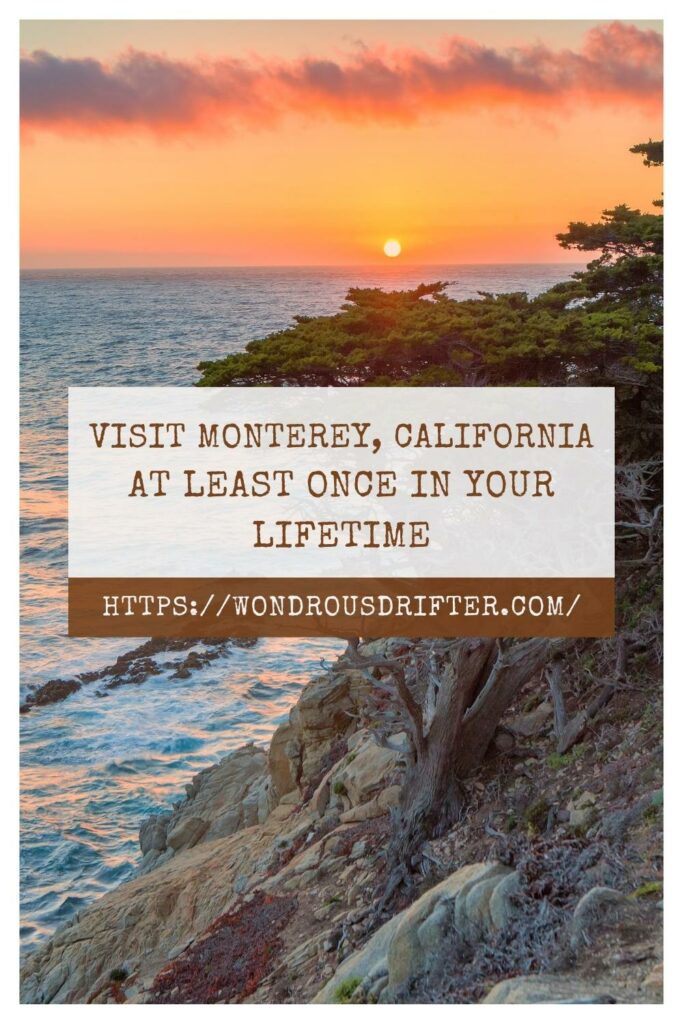 Is Monterey safe to visit?
In general, the city of Monterrey is safe, but some places are hazardous. Minimize risk by taking the appropriate measures. People who know the area well, such as business owners and cab drivers, can give great suggestions for safer places in the city.
What is the best way to get around in Monterey?
The best way to get around in Monterey are:
Driving a car

Free Trolley

Walking or biking
What are the neighborhoods or areas I should stay in when I visit Monterey?
The best areas you should stay in when visiting Monterey are:
Cannery Row

HI Monterey

Beautiful beach house

Downtown
What are the best neighborhoods or areas for food?
The best areas for food and drinks when visiting Monterey are:
Grasing's

Schooners coastal kitchen & bar

Lover's point beach cafe

Il tegamino
What are the best neighborhoods or areas for shopping?
The best areas for shopping when visiting Monterey are:
Old Fisherman's Grotto

Paluca Trattoria

Monterey's Fish House

Sur at The Barnyard
What should I do on my first trip to Monterey?
If you are visiting Monterey for the first time, you may go for a lively nightlife scene in Monterey. This oceanside town is surrounded by waves. It's well-known as the location of John Steinbeck's classic novel Cannery Row. Still, it attracts beachgoers, history buffs, surfers, and marine life lovers.
Is Monterey a good place for solo travel?
When traveling solo, you must enjoy many fun things to do in the city if you decide to visit solo. For instance, a trip to Cannery Row is a must. In addition, Monterey's natural beauty is breathtaking. Those who travel to the city alone will have an unforgettable experience.
Is Monterey a good place to visit for a family with kids?
When visiting Monterey as a family with kids, you will feel that there is no better place for a family vacation than Monterey, California, and the neighboring Monterey County in California. Families with young children can enjoy their holidays more if they go to the beach, hike, or visit an aquarium.
Is Monterey a good place for couples?
When visiting Monterey as a couple, you will imagine that the town of Monterey, California, is one of the most scenics on the California coast, and it radiates romance. Monterey has something for everyone, from romantic strolls on the beach to exhilarating whale-watching trips. Monterey, California, is a beautiful destination for a romantic getaway.
What are the best annual events in Monterey?
The best annual events in Monterey that you cannot miss are
Whalefest Monterey in January

PaddleFest in March

Carmel Art Festival in May

The Monterey International Blues Festival in June

Big Sur Food & Wine Festival in November