See the wonders of Monterey, California. Here is our hand-picked list of the top activities and attractions in Monterey, California, so you can make the most of your time there. Scroll down for the best things to do in Monterey, California, and the best places to visit in Monterey, California. Wondrous Drifter is a Web 3 travel company that brings the best travel ideas to travelers.
Cannery Row
Take a tour of this popular tourist attraction in the city of Monterey, and with good reason!
The shoreline of Monterey used to be dominated by canning and fish processing plants, earning the city the nickname "Sardine Capital of the World", thus, you must visit the Cannery Row!
Canneries dotted the coastline here from 1908 to 1945, except for the Great Depression.
Sardines unexpectedly vanished from Monterey Bay after World War II, leading to canneries' closure and the area's demise.
Developers rebuilt the region in the late 1960s.
Moreover, they turned it into a popular tourist destination offering many retail, hotel, and dining options for their guests.
Thanks to its resurgence, Cannery Row is a must-see for every tourist to Monterey.
You'll find a variety of attractions such as wine-tasting places, boutiques, miniature gardens, statues, and fountains, as well as art museums and bay views between the structures.
In Cannery Row, you'll find something enjoyable to do, or you can just take in the scenery.
Address: Cannery Row & Wave Streets, Monterey, CA 93940, United States
Casa del Oro
Ever wonder what stores looked like back in the day? Visit Casa del Oro and find out!
The Joseph Boston Store, also known as the Casa del Oro, was among the city's first-ever stores and was located in the heart of downtown.
Moreover, Thomas O. Larkin is known to be the American consul in Alta, California in 1845 who constructed the tower.
Joseph Boston rented the property and operated a general goods business there.
He sold soaps, coffee mills, pans, dusters, tableware, nuts, buckets, ham, and teas, to name just a few of the items he dealt with.
Additionally, the Casa del Oro housed the city's first safe, which was necessary due to the absence of any banks in the area.
"House of Gold" is how the term Casa del Oro (Gold House) came to be.
The local gold field's miners arranged for the storage of their loot here.
As a result, Casa del Oro has become one of the state's most popular tourist destinations. Visitors may still enjoy the extra bonus of the safe, which is still located on the premises.
The table utilized by Boston himself is still there, as is the chair he used.
There are still a variety of 1850s-themed things for sale at the store, including stationery, souvenirs, and candies.
Address: M210 Olivier Street, Monterey, CA 93940, United States
Colton Hall Museum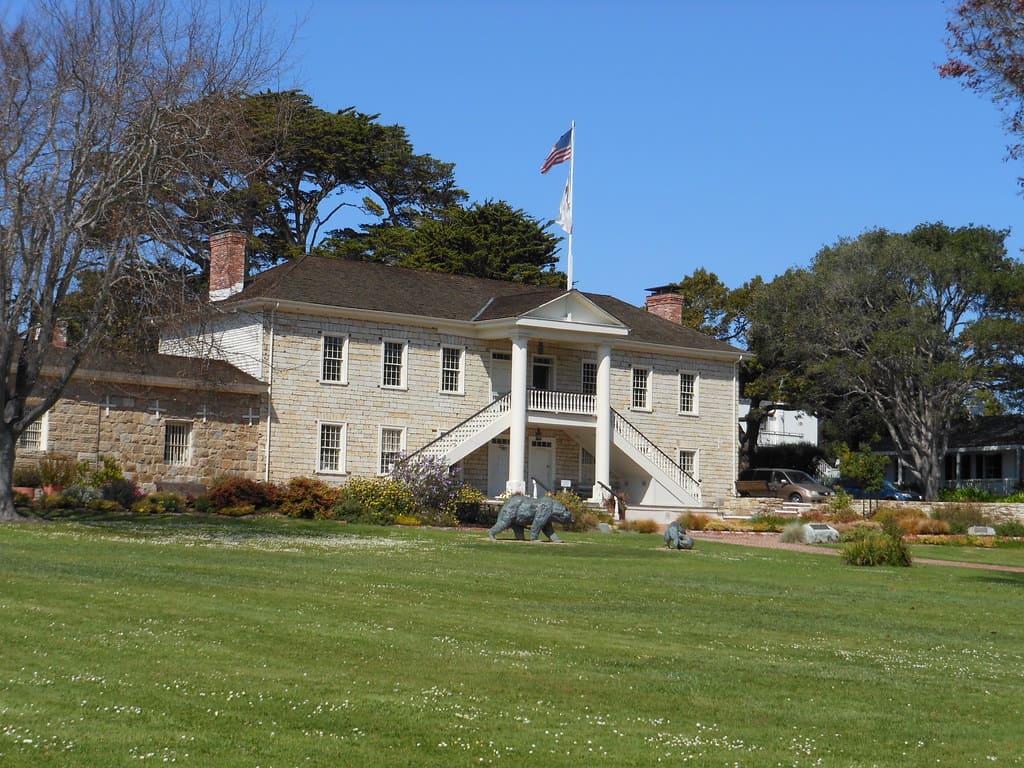 Colton Hall is where California officially became one of the country's states.
This is what makes this place worthy of a visit!
Walter Colton, a prominent Monterey businessman, was chosen to serve as the district's Chief magistrate.
After three years in this post, the first public American building in the state was dedicated after him, which is now known as the Colton Hall.
This is where the first constitution of California was written, with 48 representatives from ten districts in Colton Hall debating the boundaries of the state, its capital, and slavery's banishment from the state after the convention in 1850.
To be adopted, the constitution had to go to Washington, DC for three months after it was signed on October 13th, 1849 and approved a month later.
Colton Hall was taking on a different duty at this time, as the state capital had moved to San Jose.
As a grade school in 1873, it performed many different functions until becoming a component of the city's municipal complex.
Furthermore, the Colton Hall Museum is located on the second floor, while the Department of Planning and Building's offices are located on the first floor.
Established in 1949, the museum has a wealth of artifacts and related information about the foundation of California and its subsequent administration.
You can avail of the tour for free!
Address: 570 Pacific St, Monterey, CA 93940
Deciding to travel to California? Be sure to check out the latest travel guides for Temecula and Newport Beach. Don't forget to also see the exciting things to do in Temecula, California, and the best things to do in Newport Beach, California.
Dennis the Menace Playground
Let your kids slide, climb, swing, and run around in the Dennis the Menace Playground!
There's a lot to see and do in Monterey, California, and the Dennis, the Menace Playground, is a great place to start.
Dennis the Menace creator Hank Ketcham, who lived in Carmel and was a big supporter of play and childhood delight, gave his blessing and aid to the project.
With a gigantic vessel, a suspension bridge, a climbing wall, a hedge labyrinth, and several play structures equipped with giant slides.
In fact, it is a thoughtfully-designed playground that is nothing short of thrilling.
Even a Southern Pacific steam locomotive going back to 1924 is on display.
Children of any age will enjoy this playground despite the fact that it is under constant surveillance to ensure that they do not get into any harm.
Overall, everything about it is perfect.
The playground is secure, exciting, and jam-packed with fun!
Address: 725 Pearl St, Monterey, CA 93940, United States
El Estero Park
Make sure to stay hydrated! You're going to need every ounce of energy to experience all activities in El Estero Park.
All kinds of fun outdoor activities are available in El Estero Park's recreation area around Lake El Estero, including a themed play area for youngsters.
Hikers and cyclists may take advantage of the lakeside El Estero Exercise Course, which features a broad route along which they can take in the stunning surroundings.
There are three clusters of exercise stations around the 1.2-mile 'parcourse' where customers may obtain a well-balanced and total body workout.
The Monterey Skate Park, built by local skateboarders, is a fun, safe place for all ages to practice their abilities on skateboards and inline skates.
Meanwhile, fishermen may enjoy the lake's abundance of trout, perch, and blackfish. Lake El Estero's fishing piers are open to fishermen on Pearl Street bridges.
Attractions like climbing walls and a hedge labyrinth keep kids busy for hours in the park's Dennis the Menace Playground.
Let your kids have fun and take in the scenery of El Estero Park as well.
Address: 798 Del Monte Ave, Monterey, CA 93940
Looking forward to exploring California? Get here the latest travel information and tips for Pismo Beach and Big Bear Lake. Take a glimpse at the fun things to do in Pismo Beach, California, and the best things to do in Big Bear Lake, California.
Fisherman's Wharf
The Fisherman's Wharf is one of the top attractions in California.
Don't miss out on visiting this wharf because it is one of Monterey's top destinations!
Fisherman's Wharf, a historical wharf in Monterey that was a commercial fish market until the 1960s, is now a renowned tourist destination.
Japanese fishermen went for salmon and abalone. Then, Chinese fishermen visited for abalone and squid;
Next, Portuguese whaling for blubber from resident gray and humpback whales and, finally, for Italian fishermen sparked the sardine business's growth.
To differentiate it from the contemporary commercial wharf, residents call it "The Old Fisherman's Wharf."
From open-air clam bars to gourmet dining establishments with breathtaking vistas of the water, Fisherman's Wharf is a buzzing hub of activity.
Some tour companies provide whale-watching and deep-sea fishing expeditions.
Moreover, the wharf is a favored resting place for the many enormous sea lions that populate the Bay of Fundy's waters.
Make sure to visit the several tiny gift shops, art galleries, jewelry stores, and candy stores for treats to take home with you.
Address: 1 Old Fishermans Wharf, Monterey, California 93940
California will surely surprise you with its many wonders! Be sure to check out the latest travel guides for San Luis Obispo and Berkeley. Look over for more wonderful things to do in San Luis Obispo, California, and the best things to do in Berkeley, California.
Golden State Theatre
An out-of-place theater? Definitely not.
The architecture of the Golden State Theatre sets it apart from the neighboring buildings.
It is one of the most historic and beautifully preserved Moorish-style cinemas in San Francisco, and it is located at Alvarado Street.
One of Monterey's oldest and most historic venues, the Golden State Theatre opened its doors to audiences in 1926 and was originally Monterey's largest theater.
After a renovation, the theater, which had fallen into disrepair, was brought back to its former beauty.
There are now one thousand luxurious velvet seats, contemporary sound systems, and a stunning frescoed ceiling of a sky canopy that provides a sense of sitting outside the theater.
There are several world-class concerts and film festivals held in the theater nowadays, and it may also be reserved for private parties or other special events.
Watching a film here will surely be an enjoyable experience for the whole family!
Address: 417 Alvarado Street, Monterey, California 93940,
McAbee Beach
Long time, no sea? Make sure to check out McAbee Beach!
McAbee Beach in Monterey, California's Cannery Row, near various hotels and restaurants, is a gorgeous location.
On Ocean View Avenue, now known as Cannery Row, John B. McAbee acquired the golden sand beach and began one of the earliest business endeavors here.
McAbee rented out boats, tents, and tiny cottages to visitors during the summer months, but he never had enough money coming in to cover his expenses.
Now, tourists may enjoy the beach during the summer season and low tides when there is enough sand to play around on.
McAbee Beach becomes a little cove with polished stones during high tide, although there is still sufficient sand to be considered a beach.
People like strolling along the beach and shopping at the waterfront on sunny days, and relaxing on the rocks behind McAbee Beach.
Kayakers and scuba divers can be found on the beach during the appropriate weather conditions.
Address: 600 Cannery Row, Monterey, CA 93940
Get a glimpse of the marvels of California. You have to travel to Malibu and Fresno. To get the most out of your vacation in California, hop over to the best things to do in Malibu, California, and the best things to do in Fresno, California.
Monterey Bay Aquarium
The Monterey Bay Aquarium is one of the best things to do in California.
Take Instagram-worthy photos of sea life without diving into the ocean!
Monterey Bay Aquarium opened in 1984, and it became a public aquarium situated on Cannery Row on the site of the old sardine cannery.
More than 600 kinds of plants and animals are on display at the aquarium's several tanks and pools, which feature sea life from the coast of California.
It is possible to see gigantic kelp forests in the Ocean's Edge Wing on numerous floors throughout the structure, while jellyfish and stingrays may be seen in the Open Sea galleries, as well as sea otters.
Furthermore, the amazing aquarium is one of just a couple of aquariums in the world that display Bluefin, Yellowfin tuna, and sunfish.
A tank was designed known as the Kreisel tank for the jellyfish that created a circular flow of water to keep them.
A visit to the Monterey Bay Aquarium is among the most enjoyable activities to do in the California city of Monterey.
Address: 886 Cannery Row, Monterey, California 93940
Monterey Bay Coastal Recreation Trail

Searching for free activities that are worth your while?
The Monterey Bay Coastal Recreation Trail is definitely the place to go!
One of Monterey's most popular paved trails is the Monterey Bay Coastal Recreation Trail, which follows the same route as the Southern Pacific Railroad.
The 18-mile recreational path, which begins in Castroville and ends in Pacific Grove, is for individuals who want to enjoy the excellent environment while getting some workout.
On the waterfront walk, Fisherman's Wharf, Cannery Row, and the Monterey Bay Aquarium are just a few of the attractions that can be found along the way.
Hike the route or rent a bike, inline skates, or a six-person canopy quadricycle.
Rent a kayak, paddleboard, or surfboard if you wish to follow the course differently.
You'll be able to witness a variety of wildlife and birds while hiking here.
This place will surely be unforgettable!
Address: Monterey Bay Coastal Trail, Monterey, CA 93944, United States
Have the intention to visit California? Hop over to our travel guides in Solvang and Pasadena. Bust into the unique things to do in Solvang, California, and the best things to do in Pasadena, California!
Monterey Bay National Marine Sanctuary
Have a watery blast in the Monterey Bay National Marine Sanctuary!
If you're looking for some of the greatest wildlife viewings anywhere, look no further than the Monterey Bay National Marine Sanctuary.
San Francisco to Cambria is all within easy reach of the marine sanctuary, which has a diverse array of marine life, including beaches, tidal pools, thick kelp forests, steep canyons, and offshore seamounts.
It's possible to enjoy the sanctuary's natural splendor through various recreational activities and adventures like fishing for salmon, diving among the kelp forests or canoeing along the beach while you wait for whales.
This is essential for families visiting Monterey with children.
San Simeon and Santa Cruz are good places to visit to learn more about the refuge through hands-on displays and educational activities led by volunteers who know the area well.
Make sure to include this place in your itinerary!
Address: 35 Pacific Ave., Santa Cruz, California 95060
Planning on a visit to California for your holiday? Check out our travel guides on Long Beach and Santa Monica. Check out the best things to do in Long Beach, California, and the best things to do in Santa Monica, California.
Monterey County Youth Museum

Visit the Monterey County Youth Museum to help your youngsters develop their creativity and imagination!
The Monterey County Youth Museum was founded in 1997 to encourage children to explore, study, and understand through their natural curiosity.
The Monterey Sports Center and Dennis the Menace Park are within a few blocks of the museum's location on Washington Street.
Children under the age of ten will find this 8,500-square-foot museum full of interactive, hands-on, and inquisitive exhibits and displays geared toward their interests, making every visit different and entertaining.
MY Hospital, MY Build a Home, and MY Creation Station is just a few of the educational and entertaining displays available to youngsters.
Additionally, the museum hosts various year-round special events and may be booked out for private events!
You don't have to be shy! Adults can also try and explore the museum.
Address: 425 Washington Street, Monterey, California 93940
Monterey Jazz Festival
The Monterey Jazz Festival is a must-see if you're in the state during the correct time of year.
Every year since 1958, the Monterey Jazz Festival has dedicated itself to honoring America's creative and cultural history.
The festival presents jazz legends as well as up-and-coming artists.
Moreover, there are 20 acres of oak-studded grounds at the Monterey Jazz Festival, the world's longest-running jazz festival.
Additionally, exhibitions and an international shopping fair are just a few activities available to festival-goers.
Chick Corea, Wynton Marsalis, and Ambrose Akinmusire will be among the world-renowned musicians performing at the festival.
It takes place every year in September for three days and two nights.
There is also a Jazz Legends Gala, which takes place the night before the festival and honors a legendary jazz community member with the Monterey Jazz Festival's venerable Jazz Legends Award.
Don't miss out on this jazzy experience!
Address:2004 Fairground Road, California 93940
You must visit California at least once in your lifetime. You cannot miss out on visiting Los Angeles and San Diego. Read and explore the fun things to do in Los Angeles, California, and the best things to do in San Diego, California to experience the best!
Monterey State Historic Park
Fond of history? Then you should definitely check out this charming park!
Visit the Monterey State Historical Park, which has a lot of great old homes and buildings that played a big part in the history of Monterey and the surrounding area.
More than a dozen structures, including the Custom House, one of California's oldest government facilities, may be seen on Monterey's "Walking Path of History," a popular tourist attraction.
The trail through the Monterey State Historical Park, where you may learn about the history of California, is marked with yellow-tiled markers.
You can visit the place where the first Spanish explorers set foot on American soil. You can also see one of the few whalebone walkways in the country that hasn't been destroyed.
The Monterey Customs House, where the American flag was first hoisted over California in 1846, is a must-visit for visitors!
Address: 20 Custom House Plaza, Monterey, CA 93940, United States
California offers a lot to its visitors! Come over and check out our best travel guides for San Francisco and Sacramento. Visit the best things to do in San Francisco, California, and the best things to do in Sacramento, California.
Monterey Museum of Art

Let your artistic side out and explore this museum in Monterey!
The Monterey Museum of Art (MMA) holds an extensive art collection concentrating on Californian art.
The museum's permanent collection includes more than 14,000 pieces of art, including contemporary art, photography, and early California painting.
This museum has two different sites: one in La Mirada and one on Pacific Street.
Some of the most well-known names in modern photography and art may be found on Pacific Street, including William Ritschel, Ansel Adams, Edward Weston, and Armin Hansen.
During your time at La Mirada, you'll be able to see a stunning home and its exquisite rose garden. This part of the museum focuses on rotating exhibits.
The museum's interior is also lovely, with large windows and open beams.
In addition, to guide programs, the museum offers a wide range of educational and community events, including seminars, art classes, and summer camps.
Make sure to add this attraction to your list!
Address: 559 Pacific St, Monterey, CA 93940, United States
Point Lobos State Natural Reserve
The Point Lobos State Natural Reserve is one of the best places to visit in California.
Nature lover?
You will definitely love the Point Lobos State Natural Reserve!
It is well-known for its magnificent granite edges and unusual rock formations that dot the coastline, each one strikingly clashing with the countless adorable creatures that call it home.
There is a wide range of things to choose from, including scuba diving, exercising, and photographing nature on one of the 13 paths with different difficulty levels.
There are several pathways around the Point Lobos State Natural Reserve, but the Cypress Grove, which has Monterey cypress trees and breathtaking ocean views, is one of the most beloved.
The Point Lobos State Natural Reserve has 10 distinct dive sites where you may see stunning coral reefs, kelp forests up to 70 feet high, and a seal or whale if you're fortunate.
Tidal pools, caverns, and stone-encased ponds are only some of the other attractions on the island.
Address: 62 CA-1, Carmel-By-The-Sea, CA 93923, United States
Discover California on your next vacation! Hop over to the best travel guides for Santa Barbara and Palm Springs. Discover the enjoyable things to do in Santa Barbara, California, and the best things to do in Palm Springs, California.
Point Sur Lightstation
Watch the waves as they hit the rocks at Point Sur Lightstation!
There's a massive block of volcanic granite on the California coast where Point Sur Lightstation stands.
It has stood 361 feet over Monterey Bay for hundreds of years, keeping watch over the oceans and beyond.
The idea of a lighthouse at Point Sur was initially proposed in the 1880s after a ship collided with a rocky ledge.
Three years after construction started in 1886, it opened its doors to the public.
Because of its difficult path, the lighthouse was seldom visited by anybody besides lighthouse tenders.
Despite the fact that it no longer needs a keeper, the lighthouse has grown to be among Monterey's most popular tourist destinations since it was automated in 1972.
It is a historic site and the only lighthouse from its era that is publicly accessible in the state of California.
Make sure not to miss this place.
Address: Point Sur Lightstation, Monterey, CA 93940, United States
Making travel plans to California? You cannot miss out on visiting San Jose and Orange County. Superb things to do in San Jose, California, and fun things to do in Orange County, California, are also a must-experience!
Sloat Monument

If you are a history buff, you wouldn't want to miss out on this incredible monument!
One of Monterey's biggest attractions is the Sloat Monument, which has a fascinating backstory.
To truly appreciate the monument, however, some background on Commodore John Drake Sloat, the man for whom it was constructed, is required.
In 1846, Sloat played an essential part in the conflict between the United States and Mexico. He was in charge of 4 US Navy boats at the time.
Then, he was well aware that the region of Alta California could be quickly conquered by American troops due to the thinness of the Mexican military forces in that region.
Sloat arrived in the state during the first week of July of that year, starting his journey there as soon as possible.
Moreover, Sloat understood he must move quickly if he wanted to take advantage of any British ships in the area.
There was little resistance in Monterey, which was the first town to be settled on.
Three years later, the remaining state was surrendered to the United States due to its status as the state's capital.
Fort Mervine, named for the captain who initially arrived in the city, is built next to it.
All in all, the area is heavily guarded, yet the memorial is still accessible to the general public.
The Sloat Monument is definitely worth the visit. It was built in 1910 and looked out over Monterey Bay.
Address: Ewing Rd, Monterey, CA 93944, United States
The Moon Tree

Hear the story of the Moon Tree.
Discover why going there is among the most remarkable things you can do in town!
It all began in 1971 when Apollo 14 was launched.
Stuart Roosa is the one transported hundreds of seedlings to the moon in his personalized pack in his Command Module Pilot years.
To test the effects of space exposures on seed germination and growth, Roosa worked as a smokejumper for the United States Forest Service before joining NASA.
Redwood trees, Sycamores, Loblolly Pine, Douglas Fir trees, and Sweetgums were selected for the tests, and control seeds from each species were left on the ground.
Roosa and the seeds completed 34 full orbits in 33 hours while conducting gravity and radar tests and capturing the moon.
The Forest Service ended up with over 350 seedlings once he returned to Earth.
Many were given free to commemorate the United States of America's birth bicentennial.
Roosa snatched one of the Moon Tree's seeds. In this inconspicuous spot, a Redwood tree has taken root.
As with many other seeds, they germinated and grew in much the same way as earthbound seeds.
Ultimately, Roosa who died in 1994 and was remembered by the Moon Tree, which he planted in his honor.
Go out and appreciate the nature that Roosa established!
Address: 536-570 Pacific St, Monterey, CA 93940, United States
Looking forward to exploring California? You cannot miss out on visiting Santa Cruz. Do and see more exciting things to do in Santa Cruz, California!
The Old Whaling Station

A famous wedding spot?
A place of history?
One of the most intriguing Monterey sights is the Old Whaling Station.
A Scottish explorer named David Wight built the structure in 1847 for his family, but once they left for California's gold mines, it was abandoned.
In 1855, the Old Monterey Whaling Company bought the property and repurposed it into employee housing and the main office of their organization.
When the whaling company operated, it killed whales in the ocean and transported them to land for processing.
Historically, baleen, a bone filter found in whales' mouths, was utilized to create items such as corsets and umbrellas.
Maps and machines both utilized blubber as a natural lubricant.
Fertilizer or paving material might be made out of ground bones.
During the early 20th century, whale numbers decreased as other whale species were threatened.
Commercial whaling was put to an end in 1986 after an attempt by the International Whaling Commission to keep it in check failed.
The Old Whaling Station currently serves as a reminder of the horrific industry's greatest days.
Since 1980, it has been available to the community as a free museum and tourist attraction owned by the state, which is a recognized historical landmark.
Traveling and having fun in the USA? You have to check out this page – the best states to visit in USA for the most fun and unusual travel ideas.
Still undecided on visiting Monterey, California? Hop over to reasons to visit Monterey, California, at least once in your lifetime here
Address: 391 Decatur St, Monterey, CA 93940, United States