Why go to Lima, Peru?
You must visit Lima, Peru, at least once in your lifetime because Lima is a busy and bustling city. Regardless of what you may have heard about it, you should absolutely make the trip to explore Peru's capital city. Lima is one of those fascinating places one wishes one could stay for the rest of their life. The climate is pleasant, the people are warm and welcoming, the city is filled with exciting things to do, and it is located close to the water. All of these things make it an ideal place to visit.
What is Lima, Peru, famous for?
Lima, Peru, is famous for being a sophisticated and historic city at the same time, with a plethora of boutique restaurants, breweries, and art galleries to explore. Monasteries built in the 16th century, Spanish colonial architecture, and Gothic churches may all be found inside the city's UNESCO-listed core.
Fun Facts about Lima, Peru
The city of Lima is South America's fifth-largest metropolitan area

Peruvian capital Lima is dubbed "The City of Kings."

It is the second biggest desert city in the world

Black vultures flock to Lima.

One of the world's tiniest churches may be found in Lima, Peru.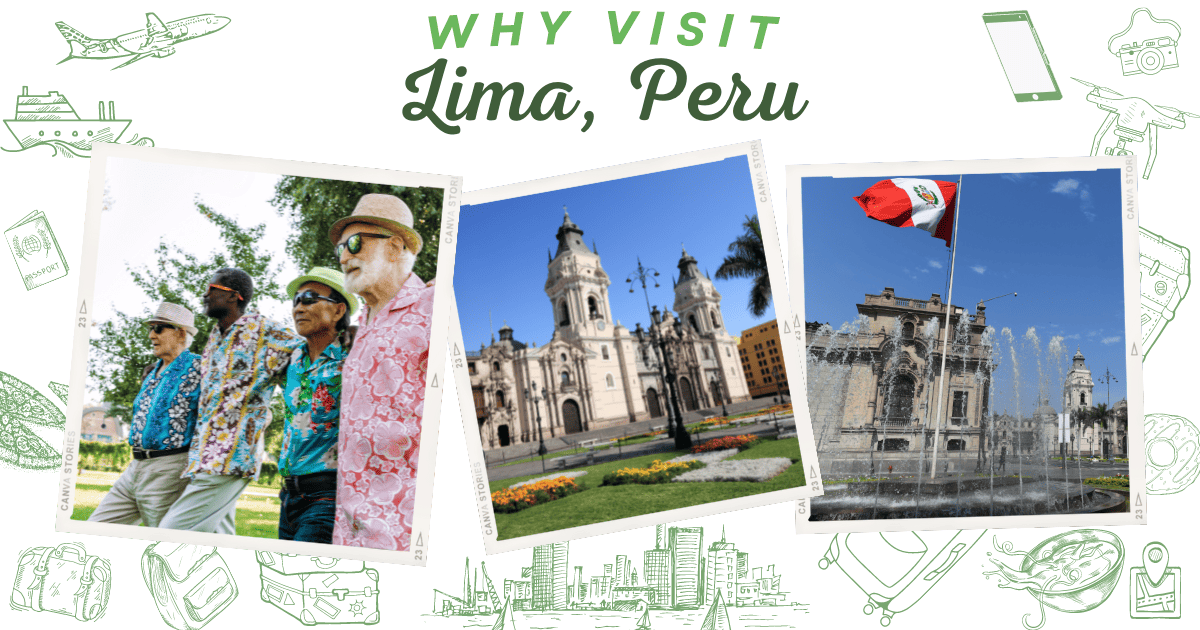 How big is Lima, Peru?
Lima is about 2,672 square km or 1,032 square miles in size.
When is the best time to visit Lima, Peru?
The best time to visit Lima, Peru, is the months of December to April. Because Lima is located in the Southern Hemisphere, these are the warmest months of the year (sometimes upward of 80 degrees).
How many days do you need to see Lima, Peru?
It is possible to view the main attractions of Lima, Peru, in only two days. This allows tourists to experience many of the country's major attractions and off-the-beaten-path sites.
What is the cheapest time to go to Lima, Peru?
The low season (flights) to visit Lima, Peru, is in February. The months of November and December are regarded as the peak season.
Is Lima, Peru, an expensive city to visit?
Lima was the most costly destination because of its more expensive restaurants, hotels, and nightlife. Still, after you leave the capital city, you will discover that the expenses are more than affordable. The months of January, May, and June are when tourists flock to a destination the most.
How to save money when visiting Lima, Peru?
The best ways to save money when visiting Lima, Peru are:
Acquaint yourself with the New Sol of Peru

Make Price Decisions in Advance

Prepare Your Own Meals

Master the art of bargaining
What food (and drinks) is Lima, Peru, known for?
Things you need to eat in Lima, Peru before you die:
Ceviche

Anticuchos

Lomo Saltado

Aji de Gallina
Is Lima, Peru, safe to visit?
In general, Peru is a safe destination for tourists. You won't be abducted or murdered in Peru, but you'll have to be a little more careful than you would in other countries. Tourists who are negligent and leave valuables lying around are frequently the victims of petty crime.
What is the best way to get around in Lima, Peru?
The best ways to get around in Lima, Peru are:
Public Transportation

Taxi

On foot
What neighbourhoods or areas should I stay in when visiting Lima, Peru?
The best areas you should stay in when visiting Lima, Peru are:
Miraflores

Barranco

Historic Centre

Pueblo Libre
What are the best neighbourhoods or areas for food?
The best areas for food and drinks when visiting Lima, Peru, are:
Alma Bar Restaurante

Intro Cafe Bar

CHE CHA Tea Bar & Food Station

El Señorío del Sulco
What are the best neighbourhoods or areas for shopping?
The best areas for shopping when visiting Lima, Peru are:
Larcomar

Surquillo Market

Craft fair

Gamarra
What should I do on my first trip to Lima, Peru?
If you are visiting Lima, Peru, for the first time, it is highly recommended that you visit the wonderful museums in Lima. It provides an in-depth look into the vibrant past of the region's vanished civilizations. Get your taste buds ready for an adventure in the gastronomic heart of South America. Explore the lively Peruvian nightlife by going to some of the city's more upscale neighbourhoods, like Miraflores, where you can go shopping and eat at high-end restaurants and shops.
Is Lima, Peru, a good place for solo travel?
When traveling solo, the people of Peru are friendly and warm. This makes it very easy for a person who is traveling alone. With all the hostels and the well-known "gringo trail," it will be impossible for you not to meet people while traveling in Peru. You can go to Barranco, where you can walk around the cute gardens and food markets in the romantic municipal park. You can also check out the Malecón, which has beautiful coast views and many cozy places to watch the sunset over the Pacific. Another place you must see when you go to the capital, especially if you like architecture. The current president lives in the heavily guarded Palacio de Gobierno, surrounded by many beautiful gardens and buildings. The Aliaga House, which is close by, is thought to be the oldest house in the Americas. It was built in 1535 and has been remodeled several times. It is a great example of how different colonial architectural styles can be seen in one building.
Is Lima, Peru, a good place to visit for a family with kids?
When visiting Lima, Peru as a family with kids, Family-friendly attractions abound in Lima, the country's capital, including interactive museums, coastal promenades, a zoo, and a popular water park. Explore Lima's cliffside boardwalk, the Malecón de Miraflores, by foot or by bike. The ocean may be seen from this 5-mile (8-kilometer) trail. There are many intriguing stops (parks, flower gardens, sculptures, restaurants, and even the open-air luxury mall Larcomar). The Choco Museo is a good place to take a breather from your museum tour. Honestly, this is more like a chocolate store. Still, if you take the time to read through the exhibits or sign up for a chocolate-making session, you'll learn much about the process.
Is Lima, Peru, a good place for couples?
As a couple visiting Lima, Peru, Lima's most romantic sites range widely, from breathtaking sunset views to unexpectedly heartwarming tourist attractions. Lima's beachside cliff walkway is particularly beautiful at sunset. An essential part of Miraflores is the newly restored boardwalk. After dusk, rent a pair of bikes for you and your loved one to ride around town. It's possible to bike to San Isidro and then return, pausing at coffee cafes to take in the ocean vistas. Parque del Amor is an absolute must-see with its two kissing monuments.
What are the best annual events in Lima, Peru?
The best annual events in Lima, Peru that you cannot miss are
Anniversary of Lima in January

Wine and Pisco Festival in May

Fiestas Patrias in July

Mistura Food Festival in September

Señor de los Milagros in the month of October