Why go to Burlington?
You must visit Burlington at least once in your lifetime because this is a compact and beautiful city with a robust cultural scene, museums and educational possibilities, excellent shopping, three colleges, a university, and a full range of four-season outdoor hobbies. It's no surprise that this modest, welcoming city continually receives national recognition.
Places to go in Burlington, Vermont:
What is Burlington famous for?
Burlington is famous for its ultra-liberal climate and free-thinking culture. It is a college town and a major commercial metropolis while keeping an intimate atmosphere. Fall is a beautiful time to visit Burlington since the city is ablaze with vibrant hues.
Fun Facts about Burlington
On Lake Champlain, one of the first maritime conflicts of the Revolutionary War took place. The Battle of Valcour Island faced a colonial army of 15 ships led by Benedict Arnold against a British force of 25 ships.

Ethan Allen, a folk figure widely regarded as the father of Vermont, was born in Burlington. Allen, born in Connecticut, and his Green Mountain Boys defended property established by the New Hampshire Grants against competing New York claims.

Burlington served as a base for about 4000 US troops during the War of 1812.

The University of Vermont, founded in 1791, was the first institution of higher learning to declare support for religious freedom in its charter.

The Fletcher Free Library, which opened in 1871, allows people to borrow gardening supplies, books, CDs, and DVDs.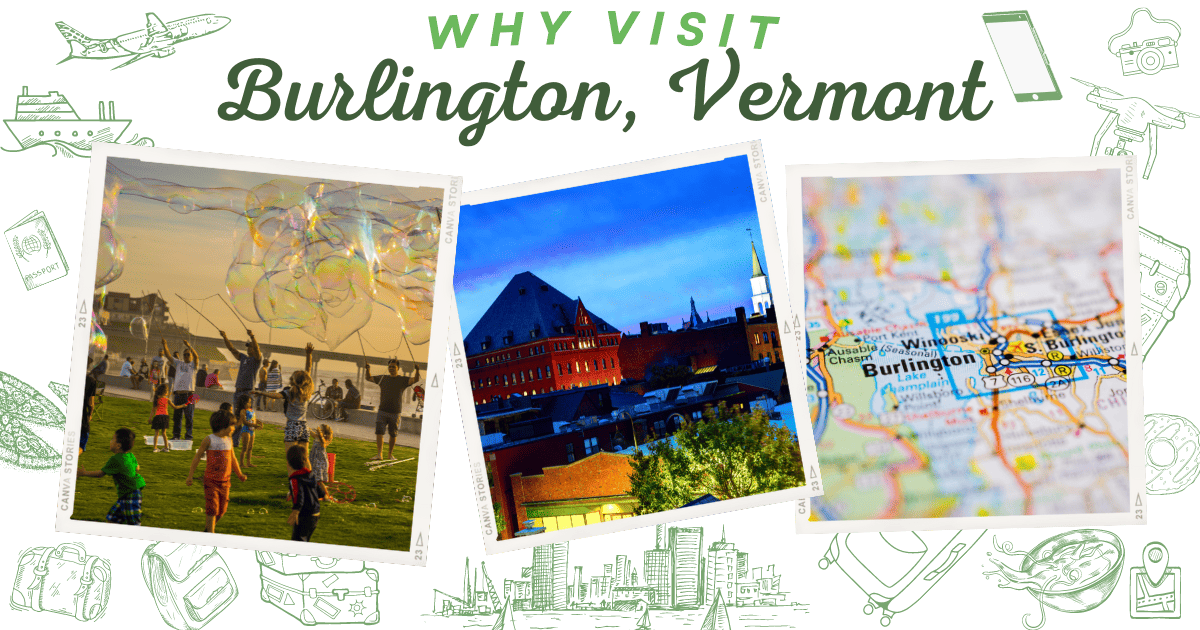 How big is Burlington?
Burlington is about 40 square km or 15 square miles in size.
When is the best time to visit Burlington?
The best time to visit Burlington, Vermont, is the months of May to September.
How many days do you need to see Burlington?
When visiting Burlington, you can fully explore the city within three to four days!
What is the cheapest time to go to Burlington?
The low season (flights) to visit Burlington is in January.
Is Burlington an expensive city to visit?
Burlington vacations typically cost $1,689 for a single traveler, $3,033 for a couple, and $5,687 for a family of four to experience for seven days. You may find hotels in Burlington from $73 to $333 per night. It's recommended that you set aside between $57 and $98 per day per person for transportation and dining out at local establishments, depending on your plans.
How to save money when visiting Burlington?
The best ways to save money when visiting Burlington are:
Visit during the off-season.

Dine-in at local restaurants.

Take advantage of free tourist attractions.
What food (and drinks) is Burlington known for?
Things you need to eat in Burlington before you die:
The Vermonster at Ben and Jerry's

Cinnamon Suger Maple Donut at Donut Dilemma

Brick Chicken at Sweet Waters

The Burlington
Is Burlington safe to visit?
It's safe to go about Burlington at all times. The activities you choose and the places you visit may impact your safety, although traveling is generally safe.
What is the best way to get around in Burlington?
The best way to get around in Burlington are:
What are the neighborhoods or areas I should stay in when I visit Burlington?
The best areas you should stay in when visiting Burlington are:
Stowe

Plattsburgh

Waterbury

Middlebury
What are the best neighborhoods or areas for food?
The best areas for food and drinks when visiting Burlington are:
Honey Road

Penny Cluse Café & Lucky Next Door

Pizzeria Verita

Elaichi Indian Restaurant
What are the best neighborhoods or areas for shopping?
The best areas for shopping when visiting Burlington are:
Church Street Marketplace

Burlington Farmers' Market

Burlington City Arts Center

Fjallraven
What should I do on my first trip to Burlington?
If you are visiting Burlington for the first time, being one of Vermont's largest cities, Burlington also serves as a regional academic center. If you want to combine urban and rural activities during your holiday, you can't go wrong with this gorgeous and diverse city. There are several museums to see in Burlington; they are a great way to learn more about the city's fascinating past. There are several excellent museums in Burlington, including the Robert Hull Fleming Museum and the Perkins Geology Museum.
Is Burlington a good place for solo travel?
When traveling solo, you can visit the city of Burlington. Beautiful, safe, and easy to move around are just some of the advantages of this city. As a result, it is frequently recognized as a beautiful area to live or visit. You can take a cruise at Lake Champlain; you may take in the scenery from the comfort of a replica of a 19th-century steamboat for an hour.
Is Burlington a good place to visit for a family with kids?
When visiting Burlington as a family with kids, located right off the shores of Lake Champlain, you can visit Echo Lake Aquarium, a natural choice for a facility dedicated to marine life. The Neonate Map Turtle and the Pumpkinseed Fish are just two sea creatures you can get up and personal with as you explore the lake life. In addition to the aquarium, the ECHO Leahy Center for Lake Champlain has a 3D theater, an optical illusions exhibit, and a STEM Cafe.
Is Burlington a good place for couples?
You made the right choice when visiting Burlington as a couple and looking for a romantic getaway with beautiful scenery. There's something for every couple in the picturesque small towns and lakeside Burlington, with their natural attractions, historic buildings, and art galleries. In the picture-perfect Manchester Village Historic District, one of many romantic activities is to stroll down the marble pathways. Many of the grand old homes that line Main Street in Manchester have been converted into inns and B&Bs, adding to the city's charm.
What are the best annual events in Burlington?
The best annual events in Burlington that you cannot miss are
Magic Hat Mardi Gras Parade from March to April.

Spring Essex Craft Show in May.

Vermont Comic Con in September.

Vermont International Film Festival in October.

Women's Festival of Crafts from November to December.