Why go to Mexico?
You must visit Mexico at least once in your lifetime because this tropical haven boasts stunning coastlines, intriguing archeological sites, vibrant cities awash in colonial splendor, and an array of delectable culinary delights. Here are our picks for the top 25 reasons to visit Mexico. Mexico is a location that provides something special for everyone.
What is Mexico famous for?
Mexico is famous for its stunning landscapes, ancient ruins, and stunning coastline. Mexico is well-known for its mouth-watering cuisine. Indulge in delectable cuisine while taking in the sounds of live music while exploring Mayan temple ruins by day.
Fun Facts about Mexico
The largest pyramid in the world may be seen in Mexico. 400-meter base and a total capacity of 4.5 million cubic meters, the pyramid are substantially greater than the pyramid of Giza, even though it is less popular.

Mexico is home to people who speak 69 distinct languages.

Mexico has the biggest number of taxi cabs in the world.

Mexico is Latin America's most visited tourism destination.

The gastronomy of Mexico has been designated as a UNESCO World Heritage Site.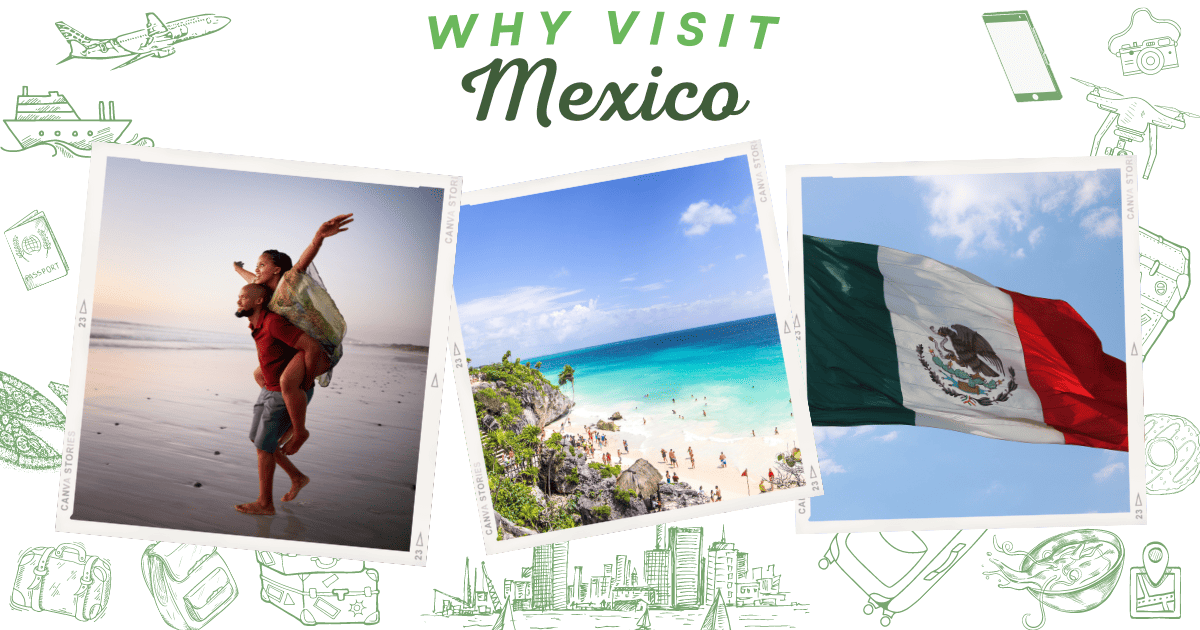 How big is Mexico?
Mexico is about 1964000 square km or 758305 square miles in size.
When is the best time to visit Mexico?
The best time to visit Mexico is the months of March and May, although the streets are quite packed this time of year. In exchange for the frigid winters and rainy summers, you get gorgeous weather all year round.
How many days do you need to see Mexico?
Five days is enough time to enjoy the attractions of one region in Mexico. For a diverse beach, city, culture, and food journey that lasts a week or more consider combining three or four distinct locations. However, if you want to experience everything Mexico offers without feeling rushed, plan on staying at least two weeks.
What is the cheapest time to go to Mexico?
The low season (flights) to visit Mexico is in the months between July and October, although it's a busy time of year. Despite the city's frigid winters and rainy summers, you get magnificent weather as a trade-off.
Is Mexico an expensive city to visit?
You can expect to spend an average of M$2,736 ($138) a day in Mexico City, based on previous travelers' experiences. Meals for one day cost an average of M$366 ($18), and local transportation costs M$176 ($8.86).
How to save money when visiting Mexico?
The best ways to save money when visiting Mexico are:
Slow travel involves

staying in one place for longer rather than hopping from one city to the next. The more destinations you try to squeeze into a trip, the more money you'll lose.

Make your own way to the popular tourist attractions-

you can save a lot of money by going on your own instead of taking a tour. Nothing stops you from traveling solo rather than as part of a group excursion because public transportation is usually reliable and simple.

Cut back on food and drinks-

Saving money by making your own food is an excellent investment.
What food (and drinks) is Mexico known for?
Things you need to eat in Mexico before you die:
Chilaquiles-With green or red salsa on the side, this traditional Mexican breakfast dish is one of the most popular in the country.

A pozole-The meal is traditionally made using hominy corn, herbs, and spices and simmered for several hours or even overnight.

Tacos al pastor-This is how you make tacos al pastor (meaning "shepherd's style'): small strips of pork are cut off the bone and placed on a tortilla with onion rings, coriander leaves, and pineapple slices.

Tostadas-These can be served on their own or topped with various additional ingredients. Feta cheese, frijoles (refried beans), grilled meat and seafood, and ceviche are among the most popular toppings for tacos.
Is Mexico safe to visit?
Be aware of your surroundings and watchful of your personal items. Non-violent and violent crime is prevalent in Mexico state to varying degrees. Despite the prevalence of minor crime in tourist locations, you should exercise vigilance in areas that are not frequented by tourists.
What is the best way to get around in Mexico?
The best way to get around in Mexico are:
By bus

-When it comes to long-distance travel within Mexico, buses are the most cost-effective option.

Taxis

– Be wary of rip-offs while using regular taxis. Unless you're convinced that the meter is operating, always set a price before getting in.

Renting a car

– is a great method to tour a small area in a short period that might otherwise require days of public transportation.
What neighbourhoods or areas should I stay in when I visit Mexico?
The best areas you should stay in when visiting Mexico are:
Historic Centre-Mexico City's most convenient neighbourhood for sightseeing and low-cost lodgings.

Polanco-hotel options for wealthy tourists in Mexico City.

Paseo de La Reforma- where to stay in Mexico City for first-timers.

Condesa- stylish and bohemian area.
What are the best neighbourhoods or areas for food?
The best areas for food and drinks when visiting Mexico are:
Beatricita

Amaya

Bottega Sartoria

Chetito
What are the best neighbourhoods or areas for shopping?
The best areas for shopping when visiting Mexico are:
La Lagunilla-Dazzling Old-Fashioned Shops

Paseo de la Reforma 222-Luxurious Shopping Paradise

ArteS Galeria y Antiguedades- Indulge in the Mexican Art

Pueblo Serena- The Architecture Of Perfection
What should I do on my first trip to Mexico?
If you are visiting Mexico for the first time,
Is Mexico a good place for solo travel?
When traveling solo, Chichen Itza, Yucatan, is a must-see. A great hike in Oaxaca's Sierra Norte mountains. Here are some photos taken from Hierve El Agua in Oaxaca, Mexico. Cafebreria el pendulo in Mexico City is a great place to browse books. Swim to the Marietas Islands' secluded beach. Puerto Vallarta is an excellent place to go zip-lining. The Frida Kahlo Museum in Mexico City is a must-see. Take a tour of Cancun. Cancun's submerged museum
Is Mexico a good place to visit for a family with kids?
When visiting Mexico as a family with kids, traveling with children in Mexico is one of the most enjoyable experiences you can have anywhere in the world. People in the country are particularly family-oriented, and your children will be greeted with open arms wherever you go. There are also many family-friendly attractions to choose from.
Is Mexico a good place for couples?
When visiting Mexico as a couple, they have everything you need for a romantic getaway, including miles of palm-fringed beaches, opulent resorts, and charming colonial cities. Mexico is a great place for romance. The benefits of traveling as a couple go far beyond the simple joy of experiencing new things together. Couples that travel together tend to become closer and have better communication.
What are the best annual events in Mexico?
The best annual events in Mexico that you cannot miss are
Día de Muertos in November

Guelaguetza Festival in July

Carnival in Veracruz & Mazatlán in February

Las Posadas in December

Cinco de Mayo in May