Why go to Rouen, France?
You must visit Rouen, France, at least once in your lifetime because of its ancient streets and half-timbered houses, Rouen, France's pedestrian zone. It is a wonderful place to spend a day or two. The cathedral, the Fine Arts Museum, and the Gros-Horloge clock tower are all must-sees. Thanks to the life-size studio of the most prominent impressionist painters, Rouen, France, is a crossroads of art and art history. Historical relics and great art collections can be found throughout the territory. Artists from various walks of life find inspiration in the Rouen, France-Seine Valley, the birthplace of impressionism.
Places to go in Rouen, France:
What is Rouen, France, famous for?
Rouen, France, is famous for its main draw, the Cathedral of Notre-Dame de Rouen France, a Roman Catholic structure. The city's most recognizable symbol is its imposing and elegant design. During the previous century or so, Cathédrale Notre-Dame de Rouen, France, has seen a lot of destruction and repairs. Richard the Lionheart's tomb is also located there. Rouen, France's Cathédrale Notre-Dame is one of the city's most popular tourist attractions.
Fun Facts about Rouen, France
Rouen's Rue du Gros-Horloge is home to a 55-bell carillon.

Tower of the central lantern (13th–16th century) with a late 19th-century spire. The Rue du Gros-Horloge at its eastern terminus in Rouen, France. Rouen's cathedral square (Place de la Republique) and the old market square (Place du Vieux Marché) are linked by this street.

The Notre Dame Cathedral of Rouen is the tallest in France

. It is positioned behind that of Ulm Minster in Germany, which stands at 161.5 meters,

Were you aware of that? From 1892–93,

Monet

painted almost 30 images of Rouen Cathedral. Each day, he painted the facade with textured brushstrokes that evoke chiseled stone and make the ambiance and light perceptible, moving from one canvas to the next. Because of this, the city of Rouen, France, remains well-known today.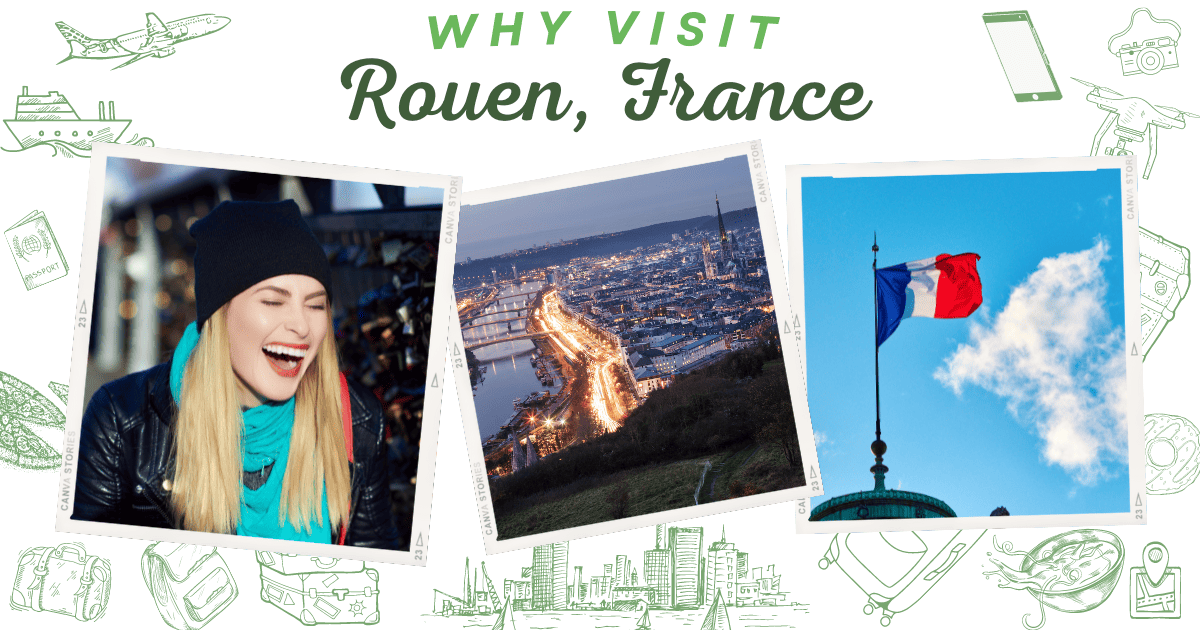 How big is Rouen, France?
Rouen, France, is about 21.38 square km or 8 square miles in size.
When is the best time to visit Rouen, France?
The best time to visit Rouen is the month of June. In addition, this is a great time to visit. During the summer, expect temperatures of between 61°c and 64°c on average.
How many days do you need to see Rouen, France?
Taking a city break in Rouen, France, is a great idea. Rouen, France, deserves at least two or three days of exploration.
What is the cheapest time to go to Rouen, France?
The low season (flights) to visit Rouen, France, is in February. June and July are regarded as the peak seasons. That is why it is expensive to travel to Rouen, France, during those months.
Is Rouen, France, an expensive city to visit?
Rouen's average daily cost is €87 ($92), based on the costs of other tourists. For two individuals, a one-week stay in Rouen costs €1,221 ($1,290).
How to save money when visiting Rouen, France?
The best ways to save money when visiting Rouen, France are:
Travel In Offseason-

Visits to France, particularly Paris and the South of France, are most popular in the spring and summer. The off-season is a great time to visit France since you'll be able to enjoy clean beaches, fewer crowds, and more affordable lodging.

Eat local and eat the local specialties-

The plat du jour (plate of the day) is generally the most cost-effective option, so always inquire about the current specials.

If taking a road trip, avoid toll roads in Rouen-

If you're planning a road trip to Rouen, be aware that toll roads might be extremely expensive. It's best to download a backup map of France using Google Maps in case your GPS fails you.

Don't be afraid of public transportation-

France's public transportation system varies greatly from region to region. Still, in most big cities, it's rather good. Using trains and buses to plan your trip is nothing to be afraid of.
What food (and drinks) is Rouen, France, known for?
Things you need to eat in Rouen, France, before you die:
In Rouen, France, there is a pear known as Passe Crassane. Medium to large in size and has greenish-yellow skin with a russet.

Neufchatel has a white rind and is soft. It is created from cow's milk in the humid Bray region of France and can come in various shapes. The oldest cheese in France, this one has to mature for at least ten days.

In the shape of a ten-centimeter-long stick,

apple sugar

is an orange-colored sweet from the city of Rouen. It's normally sold as a gift wrapped in white paper with gold designs and calligraphy.

Steak Haché- Special seasoning and lean steak mince produce an incredible peppery flavor. In the shape of steaks, these are a popular choice among diners.
Is Rouen, France, safe to visit?
Rouen is currently considered a moderately safe city, and the road to get there is also relatively safe. Crime has decreased during the last few decades.
What is the best way to get around in Rouen, France?
The best ways to get around in Rouen, France are:
Rouen is best experienced on foot

, according to locals and visitors alike. Whether you want to explore the entire city in an hour or slow down and enjoy it, you may do so. Traveling by foot makes it simple to go at a slower pace.

By Car

– The city may be pedestrian-friendly, but it is also quite car-friendly, so make sure you have a good map, note where the parking lots are, and pay attention to the road signs as you drive. You can't drive on pedestrian-only streets, and certain streets may not take you where you expect them to. In addition, many of the city's streets resemble one other, making it simple to become lost.

Riding a bike

– Find the best bike path in Rouen, where we've got 789 bike routes to explore. The paths you most typically encounter here are of the hilly or uphill sort. Most people hop on their bikes to ride here in April and May.
What neighbourhoods or areas should I stay in when I visit Rouen, France?
The best areas you should stay in when visiting Rouen, France, are:
Budget hotels

– The apartment at

Le Carrel Saint Marc

is attractive, modern, and well-equipped for a relaxing stay in Rouen. It's also in the heart of the city and has a view of the city.

Mid-Range Hotels-

The Hotel Dandy's interior has a French design, which is why I appreciate it so much. You can eat your breakfast in bed if you choose, as it is included in the room's price.

Luxury Hotel

: The best western Hôtel Littéraire Gustave Flaubert. It's hard to go wrong with an excellent best western at times. This hotel has a terrific location, nice rooms, balconies with city views, and a delicious breakfast.

What are the best neighbourhoods or areas for food?
The best areas for food and drinks when visiting Rouen, France, are:
The Place de Vieux Marché-

Charming and historic, it's hard to put down. As a result, it appears to be a strange mixture of both the old world and the new. The Rouen city center's Old Marketplace Square is a historic landmark. Old half-timber homes adorn the area, making it particularly attractive.

Place Barthelemy

– The architect who built the church spire in the late 1800s is Bathélémy, hence the town's name. Several homes had to be demolished to make room for the spire. As a result, what was formerly private courtyards are now exposed to the plaza.
What are the best neighbourhoods or areas for shopping?
The best areas for shopping when visiting Rouen, France, are:
Aitre Saint Maclou- restored 16th-century plague victims' mausoleum and exquisite art galleries.

Marché des Emmurées- A covered market where you'll find fresh produce, flowers, and a variety of vendors selling their wares.

Auzou Le Chocolatier Normand- The place to go for upscale chocolate masterpieces, beautiful sweets, and a kaleidoscope of flavors in macarons.

Zadig & Voltaire- In France, this shop is a great place to get a taste of the country's street style, with sophisticated, forward-thinking clothing and accessories for men and women on display. Located in the center of Rouen, Zadig & Voltaire is a must-see stop for any visitor.
What should I do on my first trip to Rouen, France?
If you are visiting Rouen, France, for the first time, there are several must-see photo ops and "Instagram" places in the enchanted city of Rouen. There are many cafes, restaurants, and museums, as well as many beautiful lodging options. Here are all of Rouen's top attractions. In addition to the Cathedral of Notre Dame, other notable structures in the city include the Museum of Fine Arts, Abbatiale Saint-Ouen, Aître St. Maclou, the Palais de Justice, and the Monument Juif (Big Clock Tower)
Is Rouen, France, a good place for solo travel?
When traveling solo, you can travel safely as long as safety precautions are observed. In the meantime, it is not recommended that guests venture out alone after dark. It's critical to become familiar with local safety precautions before visiting the charming city of Rouen. Travelers can feel secure in town, whether alone or as part of a group.
Is Rouen, France, a good place to visit for a family with kids?
When visiting Rouen, France as a family with kids, it is a great destination for families with young children. Its laid-back atmosphere and short walking distance to the city's historical landmarks offer the intimate impression of a much smaller town. Then again, this is a spot worth staying at for a long time. You'll fall in love with Rouen if you stay for a few days.
Is Rouen, France, a good place for couples?
When visiting Rouen, France, as a couple, visit some of the country's most interesting villages and cities. The good news is that Rouen is a perfect blend of old and new, with numerous beautiful gothic churches and museums, making it an ideal destination for couples looking to engage in cultural activities together.
What are the best annual events in Rouen, France?
The best annual events in Rouen, France that you cannot miss are
The Joan of Arc Festival in May

The Nordic film festival in March

Christmas market in the month of November-December