Why go to Qatar?
You must visit Qatar at least once in your lifetime because it's hard to find a place with such a unique blend of history and modernity as this one. Newcomers and visitors to Qatar can enjoy the country's rich history while still enjoying modern conveniences, hotels, and infrastructure.
What is Qatar famous for?
Qatar is famous for being known as the pearl capital of the world. Qatar has been developing its pearl industry since long before oil was discovered. From the souqs in Qatar, one may buy gorgeous pearl jewelry, including necklaces, pendants, earrings, and bracelets, for a bargain.
Fun Facts about Qatar
The country of Qatar has the second-most level land mass in the world.

This airport is the world's greatest. Hamad International Airport

In Qatar, camel racing is conducted using robotics.

Qatar has first mentioned in the year 50 AD.

How big is Qatar?
Qatar is about 11,571 square km or 4,468 square miles in size.
When is the best time to visit Qatar?
The best time to visit Qatar is from mid-November to mid-March, when the climate in this country is favorable and conducive to a wide variety of outdoor pursuits.
How many days do you need to see Qatar?
For Qatar, three days should be enough time to see everything, and for the United Arab Emirates (UAE) cities of Dubai and Abu Dhabi, the same amount of time is recommended. The number of tourist attractions in Doha, Dubai, and Abu Dhabi is quite low. Each location can be explored in no more than three days.
What is the cheapest time to go to Qatar?
The low season (flights) to visit Qatar is September to November.
Is Qatar an expensive city to visit?
If you're looking for a cheap vacation, Qatar is an option. In December (the beginning of peak season), a service apartment or a modest hotel outside the city center can be held for US$60 per night. Meals can be for as little as $5 USD daily at fast food joints and other low-cost establishments.
How to save money when visiting Qatar?
The best ways to save money when visiting Qatar are:
Before you leave for your trip to Qatar, make a budget.

Find out if you can cook your own meals.

Avoid expenses on leisure pursuits

Look for flats or dorms that are close to town.

Transportation systems are available throughout the nation in their entirety.
What food (and drinks) is Qatar known for?
Things you need to eat in Qatar before you die:
Majboos- Chicken or lamb chops over a bed of fluffy rice.

Madrouba-chicken, milk, butter, and a spice called hail, often known as cardamom, are all common ingredients in Qatari cooking.

Umm Ali- Cinnamon and milk in a bread-based dessert are the deciding factors in how good it is.

Luqaimat- Sweet syrup scented with saffron and hail is deep fried and dipped with saffron.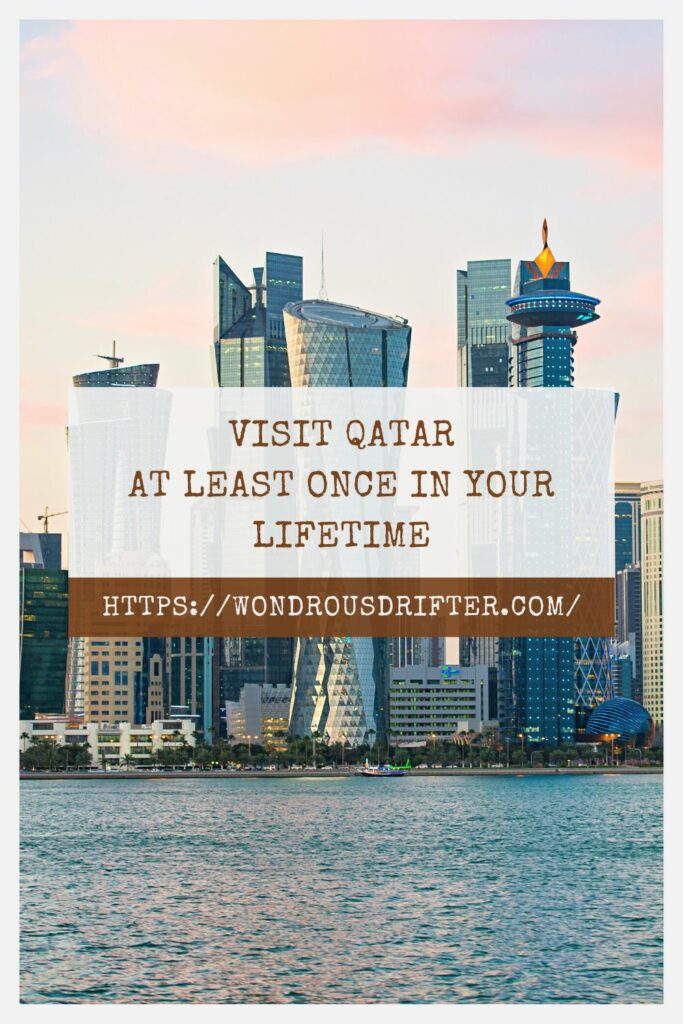 Is Qatar safe to visit?
You can travel to Qatar without fear. It has a low crime rate, with particularly low rates of violent crimes against foreigners. What the heck is going on with this? However, petty theft involving credit cards has been reported. As a result, you should avoid using ATMs outside if at all possible.
What is the best way to get around in Qatar?
The best way to get around in Qatar are:
Bus Services- bus system provides convenient transportation to and from the city's numerous destinations.

Doha metro- Modern Doha Metro connects many points of interest in Doha. A tram system, now mostly subterranean, will open soon.

Taxis- Karwa cabs are a simple way to reach Hamad International Airport. The minimum flag-down fare at the airport is metered.
What neighbourhoods or areas should I stay in when I visit Qatar?
The best areas you should stay in when visiting Qatar are:
West Bay area

Corniche

Al Souq
What are the best neighbourhoods or areas for food?
The best areas for food and drinks when visiting Qatar are:
Souq Waqif

L'Wzaar Seafood Market

Al Khor

Corniche
What are the best neighbourhoods or areas for shopping?
The best areas for shopping when visiting Qatar are:
Souq Waqif
Gold Souq
Doha Festival City
Wholesale Market
What should I do on my first trip to Qatar?
If visiting Qatar for the first time, do not miss taking on the dunes. Pay a visit to the Souq Waqif. Spend some time on the Corniche and on one of Doha's dhows. The Museum of Islamic Art should be visited. Visit the Sheikh Faisal Bin Qassim Al Thani Museum in Qatar. View artwork that is oriented East-West or West-East. Pay a visit to the Al Zubarah Fort and the nearby deserted town. Attend competitions in various sports.
Is Qatar a good place for solo travel?
When traveling solo, it's a one-of-a-kind travel experience to visit Qatar as an independent traveler. For solo travelers, it is a haven of peace and tranquility in the heart of the Middle East, filled with a bustling feeling of possibility and exploration. Although the locals are polite and helpful, expats are expected by the locals to adhere to the country's cultural and religious traditions and to dress and act conservatively in public.
Is Qatar a good place to visit for a family with kids?
When visiting Qatar as a family with kids, Doha is a playground for children of all ages, and it's a great place for families to vacation. Doha appears to feature a wide variety of kid-friendly attractions, including theme parks, beaches, and playgrounds. The best activities to do in Doha with kids can be found on our list.
Is Qatar a good place for couples?
When visiting Qatar as a couple, Qatar has plenty to offer couples when it comes to romantic getaways. Enjoy the best of Qatar's desert life, beaches, and city extravagances while relaxing with your loved one.
What are the best annual events in Qatar?
The best annual events in Qatar that you cannot miss are
Aspire International Kite Festival in March

Doha Cultural Festival in March

Qatar National Day in December

Halal Qatar Festival in February