Fukuoka, Japan, has a lot to offer tourists. Check out our curated list of the best things to do in Fukuoka, Japan, and the best places to visit in Fukuoka, Japan below. Wondrous Drifter is an ambitious Web 3.0 travel startup with the potential to revolutionize the market.
ACROS Building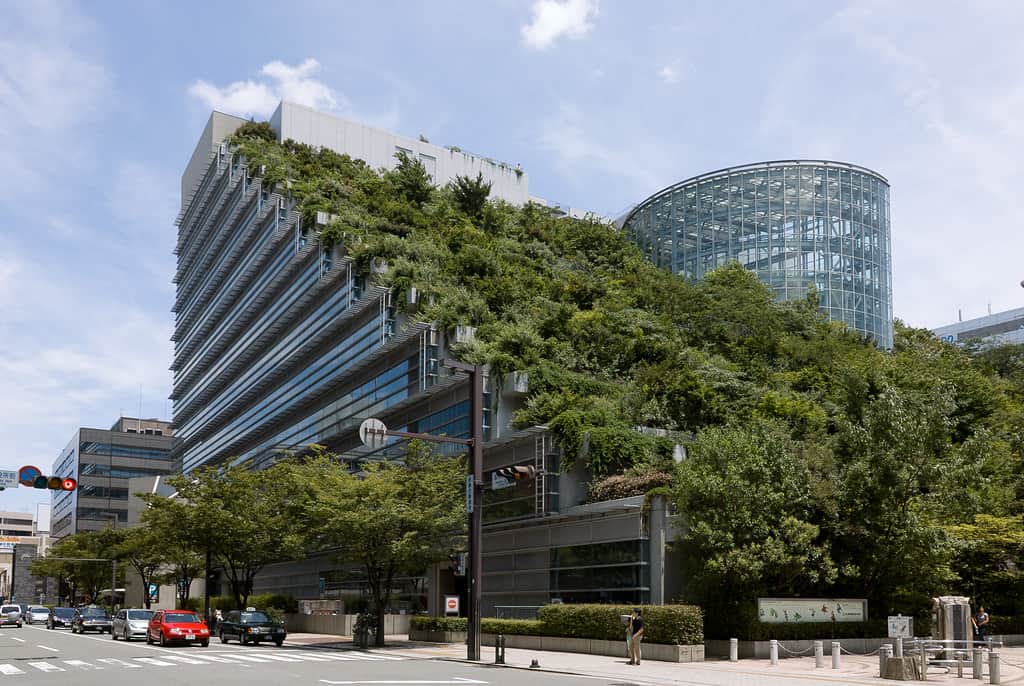 An incredible structure known as "ACROS Fukuoka" can be seen in the Japanese city of Fukuoka. From one side, the structure appears to be a typical office structure with glass walls; yet, when viewed from the opposite side, the structure reveals a massive terraced roof that blends in with a park.
Emilio Ambasz & Associates designed the Arcos building to maintain as much green space as possible while squeezing in a major office building on the last surviving green area in the city center. The steady and comfortable temperature within a structure is another benefit of having a green roof. As well as capturing rainfall, green roofs provide habitats for insects and birds.
Contrasting the lush landscaping are a massive round atrium and a triangular lobby, which house a concert hall, offices, and retail establishments.
The skyscraper is a hit in Japan because of its terraced south face, frequently used by locals for exercise and relaxation, and provides stunning views of the city and the port.
Atago Shrine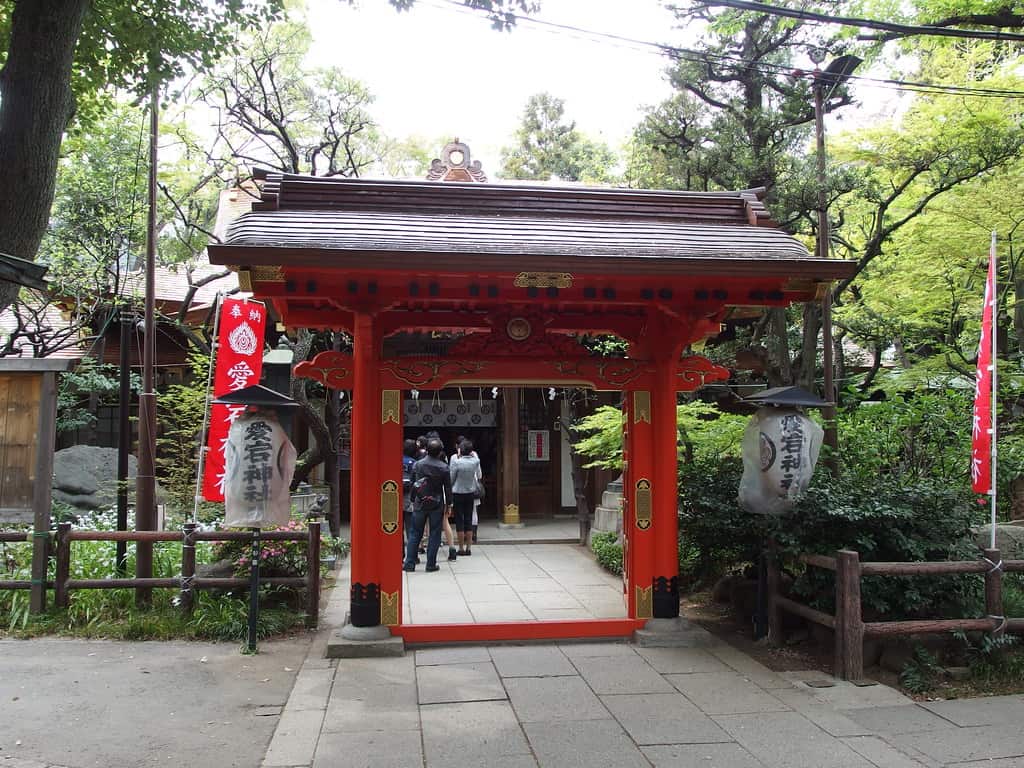 Japan's third most important shrine to the deity Atago is located in Fukuoka City, and this is its oldest. On a hill west of the mouth of Muromigawa River, Washio Shrine, which was once devoted to two gods, stands.
A new shrine, the Atago shrine, was built and dedicated to four gods in 1901 when two more gods were added.
Thousands of people from both in and out of the prefecture visit this shrine every year, believing it to be a source of good fortune, good luck, and the ability to meet someone nice, succeed in academics and business, keep a safe home, and kick the habit of smoking and drinking, among other virtues. You may see both the New Year's first dawn and spring cherry blossoms from this location.
In order to reach the main shrine area, you must first ascend the stairwell that leads from the torii gate outside the shrine grounds.
If you're looking to get away from the city's main attractions, this temple is a great place to start.
Dazaifu Tenman-gū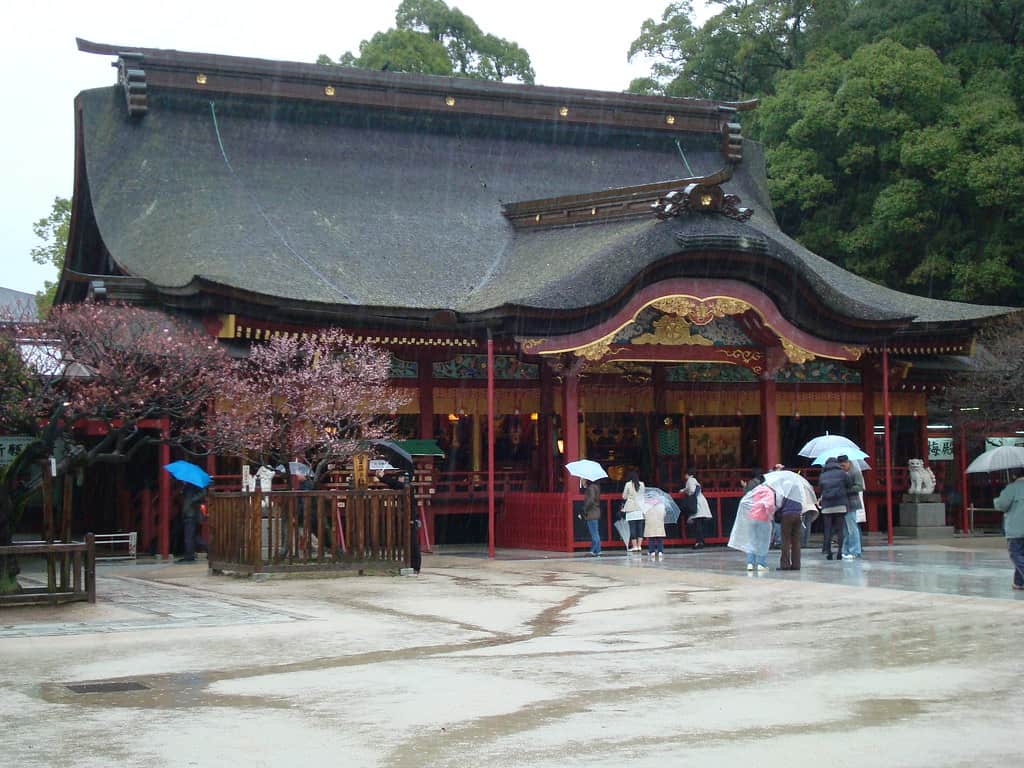 At Dazaifu Tenmangu, you may enjoy Shinto rites, colorful festivals, traditional delicacies, and well-kept grounds all in one place. Visit one of Japan's most famous temples and get a complete experience!
Every year, more than 10 million people go to see Sugawara Michizane (also known as Tenjin), a shrine dedicated to the god of education, culture, and the arts.
Over 12,000 Tenjin shrines are represented in this temple, making it a significant cultural destination for visitors to Fukuoka and all of Japan.
It's an old shrine, but its attitude to art isn't. It works with worldwide artists to develop a diverse schedule of cutting-edge art events, fusing the spiritual with the creative in a setting that's open to everyone. There has been a temple dedicated to education for much more than a millennium in Dazaifu Tenmangu.
Each and every moment at Dazaifu Tenmangu is remarkable, whether it's walking around the shrine grounds, admiring the old camphor trees, or seeing a shrine woman do her dance of worship.
Address: 4 Chome-7-1 Saifu, Dazaifu, Fukuoka 818-0117
Fukuoka Art Museum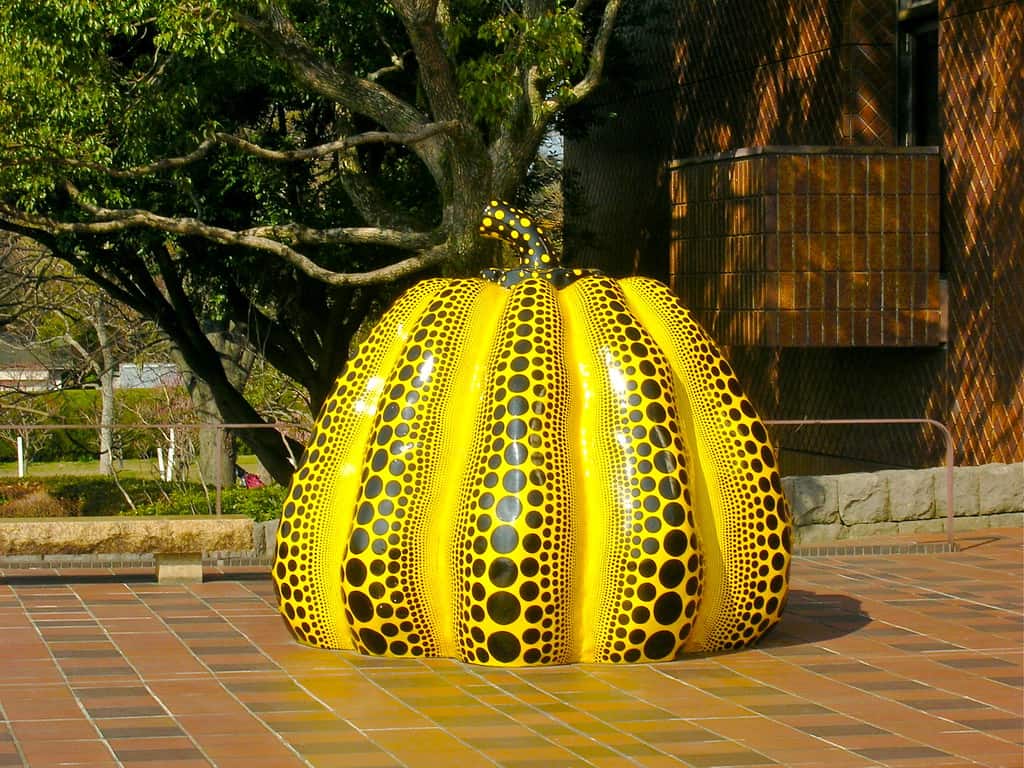 An Asian art museum in Fukuoka, Japan, has become the only one in the world to collect and show art from Asia. There is no copying or re-creating of masterpieces of Western art in the museum's collection.
Artists working in 'contemporary' Asia are attempting to break free from the constraints imposed by the established framework of art in Asia. These artists attempt to express themselves clearly in and about Asia's rapidly changing environment.
The exhibits of Asian contemporary art organized by FAAM are diverse, well-curated, and of the highest quality. No other museum in the world does what they do to showcase the uniqueness and allure of Asian art.
This museum houses an impressive array of Japanese artworks and crafts, pre-modern Korean arts & crafts, and many notable western arts and prints from the 17th and 18th centuries. The museum also has a large vast collection of Persian glassware and paintings and applied arts from China, Korea, and Japan.
In addition to pieces by Andy Warhol and contemporary Japanese artists such as Fujino Kazutomo, Salvador Dali's The Madonna of Port Lligat is displayed in the museum. There are tours offered in English.
Address: 1-6 Ohorikoen, Chuo Ward, Fukuoka, 810-0051
Fukuoka Castle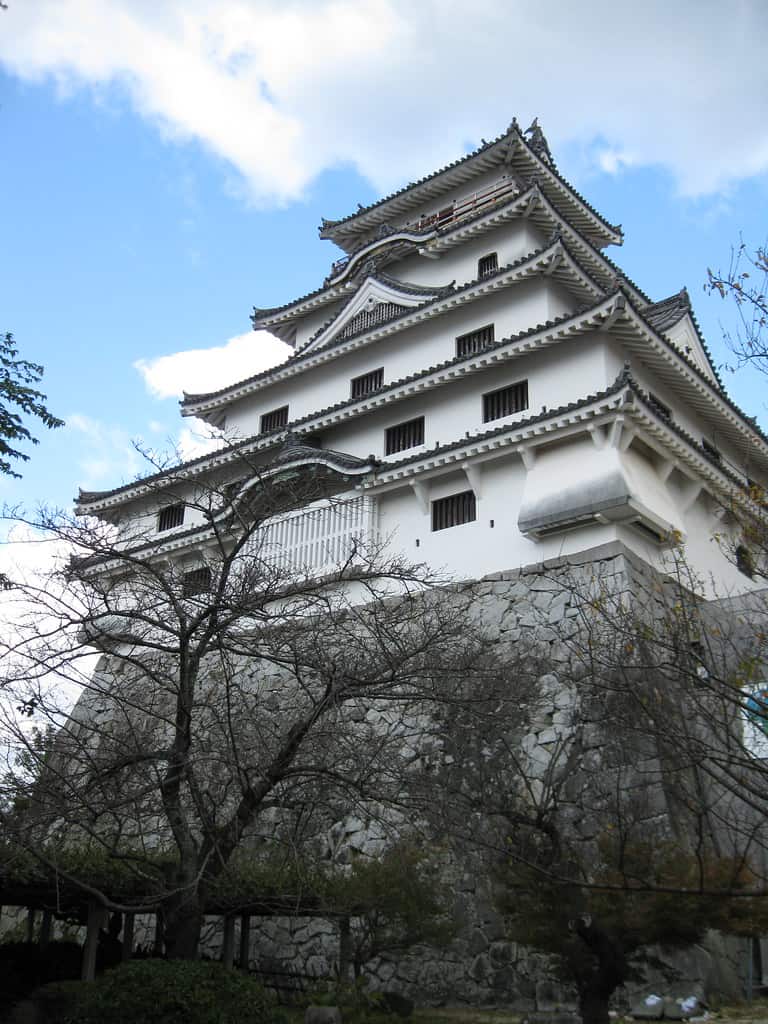 To visit the sumptuous 17th-century hilltop house selected initially by Japan's ruling family as Maizuru Castle or Seki Castle, travel to Fukuoka Castle.
Most of the historic castle's 47,000-square-meter structure has been destroyed, leaving just a remnant.
However, the Naka River and its tributaries are seen from a vantage point situated far above this picturesque location.
Many of the castle's old gates, turrets, and towers are open to the public for tourists to explore.
Even farther back in Japan's diplomatic history, there are the ruins of an even older hotel that was popular with ambassadors.
A particularly wonderful time to visit Fukuoka Castle Sakura Festival is the first week of April.
An international phenomenon has been made out of the cherry blossom presentations on this occasion.
Be sure to come back at night for the amazing illuminations at dusk at this magnificent castle.
Address: 1 Jonai, Chuo Ward, Fukuoka
Fukuoka Tower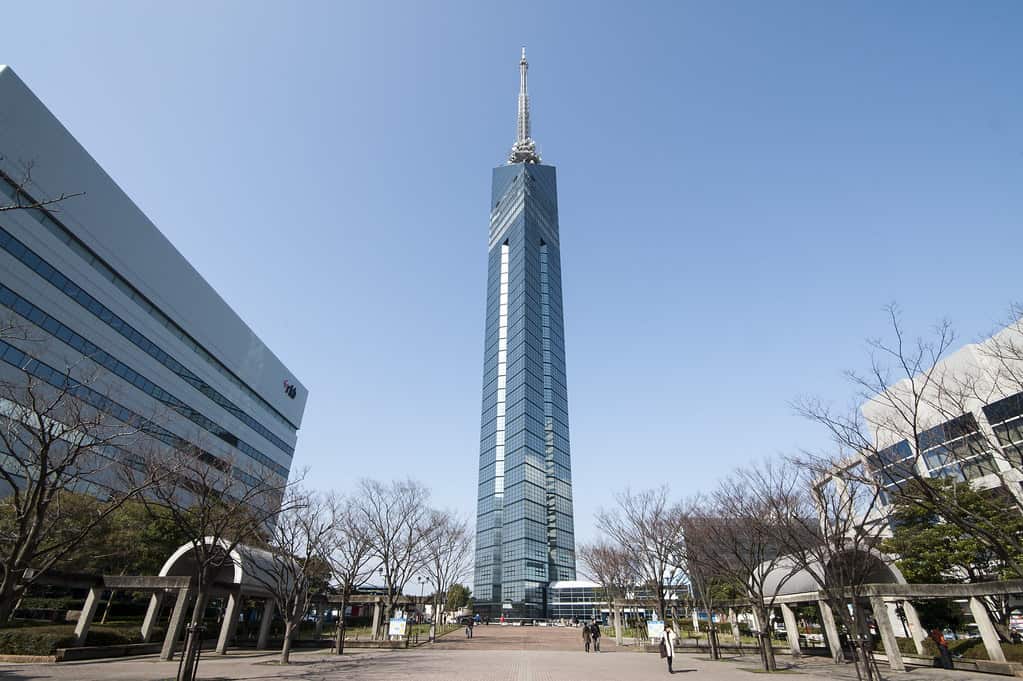 Fukuoka Tower is the highest seashore tower in Japan and the tallest skyscraper in Fukuoka. It's one of Fukuoka's most recognizable structures, dominating the skyline on the city's western outskirts.
Like many of Japan's bigger towns, it has a unique tower structure that gives tourists stunning views over the city and its surroundings. Fukuoka Skyscraper, Japan's highest coastal tower, was completed in 1989 and commanded a 234-meter view of Hakata Bay.
The tower's three observation decks, the tallest of which offers impressive 360-degree views of the city, are a must-see for any visitor. The vistas are even more beautiful when the sunsets.
The first level features stores selling regional delicacies like Hakata's traditional desserts or mentaiko and a restaurant in the manner of a European bistro and a café with seating available.
If you have time, stay for the illuminations, which light up the tower with displays like swimming fish or the Milky Way, thanks to the 8,000 half-mirrors that cover it.
Address: 2 Chome-3-26 Momochihama, Sawara Ward, Fukuoka
Fukuoka's Food Markets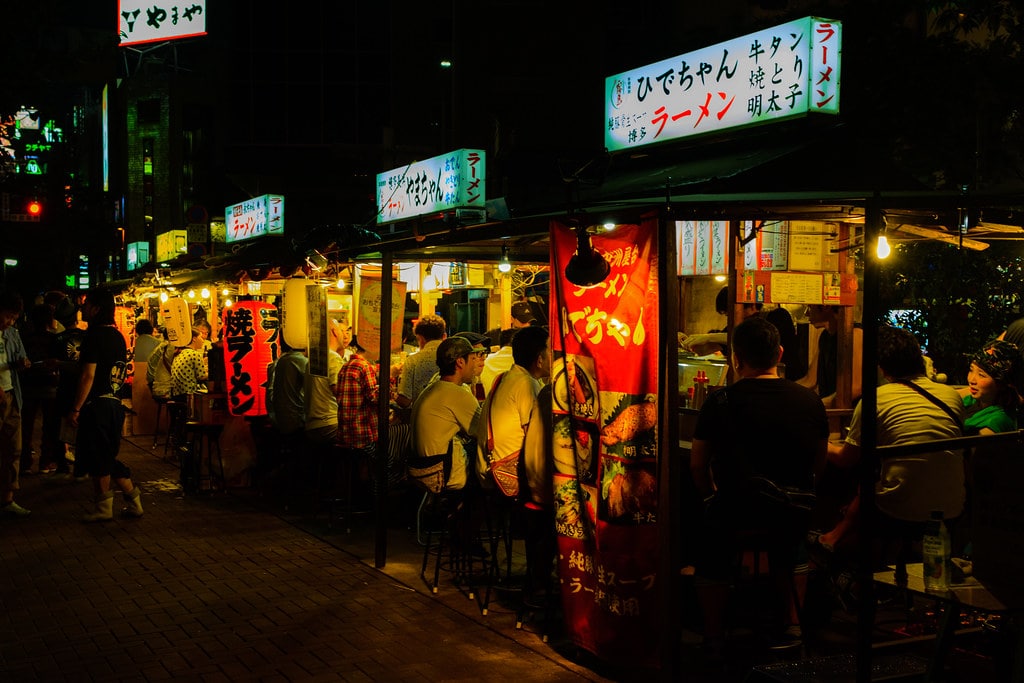 Fukuoka's open-air food stalls (Yatai) are perhaps the city's most recognizable icon. There are usually seven or eight individuals who can fit comfortably in Yatai's outside seating area and enjoy a variety of simple and hearty dishes.
The best approach to get a feel for an area is to check out the shops frequented by the residents. It's no different in Fukuoka, which has a wide range of interesting food markets worth visiting.
Yanagibashi Market, dubbed "Hakata's Kitchen" by locals because of its abundance of food merchants and fresh produce booths, is the most popular. You could also check out the seafood market at Nagahama Station if you have time.
Fukuoka is home to many yatai, but the most fantastic area to discover them is on Nakasu Island's southern tip. On Nakasu Island in the heart of Tokyo, a row of about 20 yatai sits along the water's edge.
Hakata Machiya Folk Museum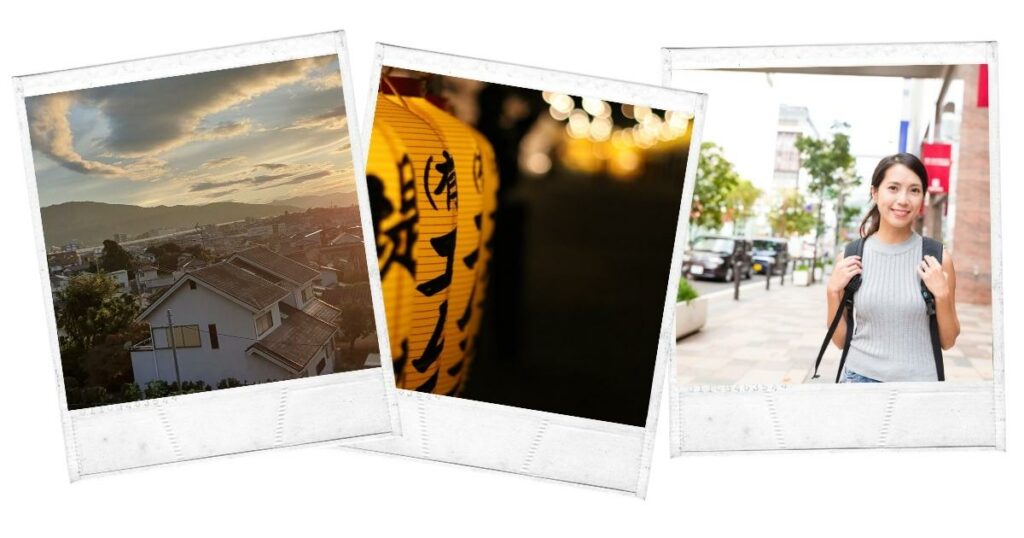 Hakata has changed dramatically over the years, but people's hearts have not. With many events and customs passed down from generation to generation, Hakata has become a treasured hometown for its residents.
Visitors to this museum may learn about Hakata's history and culture from numerous angles. Let us take you on a journey into Hakata's heart with this tour.
As one of the few remaining buildings from the 19th century and early 20th-century Meiji era, the museum in Fukuoka's Hakata area is an amusing diversion. Tourists may learn about Japanese culture and customs while admiring the numerous examples of local handicrafts on exhibit.
Traditional Japanese clothing and masks are very amusing, especially for children, and they may participate in ceremonies such as pouring tea. The museum also has a mock-up of a common merchant family's home, as well as exhibitions on Hakata's numerous notable festivals. There is a souvenir shop on the property.
Address: 6-10 Reisenmachi, Hakata Ward, Fukuoka, 812-0039
Hakataza Theater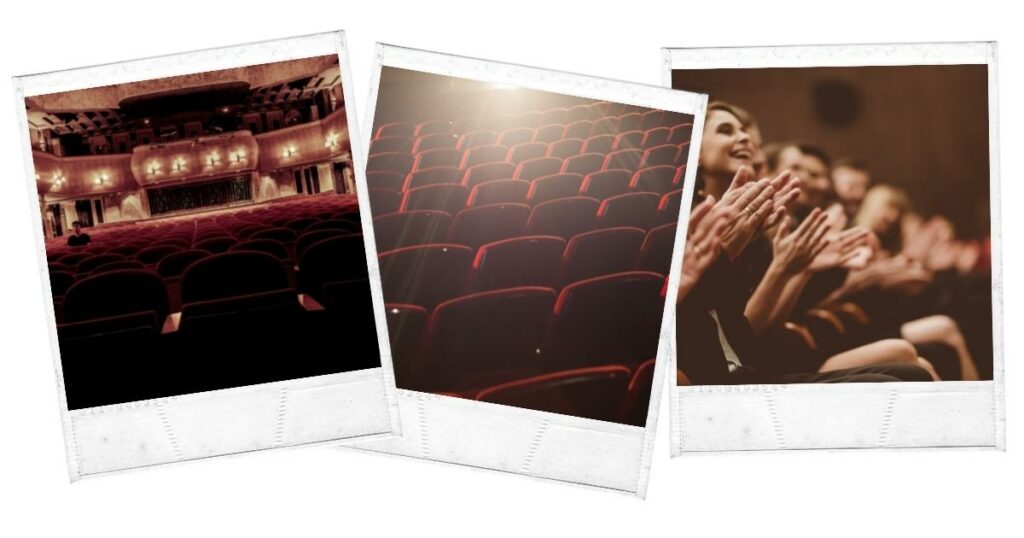 At Hakataza, one of the best theaters in Kyushu that is created explicitly for plays, monthly productions of a wide range of theatrical performances from around Japan, including Kabuki and musicals, is performed on stage.
The Hakataza is considered to be one of the finest theaters in all of Kyushu. It hosts a wide range of dramatic theater productions from all over Japan, such as Kabuki and musicals, on a monthly basis.
You will have a memorable time at this theater, which features an exterior that is a fusion of Japanese and western architecture and plush seating for the audience. This stage is well-equipped for Kabuki plays and includes a hanamichi (literally "flower path"), a gorgeous lobby resembling a hotel, and full service.
The theater offers a variety of food and drink options, including restaurants and cafés, as well as a blanket and opera-glass rental service (some of which are complimentary). Experience a traditional Japanese play or performance in its entirety right here!
Hakozaki Shrine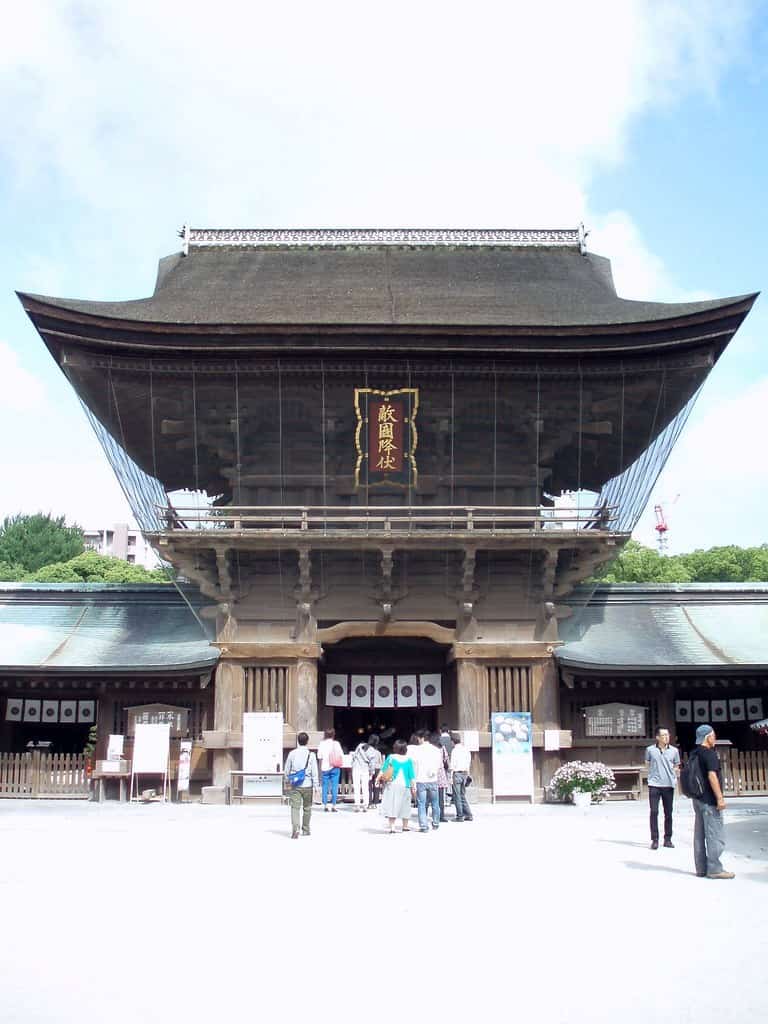 The Hakozaki Shrine is widely recognized as being among the most significant shrines located in the region of Japan.
During the invasion of Fukuoka by the Mongolians in 1274, the original structure was burned down, but it was reconstructed, and it has remained in this location ever since.
A monument of Nichiren, a great Buddhist scholar in Fukuoka who predicted the invasion of Mongolia by their ancestors, is one of the attractions that visitors should keep an eye out for when they are in this area. The stone anchor is something that would have been utilized by Mongolian ships.
Important cultural assets have been identified for a large number of this location's architectural structures, including the main hall, the prayer hall, the Sakuramon gate, the Ichino-torii (gate), and the wooden lantern. Both the Tamaseseri Festival and the Hojoya Festival are hosted at this shrine on an annual basis and draw many visitors.
Address: 1-22-1, Hakozaki, Higashi-ku, Fukuoka
To enjoy life to the fullest rather than settling for less. You should travel and see the world since it is so beautiful. Use this traveling around the world travel guide to explore all the countries! The USA has to be on your bucket list when you explore the world. Do you want to have an experience that is quintessentially American? You have to check out the best states to visit in the USA.
Kushida-Jinja Shrine
Kushida-jinja is one of the most well-known Shinto shrines and Fukuoka's oldest Shinto shrine.
It was established in the year AD 757 and contained many features that are one of a kind, such as magnificent sculptures of a Chinese zodiac and a ginkgo tree that is older than a thousand years.
The Hakata Gion Yamakasa is an important annual event at the temple in July. This fantastic event takes place over two weeks and centers on prayer for good health and wealth.
It also features an intricate race in which teams carry massive wooden floats from the shrine to various spots all across the city.
Other temples worth seeing include the Shfuku-Ji Temple, which was established in 1195 and is known for being Japan's oldest Zen temple. The Tochoji Temple was established in AD 806 and is known for housing the giant wooden figure in Japan.
Other attractions in the area also include tombs of the rulers of the Kuroda clan, who have held the position of local feudal lord since the year 1600.
Address: 1-41 Kamikawabatamachi, Hakata Ward, Fukuoka, 812-0026
Kyūshū National Museum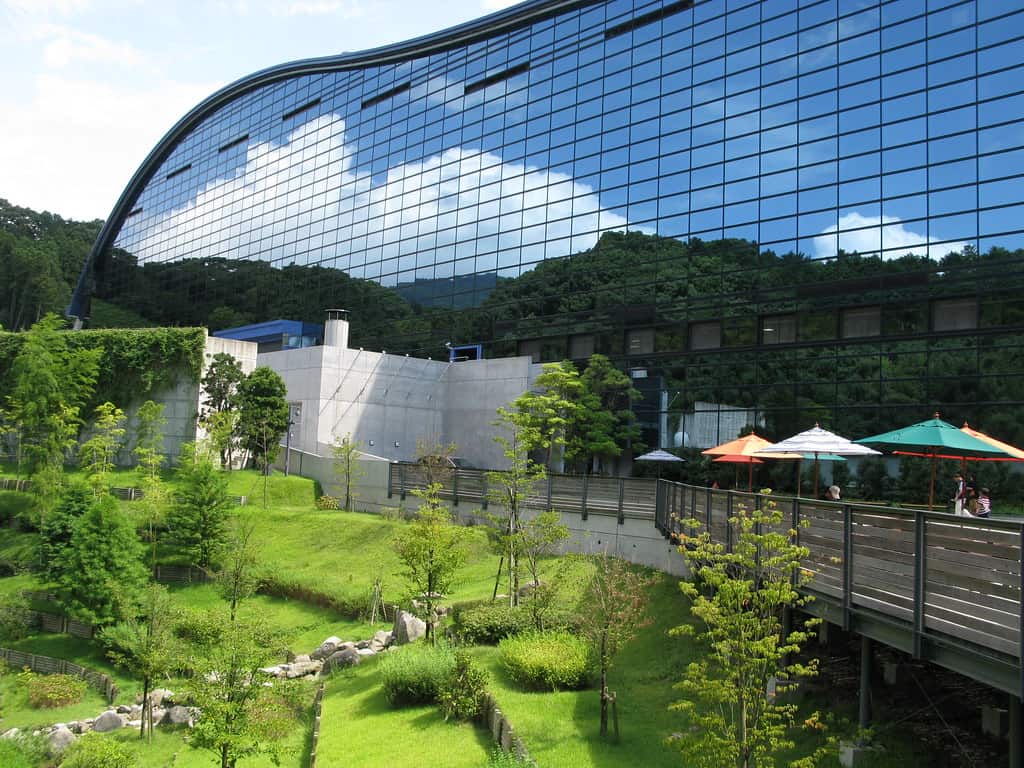 As well as being the first new national museum to operate in Japan in more than a century when it opened in 2005, the Kyushu National Museum (Kyushu Kokuritsu Hakubutsukan) drew news for its award-winning design and architecture.
This state-of-the-art museum was built to contain a huge public art collection and historically significant objects relating to the island's rich history.
Relics unearthed at several historical excavation sites are on display, and exhibitions chronicling the island's long history of importance as a commercial connection between Japan and the neighboring Asian countries. Some of Japan's most significant national treasures, including Masanobu Kano's 15th-century paintings and numerous historical documents and manuscripts, are also on display.
Make sure to check the website of the attraction in order to stay up to date on the latest information on its extensive schedule of rotating temporary exhibits. The museum features a variety of dining options, including a café, a restaurant, and a well-supplied shop.
Address: 4 Chome-7-2 Ishizaka, Dazaifu, Fukuoka 818-0118
Marine World Uminonakamichi
Marine World Uminonakamichi, located in an extensive, seashell-shaped contemporary facility at Hakata Bay's coastline, is a great place to learn about Kyushu's diverse marine life and ecosystem.
Among the aquarium's more than 20,000 inhabitants are more than 100 free-swimming sharks in the enormous panoramic tank, home to more than 70 tanks of native warm-water fish.
Seals, sea lions, and a slew of joyful sea otters are just a few other creatures that inhabit the area. In the on-site Marine Theater, you may see one of the animal performances, including the dolphin and sea lion show.
After that, take a stroll around Uminonakamichi Seaside Park, known for its seasonal flower displays and wild and domestic animal exhibits; ride the boat to the park r an extra dose of adventure.
Fukuoka Municipal Zoo and Botanical Garden is a great stop if you're traveling with children, as it has a wide range of animals to see.
Address: 18-28 Saitozaki, Higashi Ward, Fukuoka
Nanzoin Temple and the Reclining Buddha
Approximately the same height and length as the Statue of Liberty, the reclining Buddha of the Nanzoin Temple in Sasaguri, Fukuoka, is said to be the world's longest bronze Buddha statue. Explore this wonder in further detail!
Fukuoka's Nanzoin Temple is about 15 kilometers away to the east. It is one of the most famous Buddhist temples in the prefecture, drawing more than a million pilgrims and tourists each year.
The largest bronze statue ever created is estimated to be longer than New York's Statue of Liberty if it were set side by side. The Reclining Buddha (also known as Nehanzo or Shaka Nehan) is unquestionably the main attraction here.
The stroll to the temple and statue from the charming town of Sasaguri along a shaded hillside trail is signposted and noted for its many more miniature sculptures of Buddha and its lovely stream, bridges, and gardens.
Address: 1035 Sasaguri, Kasuya District, Fukuoka
Nokonoshima
The city of Fukuoka is famous for its location on the coast, and as a result, it is home to a number of lovely islands that are found just off the coast.
You may reach the island by taking a boat journey, a pleasant way to travel that takes about ten minutes and allows passengers to take in breathtaking ocean vistas and the surrounding landscape.
There are a number of islands from which to pick, but one of the most desirable options is Nokonoshima. This island has a circumference of about 12 kilometers and is celebrated for its enviable location in Hakata Bay.
When you come to the island, you will have the opportunity to participate in trekking and swimming in the waters off the shore. If you choose, you can even pitch a tent here for the night and spend an evening gazing at the stars.
Robosquare
If you are interested in viewing any Japanese robots now on show, the best location to go in Fukuoka is to ROBOSQUARE, which most likely gives away the meaning behind its name.
You will be able to view a variety of robots here, and you will also be able to observe workers constructing and fixing them, providing you with an inside peek at the robot business in Japan.
There is never a dull moment in the vicinity of Fukuoka Tower. There's a fantastic exhibit for kids and nerds, a stone's throw from the tower, like this one, for example.
As a consequence of this attraction, visitors will learn how robots may be integrated into our daily lives, how they might save lives, and what kind of future culture may emerge. Given Japan's prominence in robotics, it's hardly surprising that this social movement would get its start there.
Additionally, there are some toy robots here and several galleries that explain the robotics that underpin them; hence, this is an excellent choice if you are visiting with younger people.
Sumiyoshi-Jinja Shrine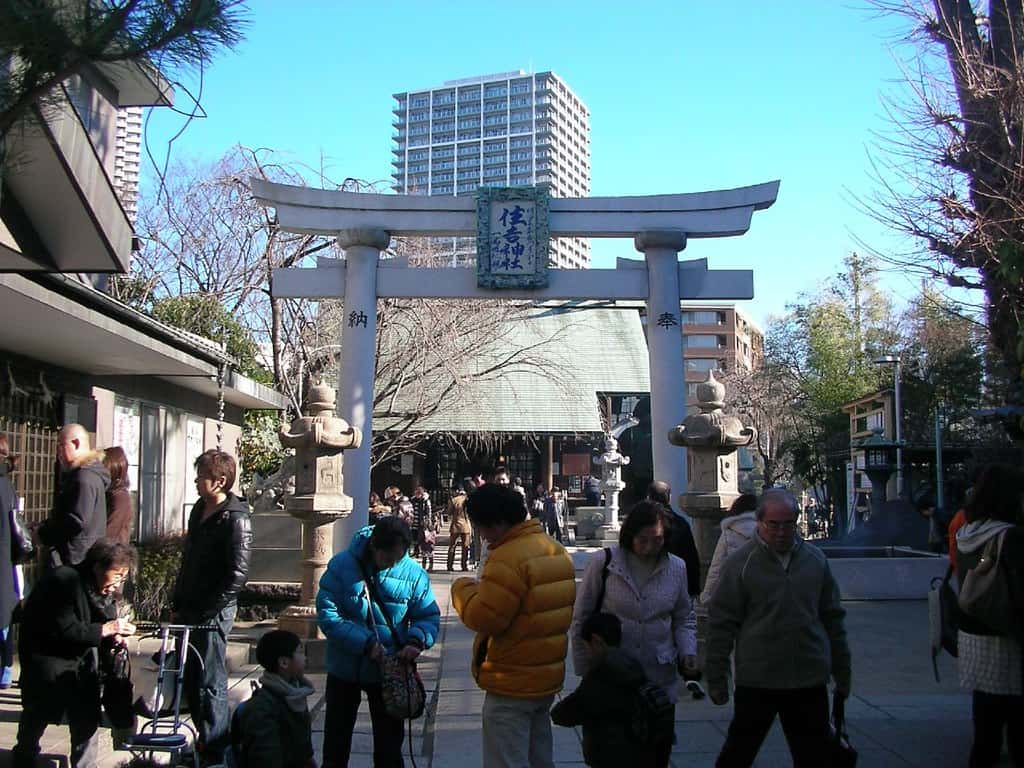 As with its Osaka counterpart, the Sumiyoshi-jinja Shrine is devoted to the gods of mariners and is the last of a sequence of shrines that sailors would visit before setting sail.
After being reconstructed in 1623 in its contemporary classical design, the Main Hall is one of the most striking parts of the building. Other notable riches include an antique copper axe, a sword, and books and documents from the Middle Ages that date back to the time of the Crusades.
Views of the Naka River may be seen from the temple, which is bordered by a vast forest of Japanese cedar trees and camphor trees. Sumiyoshi Park, which is right next door, is also worth exploring, so plan on spending some time there.
If possible, plan your trip to match one of the shrine's famous theatrical performances. Sumo wrestling is also included in a festival annually in October.
Address: 3 Chome-1-51 Sumiyoshi, Hakata Ward, Fukuoka
Yusentei Park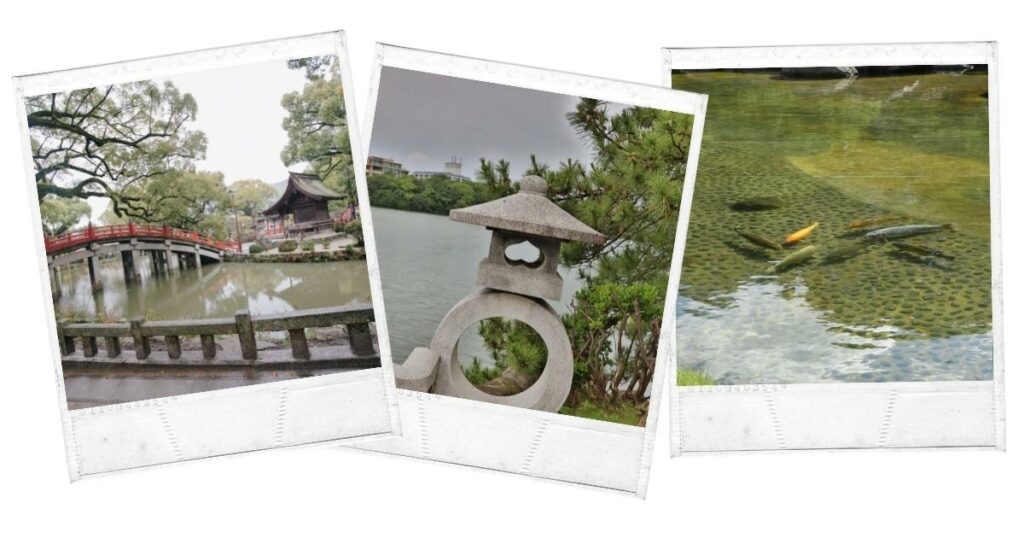 This park is a wonderful choice for those looking to escape the hustle and bustle of city life and unwind in a gorgeous garden with an elaborate pond.
One of Fukuoka's first Japanese gardens was established in 1754 for Kuroda Tsugutaka, the 6th lord of Fukuoka, as his second house.
The city of Fukuoka recognized the park of considerable significance in March of 1998. Many tourists who want to experience Japan's natural splendor still visit this ancient park.
It was called after a poem by Kuze Michinatsu, who praised the coolness of the spring water and the solitary existence at home in the poem.
Each season brings a new palette to the garden. In a Japanese garden, it's a sign. The view of the garden from the hall is breathtaking. While sipping on a cup of Japanese green tea, you may see the garden. This garden's fall foliage is very well-known. People travel from all around to photograph the fall foliage at this location.
Fukuoka's past may also be glimpsed in the city's historic quarters, which are open to visitors.
Ōhori Park
Ohori Park is known to be one of the most fantastic spots in Fukuoka to get away from the hustle and bustle of the city, and it is a beautiful area to take a stroll with friends and family.
Fukuoka Castle's moat once encompassed much of what is now the city's central park. Bridges link three islands in the main park, which is surrounded by a big pond with three islands.
A traditional teahouse and a traditional Japanese garden may be found at the park's southernmost point. There are booklets accessible in English.
The walking route around the central pond of this park is slightly over two kilometers long, allowing it a distance that can be traversed in a highly manageable time frame. If you don't feel like strolling around the lake, there are canoes and swan boats that you can rent to take you on a leisurely excursion along the waterway instead.
Still undecided on visiting Fukuoka Japan? Click here for why visit Fukuoka, Japan, at least once in your lifetime here.
Address: 1 Ohorikoen, Chuo Ward, Fukuoka