Arranging a trip to Beijing, China? For the best travel experience in Beijing, China, check out our curated list of things to do in Beijing, China, and the best places to visit in Beijing, China, below. We at Wondrous Drifter, a Web 3.0 travel startup, have big plans to shake things up in the travel business.
798 Art District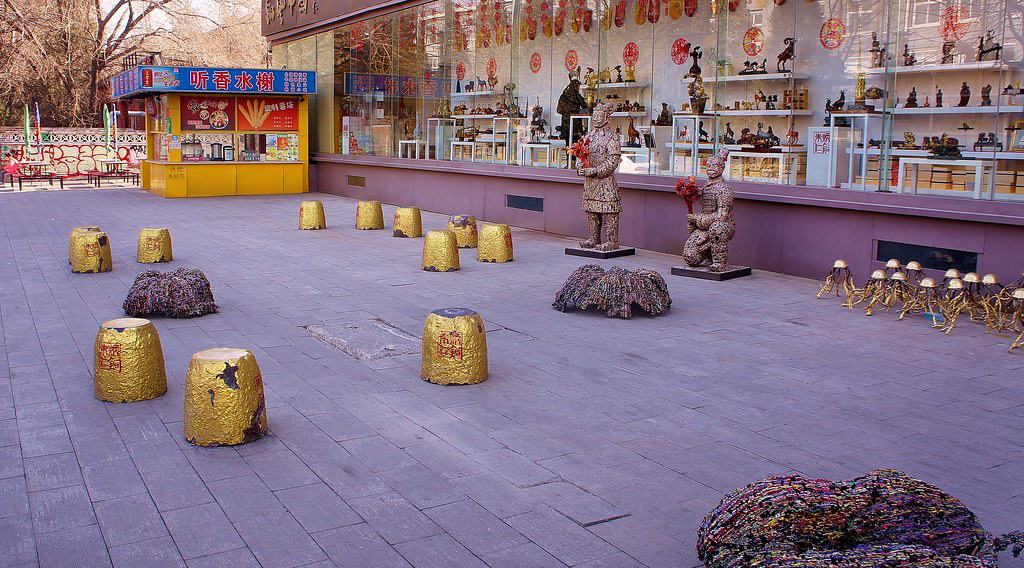 Paint your way to 798 Art District.
One of Beijing's most famous landmarks is the 798 Art District, a popular destination for young people interested in art or culture.
It is also called Dashanzi Art District (DAD), one of Beijing's most avant-garde districts.
798 Art District will show you a creative side of different Beijing, whether you're an art enthusiast or not.
Beijing's 798 Art Zone, formerly a communist-era factory and warehouse complex, transformed into a contemporary art district.
It has a wide range of contemporary businesses contrasting sharply with the area's Bauhaus-inspired architecture.
It is home to approximately 200 galleries, exhibits & art centers. Several wonderfully constructed buildings, stores, cafés, and restaurants are here.
Allow at least a half-day to tour 798 Art Zone. Start with the Long March Space's varied collection of sculptures, photos, and paintings, one of the best collections in the area.
Other famous galleries in the area include Chinese Contemporary, 798 Photo Gallery, and 798 Space, one of the most extensive galleries.
Visit the 798 Art Zone to see more stunning pieces of art.
Address: 2 Jiuxianqiao Rd, Chaoyang, Beijing, China
Beihai Park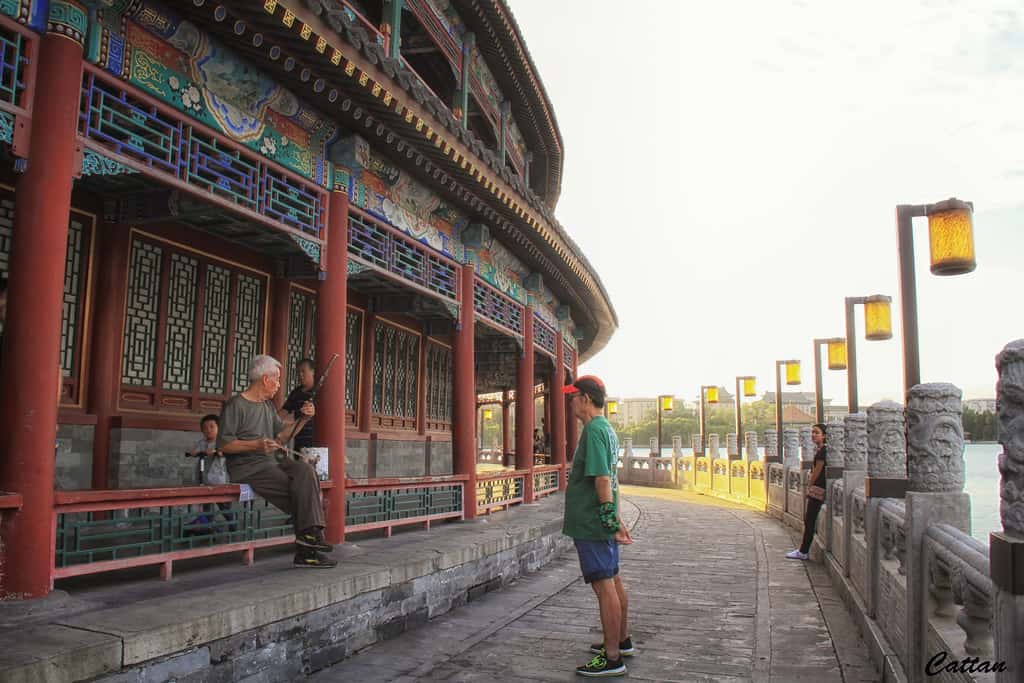 Uncover the legend behind Beihai Park.
There are several historic imperial gardens in China. Still, Beihai Park is one of the oldest, largest, and most well-preserved.
Although this garden has been there for more than 1,000 years, it is not only a classic mix of China's northern and southern gardens.
But it is also a wonderful blend of majestic imperial buildings with severe religious structures.
Beihai Park was built based on a Chinese legend. Penglai, Yingzhou, and Fangzhang were three magical mountains east of Bohai Bay.
The legend claims these mountains were once magical.
They possessed a herbal medicine that made people immortal.
Throughout the feudal era, several Chinese rulers desired those mountains.
Emperor Qin Shihuang, the first emperor of the Qin Dynasty (221–206 B.C.), searched for the fabled mountains to live forever.
They didn't find it. Then, the Emperor decided to make a big pool at his Palace and put three earth hills to imitate the legend.
So, do you think the first emperor of the Qin Dynasty achieves his goal?
Visit Beihai Park to find out!
Address: 1 Wenjin St, Xicheng, Beijing
Beijing Ancient Observatory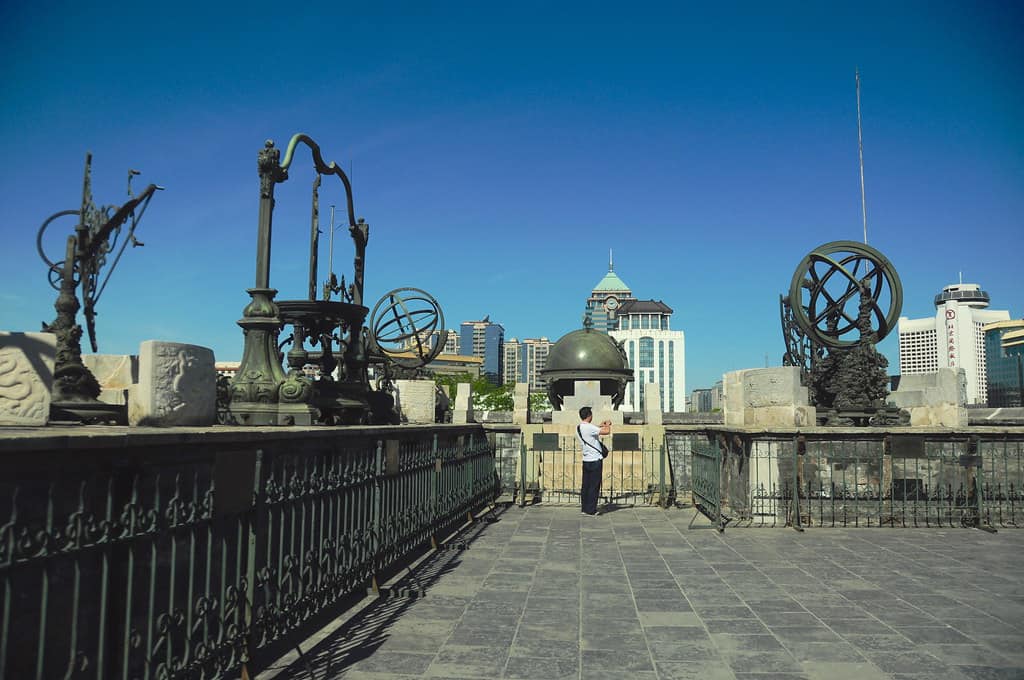 Reach for the stars, astronomy lovers!
The Beijing Ancient Observatory is a national cultural landmark and a "hidden gem" for local and foreign visitors.
It is the greatest place in the world to learn about ancient astronomy and see antique astronomical instruments and Chinese workmanship.
Built in the Ming Dynasty (about 1442), the Beijing Ancient Observatory operated for nearly 500 years until 1929.
Among all existing observatories, it has the longest continuous observation record.
Beijing Ancient Observatory was the national observatory throughout the Ming and Qing eras.
The tower's large ancient instruments may be seen from afar.
The Beijing Ancient Observatory houses large bronze astronomical instruments made during the Yuan Dynasty and modern equipment built by Xu Guangqi (a famous Qing dynasty astronomer) and other foreign missionaries.
These instruments show the exchange of cultural advances between China and the West in ancient astronomy.
They have recorded East-West cultural exchange.
Learn more about ancient astronomy at the Beijing Ancient Observatory.
Address: 2 Dongbiaobei Hutong, Jian Wai Da Jie, Dongcheng, Beijing
Beijing National Stadium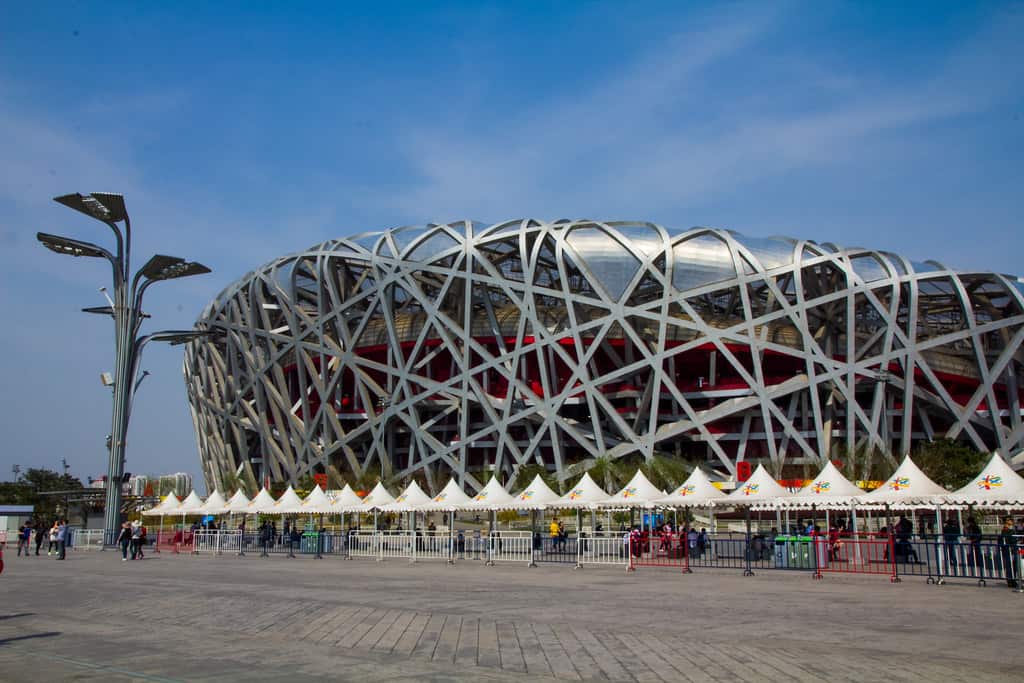 Are you a fan of architecture? Well, you're going to love this one.
Located on the Olympic Green in Beijing, the Bird's Nest Stadium, or Beijing National Stadium, is the city's largest stadium and an important Olympic site that hosted the Summer Olympics in 2008.
Part of the most complicated Olympic stadium ever built, the outside shell has the biggest steel structure in the world.
It is highly recognized as one of the world's greatest engineering achievements.
The stadium's design is sometimes referred to as a 'bird's nest' because of its 'crazed pottery'-inspired structure.
Despite its appearance, the pattern complies with sophisticated laws given by advanced geometry.
From opera and pop performances to football matches, the Olympic Stadium in Beijing has hosted a variety of notable cultural events since the Games.
It also becomes the world's largest indoor ski slope during winter.
Visit Beijing National Stadium is now open for your viewing pleasure.
Address: 1 Guojiatiyuchang S Rd, Chaoyang, China
Beijing Temple of Confucius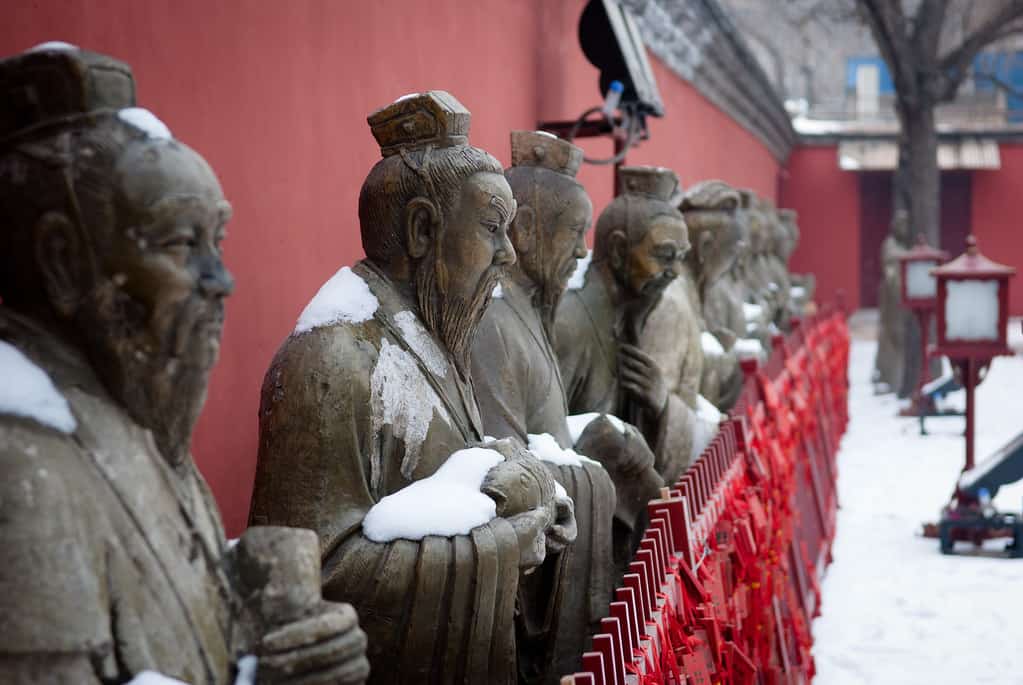 Do you have a thirst for knowledge?
If so, then visit the Beijing Temple of Confucius right away! It is just a short walk away from the Lama Temple.
It was built in 1302, and it's named after the great philosopher and teacher, Confucius, whose ideas have shaped both public and private life for centuries.
He constructed his values and thoughts the developed "Confucianism." That has now spread to numerous countries worldwide, including Europe and Asia.
The Beijing Temple, one of China's most famous Confucius temples, previously conducted numerous extravagant events commemorating its namesake.
The courtyard has 198 steles with inscriptions naming all 51,624 Confucian academics who completed the state's highest examinations.
One of the most notable features is the Hall of Great Achievements (Dacheng Dian).
Many vintage musical instruments and other ceremonial artifacts were used in the ceremonies.
Many shrines are dedicated to Confucius and his students in the huge courtyard in front of the hall.
The Temple of Confucius in Beijing has a scholarly ambiance that makes it easy to understand its significance in ancient China.
Learn more at the Beijing Temple of Confucius.
Address: 15 Guozijian St, Dongcheng, Beijing, China
Beijing Zoo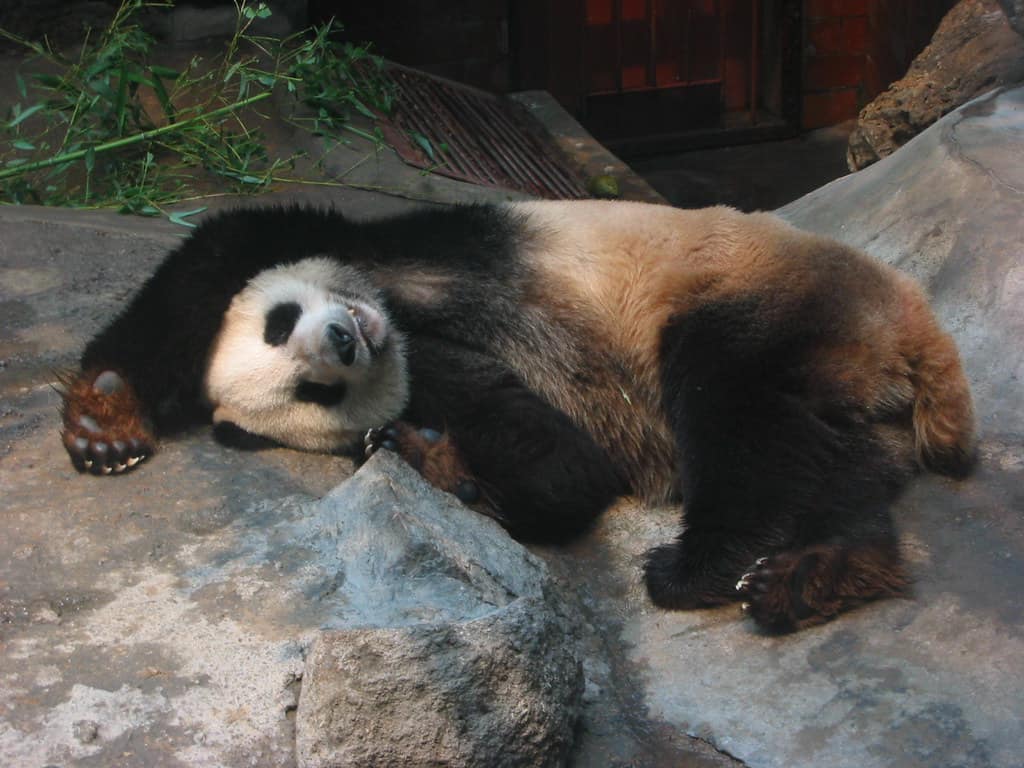 With PANDAS, everything is better.
Located in Beijing's northwest suburbs, the Beijing Zoo is one of the country's oldest and largest zoos, with an area of more than 220 acres.
The biggest zoo in China has an extraordinary collection of about 15,000 animals from more than 1,000 species.
It includes rare native species like South China tigers, golden snub-nosed monkeys, and snow leopards.
Many visitors find it hard to miss the panda hall at Beijing Zoo.
The giant panda is a native of China and a national symbol.
And it is universally recognized as one of the country's national treasures.
Because of the panda's position as an endangered species, the giant panda receives special treatment wherever it goes.
The Beijing Zoo is also a wildlife haven.
A few gardens were established to cultivate popular Chinese flowers like the Chinese rose and peony.
The peony is the country's national flower representing wealth and prosperity in China.
It's time for you to go wild at Beijing Zoo.
Address: 137 Xizhimen Outer St, Xicheng, Beijing
Fayuan Temple

Come see the amazing 1000-year-old temple!
A visit to Beijing's oldest Buddhist temple, Fayuan Temple, is a must. This temple is in Xuanwumen, southwest of the city.
The second Tang emperor, Li Shimin, built this temple in 645 to honor fallen warriors and officials.
It was originally known as the Temple of the Loyal (Minzhongsi).
Rebuilt between 1436 and 1449, the temple was renamed Chongfusi, or Temple of Exalted Happiness, under the Ming Dynasty's Zhengtong.
The temple was renamed again as Fayuan Temple in 1734.
The Buddhist Academy, China's most prominent educational institution, is housed at the temple today.
Some of the temple's most prized possessions include a Han Dynasty (AD 25-220) ceramic statue in the Dabianjue Tang Hall and the Hall of the Kings of Heaven with excellent sculptures.
The temple also possesses many cultural relics, including ancient bronze sculptures, stone lions, and gilded figures of the three Buddhas.
The temple also has several Ming and Qing dynasty Buddhist texts.
Visit the Fayuan Temple to learn more about its history.
Address: 7 Fayuansi Front St, Xicheng, Beijing
Forbidden City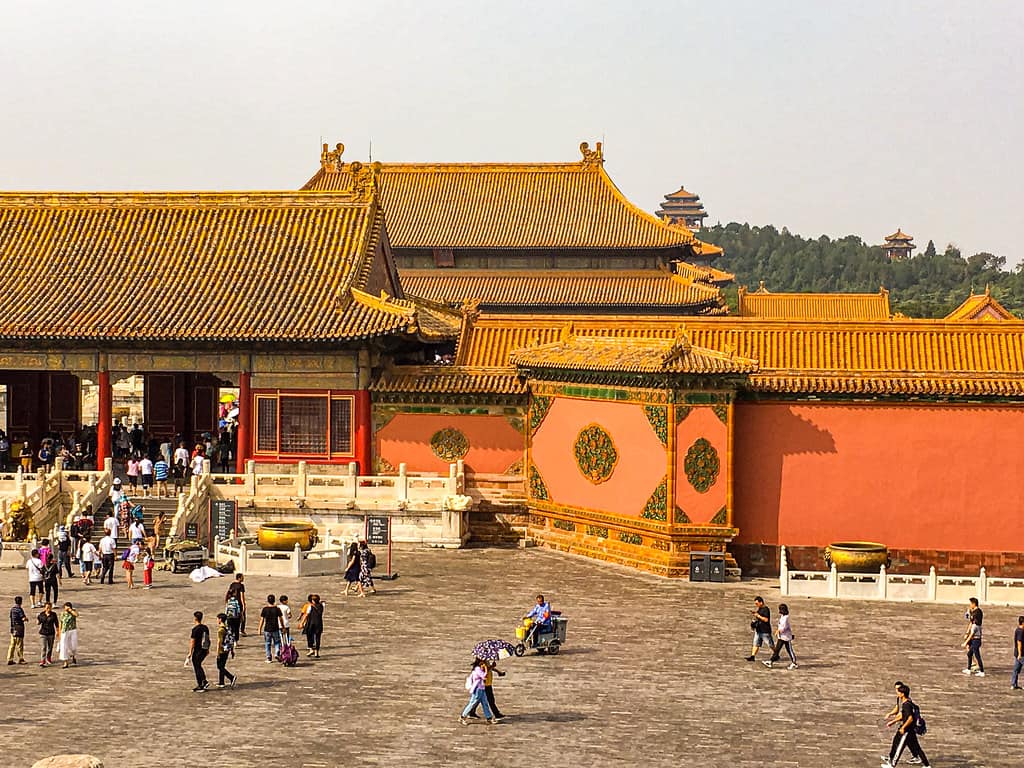 What was forbidden was never forgotten.
The Forbidden City, or Palace Museum, is in the heart of Beijing. It was the Chinese imperial Palace of the Qing and Ming Dynasties, and it is now a museum.
As the largest and best-preserved historic timber-built Palace globally, it has been on the UNESCO World Heritage List since 1987.
Built between 1406 and 1420 during Emperor Chengzu's reign as Emperor of the Ming Dynasty, the Forbidden City served as a ceremonial and political center for 500 years.
It also housed 24 emperors and their families.
After the death of the last Emperor of China, the Palace was converted into a public museum in 1925.
The Forbidden City is no longer a "forbidden" place, and visitors worldwide may now experience its imperial glory and mystery.
The Forbidden City is a must-see in Beijing as it is the world's most famous museum. It's worth much of your time there to explore the country's rich cultural history.
Uncover its history and mystery in Beijing's Forbidden City.
Address: 4 Jingshan Front Street, Dongcheng, Beijing
Gubei Water Town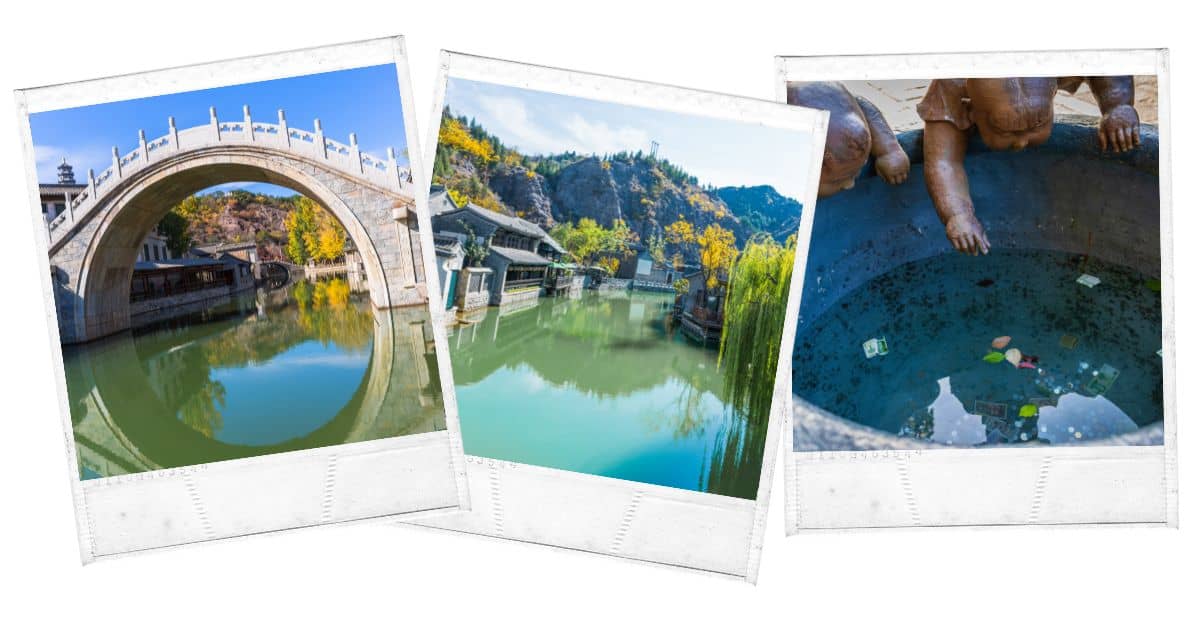 Have you ever been to a water town? If not, you're in for a treat!
Gubei Water Town is located in the Miyun County of Beijing, China. It is a lakeside resort designed in the style of ancient northern architecture.
It has become a popular destination for nighttime trips in Beijing, attracting many tourists each year.
Gubei Water Town is a rare ancient village in the suburbs of Beijing with the beautiful natural scenery of water and mountain.
It was a military site in the Ming and Qing dynasties, drew many literati, and entertained more than three emperors.
But today, it has become a favorite destination for foodies and photographers.
You may take a boat ride and learn about the history of the ancient town while you're there.
Everything in the old town has a rich history dating back over a thousand years.
For can stay for a night at Gubei Water Town.
It has everything from luxury resorts to backpacker-friendly hostels centered around Chinese history and culture. The Simatai Great Wall is also nearby.
Don't miss out on the opportunity to visit Gubei Water Town!
Address: Miyun District, China
Jingshan Park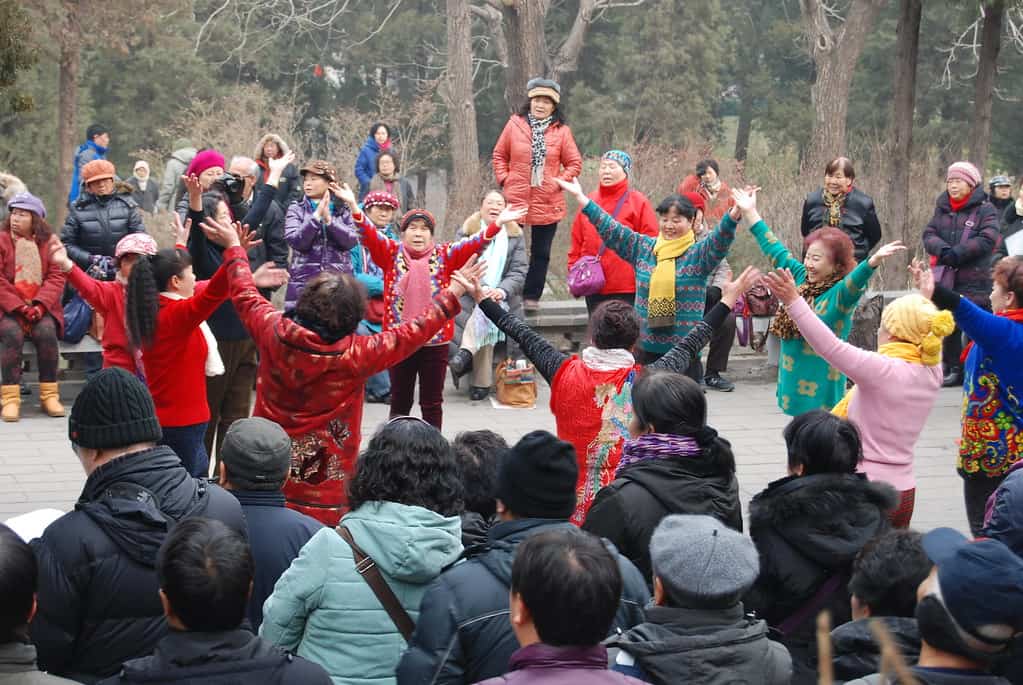 A peaceful walk in the garden may do wonders for your mental and physical well-being.
Jingshan Park is a lovely royal landscape park in the heart of Beijing.
The park is 57 acres in size and faces the Forbidden City's north entrance.
It is also known as the Coal Hill Park.
This man-made hill, one of just a few in Beijing, was built in 1416 during the construction of the Imperial Palace.
Its name comes from the coal that was kept here for the Ming Emperors.
Due to its importance, Coal Hill Park is considered one of Beijing's top tourist attractions.
It is an oasis of flowers and trees with a breathtaking view of the Palace from one of Beijing's few hills built from the Earth dug up to build the Forbidden City's moat.
Each morning, groups of middle-aged Chinese assemble in the park to sing revolutionary songs, play the two-stringed erhu, or practice the delicate motions of tai chi.
It's a welcoming place where everyone will attempt to convince you to join them in Tai Chi.
Visit here and experience everything that Jingshan Park has to offer.
Address: 44 Jingshan W St, Xicheng District, Beijing, China
To Travel is to Live. Awaken your inner sense of exploration. Use this traveling the world travel guide to explore all the countries! When you explore the world, you have to visit the USA. America is full of hidden gems for you to discover throughout your journey. Discover the travel guide of must visit states in USA.
Lama Temple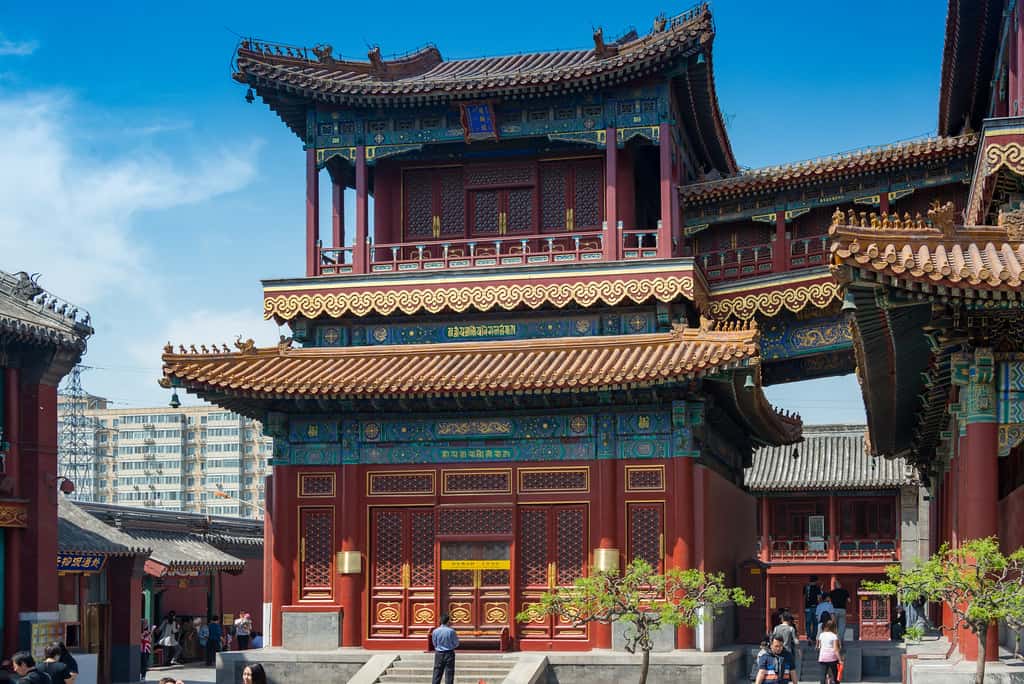 Have you ever been to the biggest Tibetan Buddhist temple? Then good news for you!
One of China's most famous temples, the Lama Temple or Yonghe Temple, is situated in Beijing's center.
The Lama Temple is Beijing's largest Tibetan Buddhist temple and a popular destination for those seeking spiritual renewal and enlightenment.
Before the Lama Temple was the Royal Court of Prince Yinzhen, and it was first constructed in 1694.
When Prince Yinzhen became the Yongzheng Emperor, he had been obsessed with Tibetan Buddhism since he was a child.
He ordered that part of his Royal Court be converted into a Gelug Sect monastery.
Currently, it serves as both a museum of Tibetan Buddhism and a temple where people may go to worship.
In both religion and politics, the Lama Temple played a big role.
At that time, the Lama Temple was built. It was a way for people from the Qing Dynasty in China to communicate with the local government in Tibet.
People learned about Tibetan Buddhism because the Lama Temple was a high-ranking place for religious activities.
Visit the Lama Temple while you have the opportunity!
Address: 12 Yonghegong Street, Dongcheng, Beijing
Longqing Gorge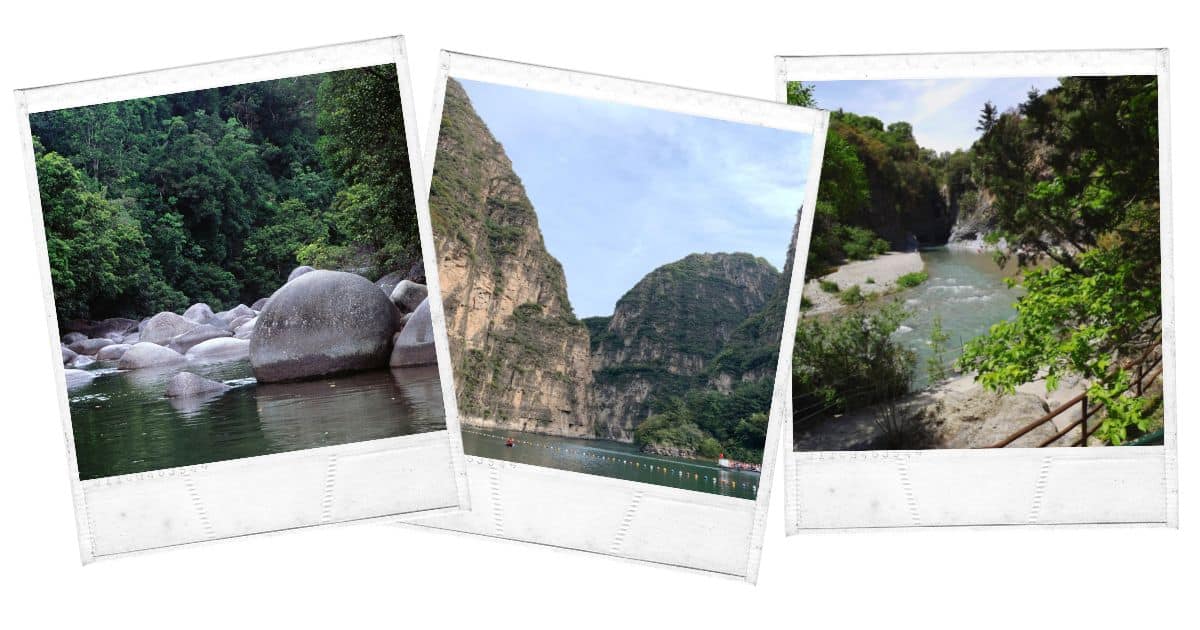 Did your jaw just drop? Well, it can't be helped since she's a beauty!
Since the Song period, the lush, green Longqingxia (also known as Longqing Gorge or Dragon's Rejoice Ravine) has been a favorite day-trip destination for foreign and local tourists.
When you arrive in Longqing Gorge, the first thing you see is Longqing Dam.
This 70-meter-high dam is situated in between the hills. Where you can see the beautiful landscape of rolling hills and white clouds.
You must take a cruise along the river, which is an excellent way to see the scenery on the way down. You'll be taken aback by each new view as you make your way around a hill in the river.
Along the river are steep, densely wooded cliffs and raw limestone that has been shaped by the water's natural power.
In the winter, Longqing Gorge hosts an ice lantern show.
Every year's lantern display has a different theme, but the icefall on the dam wall is always the main attraction.
Winter is a great time to visit to witness the fantastic blend of natural beauty and human creativity.
Plan a trip to Longqing Gorge today!
Address: Gucheng Village, Beijing, China
National Art Museum of China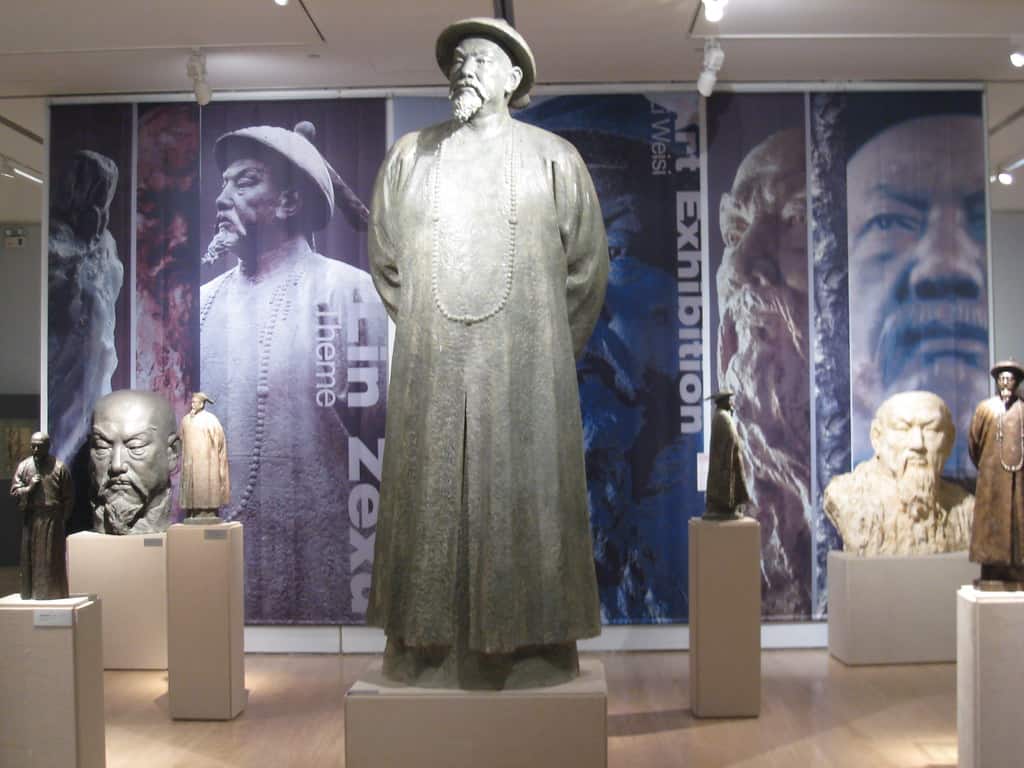 A visit to a museum is a great way to get acquainted with art.
The National Art Museum of China (NAMOC) is China's largest art museum. It is located in the center of the city.
Modern and contemporary Chinese art is the primary focus of this museum.
The museum was built between 1958 and 1962 and restored between 2004 and 2005.
Since it occupies an area of 30,000 square meters, NAMOC is split into 21 display rooms, each housing a collection of more than 100,000 ancient and modern Chinese and Western works.
The National Art Museum of China is home to various artworks, including paintings, sculptures, ceramics, calligraphy, and folk art.
Garden space is also available in more than 20 exhibition halls spread across six stories.
Over the year, the museum conducts more than 100 special exhibitions on various topics and themes.
A private tour is an option for those who prefer a more personalized experience.
Go to China's biggest art museum right now!
Address: 1 Wusidajie, Dongcheng, Beijing, China
Panjiayuan Antique Market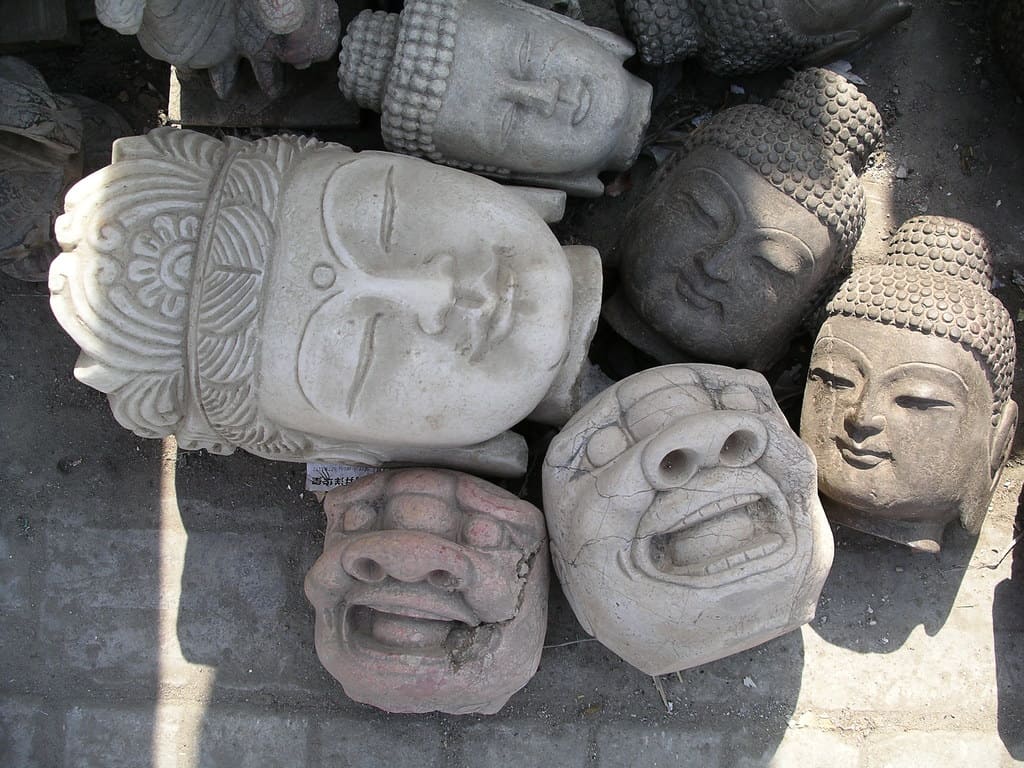 Shop your way to Panjiayuan Antique Market!
The Panjiayuan Antiques Market can be found west of the Panjiayuan Bridge and south of the East Third Ring Road, making it quite accessible.
At 4.85 acres, the Panjiayuan market has enough for more than 3,000 vendors. The antique market in China and Asia is the largest of its type.
It's also known as Beijing's cheapest antique market, drawing local and international visitors. As there are many antiques and crafts for sale at the market.
This city has a wide range of activities for visitors, from sightseeing to window shopping to shopping for a one-of-a-kind piece of history.
To get a good deal, here is where you should go.
There are legitimate items here, but it's difficult to tell the difference between them and the fakes if you aren't an expert.
Shop early if you're looking for anything special; this is when you have the highest chance of locating a rare item.
Visit the Panjiayuan Antique Market to find unique items.
Address: 18 Huaweili, 3rd Ring Road, Chaoyang District
Summer Palace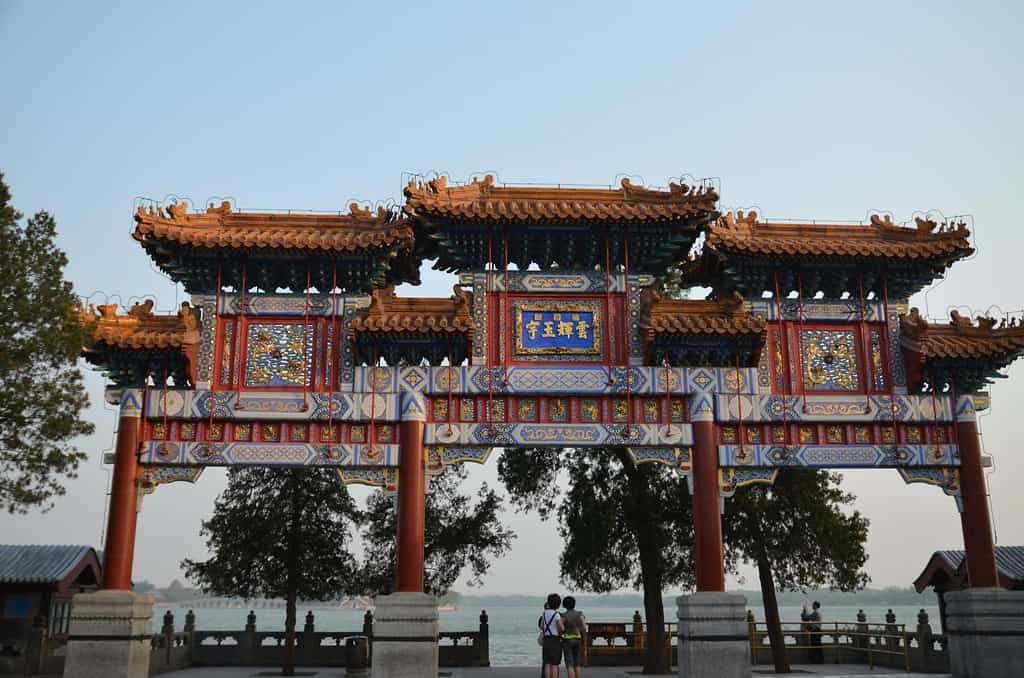 Treat your eyes to a spectacular view!
The Summer Palace (Yiheyuan) in northwest Beijing, one of China's greatest imperial gardens, is one of the best-preserved imperial gardens in the world.
It feels like a whole other place, only a short distance from the city center.
Most tourists choose to spend most of their time in the city due to the abundance of things to see.
UNESCO recognized the Summer Palace in 1998 as a World Heritage Site. And describe it as "A Chinese landscape garden design masterpiece."
In China, the Summer Palace is referred to as the 'Imperial Garden Museum' because of its purpose of preserving some national heritage items.
China's garden design philosophy and practice are shown in this garden. It combines plants, paths, water, architecture, and horticulture to make it look in harmony.
The Summer Palace was vital to developing this Oriental cultural form and probably marks its peak.
Stroll around this lovely garden at the Summer Palace.
Address: 19 Xinjiangongmen Road, Haidian District, Beijing
Temple of Heaven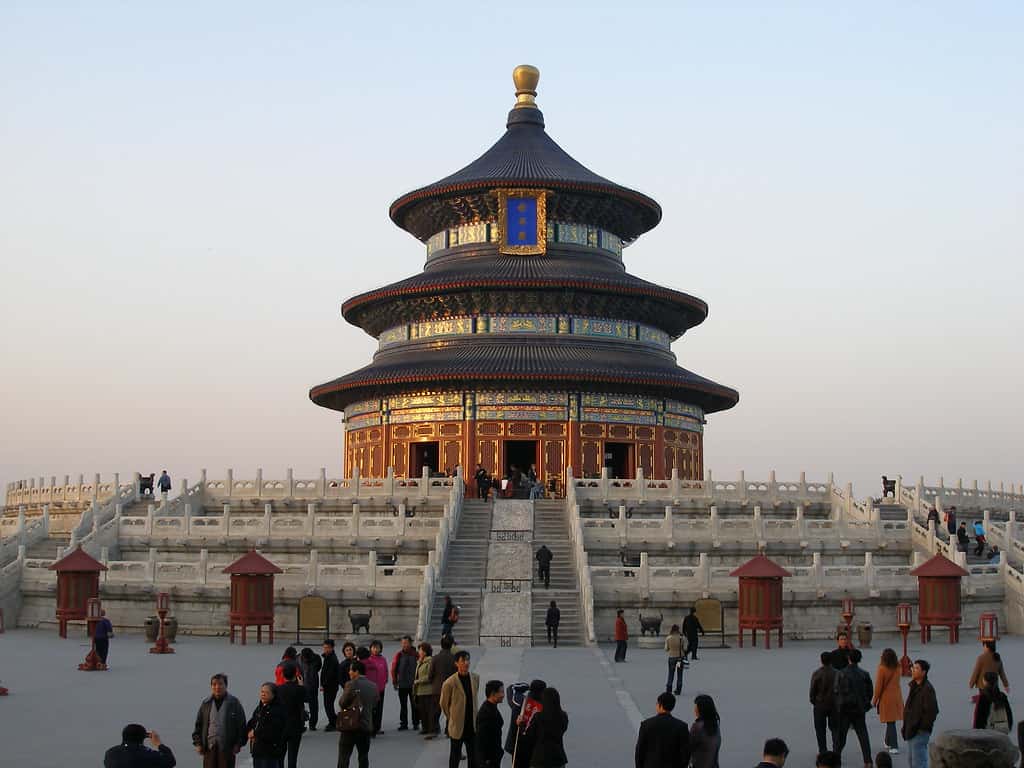 Make a quick stop to Heaven!
The Temple of Heaven, Beijing's greatest imperial religious complex, is notable for its rigorous symbolic design, odd structure, and lavish decoration.
Most famous representative example of Chinese ceremonial architecture. The Ming and Qing emperors (1420–1900) go here to pray to the deity of Heaven for good harvests.
It is located in the south of the Forbidden City.
Temple of Heaven Park covers an area of 2.73 km.
The people from ancient times did not understand many natural phenomena, such as the movement of the sun and moon, earthquakes, the four seasons, tsunamis, rain, wind, and thunder.
And thus, they worshipped the "Emperor of Heaven," who they thought controlled these phenomena.
To gain the respect of the people they ruled, Chinese emperors called themselves "sons of Heaven."
They also claimed Heaven gave them power over Earth.
So sacrifices to Heaven and Earth were essential political actions for each dynasty's monarch.
Visit the Temple of Heaven to view this incredible landmark.
Address: 1 Tiantan E Road, Dongcheng Beijing
The Great Wall of China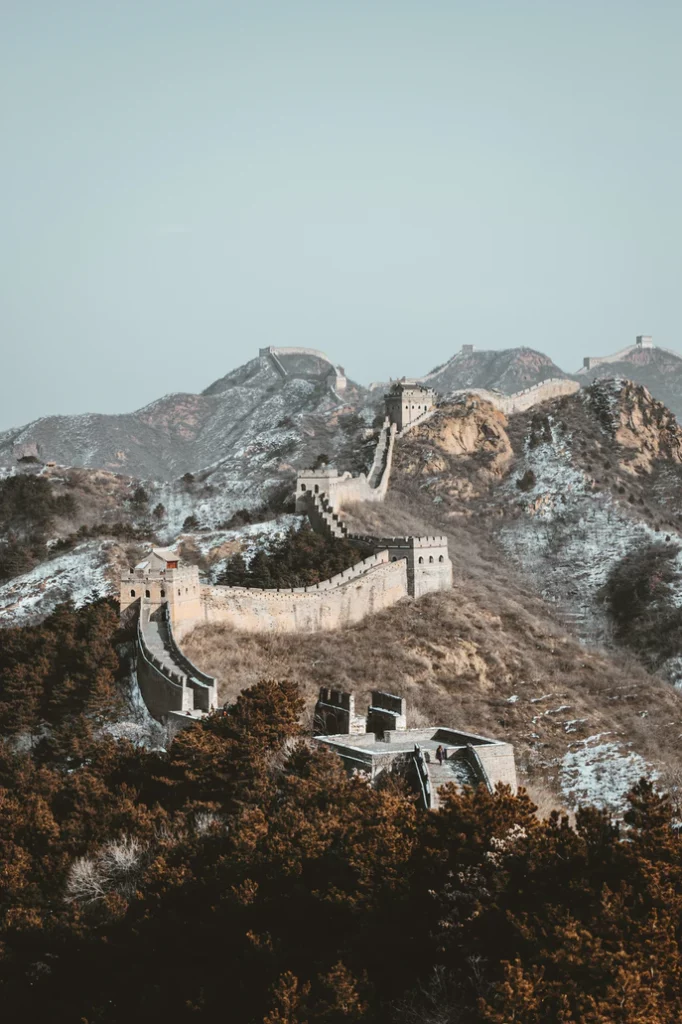 Feel the greatness of the Great Wall of China.
The Great Wall of China is a breathtaking landmark of ancient Chinese defense construction and the world's longest wall.
You'll pass through rough terrain and high mountains along the way, which makes for some spectacular sights.
More than 2,000 years have passed since construction began on the Great Wall of China.
China's Great Wall served as a defensive barrier starting in the Spring and Autumn Period (770–476 BC) and ending in the Ming Dynasty (1368–1644).
You may see the Great Wall of China in about an hour's drive from the Chinese capital, Beijing.
From Badaling Pass, you may stroll along a stretch of the Great Wall that goes back to the 16th century and is up to eight meters high.
It is possible to take a cable car trip up to the wall while on a long walk.
To avoid crowds, plan to arrive early for this popular portion of the Great Wall.
Become one of the tens of millions of visitors to the Great Wall of China!
Address: Huairou District, China, 101406
Tiananmen Square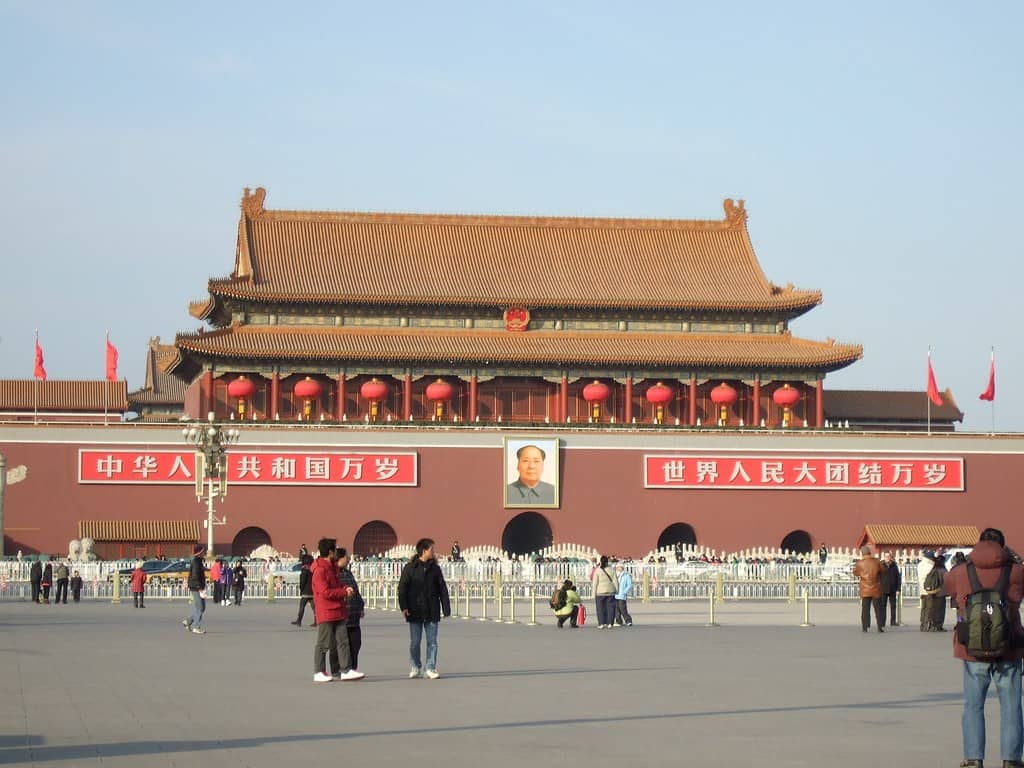 Discover what makes this square one of the most important in the world.
One of the world's largest public squares, Tiananmen Square (meaning "Square of the Gate of Heavenly Peace"), is located in Beijing.
The Forbidden City and the Temple of Heaven are also located on the traditional north-south axis of Beijing.
It is home to the Great Hall of the People, the National Museum of China, and the Monument to the People's Heroes.
The square's political, historical, and cultural significance make it a must-see landmark in Beijing for anybody visiting the city.
On its whole, Tiananmen Square has an area of approximately 400,000 square meters and can accommodate up to one million people.
As a plus, Tiananmen Square is an excellent location for photographing China's most iconic structure, the "Gate of Heavenly Peace."
People who've been there before say it's always packed, and there are many security personnel around.
Despite this, most tourists agreed that it was a must-see attraction.
In addition, it's nearly a need to take a photo here to show that you've been to Beijing.
Plan a trip to Tiananmen Square today!
Address: Dongcheng, Beijing
Wangfujing Shopping Street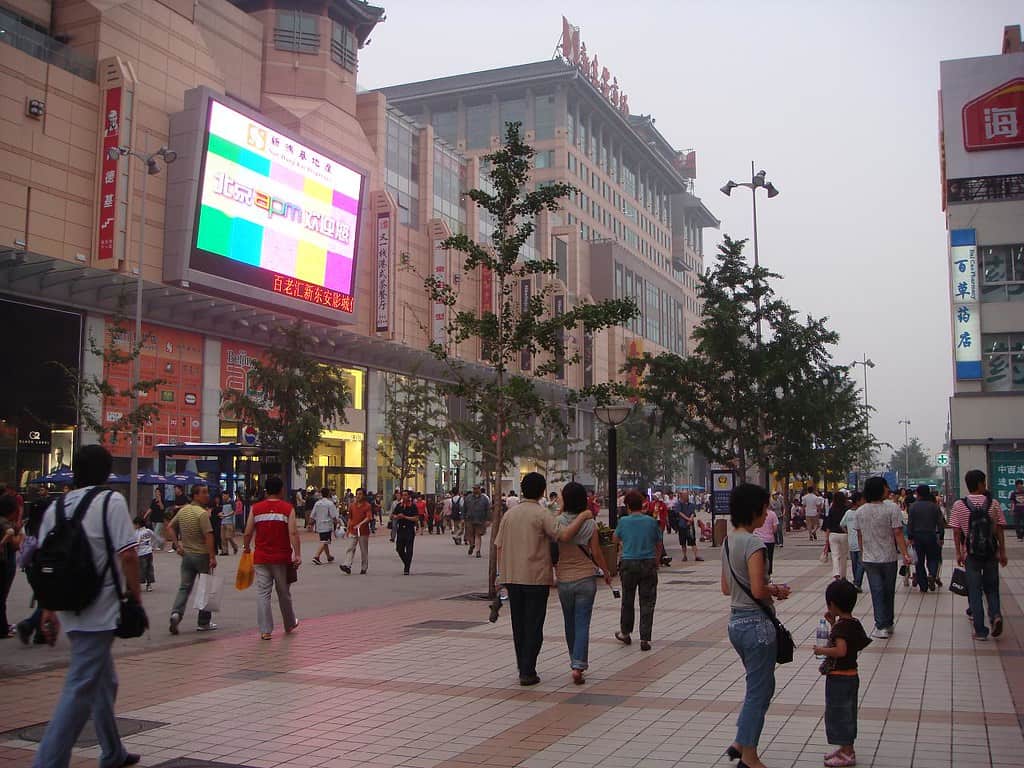 Are you born to Shop? If yes, then head on to China's famous shopping street!
Located in Beijing's Dongcheng District, Wangfujing Street (Wangfujing Dajie) is one of the city's most popular shopping destinations.
It's one kilometer apart from the Forbidden City. And it's a fantastic place to take a stroll.
Because it used to be eight royal residences and sweet water well on the street.
It was given the name Wangfu (royal mansion) Jing (well) and had a history of almost 700 years.
This city's busiest street is now a horde of 600,000 people; on holidays, the number may reach 1,200,000.
Shops offering anything from clothing to tea and herbs can be found on the commercial street, home to more than 300 Chinese and foreign brand-name retailers.
A stroll along Wangfujing Street is a must-do for anybody visiting Beijing at night, whether they're locals or visitors worldwide.
The hundreds of food stalls selling a wide variety of unusual street dishes are probably most intriguing to visitors from outside the country.
Shop the night away at Wangfujing Street!
Address: Wang Fu Jing Da Jie, Dong Cheng Qu, Beijing
Yuanmingyuan Park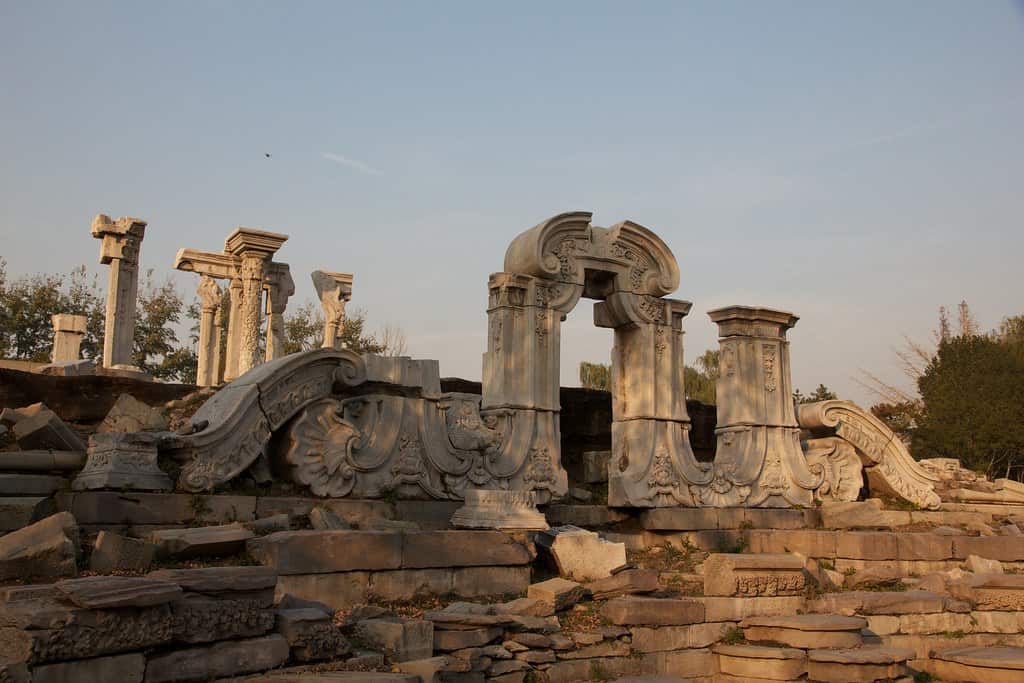 Take a step back in time at Yuanmingyuan Park, where ancient Chinese landscape design is on display.
Old Summer Palace is another name for the Yuanmingyuan – the Garden of Perfection and Light. It is located in Beijing's northwest and east of the present-day Summer Palace.
The garden was built in 1709 by Emperor Kangxi of the Qing Dynasty.
An emperor's private pleasure garden of 350 hectares, this garden developed throughout the following 150 years of the Qing Dynasty.
Overall, the Old Summer Palace is divided into three sections: Yuanmingyuan, Wanchunyuan (Garden of Blossoming Spring), and Changchunyuan (Garden of Eternal Spring).
These three gardens are commonly referred to by Yuanmingyuan.
The garden's hundreds of picturesque areas are made up of beautifully designed rivers and ponds, chambers, halls, kiosks, pavilions, and exotic flowers and grasses from all over the country.
Arrive at Yuanmingyuan Park as soon as possible to take in the beauty of its surroundings!
Are you still on the fence about visiting Beijing, China? Check out reasons to visit Beijing, China, at least once in your lifetime here.
Address: China, Beijing, Haidian District