Why go to Gabon?
You must visit Gabon at least once in your lifetime because exotic views may be seen thanks to the area's unusual geography and wide range of wildlife species. Many of these magnificent creatures frequent Gabon's coastline. In addition to hippopotamuses surfing and buffaloes resting on the sand, elephant herds are frequent visitors to this beachfront area in Africa. The Democratic Republic of the Congo, Cameroon, Equatorial Guinea, and the Atlantic Ocean all border the nation on its west coast, which is on Africa's equator.
What is Gabon famous for?
Gabon is famous for its Oklo reactor zones, the sole natural nuclear fission reactor on Earth two billion years ago. In the 1970s, uranium was mined to feed the French nuclear power sector.
Fun Facts about Gabon
Gabon has been inhabited for over 400,000 years.

Equatorial Guinea, Cameroon, and the Republic of the Congo share a border with Gabon on Africa's west coast.

One of Africa's last remaining Edens.

"Gabao" means' cloak' in Portuguese. Therefore the name Gabon.

The green, yellow, and blue horizontal stripes comprise the flag of Gabon. The yellow color shows where the equator is, and the green and blue colors show the many forests in the area.

How big is Gabon?
Gabon is about 267,667 square km or 103347 square miles in size.
When is the best time to visit Gabon?
The best time to visit Gabon is the months of June, July, and August
The ideal time to visit Gabon is during the drier season of May to September, with June, July, and August being the driest months. However, 'dry' is relative here. Gabon sees roughly 2.5m of rainfall a year.
How many days do you need to see Gabon?
Gabon has many environments, including beaches, woodlands, savannah, mangroves, and lagoons. You will probably need to spend 4 days exploring the beauty of Gabon.
What is the cheapest time to go to Gabon?
The low season (flights) to visit Gabon is February to April and June.
If you've been planning a vacation there, the cheapest time to fly to Gabon is June. Plan your trip to Libreville, the capital city, during the off-season for the best deals on airfares (February to April). High rain is more likely, although days of sunshine are still to be had.
Is Gabon an expensive city to visit?
This city in Gabon has been ranked as the fourth most expensive in the world by the Economist Intelligence Unit (EIU), just behind Hong Kong and ahead of the French capital Paris, the British capital London, and New York City. Compared to the United States, Gabon's shopping budget is 15% higher than the USA's.
How to save money when visiting Gabon?
The best ways to save money when visiting Gabon are:
In the city, street food is cheap and delicious.

If you're looking for an inexpensive hotel in a smaller town, inquire about hot water or running water before you arrive.

Camp. You should be fine if you're camping on private land or at a business facility.

In addition to being more cost-effective, cooking for yourself means you're more likely to eat more veggies.
What food (and drinks) is Gabon known for?
Things you need to eat in Gabon before you die:
Poulet Nyembwe / Moambe Chicken

Poisson Salé

Palm wine

The local beer Régab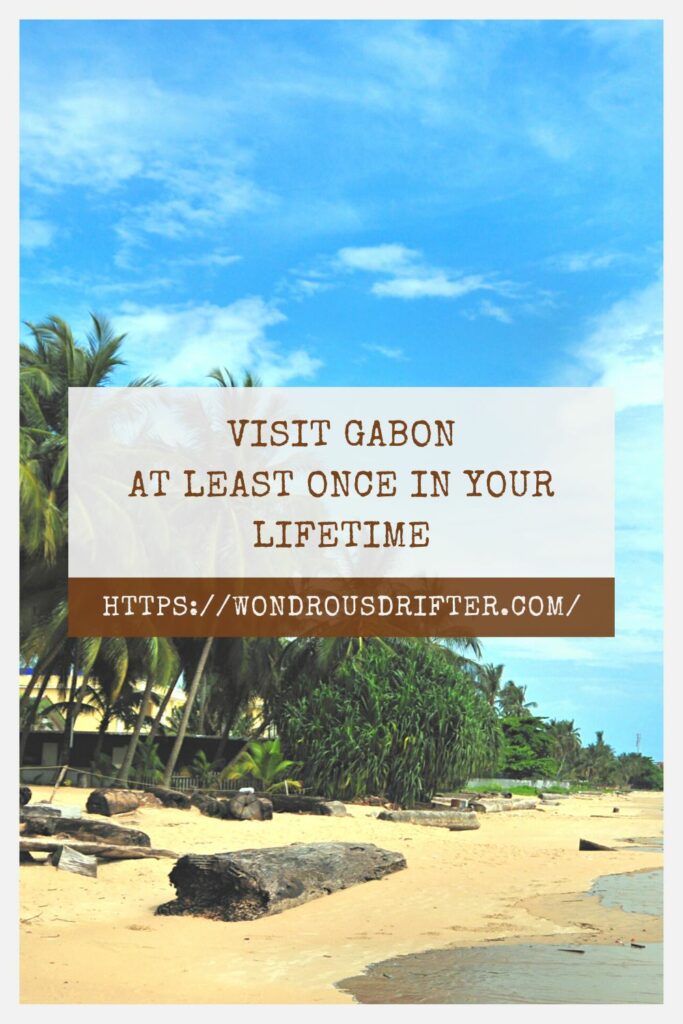 Is Gabon safe to visit?
Tourists to Gabon should be aware of several potential issues, including violence, poor road and electricity conditions, and subpar drinking water quality. Due to the low level of terrorism in Gabon, expats are told to be aware of their surroundings, especially where other expats often go.
What is the best way to get around in Gabon?
The best way to get around in Gabon are:
Trans-Gabon train

Buses

Car hire
What neighbourhoods or areas should I stay in when I visit Gabon?
The best areas you should stay in when visiting Gabon are:
Park Inn by Radisson Libreville

ONOMO Hotel Libreville

Residence Hoteliere Oceane

Hotel Adagio
What are the best neighbourhoods or areas for food?
The best areas for food and drinks when visiting Gabon are:
La Dolce Vita

Roma Restaurant

Le Phare Du Lage

Bodega Mbolo
What are the best neighbourhoods or areas for shopping?
The best areas for shopping when visiting Gabon are:
Cecado Glass

Gabon Meca

Galeries Hollando/ Snack bar Le Cactus

Marche du Mont-Bouet
What should I do on my first trip to Gabon?
If you are visiting Gabon for the first time, explore the city of Libreville, including the Presidential Palace and the Cathedral of Saint Michael. Make sure to visit at least one of Gabon's thirteen national parks while you're there.
Is Gabon a good place for solo travel?
When traveling solo, you should know that in Gabon, women are strongly warned not to walk alone at any time of the day or night. If you're a woman traveling alone in Gabon, be aware that the streets are also dangerous for males, and you should never go out alone.
Is Gabon a good place to visit for a family with kids?
When visiting Gabon as a family with kids, you will surely enjoy Loango National Park, one of Africa's most renowned safari locations. The park's landscape and fauna are both breathtaking. This is why Loango is one of the last untamed coastal areas left in the world. Forests, lagoons, marshes, and savannahs make up the park's diverse landscapes. Gorillas, elephants, whales, dolphins, buffalo, and more may be seen in addition to the famous National Geographic photographs of hippos surfing. Few places in the world allow these animals direct access to the water.
Is Gabon a good place for couples?
When visiting Gabon as a couple, you explore the Ivindo National Park. As one of Central Africa's most isolated national parks, Ivindo also plays a critical role in efforts to protect the region's biodiversity. While the river itself isn't very noteworthy, there are adventure packages available that include anything from a pirogue lesson and a day trip down the river to camping in the rainforest and around the falls.
What are the best annual events in Gabon?
The best annual events in Gabon that you cannot miss are
Founding of the Gabonese Democratic Party (PDG) in March

Gabao Hip Hop Festival in February

Les Nuits Atypiques in the month of August

Summer Solstice

in June

Feast day of the Assumption of Mary

in August