Why go to Angola?
You must visit Angola at least once in your lifetime because the natural beauty of Angola is one of the most satisfactory reasons to visit the country. Nature'sNature's splendor bestows a blessing to the land. You'llYou'll find everything from pristine beaches and lush green mountains to arid deserts and towering waterfalls in this diverse region.
What is Angola famous for?
Angola boasts various stunning spots that will leave you delighted. This list of the 5 things Angola is famous for will serve as a guide so you don't miss a thing. Angola was a Portuguese colony from 1575 until November 11, 1975, when it declared its independence and launched a violent civil war that lasted 27 years. The Angolan civil war (1975-2002) was the most prolonged warfare in Africa. The battle left 800,000 dead and some 100,000 maimed by antipersonnel mines dispersed across the nation. That is why if you travel across Angola you must follow the specified pathways and diverge for no reason.
Fun Facts about Angola
The Kalandula waterfalls in Angola are a stunning sight, 105 meters high and 400 meters wide. After Victoria Falls, it is Africa'sAfrica's second-largest waterfall. Malanje province is a five-hour trip from Luanda.

Luanda is one of the world's most expensive cities for ex-pats. The capital city is also sometimes referred to as the Paris of Africa. Of course, the expenses have got nothing to do with the nickname.

Their leading dance is the Semba. The word comes from the word "massemba" which means "touching the bellies". And so, the dance follows the same rules! The Semba is also known as the music of the sea.

Angola has one of the youngest populations in the world. Almost 70 percent of the people are below age 24. This can be attributed to the long civil war in which over 1 million people died.

It has a shortage of men! Because of the war, many men died. It is also common practice for a man to have several wives because of this lopsided ratio.

How big is Angola?
Angola city is about 1.247 million square km or 0.4815 square miles.
When is the best time to visit Angola?
The best time to visit the city or country is the months of June to October.
How many days do you need to see Angola?
You'llYou'll need to join an organized trip to see Angola. These are always small group journeys, lasting roughly 10 days and often only departing once a year, starting and terminating in Luanda's capital.
What is the cheapest time to go to Angola?
The low season (flights) to visit Angola is in the months of January.
Is Angola an expensive city to visit?
Luanda, the capital of Angola, has recaptured top status as the world's most expensive city for ex-pats, putting Hong Kong back into second place. The advising company Mercer made the allegation in the 23rd annual cost-of-living study. Tokyo, Zurich, and Singapore compose the remainder of the top five.
How to save money when visiting Angola?
The best ways to save money when visiting Angola are:
Don'tDon't count on English

Bring an appetite

Look beyond the Ilha for cheap eats

Travel cheat with Candonguiero
What food (and drinks) is Angola known for?
Things you need to eat in Angola before you die:
Catatos

Cocada Amarela

Kissangua

Mongozo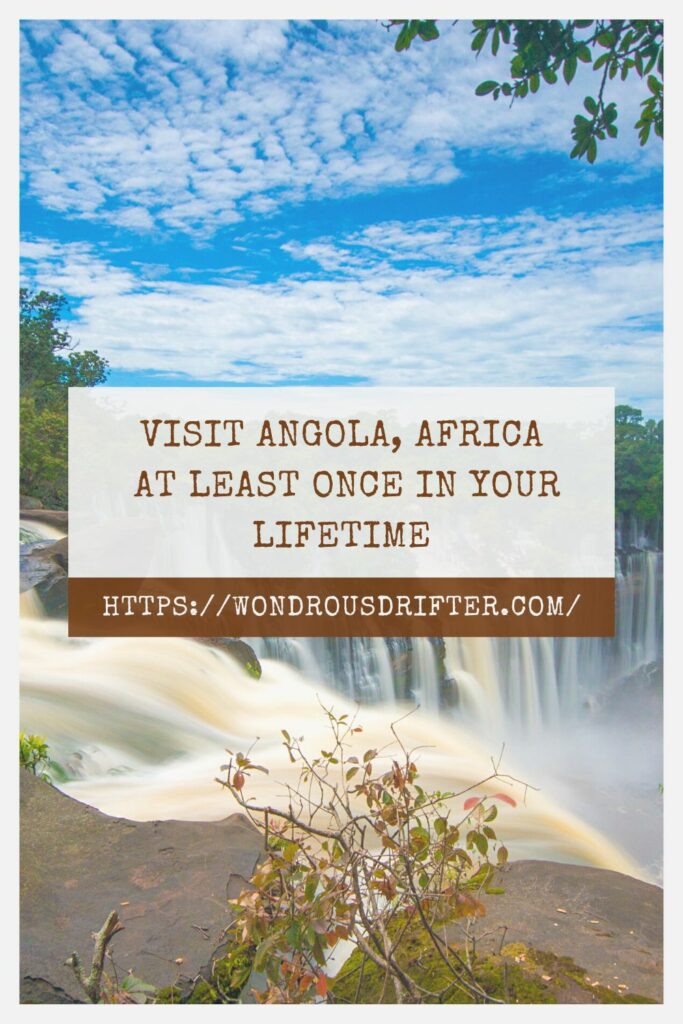 Is Angola safe to visit?
It is not dangerous to travel throughout Angola. Always keep a watchful eye on your possessions. You need to be very careful and stay alert at all times.
What is the best way to get around in Angola?
The best way to get around in Angola are:
Taxis

Candogueiros or minibus

Car Rentals
What are the neighborhoods or areas I should stay in when I visit Angola?
The best areas you should stay in when visiting Angola are:
Miramar

Bairro Azul

Alvalade

Motor Vento
What are the best neighborhoods or areas for food?
The best areas for food and drinks when visiting Angola are:
Esplanada Grill

Cais De Quatro

Pimm'sPimm's

Coconuts
What are the best neighborhoods or areas for shopping?
The best areas for shopping when visiting Angola are:
Fenador – Associacao Felicidade na Dor – Galinha do Cacuaco

Bellas Shopping Mall

Ginga Shopping

Shopping Avennida
What should I do on my first trip to Angola?
If you are visiting Angola for the first time, The vastness of Angola's land makes it desirable. Destination for those looking for something different in Africa. It's one of those locations few people have heard of, let alone visited. When it comes to the country, you usually just hear how pricey it is because of an oil boom. There is little doubt that Luanda is one of the world's most expensive cities. And indeed, despite the high cost of living in the city, I preferred to explore the country's rural areas and natural treasures. The Kalandula Falls, Africa'sAfrica's tallest waterfall, and the Pedras Negras de Pungo Andongo, a unique rock structure, are just a few of the region's highlights.
Is Angola a good place for solo travel?
When traveling solo, you, in general, shouldn't have any issues in Angola if you go with a knowledgeable guide. Even yet, the chance of being robbed, tricked, or even raped when traveling alone in Angola is relatively high. Traveling alone in Angola is not recommended, although it is possible if you take precautions.
Is Angola a good place to visit for a family with kids?
When visiting Angola as a family with kids, even if there aren't many standard kid-friendly activities in Luanda. Families traveling with young children will be able to discover other ways to fill their free time. The Miradouro da Lua natural reserve, which became recognized worldwide for its unique sand formations, is the primary draw of these destinations. Even youngsters will enjoy looking at these incredible natural creations. There are available guided walking tours and spots where you may drive or ride a car. Also, you'll be able to take some stunning photographs in reserve.
Is Angola a good place for couples?
When visiting Angola as a couple, Yes! You may bring your significant other to Angola, where there are many places where you can do so. Like Kalandula Falls, which is ideal for couples and wildlife enthusiasts alike.
What are the best annual events in Angola?
The best annual events in Angola that you cannot miss are
Lubango Festival in August

Muxima Pilgrimage in September

Sumbe Music Festival in September

Luanda Island Feast in November

Angola Carnival in the month of Last Thursday of the Lenten Season