Why go to Sweden?
You must visit Sweden at least once in your lifetime because it is one of the world's most attractive and wealthy nations. No matter where you go in the country, you'll find a haven for nature lovers, whether in the lush south or the barren north. All kinds of landscapes are available, from mountains and woods to rolling farmland, the midnight sun, and the northern lights. There's something for everyone.
What is Sweden famous for?
Sweden is famous for its abundance of forests and lakes. You may find hikers and Fika drinkers in every corner of the country. Sweden is also a popular tourist destination because of its awe-inspiring natural beauty and rich culture.
Fun Facts about Sweden
Johan, Mikael, Anna, and Eva are the most prevalent names in Sweden.

Four out of five Swedes play video games regularly.

"Siri" is a common name in Sweden, but it has nothing to do with the iPhone.

Hornavan is Sweden's deepest lake.

Mcdonald's Restaurants in Europe are the Highest in the world.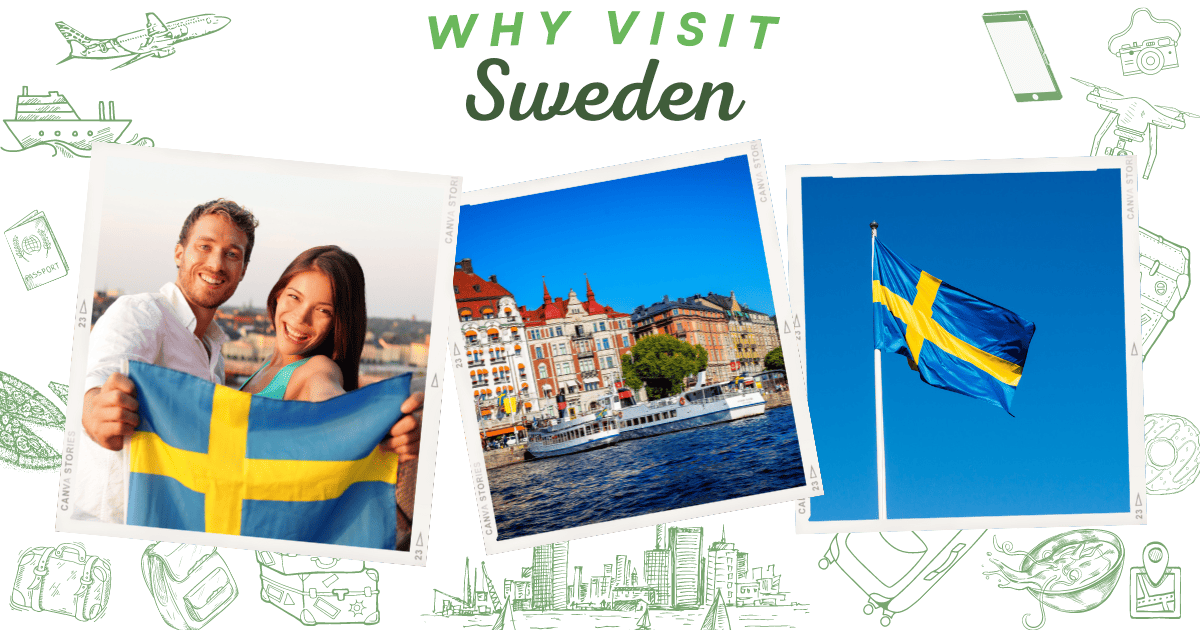 How big is Sweden?
Sweden is about 450,295 square km or 173,860 square miles in size.
When is the best time to visit Sweden?
The best time to visit Sweden is the months of May to September.
How many days do you need to see Sweden?
Spend an entire week traveling around the country to visit its most famous landmarks.
What is the cheapest time to go to Sweden?
The low season (flights) to visit Sweden is in February, August, and September.
Is Sweden an expensive city to visit?
Sweden is considerably less expensive than Norway; however, to most Europeans, the cost of items such as lodging and dining out will appear to be rather high.
How to save money when visiting Sweden?
The best ways to save money when visiting Sweden are:
Take advantage of the free walking tour.

It is best to vacation during the shoulder seasons.

You can save money by traveling by train.

Spend time outside in the natural environment.
What food (and drinks) is Sweden known for?
Things you need to eat in Sweden before you die:
Kalops – Prime beef is cut into cubes and simmered with red wine, onions, garlic, and carrots until the beef is tender and easily falls apart when prodded with a fork.

Pitepalt – These potato dumplings are a local favorite in northern Sweden because they are both delicious and filling.

Gotlandsdricka – is a type of beer first brewed on the island of Gotland, located off the coast of Sweden.

Pucko – Milk, chocolate, and sugar are the three primary components that go into the production of the Swedish beverage.
Is Sweden safe to visit?
Even though Sweden is widely considered one of the safest countries where tourists can go, you shouldn't let your guard down while you're there.
What is the best way to get around in Sweden?
The best way to get around in Sweden are:
By Bus

Train – Train travel is the most efficient and convenient way to traverse the enormous landscapes that make up Sweden.

Cycling – Certain regions of the country are ideal for biking.
What neighbourhoods or areas should I stay in when I visit Sweden?
The best areas you should stay in when visiting Sweden are:
The Salt & Sill, also known as the Salt & Herring, was the first floating hotel in Sweden and may be found in the unspoiled archipelago off the west coast.

Hotel Skeppsholmen – A brand-new hotel with a stylish aesthetic has recently opened in the middle of the bustling city center of Stockholm.

The ICEHOTEL in northern Sweden is a destination that should only be attempted once in a lifetime. No matter how chilly it is outside, the temperature inside the hotel will never fall below 23 degrees Fahrenheit.

Kolarbyn is Sweden's most medieval hotel. It is a natural sanctuary for peace, wildness, and adventure in a lovely forest setting just a few hours drives away from Stockholm.
What are the best neighbourhoods or areas for food?
The best areas for food and drinks when visiting Sweden are:
Stockholm

Öland

Gothenburg

Lapland
What are the best neighbourhoods or areas for shopping?
The best areas for shopping when visiting Sweden are:
Mall of Scandinavia

Farsta Centrum

Nordstan Mall

Skrapan
What should I do on my first trip to Sweden?
Island hopping is a must if you are visiting Sweden for the first time. Sweden's shoreline is peppered with thousands of islands that may be accessed by vehicle or ferry. For many tourists, island hopping is a fantastic way to explore the stunning scenery and the modest tranquility of the local towns and villages.
Is Sweden a good place for solo travel?
Sweden can be a cost-effective destination when traveling solo, especially if you plan ahead and stick to your spending budget. Sweden is full of enormous swathes of woodland, nearly 100,000 lakes, and some of the world's most attractive cities and towns. Still, the nation is so large that it can be tough to select which places to see first.
Is Sweden a good place to visit for a family with kids?
When visiting Sweden as a family with kids, you can really have a good time together because of what the country can offer. Children will be fascinated with tales of the land of the Midnight Sun and the Northern Lights, as well as by Sweden's vast woods and dozens of lakes. There are a lot of intriguing theme parks, zoos, and museums in Stockholm, Gothenburg, and Malmo, as well as the surrounding areas, which can keep children active and engaged.
Is Sweden a good place for couples?
When visiting Sweden as a couple, you have a lot of things to do together in this country. Plenty of exciting and one-of-a-kind experiences are available for couples who are eager to explore the romance of the scenery and appreciate the allure that arises from historical neighbourhoods and coastal gems. These things range from quiet walks in the magical countryside with lots of trees to gentle strolls through city squares.
What are the best annual events in Sweden?
The best annual events in Sweden that you cannot miss are
Stockholm Writers Festival in May

Drakamöllan Opera Festival in June

Saxå Chamber Music Festival in June

Stockholm Pride from June to August

Stockholmia from May to June