Why go to Helsinki?
You must visit Helsinki at least once in your lifetime because the city of Helsinki has a lot to offer visitors. The Helsinki Archipelago, which includes over 300 islands, is considered one of the world's most livable cities. Visitors are drawn to the city's vibrant, aesthetically beautiful neighbourhoods because of the city's prominence as a center of design and architecture. Moreover, there are some fantastic green urban areas. It's easy to get around on foot or by bike, and the laid-back atmosphere enhances the experience.
What is Helsinki famous for?
Helsinki is famous for the city's stunning seaside setting, an awe-inspiring array of architectural styles, and mouthwatering Nordic food. Many high-quality hotels are located right in the middle of Helsinki's excitement, making it easy to go around on foot.
Fun Facts about Helsinki
The year 2012 has been designated as Helsinki's year as the World Design Capital by the United Nations.

The capital of Finland, Helsinki, is the country's largest city.

Helsinki is recognized as the "Daughter of the Baltic."

In 1812, Helsinki was elevated to the position of Grand Duchy of Finland's capital.
How big is Helsinki?
Helsinki is about 213.8 square km or 83 square miles in size.
When is the best time to visit Helsinki?
The best time to visit Helsinki, Finland, is between May and September.
How many days do you need to see Helsinki?
For the most part, you can see the city in just three days. Helsinki isn't a huge city, so you won't have a problem seeing all it offers. Before you arrive in Helsinki, I recommend purchasing a Helsinki Card. Helsinki's most popular attractions are included in the card's free admission.
What is the cheapest time to go to Helsinki?
The low season (flights) to visit Helsinki is in March. June and July are regarded as the busiest months.
Is Helsinki an expensive city to visit?
It costs, on average, $1,327 for a single traveler to visit Helsinki for a week, $2,383 for a couple, and $4,468 for a family of 4. In Helsinki, hotel rooms cost an average of $113 a night, ranging from $54 to $197, while most vacation homes cost between $140 and $480 per night. There are several ways to save money on your Helsinki trip, but you should expect to spend roughly €112 ($118) every day. On average, visitors have spent €27 ($29) on meals and €18 ($19) on local transportation for a single day.
How to save money when visiting Helsinki?
The best ways to save money when visiting Helsinki are:
Camping- On public territory outside the city, wild camping is permitted if you travel with a tent. Campgrounds in the area typically charge between 10 and 25 EUR a night for a basic two-person plot without electrical power. There are a lot.

Eat on a budget- In a downtown university café, you can eat a hearty lunch for €6,4. (coffee included). At Mannerheimintie 3, it's next to Zetor, a restaurant.

Booking an Airbnb- Private rooms start at 40 EUR on Airbnb, making it an excellent low-cost alternative in the city (though they average double that). For a house or apartment, plan to pay at least 70 EUR. However, prices normally average around 100 EUR.

Shop at a local market/grocery- Basic necessities like vegetables, bread, pasta, and some fish or meat may be purchased for between 55 and 65 EUR per week if you plan to cook your own food.
What food (and drinks) is Helsinki known for?
Things you need to eat in Helsinki before you die:
Pea Soup- Pork and mustard are the main ingredients in the Finnish version, which is notably popular among the armed services.

Finnish squeaky cheese

Shelter- Shelter's deceptively simple dessert of donuts and ice cream was the perfect cap to an excellent lunch.

Fisken på Disken- Regarding squid, Helsinki has a distinct advantage.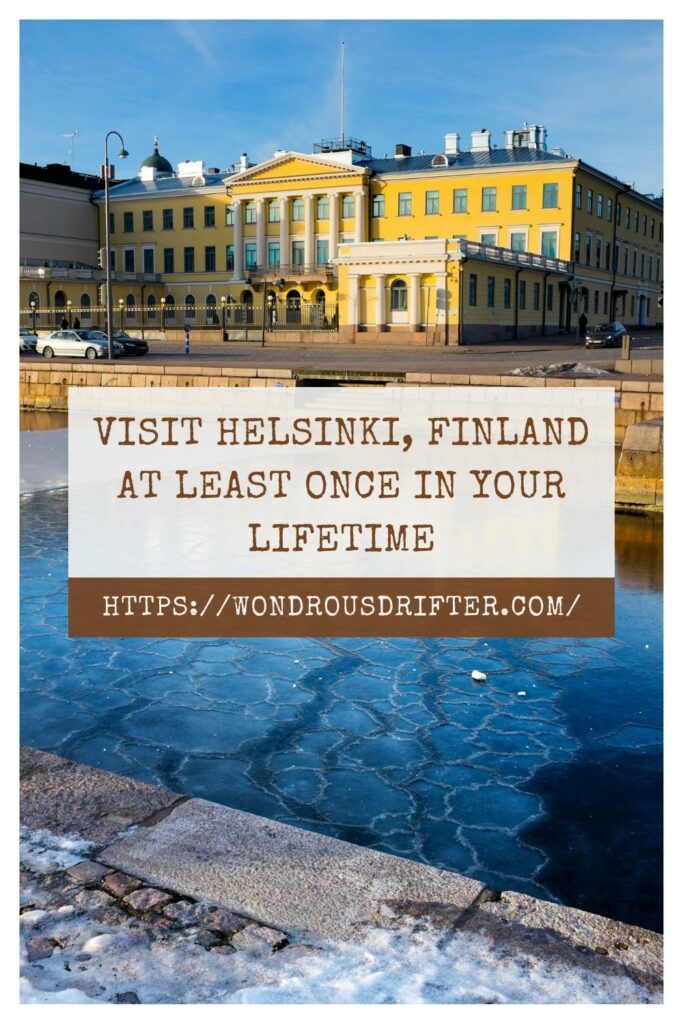 Is Helsinki safe to visit?
On the list of most and least risky cities in the world is Finland's capital, Helsinki, which is 9th. Almost 90% of Finns believe their country is safe. The city of Helsinki is one of the most secure in the world.
What is the best way to get around in Helsinki?
The best way to get around in Helsinki are:
Walking- Most of Helsinki's attractions are within walking distance, making it an ideal city for exploring on foot.

By tram- The city's tram system is an easy and convenient method to travel around.

By bus- More than 90% of Finland's public roadways are covered by a comprehensive coach (or bus) network.
What neighbourhoods or areas should I stay in when I visit Helsinki?
The best areas you should stay in when visiting Helsinki are:
Helsinki's most popular tourist destination,

Kamppi

, is in the city center. Hotels in Helsinki's

Kamppi

neighborhood are among the best in the city.

If you're visiting Helsinki for the first time, I recommend staying in

Kluuvi

.

Helsinki's

Kaartinkaupunki

is a great place for families to stay

If you're on a tight budget, consider staying in

Kallio

when visiting Helsinki.
What are the best neighbourhoods or areas for food?
The best areas for food and drinks when visiting Helsinki are:
Kallio-

Bars and eateries abound in this hipster haven.

Helsinki Market Square (Kauppatori)-

You may get a reasonably priced Presidentinlinna fast food lunch.

Helsinki's Old Market Hall (Vanha kauppahalli)

– You can enjoy a cup of coffee, a bite to eat, or some snacks at Helsinki's oldest market hall.

Hietalahti Market Hall (Hietalahden kauppahalli)-

On the outskirts of Punavuori District, you'll find all sorts of international cuisine.
What are the best neighbourhoods or areas for shopping?
The best areas for shopping when visiting Helsinki are:
Kamppi is known for its shopping- Kamppi Shopping Centre and Hietalahti flea market are two of the area's most popular attractions.

Stockmann- One of the city's most beautiful and historical department stores.

Itis- The eastern fringe of Helsinki is a great place to shop, dine, and have fun.

Forum Shopping Centre (Kauppakeskus Forum)- Near Helsinki Central Station, you'll find this massive shopping mall.
What should I do on my first trip to Helsinki?
If you are visiting Helsinki for the first time, Helsinki is a bustling seaside city. The city of Helsinki, Finland, is situated on the Baltic Sea's eastern shore. A vacation to Helsinki will be an experience you'll never forget because of its natural beauty, modern wonders, and historical landmarks. A cup of strong coffee is the best way to start the day in Market Square (Kauppatori). Take a ferry to Suomenlinna, a fortified island in the middle of the Gulf of Finland. The fortification complex was constructed in the 18th century and may be reached by ferry in about 15 minutes. Choose a seat on the ferry that looks out over the fortification. You can see it in all its splendor at your arrival. Take a ride on the SkyWheel Helsinki and get a bird's eye view of the city. The SkyWheel ride is one of the most exciting options. You'll see much of the city and the ocean from the top. From here, you'll get one of the nicest vistas in the area.
Is Helsinki a good place for solo travel?
When traveling solo, Helsinki is well worth a visit even if you're traveling alone, and I believe it is underestimated. Just remember to stay vigilant and join a tour group if you venture out alone. If you're looking for a laid-back city vacation, Helsinki, Finland's capital city, may not have as many hostels as the surrounding Baltic countries.
Is Helsinki a good place to visit for a family with kids?
When visiting Helsinki as a family with kids, taking a boat tour around the islands is a wonderful way to see the city, and the traffic is mild. As a result of its serene atmosphere, Helsinki is a wonderful destination for families with young children.
Is Helsinki a good place for couples?
When visiting Helsinki as a couple, during a visit to Helsinki, couples can enjoy various romantic activities. At any time of year, the city's views and sounds are perfect for a romantic getaway, and there are many things for couples to enjoy together. A boat tour of Helsinki's huge archipelago is the most enjoyable and romantic way to experience the city and its vicinity. Even if the weather is feisty, you'll be able to admire the city's coastline and the Baltic Sea from this location.
What are the best annual events in Helsinki?
The best annual events in Helsinki that you cannot miss are
Helsinki Sauna Day in March

Helsinki Samba Carnaval in June

Helsinki International Film Festival in September

Tuska Open-Air Metal Festival in June

Helsinki Festival in August/September