Up for an adventure? Seoul, South Korea has a lot to offer! Here is our hand-picked list of the top activities and attractions in Seoul, South Korea, so you can make the most of your time there. Scroll down for the best things to do in Seoul, South Korea, and the best places to visit in Seoul, South Korea. Wondrous Drifter is an ambitious Web 3.0 travel startup with the potential to revolutionize the market.
Blue House
Aren't you at least a little bit interested in going to the White House?
The Blue House, also referred to as Cheong Wa Dae by the people who live in South Korea, is the official house of the President of South Korea.
It is recognizable for the blue tiles covering its roof and was constructed using a typical architectural style found in the county.
Although you cannot enter the Blue House, you can get a good look at it from across the street.
With the mountain and the structure serving as the backdrop, this location is ideal for taking photographs, whether you are there with a group or by yourself.
Moreover, the house provides an audio tour in Englis.
This way, you'll get a fantastic opportunity for visitors from other countries to learn about the political and historical background of the area.
Indeed, it is a joy to stroll along the trails just outside the grounds of the Blue House, which are lined with magnificent ancient trees that will soothe you.
Pay a visit to the Blue House to look at the amazing architecture and landscaping there.
Address: 1 Cheongwadae-ro, Jongno-gu, Seoul, South Korea
Bongeunsa Temple
It's difficult to believe this is a Buddhist temple in the center of Seoul's bustling streets, but it is!
The Bongeunsa Temple is the biggest and oldest temple in Seoul and has a history that spans more than a thousand years.
When you visit this site, you will be awestruck by the majesty and peacefulness of this lovely temple, which allows visitors to relax.
You may pick up a map or some informational brochures at the entry, and then you can follow the route.
If you get lost or need assistance along the way, helpful staff members are available to assist you.
The temple provides programs that allow you to undergo Buddhist practice through monastery daily living to cleanse the body and mind.
If you are interested in participating in one of these programs, you must stay at the temple for at least two days.
Today, find tranquility at Bongeunsa Temple.
Address: Bongeunsa Temple, Seoul, South Korea
Bukchon Hanok Village
Can you visit all 900 traditional Korean houses in one go?
Go up for the challenge at Bukchon Hanok Village in Seoul, South Korea!
Bukchon, which means "northern village" in Korean, is a popular tourist destination in the city where you may learn about traditional Korean culture firsthand.
Hundreds of so-called hanok, traditional houses, are scattered across the area, many of which serve as teahouses, guesthouses, and restaurants.
If you are interested in photography, it is recommended that you go there in the early morning when it is quieter and less busy.
It is interesting to note that when in the area, ladies have the opportunity to rent Hanboks, the brightly colored and simply cut traditional dress.
As you make your way through the Bukchon Hanok Village, keep in mind that you should try to avoid disturbing the locals.
Visit the Bukchon Hanok Village today if you are fond of traditional houses.
Address: South Korea, Seoul, Jongno-gu, 계동길 37
Bukhansan National Park
Take care of your lungs by breathing clean air in Bukhansan National Park.
The best spot to go hiking in Seoul is Bukhansan National Park, which has breathtaking views of the vegetation and animals in the surrounding areas.
When you first get to the national park, you should make your way to the Information Center so that you may get some background info before you go hiking.
At the desk, you may ask for a helpful booklet that includes a map of the trails in Bukhansan National Park.
When you begin trekking, there are hundreds of gorges, rocky mountains, and clear streams in the area, creating a lovely symphony of nature.
The national park is home to several impressive peaks, the most famous of which are Mangnyeongdae Peak, Insubong Peak, and Baegundae Peak, the highest of the bunch.
Today is a perfect day to go for a trek at Bukhansan National Park.
Address: 262 Bogukmun-ro, Seongbuk-gu, Seoul, South Korea
Changdeokgung Palace
Get the opportunity to see one of South Korea's impressive palaces!
The Changdeokgung Palace, sometimes called the Eastern Palace, is well-known for its remarkable architectural features and lush grounds.
Since it is more than a hundred years old, the royal palace in Seoul has been kept the best.
Its most notable feature is the Secret Garden, which has been used by royals for pastimes and parties.
You are allowed to wander about and take in the garden's atmosphere, which has a wide range of plants and trees.
There is the option to take part in a guided tour that will provide you with background information on the Changdeokgung Palace while exploring the grounds.
The tour lasts for a total of ninety minutes, and it is offered in various languages, including Chinese, English, and Japanese.
So that tourists from other countries may completely comprehend and appreciate the significance of Korean history.
If you are interested in learning more about the Changdeokgung Palace, you should travel to South Korea soon!
Address: 2-71 Waryong-dong, Jongno-gu, Seoul, South Korea
Cheonggyecheon Stream
This can be a great opportunity if you are seeking a spot to relax and spend time with nature.
After years of restoration, the Cheonggyecheon Stream now runs through Seoul and its ecological park, which is filled with natural splendor.
It is an 11-kilometer-long stream popular among visitors and lovers on dates who wish to take a breather and enjoy the outdoors.
It features a few stones, fish, and a tiny waterfall, bringing to light at night and making for great photo opportunities.
Interestingly, you may cross the stream and go to the opposite side of the pathway by using many stepping stones that rise above the water.
While strolling along the Cheonggyecheon Stream, you could come across many informational signs that provide details about the history and culture of the area.
Today is the perfect day to unwind at Cheonggyecheon Stream after a busy day spent in the city.
Address: 1 Cheonggyecheon-ro, Jongno-gu, Seoul, South Korea
Common Ground
Get to Common Ground if you want a better feel for a more urban side of Seoul.
The biggest shopping mall in Seoul, Common Ground, is home to many up-and-coming clothing stores.
It consists of two hundred big shipping containers. It has an array of fascinating shopping opportunities, delicious food, and lifestyle trends, among other things.
After a long day of shopping, food trucks on the ground floor, and renowned eateries offer interesting meals and hanging out spots.
In addition, it hosts several events, including performances and other activities, that are intended to amuse people from both domestic and international places.
This tourist attraction has a photo opportunity in which you may snap a picture with blue shipping containers, which have a particularly Instagrammable appearance.
Make your way to Common Ground now if you're a fan of the current South Korean fashion trends!
Address: 200 Achasan-ro, Gwangjin-gu, Seoul, South Korea
Dongdaemun Design Plaza
Dongdaemun Design Plaza is the place to go if you want to see some outstanding examples of architecture.
Spend your day at the Dongdaemun Design Plaza by appreciating the one-of-a-kind architecture of the structure while roaming around the surrounding area.
You can refer to it in shorthand as the "DDP," and Zaha Hadid was the architect who developed the structure composed of curved and aluminum panels.
This lovely plaza is a complex that brings together people from various cultural backgrounds and plays home to events such as fashion displays, exhibits, seminars, and conferences.
It has also drawn millions of tourists thanks to its many features, including a design museum, gift store, rest room, sky lounge, and restaurants.
You don't need to worry about getting lost because there are boards with maps at many different spots, making it easy to find your way around even though the area is so large.
You will not want to miss out on seeing DDP since it is one of the most famous sites in Seoul.
Address: 281 Eulji-ro, Euljiro 7(chil)-ga, Jung-gu, Seoul, South Korea
Gwanghwamun Square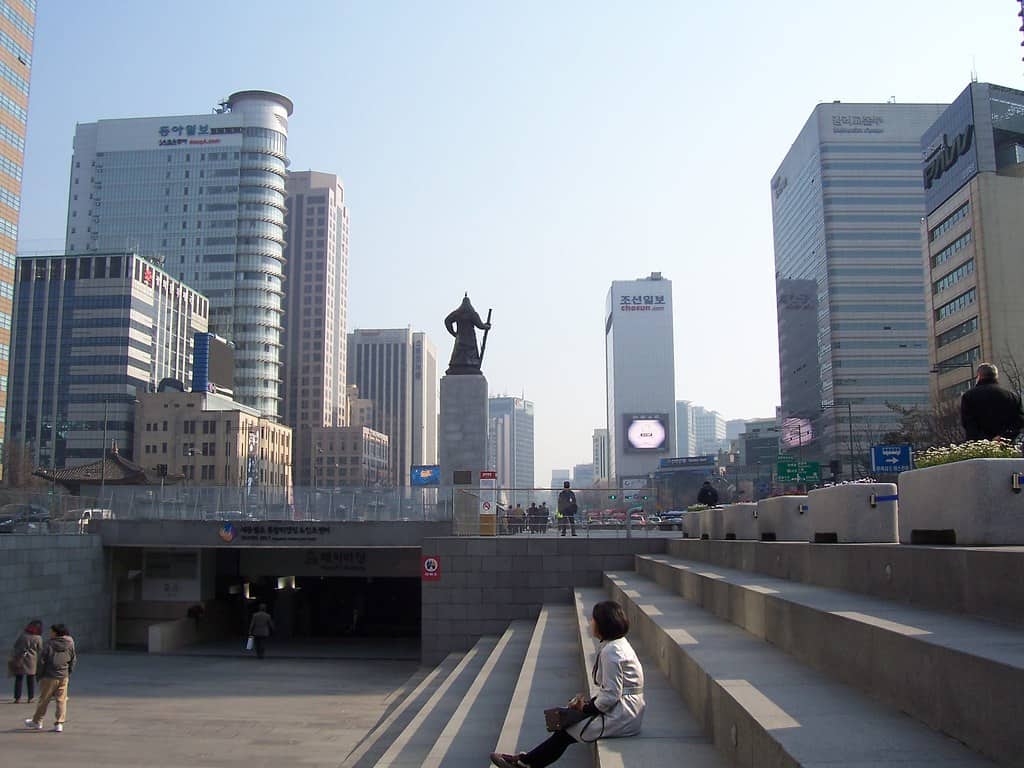 Spend some time in the historic square, which dates back more than a hundred years!
Gwanghwamun Square is a major landmark loaded with attractions that give a glimpse into the traditional customs and history of the city.
During the olden times, the square served as the most important gateway leading up to the Gyeongbokgung Palace, which was the main home of the previous dynasty.
This area has been transformed into a plaza in recent years. It can now provide a place for up to 70,000 tourists to relax and interact with one another.
As you make your way around the plaza, you will come across the sculptures of Admiral Yi Sun-shin and King Sejong, which provide a wonderful backdrop for photographs.
You can also take your children to the fountain in the square, where they can run around and play in the water that shoots out from the ground.
Visit Gwanghwamun Square today, and you'll be wowed.
Address: 지하172 Sejong-daero, Jongno-gu, Seoul, South Korea
So, stop making excuses and start traveling. Fill those passport pages. For the full list of countries to visit around the world, visit our cool countries to visit around the world guide. Looking for a truly American adventure? You have to check out the states to visit in USA.
Gwangjang Market
Gwangjang Market is the place to go if you're a fan of street food and want to taste some of the best!
It is South Korea's oldest market and one of the best sites to try traditional Korean street cuisine, established in the twentieth century.
It is well worth one's time to visit the food vendors because most foods are offered at affordable prices.
You may sample some Korean cuisine, beginning with eomuk, then moving on to nokdu-jeon, Mayak gimbap, tteok-bokki, and plenty more.
Following a satisfying meal at the market, you may like to peruse the second floor's selection of hanbok (traditional Korean garment), vintage, and second-hand clothing.
An interesting fact about this place is that it is visited by local couples who are arranging their weddings and moving into their new homes since the market has everything they need.
Gwangjang Market is the place to go today to satisfy your cravings for Korean cuisine.
Address: 88 Changgyeonggung-ro, Jongno-gu, Seoul, South Korea
Gyeongbokgung Palace
Gain some insight into the past of Korea by visiting Gyeongbokgung Palace.
It is most well-known by its former name, the Northern Palace, and it is the biggest palace in Seoul.
Its name, which means "palace greatly blessed by Heaven," was given to the building in 1395 that served as the political and cultural heart of the Joseon dynasty.
However, nothing from the original 14th-century structures remains due to the Japanese destroying the area in the 1590s.
Fortunately, it was reconstructed over the past few decades, and it continues to be an important stop for anybody who wants to learn about the said dynasty.
The changing of the guard is an interesting event that can be seen in the area. The soldiers who do it wear stunning red robes, and it is a great opportunity to take pictures.
Visitors from other countries can explore the palace by taking a guided tour or reading one of the booklets, both of which are available in English.
Stop at Gyeongbokgung Palace to explore as much as you can!
Address: 161 Sajik-ro, Jongno-gu, Seoul, South Korea
Ihwa Mural Village
At Ihwa Mural Village, you may show off your photographic skills!
People visit Ihwa Mural Village, also known as a moon village since it is situated at the top of it. Naksan provides unobstructed views of the moon.
If you want to see this iconic town and the views of the incredible art in Seoul, you need to be ready for a bit of a climb up the mountain that is required.
It is a stylistic tourism attraction with its colorful mural paintings, mosaics on the walls, and intriguing metal artworks on display throughout the area.
You may take a stroll around the village and explore some of the local boutiques and art exhibitions.
Also, you can simply gaze at public art, which is an excellent subject for photographers.
After appreciating the artistic splendor of the town, you may make your way to the highest point of the area to take in the breathtaking panorama of the city.
Ihwa Mural Village is one of Seoul's undiscovered gems, and you have to go there!
Address: 49 Naksan 4-gil, Jongno-gu, Seoul, South Korea
Jogyesa Temple
Check out the Jogyesa Temple for a peaceful time with Buddha.
In the late 14th century, just at the beginning of the Joseon Dynasty, the Jogyesa Temple was built as a Buddhist temple.
It plays a significant part in Korean Buddhism since, throughout the year, it is the place of rituals, ceremonies, lectures, and other activities.
Jogyesa Temple provides a guidebook so that those who are visiting the region for the first time may learn more about it.
You will be able to recognize certain notable features, such as trees that are more than a hundred years old, the statue of Buddha, and monks who are chanting.
As you explore the area, you'll come upon a courtyard that's been decorated with colorful lanterns and provides excellent opportunities for taking pictures.
Visit the Jogyesa temple to get a sense of the peaceful life that may be had in the heart of the city.
Address: 55 Ujeongguk-ro, Jongno-gu, Seoul, South Korea
Korean Demilitarized Zone
The Korean Demilitarized Zone is a great place to catch a glimpse of North Korea!
To acquire an insight into North Korea, one of the world's most secretive countries, one must visit the Korean Demilitarized Zone.
It is an interesting area to visit as it is a zone that divides North Korea from South Korea.
Curious tourists from all over the world come to this strongly defended border of the planet so that they might experience this fascinating site.
Although you will be subject to strict regulations while you are there, the only way for you to enter will be on a guided trip that will be conducted by an official tour guide.
Your tours of the sites include stops at the Third Tunnel and the Dora Observatory, both of which allow you to have a better understanding of the history of Korea.
Find out more about the importance of the DMZ in Korea today, beginning with the Korean War and continuing up to the present day.
Address: Korean Demilitarized Zone, Seoul, South Korea
Lotte World
Did you know that there was a Disneyland-style amusement park right in the midst of Seoul?
You will experience the best time of your life in this Lotte World!
The Lotte World is the biggest indoor and outdoor amusement park in the world, making it an ideal destination for you to take your family on a wonderful day.
Since it features a shopping mall, an ice rink, a museum, and a hotel, it is the ideal place for tourists to go to enjoy themselves and see some things.
There is a hotel close by called Lotte Hotel World that you can check into if you would like to extend your time at the amusement park.
If you are curious about how to get there, the most straightforward option is to take the subway, which will bring you to Lotte World in no time at all.
Come today to get your family's tickets to Lotte World so that you may all have fun together.
Address: 240 Olympic-ro, Songpa-gu, Seoul, South Korea
Myeong-dong
Shopping in Seoul has never been more exciting!
Myeong-dong is considered one of the city's greatest shopping streets due to a large number of stores, eateries, and cafés that can be found there.
This street sells and provides almost everything imaginable to shop and dine.
You may get a lot of Korea's most fashionable apparel styles, which contain a variety of stylish items and standard picks for you to fill your closet.
As you make your way about the area, you may get a sense of the throbbing energy that characterizes Seoul and enjoy the street food that the place has to offer.
You will get the opportunity to taste traditional Korean dishes such as tteokbokki, fish cakes, bulgogi, and Korean spicy fried chicken, which are all delicious.
In addition, Myeong-dong is a great place to spend an entire day if you're interested in street photography.
Two million tourists come here every day, and you should be one of them!
Address: Myeong-dong, Seoul, South Korea
National Museum of Korea
One of the best places to learn about Korean history and culture is the National Museum of Korea, the country's biggest museum.
It has one of the world's finest collections of historical relics, with more than 400,000 items dating from prehistoric periods to the present day.
You will be able to view displays such as the Historical Gallery, Children's Museum, and Fine Arts Gallery.
All of which allow visitors to completely submerge themselves in the artistic traditions.
After you have completed your tour of the museum, there is a small café on the ground floor that serves a variety of beverages and light bites.
Here, you can take a break, refuel, and enjoy your meal.
In addition, there is a gift store, which is among the ideal places to get presents of excellent quality, either for yourself or for your family.
Bring your travel buddies with you to the museum for a day filled with the fascinating history of Korea.
Address: 137 Seobinggo-ro, Yongsan-gu, 서울특별시 South Korea
N Seoul Tower
Find yourself the greatest view of Seoul!
The N Seoul Tower, which is also called Namsan Tower, is a well-known structure in Seoul, making it a popular tourist destination.
It is situated atop Namsan Mountain, which provides an uninterrupted view of the city.
The tower's height is 239 meters and features an open-air patio with a wooden platform at the very top.
This awesome tower is a favorite area for lovers to tie a padlock to the fence as a token of their affection and take romantic photographs with a stunning backdrop.
There is also a restaurant there named N Grill, and it is well-known for its steaks.
If you would want to eat there, you may do so since the restaurant offers full-course set menus and is open for dining.
In addition, getting to the top of the tower is simple thanks to the Namsan cable car, a shuttle bus, and other affordable modes of transportation.
To visit South Korea, you have to view N Seoul Tower.
Address: 105 Namsangongwon-gil, Yongsan-gu, Seoul, South Korea
SeMA – Seoul Museum of Art
Do you consider yourself to be someone who appreciates art?
In that case, you should go to the art museum in Seoul that is known all over the world.
There is an intriguing museum in Seoul called the Seoul Museum of Art.
Seoul Museum of Art first opened its doors in the 20th century and now has a remarkable collection that draws in a great number of visitors.
It includes a collection of about 3,500 pieces, including works by artistic masters such as Nam June Pai, Hwan Gi Kim, Seo Bo Park, Young Gook Yoo, and many more.
The museum has an impressive look at the entrance, which is designed in the form of a gorgeous Renaissance facade that is worthy of being photographed.
As you make your way around the museum, you will notice that some of the gallery's explanatory materials also have English translations available for foreigners.
One may get a wide experience of the artistic value of art in Seoul at the Seoul Museum of Art today.
Address: 61 Deoksugung-gil, Jung-gu, Seoul, South Korea
Seoul City Wall Trail
In Seoul, you'll get the sense that you've been transported back to the 14th century.
It was constructed in 1396, during the Joseon Dynasty, and it took some time to complete the walls, some of which had distinct markings that indicate the building period.
This popular tourist destination has several hiking trails, many of which provide spectacular views over the city.
There were initially eight gates, but currently, only six of them are still standing in their original locations.
You may go on a trek in one of these gates, beginning with Hyehwamun Gate and continuing to Heunginjimun Gate.
This route takes you past Naksan Mountain and is considered a simple trail due to the mountain's slight slope.
Overall, it is recommended that you have a tour guide with you for at least a section of the walk so that you may learn more about the history of the gates.
This is the greatest place to go if you want to go on hikes, see sights, or learn about history in Seoul.
Is there anything else holding you back from making Seoul, South Korea, your next vacation destination? Click here for all the reasons to visit Seoul, South Korea, at least once in your lifetime here.
Address: 622-83 Changsin-dong, Jongno-gu, Seoul, South Korea