Planning a trip to Penang Island, Malaysia? Look at our carefully selected list of top Penang Island, Malaysia attractions below on the best thing to do in Penang Island, Malaysia, and places to go in Penang Island, Malaysia. Wondrous Drifter is a Web 3.0 startup in the tourism industry that aims to disrupt the industry as a whole by utilizing Web 3.0 technologies.
Batu Ferringhi Beach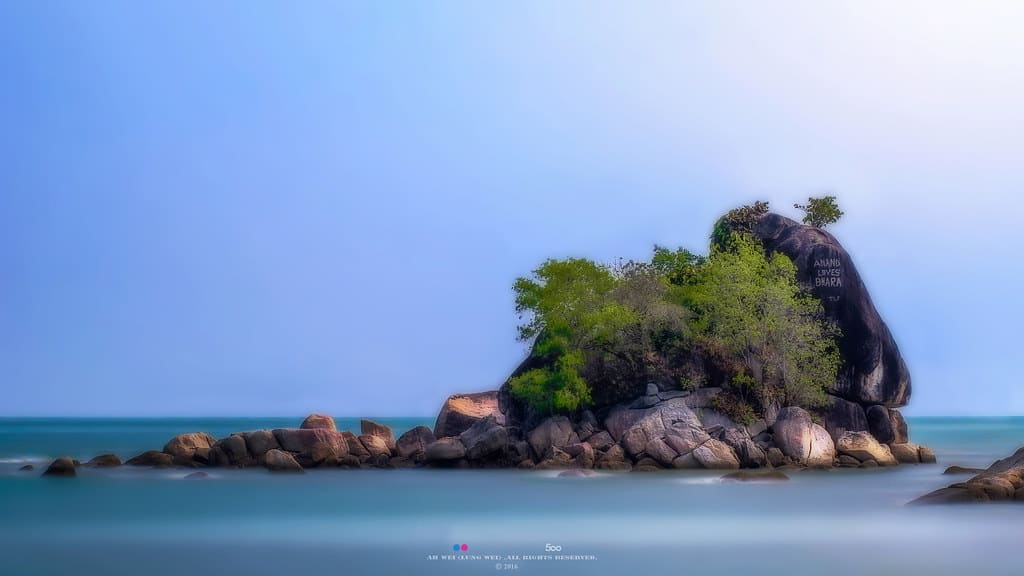 Batu Ferringhi is Penang Island's most popular beach destination if you're looking for a fun-in-the-sun vacation.
After George Town, Batu Ferringhi Beach is the location that receives the second-highest number of tourists on Penang Island.
Batu Ferringhi, northwest of the island, has a line of international-class beachfront accommodations, a long stretch of white sand beach, water sports, and a popular night market.
It's a perfect place to get away from the city heat and relax by the pool with fresh ocean breezes.
Families love that the island is close to the best theme parks for kids, has a variety of family beach resorts, and has miles and miles of sandy beaches.
Adrenaline junkies will enjoy the motorized water sports that can be done right from the beach. In contrast, people who want to be alone will enjoy exploring the nearby jungles and secluded beaches.
Sunbathing, swimming, or simply relaxing with a fresh coconut while gazing across the water are all popular beach activities.
Beat the summer heat at this exciting Penang Island beach!
Address: Batu Ferringhi Beach, Penang Island, Malaysia
Batu Ferringhi Night Market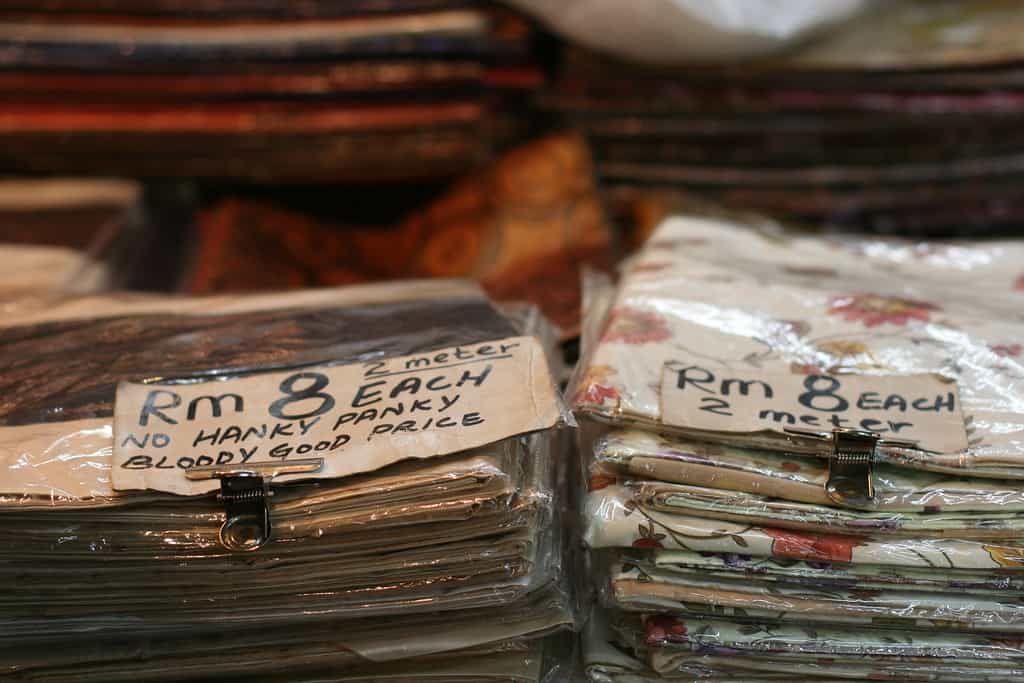 If you've been busy seeing sights all day and haven't done enough shopping, head straight to the Batu Ferringhi Night Market, where you can stay until late at night.
Batu Ferringhi is also renowned for its night market, which is a fantastic spot to find bargains if you want to stock up on souvenirs.
Imitation designer bags and sunglasses, clothing, jewelry, phone cases, wrist watches, and other trinkets are on sale along the 1-kilometer stretch of Jalan Batu Ferringhi market stalls.
You can find a few seaside restaurants and bars hidden between the thronging street vendors at Long Beach Café, including some of the top hawker stalls in the world.
The street food scene is another major reason to visit because you can enjoy a wide variety of cuisines here, including noodles, fried rice, and grilled meats.
Make sure to pick up a few souvenirs for your Malaysian adventure.
Address: Jalan Pantai Batu, Taman Pantai Batu, 11200 Tanjong Bungah, Pulau Pinang, Malaysia
Butterfly Farm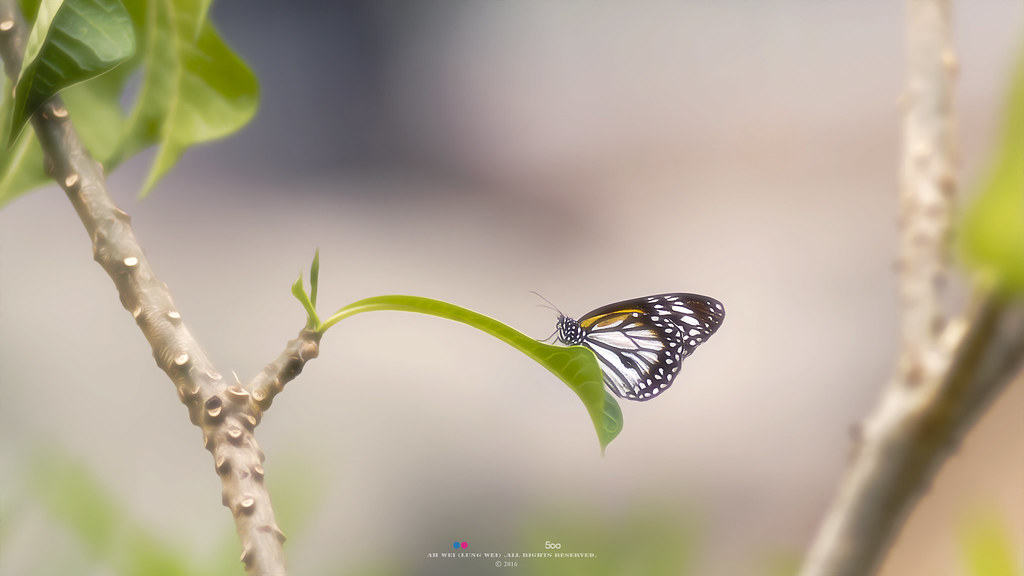 At Penang Island, you can see thousands of beautiful butterflies flying around you.
There are roughly 15,000 free-flying butterfly species at any given time at this Malaysian butterfly garden, including up to 60 different species.
Explore The Natureland, a living garden vivarium where animals like insects and reptiles live in places that look like their natural homes.
Rare butterflies like the Yellow Bird Wing and Indian Leaf can be found here. The farm also serves as a conservation center dedicated to reproducing and preserving these species' natural habitats.
You'll notice the design is similar to Singapore's Flower Dome, except it is smaller. The vast green wall, or vertical garden, on the façade, is the biggest of its kind in Malaysia.
More than 200 types of plants, waterfalls, ponds, caverns, and other aesthetic garden features are found in the living garden.
Visit this spot and have a magical experience on your Penang journey.
Address: No.830, Jalan Teluk Bahang, Teluk Bahang, 11050 Tanjung Bungah, Pulau Pinang, Malaysia
Chulia Street Night Market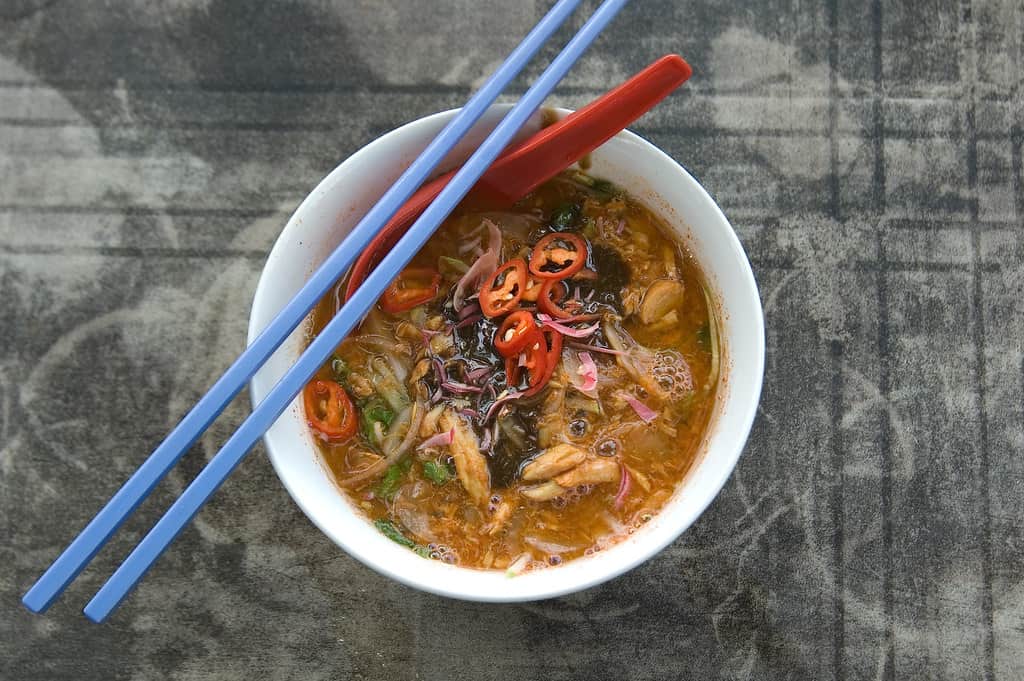 Craving for Malaysian street foods? Head down to the most famous street food market on Penang Island!
The Chulia Street Night Market in George Town on Penang Island is a cluster of food stalls set up after dusk every day on the street.
It is a great place to try some of the city's best street food.
Creamy soups, including laksa, wonton mee, a noodle, and a dumpling dish, are among the mouthwatering dishes you can try.
George Town's Chulia Street is a historic street with a thriving nightlife. Most visitors to Penang will stop here, as well as locals seeking a night of fun.
You can place your orders at one of the many tables and chairs scattered throughout the market and then either wait in line to pick up your meal or bring it to you.
Make sure to try out every Malaysian street food in this spot!
Address: Chulia St, Georgetown, 10450 George Town, Penang, Malaysia
Fort Cornwallis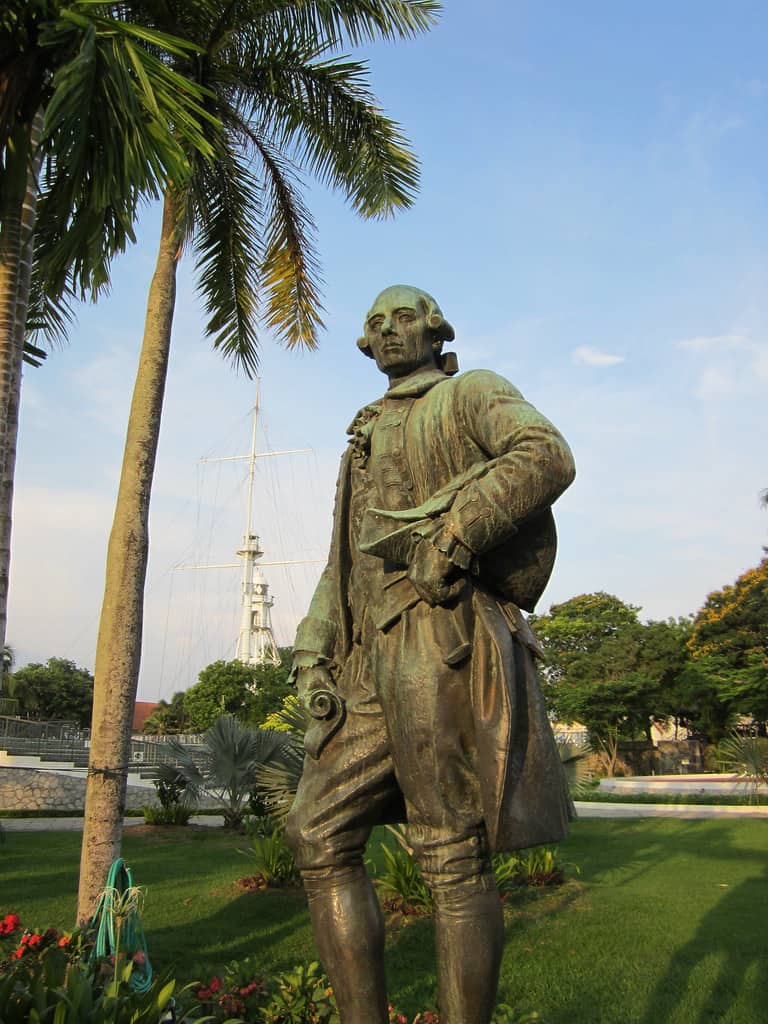 Visit and learn a bit of Malaysian history at one of the most famous sights on Penang Island!
It was constructed by the British East India Company with the guidance of Sir Francis Light, the founder of Penang, to defend the city in the event of a water attack.
The initial construction was a basic star-shaped stockade fashioned of nibong palm trunks and named for the Governor-General of Bengal at the time, Charles Cornwallis.
Fort Cornwallis is Malaysia's largest and oldest fort, one of the main reasons George Town was designated as a UNESCO World Heritage Site.
Fort Cornwallis is a fantastic place to start a day of sightseeing around Georgetown's historic structures.
The fort is still in fine shape, with a famous monument of Francis Light guarding the gate and a collection of authentic cannons.
Spend a few hours in this spot to complete your Penang Island travel experience!
Address: Jalan Tun Syed Sheh Barakbah, George Town, 10200 George Town, Pulau Pinang, Malaysia
Kek Lok Si Temple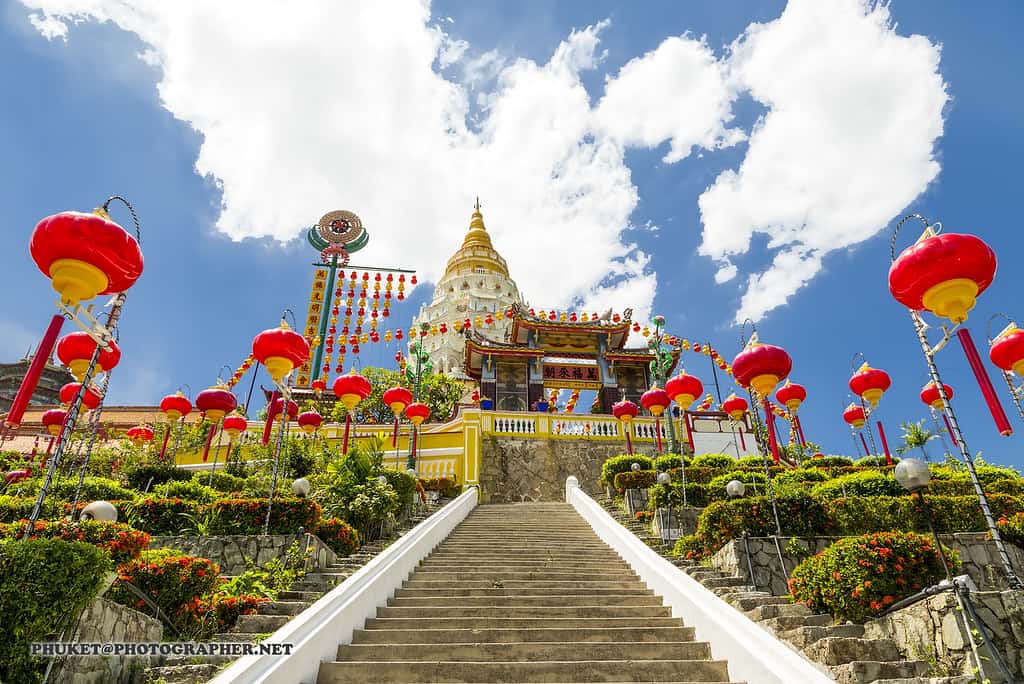 Visit this stunning temple on the island of Penang!
You may see the stunning, tall Kek Lok Si Pagoda as well as the sculpture of Guanyin at this famous pilgrimage site, which many Buddhist believers consider to be a significant pilgrimage site.
The spectacular seven-story Pagoda is the major attraction in the complex. It has a Chinese octagonal foundation, a middle tier that is designed in the Thai style, and a Burmese crown.
Kek Lok Si Temple, near Air Hitam, is a must-see when you're in Penang because it has one of the biggest Buddhist temple complexes in Southeast Asia.
The statue is erected in the form of the Goddess of Mercy and rises to a height of 36.5 meters. The rest of the temple complex is built in both traditional and modern styles.
During your trip to Penang Island, pay your respects and take in the beauty of this temple.
Address: Jalan Air Itam, 11500 Ayer Itam, Pulau Pinang, Malaysia
Khoo Kongsi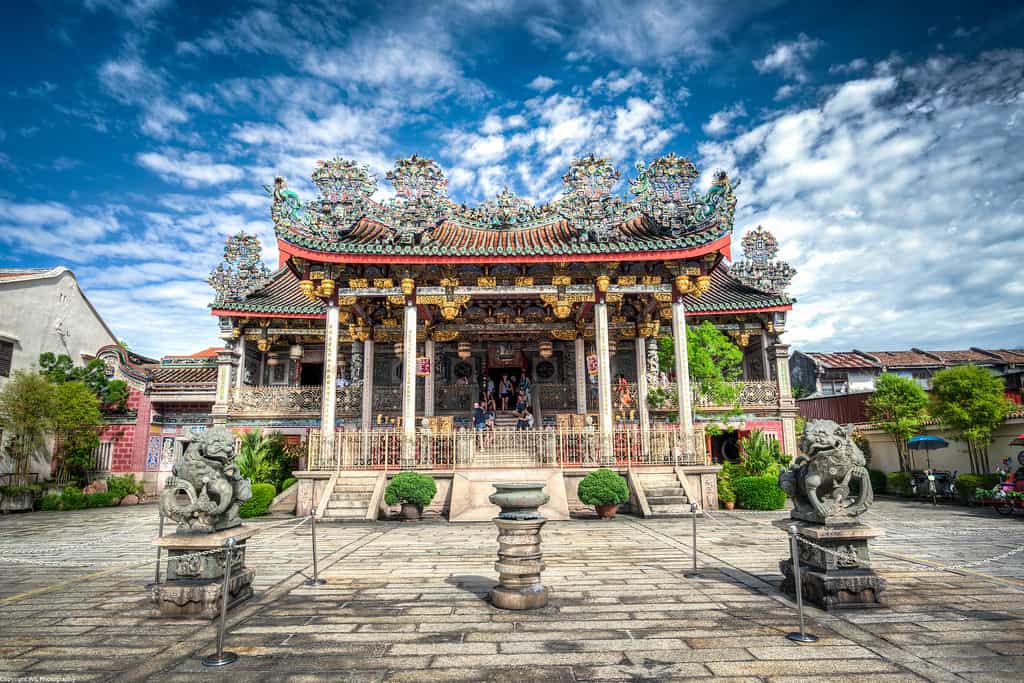 Sneak a peek at one of Malaysia's most stunning collections of Chinese houses!
Leong San Tong Khoo Kongsi, or simply Khoo Kongsi, is one of Malaysia's most unique Chinese clan associations.
It is known worldwide for its 650-year-old history and its close-knit, protective group of buildings and beautiful clan houses.
Former clan houses, a platform for cultural events, a souvenir store, bathrooms, and an art exhibition area are all located in the temple's front courtyard.
A museum on the side and back of the main temple structure provides more information on clan residences, Khoo Kongsi's history, the historical background of the Chinese community in Penang, and so much more.
One of the biggest buildings in George Town, the Leong San Tong Khoo Kongsi, is always full of tourists who want to see how well-made it is, from the beautiful roof decorations to the fancy interior designs.
Don't forget to include this attraction in your Penang itinerary!
Address: 18, Cannon Square, George Town, 10450 George Town, Pulau Pinang, Malaysia
Little India

This part of George Town is bustling with activity and charm!
With Cheong Fatt Tze Mansion and Khoo Kongsi, it's right in the heart of Penang's heritage zone.
Sir Francis Light, the man who is said to have started Penang, was also the one who set up Little India on Chulia Street.
As you make your way through Little India, keep an eye out for boutiques selling dazzling saris in a rainbow of colors, as well as fragrance emporiums and incense stores.
This has been one of the best areas in Penang to sample delicious Malaysian street food, as other restaurants blast Bollywood music into the streets.
You can expect traditional Indian fare like roti canai, biryani, naan, tandoori chicken, thosai, and samosas, as well as other classics. These are typically prepared on a banana leaf and go great with coconut juice!
Have a glimpse of Indian culture in the Little India of Penang Island!
Address: Lebuh Pasar, George Town, 10450 George Town, Pulau Pinang, Malaysia
Northam Beach Cafe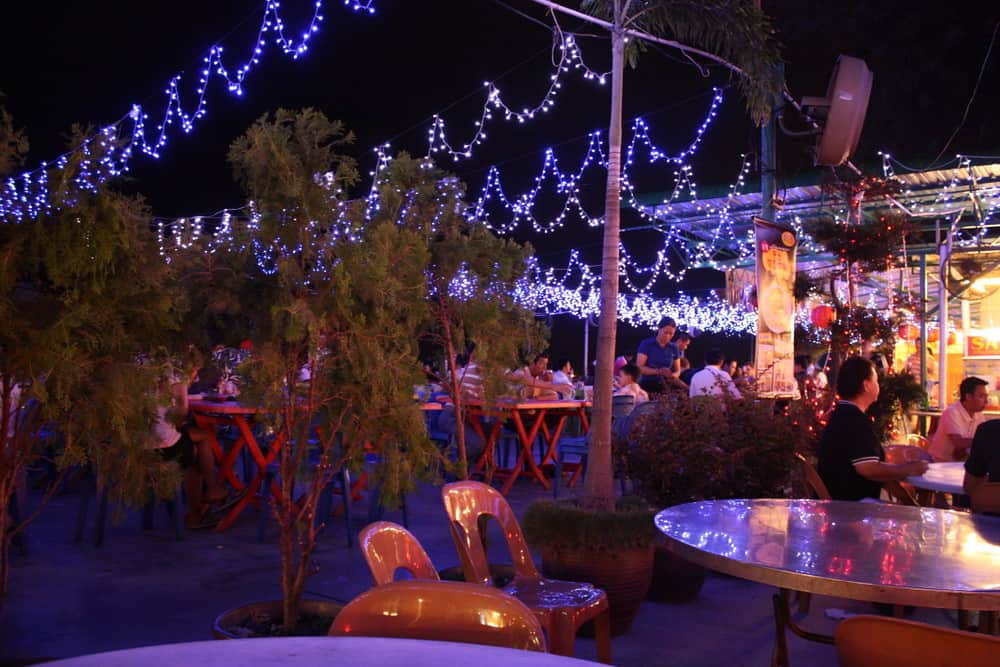 Indulge in Asian street food at Northam Beach Café while the sun sets behind lines of fishing boats.
At night, this hawker center transforms into an outdoor dining area with stunning views of the water, making it the perfect place to end a day of exploring Penang.
A central drink seller and 40 food vendors share a large quantity of numbered tables. There is a vast choice of stalls to choose from, allowing you to order as many different foods as you choose.
Local seafood, like grilled swordfish and oyster omelets, is served, as well as satay sticks, deep-fried tofu, pizzas, pastries, lamb or chicken shawarma, and noodles in every way you can imagine.
Penang prawn noodles, grilled chicken wings, and dim sum are just some of the other options available here; you can also get typical English chicken pies or sausages and mashed potatoes.
There are so many food choices to chomp on, you definitely can't miss this spot in Penang if you love food trips!
Address: 58, Jln Sultan Ahmad Shah, 10050 George Town, Pulau Pinang, Malaysia
Pelita Nasi Kandar
If you want to experience some of the best Penang food, Pelita Nasi Kandar is the place to go.
Since its humble beginnings at a kiosk in a coffee shop in Perai's Chai Leng Park, Pelita Nasi Kandar has grown to become Malaysia's largest nasi kandar franchise.
In less than 20 years, Pelita Nasi Kandar has grown to over 26 branches in Malaysia, including one in Chennai, India.
The local cuisine known as Nasi Kandar consists of steamed rice that can either be plain or have a subtle flavoring added to it. It is accompanied by a range of different side dishes and curries.
Despite the fact that there are a number of restaurants in Penang that serve Nasi Kandar, Pelita Nasi Kandar is widely regarded as being among the best in the city.
This is an excellent spot to dine if you are a food aficionado traveling in Penang!
Address: 146A, Jalan Macalister, George Town, 10400 George Town, Pulau Pinang, Malaysia
That itch to travel just wouldn't go away, huh? Take out your map and figure out where you're going next. Kick off your world travel by checking out our travel guide on the top countries to visit around the world. When you roam around the world, you have to go to the USA. Thanks to the multicultural heritage, cuisine from all around the world are offered here in the US. You have to check out the best states to travel to in USA.
Penang Hill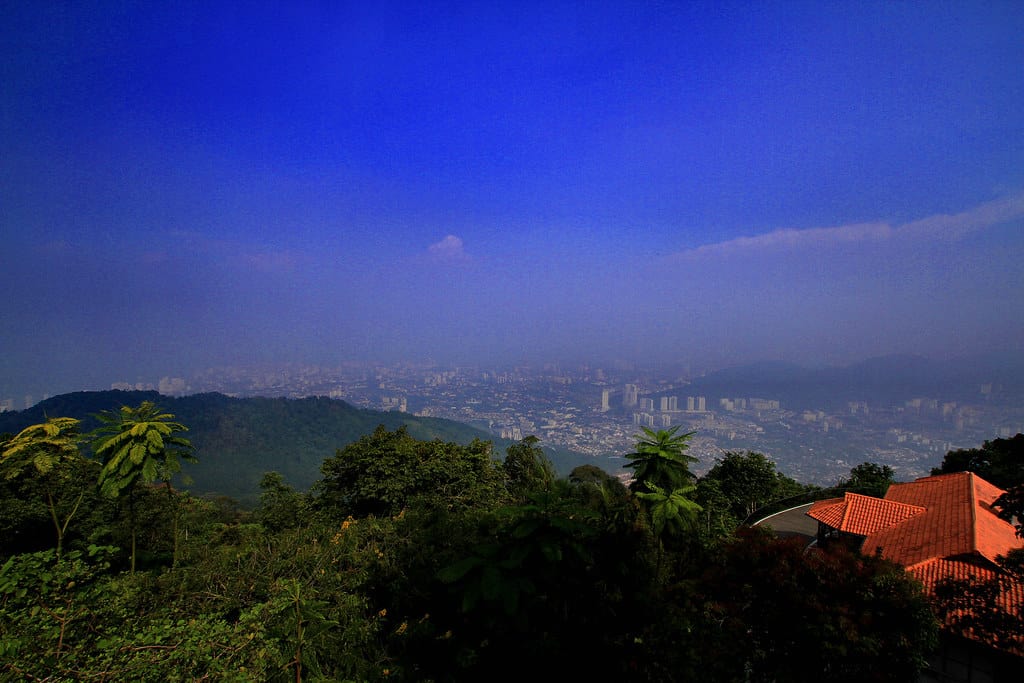 If you wish to escape the bustling streets of Penang, this is your place to go!
Penang Hill, also known as Bukit Bendera or Flag Hill in Malay, is a towering 833-meter-high hill that can be found near the island's geographic center.
Climbing Penang Hill is one of the must-do activities when visiting the city of Penang.
Penang Hill is not just the city's last remaining green lung, but it also features more than fifty heritage buildings, some of which are in the process of being renovated into attractive homestays.
It is served by the Penang Hill Railway, which is among the oldest funicular systems in the world, and once you reach the top, you can take in the breathtaking views that stretch to Langkawi and Kedah.
Penang Hill's newest feature, the Habitat, is home to tens of thousands of flora and fauna species.
Spend some time in the jungle on the island of Penang and re-connect with nature's wonderful simplicity.
Address: Penang Island, Malaysia
Penang National Park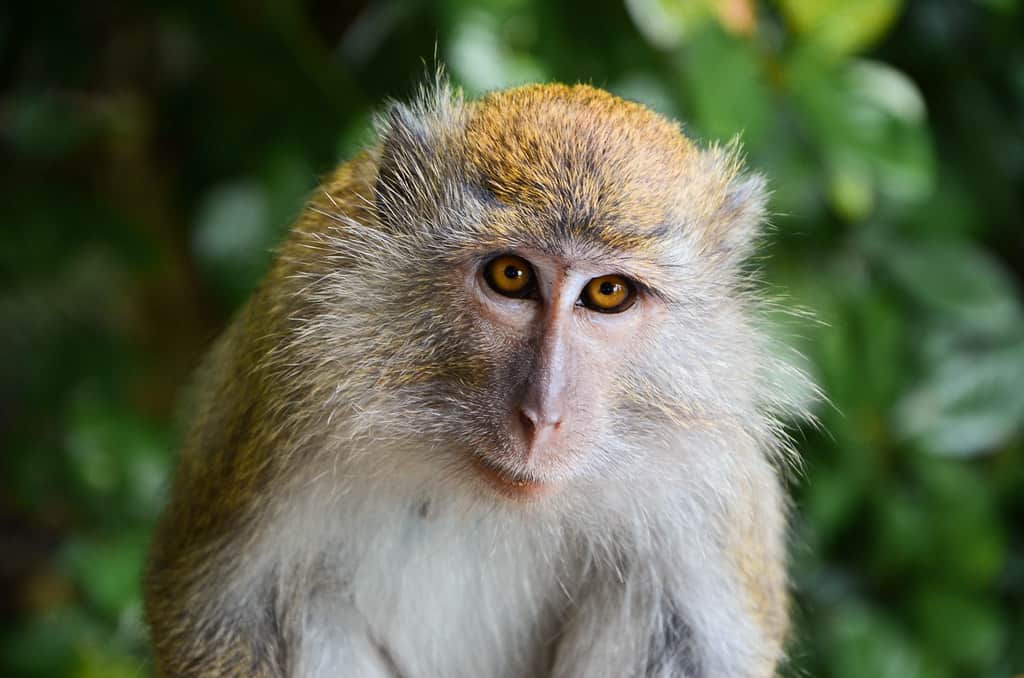 Are you an outdoor lover? This nature spot in Penang is among the best national parks each tourists must visit!
The park is easy to get to from either George Town or Batu Ferringhi by public transportation, and it has a huge variety of activities that are fun for the whole family.
Several trails lead to charming coves, and a historic lighthouse built in 1883 can be reached on foot from this part of the island.
Take a photo of the large map located near the entrance if it is posted near the park office, or request a copy from the office if you intend to go trekking.
The Penang Turtle Sanctuary can be reached after a short time spent strolling along the beach. The sanctuary has a tiny hatchery section where you can observe baby turtles if you arrive at the right moment.
If you don't want to trek through the jungle, you can hire a boat at the park's entrance to take you to a beach or show you around the whole park.
Address: Pejabat Taman Negara P. Pinang jalan Hassan Abbas, 11050 George Town, Penang, Malaysia
Penang Peranakan Museum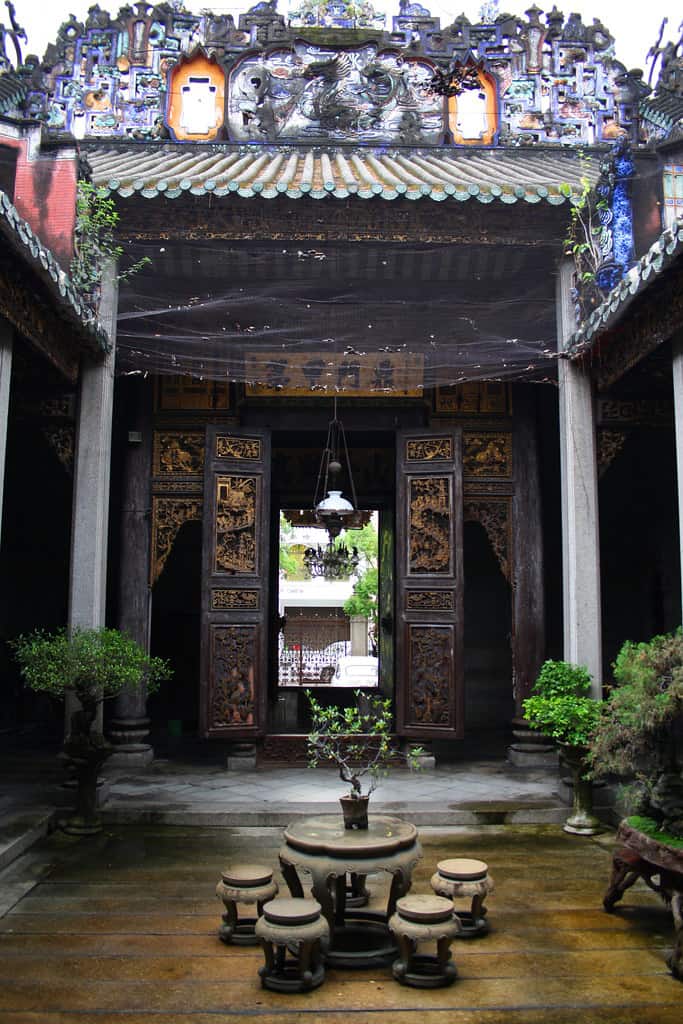 Learning some of the country's history and culture while traveling is one of the most underrated activities of travelers.
The history of the Peranakan people, who are sometimes called Straits Chinese, is the focus of the Penang Peranakan Museum, which was established in order to preserve that history.
The Peranakans, who adopted some of the local Malays' and British colonial practices, developed a distinctive way of life and language.
It has left a rich heritage of artifacts and cultural legacies that can still be seen in Penang today.
There are even replicas of 19th-century traditional dwellings and galleries of images and antiques at the Penang Peranakan Museum if you want to learn more about this fascinating culture.
Built with the finest materials available at the time, the two-story palace is a classic Chinese courtyard-style mansion, with Scottish ironworks and English floor tiles among its features.
This is one of the best places to go in Penang if you are curious about the island's history.
Address: 29 Church Street, 10200 George Town, Penang, Malaysia
Penang State Museum and Art Gallery
A place filled with Penang's rich history and culture you must visit.
In a historic building that goes back to 1821, you'll find a plethora of galleries dedicated to Penang's history, along with an exhibit dedicated to important events in the city's history.
UNESCO has designated the Penang State Museum and Art Gallery as a World Heritage Site for its collection of modern and contemporary arts.
It is one of Malaysia's best-presented and well-maintained museums, and it is located on Farquhar Street in George Town.
The bronze statue of Penang Straits Settlements founder Captain Francis Light will greet you as you enter the museum.
The museum has a fantastic collection of photos, maps, historical documents, and costumes.
On the other hand, the art gallery showcases the work of both local and international artists. Models of historic residences are also on display, including a replica of a wedding chamber.
Drop by this spot and explore Penang Island's rich culture and history.
Address: Lebuh Farquhar, George Town, 10450 George Town, Pulau Pinang, Malaysia
Snake Temple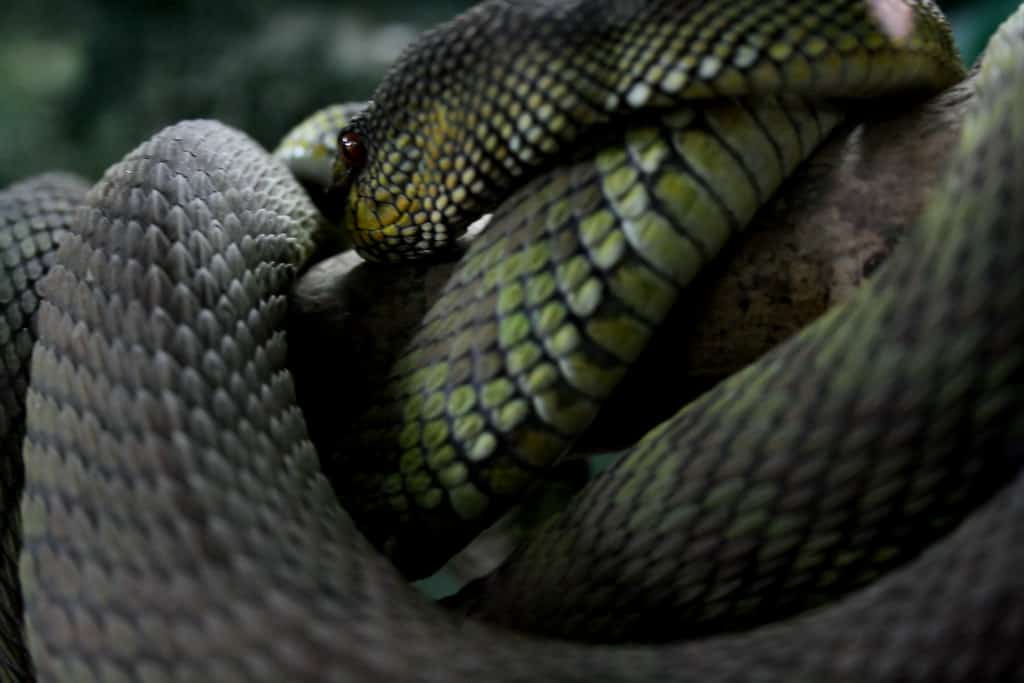 Have a thrilling experience in one of the most unique temples you can find in Malaysia!
Most of the residents who live here are pit vipers. The temple has been around since 1805, when snakes managed to find their way into the building, and the kind monks let them stay.
This stunning temple, which can be found less than three kilometers away from Penang Island's airport, is frequently visited by devotees.
Nowadays, snakes may be found coiled in corners and reclining on temple altars, and if you're feeling adventurous, you can even get your photo taken holding one of the snakes.
Aside from the snakes, the temple is a stunning structure. It began as a basic attap construction, a traditional dwelling form prevalent in Indonesia, Brunei, Singapore, and Malaysia's rural villages.
It is stated that the snakes in this area are harmless and do not bother guests, making this a wonderful destination for your whole family to enjoy.
Address: Jalan Sultan Azlan Shah, Bayan Lepas Industrial Park, 11900 Bayan Lepas, Pulau Pinang, Malaysia
Suffolk House
If you are traveling to Penang Island to celebrate a special occasion, you must consider this spot for your celebration!
The Suffolk House Restaurant in Penang, Malaysia, is a stunning Anglo-Indian garden mansion that sets the ideal atmosphere for any occasion.
Traditional British colonial architecture may be seen in Suffolk House, which is located in the picturesque area of Penang, known as Air Itam or Black Water.
It is the only remaining Georgian mansion in Malaysia and was constructed in the early 1800s.
Many areas in the home allow visitors to fully invest themselves in the rich history of the area, with the Marble Room and the Garden being the most popular.
As you make your way through the beautiful and well-maintained garden to the whitewashed mansion, you'll be filled with calmness.
You may also learn more about the 200-year-old structure by participating in guided tours that showcase its fascinating history.
Address: 250, Jalan Air Hitam, Georgetown, 10460 George Town, Penang, Malaysia
Tanjung Bungah Floating Mosque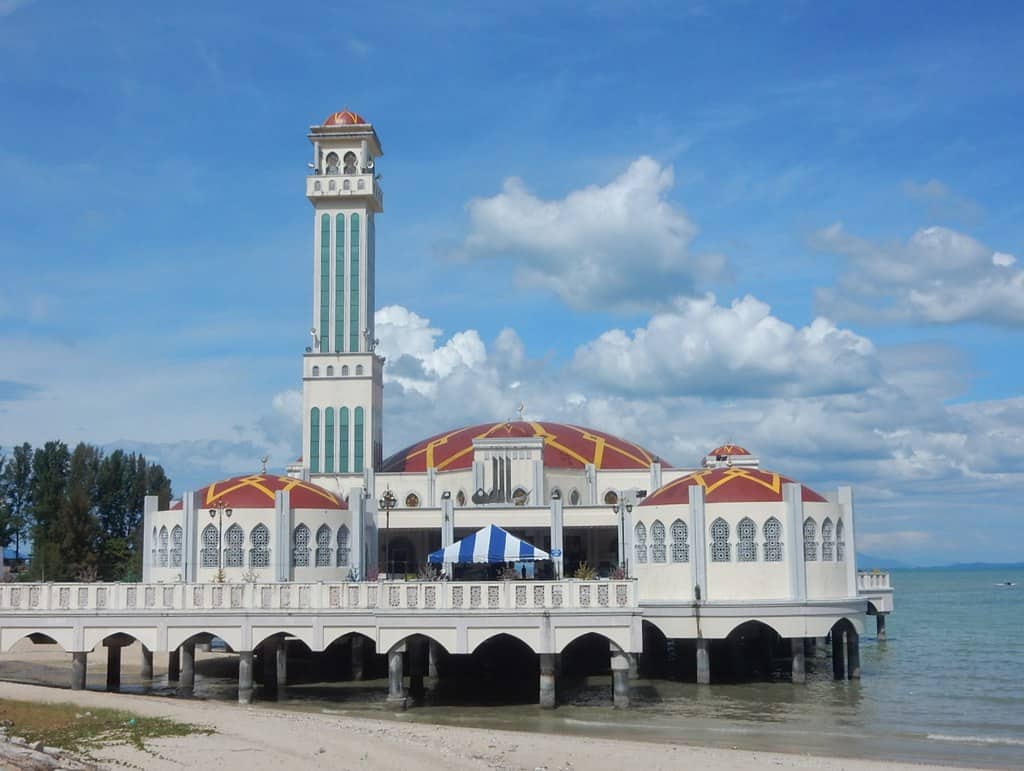 This mosque in Penang looks like it floats on the bay, but it isn't.
The Masjid Terapung Pulau Penang, often known as the Floating Mosque, can be found near the intersection of Tanjung Bungah Road and is a well-known landmark.
You are allowed to stroll directly underneath the mosque during times when the tide is low, allowing you to admire this remarkable feat of engineering, which was also the first structure of its kind to be built in Malaysia.
A seven-story-tall minaret crowns the structure, which stands on stilts and pilings for support. It was the first mosque in Malaysia to be constructed on the water.
Its Moorish edifice incorporates aspects of both local architecture and Middle Eastern style into its design.
The Floating Mosque was constructed as a replacement for an older mosque that was swept away by the devastation caused by a tsunami.
It is rare to witness a floating mosque. That is why don't miss your chance to see this spot on Penang Island!
Address: Jalan Batu Ferringhi, Tanjung Bungah, 11200 Tanjung Bungah, Pulau Pinang, Malaysia
Tropical Spice Garden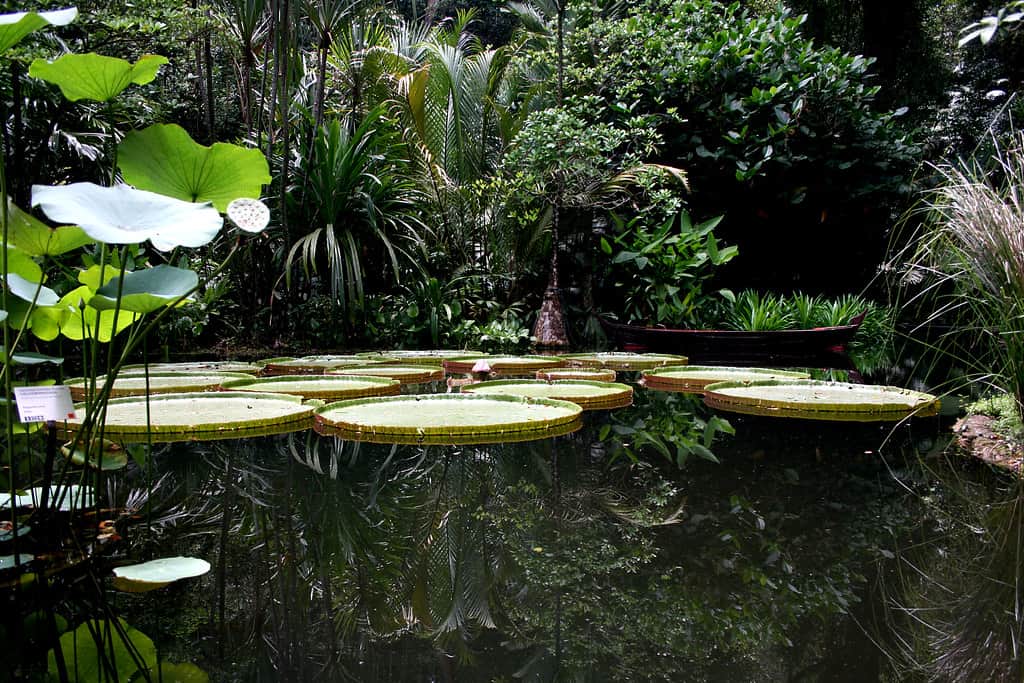 A visit to one of Penang Island's tourism highlights is something you can miss.
Located on the site of a former rubber plantation, the garden is a homage to all of the beautiful spices and herbs that are natural to this region.
The Spice Garden is also the first cooking school in Penang that has been properly developed and fully equipped till today.
A trip to the spice garden is an excellent way to gain knowledge about spices and become familiar with all of the benefits they offer.
To understand how these herbs and spices are utilized to create Malaysian classics, you can even sign up for a cooking class at the botanical gardens in Malaysia.
The garden is kept in excellent condition, and the view from various viewpoints inside the garden is quite magnificent, particularly for those who have an appreciation for nature.
Reconnect with nature in this iconic Penang attraction!
Address: Lot 595 Mukim, 2, Jalan Teluk Bahang, Teluk Bahang, 11050 George Town, Pulau Pinang, Malaysia
Upper Penang Road
Wanna have a fun night out in Penang? This is your spot!
The pedestrianized part of Penang Road in between two branches of Farquhar Street is known as Upper Penang Road.
This neighborhood is extremely popular among locals and tourists alike due to the numerous pubs and nightclubs that line the street.
Some of the more well-known establishments in the area include the Soho Free House and Slippery Senoritas.
It is home to a number of well-preserved shophouses, many of which have been transformed into eateries and watering holes.
Upper Penang Road is George Town's nightlife district and a popular hangout for foreigners.
It's comparable to Clarke Quay in Singapore in several ways, but on a smaller size.
Many bars and clubs feature happy hours and other nightly specials, so be sure to wander the streets to discover the greatest deals.
Have a great night in this incredible nightlife spot in Penang!
Address: George Town, Jln Penang, 10000 George Town, Pulau Pinang, Malaysia
Yahong Art Gallery

Take a glimpse of the museum dedicated to the 4th-century Batik Painting.
The Yahong Art Gallery is well-known for the collection of batik paintings created by Chuah Thean Teng, who is regarded as one of the most important batik painters in the nation.
It is located in picturesque Batu Ferringhi and showcases Malaysian Batik master Chuah Thean Teng and his two talented sons, as well as works by other local and international artists.
The craft entails using wax to paint designs on cloth and afterward dipping the fabric in a variety of dyes to produce vivid patterns.
It is also considered to be Penang's largest art gallery. In addition to displaying paintings, the museum showcases a variety of other types of handicrafts.
Sarawak ceramics, ornaments, pewterware, silverware, jewelry, antiques, and many more types of items are some of the things that are on display here.
This is a perfect attraction in Penang for arts and crafts enthusiasts.
Do you need any more convincing that Penang Island Malaysia is worth a visit? Hop over to reasons to visit Penang Island, Malaysia, at least once in your lifetime here
Address: 58 D, Jalan Batu Ferringhi, Kampung Batu Feringgi, 11100 Batu Ferringhi, Pulau Pinang, Malaysia